{"id":6721157267534,"title":"Portable Power Station Electric Battery Outdoor Generator For Power Outage Supplies 1000W 315000mAh","handle":"portable-power-station-electric-battery-outdoor-generator-for-power-outage-supplies","description":"\u003cdiv style=\"text-align: center;\" data-mce-fragment=\"1\" data-mce-style=\"text-align: center;\"\u003e\u003cimg alt=\"With The Perfect Camping Scene Build Your Own Outdoor Living Site\" src=\"https:\/\/cdn.shopifycdn.net\/s\/files\/1\/0100\/3542\/9454\/files\/bc5b57f98e79b66b92604afe124e4b3f_1024x1024.jpg?v=1648710444\" style=\"float: none;\"\u003e\u003c\/div\u003e\n\u003cp style=\"text-align: center;\" data-mce-fragment=\"1\" data-mce-style=\"text-align: center;\"\u003e \u003c\/p\u003e\n\u003cdiv style=\"text-align: center;\" data-mce-fragment=\"1\" data-mce-style=\"text-align: center;\"\u003e\u003cimg style=\"float: none;\" alt=\"\" src=\"https:\/\/cdn.shopify.com\/s\/files\/1\/0100\/3542\/9454\/files\/A_1_1024x1024.jpg?v=1648006435\" data-mce-fragment=\"1\" data-mce-src=\"https:\/\/cdn.shopify.com\/s\/files\/1\/0100\/3542\/9454\/files\/A_1_1024x1024.jpg?v=1648006435\" data-mce-style=\"float: none;\"\u003e\u003c\/div\u003e\n\u003cp style=\"text-align: center;\" data-mce-fragment=\"1\" data-mce-style=\"text-align: center;\"\u003e\u003cbr\u003e\u003c\/p\u003e\n\u003cdiv style=\"text-align: center;\" data-mce-fragment=\"1\" data-mce-style=\"text-align: center;\"\u003e\n\u003cimg style=\"float: none;\" alt=\"\" src=\"https:\/\/cdn.shopify.com\/s\/files\/1\/0100\/3542\/9454\/files\/A_2_1024x1024.jpg?v=1648006456\" data-mce-fragment=\"1\" data-mce-src=\"https:\/\/cdn.shopify.com\/s\/files\/1\/0100\/3542\/9454\/files\/A_2_1024x1024.jpg?v=1648006456\" data-mce-style=\"float: none;\"\u003e\u003cimg alt=\"\" src=\"https:\/\/cdn.shopify.com\/s\/files\/1\/0100\/3542\/9454\/files\/3_31d74a91-1de7-4e57-ae4c-92b519183ee7_1024x1024.jpg?v=1648006522\" data-mce-fragment=\"1\" data-mce-src=\"https:\/\/cdn.shopify.com\/s\/files\/1\/0100\/3542\/9454\/files\/3_31d74a91-1de7-4e57-ae4c-92b519183ee7_1024x1024.jpg?v=1648006522\"\u003e\u003cimg alt=\"\" src=\"https:\/\/cdn.shopify.com\/s\/files\/1\/0100\/3542\/9454\/files\/4_1ff39796-0539-451a-9fd9-07f136d25014_1024x1024.jpg?v=1648006538\" data-mce-fragment=\"1\" data-mce-src=\"https:\/\/cdn.shopify.com\/s\/files\/1\/0100\/3542\/9454\/files\/4_1ff39796-0539-451a-9fd9-07f136d25014_1024x1024.jpg?v=1648006538\"\u003e\u003cimg alt=\"\" src=\"https:\/\/cdn.shopify.com\/s\/files\/1\/0100\/3542\/9454\/files\/6_675965a6-2009-48cb-9c24-6e295bf50d52_1024x1024.jpg?v=1648006555\" data-mce-fragment=\"1\" data-mce-src=\"https:\/\/cdn.shopify.com\/s\/files\/1\/0100\/3542\/9454\/files\/6_675965a6-2009-48cb-9c24-6e295bf50d52_1024x1024.jpg?v=1648006555\"\u003e\u003cimg alt=\"\" src=\"https:\/\/cdn.shopify.com\/s\/files\/1\/0100\/3542\/9454\/files\/7_b37f0f03-a030-4112-8450-7404065461e2_1024x1024.jpg?v=1648006584\" data-mce-fragment=\"1\" data-mce-src=\"https:\/\/cdn.shopify.com\/s\/files\/1\/0100\/3542\/9454\/files\/7_b37f0f03-a030-4112-8450-7404065461e2_1024x1024.jpg?v=1648006584\"\u003e\u003cimg alt=\"\" src=\"https:\/\/cdn.shopify.com\/s\/files\/1\/0100\/3542\/9454\/files\/10_54f281f3-f356-4b35-87dc-fb843c73f2f0_1024x1024.jpg?v=1648006600\" data-mce-fragment=\"1\" data-mce-src=\"https:\/\/cdn.shopify.com\/s\/files\/1\/0100\/3542\/9454\/files\/10_54f281f3-f356-4b35-87dc-fb843c73f2f0_1024x1024.jpg?v=1648006600\"\u003e\u003cimg alt=\"\" src=\"https:\/\/cdn.shopifycdn.net\/s\/files\/1\/0100\/3542\/9454\/files\/A_2_2439228b-e0cd-4bcc-8230-64fe598cab4d_1024x1024.jpg?v=1648113466\" data-mce-fragment=\"1\" data-mce-src=\"https:\/\/cdn.shopifycdn.net\/s\/files\/1\/0100\/3542\/9454\/files\/A_2_2439228b-e0cd-4bcc-8230-64fe598cab4d_1024x1024.jpg?v=1648113466\"\u003e\u003cimg alt=\"\" src=\"https:\/\/cdn.shopifycdn.net\/s\/files\/1\/0100\/3542\/9454\/files\/8_0f5efeb0-e98d-43d2-9390-5f6262ea022b_1024x1024.jpg?v=1648113483\" data-mce-fragment=\"1\" data-mce-src=\"https:\/\/cdn.shopifycdn.net\/s\/files\/1\/0100\/3542\/9454\/files\/8_0f5efeb0-e98d-43d2-9390-5f6262ea022b_1024x1024.jpg?v=1648113483\"\u003e\u003cimg alt=\"\" src=\"https:\/\/cdn.shopify.com\/s\/files\/1\/0100\/3542\/9454\/files\/11_58d2da98-9449-4369-ab14-4cd35e14a2e8_1024x1024.jpg?v=1648006639\" data-mce-fragment=\"1\" data-mce-src=\"https:\/\/cdn.shopify.com\/s\/files\/1\/0100\/3542\/9454\/files\/11_58d2da98-9449-4369-ab14-4cd35e14a2e8_1024x1024.jpg?v=1648006639\"\u003e\n\u003c\/div\u003e\n\u003cdiv style=\"text-align: center;\" data-mce-fragment=\"1\" data-mce-style=\"text-align: center;\"\u003e\u003c\/div\u003e\n\u003cp style=\"text-align: center;\" data-mce-fragment=\"1\" data-mce-style=\"text-align: center;\"\u003e \u003c\/p\u003e\n\u003cdiv style=\"text-align: left;\" data-mce-fragment=\"1\" data-mce-style=\"text-align: left;\"\u003e\n\u003ch1 style=\"text-align: left;\" class=\"a-spacing-mini\" data-mce-style=\"text-align: left;\"\u003eXGODY Portable Power Station Alpha - 1000W Backup Power Supply \u003c\/h1\u003e\n\u003cp style=\"text-align: left;\" class=\"a-spacing-mini\" data-mce-style=\"text-align: left;\"\u003eThe beauty in life lies in exploration, and XGODY gives you more lasting help. Alpha-1000W is a milestone in design and function, bringing you maximum power, fastest charging, safety and environmental protection in any situation with no oil, no noise, no fumes.\u003cbr\u003e\u003c\/p\u003e\n\u003cp style=\"text-align: left;\" class=\"a-spacing-mini\" data-mce-style=\"text-align: left;\"\u003e\u003cspan\u003eXGODY Alpha-1000W is a 1008Wh Capacity LiFePO4 Battery Station with LCD Display,  DC\/AC Outlet, 2 PD 65W Type-C, 2 QC 3.0 USB Output for RV Camping Outdoor Travel Home Emergency.\u003c\/span\u003e\u003c\/p\u003e\n\u003ch2 style=\"text-align: left;\" class=\"a-spacing-mini\" data-mce-style=\"text-align: left;\"\u003eWhy Choose  XGODY 1008Wh Power Station?\u003c\/h2\u003e\n\u003cp style=\"text-align: left;\" data-mce-style=\"text-align: left;\"\u003e\u003cspan style=\"text-decoration: underline;\" data-mce-style=\"text-decoration: underline;\"\u003e\u003cstrong\u003eThe safety of you and your family is our top priority - More Protection\u003c\/strong\u003e\u003c\/span\u003e\u003c\/p\u003e\n\u003cp style=\"text-align: left;\" data-mce-style=\"text-align: left;\"\u003e\u003cstrong\u003e1. Overload protection\u003c\/strong\u003e\u003cbr data-mce-fragment=\"1\"\u003eWhen the input current continues to exceed 20A during the charging process, the overload protection switch button will automatically pop up to protect the circuit and the environment.\u003cbr data-mce-fragment=\"1\"\u003e\u003cbr data-mce-fragment=\"1\"\u003e\u003cstrong\u003e2. High and low temperature protection\u003c\/strong\u003e\u003cbr data-mce-fragment=\"1\"\u003eWhen the temperature of the XGODY power station is above 45°C \/ below -20°C, the fan will automatically start to maintain the temperature without affecting all input and output functions.\u003cbr data-mce-fragment=\"1\"\u003e\u003cbr data-mce-fragment=\"1\"\u003e\u003cstrong\u003e3. Leakage protection\u003c\/strong\u003e\u003cbr data-mce-fragment=\"1\"\u003eThere are leakage protection devices inside and outside the XGODY battery. When leakage occurs, the leakage switch will be triggered to protect the circuit and the environment from danger.\u003cbr data-mce-fragment=\"1\"\u003e\u003cbr data-mce-fragment=\"1\"\u003e\u003cstrong\u003e4. Anti-collision protection\u003c\/strong\u003e\u003cbr data-mce-fragment=\"1\"\u003eXGODY portable emergency power supply is designed according to the principles of building mechanics, with good anti-drop and shock resistance, and is protected by an integrally formed metal frame, making it more secure to use.\u003cbr data-mce-fragment=\"1\"\u003e\u003cbr data-mce-fragment=\"1\"\u003e\u003cstrong\u003e5. Longer life - Protect your money\u003c\/strong\u003e\u003cbr data-mce-fragment=\"1\"\u003eThe power station uses lithium iron phosphate batteries, which have longer service life and higher safety performance compared with other lithium batteries. After testing, its complete cycle life exceeds 2000 times.\u003c\/p\u003e\n\u003cstrong\u003e6. Protection of reputation\u003cbr\u003e\u003c\/strong\u003eThe XGODY brand has gone through 10 years and will continue to move forward in the future. No matter which platform you can find XGODY on, Amazon, AliExpress, eBay, shopify, PayPal, ABC and other platforms trust us, and tens of thousands of customers also trust us, so XGODY is trustworthy  \u003c\/div\u003e\n\u003cdiv style=\"text-align: left;\" data-mce-fragment=\"1\" data-mce-style=\"text-align: left;\"\u003e\n\u003ch2 data-mce-style=\"text-align: left;\"\u003e\u003cbr\u003e\u003c\/h2\u003e\n\u003ch2 data-mce-style=\"text-align: left;\"\u003eJack parameters - \u003cspan data-mce-fragment=\"1\"\u003eMultiple output\u003c\/span\u003e\n\u003c\/h2\u003e\nIncludes 4 quick charge output ports\u003c\/div\u003e\n\u003cp style=\"text-align: left;\" data-mce-fragment=\"1\" data-mce-style=\"text-align: left;\"\u003e\u003cstrong\u003eAC output:\u003c\/strong\u003eThree* 110V 60Hz\u003cbr\u003e\u003cbr\u003e\u003cstrong\u003eDC output:\u003c\/strong\u003e\u003cbr\u003eTwo* PD 65W USB-C (Type-C)\u003cbr\u003eTwo* QC 3.0 USB-A\u003cbr\u003eTwo* 5V\/2.1A USB-A\u003cbr\u003eOne* 12V cigarette lighter \/ 8A\u003cbr\u003eTwo* LED light 5W\u003c\/p\u003e\n\u003cdiv style=\"text-align: left;\" data-mce-fragment=\"1\" data-mce-style=\"text-align: left;\"\u003e\u003cstrong\u003e\u003c\/strong\u003e\u003c\/div\u003e\n\u003cdiv style=\"text-align: left;\" data-mce-fragment=\"1\" data-mce-style=\"text-align: left;\"\u003e\n\u003cstrong\u003eOperation Environment\u003c\/strong\u003e\u003cbr\u003eCharge: 32-113°F (0-45°C)\u003cbr\u003eDischarge: -4-113°F (-20-45°C)\u003cbr\u003eHumidness: 10%~90%\u003cbr\u003eWeight: 30.9lbs\u003c\/div\u003e\n\u003cdiv style=\"text-align: left;\" data-mce-fragment=\"1\" data-mce-style=\"text-align: left;\"\u003e\u003cbr\u003e\u003c\/div\u003e\n\u003cdiv style=\"text-align: left;\" data-mce-fragment=\"1\" data-mce-style=\"text-align: left;\"\u003e\u003c\/div\u003e\n\u003cp style=\"text-align: left;\" data-mce-fragment=\"1\" data-mce-style=\"text-align: left;\"\u003e-- The output is suitable for a variety of different devices, such as drones, portable ventilators, medical equipment, mobile phones, tablets, laptops, desktop computers, small printers, various lamps, small fish tanks, photographic equipment, electric scooters, etc. It is very convenient for users to travel at home, outdoor operations, camping and picnics, mountaineering adventures, etc.\u003c\/p\u003e\n\u003cp style=\"text-align: left;\" data-mce-fragment=\"1\" data-mce-style=\"text-align: left;\"\u003e\u003cbr\u003e\u003c\/p\u003e\n\u003cdiv style=\"text-align: left;\" data-mce-fragment=\"1\" data-mce-style=\"text-align: left;\"\u003e\u003cspan style=\"color: #ff2a00;\"\u003e\u003cstrong\u003e-- Video Linking --\u003c\/strong\u003e\u003c\/span\u003e\u003c\/div\u003e\n\u003cdiv style=\"text-align: left;\" data-mce-fragment=\"1\" data-mce-style=\"text-align: left;\"\u003e\u003ciframe width=\"1000\" height=\"560\" src=\"https:\/\/www.youtube.com\/embed\/kwN0TQh3Zhw\" title=\"YouTube video player\" frameborder=\"0\" allow=\"accelerometer; autoplay; clipboard-write; encrypted-media; gyroscope; picture-in-picture\" allowfullscreen=\"\"\u003e\u003c\/iframe\u003e\u003c\/div\u003e\n\u003cdiv style=\"text-align: center;\"\u003e\u003cimg style=\"float: none;\" alt=\"\" src=\"https:\/\/cdn.shopify.com\/s\/files\/1\/0100\/3542\/9454\/files\/01_2fdaa1f6-5a46-410d-a36a-9cc39134f8af_1024x1024.jpg?v=1646212895\"\u003e\u003c\/div\u003e","published_at":"2022-03-23T17:01:19+08:00","created_at":"2022-03-23T15:48:10+08:00","vendor":"XGODY ","type":"Power \u0026 Electrical Supplies","tags":[],"price":69999,"price_min":69999,"price_max":69999,"available":true,"price_varies":false,"compare_at_price":null,"compare_at_price_min":0,"compare_at_price_max":0,"compare_at_price_varies":false,"variants":[{"id":39728112959566,"title":"Default Title","option1":"Default Title","option2":null,"option3":null,"sku":"","requires_shipping":true,"taxable":true,"featured_image":null,"available":true,"name":"Portable Power Station Electric Battery Outdoor Generator For Power Outage Supplies 1000W 315000mAh","public_title":null,"options":["Default Title"],"price":69999,"weight":0,"compare_at_price":null,"inventory_management":"shopify","barcode":"","requires_selling_plan":false,"selling_plan_allocations":[]}],"images":["\/\/xgody.com\/cdn\/shop\/products\/the-best-portable-power-station-electric-battery-outdoor-generator-for-power-outage-supplies-1000w-315000mah-1.jpg?v=1656560081","\/\/xgody.com\/cdn\/shop\/products\/the-best-portable-power-station-electric-battery-outdoor-generator-for-power-outage-supplies-1000w-315000mah-2.jpg?v=1656560084","\/\/xgody.com\/cdn\/shop\/products\/the-best-portable-power-station-electric-battery-outdoor-generator-for-power-outage-supplies-1000w-315000mah-3.jpg?v=1656560086","\/\/xgody.com\/cdn\/shop\/products\/the-best-portable-power-station-electric-battery-outdoor-generator-for-power-outage-supplies-1000w-315000mah-4.jpg?v=1656560089"],"featured_image":"\/\/xgody.com\/cdn\/shop\/products\/the-best-portable-power-station-electric-battery-outdoor-generator-for-power-outage-supplies-1000w-315000mah-1.jpg?v=1656560081","options":["Title"],"media":[{"alt":"Cost-effective and Most worthwhile Portable Power Station Electric Battery Outdoor Generator For Power Outage Supplies 1000W 315000mAh - XGODY ","id":21697040613454,"position":1,"preview_image":{"aspect_ratio":1.0,"height":1500,"width":1500,"src":"\/\/xgody.com\/cdn\/shop\/products\/the-best-portable-power-station-electric-battery-outdoor-generator-for-power-outage-supplies-1000w-315000mah-1.jpg?v=1656560081"},"aspect_ratio":1.0,"height":1500,"media_type":"image","src":"\/\/xgody.com\/cdn\/shop\/products\/the-best-portable-power-station-electric-battery-outdoor-generator-for-power-outage-supplies-1000w-315000mah-1.jpg?v=1656560081","width":1500},{"alt":"Cost-effective and Most worthwhile Portable Power Station Electric Battery Outdoor Generator For Power Outage Supplies 1000W 315000mAh - XGODY ","id":21697040711758,"position":2,"preview_image":{"aspect_ratio":1.0,"height":1500,"width":1500,"src":"\/\/xgody.com\/cdn\/shop\/products\/the-best-portable-power-station-electric-battery-outdoor-generator-for-power-outage-supplies-1000w-315000mah-2.jpg?v=1656560084"},"aspect_ratio":1.0,"height":1500,"media_type":"image","src":"\/\/xgody.com\/cdn\/shop\/products\/the-best-portable-power-station-electric-battery-outdoor-generator-for-power-outage-supplies-1000w-315000mah-2.jpg?v=1656560084","width":1500},{"alt":"Cost-effective and Most worthwhile Portable Power Station Electric Battery Outdoor Generator For Power Outage Supplies 1000W 315000mAh - XGODY ","id":21697041006670,"position":3,"preview_image":{"aspect_ratio":1.0,"height":1500,"width":1500,"src":"\/\/xgody.com\/cdn\/shop\/products\/the-best-portable-power-station-electric-battery-outdoor-generator-for-power-outage-supplies-1000w-315000mah-3.jpg?v=1656560086"},"aspect_ratio":1.0,"height":1500,"media_type":"image","src":"\/\/xgody.com\/cdn\/shop\/products\/the-best-portable-power-station-electric-battery-outdoor-generator-for-power-outage-supplies-1000w-315000mah-3.jpg?v=1656560086","width":1500},{"alt":"Cost-effective and Most worthwhile Portable Power Station Electric Battery Outdoor Generator For Power Outage Supplies 1000W 315000mAh - XGODY ","id":21697041203278,"position":4,"preview_image":{"aspect_ratio":1.0,"height":1500,"width":1500,"src":"\/\/xgody.com\/cdn\/shop\/products\/the-best-portable-power-station-electric-battery-outdoor-generator-for-power-outage-supplies-1000w-315000mah-4.jpg?v=1656560089"},"aspect_ratio":1.0,"height":1500,"media_type":"image","src":"\/\/xgody.com\/cdn\/shop\/products\/the-best-portable-power-station-electric-battery-outdoor-generator-for-power-outage-supplies-1000w-315000mah-4.jpg?v=1656560089","width":1500}],"requires_selling_plan":false,"selling_plan_groups":[],"content":"\u003cdiv style=\"text-align: center;\" data-mce-fragment=\"1\" data-mce-style=\"text-align: center;\"\u003e\u003cimg alt=\"With The Perfect Camping Scene Build Your Own Outdoor Living Site\" src=\"https:\/\/cdn.shopifycdn.net\/s\/files\/1\/0100\/3542\/9454\/files\/bc5b57f98e79b66b92604afe124e4b3f_1024x1024.jpg?v=1648710444\" style=\"float: none;\"\u003e\u003c\/div\u003e\n\u003cp style=\"text-align: center;\" data-mce-fragment=\"1\" data-mce-style=\"text-align: center;\"\u003e \u003c\/p\u003e\n\u003cdiv style=\"text-align: center;\" data-mce-fragment=\"1\" data-mce-style=\"text-align: center;\"\u003e\u003cimg style=\"float: none;\" alt=\"\" src=\"https:\/\/cdn.shopify.com\/s\/files\/1\/0100\/3542\/9454\/files\/A_1_1024x1024.jpg?v=1648006435\" data-mce-fragment=\"1\" data-mce-src=\"https:\/\/cdn.shopify.com\/s\/files\/1\/0100\/3542\/9454\/files\/A_1_1024x1024.jpg?v=1648006435\" data-mce-style=\"float: none;\"\u003e\u003c\/div\u003e\n\u003cp style=\"text-align: center;\" data-mce-fragment=\"1\" data-mce-style=\"text-align: center;\"\u003e\u003cbr\u003e\u003c\/p\u003e\n\u003cdiv style=\"text-align: center;\" data-mce-fragment=\"1\" data-mce-style=\"text-align: center;\"\u003e\n\u003cimg style=\"float: none;\" alt=\"\" src=\"https:\/\/cdn.shopify.com\/s\/files\/1\/0100\/3542\/9454\/files\/A_2_1024x1024.jpg?v=1648006456\" data-mce-fragment=\"1\" data-mce-src=\"https:\/\/cdn.shopify.com\/s\/files\/1\/0100\/3542\/9454\/files\/A_2_1024x1024.jpg?v=1648006456\" data-mce-style=\"float: none;\"\u003e\u003cimg alt=\"\" src=\"https:\/\/cdn.shopify.com\/s\/files\/1\/0100\/3542\/9454\/files\/3_31d74a91-1de7-4e57-ae4c-92b519183ee7_1024x1024.jpg?v=1648006522\" data-mce-fragment=\"1\" data-mce-src=\"https:\/\/cdn.shopify.com\/s\/files\/1\/0100\/3542\/9454\/files\/3_31d74a91-1de7-4e57-ae4c-92b519183ee7_1024x1024.jpg?v=1648006522\"\u003e\u003cimg alt=\"\" src=\"https:\/\/cdn.shopify.com\/s\/files\/1\/0100\/3542\/9454\/files\/4_1ff39796-0539-451a-9fd9-07f136d25014_1024x1024.jpg?v=1648006538\" data-mce-fragment=\"1\" data-mce-src=\"https:\/\/cdn.shopify.com\/s\/files\/1\/0100\/3542\/9454\/files\/4_1ff39796-0539-451a-9fd9-07f136d25014_1024x1024.jpg?v=1648006538\"\u003e\u003cimg alt=\"\" src=\"https:\/\/cdn.shopify.com\/s\/files\/1\/0100\/3542\/9454\/files\/6_675965a6-2009-48cb-9c24-6e295bf50d52_1024x1024.jpg?v=1648006555\" data-mce-fragment=\"1\" data-mce-src=\"https:\/\/cdn.shopify.com\/s\/files\/1\/0100\/3542\/9454\/files\/6_675965a6-2009-48cb-9c24-6e295bf50d52_1024x1024.jpg?v=1648006555\"\u003e\u003cimg alt=\"\" src=\"https:\/\/cdn.shopify.com\/s\/files\/1\/0100\/3542\/9454\/files\/7_b37f0f03-a030-4112-8450-7404065461e2_1024x1024.jpg?v=1648006584\" data-mce-fragment=\"1\" data-mce-src=\"https:\/\/cdn.shopify.com\/s\/files\/1\/0100\/3542\/9454\/files\/7_b37f0f03-a030-4112-8450-7404065461e2_1024x1024.jpg?v=1648006584\"\u003e\u003cimg alt=\"\" src=\"https:\/\/cdn.shopify.com\/s\/files\/1\/0100\/3542\/9454\/files\/10_54f281f3-f356-4b35-87dc-fb843c73f2f0_1024x1024.jpg?v=1648006600\" data-mce-fragment=\"1\" data-mce-src=\"https:\/\/cdn.shopify.com\/s\/files\/1\/0100\/3542\/9454\/files\/10_54f281f3-f356-4b35-87dc-fb843c73f2f0_1024x1024.jpg?v=1648006600\"\u003e\u003cimg alt=\"\" src=\"https:\/\/cdn.shopifycdn.net\/s\/files\/1\/0100\/3542\/9454\/files\/A_2_2439228b-e0cd-4bcc-8230-64fe598cab4d_1024x1024.jpg?v=1648113466\" data-mce-fragment=\"1\" data-mce-src=\"https:\/\/cdn.shopifycdn.net\/s\/files\/1\/0100\/3542\/9454\/files\/A_2_2439228b-e0cd-4bcc-8230-64fe598cab4d_1024x1024.jpg?v=1648113466\"\u003e\u003cimg alt=\"\" src=\"https:\/\/cdn.shopifycdn.net\/s\/files\/1\/0100\/3542\/9454\/files\/8_0f5efeb0-e98d-43d2-9390-5f6262ea022b_1024x1024.jpg?v=1648113483\" data-mce-fragment=\"1\" data-mce-src=\"https:\/\/cdn.shopifycdn.net\/s\/files\/1\/0100\/3542\/9454\/files\/8_0f5efeb0-e98d-43d2-9390-5f6262ea022b_1024x1024.jpg?v=1648113483\"\u003e\u003cimg alt=\"\" src=\"https:\/\/cdn.shopify.com\/s\/files\/1\/0100\/3542\/9454\/files\/11_58d2da98-9449-4369-ab14-4cd35e14a2e8_1024x1024.jpg?v=1648006639\" data-mce-fragment=\"1\" data-mce-src=\"https:\/\/cdn.shopify.com\/s\/files\/1\/0100\/3542\/9454\/files\/11_58d2da98-9449-4369-ab14-4cd35e14a2e8_1024x1024.jpg?v=1648006639\"\u003e\n\u003c\/div\u003e\n\u003cdiv style=\"text-align: center;\" data-mce-fragment=\"1\" data-mce-style=\"text-align: center;\"\u003e\u003c\/div\u003e\n\u003cp style=\"text-align: center;\" data-mce-fragment=\"1\" data-mce-style=\"text-align: center;\"\u003e \u003c\/p\u003e\n\u003cdiv style=\"text-align: left;\" data-mce-fragment=\"1\" data-mce-style=\"text-align: left;\"\u003e\n\u003ch1 style=\"text-align: left;\" class=\"a-spacing-mini\" data-mce-style=\"text-align: left;\"\u003eXGODY Portable Power Station Alpha - 1000W Backup Power Supply \u003c\/h1\u003e\n\u003cp style=\"text-align: left;\" class=\"a-spacing-mini\" data-mce-style=\"text-align: left;\"\u003eThe beauty in life lies in exploration, and XGODY gives you more lasting help. Alpha-1000W is a milestone in design and function, bringing you maximum power, fastest charging, safety and environmental protection in any situation with no oil, no noise, no fumes.\u003cbr\u003e\u003c\/p\u003e\n\u003cp style=\"text-align: left;\" class=\"a-spacing-mini\" data-mce-style=\"text-align: left;\"\u003e\u003cspan\u003eXGODY Alpha-1000W is a 1008Wh Capacity LiFePO4 Battery Station with LCD Display,  DC\/AC Outlet, 2 PD 65W Type-C, 2 QC 3.0 USB Output for RV Camping Outdoor Travel Home Emergency.\u003c\/span\u003e\u003c\/p\u003e\n\u003ch2 style=\"text-align: left;\" class=\"a-spacing-mini\" data-mce-style=\"text-align: left;\"\u003eWhy Choose  XGODY 1008Wh Power Station?\u003c\/h2\u003e\n\u003cp style=\"text-align: left;\" data-mce-style=\"text-align: left;\"\u003e\u003cspan style=\"text-decoration: underline;\" data-mce-style=\"text-decoration: underline;\"\u003e\u003cstrong\u003eThe safety of you and your family is our top priority - More Protection\u003c\/strong\u003e\u003c\/span\u003e\u003c\/p\u003e\n\u003cp style=\"text-align: left;\" data-mce-style=\"text-align: left;\"\u003e\u003cstrong\u003e1. Overload protection\u003c\/strong\u003e\u003cbr data-mce-fragment=\"1\"\u003eWhen the input current continues to exceed 20A during the charging process, the overload protection switch button will automatically pop up to protect the circuit and the environment.\u003cbr data-mce-fragment=\"1\"\u003e\u003cbr data-mce-fragment=\"1\"\u003e\u003cstrong\u003e2. High and low temperature protection\u003c\/strong\u003e\u003cbr data-mce-fragment=\"1\"\u003eWhen the temperature of the XGODY power station is above 45°C \/ below -20°C, the fan will automatically start to maintain the temperature without affecting all input and output functions.\u003cbr data-mce-fragment=\"1\"\u003e\u003cbr data-mce-fragment=\"1\"\u003e\u003cstrong\u003e3. Leakage protection\u003c\/strong\u003e\u003cbr data-mce-fragment=\"1\"\u003eThere are leakage protection devices inside and outside the XGODY battery. When leakage occurs, the leakage switch will be triggered to protect the circuit and the environment from danger.\u003cbr data-mce-fragment=\"1\"\u003e\u003cbr data-mce-fragment=\"1\"\u003e\u003cstrong\u003e4. Anti-collision protection\u003c\/strong\u003e\u003cbr data-mce-fragment=\"1\"\u003eXGODY portable emergency power supply is designed according to the principles of building mechanics, with good anti-drop and shock resistance, and is protected by an integrally formed metal frame, making it more secure to use.\u003cbr data-mce-fragment=\"1\"\u003e\u003cbr data-mce-fragment=\"1\"\u003e\u003cstrong\u003e5. Longer life - Protect your money\u003c\/strong\u003e\u003cbr data-mce-fragment=\"1\"\u003eThe power station uses lithium iron phosphate batteries, which have longer service life and higher safety performance compared with other lithium batteries. After testing, its complete cycle life exceeds 2000 times.\u003c\/p\u003e\n\u003cstrong\u003e6. Protection of reputation\u003cbr\u003e\u003c\/strong\u003eThe XGODY brand has gone through 10 years and will continue to move forward in the future. No matter which platform you can find XGODY on, Amazon, AliExpress, eBay, shopify, PayPal, ABC and other platforms trust us, and tens of thousands of customers also trust us, so XGODY is trustworthy  \u003c\/div\u003e\n\u003cdiv style=\"text-align: left;\" data-mce-fragment=\"1\" data-mce-style=\"text-align: left;\"\u003e\n\u003ch2 data-mce-style=\"text-align: left;\"\u003e\u003cbr\u003e\u003c\/h2\u003e\n\u003ch2 data-mce-style=\"text-align: left;\"\u003eJack parameters - \u003cspan data-mce-fragment=\"1\"\u003eMultiple output\u003c\/span\u003e\n\u003c\/h2\u003e\nIncludes 4 quick charge output ports\u003c\/div\u003e\n\u003cp style=\"text-align: left;\" data-mce-fragment=\"1\" data-mce-style=\"text-align: left;\"\u003e\u003cstrong\u003eAC output:\u003c\/strong\u003eThree* 110V 60Hz\u003cbr\u003e\u003cbr\u003e\u003cstrong\u003eDC output:\u003c\/strong\u003e\u003cbr\u003eTwo* PD 65W USB-C (Type-C)\u003cbr\u003eTwo* QC 3.0 USB-A\u003cbr\u003eTwo* 5V\/2.1A USB-A\u003cbr\u003eOne* 12V cigarette lighter \/ 8A\u003cbr\u003eTwo* LED light 5W\u003c\/p\u003e\n\u003cdiv style=\"text-align: left;\" data-mce-fragment=\"1\" data-mce-style=\"text-align: left;\"\u003e\u003cstrong\u003e\u003c\/strong\u003e\u003c\/div\u003e\n\u003cdiv style=\"text-align: left;\" data-mce-fragment=\"1\" data-mce-style=\"text-align: left;\"\u003e\n\u003cstrong\u003eOperation Environment\u003c\/strong\u003e\u003cbr\u003eCharge: 32-113°F (0-45°C)\u003cbr\u003eDischarge: -4-113°F (-20-45°C)\u003cbr\u003eHumidness: 10%~90%\u003cbr\u003eWeight: 30.9lbs\u003c\/div\u003e\n\u003cdiv style=\"text-align: left;\" data-mce-fragment=\"1\" data-mce-style=\"text-align: left;\"\u003e\u003cbr\u003e\u003c\/div\u003e\n\u003cdiv style=\"text-align: left;\" data-mce-fragment=\"1\" data-mce-style=\"text-align: left;\"\u003e\u003c\/div\u003e\n\u003cp style=\"text-align: left;\" data-mce-fragment=\"1\" data-mce-style=\"text-align: left;\"\u003e-- The output is suitable for a variety of different devices, such as drones, portable ventilators, medical equipment, mobile phones, tablets, laptops, desktop computers, small printers, various lamps, small fish tanks, photographic equipment, electric scooters, etc. It is very convenient for users to travel at home, outdoor operations, camping and picnics, mountaineering adventures, etc.\u003c\/p\u003e\n\u003cp style=\"text-align: left;\" data-mce-fragment=\"1\" data-mce-style=\"text-align: left;\"\u003e\u003cbr\u003e\u003c\/p\u003e\n\u003cdiv style=\"text-align: left;\" data-mce-fragment=\"1\" data-mce-style=\"text-align: left;\"\u003e\u003cspan style=\"color: #ff2a00;\"\u003e\u003cstrong\u003e-- Video Linking --\u003c\/strong\u003e\u003c\/span\u003e\u003c\/div\u003e\n\u003cdiv style=\"text-align: left;\" data-mce-fragment=\"1\" data-mce-style=\"text-align: left;\"\u003e\u003ciframe width=\"1000\" height=\"560\" src=\"https:\/\/www.youtube.com\/embed\/kwN0TQh3Zhw\" title=\"YouTube video player\" frameborder=\"0\" allow=\"accelerometer; autoplay; clipboard-write; encrypted-media; gyroscope; picture-in-picture\" allowfullscreen=\"\"\u003e\u003c\/iframe\u003e\u003c\/div\u003e\n\u003cdiv style=\"text-align: center;\"\u003e\u003cimg style=\"float: none;\" alt=\"\" src=\"https:\/\/cdn.shopify.com\/s\/files\/1\/0100\/3542\/9454\/files\/01_2fdaa1f6-5a46-410d-a36a-9cc39134f8af_1024x1024.jpg?v=1646212895\"\u003e\u003c\/div\u003e"}
Portable Power Station Electric Battery Outdoor Generator For Power Outage Supplies 1000W 315000mAh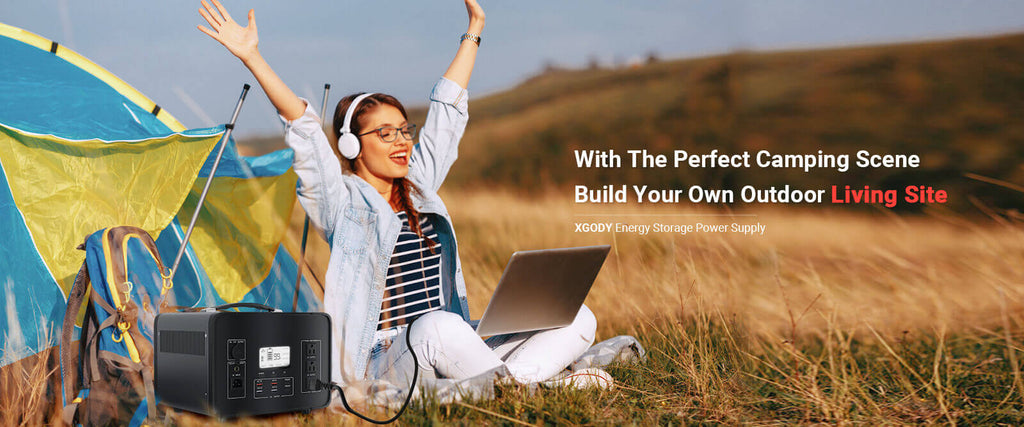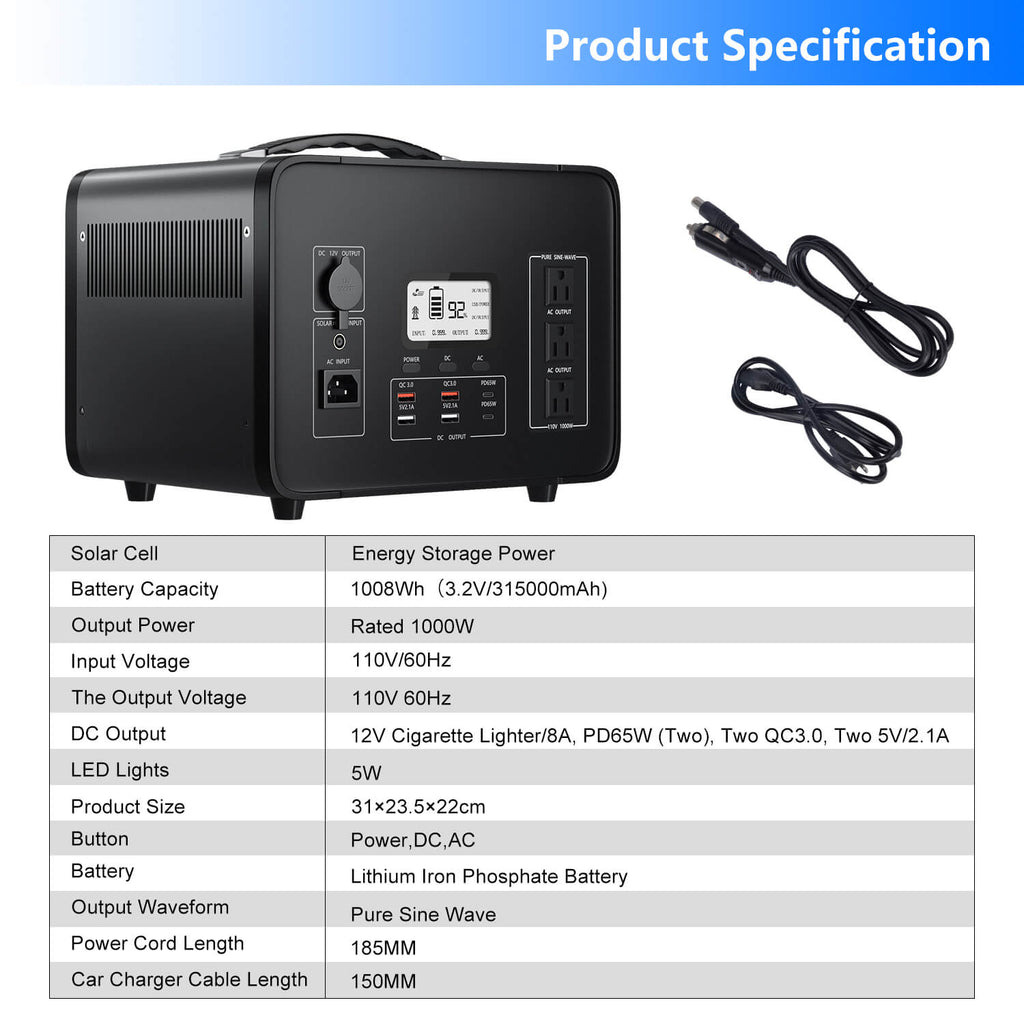 XGODY Portable Power Station Alpha - 1000W Backup Power Supply 
The beauty in life lies in exploration, and XGODY gives you more lasting help. Alpha-1000W is a milestone in design and function, bringing you maximum power, fastest charging, safety and environmental protection in any situation with no oil, no noise, no fumes.

XGODY Alpha-1000W is a 1008Wh Capacity LiFePO4 Battery Station with LCD Display,  DC/AC Outlet, 2 PD 65W Type-C, 2 QC 3.0 USB Output for RV Camping Outdoor Travel Home Emergency.
Why Choose  XGODY 1008Wh Power Station?
The safety of you and your family is our top priority - More Protection
1. Overload protection
When the input current continues to exceed 20A during the charging process, the overload protection switch button will automatically pop up to protect the circuit and the environment.

2. High and low temperature protection
When the temperature of the XGODY power station is above 45°C / below -20°C, the fan will automatically start to maintain the temperature without affecting all input and output functions.

3. Leakage protection
There are leakage protection devices inside and outside the XGODY battery. When leakage occurs, the leakage switch will be triggered to protect the circuit and the environment from danger.

4. Anti-collision protection
XGODY portable emergency power supply is designed according to the principles of building mechanics, with good anti-drop and shock resistance, and is protected by an integrally formed metal frame, making it more secure to use.

5. Longer life - Protect your money
The power station uses lithium iron phosphate batteries, which have longer service life and higher safety performance compared with other lithium batteries. After testing, its complete cycle life exceeds 2000 times.
6. Protection of reputation

The XGODY brand has gone through 10 years and will continue to move forward in the future. No matter which platform you can find XGODY on, Amazon, AliExpress, eBay, shopify, PayPal, ABC and other platforms trust us, and tens of thousands of customers also trust us, so XGODY is trustworthy  


Jack parameters - 
Multiple output
Includes 4 quick charge output ports
AC output:Three* 110V 60Hz

DC output:
Two* PD 65W USB-C (Type-C)
Two* QC 3.0 USB-A
Two* 5V/2.1A USB-A
One* 12V cigarette lighter / 8A
Two* LED light 5W
Operation Environment
Charge: 32-113°F (0-45°C)
Discharge: -4-113°F (-20-45°C)
Humidness: 10%~90%
Weight: 30.9lbs
-- The output is suitable for a variety of different devices, such as drones, portable ventilators, medical equipment, mobile phones, tablets, laptops, desktop computers, small printers, various lamps, small fish tanks, photographic equipment, electric scooters, etc. It is very convenient for users to travel at home, outdoor operations, camping and picnics, mountaineering adventures, etc.
-- Video Linking --
1.Most items are shipping free, you can check the description in the listing. Order will be shipped within 72 hours after payment made.
2.The shipping time is based on the shipping option, sometimes it may be delayed due to varied situation (such as holidays, war, weather etc.), please contact us immediately if delivery time exceeds estimated.
3.Import taxes, duties and related customs fees may be charged once the parcel arrives at the destination country. These charges are determined by the customs office of the specific destination. Payment of these charges and taxes is the responsibility of the recipient and will not be covered by us here at Xgody. For further details of charges, please contact your local customs office.
4.Time Schedule- F

ast Shipping
| | |
| --- | --- |
| United States/Australia/UK |  4-10 working days |
| Canada/Israel/ Azerbaijan / Russia/Maldives/ Eastern Europe/ Middle East |  9-18 working days |
| Brazil/Chile/South America |  9-18 working days |
| Western Europe/New Zealand |  7-10 working days |
If you are not happy with your purchase and wish to return an item, please contact us immediatelysince receiving your order. Our customs support email is support@xgody.com. Please write down your order number and user ID in the return parcel.
All returns must be in original condition with packaging intact to avoid damage during shipment, any physical damage during the return shipment will not be accepted. Returned parcel need to provide shipment number for tracking.
We will get back to you once we receive the return parcel. Money or replacement will be arranged within 24-48 hours after the return parcel delivered.
-
1.Why Choose Xgody?
Brand XGODY was established in 2014 with great advantages in electronic products. More than that, the operating team has more than 10 years experiences on e-commerce.. We know exactly what the buyer concerns and worries. Making sure you will have a wonderful shopping experience by providing what you need and getting rid of what you worried about. It is no doubt to choose us with our high quality of product, good shipping way, and good customs support.
2.What payment methods do you accept?
We accept all major credit cards (VISA, Mastercard, AMEX) and PayPal payments. We do not accept personal checks, money orders, direct bank transfers, western union, or cash on delivery.
3.Can I change my shipping address after placing an order?
Please be advised that your shipping address cannot be revised after the order has been processed or shipped. Kindly update your shipping address to your residential address instead of your vacation address as we do not know how long the destination's customs department will have the package on hold.
4.How do I track my order?
The tracking number can be queried in the background. Also, we will email your tracking information as soon as your order has shipped. Usually you will receive the tracking number one day after we have shipped your order. In addition, if you still do not know how to query and track, you can also contact customer service freely.
5.Will I be charged with customs and taxes?
Import taxes, duties and related customs fees may be charged once your order arrives to its final destination, which are determined by your local customs office.
Payment of these charges and taxes are your responsibility and will not be covered by us. We are not responsible for delays caused by the customs department in your country. For further details of charges, please contact your local customs office. 
6.What Do I Do If I Have Missing Items In My Order?
If something is still missing, please contact us immediately.
7.What if the item(s) I received are defective/incorrect/damaged?
Please contact us within 7 days from receiving your order if you received merchandise that is incorrect, missing, and/or defective. Please include your order number, photographs of the item(s) and all related references upon receiving your package. We will do our very best to resolve your case as soon as possible.
8.How do I return an item?
If you are not happy with your purchase and wish to return an item, please contact us immediately from receiving your order. Please provide your order number as well as the reason for your return. Our customer service team will review the return request and will send further instructions if the return is approved.
For a list of final sale items, please see our Warranty Info and Refund Policy. All returns must be in original condition with packaging intact.
9.When will I receive my refund?
All refunds will be credited to your original form of payment. If you paid by credit or debit card, refunds will be sent to the card-issuing bank within 7-10 business days of receipt of the returned item or cancellation request. Please contact the card-issuing bank with questions about when the credit will be posted to your account.
If you haven't received a credit for your return yet, here's what to do: Contact the bank/credit card company. It may take some time before the refund is posted to your account.