The truck crash bridge occurred Thursday, June 30 at 1:25 p.m. at Highway 23 Bridge, St. Cloud, Minnesota;
(There are bridges across the Mississippi River at University Drive, about a half-mile south, and at 1st/2nd Street, roughly three blocks north.)

The cause of the accident was that the garbage truck forgot to put down the rear components and hit the railway track bridge at a higher speed.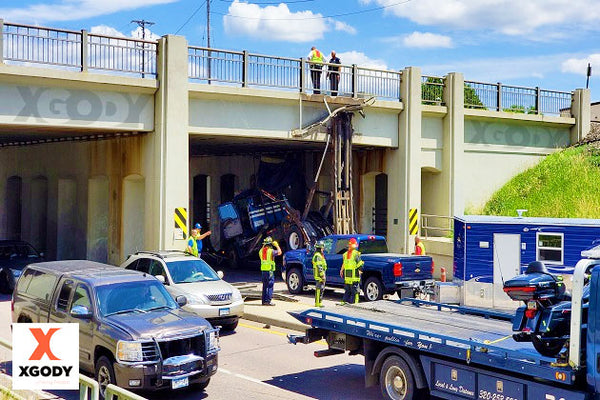 Even more unfortunate is that when the truck hit the bridge, two normal vehicles happened to be on the side of the truck, causing the other two to collide, and one of them was seriously damaged; Thankfully no one was seriously injured.

The accident temporarily closed eastbound Highway 23 for an hour and the corresponding train was delayed for a short time.


Regarding this accident, XGODY navigation team also attached great importance to it and reviewed the XGODY map data of Highway 23. After all, 'low bridge' is a pain point that large vehicles must pay attention to;

As the industry leader in offline map navigation and map data, XGODY also pays great attention to road height and load data, in order to give every driver a safe guide.

XGDOY's navigation products have only two guidelines: 1. Navigate to the destination correctly; 2. Go home safely