Dash cams have become essential for your car. A dash cam can be a great tool to deter pranksters and keep you covered in case of an accident. With the development of technology, New wifi dash cam pop up like mushrooms after rain. After some research, I settled on this wifi dash cam -the XGODY J401 PRO, which will give you peace of mind on the road.
Why Recommend The XGODY J401 PRO
 It is a very popular wifi dash cam for a very nice price—$73.9 for 4K resolution built in wifi with GPS and comes with extra perks such as Night Vision, Dual Lens, 3-inch Screen. I am going to detail this 4k dash cam and I believe that if you know all about it you will be hard not to like it.
The Dashcam WiFi Function Is popular
The XGODY J401 PRO wifi dash cam with the built in wifi that keep pace with times. On or on the go, you can use the smartphone APP to instantly download the current and recorded videos to your mobile device. After downloading, you can play the video with GPS tracking in the APP.
These features will allow drivers to upload or download footage to their phones. Drivers can view video immediately after an accident has occurred without having to make a trip back to the office. 
And of course you can live view with your phone as well, for real time.
Dash cam wifi also allows you to easily share videos with your friends or family on social media like YouTube, Facebook, Instagram, Twitter, Pinterest, TikTok and more.That said, if you are a travel blogger or you like share the scenery along the ways with your friends or family, don't miss it. Great quality videos can help you gain more followers or make your trip more memorable.
It Has True 4k UHD Details Display And Dual LENS
Definition is the most important parameter for a dash cam. Dual lens , so the back of the vehicle would be covered as well. With 6-Glass wide angle lens, it gives maximum protection for you car.
XGODY J401 PRO is a true 4K Dash Cam, its front camera provides top quality 4K, 3840*2160P, rear camera provides 1920*1080P 2K picture quality, which can capture super clear view. Details such as road signs and license plates within 10 meters are clearly visible. The wide-angle dual camera can cover at least 3 lanes in the front and rear, reducing blind spots and capturing more road scenes.
Powerful camera function helps you preserve every potent evidence. When the car is involved in an incident or a high-stress event, dash cam footage gives a proper knowledge of who is responsible for crashes.
GPS Tracking Display Current Speed On Screen
GPS technology has become almost ubiquitous in modern life. They can get information that helps them solve issues such as compliance, efficiency, and safety. XGODY J401 PRO with GPS accurately records your driving route and speed and it supports over speed reminder, KM/H MP/H speed unit switching which can make your trip safer.
In addition, it can accurately receives vehicle positioning and provide the most powerful evidence for accident disputes. This also be very useful in providing proof when you received a speeding ticket.
Dash cams built in GPS features are commonly used in commercial fleets as having location data is extremely helpful in preventing false claims and reducing insurance costs.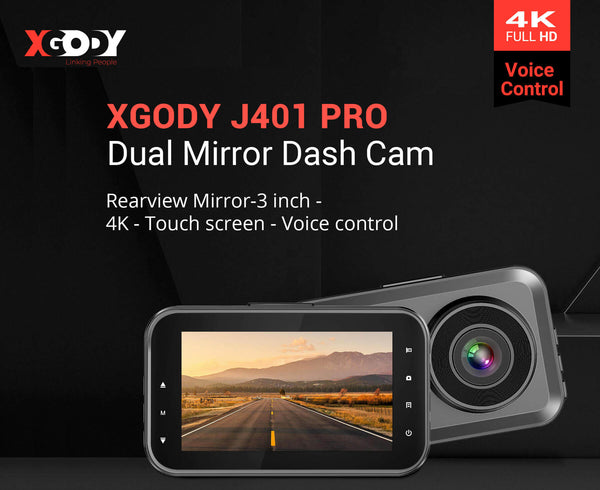 3 Inch IPS HD Touch Screen-mini Plus Voice Control
J401 pro WiFi Dash Cam size:
8.4 cm long
1.04 cm wide
5 cm high
Small and inconspicuous when mounted on windshield.
You can command the dash cam with your voice, and keep your hands on the wheel. You can say:
Tum on screen | Show rear camera | Turn on audio
Turn off screen | Show both camera | Turn off audio
Lock the video record | Take photo | Show front camera
It is very convenient and cool for you to use and it sounds like that there are an assistant with you on your journey.
24 Hours Parking Monitor Fight For You
With the hard-wired kit connected to the car battery, even if the car is turned off, the machine can still record video for 24-hour monitoring
This feature can come in handy in a variety of situations, including:
If someone dings your car with their car door
If your vehicle is involved in a hit and run while parked
If someone vandalizes or attempts to steal your vehicle
If you're given an undeserved parking ticket or other traffic violation citation
I think this feature very popular for both new and experienced drivers because it will fight for you and reduce your worries.
Super Night Vision Has Your Back
A car dash cam should record quality video both during night and day. Like many dash cams, the XGODY J401 PRO also boasts "super night vision", and advanced WDR technology can capture brighter, higher contrast, and more important details in different lighting environments image. It can record a clear, visible video in any situation- while driving or parked.
Driving at night can be a lot more intimidating than driving in the daytime. XGODY J401 PRO's Super Night Vision capture greater detail at night, further protecting your vehicle. It has your back.
Loop Recording Is Perfect
This dash cam supports micro SD cards up to 128GB, with access speed class 10 (note: device includes 32GB of memory). Loop Recording and Emergency Lock--Seamless loop recording and automatic collision detection with G-Sensor and instant video saving and locking to file, preventing any overwriting and preserving evidence.
There is limited memory space in a camera, but the need for shooting more videos is unlimited. Loop recording can always make room for the recording, it will automatically over writes the earliest file and record over it when storage fills up and the last recording before the accident happens can be safely stored.
It Is Your Reversing Assistant
XGODY J401 PRO's clearer 1080P Reversing Assist -- When you shift to "R" gear, the rear view of the car parking mode will be automatically displayed on the screen with a reversing assist line, which makes reversing faster and safer.
The feature is very helpful for new drivers or someone who is not good at parking. Parking garages are often narrow and confusing, so maneuvering can quickly become a challenge. It can help you reduces or prevents vehicle accidents and property damage caused by being distracted or careless.
It Is Made By A Famous Brand
For consumers, a brand is not only a symbol, but also the embodiment of the quality, reputation and value of products or enterprises.
XGODY is a well-known brand - more than 10 years that develops and sells high-tech products such as GPS, Dash Cam, and Unlock Smartphones. Affordable for everyone and making life interesting is their brand mission. Since 2009, more than 1.8 million cars have used their Car Dash Cams to record every moment on the road. Record real life from the car of view, to the past 10 years, to the next 10 years!

Conclusion
The XGODY J401 PRO is made by famous brand , it has decent specifications that compete well with other wifi dash cams out there. If you want a premium 4k dash cam that will record great quality video and comes with extra features such as built-in G-senor and Voice Control, especially at such an affordable price, or if any of the advantages of this wifi dash cam appeal to you, don't miss it.