{"id":6753905049678,"title":"XGODY Android HD 8 Kids Tablet 32 GB Kid-Proof Case Dual Camera Educational Games Parental Control","handle":"xgody-android-kids-tablet-kid-proof-case-dual-camera-educational-games-parental-control","description":"\u003cdiv style=\"text-align: center;\" data-mce-fragment=\"1\" data-mce-style=\"text-align: center;\"\u003e\u003cimg style=\"float: none;\" alt=\"\" src=\"https:\/\/cdn.shopifycdn.net\/s\/files\/1\/0100\/3542\/9454\/files\/00_7361692d-8fb0-4228-a33c-5725838b07d7_1024x1024.jpg?v=1654073470\" data-mce-fragment=\"1\" data-mce-src=\"https:\/\/cdn.shopifycdn.net\/s\/files\/1\/0100\/3542\/9454\/files\/00_7361692d-8fb0-4228-a33c-5725838b07d7_1024x1024.jpg?v=1654073470\" data-mce-style=\"float: none;\"\u003e\u003c\/div\u003e\n\u003cp style=\"text-align: left;\" data-mce-fragment=\"1\" data-mce-style=\"text-align: left;\"\u003e \u003c\/p\u003e\n\u003ch1 style=\"text-align: left;\" data-mce-fragment=\"1\" data-mce-style=\"text-align: left;\"\u003e\u003cstrong\u003eThe Best Kids Tablet For Kid's Enlightenment and Entertainment, IQ and EQ Development\u003c\/strong\u003e\u003c\/h1\u003e\n\u003cp\u003e \u003c\/p\u003e\n\u003ch2 style=\"text-align: left;\" data-mce-fragment=\"1\" data-mce-style=\"text-align: left;\"\u003e\u003cstrong\u003eWhy choose our XGODY T88 Kids Tablet?\u003c\/strong\u003e\u003c\/h2\u003e\n\u003cp style=\"text-align: left;\" data-mce-fragment=\"1\" data-mce-style=\"text-align: left;\"\u003e\u003cstrong\u003eGenuine Android 11 system with the highest protocol:\u003c\/strong\u003e Compatible with most APPs in the Android market; and with the best protection mechanism to block harmful advertisements and plug-ins; even in ordinary tablet mode, there is no need to worry about children's mental health problems.\u003c\/p\u003e\n\u003cp style=\"text-align: left;\" data-mce-fragment=\"1\" data-mce-style=\"text-align: left;\"\u003e\u003cstrong\u003eBody integrated protective case:\u003c\/strong\u003e T88kid tablet has a very cute and interesting appearance, blue is suitable for boys, pink is suitable for girls; and the anti-collision and anti-fall ability is very good, very suitable for outdoor play, home study, and so on.\u003cbr\u003e5500mAH large-capacity battery: All children's software can be used offline and can easily support more than 8 hours; and the eye protection screen can effectively relieve eye fatigue and dryness, whether it is video or learning, it can maximize the protection of eyes and concentration force.\u003c\/p\u003e\n\u003cp style=\"text-align: left;\" data-mce-fragment=\"1\" data-mce-style=\"text-align: left;\"\u003e\u003cstrong\u003eNational-level language switching:\u003c\/strong\u003e The language translation of the XGODY T88 children's tablet is the latest and standard, with 36 kinds of native language switching, which can accurately teach children to correctly understand each word and standard pronunciation; children can also learn through the software developed by XGODY to the languages ​​of different countries.\u003cbr\u003e\u003cbr\u003e\u003cstrong\u003eFocus on protecting eyes and eyesight:\u003c\/strong\u003e The screening standard is 1280P, which is far superior to its peers, and can play videos above 1080P; (other children's tablets on the market are generally 1028P); the clearer the screen, the more effective the eye protection, and the more uniform the distribution of light to the eyes, the easier the burden.\u003cbr\u003e\u003cbr\u003e\u003cstrong\u003eMore little advantages:\u003c\/strong\u003e\u003cbr\u003e\u003cstrong\u003e1.\u003c\/strong\u003e The 3G large memory ensures the rapid response and process of the tablet, and also has a longer service life than the general low-end tablet;\u003cbr\u003e\u003cstrong\u003e2.\u003c\/strong\u003e Easy to use, parental control, child mode, interesting and rich color interface, etc.\u003cbr\u003e\u003cstrong\u003e3.\u003c\/strong\u003e Wide range of practicability, suitable for children from 3 to 14 years old, all learning software and games that support 3D high configuration can be downloaded in normal mode\u003c\/p\u003e\n\u003cp\u003e \u003c\/p\u003e\n\u003ch2 style=\"text-align: left;\" data-mce-fragment=\"1\" data-mce-style=\"text-align: left;\"\u003e\u003cstrong\u003eParameter information\u003c\/strong\u003e\u003c\/h2\u003e\n\u003cdiv style=\"text-align: left;\" data-mce-fragment=\"1\" data-mce-style=\"text-align: left;\"\u003e\n\u003cstrong style=\"font-size: 1.4em;\"\u003eHardware Features\u003c\/strong\u003e\u003cbr\u003eOS: Android 11.0\u003c\/div\u003e\n\u003cp style=\"text-align: left;\" data-mce-fragment=\"1\" data-mce-style=\"text-align: left;\"\u003e\u003cstrong\u003eUpgraded version: Block ads and plug-ins\u003c\/strong\u003e\u003c\/p\u003e\n\u003cdiv style=\"text-align: left;\" data-mce-fragment=\"1\" data-mce-style=\"text-align: left;\"\u003eROM: 32GB EMMC\u003cbr\u003eRAM: 3G DDR3\u003cbr\u003e\u003cstrong\u003eDisplay: 8 inches, 1280*800 pixel\u003c\/strong\u003e\u003cbr\u003eTouchscreen: Multi-touch HD\u003cbr\u003eRear Camera: 5MP\u003cbr\u003eFront camera: 2MP\u003cbr\u003eT Card Expansion: Yes, Up to 128GB\u003cbr\u003eKids-Proof Case: Yes\u003cbr\u003eUSB charger: Yes, type-c\u003cbr\u003eWiFi and Bluetooth: Yes, (Latest version 22)\u003cbr\u003eOTG: Yes\u003cbr\u003eFlash Light: YES\u003cbr\u003eRF Antenna: Yes\u003cbr\u003e\u003cstrong\u003eAccelerometer: Yes, 3D\u003c\/strong\u003e\u003cbr\u003eOptical Sensor: Yes\u003cbr\u003eDistance sensor: Yes\u003c\/div\u003e\n\u003cdiv style=\"text-align: left;\" data-mce-fragment=\"1\" data-mce-style=\"text-align: left;\"\u003e\n\u003cstrong\u003eDual system: Normal tablet mode and Children's tablet mode\u003c\/strong\u003e\u003cbr data-mce-fragment=\"1\"\u003e\u003cstrong\u003eAnti-addiction for Kids\u003c\/strong\u003e: Yes\u003cbr data-mce-fragment=\"1\"\u003e\u003cstrong\u003eParental Control\u003c\/strong\u003e: Yes\u003c\/div\u003e\n\u003cdiv style=\"text-align: left;\" data-mce-fragment=\"1\" data-mce-style=\"text-align: left;\"\u003e\n\u003cstrong\u003eVision Protection\u003c\/strong\u003e: Yes\u003cbr\u003e\u003cbr\u003e\u003cbr\u003e\u003cstrong style=\"font-size: 1.4em;\"\u003eStructural features\u003c\/strong\u003e\u003cbr\u003eRF Antenna: Build-in\u003cbr\u003eWiFi and Bluetooth: Build-in\u003cbr\u003eHeadphone jack: 3.5mm with Micphone input\u003cbr\u003e\u003cstrong\u003eBattery: 5500mAH lithium polymer battery\u003c\/strong\u003e\u003cbr\u003eSpeakers: Two\u003cbr\u003eKids-Proof Case: Integrated protection\u003cbr\u003e \u003cbr\u003e\u003cbr\u003e\u003cstrong style=\"font-size: 1.4em;\"\u003eSoftware Features\u003c\/strong\u003e\u003cbr\u003eOffice: Support Word, PPT, Excel. etc\u003cbr\u003eGaming: Built-in 3D Accelerator. Support 3D gaming\u003cbr\u003eVideo: Support 1080P FHD, H.265\/h.264 Full HD, MPEG-1\/2\/4, VP8, VP6, AVC1, WMV3.etc\u003cbr\u003eAudio: MP3,WMA,MP2,OGG,AAC,M4A,FLAC,3GP,WAV.etc\u003cbr\u003ePicture: JPG\/JPEG\/BMP\/GIF\/PNG\/TIFF.etc\u003cbr\u003eE-Book: WORD\/EXCEL\/PDF\/TXT\/CHM\/HTML\u003cbr\u003e\u003cstrong\u003eSpecial Software: \u003c\/strong\u003eIWAWA, Kids Mode Kids iPad\u003cbr\u003e\n\u003c\/div\u003e\n\u003cdiv style=\"text-align: left;\" data-mce-fragment=\"1\" data-mce-style=\"text-align: left;\"\u003e\u003c\/div\u003e\n\u003cdiv style=\"text-align: left;\" data-mce-fragment=\"1\" data-mce-style=\"text-align: left;\"\u003e\n\u003cbr\u003e\u003cstrong style=\"font-size: 1.4em;\"\u003eStandard include\u003c\/strong\u003e\u003cbr\u003e\n\u003cul\u003e\n\u003cli\u003eXGODY T88 inch Kids Tablet\u003c\/li\u003e\n\u003cli\u003eOTG cable\u003c\/li\u003e\n\u003cli\u003eUSB cable\u003c\/li\u003e\n\u003cli\u003eHD film\u003c\/li\u003e\n\u003cli\u003eManual\u003c\/li\u003e\n\u003cli\u003eGeneral Instructions\u003c\/li\u003e\n\u003c\/ul\u003e\n\u003cp\u003e \u003c\/p\u003e\n\u003cp style=\"text-align: center;\"\u003e\u003ciframe title=\"YouTube video player\" src=\"https:\/\/www.youtube.com\/embed\/3GjHigg95jE\" height=\"560\" width=\"1000\" allowfullscreen=\"\" allow=\"accelerometer; autoplay; clipboard-write; encrypted-media; gyroscope; picture-in-picture\" frameborder=\"0\"\u003e\u003c\/iframe\u003e\u003c\/p\u003e\n\u003c\/div\u003e\n\u003cdiv style=\"text-align: center;\" data-mce-fragment=\"1\" data-mce-style=\"text-align: center;\"\u003e\u003c\/div\u003e\n\u003cdiv style=\"text-align: center;\" data-mce-fragment=\"1\" data-mce-style=\"text-align: center;\"\u003e\n\u003cimg alt=\"\" src=\"https:\/\/cdn.shopifycdn.net\/s\/files\/1\/0100\/3542\/9454\/files\/01_29da2a22-6554-4651-ace8-71f3b4c4d73e_1024x1024.jpg?v=1654073493\" data-mce-fragment=\"1\" data-mce-src=\"https:\/\/cdn.shopifycdn.net\/s\/files\/1\/0100\/3542\/9454\/files\/01_29da2a22-6554-4651-ace8-71f3b4c4d73e_1024x1024.jpg?v=1654073493\"\u003e\u003cimg alt=\"\" src=\"https:\/\/cdn.shopifycdn.net\/s\/files\/1\/0100\/3542\/9454\/files\/02_9d75ff70-82ec-4382-8fbd-b91fc4892084_1024x1024.jpg?v=1654073511\" data-mce-fragment=\"1\" data-mce-src=\"https:\/\/cdn.shopifycdn.net\/s\/files\/1\/0100\/3542\/9454\/files\/02_9d75ff70-82ec-4382-8fbd-b91fc4892084_1024x1024.jpg?v=1654073511\"\u003e\u003cimg alt=\"\" src=\"https:\/\/cdn.shopifycdn.net\/s\/files\/1\/0100\/3542\/9454\/files\/03_5666e763-294f-4ae0-acf1-a85ec74017e8_1024x1024.jpg?v=1654073533\" data-mce-fragment=\"1\" data-mce-src=\"https:\/\/cdn.shopifycdn.net\/s\/files\/1\/0100\/3542\/9454\/files\/03_5666e763-294f-4ae0-acf1-a85ec74017e8_1024x1024.jpg?v=1654073533\"\u003e\u003cimg alt=\"\" src=\"https:\/\/cdn.shopifycdn.net\/s\/files\/1\/0100\/3542\/9454\/files\/04_3a083e88-e7f2-4a6e-a8ff-e37e7f3effbb_1024x1024.jpg?v=1654073548\" data-mce-fragment=\"1\" data-mce-src=\"https:\/\/cdn.shopifycdn.net\/s\/files\/1\/0100\/3542\/9454\/files\/04_3a083e88-e7f2-4a6e-a8ff-e37e7f3effbb_1024x1024.jpg?v=1654073548\"\u003e\u003cimg alt=\"\" src=\"https:\/\/cdn.shopifycdn.net\/s\/files\/1\/0100\/3542\/9454\/files\/05_02fbf90e-74f5-4af8-a8dc-6348120e0f4f_1024x1024.jpg?v=1654073575\" data-mce-fragment=\"1\" data-mce-src=\"https:\/\/cdn.shopifycdn.net\/s\/files\/1\/0100\/3542\/9454\/files\/05_02fbf90e-74f5-4af8-a8dc-6348120e0f4f_1024x1024.jpg?v=1654073575\"\u003e\u003cimg alt=\"\" src=\"https:\/\/cdn.shopifycdn.net\/s\/files\/1\/0100\/3542\/9454\/files\/06_93c10622-933b-44a3-8f58-6cdd94e60fa7_1024x1024.jpg?v=1654073598\" data-mce-fragment=\"1\" data-mce-src=\"https:\/\/cdn.shopifycdn.net\/s\/files\/1\/0100\/3542\/9454\/files\/06_93c10622-933b-44a3-8f58-6cdd94e60fa7_1024x1024.jpg?v=1654073598\"\u003e\u003cimg alt=\"\" src=\"https:\/\/cdn.shopifycdn.net\/s\/files\/1\/0100\/3542\/9454\/files\/07_8e88bf70-8bdd-44a6-84f0-56d9623ce2a4_1024x1024.jpg?v=1654073612\" data-mce-fragment=\"1\" data-mce-src=\"https:\/\/cdn.shopifycdn.net\/s\/files\/1\/0100\/3542\/9454\/files\/07_8e88bf70-8bdd-44a6-84f0-56d9623ce2a4_1024x1024.jpg?v=1654073612\"\u003e\u003cimg alt=\"\" src=\"https:\/\/cdn.shopifycdn.net\/s\/files\/1\/0100\/3542\/9454\/files\/08_4d74d1dd-01e9-4508-90b6-db7d4bad74ab_1024x1024.jpg?v=1654073626\" data-mce-fragment=\"1\" data-mce-src=\"https:\/\/cdn.shopifycdn.net\/s\/files\/1\/0100\/3542\/9454\/files\/08_4d74d1dd-01e9-4508-90b6-db7d4bad74ab_1024x1024.jpg?v=1654073626\"\u003e\u003cimg alt=\"\" src=\"https:\/\/cdn.shopifycdn.net\/s\/files\/1\/0100\/3542\/9454\/files\/09_65d4cb1f-96f2-4b37-ac0e-5272cf33ee28_1024x1024.jpg?v=1654073643\" data-mce-fragment=\"1\" data-mce-src=\"https:\/\/cdn.shopifycdn.net\/s\/files\/1\/0100\/3542\/9454\/files\/09_65d4cb1f-96f2-4b37-ac0e-5272cf33ee28_1024x1024.jpg?v=1654073643\"\u003e\u003cimg alt=\"\" src=\"https:\/\/cdn.shopifycdn.net\/s\/files\/1\/0100\/3542\/9454\/files\/10_cc7a41b7-3aee-45c7-aed3-eb4abb3dc03c_1024x1024.jpg?v=1654073657\" data-mce-fragment=\"1\" data-mce-src=\"https:\/\/cdn.shopifycdn.net\/s\/files\/1\/0100\/3542\/9454\/files\/10_cc7a41b7-3aee-45c7-aed3-eb4abb3dc03c_1024x1024.jpg?v=1654073657\"\u003e\u003cimg alt=\"\" src=\"https:\/\/cdn.shopifycdn.net\/s\/files\/1\/0100\/3542\/9454\/files\/11_1d0e3444-beff-4c25-b61f-02ede205fe5c_1024x1024.jpg?v=1654073671\" data-mce-fragment=\"1\" data-mce-src=\"https:\/\/cdn.shopifycdn.net\/s\/files\/1\/0100\/3542\/9454\/files\/11_1d0e3444-beff-4c25-b61f-02ede205fe5c_1024x1024.jpg?v=1654073671\"\u003e\u003cimg alt=\"\" src=\"https:\/\/cdn.shopifycdn.net\/s\/files\/1\/0100\/3542\/9454\/files\/4_15936120-60c7-4a14-8e29-afadcbfcf0d8_1024x1024.jpg?v=1654073683\" data-mce-fragment=\"1\" data-mce-src=\"https:\/\/cdn.shopifycdn.net\/s\/files\/1\/0100\/3542\/9454\/files\/4_15936120-60c7-4a14-8e29-afadcbfcf0d8_1024x1024.jpg?v=1654073683\"\u003e\n\u003c\/div\u003e","published_at":"2022-06-01T17:08:45+08:00","created_at":"2022-06-01T17:08:44+08:00","vendor":"XGODY ","type":"Kids tablet","tags":["XGODY kid tablet","XGODY T88 kid tablet","XGODY T88 kids tablet"],"price":7699,"price_min":7699,"price_max":8199,"available":true,"price_varies":true,"compare_at_price":8000,"compare_at_price_min":8000,"compare_at_price_max":8000,"compare_at_price_varies":false,"variants":[{"id":39839937560654,"title":"Blue \/ 3GB + 32GB","option1":"Blue","option2":"3GB + 32GB","option3":null,"sku":"","requires_shipping":true,"taxable":false,"featured_image":{"id":29355281121358,"product_id":6753905049678,"position":2,"created_at":"2022-06-30T11:39:32+08:00","updated_at":"2022-06-30T11:39:32+08:00","alt":"Cost-effective and Most worthwhile XGODY Android HD 8 Kids Tablet 32 GB Kid-Proof Case Dual Camera Educational Games Parental Control - XGODY ","width":1500,"height":1500,"src":"\/\/xgody.com\/cdn\/shop\/products\/the-best-xgody-android-hd-8-kids-tablet-32-gb-kid-proof-case-dual-camera-educational-games-parental-control-2.jpg?v=1656560372","variant_ids":[39839937560654]},"available":true,"name":"XGODY Android HD 8 Kids Tablet 32 GB Kid-Proof Case Dual Camera Educational Games Parental Control - Blue \/ 3GB + 32GB","public_title":"Blue \/ 3GB + 32GB","options":["Blue","3GB + 32GB"],"price":7699,"weight":0,"compare_at_price":8000,"inventory_management":"shopify","barcode":"","featured_media":{"alt":"Cost-effective and Most worthwhile XGODY Android HD 8 Kids Tablet 32 GB Kid-Proof Case Dual Camera Educational Games Parental Control - XGODY ","id":21697065549902,"position":2,"preview_image":{"aspect_ratio":1.0,"height":1500,"width":1500,"src":"\/\/xgody.com\/cdn\/shop\/products\/the-best-xgody-android-hd-8-kids-tablet-32-gb-kid-proof-case-dual-camera-educational-games-parental-control-2.jpg?v=1656560372"}},"requires_selling_plan":false,"selling_plan_allocations":[]},{"id":40088920227918,"title":"Blue \/ 3GB + 48GB","option1":"Blue","option2":"3GB + 48GB","option3":null,"sku":"","requires_shipping":true,"taxable":false,"featured_image":null,"available":true,"name":"XGODY Android HD 8 Kids Tablet 32 GB Kid-Proof Case Dual Camera Educational Games Parental Control - Blue \/ 3GB + 48GB","public_title":"Blue \/ 3GB + 48GB","options":["Blue","3GB + 48GB"],"price":7899,"weight":0,"compare_at_price":8000,"inventory_management":"shopify","barcode":"","requires_selling_plan":false,"selling_plan_allocations":[]},{"id":40088920260686,"title":"Blue \/ 3GB + 64GB","option1":"Blue","option2":"3GB + 64GB","option3":null,"sku":"B010018830ZA+I040000301","requires_shipping":true,"taxable":false,"featured_image":null,"available":true,"name":"XGODY Android HD 8 Kids Tablet 32 GB Kid-Proof Case Dual Camera Educational Games Parental Control - Blue \/ 3GB + 64GB","public_title":"Blue \/ 3GB + 64GB","options":["Blue","3GB + 64GB"],"price":8199,"weight":0,"compare_at_price":8000,"inventory_management":"shopify","barcode":"","requires_selling_plan":false,"selling_plan_allocations":[]},{"id":39839937593422,"title":"Pink \/ 3GB + 32GB","option1":"Pink","option2":"3GB + 32GB","option3":null,"sku":"","requires_shipping":true,"taxable":false,"featured_image":{"id":29355281449038,"product_id":6753905049678,"position":3,"created_at":"2022-06-30T11:39:38+08:00","updated_at":"2022-06-30T11:39:38+08:00","alt":"Cost-effective and Most worthwhile XGODY Android HD 8 Kids Tablet 32 GB Kid-Proof Case Dual Camera Educational Games Parental Control - XGODY ","width":1500,"height":1500,"src":"\/\/xgody.com\/cdn\/shop\/products\/the-best-xgody-android-hd-8-kids-tablet-32-gb-kid-proof-case-dual-camera-educational-games-parental-control-3.jpg?v=1656560378","variant_ids":[39839937593422]},"available":true,"name":"XGODY Android HD 8 Kids Tablet 32 GB Kid-Proof Case Dual Camera Educational Games Parental Control - Pink \/ 3GB + 32GB","public_title":"Pink \/ 3GB + 32GB","options":["Pink","3GB + 32GB"],"price":7699,"weight":0,"compare_at_price":8000,"inventory_management":"shopify","barcode":"","featured_media":{"alt":"Cost-effective and Most worthwhile XGODY Android HD 8 Kids Tablet 32 GB Kid-Proof Case Dual Camera Educational Games Parental Control - XGODY ","id":21697065877582,"position":3,"preview_image":{"aspect_ratio":1.0,"height":1500,"width":1500,"src":"\/\/xgody.com\/cdn\/shop\/products\/the-best-xgody-android-hd-8-kids-tablet-32-gb-kid-proof-case-dual-camera-educational-games-parental-control-3.jpg?v=1656560378"}},"requires_selling_plan":false,"selling_plan_allocations":[]},{"id":40088920293454,"title":"Pink \/ 3GB + 48GB","option1":"Pink","option2":"3GB + 48GB","option3":null,"sku":"","requires_shipping":true,"taxable":false,"featured_image":null,"available":true,"name":"XGODY Android HD 8 Kids Tablet 32 GB Kid-Proof Case Dual Camera Educational Games Parental Control - Pink \/ 3GB + 48GB","public_title":"Pink \/ 3GB + 48GB","options":["Pink","3GB + 48GB"],"price":7899,"weight":0,"compare_at_price":8000,"inventory_management":"shopify","barcode":"","requires_selling_plan":false,"selling_plan_allocations":[]},{"id":40088920326222,"title":"Pink \/ 3GB + 64GB","option1":"Pink","option2":"3GB + 64GB","option3":null,"sku":"+I040000301","requires_shipping":true,"taxable":false,"featured_image":null,"available":true,"name":"XGODY Android HD 8 Kids Tablet 32 GB Kid-Proof Case Dual Camera Educational Games Parental Control - Pink \/ 3GB + 64GB","public_title":"Pink \/ 3GB + 64GB","options":["Pink","3GB + 64GB"],"price":8199,"weight":0,"compare_at_price":8000,"inventory_management":"shopify","barcode":"","requires_selling_plan":false,"selling_plan_allocations":[]}],"images":["\/\/xgody.com\/cdn\/shop\/products\/the-best-xgody-android-hd-8-kids-tablet-32-gb-kid-proof-case-dual-camera-educational-games-parental-control-1.jpg?v=1656560368","\/\/xgody.com\/cdn\/shop\/products\/the-best-xgody-android-hd-8-kids-tablet-32-gb-kid-proof-case-dual-camera-educational-games-parental-control-2.jpg?v=1656560372","\/\/xgody.com\/cdn\/shop\/products\/the-best-xgody-android-hd-8-kids-tablet-32-gb-kid-proof-case-dual-camera-educational-games-parental-control-3.jpg?v=1656560378","\/\/xgody.com\/cdn\/shop\/products\/the-best-xgody-android-hd-8-kids-tablet-32-gb-kid-proof-case-dual-camera-educational-games-parental-control-4.jpg?v=1656560381","\/\/xgody.com\/cdn\/shop\/products\/the-best-xgody-android-hd-8-kids-tablet-32-gb-kid-proof-case-dual-camera-educational-games-parental-control-5.jpg?v=1656560386","\/\/xgody.com\/cdn\/shop\/products\/the-best-xgody-android-hd-8-kids-tablet-32-gb-kid-proof-case-dual-camera-educational-games-parental-control-6.jpg?v=1656560389","\/\/xgody.com\/cdn\/shop\/products\/the-best-xgody-android-hd-8-kids-tablet-32-gb-kid-proof-case-dual-camera-educational-games-parental-control-7.jpg?v=1656560392"],"featured_image":"\/\/xgody.com\/cdn\/shop\/products\/the-best-xgody-android-hd-8-kids-tablet-32-gb-kid-proof-case-dual-camera-educational-games-parental-control-1.jpg?v=1656560368","options":["Color of T88","Memory"],"media":[{"alt":"Cost-effective and Most worthwhile XGODY Android HD 8 Kids Tablet 32 GB Kid-Proof Case Dual Camera Educational Games Parental Control - XGODY ","id":21697065222222,"position":1,"preview_image":{"aspect_ratio":1.0,"height":1600,"width":1600,"src":"\/\/xgody.com\/cdn\/shop\/products\/the-best-xgody-android-hd-8-kids-tablet-32-gb-kid-proof-case-dual-camera-educational-games-parental-control-1.jpg?v=1656560368"},"aspect_ratio":1.0,"height":1600,"media_type":"image","src":"\/\/xgody.com\/cdn\/shop\/products\/the-best-xgody-android-hd-8-kids-tablet-32-gb-kid-proof-case-dual-camera-educational-games-parental-control-1.jpg?v=1656560368","width":1600},{"alt":"Cost-effective and Most worthwhile XGODY Android HD 8 Kids Tablet 32 GB Kid-Proof Case Dual Camera Educational Games Parental Control - XGODY ","id":21697065549902,"position":2,"preview_image":{"aspect_ratio":1.0,"height":1500,"width":1500,"src":"\/\/xgody.com\/cdn\/shop\/products\/the-best-xgody-android-hd-8-kids-tablet-32-gb-kid-proof-case-dual-camera-educational-games-parental-control-2.jpg?v=1656560372"},"aspect_ratio":1.0,"height":1500,"media_type":"image","src":"\/\/xgody.com\/cdn\/shop\/products\/the-best-xgody-android-hd-8-kids-tablet-32-gb-kid-proof-case-dual-camera-educational-games-parental-control-2.jpg?v=1656560372","width":1500},{"alt":"Cost-effective and Most worthwhile XGODY Android HD 8 Kids Tablet 32 GB Kid-Proof Case Dual Camera Educational Games Parental Control - XGODY ","id":21697065877582,"position":3,"preview_image":{"aspect_ratio":1.0,"height":1500,"width":1500,"src":"\/\/xgody.com\/cdn\/shop\/products\/the-best-xgody-android-hd-8-kids-tablet-32-gb-kid-proof-case-dual-camera-educational-games-parental-control-3.jpg?v=1656560378"},"aspect_ratio":1.0,"height":1500,"media_type":"image","src":"\/\/xgody.com\/cdn\/shop\/products\/the-best-xgody-android-hd-8-kids-tablet-32-gb-kid-proof-case-dual-camera-educational-games-parental-control-3.jpg?v=1656560378","width":1500},{"alt":"Cost-effective and Most worthwhile XGODY Android HD 8 Kids Tablet 32 GB Kid-Proof Case Dual Camera Educational Games Parental Control - XGODY ","id":21697066205262,"position":4,"preview_image":{"aspect_ratio":1.0,"height":1500,"width":1500,"src":"\/\/xgody.com\/cdn\/shop\/products\/the-best-xgody-android-hd-8-kids-tablet-32-gb-kid-proof-case-dual-camera-educational-games-parental-control-4.jpg?v=1656560381"},"aspect_ratio":1.0,"height":1500,"media_type":"image","src":"\/\/xgody.com\/cdn\/shop\/products\/the-best-xgody-android-hd-8-kids-tablet-32-gb-kid-proof-case-dual-camera-educational-games-parental-control-4.jpg?v=1656560381","width":1500},{"alt":"Cost-effective and Most worthwhile XGODY Android HD 8 Kids Tablet 32 GB Kid-Proof Case Dual Camera Educational Games Parental Control - XGODY ","id":21697066532942,"position":5,"preview_image":{"aspect_ratio":1.0,"height":1500,"width":1500,"src":"\/\/xgody.com\/cdn\/shop\/products\/the-best-xgody-android-hd-8-kids-tablet-32-gb-kid-proof-case-dual-camera-educational-games-parental-control-5.jpg?v=1656560386"},"aspect_ratio":1.0,"height":1500,"media_type":"image","src":"\/\/xgody.com\/cdn\/shop\/products\/the-best-xgody-android-hd-8-kids-tablet-32-gb-kid-proof-case-dual-camera-educational-games-parental-control-5.jpg?v=1656560386","width":1500},{"alt":"Cost-effective and Most worthwhile XGODY Android HD 8 Kids Tablet 32 GB Kid-Proof Case Dual Camera Educational Games Parental Control - XGODY ","id":21697066664014,"position":6,"preview_image":{"aspect_ratio":1.0,"height":1500,"width":1500,"src":"\/\/xgody.com\/cdn\/shop\/products\/the-best-xgody-android-hd-8-kids-tablet-32-gb-kid-proof-case-dual-camera-educational-games-parental-control-6.jpg?v=1656560389"},"aspect_ratio":1.0,"height":1500,"media_type":"image","src":"\/\/xgody.com\/cdn\/shop\/products\/the-best-xgody-android-hd-8-kids-tablet-32-gb-kid-proof-case-dual-camera-educational-games-parental-control-6.jpg?v=1656560389","width":1500},{"alt":"Cost-effective and Most worthwhile XGODY Android HD 8 Kids Tablet 32 GB Kid-Proof Case Dual Camera Educational Games Parental Control - XGODY ","id":21697066991694,"position":7,"preview_image":{"aspect_ratio":1.0,"height":1500,"width":1500,"src":"\/\/xgody.com\/cdn\/shop\/products\/the-best-xgody-android-hd-8-kids-tablet-32-gb-kid-proof-case-dual-camera-educational-games-parental-control-7.jpg?v=1656560392"},"aspect_ratio":1.0,"height":1500,"media_type":"image","src":"\/\/xgody.com\/cdn\/shop\/products\/the-best-xgody-android-hd-8-kids-tablet-32-gb-kid-proof-case-dual-camera-educational-games-parental-control-7.jpg?v=1656560392","width":1500}],"requires_selling_plan":false,"selling_plan_groups":[],"content":"\u003cdiv style=\"text-align: center;\" data-mce-fragment=\"1\" data-mce-style=\"text-align: center;\"\u003e\u003cimg style=\"float: none;\" alt=\"\" src=\"https:\/\/cdn.shopifycdn.net\/s\/files\/1\/0100\/3542\/9454\/files\/00_7361692d-8fb0-4228-a33c-5725838b07d7_1024x1024.jpg?v=1654073470\" data-mce-fragment=\"1\" data-mce-src=\"https:\/\/cdn.shopifycdn.net\/s\/files\/1\/0100\/3542\/9454\/files\/00_7361692d-8fb0-4228-a33c-5725838b07d7_1024x1024.jpg?v=1654073470\" data-mce-style=\"float: none;\"\u003e\u003c\/div\u003e\n\u003cp style=\"text-align: left;\" data-mce-fragment=\"1\" data-mce-style=\"text-align: left;\"\u003e \u003c\/p\u003e\n\u003ch1 style=\"text-align: left;\" data-mce-fragment=\"1\" data-mce-style=\"text-align: left;\"\u003e\u003cstrong\u003eThe Best Kids Tablet For Kid's Enlightenment and Entertainment, IQ and EQ Development\u003c\/strong\u003e\u003c\/h1\u003e\n\u003cp\u003e \u003c\/p\u003e\n\u003ch2 style=\"text-align: left;\" data-mce-fragment=\"1\" data-mce-style=\"text-align: left;\"\u003e\u003cstrong\u003eWhy choose our XGODY T88 Kids Tablet?\u003c\/strong\u003e\u003c\/h2\u003e\n\u003cp style=\"text-align: left;\" data-mce-fragment=\"1\" data-mce-style=\"text-align: left;\"\u003e\u003cstrong\u003eGenuine Android 11 system with the highest protocol:\u003c\/strong\u003e Compatible with most APPs in the Android market; and with the best protection mechanism to block harmful advertisements and plug-ins; even in ordinary tablet mode, there is no need to worry about children's mental health problems.\u003c\/p\u003e\n\u003cp style=\"text-align: left;\" data-mce-fragment=\"1\" data-mce-style=\"text-align: left;\"\u003e\u003cstrong\u003eBody integrated protective case:\u003c\/strong\u003e T88kid tablet has a very cute and interesting appearance, blue is suitable for boys, pink is suitable for girls; and the anti-collision and anti-fall ability is very good, very suitable for outdoor play, home study, and so on.\u003cbr\u003e5500mAH large-capacity battery: All children's software can be used offline and can easily support more than 8 hours; and the eye protection screen can effectively relieve eye fatigue and dryness, whether it is video or learning, it can maximize the protection of eyes and concentration force.\u003c\/p\u003e\n\u003cp style=\"text-align: left;\" data-mce-fragment=\"1\" data-mce-style=\"text-align: left;\"\u003e\u003cstrong\u003eNational-level language switching:\u003c\/strong\u003e The language translation of the XGODY T88 children's tablet is the latest and standard, with 36 kinds of native language switching, which can accurately teach children to correctly understand each word and standard pronunciation; children can also learn through the software developed by XGODY to the languages ​​of different countries.\u003cbr\u003e\u003cbr\u003e\u003cstrong\u003eFocus on protecting eyes and eyesight:\u003c\/strong\u003e The screening standard is 1280P, which is far superior to its peers, and can play videos above 1080P; (other children's tablets on the market are generally 1028P); the clearer the screen, the more effective the eye protection, and the more uniform the distribution of light to the eyes, the easier the burden.\u003cbr\u003e\u003cbr\u003e\u003cstrong\u003eMore little advantages:\u003c\/strong\u003e\u003cbr\u003e\u003cstrong\u003e1.\u003c\/strong\u003e The 3G large memory ensures the rapid response and process of the tablet, and also has a longer service life than the general low-end tablet;\u003cbr\u003e\u003cstrong\u003e2.\u003c\/strong\u003e Easy to use, parental control, child mode, interesting and rich color interface, etc.\u003cbr\u003e\u003cstrong\u003e3.\u003c\/strong\u003e Wide range of practicability, suitable for children from 3 to 14 years old, all learning software and games that support 3D high configuration can be downloaded in normal mode\u003c\/p\u003e\n\u003cp\u003e \u003c\/p\u003e\n\u003ch2 style=\"text-align: left;\" data-mce-fragment=\"1\" data-mce-style=\"text-align: left;\"\u003e\u003cstrong\u003eParameter information\u003c\/strong\u003e\u003c\/h2\u003e\n\u003cdiv style=\"text-align: left;\" data-mce-fragment=\"1\" data-mce-style=\"text-align: left;\"\u003e\n\u003cstrong style=\"font-size: 1.4em;\"\u003eHardware Features\u003c\/strong\u003e\u003cbr\u003eOS: Android 11.0\u003c\/div\u003e\n\u003cp style=\"text-align: left;\" data-mce-fragment=\"1\" data-mce-style=\"text-align: left;\"\u003e\u003cstrong\u003eUpgraded version: Block ads and plug-ins\u003c\/strong\u003e\u003c\/p\u003e\n\u003cdiv style=\"text-align: left;\" data-mce-fragment=\"1\" data-mce-style=\"text-align: left;\"\u003eROM: 32GB EMMC\u003cbr\u003eRAM: 3G DDR3\u003cbr\u003e\u003cstrong\u003eDisplay: 8 inches, 1280*800 pixel\u003c\/strong\u003e\u003cbr\u003eTouchscreen: Multi-touch HD\u003cbr\u003eRear Camera: 5MP\u003cbr\u003eFront camera: 2MP\u003cbr\u003eT Card Expansion: Yes, Up to 128GB\u003cbr\u003eKids-Proof Case: Yes\u003cbr\u003eUSB charger: Yes, type-c\u003cbr\u003eWiFi and Bluetooth: Yes, (Latest version 22)\u003cbr\u003eOTG: Yes\u003cbr\u003eFlash Light: YES\u003cbr\u003eRF Antenna: Yes\u003cbr\u003e\u003cstrong\u003eAccelerometer: Yes, 3D\u003c\/strong\u003e\u003cbr\u003eOptical Sensor: Yes\u003cbr\u003eDistance sensor: Yes\u003c\/div\u003e\n\u003cdiv style=\"text-align: left;\" data-mce-fragment=\"1\" data-mce-style=\"text-align: left;\"\u003e\n\u003cstrong\u003eDual system: Normal tablet mode and Children's tablet mode\u003c\/strong\u003e\u003cbr data-mce-fragment=\"1\"\u003e\u003cstrong\u003eAnti-addiction for Kids\u003c\/strong\u003e: Yes\u003cbr data-mce-fragment=\"1\"\u003e\u003cstrong\u003eParental Control\u003c\/strong\u003e: Yes\u003c\/div\u003e\n\u003cdiv style=\"text-align: left;\" data-mce-fragment=\"1\" data-mce-style=\"text-align: left;\"\u003e\n\u003cstrong\u003eVision Protection\u003c\/strong\u003e: Yes\u003cbr\u003e\u003cbr\u003e\u003cbr\u003e\u003cstrong style=\"font-size: 1.4em;\"\u003eStructural features\u003c\/strong\u003e\u003cbr\u003eRF Antenna: Build-in\u003cbr\u003eWiFi and Bluetooth: Build-in\u003cbr\u003eHeadphone jack: 3.5mm with Micphone input\u003cbr\u003e\u003cstrong\u003eBattery: 5500mAH lithium polymer battery\u003c\/strong\u003e\u003cbr\u003eSpeakers: Two\u003cbr\u003eKids-Proof Case: Integrated protection\u003cbr\u003e \u003cbr\u003e\u003cbr\u003e\u003cstrong style=\"font-size: 1.4em;\"\u003eSoftware Features\u003c\/strong\u003e\u003cbr\u003eOffice: Support Word, PPT, Excel. etc\u003cbr\u003eGaming: Built-in 3D Accelerator. Support 3D gaming\u003cbr\u003eVideo: Support 1080P FHD, H.265\/h.264 Full HD, MPEG-1\/2\/4, VP8, VP6, AVC1, WMV3.etc\u003cbr\u003eAudio: MP3,WMA,MP2,OGG,AAC,M4A,FLAC,3GP,WAV.etc\u003cbr\u003ePicture: JPG\/JPEG\/BMP\/GIF\/PNG\/TIFF.etc\u003cbr\u003eE-Book: WORD\/EXCEL\/PDF\/TXT\/CHM\/HTML\u003cbr\u003e\u003cstrong\u003eSpecial Software: \u003c\/strong\u003eIWAWA, Kids Mode Kids iPad\u003cbr\u003e\n\u003c\/div\u003e\n\u003cdiv style=\"text-align: left;\" data-mce-fragment=\"1\" data-mce-style=\"text-align: left;\"\u003e\u003c\/div\u003e\n\u003cdiv style=\"text-align: left;\" data-mce-fragment=\"1\" data-mce-style=\"text-align: left;\"\u003e\n\u003cbr\u003e\u003cstrong style=\"font-size: 1.4em;\"\u003eStandard include\u003c\/strong\u003e\u003cbr\u003e\n\u003cul\u003e\n\u003cli\u003eXGODY T88 inch Kids Tablet\u003c\/li\u003e\n\u003cli\u003eOTG cable\u003c\/li\u003e\n\u003cli\u003eUSB cable\u003c\/li\u003e\n\u003cli\u003eHD film\u003c\/li\u003e\n\u003cli\u003eManual\u003c\/li\u003e\n\u003cli\u003eGeneral Instructions\u003c\/li\u003e\n\u003c\/ul\u003e\n\u003cp\u003e \u003c\/p\u003e\n\u003cp style=\"text-align: center;\"\u003e\u003ciframe title=\"YouTube video player\" src=\"https:\/\/www.youtube.com\/embed\/3GjHigg95jE\" height=\"560\" width=\"1000\" allowfullscreen=\"\" allow=\"accelerometer; autoplay; clipboard-write; encrypted-media; gyroscope; picture-in-picture\" frameborder=\"0\"\u003e\u003c\/iframe\u003e\u003c\/p\u003e\n\u003c\/div\u003e\n\u003cdiv style=\"text-align: center;\" data-mce-fragment=\"1\" data-mce-style=\"text-align: center;\"\u003e\u003c\/div\u003e\n\u003cdiv style=\"text-align: center;\" data-mce-fragment=\"1\" data-mce-style=\"text-align: center;\"\u003e\n\u003cimg alt=\"\" src=\"https:\/\/cdn.shopifycdn.net\/s\/files\/1\/0100\/3542\/9454\/files\/01_29da2a22-6554-4651-ace8-71f3b4c4d73e_1024x1024.jpg?v=1654073493\" data-mce-fragment=\"1\" data-mce-src=\"https:\/\/cdn.shopifycdn.net\/s\/files\/1\/0100\/3542\/9454\/files\/01_29da2a22-6554-4651-ace8-71f3b4c4d73e_1024x1024.jpg?v=1654073493\"\u003e\u003cimg alt=\"\" src=\"https:\/\/cdn.shopifycdn.net\/s\/files\/1\/0100\/3542\/9454\/files\/02_9d75ff70-82ec-4382-8fbd-b91fc4892084_1024x1024.jpg?v=1654073511\" data-mce-fragment=\"1\" data-mce-src=\"https:\/\/cdn.shopifycdn.net\/s\/files\/1\/0100\/3542\/9454\/files\/02_9d75ff70-82ec-4382-8fbd-b91fc4892084_1024x1024.jpg?v=1654073511\"\u003e\u003cimg alt=\"\" src=\"https:\/\/cdn.shopifycdn.net\/s\/files\/1\/0100\/3542\/9454\/files\/03_5666e763-294f-4ae0-acf1-a85ec74017e8_1024x1024.jpg?v=1654073533\" data-mce-fragment=\"1\" data-mce-src=\"https:\/\/cdn.shopifycdn.net\/s\/files\/1\/0100\/3542\/9454\/files\/03_5666e763-294f-4ae0-acf1-a85ec74017e8_1024x1024.jpg?v=1654073533\"\u003e\u003cimg alt=\"\" src=\"https:\/\/cdn.shopifycdn.net\/s\/files\/1\/0100\/3542\/9454\/files\/04_3a083e88-e7f2-4a6e-a8ff-e37e7f3effbb_1024x1024.jpg?v=1654073548\" data-mce-fragment=\"1\" data-mce-src=\"https:\/\/cdn.shopifycdn.net\/s\/files\/1\/0100\/3542\/9454\/files\/04_3a083e88-e7f2-4a6e-a8ff-e37e7f3effbb_1024x1024.jpg?v=1654073548\"\u003e\u003cimg alt=\"\" src=\"https:\/\/cdn.shopifycdn.net\/s\/files\/1\/0100\/3542\/9454\/files\/05_02fbf90e-74f5-4af8-a8dc-6348120e0f4f_1024x1024.jpg?v=1654073575\" data-mce-fragment=\"1\" data-mce-src=\"https:\/\/cdn.shopifycdn.net\/s\/files\/1\/0100\/3542\/9454\/files\/05_02fbf90e-74f5-4af8-a8dc-6348120e0f4f_1024x1024.jpg?v=1654073575\"\u003e\u003cimg alt=\"\" src=\"https:\/\/cdn.shopifycdn.net\/s\/files\/1\/0100\/3542\/9454\/files\/06_93c10622-933b-44a3-8f58-6cdd94e60fa7_1024x1024.jpg?v=1654073598\" data-mce-fragment=\"1\" data-mce-src=\"https:\/\/cdn.shopifycdn.net\/s\/files\/1\/0100\/3542\/9454\/files\/06_93c10622-933b-44a3-8f58-6cdd94e60fa7_1024x1024.jpg?v=1654073598\"\u003e\u003cimg alt=\"\" src=\"https:\/\/cdn.shopifycdn.net\/s\/files\/1\/0100\/3542\/9454\/files\/07_8e88bf70-8bdd-44a6-84f0-56d9623ce2a4_1024x1024.jpg?v=1654073612\" data-mce-fragment=\"1\" data-mce-src=\"https:\/\/cdn.shopifycdn.net\/s\/files\/1\/0100\/3542\/9454\/files\/07_8e88bf70-8bdd-44a6-84f0-56d9623ce2a4_1024x1024.jpg?v=1654073612\"\u003e\u003cimg alt=\"\" src=\"https:\/\/cdn.shopifycdn.net\/s\/files\/1\/0100\/3542\/9454\/files\/08_4d74d1dd-01e9-4508-90b6-db7d4bad74ab_1024x1024.jpg?v=1654073626\" data-mce-fragment=\"1\" data-mce-src=\"https:\/\/cdn.shopifycdn.net\/s\/files\/1\/0100\/3542\/9454\/files\/08_4d74d1dd-01e9-4508-90b6-db7d4bad74ab_1024x1024.jpg?v=1654073626\"\u003e\u003cimg alt=\"\" src=\"https:\/\/cdn.shopifycdn.net\/s\/files\/1\/0100\/3542\/9454\/files\/09_65d4cb1f-96f2-4b37-ac0e-5272cf33ee28_1024x1024.jpg?v=1654073643\" data-mce-fragment=\"1\" data-mce-src=\"https:\/\/cdn.shopifycdn.net\/s\/files\/1\/0100\/3542\/9454\/files\/09_65d4cb1f-96f2-4b37-ac0e-5272cf33ee28_1024x1024.jpg?v=1654073643\"\u003e\u003cimg alt=\"\" src=\"https:\/\/cdn.shopifycdn.net\/s\/files\/1\/0100\/3542\/9454\/files\/10_cc7a41b7-3aee-45c7-aed3-eb4abb3dc03c_1024x1024.jpg?v=1654073657\" data-mce-fragment=\"1\" data-mce-src=\"https:\/\/cdn.shopifycdn.net\/s\/files\/1\/0100\/3542\/9454\/files\/10_cc7a41b7-3aee-45c7-aed3-eb4abb3dc03c_1024x1024.jpg?v=1654073657\"\u003e\u003cimg alt=\"\" src=\"https:\/\/cdn.shopifycdn.net\/s\/files\/1\/0100\/3542\/9454\/files\/11_1d0e3444-beff-4c25-b61f-02ede205fe5c_1024x1024.jpg?v=1654073671\" data-mce-fragment=\"1\" data-mce-src=\"https:\/\/cdn.shopifycdn.net\/s\/files\/1\/0100\/3542\/9454\/files\/11_1d0e3444-beff-4c25-b61f-02ede205fe5c_1024x1024.jpg?v=1654073671\"\u003e\u003cimg alt=\"\" src=\"https:\/\/cdn.shopifycdn.net\/s\/files\/1\/0100\/3542\/9454\/files\/4_15936120-60c7-4a14-8e29-afadcbfcf0d8_1024x1024.jpg?v=1654073683\" data-mce-fragment=\"1\" data-mce-src=\"https:\/\/cdn.shopifycdn.net\/s\/files\/1\/0100\/3542\/9454\/files\/4_15936120-60c7-4a14-8e29-afadcbfcf0d8_1024x1024.jpg?v=1654073683\"\u003e\n\u003c\/div\u003e"}
XGODY Android HD 8 Kids Tablet 32 GB Kid-Proof Case Dual Camera Educational Games Parental Control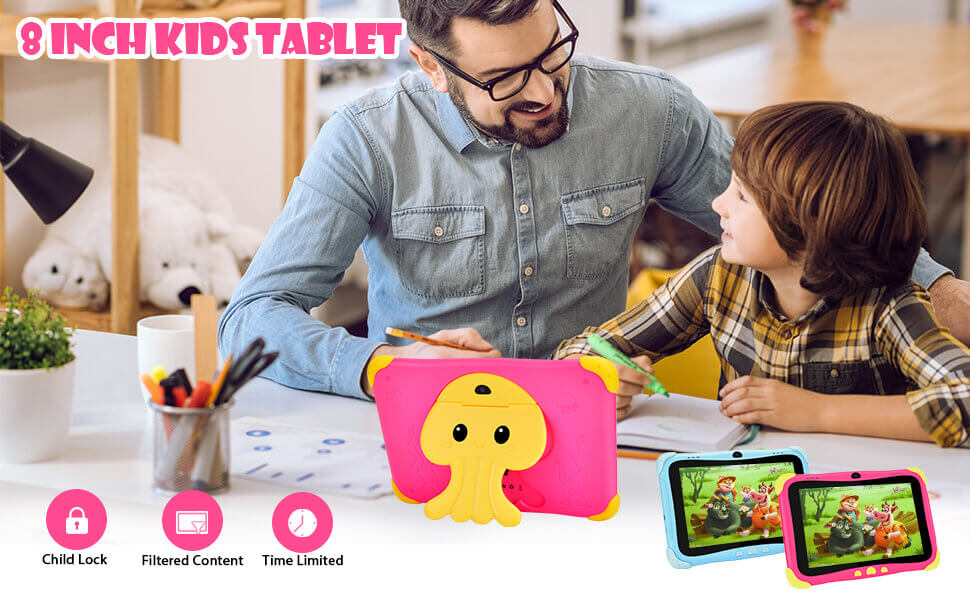 The Best Kids Tablet For Kid's Enlightenment and Entertainment, IQ and EQ Development
Why choose our XGODY T88 Kids Tablet?
Genuine Android 11 system with the highest protocol: Compatible with most APPs in the Android market; and with the best protection mechanism to block harmful advertisements and plug-ins; even in ordinary tablet mode, there is no need to worry about children's mental health problems.
Body integrated protective case: T88kid tablet has a very cute and interesting appearance, blue is suitable for boys, pink is suitable for girls; and the anti-collision and anti-fall ability is very good, very suitable for outdoor play, home study, and so on.
5500mAH large-capacity battery: All children's software can be used offline and can easily support more than 8 hours; and the eye protection screen can effectively relieve eye fatigue and dryness, whether it is video or learning, it can maximize the protection of eyes and concentration force.
National-level language switching: The language translation of the XGODY T88 children's tablet is the latest and standard, with 36 kinds of native language switching, which can accurately teach children to correctly understand each word and standard pronunciation; children can also learn through the software developed by XGODY to the languages ​​of different countries.

Focus on protecting eyes and eyesight: The screening standard is 1280P, which is far superior to its peers, and can play videos above 1080P; (other children's tablets on the market are generally 1028P); the clearer the screen, the more effective the eye protection, and the more uniform the distribution of light to the eyes, the easier the burden.

More little advantages:
1. The 3G large memory ensures the rapid response and process of the tablet, and also has a longer service life than the general low-end tablet;
2. Easy to use, parental control, child mode, interesting and rich color interface, etc.
3. Wide range of practicability, suitable for children from 3 to 14 years old, all learning software and games that support 3D high configuration can be downloaded in normal mode
Parameter information
Hardware Features
OS: Android 11.0
Upgraded version: Block ads and plug-ins
ROM: 32GB EMMC
RAM: 3G DDR3
Display: 8 inches, 1280*800 pixel
Touchscreen: Multi-touch HD
Rear Camera: 5MP
Front camera: 2MP
T Card Expansion: Yes, Up to 128GB
Kids-Proof Case: Yes
USB charger: Yes, type-c
WiFi and Bluetooth: Yes, (Latest version 22)
OTG: Yes
Flash Light: YES
RF Antenna: Yes
Accelerometer: Yes, 3D
Optical Sensor: Yes
Distance sensor: Yes
Dual system: Normal tablet mode and Children's tablet mode
Anti-addiction for Kids: Yes
Parental Control: Yes
Vision Protection: Yes


Structural features
RF Antenna: Build-in
WiFi and Bluetooth: Build-in
Headphone jack: 3.5mm with Micphone input
Battery: 5500mAH lithium polymer battery
Speakers: Two
Kids-Proof Case: Integrated protection


Software Features
Office: Support Word, PPT, Excel. etc
Gaming: Built-in 3D Accelerator. Support 3D gaming
Video: Support 1080P FHD, H.265/h.264 Full HD, MPEG-1/2/4, VP8, VP6, AVC1, WMV3.etc
Audio: MP3,WMA,MP2,OGG,AAC,M4A,FLAC,3GP,WAV.etc
Picture: JPG/JPEG/BMP/GIF/PNG/TIFF.etc
E-Book: WORD/EXCEL/PDF/TXT/CHM/HTML
Special Software: IWAWA, Kids Mode Kids iPad

Standard include
XGODY T88 inch Kids Tablet
OTG cable
USB cable
HD film
Manual
General Instructions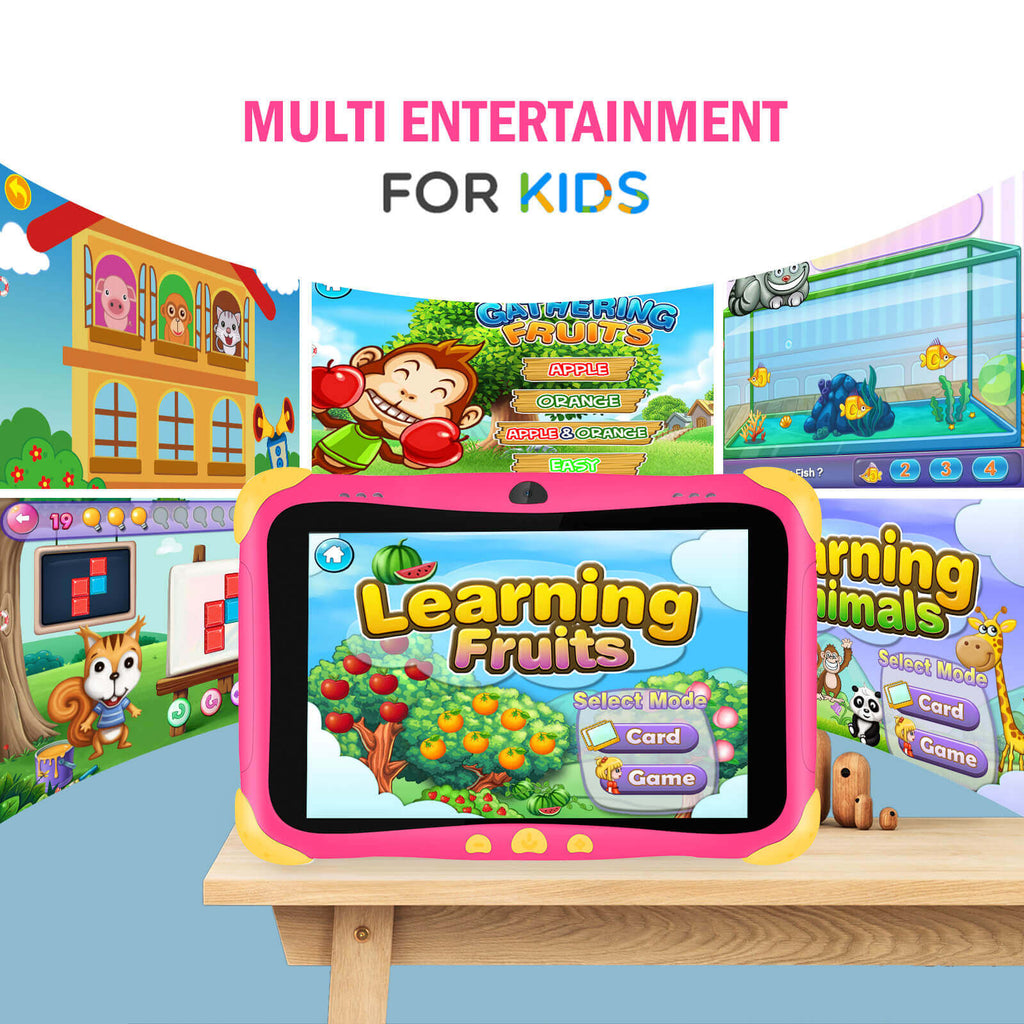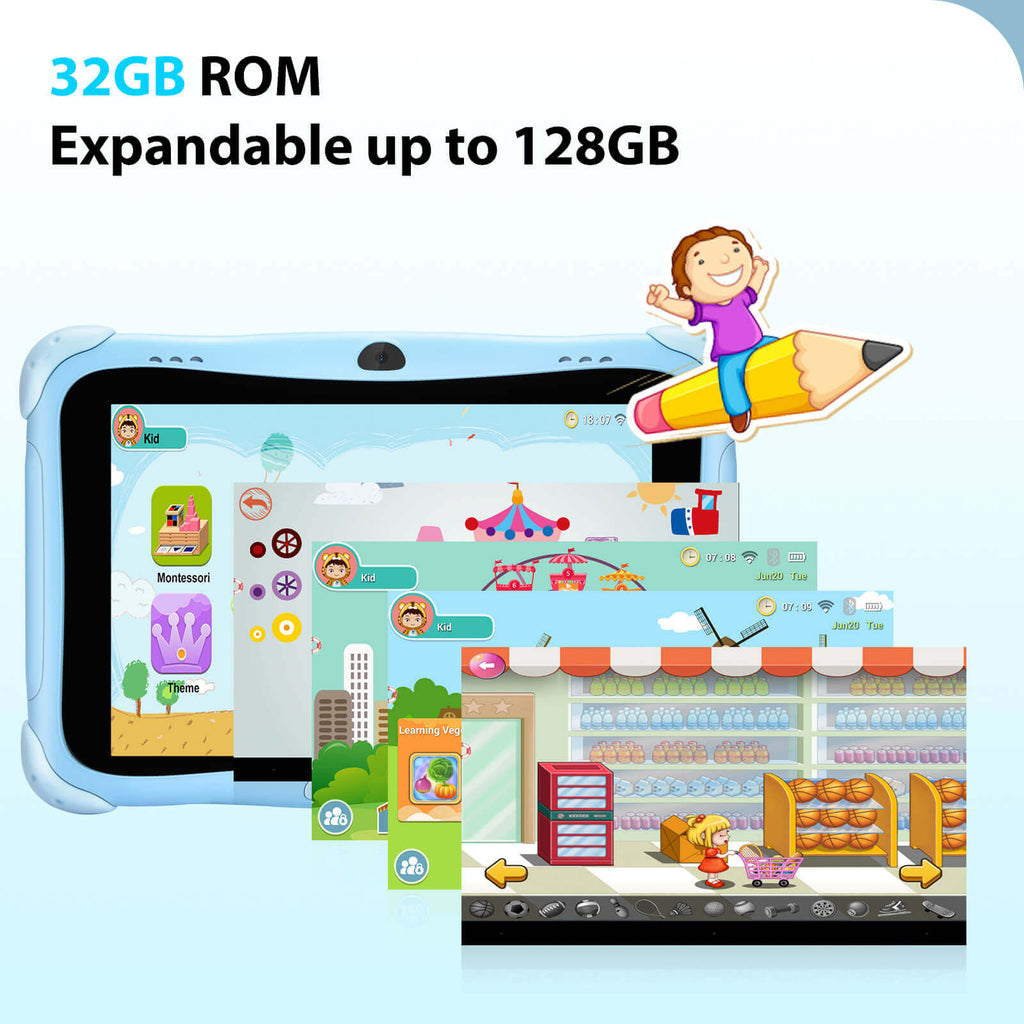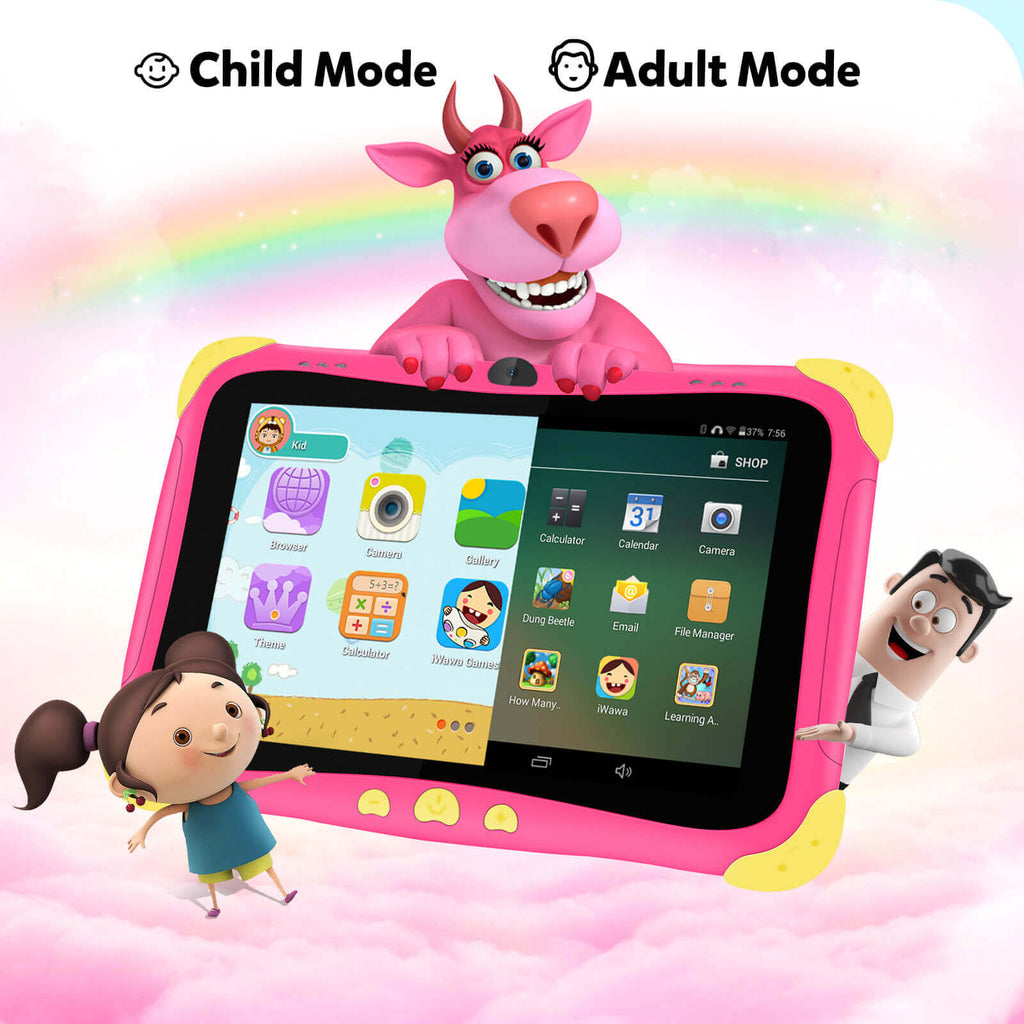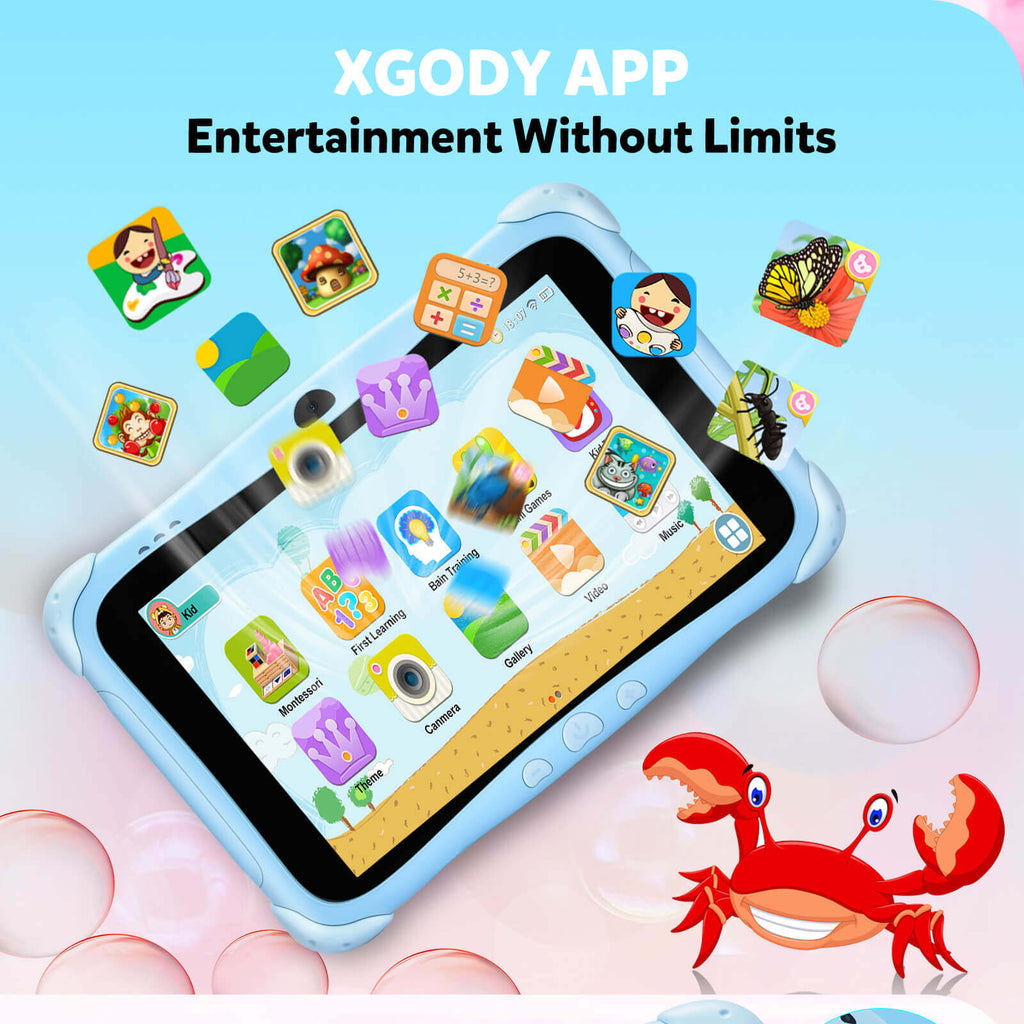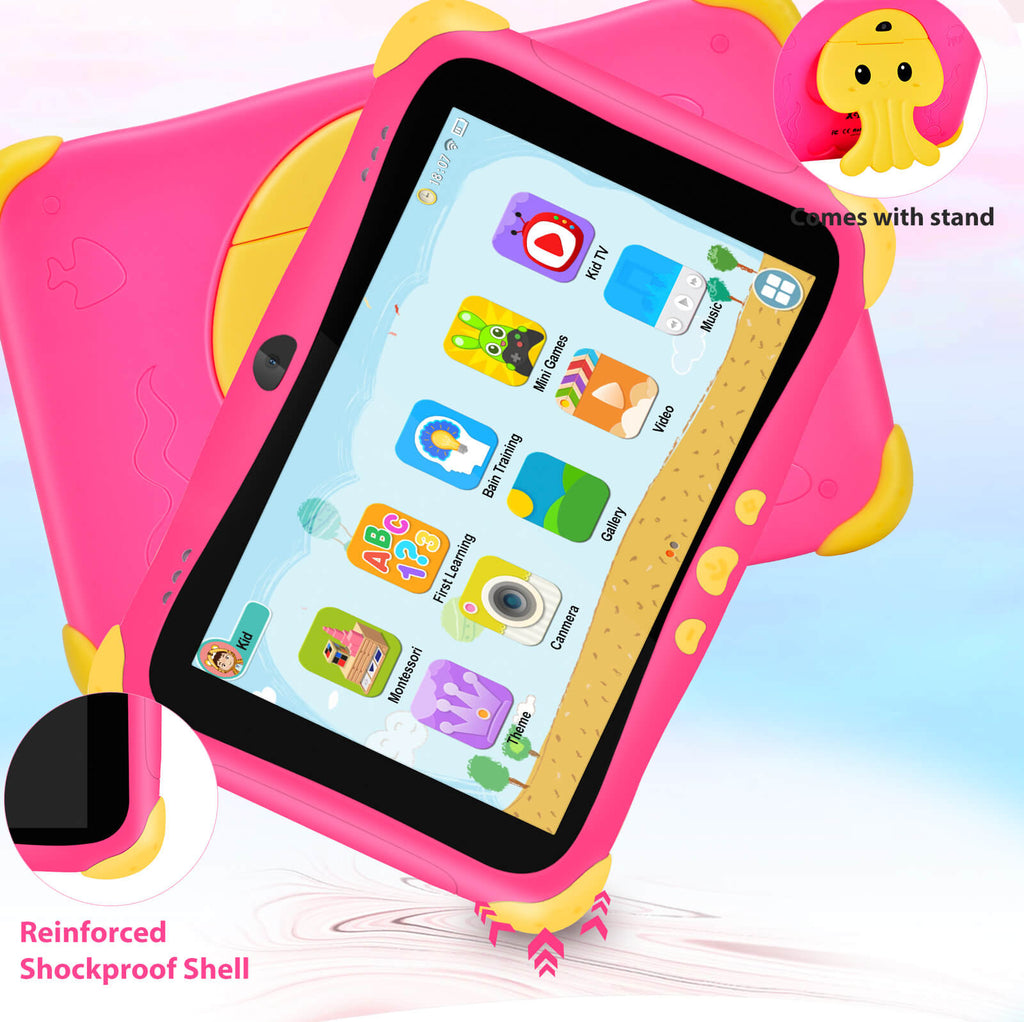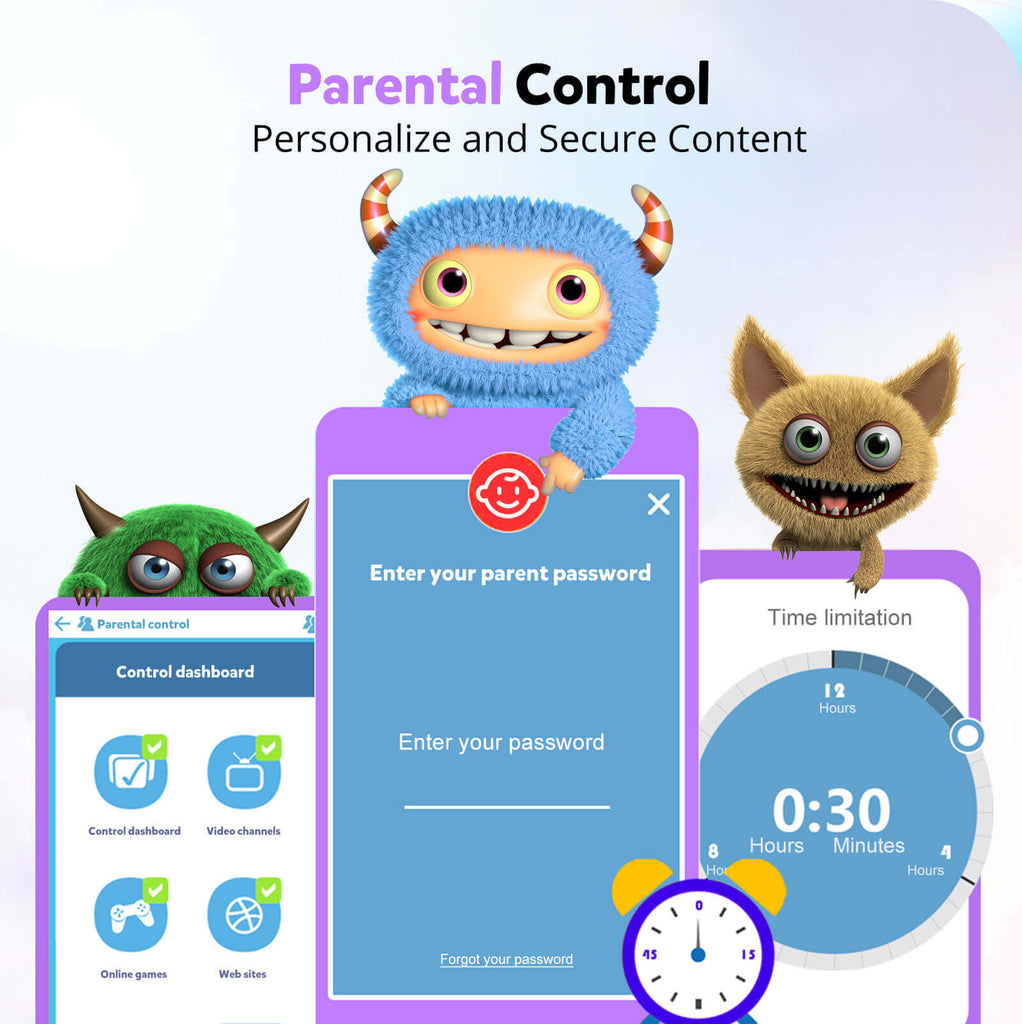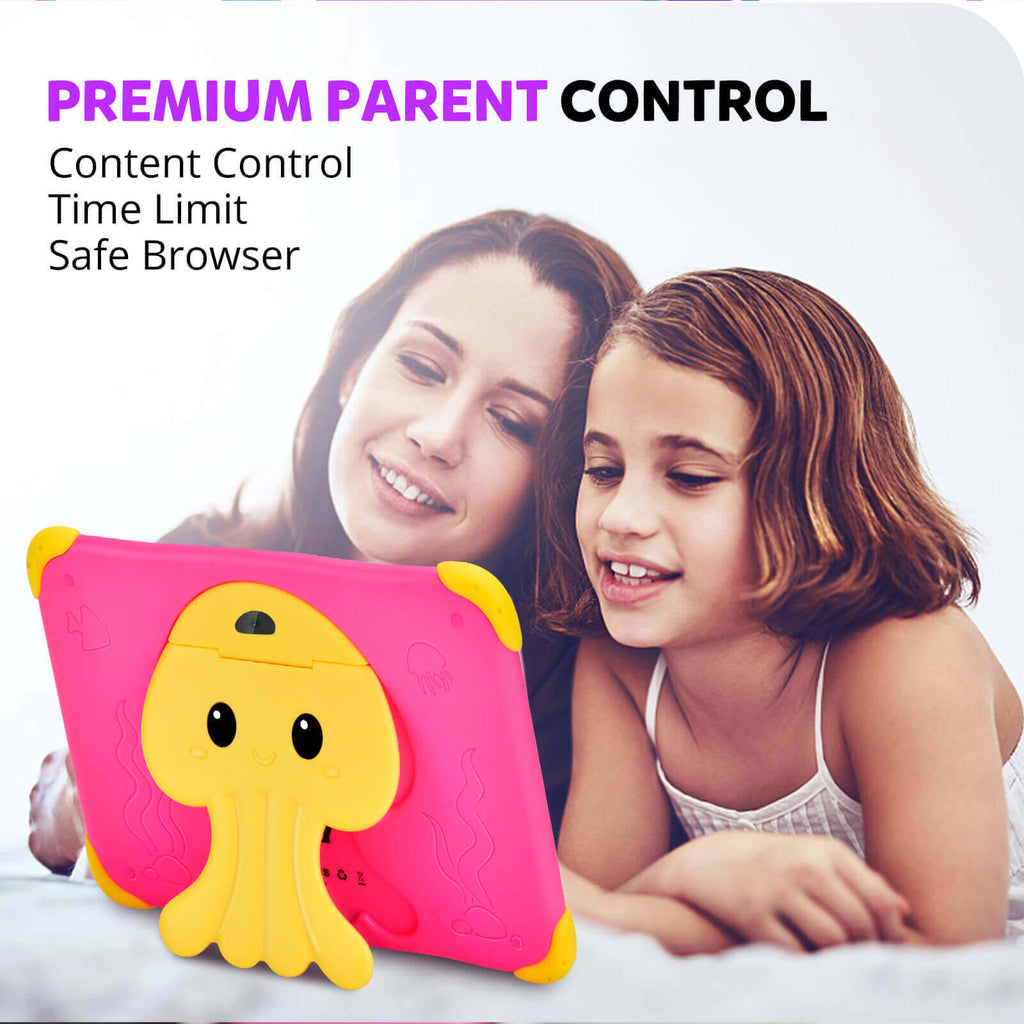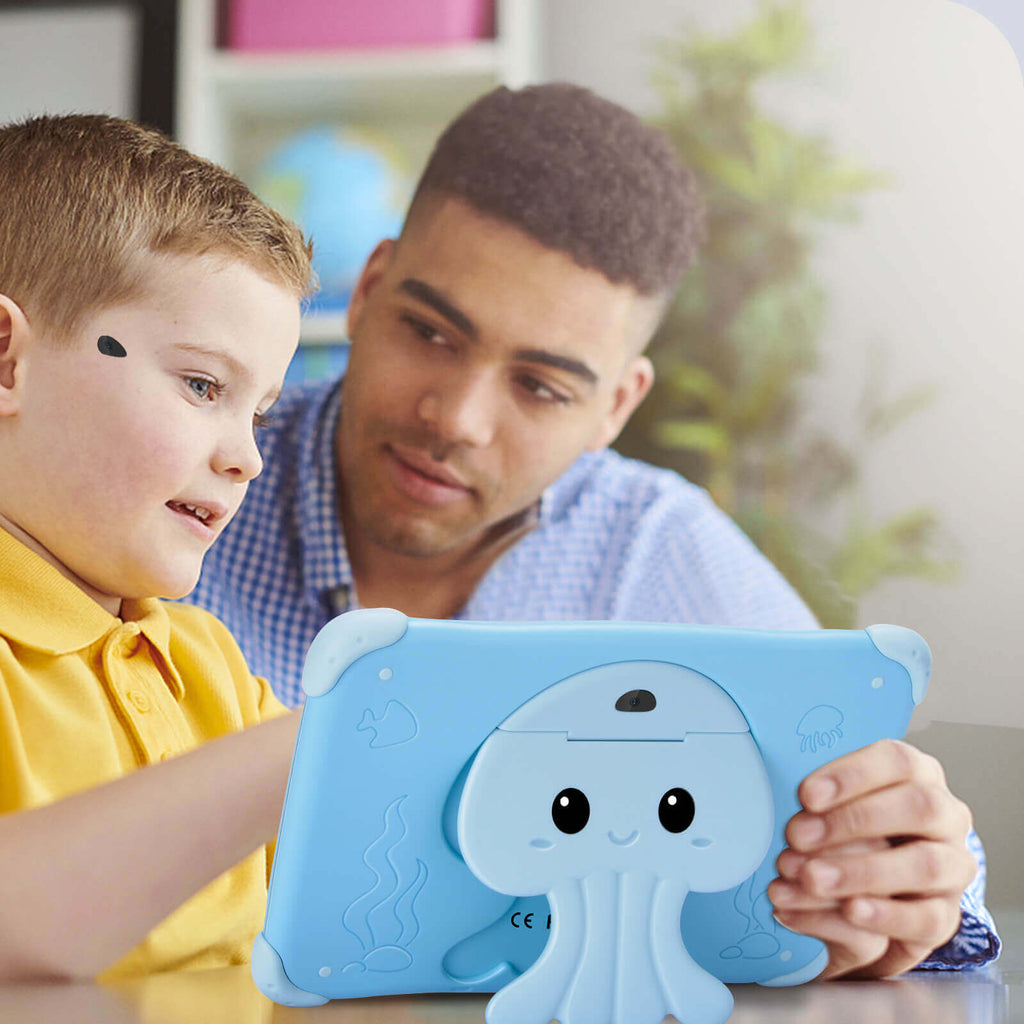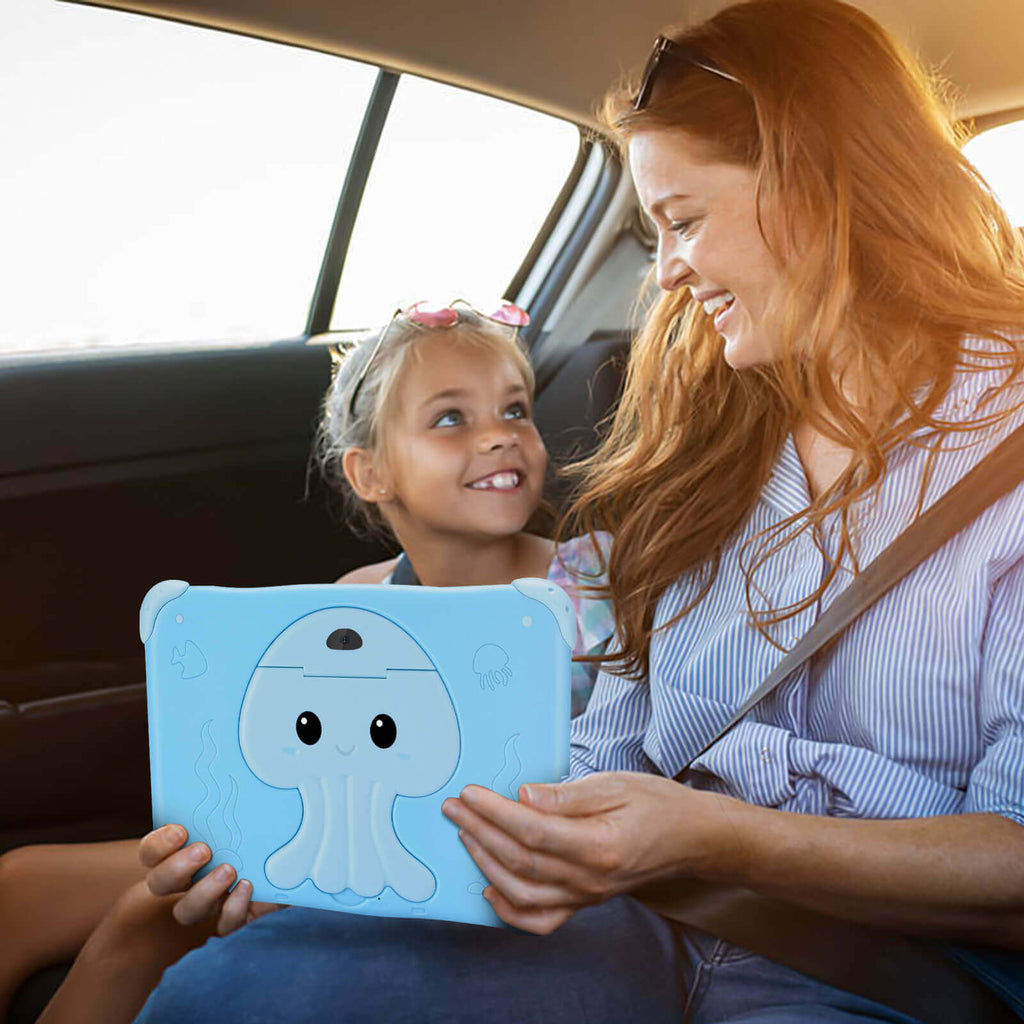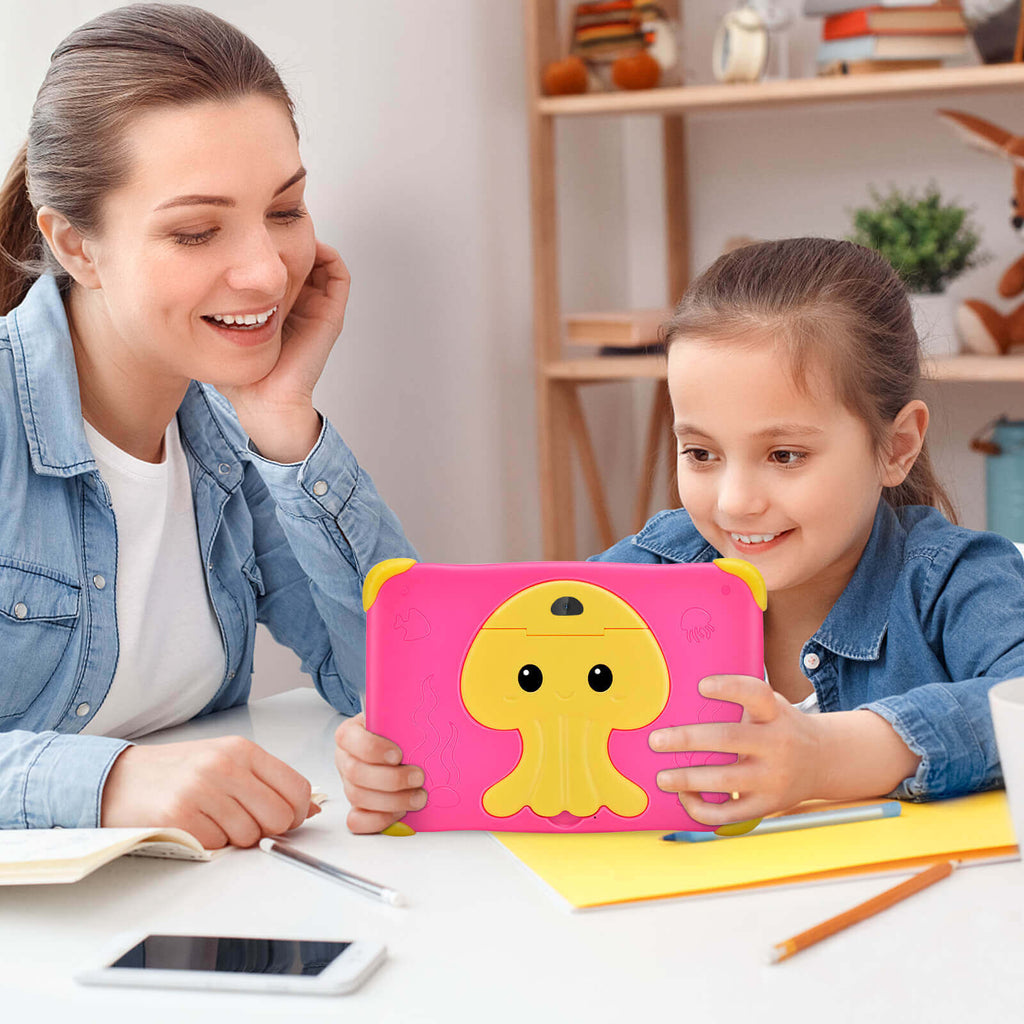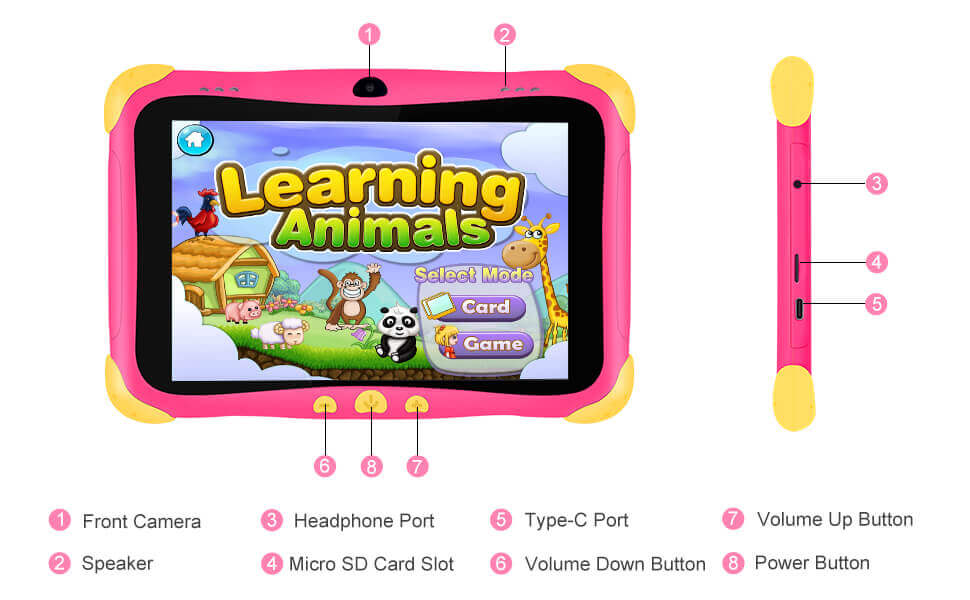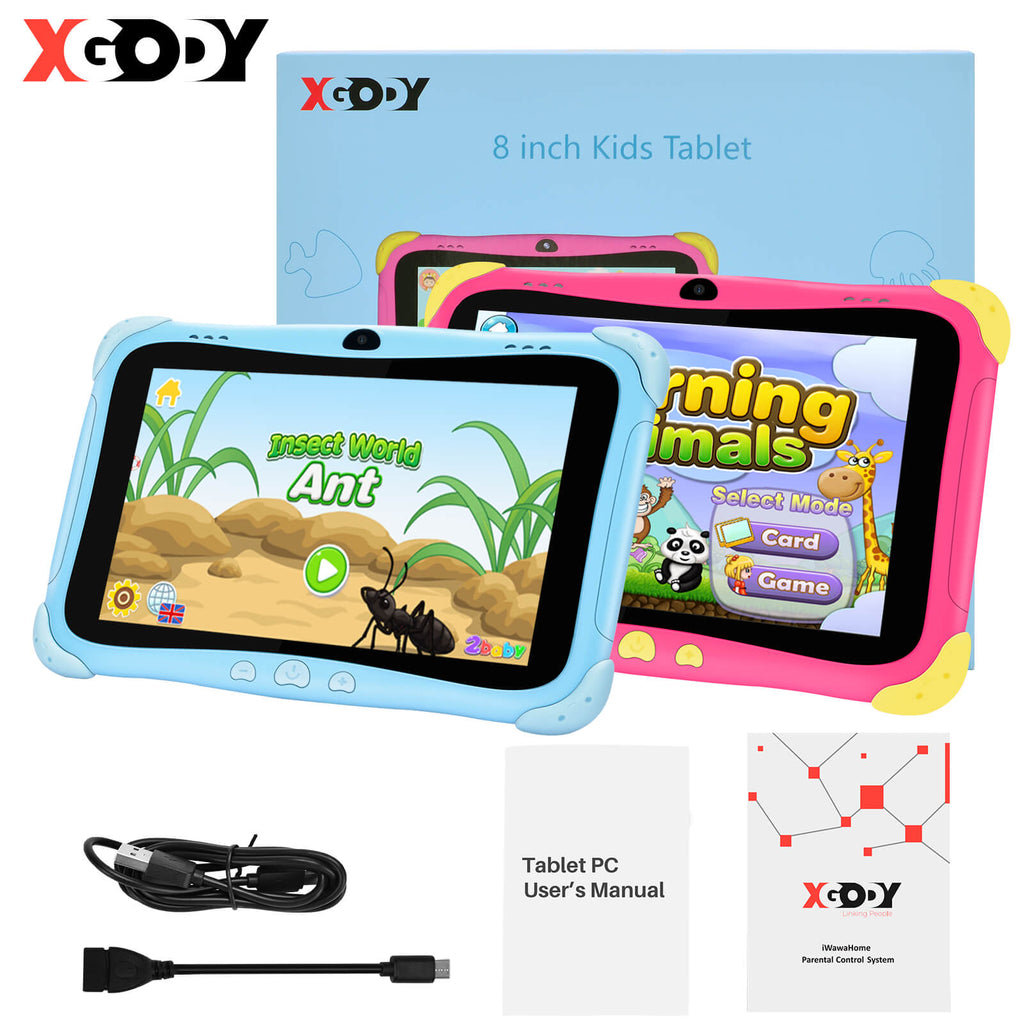 1.Most items are shipping free, you can check the description in the listing. Order will be shipped within 72 hours after payment made.
2.The shipping time is based on the shipping option, sometimes it may be delayed due to varied situation (such as holidays, war, weather etc.), please contact us immediately if delivery time exceeds estimated.
3.Import taxes, duties and related customs fees may be charged once the parcel arrives at the destination country. These charges are determined by the customs office of the specific destination. Payment of these charges and taxes is the responsibility of the recipient and will not be covered by us here at Xgody. For further details of charges, please contact your local customs office.
4.Time Schedule- F

ast Shipping
| | |
| --- | --- |
| United States/Australia/UK |  4-10 working days |
| Canada/Israel/ Azerbaijan / Russia/Maldives/ Eastern Europe/ Middle East |  9-18 working days |
| Brazil/Chile/South America |  9-18 working days |
| Western Europe/New Zealand |  7-10 working days |
If you are not happy with your purchase and wish to return an item, please contact us immediatelysince receiving your order. Our customs support email is support@xgody.com. Please write down your order number and user ID in the return parcel.
All returns must be in original condition with packaging intact to avoid damage during shipment, any physical damage during the return shipment will not be accepted. Returned parcel need to provide shipment number for tracking.
We will get back to you once we receive the return parcel. Money or replacement will be arranged within 24-48 hours after the return parcel delivered.
-
1.Why Choose Xgody?
Brand XGODY was established in 2014 with great advantages in electronic products. More than that, the operating team has more than 10 years experiences on e-commerce.. We know exactly what the buyer concerns and worries. Making sure you will have a wonderful shopping experience by providing what you need and getting rid of what you worried about. It is no doubt to choose us with our high quality of product, good shipping way, and good customs support.
2.What payment methods do you accept?
We accept all major credit cards (VISA, Mastercard, AMEX) and PayPal payments. We do not accept personal checks, money orders, direct bank transfers, western union, or cash on delivery.
3.Can I change my shipping address after placing an order?
Please be advised that your shipping address cannot be revised after the order has been processed or shipped. Kindly update your shipping address to your residential address instead of your vacation address as we do not know how long the destination's customs department will have the package on hold.
4.How do I track my order?
The tracking number can be queried in the background. Also, we will email your tracking information as soon as your order has shipped. Usually you will receive the tracking number one day after we have shipped your order. In addition, if you still do not know how to query and track, you can also contact customer service freely.
5.Will I be charged with customs and taxes?
Import taxes, duties and related customs fees may be charged once your order arrives to its final destination, which are determined by your local customs office.
Payment of these charges and taxes are your responsibility and will not be covered by us. We are not responsible for delays caused by the customs department in your country. For further details of charges, please contact your local customs office. 
6.What Do I Do If I Have Missing Items In My Order?
If something is still missing, please contact us immediately.
7.What if the item(s) I received are defective/incorrect/damaged?
Please contact us within 7 days from receiving your order if you received merchandise that is incorrect, missing, and/or defective. Please include your order number, photographs of the item(s) and all related references upon receiving your package. We will do our very best to resolve your case as soon as possible.
8.How do I return an item?
If you are not happy with your purchase and wish to return an item, please contact us immediately from receiving your order. Please provide your order number as well as the reason for your return. Our customer service team will review the return request and will send further instructions if the return is approved.
For a list of final sale items, please see our Warranty Info and Refund Policy. All returns must be in original condition with packaging intact.
9.When will I receive my refund?
All refunds will be credited to your original form of payment. If you paid by credit or debit card, refunds will be sent to the card-issuing bank within 7-10 business days of receipt of the returned item or cancellation request. Please contact the card-issuing bank with questions about when the credit will be posted to your account.
If you haven't received a credit for your return yet, here's what to do: Contact the bank/credit card company. It may take some time before the refund is posted to your account.