{"id":8017478451474,"title":"XGODY 3 Channel Dash Cam, FHD 1080P Dash Camera, 32GB Night Vision Loop Recording","handle":"xgody-3-channel-dash-cam-fhd-1080p-dash-camera-32gb-loop-recording-night-vision","description":"\u003ch2 data-mce-fragment=\"1\" style=\"text-align: center;\" data-mce-style=\"text-align: center;\"\u003eXGODY C3 Dash Cam Front And Rear\u003c\/h2\u003e\n\u003ch2 data-mce-fragment=\"1\" style=\"text-align: center;\" data-mce-style=\"text-align: center;\"\u003e\u003cimg alt=\"Dash Cam Front And Rear\" src=\"https:\/\/cdn.shopifycdn.net\/s\/files\/1\/0100\/3542\/9454\/files\/A_01_6e5caf91-a580-46af-b54f-de774d1f695f_1024x1024.jpg?v=1669199262\"\u003e\u003c\/h2\u003e\n\u003ch3 data-mce-fragment=\"1\" style=\"text-align: center;\" data-mce-style=\"text-align: center;\"\u003eCaptures Extraordinary Moments From Your Journey\u003c\/h3\u003e\n\u003cp data-mce-fragment=\"1\" style=\"text-align: center;\" data-mce-style=\"text-align: center;\"\u003eIt has a 1080P high-definition video, F1.8 large aperture, parking monitoring, loop recording, gravity sensing, night vision, and other functions waiting for you to discover.\u003c\/p\u003e\n\u003ch3 data-mce-fragment=\"1\" style=\"text-align: center;\" data-mce-style=\"text-align: center;\"\u003e\u003cimg data-mce-fragment=\"1\" src=\"https:\/\/cdn.shopifycdn.net\/s\/files\/1\/0100\/3542\/9454\/files\/A_02360_FullProtection_1024x1024.jpg?v=1669188767\" alt=\"360° Full Protection, dashcam\" data-mce-src=\"https:\/\/cdn.shopifycdn.net\/s\/files\/1\/0100\/3542\/9454\/files\/A_02360_FullProtection_1024x1024.jpg?v=1669188767\"\u003e\u003c\/h3\u003e\n\u003ch3 data-mce-fragment=\"1\" style=\"text-align: center;\" data-mce-style=\"text-align: center;\"\u003e360° All-around Protection\u003c\/h3\u003e\n\u003cp data-mce-fragment=\"1\" style=\"text-align: center;\" data-mce-style=\"text-align: center;\"\u003eThe all-around wide field of vision is a small helper for daily driving. It will bring you great help in avoiding many unnecessary vibrations, collisions, and emergencies.\u003c\/p\u003e\n\u003ch3 data-mce-fragment=\"1\" style=\"text-align: center;\" data-mce-style=\"text-align: center;\"\u003e\u003cimg data-mce-fragment=\"1\" style=\"font-size: 1.4em;\" src=\"https:\/\/cdn.shopifycdn.net\/s\/files\/1\/0100\/3542\/9454\/files\/A_03LoopRecording_1024x1024.jpg?v=1669188904\" alt=\"Loop Recording, dashcam\" data-mce-style=\"font-size: 1.4em;\" data-mce-src=\"https:\/\/cdn.shopifycdn.net\/s\/files\/1\/0100\/3542\/9454\/files\/A_03LoopRecording_1024x1024.jpg?v=1669188904\"\u003e\u003c\/h3\u003e\n\u003cdiv data-mce-fragment=\"1\" style=\"text-align: center;\" data-mce-style=\"text-align: center;\"\u003e\n\u003ch3 data-mce-fragment=\"1\" style=\"text-align: center;\" data-mce-style=\"text-align: center;\"\u003eLoop Record\u003c\/h3\u003e\n\u003cp data-mce-fragment=\"1\" style=\"text-align: center;\" data-mce-style=\"text-align: center;\"\u003eFor 32G memory, when the pictures are full, the old ones will be overwritten, and the new ones will be saved and recorded to ensure peace of mind on the road.\u003c\/p\u003e\n\u003cimg data-mce-fragment=\"1\" src=\"https:\/\/cdn.shopifycdn.net\/s\/files\/1\/0100\/3542\/9454\/files\/A_04G-sensor_1024x1024.jpg?v=1669188975\" alt=\"G-sensor, dashcam\" data-mce-src=\"https:\/\/cdn.shopifycdn.net\/s\/files\/1\/0100\/3542\/9454\/files\/A_04G-sensor_1024x1024.jpg?v=1669188975\"\u003e\n\u003c\/div\u003e\n\u003cdiv data-mce-fragment=\"1\" style=\"text-align: center;\" data-mce-style=\"text-align: center;\"\u003e\n\u003ch3 data-mce-fragment=\"1\" style=\"text-align: center;\" data-mce-style=\"text-align: center;\"\u003eGravity Sensor\u003c\/h3\u003e\n\u003cp data-mce-fragment=\"1\" style=\"text-align: center;\" data-mce-style=\"text-align: center;\"\u003eIt is the guarantee of accident evidence. In the event of vibration, collision, and emergency, the dash cam will be automatically captured when it is turned on, and the record will be saved in the memory card.\u003c\/p\u003e\n\u003c\/div\u003e\n\u003cdiv data-mce-fragment=\"1\" style=\"text-align: center;\" data-mce-style=\"text-align: center;\"\u003e\u003c\/div\u003e\n\u003cdiv data-mce-fragment=\"1\" style=\"text-align: center;\" data-mce-style=\"text-align: center;\"\u003e\u003cimg data-mce-fragment=\"1\" src=\"https:\/\/cdn.shopifycdn.net\/s\/files\/1\/0100\/3542\/9454\/files\/A_05ParkingAid_1024x1024.jpg?v=1669189054\" alt=\"Parking Aid, dashcam\" data-mce-src=\"https:\/\/cdn.shopifycdn.net\/s\/files\/1\/0100\/3542\/9454\/files\/A_05ParkingAid_1024x1024.jpg?v=1669189054\"\u003e\u003c\/div\u003e\n\u003cdiv data-mce-fragment=\"1\" style=\"text-align: center;\" data-mce-style=\"text-align: center;\"\u003e\u003c\/div\u003e\n\u003cdiv data-mce-fragment=\"1\" style=\"text-align: center;\" data-mce-style=\"text-align: center;\"\u003e\u003cimg data-mce-fragment=\"1\" src=\"https:\/\/cdn.shopifycdn.net\/s\/files\/1\/0100\/3542\/9454\/files\/A_06ParkingMode_1024x1024.jpg?v=1669189157\" alt=\"Parking Mode, dashcam\" data-mce-src=\"https:\/\/cdn.shopifycdn.net\/s\/files\/1\/0100\/3542\/9454\/files\/A_06ParkingMode_1024x1024.jpg?v=1669189157\"\u003e\u003c\/div\u003e\n\u003cdiv data-mce-fragment=\"1\" style=\"text-align: center;\" data-mce-style=\"text-align: center;\"\u003e\n\u003ch3 data-mce-fragment=\"1\" style=\"text-align: center;\" data-mce-style=\"text-align: center;\"\u003eParking Assistance, Parking Mode\u003c\/h3\u003e\n\u003cp data-mce-fragment=\"1\" style=\"text-align: center;\" data-mce-style=\"text-align: center;\"\u003eThe wide-angle field of view reduces the occurrence of blind spots, and helps to find a suitable parking position better, faster, and more accurately, providing us with a very convenient method.\u003c\/p\u003e\n\u003c\/div\u003e\n\u003cdiv data-mce-fragment=\"1\" style=\"text-align: center;\" data-mce-style=\"text-align: center;\"\u003e\u003c\/div\u003e\n\u003cdiv data-mce-fragment=\"1\" style=\"text-align: center;\" data-mce-style=\"text-align: center;\"\u003e\u003cimg data-mce-fragment=\"1\" src=\"https:\/\/cdn.shopifycdn.net\/s\/files\/1\/0100\/3542\/9454\/files\/A_07_e34bf13d-e42c-4160-b6b3-b17501575080_1024x1024.jpg?v=1669189208\" alt=\"Night Display In Vehicle, dashcam\" data-mce-src=\"https:\/\/cdn.shopifycdn.net\/s\/files\/1\/0100\/3542\/9454\/files\/A_07_e34bf13d-e42c-4160-b6b3-b17501575080_1024x1024.jpg?v=1669189208\"\u003e\u003c\/div\u003e\n\u003cdiv data-mce-fragment=\"1\" style=\"text-align: center;\" data-mce-style=\"text-align: center;\"\u003e\n\u003ch3 data-mce-fragment=\"1\" style=\"text-align: center;\" data-mce-style=\"text-align: center;\"\u003eNight Display In Vehicle \u003c\/h3\u003e\n\u003cp data-mce-fragment=\"1\" style=\"text-align: center;\" data-mce-style=\"text-align: center;\"\u003eAt night, the weak light will not affect the reading of key details, and the large 1.8 aperture provides us with excellent and clear picture quality.\u003c\/p\u003e\n\u003c\/div\u003e\n\u003cdiv data-mce-fragment=\"1\" style=\"text-align: center;\" data-mce-style=\"text-align: center;\"\u003e\u003c\/div\u003e\n\u003cdiv data-mce-fragment=\"1\" style=\"text-align: center;\" data-mce-style=\"text-align: center;\"\u003e\u003cimg data-mce-fragment=\"1\" src=\"https:\/\/cdn.shopifycdn.net\/s\/files\/1\/0100\/3542\/9454\/files\/A_09_bae9df3c-388b-41c8-a1cc-a35a7b65b51b_1024x1024.jpg?v=1669189378\" alt=\"Front Camera, dashcam\" data-mce-src=\"https:\/\/cdn.shopifycdn.net\/s\/files\/1\/0100\/3542\/9454\/files\/A_09_bae9df3c-388b-41c8-a1cc-a35a7b65b51b_1024x1024.jpg?v=1669189378\"\u003e\u003c\/div\u003e\n\u003cdiv data-mce-fragment=\"1\" style=\"text-align: center;\" data-mce-style=\"text-align: center;\"\u003e\n\u003ch3 data-mce-fragment=\"1\" style=\"text-align: center;\" data-mce-style=\"text-align: center;\"\u003eFront Camera\u003c\/h3\u003e\n\u003cp data-mce-fragment=\"1\" style=\"text-align: center;\" data-mce-style=\"text-align: center;\"\u003eSimilar to exclusive private orders, you can adjust the switch at will, and it can be turned on 24 hours a day to meet your personal needs.\u003c\/p\u003e\n\u003c\/div\u003e\n\u003cdiv data-mce-fragment=\"1\" style=\"text-align: center;\" data-mce-style=\"text-align: center;\"\u003e\u003c\/div\u003e\n\u003cdiv data-mce-fragment=\"1\" style=\"text-align: center;\" data-mce-style=\"text-align: center;\"\u003e\u003cimg data-mce-fragment=\"1\" src=\"https:\/\/cdn.shopifycdn.net\/s\/files\/1\/0100\/3542\/9454\/files\/A_10_1024x1024.jpg?v=1669189433\" alt=\"Rear Cable, USB, AV-IN, Car Charger, Rear Camera, dashcam\" data-mce-src=\"https:\/\/cdn.shopifycdn.net\/s\/files\/1\/0100\/3542\/9454\/files\/A_10_1024x1024.jpg?v=1669189433\"\u003e\u003c\/div\u003e\n\u003cdiv data-mce-fragment=\"1\" style=\"text-align: center;\" data-mce-style=\"text-align: center;\"\u003e\n\u003ch3 data-mce-fragment=\"1\" style=\"text-align: center;\" data-mce-style=\"text-align: center;\"\u003eAV Input Connection\u003c\/h3\u003e\n\u003cp data-mce-fragment=\"1\" style=\"text-align: center;\" data-mce-style=\"text-align: center;\"\u003eAV connection is adopted, which is fast and convenient, easy to understand, and easy to use.\u003c\/p\u003e\n\u003c\/div\u003e\n\u003cdiv data-mce-fragment=\"1\" style=\"text-align: center;\" data-mce-style=\"text-align: center;\"\u003e\u003c\/div\u003e\n\u003cdiv data-mce-fragment=\"1\" style=\"text-align: center;\" data-mce-style=\"text-align: center;\"\u003e\u003cimg data-mce-fragment=\"1\" src=\"https:\/\/cdn.shopifycdn.net\/s\/files\/1\/0100\/3542\/9454\/files\/A_11_1024x1024.jpg?v=1669189586\" alt=\"Front, Inside, Rear, dashcam\" data-mce-src=\"https:\/\/cdn.shopifycdn.net\/s\/files\/1\/0100\/3542\/9454\/files\/A_11_1024x1024.jpg?v=1669189586\"\u003e\u003c\/div\u003e\n\u003cdiv data-mce-fragment=\"1\" style=\"text-align: center;\" data-mce-style=\"text-align: center;\"\u003e\u003c\/div\u003e\n\u003cdiv data-mce-fragment=\"1\" style=\"text-align: center;\" data-mce-style=\"text-align: center;\"\u003e\u003c\/div\u003e\n\u003ch3 data-mce-fragment=\"1\" style=\"text-align: center;\" data-mce-style=\"text-align: center;\"\u003eFront, Inside, Rear\u003c\/h3\u003e\n\u003cp style=\"text-align: center;\"\u003eClear picture sense, vivid details, full of beautiful and happy family atmosphere, suitable for leaving a warm picture.\u003c\/p\u003e\n\u003cdiv data-mce-fragment=\"1\" style=\"text-align: center;\" data-mce-style=\"text-align: center;\"\u003e\u003cimg data-mce-fragment=\"1\" src=\"https:\/\/cdn.shopifycdn.net\/s\/files\/1\/0100\/3542\/9454\/files\/09_053e91e8-5ad0-4977-8325-fa09757cf509_1024x1024.jpg?v=1669189650\" alt=\"Products Size, dashcam\" data-mce-src=\"https:\/\/cdn.shopifycdn.net\/s\/files\/1\/0100\/3542\/9454\/files\/09_053e91e8-5ad0-4977-8325-fa09757cf509_1024x1024.jpg?v=1669189650\"\u003e\u003c\/div\u003e\n\u003cdiv data-mce-fragment=\"1\" style=\"text-align: center;\" data-mce-style=\"text-align: center;\"\u003e\u003c\/div\u003e\n\u003cdiv data-mce-fragment=\"1\" style=\"text-align: center;\" data-mce-style=\"text-align: center;\"\u003e\u003cimg data-mce-fragment=\"1\" src=\"https:\/\/cdn.shopifycdn.net\/s\/files\/1\/0100\/3542\/9454\/files\/10_8af3bfce-8be5-4eca-a7b3-80dd46141aa1_1024x1024.jpg?v=1669189703\" alt=\"Package Inclouded, dashcam\" data-mce-src=\"https:\/\/cdn.shopifycdn.net\/s\/files\/1\/0100\/3542\/9454\/files\/10_8af3bfce-8be5-4eca-a7b3-80dd46141aa1_1024x1024.jpg?v=1669189703\"\u003e\u003c\/div\u003e\n\u003cdiv data-mce-fragment=\"1\" style=\"text-align: center;\" data-mce-style=\"text-align: center;\"\u003e\n\u003ch2 style=\"text-align: left;\" data-mce-style=\"text-align: left;\"\u003e\u003cstrong\u003e\u003cbr\u003e\u003c\/strong\u003e\u003c\/h2\u003e\n\u003ch2 style=\"text-align: left;\" data-mce-style=\"text-align: left;\"\u003e\u003cstrong\u003e2022 XGODY C3 1080P HD Dash Cam Front and Rear\u003c\/strong\u003e\u003c\/h2\u003e\n\u003cp style=\"text-align: left;\" data-mce-style=\"text-align: left;\"\u003e\u003cstrong\u003eA number of multiple lenses: 3-channel driving recorder, front camera with 120-degree field of view, 90-degree built-in camera and rear camera, 360-degree omnidirectional wide-angle; whether it is driving, assisted parking at night or parking at any time Find out what's happening around your car.\u003c\/strong\u003e\u003c\/p\u003e\n\u003cp style=\"text-align: left;\" data-mce-style=\"text-align: left;\"\u003e\u003cstrong\u003e1080P high-definition video: Clearly record all details, suitable for family self-driving tours, with a low-key appearance. The weak light at night also has an excellent night vision effect, and it also has a large aperture of F1.8, which provides a guarantee for going out.\u003c\/strong\u003e\u003c\/p\u003e\n\u003cp style=\"text-align: left;\" data-mce-style=\"text-align: left;\"\u003e\u003cstrong\u003eAutomatic detection function: variable sensitivity gravity sensor, sudden vibration, and collision will lock the lens urgently, record everything that happened before and after the time period, and automatically save the excellent and clear picture of the record. The video frame rate is 30fps, which will be reliable evidence in the event of an accident.\u003cbr\u003e\u003c\/strong\u003e\u003c\/p\u003e\n\u003cp style=\"text-align: left;\" data-mce-style=\"text-align: left;\"\u003e \u003c\/p\u003e\n\u003ch2 style=\"text-align: left;\" data-mce-style=\"text-align: left;\"\u003e\u003cstrong\u003eProduct specifications:\u003c\/strong\u003e\u003c\/h2\u003e\n\u003cp style=\"text-align: left;\" data-mce-style=\"text-align: left;\"\u003e\u003cspan data-font-family='\"PingFang SC\", \"Segoe UI\", Arial, \"Microsoft YaHei\", 微软雅黑, 宋体, \"Malgun Gothic\", sans-serif'\u003eItem Model: XGODY C3 1080P 3 Channel DashCam\u003c\/span\u003e\u003c\/p\u003e\n\u003cp style=\"text-align: left;\" data-mce-style=\"text-align: left;\"\u003ePixels: Front 100W, inside + rear 30W\u003c\/p\u003e\n\u003cp style=\"text-align: left;\" data-mce-style=\"text-align: left;\"\u003eNumber of lenses used: 3 lenses\u003c\/p\u003e\n\u003cp style=\"text-align: left;\" data-mce-style=\"text-align: left;\"\u003eAngle: Front 120, inside + rear 90\u003c\/p\u003e\n\u003cp style=\"text-align: left;\" data-mce-style=\"text-align: left;\"\u003eAperture: F\/1.8\u003c\/p\u003e\n\u003cp style=\"text-align: left;\" data-mce-style=\"text-align: left;\"\u003eLCD (size\/type): 2 inches, tn HD display\u003c\/p\u003e\n\u003cp style=\"text-align: left;\" data-mce-style=\"text-align: left;\"\u003eScreen resolution: 320*240\u003c\/p\u003e\n\u003cp style=\"text-align: left;\" data-mce-style=\"text-align: left;\"\u003eVideo resolution: Front 1080 + inside 480 + rear 480\u003c\/p\u003e\n\u003cp style=\"text-align: left;\" data-mce-style=\"text-align: left;\"\u003eVideo format: AVI\u003c\/p\u003e\n\u003cp style=\"text-align: left;\" data-mce-style=\"text-align: left;\"\u003eVideo frame rate: 30fps\u003c\/p\u003e\n\u003cp style=\"text-align: left;\" data-mce-style=\"text-align: left;\"\u003ePhoto format: JPG\u003c\/p\u003e\n\u003cp style=\"text-align: left;\" data-mce-style=\"text-align: left;\"\u003eMicrophone\/ Speaker: Built-in speaker 0.8W\u003c\/p\u003e\n\u003cp style=\"text-align: left;\" data-mce-style=\"text-align: left;\"\u003ePower input: car charger Input: 5V2A, output: 12-24V\u003c\/p\u003e\n\u003cp style=\"text-align: left;\" data-mce-style=\"text-align: left;\"\u003eBattery capacity: 200AM\u003c\/p\u003e\n\u003cp style=\"text-align: left;\" data-mce-style=\"text-align: left;\"\u003eLanguages: English, Traditional Chinese, Simplified Chinese, Japanese, French, German, Korean, Italian, Portuguese, Russian, Spanish, Thai, etc\u003c\/p\u003e\n\u003cp style=\"text-align: left;\" data-mce-style=\"text-align: left;\"\u003eDefault language: English by default\u003c\/p\u003e\n\u003cp style=\"text-align: left;\" data-mce-style=\"text-align: left;\"\u003eMaximum Memory: 32GB\u003c\/p\u003e\n\u003cp style=\"text-align: left;\" data-mce-style=\"text-align: left;\"\u003eMotion detection: Supported\u003c\/p\u003e\n\u003cp style=\"text-align: left;\" data-mce-style=\"text-align: left;\"\u003eSupported features: screen saver, photo function, USB connection to computer reading machine sub-file, essential sound, fill light (infrared), screen protection, etc\u003c\/p\u003e\n\u003cp style=\"text-align: left;\" data-mce-style=\"text-align: left;\"\u003eDefault light source frequency: 50Hz\u003c\/p\u003e\n\u003ch3 style=\"text-align: left;\" data-mce-style=\"text-align: left;\"\u003e\n\u003cbr\u003eAccessories of \u003cspan data-mce-fragment=\"1\"\u003eStandard\u003c\/span\u003e:\u003c\/h3\u003e\n\u003cul\u003e\n\u003cli style=\"text-align: left;\"\u003eXGODY 3 Channel Dash Cam C3 (front、inside)*1\u003c\/li\u003e\n\u003cli style=\"text-align: left;\"\u003eRear view camera *1\u003c\/li\u003e\n\u003cli style=\"text-align: left;\"\u003eCar charger *1\u003c\/li\u003e\n\u003cli style=\"text-align: left;\"\u003eBracket *1\u003c\/li\u003e\n\u003cli style=\"text-align: left;\"\u003eManual *1\u003c\/li\u003e\n\u003cli style=\"text-align: left;\"\u003e16GB TF card\u003c\/li\u003e\n\u003c\/ul\u003e\n\u003cp\u003e \u003c\/p\u003e\n\u003cp style=\"text-align: left;\"\u003e\u003cbr\u003e\u003c\/p\u003e\n\u003cp style=\"text-align: left;\"\u003e*\u003c\/p\u003e\n\u003cp style=\"text-align: left;\"\u003e\u003cimg src=\"https:\/\/cdn.shopify.com\/s\/files\/1\/0100\/3542\/9454\/files\/01_2fdaa1f6-5a46-410d-a36a-9cc39134f8af_1024x1024.jpg?v=1646212895\"\u003e\u003c\/p\u003e\n\u003c\/div\u003e\n\u003cdiv data-mce-fragment=\"1\" style=\"text-align: center;\" data-mce-style=\"text-align: center;\"\u003e\u003c\/div\u003e","published_at":"2022-11-24T17:23:07+08:00","created_at":"2022-11-23T18:42:26+08:00","vendor":"XGODY ","type":"","tags":[],"price":3990,"price_min":3990,"price_max":4189,"available":true,"price_varies":true,"compare_at_price":null,"compare_at_price_min":0,"compare_at_price_max":0,"compare_at_price_varies":false,"variants":[{"id":44095316361490,"title":"Standard (with 16GB TF Card)","option1":"Standard (with 16GB TF Card)","option2":null,"option3":null,"sku":"F0100242","requires_shipping":true,"taxable":true,"featured_image":null,"available":true,"name":"XGODY 3 Channel Dash Cam, FHD 1080P Dash Camera, 32GB Night Vision Loop Recording - Standard (with 16GB TF Card)","public_title":"Standard (with 16GB TF Card)","options":["Standard (with 16GB TF Card)"],"price":3990,"weight":0,"compare_at_price":null,"inventory_management":"shopify","barcode":"","requires_selling_plan":false,"selling_plan_allocations":[]},{"id":44095316394258,"title":"Expanded (with 32GB TF Card)","option1":"Expanded (with 32GB TF Card)","option2":null,"option3":null,"sku":"F0100242 -2","requires_shipping":true,"taxable":true,"featured_image":null,"available":true,"name":"XGODY 3 Channel Dash Cam, FHD 1080P Dash Camera, 32GB Night Vision Loop Recording - Expanded (with 32GB TF Card)","public_title":"Expanded (with 32GB TF Card)","options":["Expanded (with 32GB TF Card)"],"price":4189,"weight":0,"compare_at_price":null,"inventory_management":"shopify","barcode":"","requires_selling_plan":false,"selling_plan_allocations":[]}],"images":["\/\/xgody.com\/cdn\/shop\/products\/the-best-xgody-3-channel-dash-cam-fhd-1080p-dash-camera-32gb-night-vision-loop-recording-1.jpg?v=1669858757","\/\/xgody.com\/cdn\/shop\/products\/the-best-xgody-3-channel-dash-cam-fhd-1080p-dash-camera-32gb-night-vision-loop-recording-2.jpg?v=1669858761","\/\/xgody.com\/cdn\/shop\/products\/the-best-xgody-3-channel-dash-cam-fhd-1080p-dash-camera-32gb-night-vision-loop-recording-3.jpg?v=1669858764","\/\/xgody.com\/cdn\/shop\/products\/the-best-xgody-3-channel-dash-cam-fhd-1080p-dash-camera-32gb-night-vision-loop-recording-4.jpg?v=1669858767","\/\/xgody.com\/cdn\/shop\/products\/the-best-xgody-3-channel-dash-cam-fhd-1080p-dash-camera-32gb-night-vision-loop-recording-5.jpg?v=1669858773","\/\/xgody.com\/cdn\/shop\/products\/the-best-xgody-3-channel-dash-cam-fhd-1080p-dash-camera-32gb-night-vision-loop-recording-6.jpg?v=1669858776","\/\/xgody.com\/cdn\/shop\/products\/the-best-xgody-3-channel-dash-cam-fhd-1080p-dash-camera-32gb-night-vision-loop-recording-7.jpg?v=1669858779","\/\/xgody.com\/cdn\/shop\/products\/the-best-xgody-3-channel-dash-cam-fhd-1080p-dash-camera-32gb-night-vision-loop-recording-8.jpg?v=1669858782","\/\/xgody.com\/cdn\/shop\/products\/the-best-xgody-3-channel-dash-cam-fhd-1080p-dash-camera-32gb-night-vision-loop-recording-9.jpg?v=1669858785"],"featured_image":"\/\/xgody.com\/cdn\/shop\/products\/the-best-xgody-3-channel-dash-cam-fhd-1080p-dash-camera-32gb-night-vision-loop-recording-1.jpg?v=1669858757","options":["OPtional OF C3"],"media":[{"alt":"Cost-effective and Most worthwhile XGODY 3 Channel Dash Cam, FHD 1080P Dash Camera, 32GB Night Vision Loop Recording - XGODY ","id":32318878220562,"position":1,"preview_image":{"aspect_ratio":1.0,"height":1600,"width":1600,"src":"\/\/xgody.com\/cdn\/shop\/products\/the-best-xgody-3-channel-dash-cam-fhd-1080p-dash-camera-32gb-night-vision-loop-recording-1.jpg?v=1669858757"},"aspect_ratio":1.0,"height":1600,"media_type":"image","src":"\/\/xgody.com\/cdn\/shop\/products\/the-best-xgody-3-channel-dash-cam-fhd-1080p-dash-camera-32gb-night-vision-loop-recording-1.jpg?v=1669858757","width":1600},{"alt":"Cost-effective and Most worthwhile XGODY 3 Channel Dash Cam, FHD 1080P Dash Camera, 32GB Night Vision Loop Recording - XGODY ","id":32318878744850,"position":2,"preview_image":{"aspect_ratio":1.0,"height":1600,"width":1600,"src":"\/\/xgody.com\/cdn\/shop\/products\/the-best-xgody-3-channel-dash-cam-fhd-1080p-dash-camera-32gb-night-vision-loop-recording-2.jpg?v=1669858761"},"aspect_ratio":1.0,"height":1600,"media_type":"image","src":"\/\/xgody.com\/cdn\/shop\/products\/the-best-xgody-3-channel-dash-cam-fhd-1080p-dash-camera-32gb-night-vision-loop-recording-2.jpg?v=1669858761","width":1600},{"alt":"Cost-effective and Most worthwhile XGODY 3 Channel Dash Cam, FHD 1080P Dash Camera, 32GB Night Vision Loop Recording - XGODY ","id":32318879072530,"position":3,"preview_image":{"aspect_ratio":1.0,"height":1600,"width":1600,"src":"\/\/xgody.com\/cdn\/shop\/products\/the-best-xgody-3-channel-dash-cam-fhd-1080p-dash-camera-32gb-night-vision-loop-recording-3.jpg?v=1669858764"},"aspect_ratio":1.0,"height":1600,"media_type":"image","src":"\/\/xgody.com\/cdn\/shop\/products\/the-best-xgody-3-channel-dash-cam-fhd-1080p-dash-camera-32gb-night-vision-loop-recording-3.jpg?v=1669858764","width":1600},{"alt":"Cost-effective and Most worthwhile XGODY 3 Channel Dash Cam, FHD 1080P Dash Camera, 32GB Night Vision Loop Recording - XGODY ","id":32318879465746,"position":4,"preview_image":{"aspect_ratio":1.0,"height":1600,"width":1600,"src":"\/\/xgody.com\/cdn\/shop\/products\/the-best-xgody-3-channel-dash-cam-fhd-1080p-dash-camera-32gb-night-vision-loop-recording-4.jpg?v=1669858767"},"aspect_ratio":1.0,"height":1600,"media_type":"image","src":"\/\/xgody.com\/cdn\/shop\/products\/the-best-xgody-3-channel-dash-cam-fhd-1080p-dash-camera-32gb-night-vision-loop-recording-4.jpg?v=1669858767","width":1600},{"alt":"Cost-effective and Most worthwhile XGODY 3 Channel Dash Cam, FHD 1080P Dash Camera, 32GB Night Vision Loop Recording - XGODY ","id":32318879793426,"position":5,"preview_image":{"aspect_ratio":1.0,"height":1600,"width":1600,"src":"\/\/xgody.com\/cdn\/shop\/products\/the-best-xgody-3-channel-dash-cam-fhd-1080p-dash-camera-32gb-night-vision-loop-recording-5.jpg?v=1669858773"},"aspect_ratio":1.0,"height":1600,"media_type":"image","src":"\/\/xgody.com\/cdn\/shop\/products\/the-best-xgody-3-channel-dash-cam-fhd-1080p-dash-camera-32gb-night-vision-loop-recording-5.jpg?v=1669858773","width":1600},{"alt":"Cost-effective and Most worthwhile XGODY 3 Channel Dash Cam, FHD 1080P Dash Camera, 32GB Night Vision Loop Recording - XGODY ","id":32318880088338,"position":6,"preview_image":{"aspect_ratio":1.0,"height":1600,"width":1600,"src":"\/\/xgody.com\/cdn\/shop\/products\/the-best-xgody-3-channel-dash-cam-fhd-1080p-dash-camera-32gb-night-vision-loop-recording-6.jpg?v=1669858776"},"aspect_ratio":1.0,"height":1600,"media_type":"image","src":"\/\/xgody.com\/cdn\/shop\/products\/the-best-xgody-3-channel-dash-cam-fhd-1080p-dash-camera-32gb-night-vision-loop-recording-6.jpg?v=1669858776","width":1600},{"alt":"Cost-effective and Most worthwhile XGODY 3 Channel Dash Cam, FHD 1080P Dash Camera, 32GB Night Vision Loop Recording - XGODY ","id":32318880284946,"position":7,"preview_image":{"aspect_ratio":1.0,"height":1600,"width":1600,"src":"\/\/xgody.com\/cdn\/shop\/products\/the-best-xgody-3-channel-dash-cam-fhd-1080p-dash-camera-32gb-night-vision-loop-recording-7.jpg?v=1669858779"},"aspect_ratio":1.0,"height":1600,"media_type":"image","src":"\/\/xgody.com\/cdn\/shop\/products\/the-best-xgody-3-channel-dash-cam-fhd-1080p-dash-camera-32gb-night-vision-loop-recording-7.jpg?v=1669858779","width":1600},{"alt":"Cost-effective and Most worthwhile XGODY 3 Channel Dash Cam, FHD 1080P Dash Camera, 32GB Night Vision Loop Recording - XGODY ","id":32318880350482,"position":8,"preview_image":{"aspect_ratio":1.0,"height":1600,"width":1600,"src":"\/\/xgody.com\/cdn\/shop\/products\/the-best-xgody-3-channel-dash-cam-fhd-1080p-dash-camera-32gb-night-vision-loop-recording-8.jpg?v=1669858782"},"aspect_ratio":1.0,"height":1600,"media_type":"image","src":"\/\/xgody.com\/cdn\/shop\/products\/the-best-xgody-3-channel-dash-cam-fhd-1080p-dash-camera-32gb-night-vision-loop-recording-8.jpg?v=1669858782","width":1600},{"alt":"Cost-effective and Most worthwhile XGODY 3 Channel Dash Cam, FHD 1080P Dash Camera, 32GB Night Vision Loop Recording - XGODY ","id":32318880710930,"position":9,"preview_image":{"aspect_ratio":1.0,"height":1600,"width":1600,"src":"\/\/xgody.com\/cdn\/shop\/products\/the-best-xgody-3-channel-dash-cam-fhd-1080p-dash-camera-32gb-night-vision-loop-recording-9.jpg?v=1669858785"},"aspect_ratio":1.0,"height":1600,"media_type":"image","src":"\/\/xgody.com\/cdn\/shop\/products\/the-best-xgody-3-channel-dash-cam-fhd-1080p-dash-camera-32gb-night-vision-loop-recording-9.jpg?v=1669858785","width":1600}],"requires_selling_plan":false,"selling_plan_groups":[],"content":"\u003ch2 data-mce-fragment=\"1\" style=\"text-align: center;\" data-mce-style=\"text-align: center;\"\u003eXGODY C3 Dash Cam Front And Rear\u003c\/h2\u003e\n\u003ch2 data-mce-fragment=\"1\" style=\"text-align: center;\" data-mce-style=\"text-align: center;\"\u003e\u003cimg alt=\"Dash Cam Front And Rear\" src=\"https:\/\/cdn.shopifycdn.net\/s\/files\/1\/0100\/3542\/9454\/files\/A_01_6e5caf91-a580-46af-b54f-de774d1f695f_1024x1024.jpg?v=1669199262\"\u003e\u003c\/h2\u003e\n\u003ch3 data-mce-fragment=\"1\" style=\"text-align: center;\" data-mce-style=\"text-align: center;\"\u003eCaptures Extraordinary Moments From Your Journey\u003c\/h3\u003e\n\u003cp data-mce-fragment=\"1\" style=\"text-align: center;\" data-mce-style=\"text-align: center;\"\u003eIt has a 1080P high-definition video, F1.8 large aperture, parking monitoring, loop recording, gravity sensing, night vision, and other functions waiting for you to discover.\u003c\/p\u003e\n\u003ch3 data-mce-fragment=\"1\" style=\"text-align: center;\" data-mce-style=\"text-align: center;\"\u003e\u003cimg data-mce-fragment=\"1\" src=\"https:\/\/cdn.shopifycdn.net\/s\/files\/1\/0100\/3542\/9454\/files\/A_02360_FullProtection_1024x1024.jpg?v=1669188767\" alt=\"360° Full Protection, dashcam\" data-mce-src=\"https:\/\/cdn.shopifycdn.net\/s\/files\/1\/0100\/3542\/9454\/files\/A_02360_FullProtection_1024x1024.jpg?v=1669188767\"\u003e\u003c\/h3\u003e\n\u003ch3 data-mce-fragment=\"1\" style=\"text-align: center;\" data-mce-style=\"text-align: center;\"\u003e360° All-around Protection\u003c\/h3\u003e\n\u003cp data-mce-fragment=\"1\" style=\"text-align: center;\" data-mce-style=\"text-align: center;\"\u003eThe all-around wide field of vision is a small helper for daily driving. It will bring you great help in avoiding many unnecessary vibrations, collisions, and emergencies.\u003c\/p\u003e\n\u003ch3 data-mce-fragment=\"1\" style=\"text-align: center;\" data-mce-style=\"text-align: center;\"\u003e\u003cimg data-mce-fragment=\"1\" style=\"font-size: 1.4em;\" src=\"https:\/\/cdn.shopifycdn.net\/s\/files\/1\/0100\/3542\/9454\/files\/A_03LoopRecording_1024x1024.jpg?v=1669188904\" alt=\"Loop Recording, dashcam\" data-mce-style=\"font-size: 1.4em;\" data-mce-src=\"https:\/\/cdn.shopifycdn.net\/s\/files\/1\/0100\/3542\/9454\/files\/A_03LoopRecording_1024x1024.jpg?v=1669188904\"\u003e\u003c\/h3\u003e\n\u003cdiv data-mce-fragment=\"1\" style=\"text-align: center;\" data-mce-style=\"text-align: center;\"\u003e\n\u003ch3 data-mce-fragment=\"1\" style=\"text-align: center;\" data-mce-style=\"text-align: center;\"\u003eLoop Record\u003c\/h3\u003e\n\u003cp data-mce-fragment=\"1\" style=\"text-align: center;\" data-mce-style=\"text-align: center;\"\u003eFor 32G memory, when the pictures are full, the old ones will be overwritten, and the new ones will be saved and recorded to ensure peace of mind on the road.\u003c\/p\u003e\n\u003cimg data-mce-fragment=\"1\" src=\"https:\/\/cdn.shopifycdn.net\/s\/files\/1\/0100\/3542\/9454\/files\/A_04G-sensor_1024x1024.jpg?v=1669188975\" alt=\"G-sensor, dashcam\" data-mce-src=\"https:\/\/cdn.shopifycdn.net\/s\/files\/1\/0100\/3542\/9454\/files\/A_04G-sensor_1024x1024.jpg?v=1669188975\"\u003e\n\u003c\/div\u003e\n\u003cdiv data-mce-fragment=\"1\" style=\"text-align: center;\" data-mce-style=\"text-align: center;\"\u003e\n\u003ch3 data-mce-fragment=\"1\" style=\"text-align: center;\" data-mce-style=\"text-align: center;\"\u003eGravity Sensor\u003c\/h3\u003e\n\u003cp data-mce-fragment=\"1\" style=\"text-align: center;\" data-mce-style=\"text-align: center;\"\u003eIt is the guarantee of accident evidence. In the event of vibration, collision, and emergency, the dash cam will be automatically captured when it is turned on, and the record will be saved in the memory card.\u003c\/p\u003e\n\u003c\/div\u003e\n\u003cdiv data-mce-fragment=\"1\" style=\"text-align: center;\" data-mce-style=\"text-align: center;\"\u003e\u003c\/div\u003e\n\u003cdiv data-mce-fragment=\"1\" style=\"text-align: center;\" data-mce-style=\"text-align: center;\"\u003e\u003cimg data-mce-fragment=\"1\" src=\"https:\/\/cdn.shopifycdn.net\/s\/files\/1\/0100\/3542\/9454\/files\/A_05ParkingAid_1024x1024.jpg?v=1669189054\" alt=\"Parking Aid, dashcam\" data-mce-src=\"https:\/\/cdn.shopifycdn.net\/s\/files\/1\/0100\/3542\/9454\/files\/A_05ParkingAid_1024x1024.jpg?v=1669189054\"\u003e\u003c\/div\u003e\n\u003cdiv data-mce-fragment=\"1\" style=\"text-align: center;\" data-mce-style=\"text-align: center;\"\u003e\u003c\/div\u003e\n\u003cdiv data-mce-fragment=\"1\" style=\"text-align: center;\" data-mce-style=\"text-align: center;\"\u003e\u003cimg data-mce-fragment=\"1\" src=\"https:\/\/cdn.shopifycdn.net\/s\/files\/1\/0100\/3542\/9454\/files\/A_06ParkingMode_1024x1024.jpg?v=1669189157\" alt=\"Parking Mode, dashcam\" data-mce-src=\"https:\/\/cdn.shopifycdn.net\/s\/files\/1\/0100\/3542\/9454\/files\/A_06ParkingMode_1024x1024.jpg?v=1669189157\"\u003e\u003c\/div\u003e\n\u003cdiv data-mce-fragment=\"1\" style=\"text-align: center;\" data-mce-style=\"text-align: center;\"\u003e\n\u003ch3 data-mce-fragment=\"1\" style=\"text-align: center;\" data-mce-style=\"text-align: center;\"\u003eParking Assistance, Parking Mode\u003c\/h3\u003e\n\u003cp data-mce-fragment=\"1\" style=\"text-align: center;\" data-mce-style=\"text-align: center;\"\u003eThe wide-angle field of view reduces the occurrence of blind spots, and helps to find a suitable parking position better, faster, and more accurately, providing us with a very convenient method.\u003c\/p\u003e\n\u003c\/div\u003e\n\u003cdiv data-mce-fragment=\"1\" style=\"text-align: center;\" data-mce-style=\"text-align: center;\"\u003e\u003c\/div\u003e\n\u003cdiv data-mce-fragment=\"1\" style=\"text-align: center;\" data-mce-style=\"text-align: center;\"\u003e\u003cimg data-mce-fragment=\"1\" src=\"https:\/\/cdn.shopifycdn.net\/s\/files\/1\/0100\/3542\/9454\/files\/A_07_e34bf13d-e42c-4160-b6b3-b17501575080_1024x1024.jpg?v=1669189208\" alt=\"Night Display In Vehicle, dashcam\" data-mce-src=\"https:\/\/cdn.shopifycdn.net\/s\/files\/1\/0100\/3542\/9454\/files\/A_07_e34bf13d-e42c-4160-b6b3-b17501575080_1024x1024.jpg?v=1669189208\"\u003e\u003c\/div\u003e\n\u003cdiv data-mce-fragment=\"1\" style=\"text-align: center;\" data-mce-style=\"text-align: center;\"\u003e\n\u003ch3 data-mce-fragment=\"1\" style=\"text-align: center;\" data-mce-style=\"text-align: center;\"\u003eNight Display In Vehicle \u003c\/h3\u003e\n\u003cp data-mce-fragment=\"1\" style=\"text-align: center;\" data-mce-style=\"text-align: center;\"\u003eAt night, the weak light will not affect the reading of key details, and the large 1.8 aperture provides us with excellent and clear picture quality.\u003c\/p\u003e\n\u003c\/div\u003e\n\u003cdiv data-mce-fragment=\"1\" style=\"text-align: center;\" data-mce-style=\"text-align: center;\"\u003e\u003c\/div\u003e\n\u003cdiv data-mce-fragment=\"1\" style=\"text-align: center;\" data-mce-style=\"text-align: center;\"\u003e\u003cimg data-mce-fragment=\"1\" src=\"https:\/\/cdn.shopifycdn.net\/s\/files\/1\/0100\/3542\/9454\/files\/A_09_bae9df3c-388b-41c8-a1cc-a35a7b65b51b_1024x1024.jpg?v=1669189378\" alt=\"Front Camera, dashcam\" data-mce-src=\"https:\/\/cdn.shopifycdn.net\/s\/files\/1\/0100\/3542\/9454\/files\/A_09_bae9df3c-388b-41c8-a1cc-a35a7b65b51b_1024x1024.jpg?v=1669189378\"\u003e\u003c\/div\u003e\n\u003cdiv data-mce-fragment=\"1\" style=\"text-align: center;\" data-mce-style=\"text-align: center;\"\u003e\n\u003ch3 data-mce-fragment=\"1\" style=\"text-align: center;\" data-mce-style=\"text-align: center;\"\u003eFront Camera\u003c\/h3\u003e\n\u003cp data-mce-fragment=\"1\" style=\"text-align: center;\" data-mce-style=\"text-align: center;\"\u003eSimilar to exclusive private orders, you can adjust the switch at will, and it can be turned on 24 hours a day to meet your personal needs.\u003c\/p\u003e\n\u003c\/div\u003e\n\u003cdiv data-mce-fragment=\"1\" style=\"text-align: center;\" data-mce-style=\"text-align: center;\"\u003e\u003c\/div\u003e\n\u003cdiv data-mce-fragment=\"1\" style=\"text-align: center;\" data-mce-style=\"text-align: center;\"\u003e\u003cimg data-mce-fragment=\"1\" src=\"https:\/\/cdn.shopifycdn.net\/s\/files\/1\/0100\/3542\/9454\/files\/A_10_1024x1024.jpg?v=1669189433\" alt=\"Rear Cable, USB, AV-IN, Car Charger, Rear Camera, dashcam\" data-mce-src=\"https:\/\/cdn.shopifycdn.net\/s\/files\/1\/0100\/3542\/9454\/files\/A_10_1024x1024.jpg?v=1669189433\"\u003e\u003c\/div\u003e\n\u003cdiv data-mce-fragment=\"1\" style=\"text-align: center;\" data-mce-style=\"text-align: center;\"\u003e\n\u003ch3 data-mce-fragment=\"1\" style=\"text-align: center;\" data-mce-style=\"text-align: center;\"\u003eAV Input Connection\u003c\/h3\u003e\n\u003cp data-mce-fragment=\"1\" style=\"text-align: center;\" data-mce-style=\"text-align: center;\"\u003eAV connection is adopted, which is fast and convenient, easy to understand, and easy to use.\u003c\/p\u003e\n\u003c\/div\u003e\n\u003cdiv data-mce-fragment=\"1\" style=\"text-align: center;\" data-mce-style=\"text-align: center;\"\u003e\u003c\/div\u003e\n\u003cdiv data-mce-fragment=\"1\" style=\"text-align: center;\" data-mce-style=\"text-align: center;\"\u003e\u003cimg data-mce-fragment=\"1\" src=\"https:\/\/cdn.shopifycdn.net\/s\/files\/1\/0100\/3542\/9454\/files\/A_11_1024x1024.jpg?v=1669189586\" alt=\"Front, Inside, Rear, dashcam\" data-mce-src=\"https:\/\/cdn.shopifycdn.net\/s\/files\/1\/0100\/3542\/9454\/files\/A_11_1024x1024.jpg?v=1669189586\"\u003e\u003c\/div\u003e\n\u003cdiv data-mce-fragment=\"1\" style=\"text-align: center;\" data-mce-style=\"text-align: center;\"\u003e\u003c\/div\u003e\n\u003cdiv data-mce-fragment=\"1\" style=\"text-align: center;\" data-mce-style=\"text-align: center;\"\u003e\u003c\/div\u003e\n\u003ch3 data-mce-fragment=\"1\" style=\"text-align: center;\" data-mce-style=\"text-align: center;\"\u003eFront, Inside, Rear\u003c\/h3\u003e\n\u003cp style=\"text-align: center;\"\u003eClear picture sense, vivid details, full of beautiful and happy family atmosphere, suitable for leaving a warm picture.\u003c\/p\u003e\n\u003cdiv data-mce-fragment=\"1\" style=\"text-align: center;\" data-mce-style=\"text-align: center;\"\u003e\u003cimg data-mce-fragment=\"1\" src=\"https:\/\/cdn.shopifycdn.net\/s\/files\/1\/0100\/3542\/9454\/files\/09_053e91e8-5ad0-4977-8325-fa09757cf509_1024x1024.jpg?v=1669189650\" alt=\"Products Size, dashcam\" data-mce-src=\"https:\/\/cdn.shopifycdn.net\/s\/files\/1\/0100\/3542\/9454\/files\/09_053e91e8-5ad0-4977-8325-fa09757cf509_1024x1024.jpg?v=1669189650\"\u003e\u003c\/div\u003e\n\u003cdiv data-mce-fragment=\"1\" style=\"text-align: center;\" data-mce-style=\"text-align: center;\"\u003e\u003c\/div\u003e\n\u003cdiv data-mce-fragment=\"1\" style=\"text-align: center;\" data-mce-style=\"text-align: center;\"\u003e\u003cimg data-mce-fragment=\"1\" src=\"https:\/\/cdn.shopifycdn.net\/s\/files\/1\/0100\/3542\/9454\/files\/10_8af3bfce-8be5-4eca-a7b3-80dd46141aa1_1024x1024.jpg?v=1669189703\" alt=\"Package Inclouded, dashcam\" data-mce-src=\"https:\/\/cdn.shopifycdn.net\/s\/files\/1\/0100\/3542\/9454\/files\/10_8af3bfce-8be5-4eca-a7b3-80dd46141aa1_1024x1024.jpg?v=1669189703\"\u003e\u003c\/div\u003e\n\u003cdiv data-mce-fragment=\"1\" style=\"text-align: center;\" data-mce-style=\"text-align: center;\"\u003e\n\u003ch2 style=\"text-align: left;\" data-mce-style=\"text-align: left;\"\u003e\u003cstrong\u003e\u003cbr\u003e\u003c\/strong\u003e\u003c\/h2\u003e\n\u003ch2 style=\"text-align: left;\" data-mce-style=\"text-align: left;\"\u003e\u003cstrong\u003e2022 XGODY C3 1080P HD Dash Cam Front and Rear\u003c\/strong\u003e\u003c\/h2\u003e\n\u003cp style=\"text-align: left;\" data-mce-style=\"text-align: left;\"\u003e\u003cstrong\u003eA number of multiple lenses: 3-channel driving recorder, front camera with 120-degree field of view, 90-degree built-in camera and rear camera, 360-degree omnidirectional wide-angle; whether it is driving, assisted parking at night or parking at any time Find out what's happening around your car.\u003c\/strong\u003e\u003c\/p\u003e\n\u003cp style=\"text-align: left;\" data-mce-style=\"text-align: left;\"\u003e\u003cstrong\u003e1080P high-definition video: Clearly record all details, suitable for family self-driving tours, with a low-key appearance. The weak light at night also has an excellent night vision effect, and it also has a large aperture of F1.8, which provides a guarantee for going out.\u003c\/strong\u003e\u003c\/p\u003e\n\u003cp style=\"text-align: left;\" data-mce-style=\"text-align: left;\"\u003e\u003cstrong\u003eAutomatic detection function: variable sensitivity gravity sensor, sudden vibration, and collision will lock the lens urgently, record everything that happened before and after the time period, and automatically save the excellent and clear picture of the record. The video frame rate is 30fps, which will be reliable evidence in the event of an accident.\u003cbr\u003e\u003c\/strong\u003e\u003c\/p\u003e\n\u003cp style=\"text-align: left;\" data-mce-style=\"text-align: left;\"\u003e \u003c\/p\u003e\n\u003ch2 style=\"text-align: left;\" data-mce-style=\"text-align: left;\"\u003e\u003cstrong\u003eProduct specifications:\u003c\/strong\u003e\u003c\/h2\u003e\n\u003cp style=\"text-align: left;\" data-mce-style=\"text-align: left;\"\u003e\u003cspan data-font-family='\"PingFang SC\", \"Segoe UI\", Arial, \"Microsoft YaHei\", 微软雅黑, 宋体, \"Malgun Gothic\", sans-serif'\u003eItem Model: XGODY C3 1080P 3 Channel DashCam\u003c\/span\u003e\u003c\/p\u003e\n\u003cp style=\"text-align: left;\" data-mce-style=\"text-align: left;\"\u003ePixels: Front 100W, inside + rear 30W\u003c\/p\u003e\n\u003cp style=\"text-align: left;\" data-mce-style=\"text-align: left;\"\u003eNumber of lenses used: 3 lenses\u003c\/p\u003e\n\u003cp style=\"text-align: left;\" data-mce-style=\"text-align: left;\"\u003eAngle: Front 120, inside + rear 90\u003c\/p\u003e\n\u003cp style=\"text-align: left;\" data-mce-style=\"text-align: left;\"\u003eAperture: F\/1.8\u003c\/p\u003e\n\u003cp style=\"text-align: left;\" data-mce-style=\"text-align: left;\"\u003eLCD (size\/type): 2 inches, tn HD display\u003c\/p\u003e\n\u003cp style=\"text-align: left;\" data-mce-style=\"text-align: left;\"\u003eScreen resolution: 320*240\u003c\/p\u003e\n\u003cp style=\"text-align: left;\" data-mce-style=\"text-align: left;\"\u003eVideo resolution: Front 1080 + inside 480 + rear 480\u003c\/p\u003e\n\u003cp style=\"text-align: left;\" data-mce-style=\"text-align: left;\"\u003eVideo format: AVI\u003c\/p\u003e\n\u003cp style=\"text-align: left;\" data-mce-style=\"text-align: left;\"\u003eVideo frame rate: 30fps\u003c\/p\u003e\n\u003cp style=\"text-align: left;\" data-mce-style=\"text-align: left;\"\u003ePhoto format: JPG\u003c\/p\u003e\n\u003cp style=\"text-align: left;\" data-mce-style=\"text-align: left;\"\u003eMicrophone\/ Speaker: Built-in speaker 0.8W\u003c\/p\u003e\n\u003cp style=\"text-align: left;\" data-mce-style=\"text-align: left;\"\u003ePower input: car charger Input: 5V2A, output: 12-24V\u003c\/p\u003e\n\u003cp style=\"text-align: left;\" data-mce-style=\"text-align: left;\"\u003eBattery capacity: 200AM\u003c\/p\u003e\n\u003cp style=\"text-align: left;\" data-mce-style=\"text-align: left;\"\u003eLanguages: English, Traditional Chinese, Simplified Chinese, Japanese, French, German, Korean, Italian, Portuguese, Russian, Spanish, Thai, etc\u003c\/p\u003e\n\u003cp style=\"text-align: left;\" data-mce-style=\"text-align: left;\"\u003eDefault language: English by default\u003c\/p\u003e\n\u003cp style=\"text-align: left;\" data-mce-style=\"text-align: left;\"\u003eMaximum Memory: 32GB\u003c\/p\u003e\n\u003cp style=\"text-align: left;\" data-mce-style=\"text-align: left;\"\u003eMotion detection: Supported\u003c\/p\u003e\n\u003cp style=\"text-align: left;\" data-mce-style=\"text-align: left;\"\u003eSupported features: screen saver, photo function, USB connection to computer reading machine sub-file, essential sound, fill light (infrared), screen protection, etc\u003c\/p\u003e\n\u003cp style=\"text-align: left;\" data-mce-style=\"text-align: left;\"\u003eDefault light source frequency: 50Hz\u003c\/p\u003e\n\u003ch3 style=\"text-align: left;\" data-mce-style=\"text-align: left;\"\u003e\n\u003cbr\u003eAccessories of \u003cspan data-mce-fragment=\"1\"\u003eStandard\u003c\/span\u003e:\u003c\/h3\u003e\n\u003cul\u003e\n\u003cli style=\"text-align: left;\"\u003eXGODY 3 Channel Dash Cam C3 (front、inside)*1\u003c\/li\u003e\n\u003cli style=\"text-align: left;\"\u003eRear view camera *1\u003c\/li\u003e\n\u003cli style=\"text-align: left;\"\u003eCar charger *1\u003c\/li\u003e\n\u003cli style=\"text-align: left;\"\u003eBracket *1\u003c\/li\u003e\n\u003cli style=\"text-align: left;\"\u003eManual *1\u003c\/li\u003e\n\u003cli style=\"text-align: left;\"\u003e16GB TF card\u003c\/li\u003e\n\u003c\/ul\u003e\n\u003cp\u003e \u003c\/p\u003e\n\u003cp style=\"text-align: left;\"\u003e\u003cbr\u003e\u003c\/p\u003e\n\u003cp style=\"text-align: left;\"\u003e*\u003c\/p\u003e\n\u003cp style=\"text-align: left;\"\u003e\u003cimg src=\"https:\/\/cdn.shopify.com\/s\/files\/1\/0100\/3542\/9454\/files\/01_2fdaa1f6-5a46-410d-a36a-9cc39134f8af_1024x1024.jpg?v=1646212895\"\u003e\u003c\/p\u003e\n\u003c\/div\u003e\n\u003cdiv data-mce-fragment=\"1\" style=\"text-align: center;\" data-mce-style=\"text-align: center;\"\u003e\u003c\/div\u003e"}
XGODY 3 Channel Dash Cam, FHD 1080P Dash Camera, 32GB Night Vision Loop Recording
XGODY C3 Dash Cam Front And Rear

Captures Extraordinary Moments From Your Journey
It has a 1080P high-definition video, F1.8 large aperture, parking monitoring, loop recording, gravity sensing, night vision, and other functions waiting for you to discover.

360° All-around Protection
The all-around wide field of vision is a small helper for daily driving. It will bring you great help in avoiding many unnecessary vibrations, collisions, and emergencies.

Loop Record
For 32G memory, when the pictures are full, the old ones will be overwritten, and the new ones will be saved and recorded to ensure peace of mind on the road.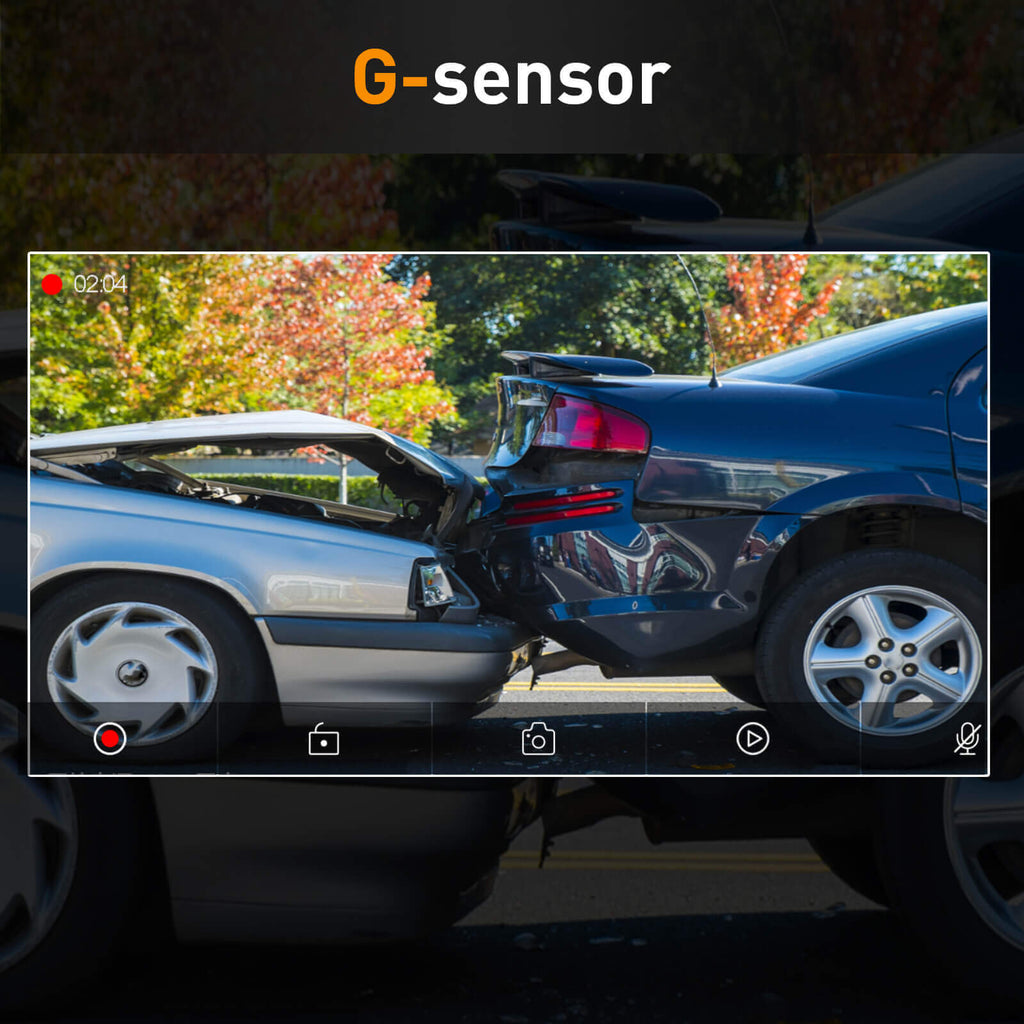 Gravity Sensor
It is the guarantee of accident evidence. In the event of vibration, collision, and emergency, the dash cam will be automatically captured when it is turned on, and the record will be saved in the memory card.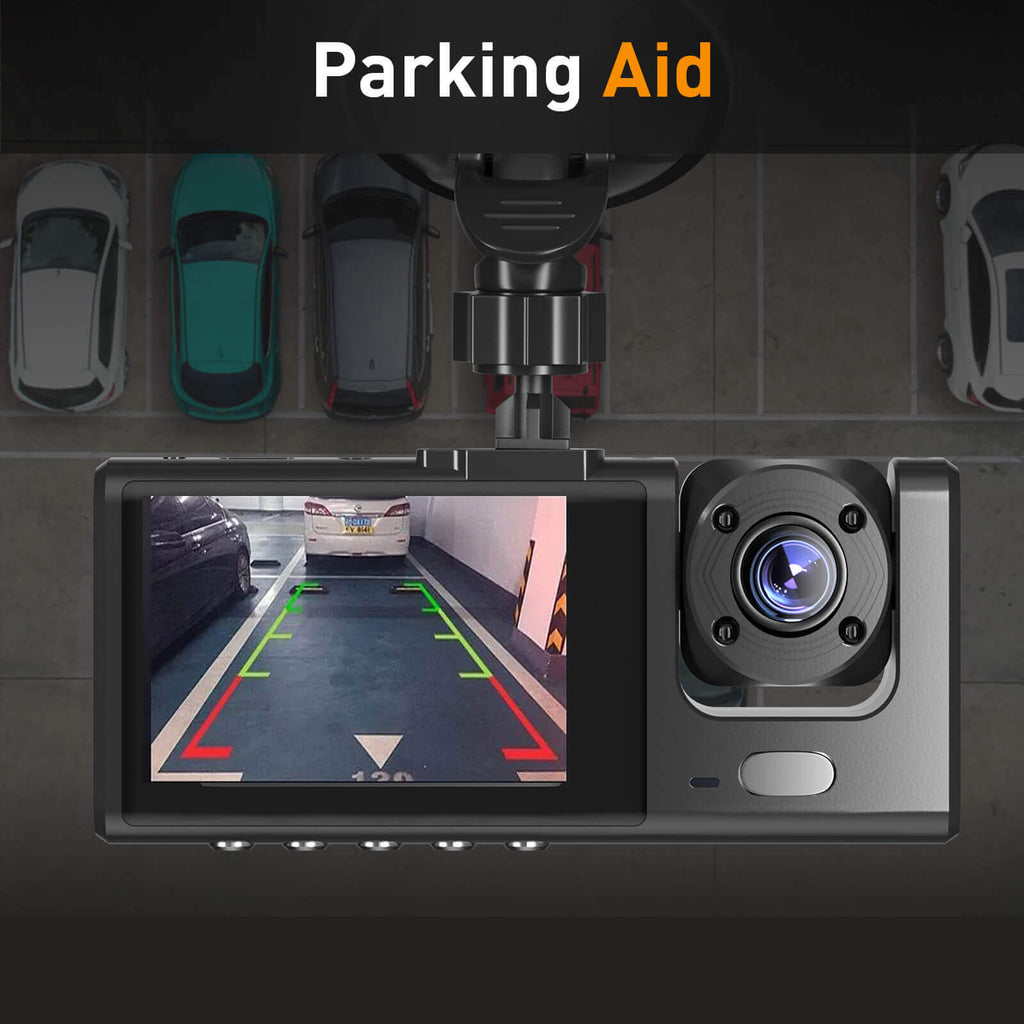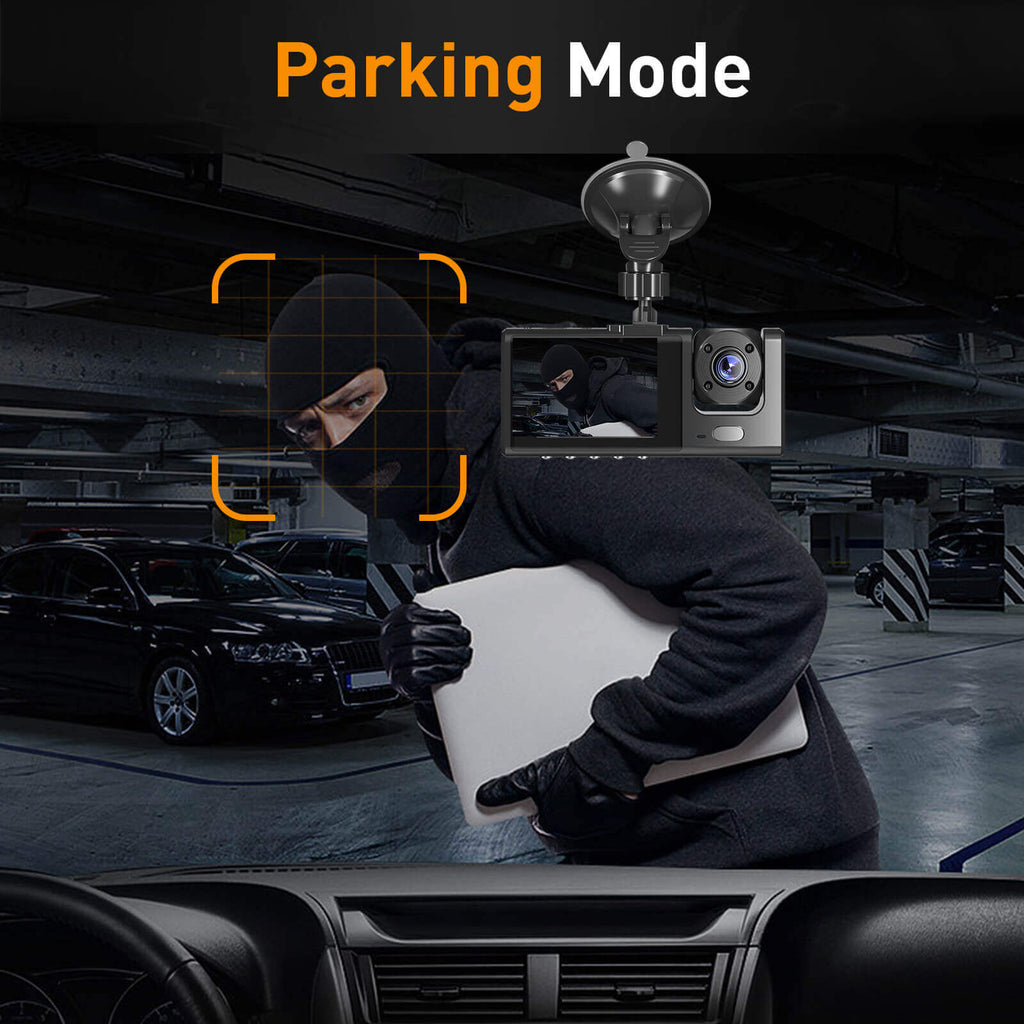 Parking Assistance, Parking Mode
The wide-angle field of view reduces the occurrence of blind spots, and helps to find a suitable parking position better, faster, and more accurately, providing us with a very convenient method.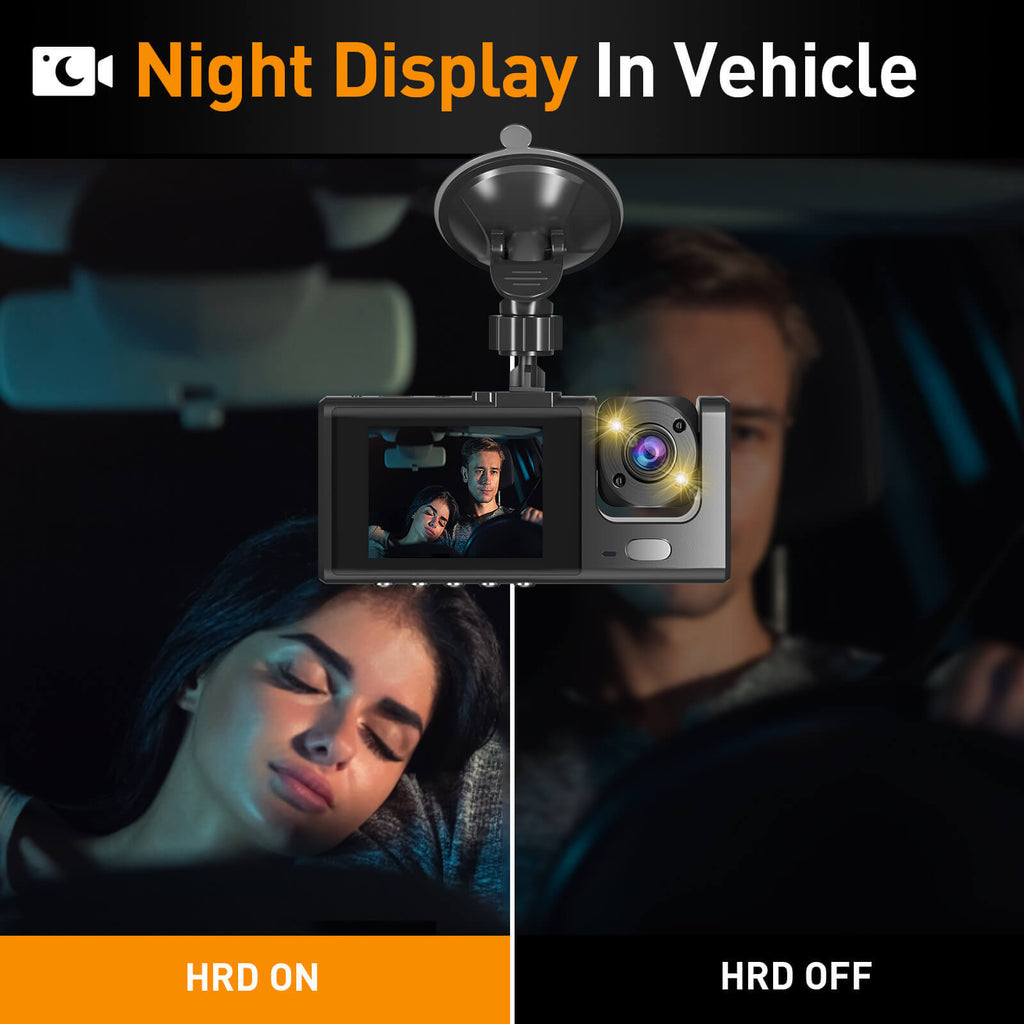 Night Display In Vehicle 
At night, the weak light will not affect the reading of key details, and the large 1.8 aperture provides us with excellent and clear picture quality.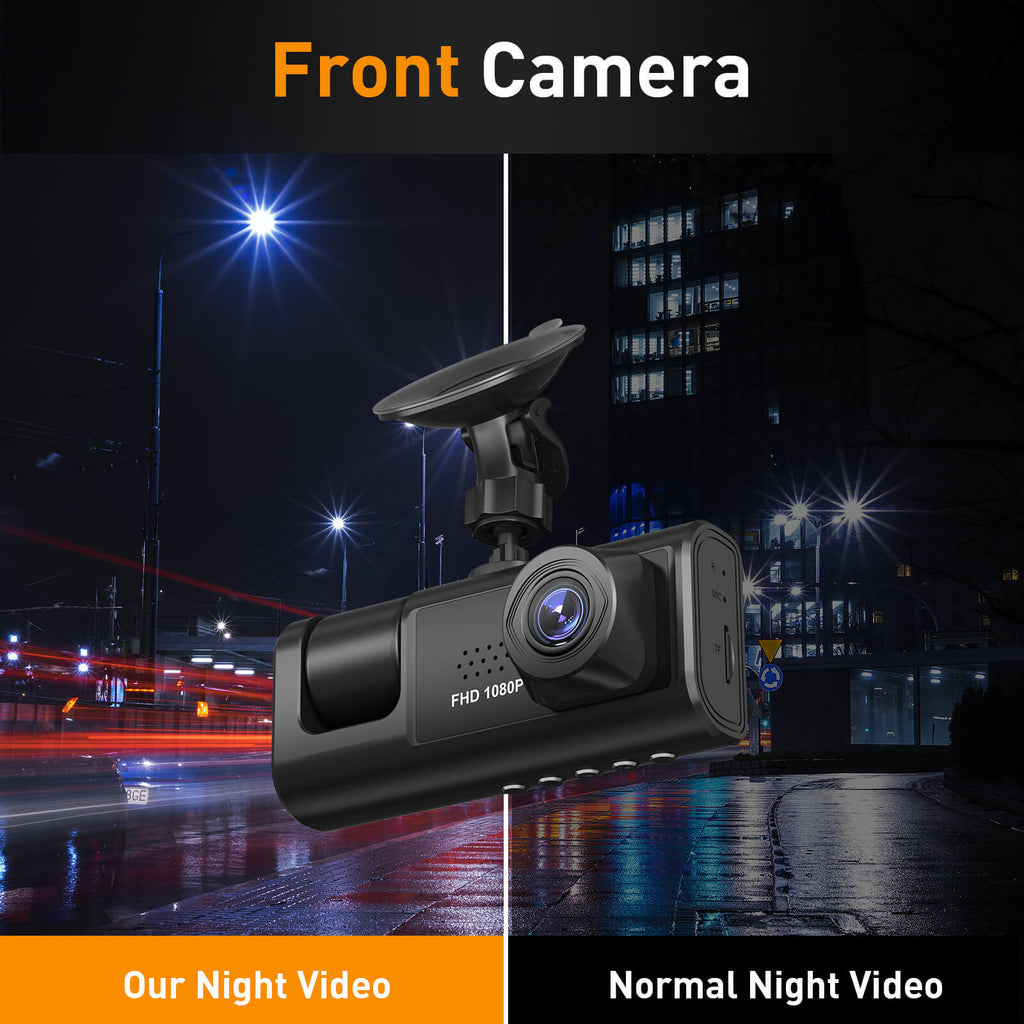 Front Camera
Similar to exclusive private orders, you can adjust the switch at will, and it can be turned on 24 hours a day to meet your personal needs.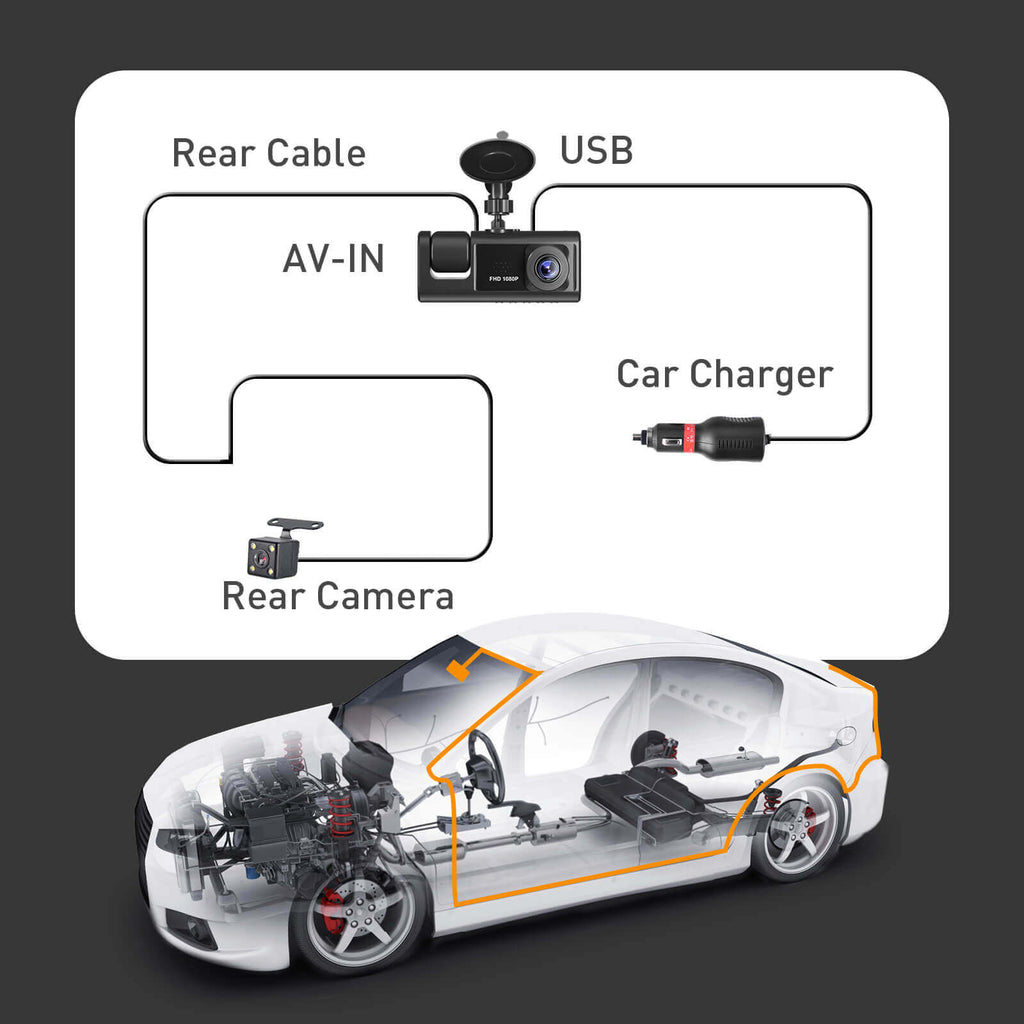 AV Input Connection
AV connection is adopted, which is fast and convenient, easy to understand, and easy to use.

Front, Inside, Rear
Clear picture sense, vivid details, full of beautiful and happy family atmosphere, suitable for leaving a warm picture.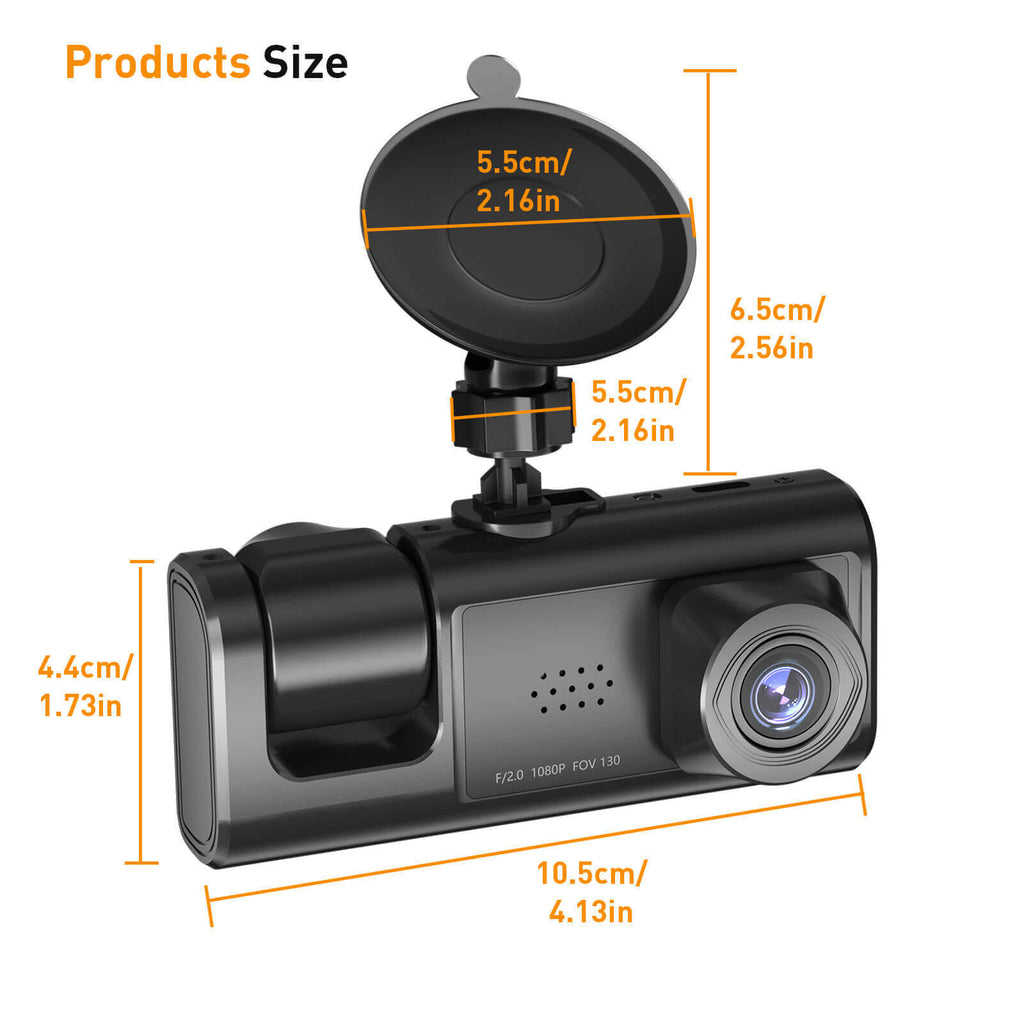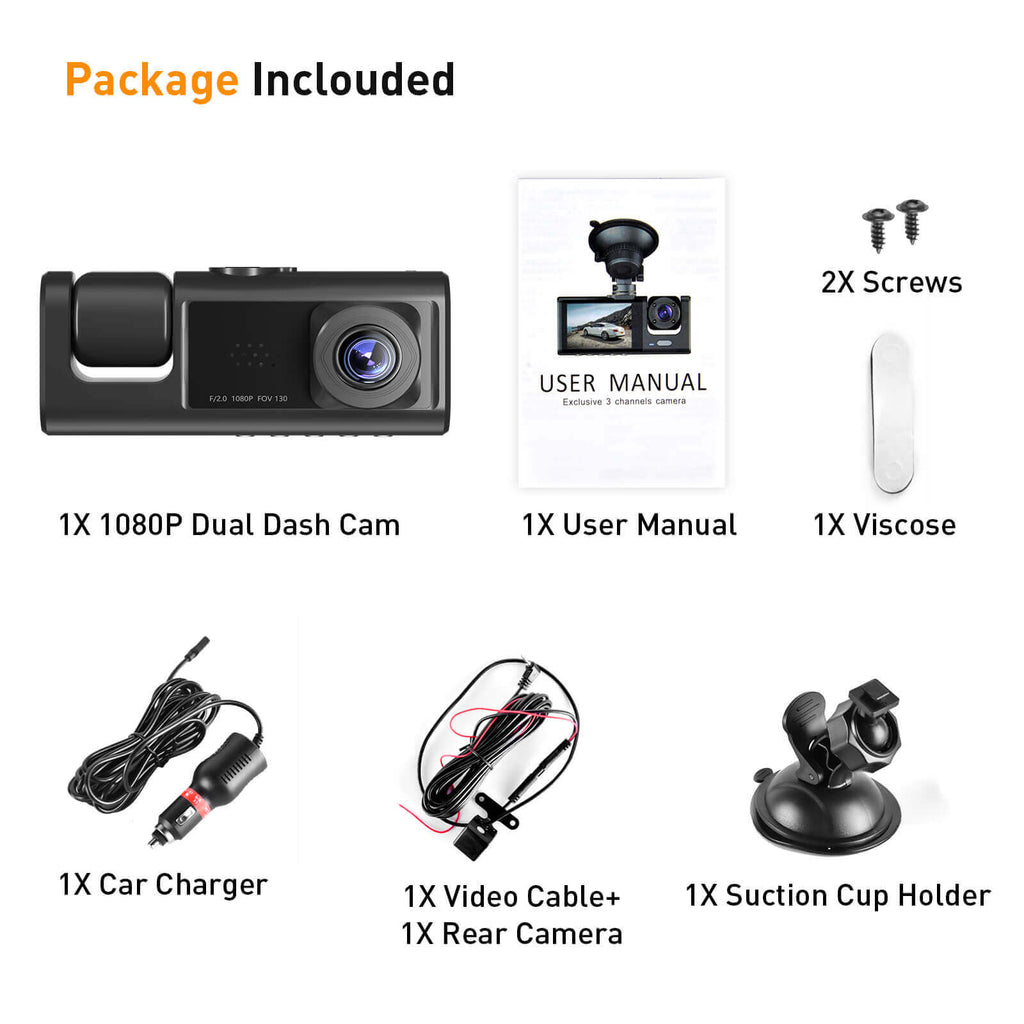 2022 XGODY C3 1080P HD Dash Cam Front and Rear
A number of multiple lenses: 3-channel driving recorder, front camera with 120-degree field of view, 90-degree built-in camera and rear camera, 360-degree omnidirectional wide-angle; whether it is driving, assisted parking at night or parking at any time Find out what's happening around your car.
1080P high-definition video: Clearly record all details, suitable for family self-driving tours, with a low-key appearance. The weak light at night also has an excellent night vision effect, and it also has a large aperture of F1.8, which provides a guarantee for going out.
Automatic detection function: variable sensitivity gravity sensor, sudden vibration, and collision will lock the lens urgently, record everything that happened before and after the time period, and automatically save the excellent and clear picture of the record. The video frame rate is 30fps, which will be reliable evidence in the event of an accident.

Product specifications:
Item Model: XGODY C3 1080P 3 Channel DashCam
Pixels: Front 100W, inside + rear 30W
Number of lenses used: 3 lenses
Angle: Front 120, inside + rear 90
Aperture: F/1.8
LCD (size/type): 2 inches, tn HD display
Screen resolution: 320*240
Video resolution: Front 1080 + inside 480 + rear 480
Video format: AVI
Video frame rate: 30fps
Photo format: JPG
Microphone/ Speaker: Built-in speaker 0.8W
Power input: car charger Input: 5V2A, output: 12-24V
Battery capacity: 200AM
Languages: English, Traditional Chinese, Simplified Chinese, Japanese, French, German, Korean, Italian, Portuguese, Russian, Spanish, Thai, etc
Default language: English by default
Maximum Memory: 32GB
Motion detection: Supported
Supported features: screen saver, photo function, USB connection to computer reading machine sub-file, essential sound, fill light (infrared), screen protection, etc
Default light source frequency: 50Hz

Accessories of
Standard

:
XGODY 3 Channel Dash Cam C3 (front、inside)*1
Rear view camera *1
Car charger *1
Bracket *1
Manual *1
16GB TF card
*
1.Most items are shipping free, you can check the description in the listing. Order will be shipped within 72 hours after payment made.
2.The shipping time is based on the shipping option, sometimes it may be delayed due to varied situation (such as holidays, war, weather etc.), please contact us immediately if delivery time exceeds estimated.
3.Import taxes, duties and related customs fees may be charged once the parcel arrives at the destination country. These charges are determined by the customs office of the specific destination. Payment of these charges and taxes is the responsibility of the recipient and will not be covered by us here at Xgody. For further details of charges, please contact your local customs office.
4.Time Schedule- F

ast Shipping
| | |
| --- | --- |
| United States/Australia/UK |  4-10 working days |
| Canada/Israel/ Azerbaijan / Russia/Maldives/ Eastern Europe/ Middle East |  9-18 working days |
| Brazil/Chile/South America |  9-18 working days |
| Western Europe/New Zealand |  7-10 working days |
If you are not happy with your purchase and wish to return an item, please contact us immediatelysince receiving your order. Our customs support email is support@xgody.com. Please write down your order number and user ID in the return parcel.
All returns must be in original condition with packaging intact to avoid damage during shipment, any physical damage during the return shipment will not be accepted. Returned parcel need to provide shipment number for tracking.
We will get back to you once we receive the return parcel. Money or replacement will be arranged within 24-48 hours after the return parcel delivered.
-
1.Why Choose Xgody?
Brand XGODY was established in 2014 with great advantages in electronic products. More than that, the operating team has more than 10 years experiences on e-commerce.. We know exactly what the buyer concerns and worries. Making sure you will have a wonderful shopping experience by providing what you need and getting rid of what you worried about. It is no doubt to choose us with our high quality of product, good shipping way, and good customs support.
2.What payment methods do you accept?
We accept all major credit cards (VISA, Mastercard, AMEX) and PayPal payments. We do not accept personal checks, money orders, direct bank transfers, western union, or cash on delivery.
3.Can I change my shipping address after placing an order?
Please be advised that your shipping address cannot be revised after the order has been processed or shipped. Kindly update your shipping address to your residential address instead of your vacation address as we do not know how long the destination's customs department will have the package on hold.
4.How do I track my order?
The tracking number can be queried in the background. Also, we will email your tracking information as soon as your order has shipped. Usually you will receive the tracking number one day after we have shipped your order. In addition, if you still do not know how to query and track, you can also contact customer service freely.
5.Will I be charged with customs and taxes?
Import taxes, duties and related customs fees may be charged once your order arrives to its final destination, which are determined by your local customs office.
Payment of these charges and taxes are your responsibility and will not be covered by us. We are not responsible for delays caused by the customs department in your country. For further details of charges, please contact your local customs office. 
6.What Do I Do If I Have Missing Items In My Order?
If something is still missing, please contact us immediately.
7.What if the item(s) I received are defective/incorrect/damaged?
Please contact us within 7 days from receiving your order if you received merchandise that is incorrect, missing, and/or defective. Please include your order number, photographs of the item(s) and all related references upon receiving your package. We will do our very best to resolve your case as soon as possible.
8.How do I return an item?
If you are not happy with your purchase and wish to return an item, please contact us immediately from receiving your order. Please provide your order number as well as the reason for your return. Our customer service team will review the return request and will send further instructions if the return is approved.
For a list of final sale items, please see our Warranty Info and Refund Policy. All returns must be in original condition with packaging intact.
9.When will I receive my refund?
All refunds will be credited to your original form of payment. If you paid by credit or debit card, refunds will be sent to the card-issuing bank within 7-10 business days of receipt of the returned item or cancellation request. Please contact the card-issuing bank with questions about when the credit will be posted to your account.
If you haven't received a credit for your return yet, here's what to do: Contact the bank/credit card company. It may take some time before the refund is posted to your account.