3 Of The Best XGODY Dash Cam You Should Check Out
3 Of The Best XGODY Dash Cam You Should Check Out
Seems like you're planning on investing in some good quality dash cams. Aren't you? Well, if yes, then this could be your last read. We completely understand that dashcams are essential to invest in regarding road security. Therefore to give our readers unbias advice, we've concluded the 3 best XGODY 1080P dash cam. 

So, if you're interested in knowing more about these products, give this piece a good read. 
Best XGODY Dash Cams V21- Front Mirror Dash Cam With 1080P Lens
It is one of the best 1080P dash cams you can get your hands on. The mirror dash cam has incredible features you can't resist but fall in love with. With the help inches 10 inches full HD display, you'll get an amazing and clear view of the road. Not only this, the dash cam offers you crisp night vision, so there's nothing to worry about night drives or road trips. 
On the other hand, it has impressive features like 24 hours parking monitoring, G-sensor, an adjustable display, and many others. So, if you want to sneak more into the product's details, here are some highlighted features: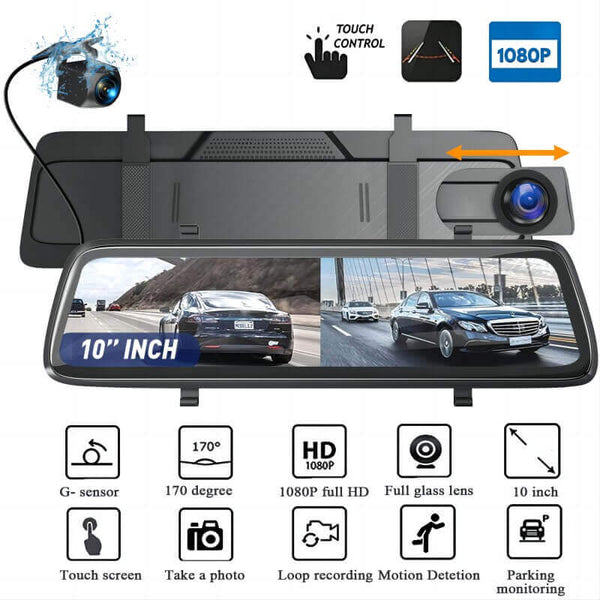 Highlighted Features
Loop Recording: Mirror dash cam offers loop recording features that save your videos by detecting the storage. This amazing feature comes in handy if your SD card has run out of space but the device has to save the video. Loop recording helps protect locked files while releasing some circular videos to make storage for upcoming ones. 

Clear Image & Night Vision: The dash cam has a quick image processing chip that helps fast and uninterrupted image processing. You can see the view within the range of 7.5 meters. 

Smart Features: Besides these essential features, the mirror dash cam offers some sensible options for safe driving. Some of them include gravity sensors, motion detection, adjustable display, collision boot record, etc. 
XGODY H11 Rear View Front Dash Cam Output 2.5k Video
While talking about front dash cams, how can we not mention XGODY 2.5k front and rear view mirror dash cam? You will get about 1440P full HD display that helps you get an amazing view every time you're in driving mode. On the other hand, the device offers the users automatic front-view recording to keep records of accidents and unusual stuff around them. 

Also, XGODY H11 rear view dash cam comes with dual wide-angle lenses. The 10 inches touch screen helps in better control in customizing the display. Furthermore, you can easily adjust the screen to get the best view within your range. Let's dive deep into the product's highlighted features.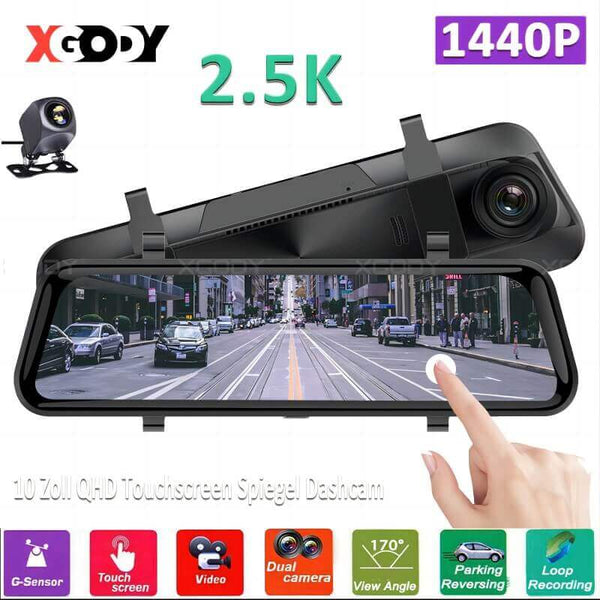 Highlighted Features: 
G-Sensor: XGODY has always tried to develop the latest technologies within its products. Like it, the rearview dash cam has an impressive G Sensor that simply works to save you from getting into unfortunate situations. This sensor automatically records road views, and in case of an accident, it will lock the files immediately to keep them as a record. 

Multiple Display Mode: The most impressive feature of the XGODY rear view dash cam is its multiple display mode. The device has dual; front and rear cameras, so it offers you dual mode display simultaneously. So, now you can drive safely and stress-free by keeping an eye on your track's front and rear views. 

Low Light Impressive Recording: The rear view H11 dash cam also serves the best of its capability while in low light. Unlike other dash cams, it offers you impressive image quality. With the help of WDR technology, you will get crisp, high-contrast, and vivid image quality,y even in low light. So, what do you think about it? 
XGODY A10 Touch Screen Full HD DVR Camera
Well, when it comes to road safety. XGODY has the best collection of dash cams and cameras. Third on our list is this XGODY A10 touchscreen DVR camera. Its dual-lens camera lets you control your driving every time you take your car out for a drive. The device is so small that it didn't take much effort to set up. Yet, you must pick the best angle to get the most from it. 

With the help of 1080P and amazing picture resolution, this camera offers impressive image quality whenever you ask. Also, the DVR camera has a built-in speaker and microphones, so it can easily record sounds while recording the view. However, the card needs a TF card to record, so keeping a record of the memory space is essential before heading out on a long route.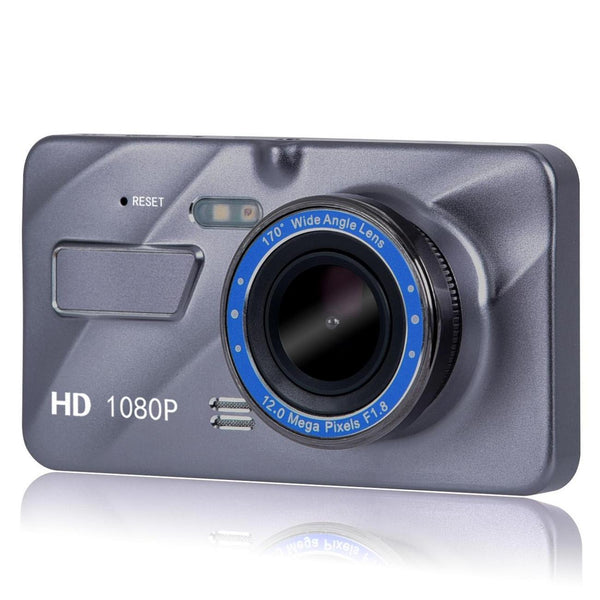 Let's get into the features~~
Highlighted Features: 
4 Inch Touch Screen Display: The device supports a customizable touchscreen display. The touch screen helps in getting better control over the screen adjustment. Moreover, the screen is set to high saturation, allowing you to have a clearer view of options even on a bright day. 

170 Degree Ultra Wide Angle:  The help of an ultra-wide angle of 170 degrees offers you the best front view while driving. On the other hand, 120 degrees of the rearview camera supports all safety protocols. 

Reversing Camera: When it comes to incredible features, reversing camera is one of them. If you connect the rearview camera of XGODY A10 to your car system, it can be your reversing camera too. Isn't it a phenomenal technology? 
--
So, these were 3 of the best 1080P XGODY  camera and dash cams. Let's just glance at some FAQs by users about XGODY products. 
Frequently Asked Questions:
Do these dash cams only support one-way wiring? 
NO, in reality, these dash cams support two-way wiring. You can connect the wire according to the manual instructions. Or you can even ask for professional advice to connect the wire better according to your vehicle. 
Why are my XGODY cams not saving loop recordings?
Well, there can be various reasons; yet the major one can be a space issue in the memory card. Sometimes, your SD card does not allow previously saved videos to be overwritten. So, check out if there's enough space in your SD card. If it runs out, just delete the previous files manually to make it start working again.
Can we adjust the screen of dash cams? 
Yes, with XGODY dash cams, you can easily adjust the screen to better view the street you're driving on. 
Conclusion
Oh, you've read the whole article! Well, that's pleasing. We hope these brief reviews of XGODY 1080P dash cams have helped you make up your mind. Do let us know your thoughts about all these products. 
Recommended Review
1. Best Large Car Mirror Dash Cams V21- Has a longer lens that fits directly on the truck's rearview mirror
2. Best HD Mirror Dash Cams H11 - 2.5k HD video that captures every license plate number.
3. Best Samll Touch Screen Full HD DVR Camera A10 - The most classic and most versatile 4-inch Dashcam
-- Got it!!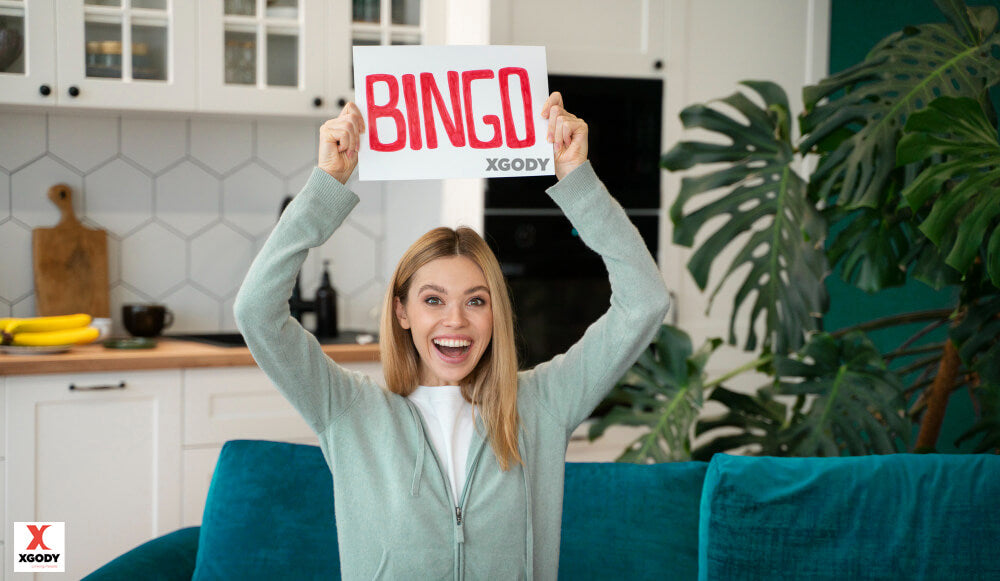 **