XGODY Android Projectors That You Would Fall In Love With
XGODY Android Projectors That You Would Fall In Love With
Tired of that long drive to the theatre? Well, that's not an issue now with the projectors, which provide that theatre vibes at home. Finding a good projector might be tough, but after this article, it won't be a problem for you. You have to determine several factors while looking for a projector, and even if you get all the features of your choice, you get a setback with that high price. 
We understand all your problems and have brought you this article reviewing one of the best-selling movie projectors in the market right now, and if your mind clicks with the name XGODY, then you are intelligent. This article reviews the XGODY X1 movie 4k projector providing all the necessary information. Read it till the end to know more. 
Impressive Features Of The XGODY X1 Movie 4K Projector
Some of the many impressive features of the XGODY X1 movie 4k projector are mentioned in this article. 
5G Projector With Wi-Fi And Bluetooth Connection
The XGODY X1 projector comes with wifi accessibility for better performance and to avoid unnecessary delay. Not only this, but Bluetooth is also accessible in the new XGODY X1 movie 4k projector. With support to DLNA/Miracast function, you can get better wifi mirroring even with your smartphone. The HDMI/USB/TF ports can connect with the television, video game, and other devices. 
HIDI Speakers And Keystone Connection
Another feature to impress the audience is the adjusting ability. You can adjust the XGODY android projector horizontally and vertically and in all ways for better performance. And there would be no change in image quality. The XGODY movie projector has HIFI speakers with better bass. You can enjoy movies at your home, having that theatre experience. 
High Resolution And Ultra Quiet Operation
The XGODY android projector has the full HD original resolution of 1920*1080 with support of 4k 9500 lumens and HD video range. The rich picture details would blow your mind with the HD picture experience. Ultra-quiet operation with noise below42 dB brings the best listening experience you would enjoy to the fullest. 
Wireless, Portable, And Other Policies
The XGODY X1 android projector is wireless and works with wifi and Bluetooth, it is extremely portable, and you can carry it anywhere, anytime. It comes with 150 000h lamp life, dual built-in stereo speakers, a cooling system, and much more. It comes with 15 days return policy and warranty. So yes, getting yourself the XGODY X1 android projector is a complete package of durability and entertainment.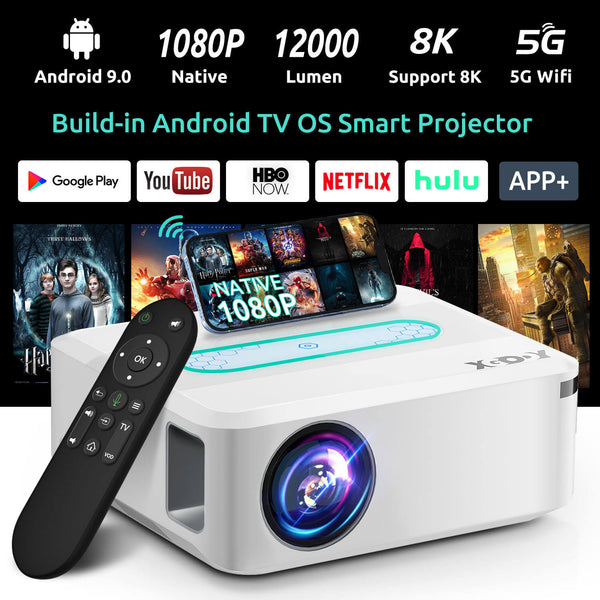 Pros
User and budget are friendly.
Worth the price (There is basically no intelligent system for products of the same price.).
A true wireless and portable projector (because of Android)
Cons
Unsatisfactory glitches sometimes. 
Things You Will Get In The Box
The XGODY portable projector usually comes equipped only with a rucksack to accommodate. 
Of course, there will be enough accessories.
Power Cable
HDMI Cable
Remote control
User Manual
Screw
Tips To Use
There are some tips you should know before using a projector. 
First and foremost, after receiving the package, check out all the received things.
After checking and verifying, check out the instruction manual and read it thoroughly.
According to the instructions given, set up the projector.
Now, set the screen to the right height in alignment.
After all the setting processes, plug it in and turn it on. With the remote, do all the settings, select the image mode, sound quality, and all according to your preference. 
Remember, select the right location for the project set up for a better experience.
And now that all the hustle has been done, it's your time to grab a bucket of popcorn and enjoy your show.
You may get stuck at any moment; you have to grab the manual and read it again or contact the helpline. 
FAQs Of Samrt Android Projector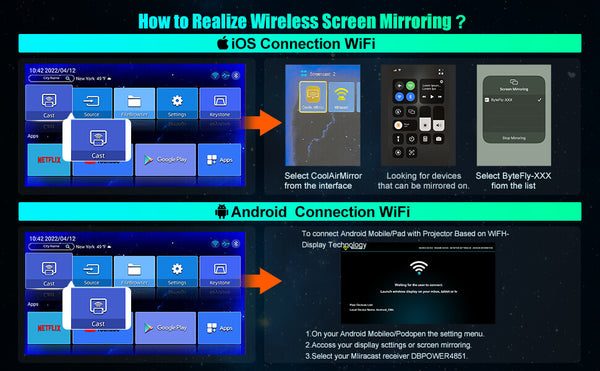 How to choose the right projector for myself?
Picking up a good movie projector for oneself can be tricky as it is not a daily use commodity, and you need to consider some points while looking for your desired movie projector. First of all, you must be aware of why you are getting a projector. It sounds stupid but has a valid backstory. There can be different purposes for using a projector. One can watch movies, play games, watch the news, or use it for business or other presentations. You must know what you are going to do with it. The other factor is the budget. What is your range, and for how much can you negotiate? You must know how big a screen you are looking for and what room you will install the projector in. Determining these factors can help you to choose the right projector for you.
Are all mini projectors portable? 
Mini projectors, by the name, reflect that they are portable. You can take them anywhere and everywhere with you. Mini projectors are worth buying because of their light weight, portability, size, and shape. In very rare cases, it happens that the mini projectors are not portable. It can be due to their weight, which is extremely rare, maybe in the old versions. Overall, you will always find mini projectors portable and carry-friendly. But if you want something to fit your personal media space, we won't recommend mini projectors. 
How much does an average projector cost?
Projectors can vary in price range from $100 to $5000. Yes, it has a vast price range according to your budget. You must work according to your budget. An average projector can cost you upto $300. You can get an amazing one for $500. So yes, you should have a budget of about $600 for a good projector. Even a price tag of $300 can do wonders.
Conclusion
Ending this article on a note that we have found the XGODY X1 android movie project an amazing product with all the good features, user-friendliness, pros more than cons, and other successful executions. You can get it for your home to enhance your movie-watching experience. We bet you won't regret buying it on our recommendation. We hope you find this article read-worthy. So what's your take on the XGODY X1 android movie projector? Are you going to buy it?