How to Update XGODY Navigation Map For Free, GPS Navi 2022 map
How to Update XGODY Navigation Map For Free, GPS Navi 2022 map
Dear Customer,
XGODY navigation GPS has been around for 10 years, and we are now providing our users with free and convenient navigation map updates. With the upgrading of our business, the frequency of our map update will be faster and more convenient. We hope that every user will experience better products and services.
As of 2022, our exchange group has more than 5,000 members; among them are ordinary drivers, truck drivers, truck drivers, etc., I can exchange group welcome you to join.
You can follow our Facebook to learn the latest details. *Free Update Maps, and The map document is universal for all of XGODY GPS model.
How to update car navigation system for free?
XGODY Navigation - Maps Update & Driver Discuss
Click here: https://www.facebook.com/groups/xgodynavigation/files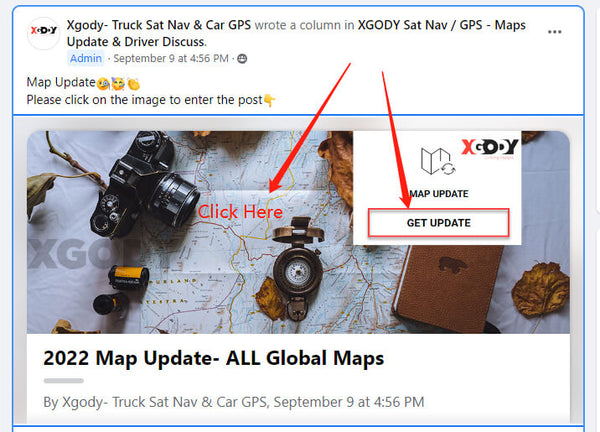 or
Join In Free Sat Nav Updates -  Facebook Group
XGODY-Navigation: @XGODYcarstereo
https://www.facebook.com/XGODYcarstereo
https://www.facebook.com/Xgodyofficial
We also have some videos for maps update on our Facebook. We will provide the latest map update package and updated tutorials every six months or a year, so that you can use our products more easily.
Here is XGODY FAQ link~
Thank you for your support, thank you!
Best regards.
-------------
Most maps have been updated! ! The current data is for 2022.
(If the map is not updated, the local department's GPS map has not yet collected data.)
This version is more complete and also fixes some navigation errors.
The same file as the newly downloaded file must be deleted from the satellite navigation before installing the update.
Please watch this instructional video before updating any maps:
------------------------------------------------
Because the file is too large, it is impossible to open or view the map data package with a mobile phone.
Please open and download it from a computer.
Continental Europe(2022-Q1)
Central America& South America
This is the Middle East Map(2022)
Australia and New Zealand(2022)
*The following is the text description of the installation steps.
1, Please download and unzip the file.
(Go into 'settings' on the main XGody screen and select 'Mass Storage. Plug the XGody GPS into the PC via a USB.)
2, Connect your device to the computer. Find a map file below: US— CONTENT — MAP (BUILDING/DEM/MAP/PHONEME/POI/SPEEDCAM).
3, Copy the file from the link I sent you to the folder "BUILDING", "DEM", "MAP", "PHONEME", "POI", and "speedcam". (just need to download BUILDING/DEM/MAP/PHONEME/POI/SPEEDCAM)
4, Disconnect the computer and set the path: press "Navi Config" ---"Setting" ---Resident Flash (double click)— US or EU (double click)—Navi. exe(double click)—OK. Please have a check. if you have any questions, please let me know.
---------------------------------------------------------
Instructional Video Instructions:
*********************************************************************************
The role of the Sat Navigation firmware and installation instructions
If you want to put the map into the SD card, you need to download the update file with the program (referred to as the lazy bag; not this one, if you need it, please go back to Xgody Navigation to find the Lazy installation package ); put the entire file into the SD/TF card.