{"id":8021883814162,"title":"XGODY 1080P Multi-devio Connection Small Projector For Home Theater, HIFI Built-In 3W Speaker","handle":"1080p-multi-devio-connection-small-projector-for-home-theater-with-bracket-and-hdmi-cable-hifi-built-in-3w-speaker","description":"\u003ch2 style=\"text-align: center;\" data-mce-fragment=\"1\" data-mce-style=\"text-align: center;\"\u003eA10 Mini Portable Projector For Home Theater \u0026amp; Camping\u003c\/h2\u003e\n\u003cspan data-font-family='\"PingFang SC\", \"Segoe UI\", Arial, \"Microsoft YaHei\", 微软雅黑, 宋体, \"Malgun Gothic\", sans-serif' data-mce-fragment=\"1\"\u003e\u003cimg alt=\"A10 Mini Projector\" src=\"https:\/\/cdn.shopifycdn.net\/s\/files\/1\/0100\/3542\/9454\/files\/A10-1_1024x1024.jpg?v=1669451824\" style=\"display: block; margin-left: auto; margin-right: auto;\" data-mce-src=\"https:\/\/cdn.shopifycdn.net\/s\/files\/1\/0100\/3542\/9454\/files\/A10-1_1024x1024.jpg?v=1669451824\" data-mce-style=\"display: block; margin-left: auto; margin-right: auto;\"\u003e\u003c\/span\u003e \u003cbr\u003e\n\u003cdiv style=\"text-align: center;\"\u003e\u003cimg style=\"float: none;\" alt=\"New UI upgrade design, Projector\" src=\"https:\/\/cdn.shopifycdn.net\/s\/files\/1\/0100\/3542\/9454\/files\/A10-2_1024x1024.jpg?v=1669451934\"\u003e\u003c\/div\u003e\n\u003ch3 style=\"text-align: center;\" data-mce-style=\"text-align: center;\"\u003eNew UI upgrade design\u003c\/h3\u003e\n\u003cp style=\"text-align: center;\"\u003eIt is a home theater and camping projector with a simple operation and a brand-new interface upgrade. We can use it as a mini TV or mini computer monitor.\u003c\/p\u003e\n\u003cdiv style=\"text-align: center;\"\u003e\u003cimg style=\"float: none;\" alt=\"Small and Portable, projector\" src=\"https:\/\/cdn.shopifycdn.net\/s\/files\/1\/0100\/3542\/9454\/files\/A10-3_1024x1024.jpg?v=1669452027\"\u003e\u003c\/div\u003e\n\u003ch3 style=\"text-align: center;\" data-mce-style=\"text-align: center;\"\u003eSmall \u0026amp; Portable\u003cbr\u003e\n\u003c\/h3\u003e\n\u003cp style=\"text-align: center;\"\u003eIt is particularly compact and easy to carry around, even a child can easily hold it in a pocket or bag. Enjoy movies, videos, and games at home or outside on the patio.\u003c\/p\u003e\n\u003cdiv style=\"text-align: center;\"\u003e\u003cimg style=\"float: none;\" alt=\"Power Bank supply, projector\" src=\"https:\/\/cdn.shopifycdn.net\/s\/files\/1\/0100\/3542\/9454\/files\/A10-4_1024x1024.jpg?v=1669452081\"\u003e\u003c\/div\u003e\n\u003ch3 style=\"text-align: center;\" data-mce-style=\"text-align: center;\"\u003ePower Bank supply\u003c\/h3\u003e\n\u003cp style=\"text-align: center;\"\u003eEnjoy anytime, anywhere, portable projector is powered by a power adapter, mobile phone charger, car charger, or power bank via a micro USB interface.\u003c\/p\u003e\n\u003cdiv style=\"text-align: center;\" data-mce-fragment=\"1\" data-mce-style=\"text-align: center;\"\u003e\u003cimg src=\"https:\/\/cdn.shopifycdn.net\/s\/files\/1\/0100\/3542\/9454\/files\/A10-5_4bde8a7d-351d-4ac8-9dbd-1ddda5325d4d_1024x1024.jpg?v=1669630642\" alt=\"Upgrade Performance, projector\" style=\"float: none;\" data-mce-fragment=\"1\" data-mce-style=\"float: none;\" data-mce-src=\"https:\/\/cdn.shopifycdn.net\/s\/files\/1\/0100\/3542\/9454\/files\/A10-5_4bde8a7d-351d-4ac8-9dbd-1ddda5325d4d_1024x1024.jpg?v=1669630642\"\u003e\u003c\/div\u003e\n\u003ch3 style=\"text-align: center;\" data-mce-style=\"text-align: center;\"\u003eUpgrade Performance\u003c\/h3\u003e\n\u003cp style=\"text-align: center;\"\u003eThe performance of the A10 has been fully upgraded to support full HD 1080P. The brightness and color saturation of the projected picture is also greatly enhanced. It is especially noticeable in dark environments.\u003c\/p\u003e\n\u003cdiv style=\"text-align: center;\"\u003e\u003cimg style=\"float: none;\" alt=\"Wireless Connection, projector\" src=\"https:\/\/cdn.shopifycdn.net\/s\/files\/1\/0100\/3542\/9454\/files\/A10-6_1024x1024.jpg?v=1669452430\"\u003e\u003c\/div\u003e\n\u003ch3 style=\"text-align: center;\" data-mce-style=\"text-align: center;\"\u003eWireless Connection\u003c\/h3\u003e\n\u003cp style=\"text-align: center;\"\u003eWe use the latest integrated WiFi connection technology, which can synchronize the screen of the smartphone to the projector for screen projection.\u003c\/p\u003e\n\u003ch3 style=\"text-align: center;\" data-mce-style=\"text-align: center;\"\u003e\u003cimg src=\"https:\/\/cdn.shopifycdn.net\/s\/files\/1\/0100\/3542\/9454\/files\/A10-7_1024x1024.jpg?v=1669452449\" alt=\"HIFI Built-In 3W Speaker, projector\"\u003e\u003c\/h3\u003e\n\u003ch3 style=\"text-align: center;\" data-mce-style=\"text-align: center;\"\u003eHIFI Built-In 3W Speaker\u003c\/h3\u003e\n\u003cp style=\"text-align: center;\"\u003eEspecially friendly for friends who like to hold family movies, parties, football nights, and other activities. With built-in powerful speakers (3W), this projector is the first choice for a stunning experience.\u003c\/p\u003e\n\u003cdiv style=\"text-align: center;\"\u003e\u003cimg style=\"float: none;\" alt=\"Projection Distance \u0026amp; Size, projector\" src=\"https:\/\/cdn.shopifycdn.net\/s\/files\/1\/0100\/3542\/9454\/files\/A10-8_1024x1024.jpg?v=1669452508\"\u003e\u003c\/div\u003e\n\u003ch3 style=\"text-align: center;\" data-mce-style=\"text-align: center;\"\u003e\u003cspan data-font-family='\"PingFang SC\", \"Segoe UI\", Arial, \"Microsoft YaHei\", 微软雅黑, 宋体, \"Malgun Gothic\", sans-serif'\u003eProjection Distance \u0026amp; Size\u003c\/span\u003e\u003c\/h3\u003e\n\u003cdiv style=\"text-align: center;\"\u003e\u003cspan data-font-family='\"PingFang SC\", \"Segoe UI\", Arial, \"Microsoft YaHei\", 微软雅黑, 宋体, \"Malgun Gothic\", sans-serif'\u003eWatching size: 32\" - 100\", Projection distance: 1.1m - 3.3m best in 2 meters 60 inches.\u003c\/span\u003e\u003c\/div\u003e\n\u003cbr\u003e\n\u003cdiv style=\"text-align: center;\"\u003e\u003cimg style=\"float: none;\" alt=\"Home theater、Outdoor、Game、Living room, projector\" src=\"https:\/\/cdn.shopifycdn.net\/s\/files\/1\/0100\/3542\/9454\/files\/A10-9_1024x1024.jpg?v=1669452543\"\u003e\u003c\/div\u003e\n\u003ch3 style=\"text-align: center;\" data-mce-style=\"text-align: center;\"\u003eSuitable Place\u003c\/h3\u003e\n\u003cp style=\"text-align: center;\"\u003eIt is suitable for home theater, outdoor, gaming, and living room places.\u003c\/p\u003e\n\u003cdiv style=\"text-align: center;\"\u003e\u003cimg style=\"float: none;\" alt=\"Perfect Gift for kids, projector\" src=\"https:\/\/cdn.shopifycdn.net\/s\/files\/1\/0100\/3542\/9454\/files\/b4797a75ecf468959aad137186029101_1024x1024.jpg?v=1669452678\"\u003e\u003c\/div\u003e\n\u003ch3 style=\"text-align: center;\" data-mce-style=\"text-align: center;\"\u003e\n\u003cspan data-font-family='\"PingFang SC\", \"Segoe UI\", Arial, \"Microsoft YaHei\", 微软雅黑, 宋体, \"Malgun Gothic\", sans-serif'\u003ePerfect Gift for kids, \u003c\/span\u003e\u003cspan data-font-family='\"PingFang SC\",\"Segoe UI\",\"Arial\",\"Microsoft YaHei\",\"微软雅黑\",\"宋体\",\"Malgun Gothic\",PingFang,\"PingFang SC\",\"苹方\",\"苹方-简\",SimHei,\"Heiti SC\",Hei,\"黑体\",\"黑体-简\",\"Microsoft YaHei\",\"微软雅黑\",SimHei,\"Heiti SC\",Hei,\"黑体\",'\u003eprojector\u003c\/span\u003e\n\u003c\/h3\u003e\n\u003cdiv style=\"text-align: center;\"\u003e\u003cspan data-font-family='\"PingFang SC\", \"Segoe UI\", Arial, \"Microsoft YaHei\", 微软雅黑, 宋体, \"Malgun Gothic\", sans-serif'\u003eUse It to Watch Cartoons and play games.\u003c\/span\u003e\u003c\/div\u003e\n\u003cbr\u003e\n\u003cdiv style=\"text-align: center;\"\u003e\u003cimg style=\"float: none;\" alt=\"Christmas gift, projector\" src=\"https:\/\/cdn.shopifycdn.net\/s\/files\/1\/0100\/3542\/9454\/files\/e7826a6634ae70a9f76abae75d0d8c95_1024x1024.jpg?v=1669452705\"\u003e\u003c\/div\u003e\n\u003ch3 style=\"text-align: center;\" data-mce-style=\"text-align: center;\"\u003e\u003cspan data-font-family='\"PingFang SC\", \"Segoe UI\", Arial, \"Microsoft YaHei\", 微软雅黑, 宋体, \"Malgun Gothic\", sans-serif'\u003eChristmas gift\u003c\/span\u003e\u003c\/h3\u003e\n\u003cdiv style=\"text-align: center;\"\u003e\u003cspan data-font-family='\"PingFang SC\", \"Segoe UI\", Arial, \"Microsoft YaHei\", 微软雅黑, 宋体, \"Malgun Gothic\", sans-serif'\u003eWith the holidays approaching, giving your child a mini projector is also a great gift. Believe the children will be very happy.\u003c\/span\u003e\u003c\/div\u003e\n\u003cbr\u003e\n\u003cdiv style=\"text-align: center;\"\u003e\u003cimg style=\"float: none;\" alt=\"OUTDOOR, WORKOUT, BEDROOM, projector\" src=\"https:\/\/cdn.shopifycdn.net\/s\/files\/1\/0100\/3542\/9454\/files\/2f021969b8430ff026e146386427f915_1024x1024.jpg?v=1669452756\"\u003e\u003c\/div\u003e\n\u003cbr\u003e\n\u003cdiv style=\"text-align: center;\" data-mce-fragment=\"1\" data-mce-style=\"text-align: center;\"\u003e\u003cimg src=\"https:\/\/cdn.shopifycdn.net\/s\/files\/1\/0100\/3542\/9454\/files\/ce0e6794f7264276d1ce61acf837e0d8_1024x1024.jpg?v=1669452889\" alt=\"BUILD RELATIONSHIPS WIHT KIDS, projector\" style=\"float: none;\" data-mce-fragment=\"1\" data-mce-style=\"float: none;\" data-mce-src=\"https:\/\/cdn.shopifycdn.net\/s\/files\/1\/0100\/3542\/9454\/files\/ce0e6794f7264276d1ce61acf837e0d8_1024x1024.jpg?v=1669452889\"\u003e\u003c\/div\u003e\n\u003cbr\u003e  \n\u003ch2 data-mce-style=\"text-align: left;\"\u003e\u003cspan data-font-family='\"PingFang SC\", \"Segoe UI\", Arial, \"Microsoft YaHei\", 微软雅黑, 宋体, \"Malgun Gothic\", sans-serif'\u003e\u003cbr\u003e\u003c\/span\u003e\u003c\/h2\u003e\n\u003ch2 data-mce-style=\"text-align: left;\"\u003e\n\u003cspan data-font-family='\"PingFang SC\", \"Segoe UI\", Arial, \"Microsoft YaHei\", 微软雅黑, 宋体, \"Malgun Gothic\", sans-serif'\u003eXGODY A10 \u003c\/span\u003e\u003cspan data-font-family='\"PingFang SC\", \"Segoe UI\", Arial, \"Microsoft YaHei\", 微软雅黑, 宋体, \"Malgun Gothic\", sans-serif'\u003eMini WIFI Connection for\u003c\/span\u003e\u003cspan data-font-family='\"PingFang SC\", \"Segoe UI\", Arial, \"Microsoft YaHei\", 微软雅黑, 宋体, \"Malgun Gothic\", sans-serif'\u003e \u003c\/span\u003e\u003cspan data-font-family='\"PingFang SC\",\"Segoe UI\",\"Arial\",\"Microsoft YaHei\",\"微软雅黑\",\"宋体\",\"Malgun Gothic\",PingFang,\"PingFang SC\",\"苹方\",\"苹方-简\",SimHei,\"Heiti SC\",Hei,\"黑体\",\"黑体-简\",\"Microsoft YaHei\",\"微软雅黑\",SimHei,\"Heiti SC\",Hei,\"黑体\",'\u003eSmall Projector\u003c\/span\u003e\n\u003c\/h2\u003e\n\u003cspan data-font-family='\"PingFang SC\", \"Segoe UI\", Arial, \"Microsoft YaHei\", 微软雅黑, 宋体, \"Malgun Gothic\", sans-serif'\u003e\u003cstrong\u003eBeautiful appearance, small and portable:\u003c\/strong\u003e can be put in pockets and bags. It can also be given to friends and family as a holiday gift, or even given to children to watch cartoons and play games. I believe they will like such a powerful gift that can be held in your hand.\u003cbr\u003e\u003cbr\u003e\u003cstrong\u003eThe interface is simple and easy to use:\u003c\/strong\u003e The home page of the interface is set up with simple and easy-to-understand operations such as video, music, photos, text, HDMI, etc., which is convenient and quick to get started, saving us time and cost.\u003cbr\u003e\u003cbr\u003e\u003cstrong\u003eColor upgrade, performance upgrade:\u003c\/strong\u003e support 1080P full HD video, clear and comfortable projection screen brightness, and color saturation. The latest integrated WiFi connection technology to sync smartphone screen with projector. As well as built-in powerful 3W speakers.\u003cbr\u003e\u003cbr\u003e\u003cstrong\u003eMobile power supply, multi-device connection:\u003c\/strong\u003e Powered by a power adapter, connected to a mobile phone charger, car charger, or power pack through a micro USB interface. It also supports multimedia methods such as headsets, PS4\/PS3, laptops, chargers, TF cards, Portable batteries, iPad, Mobile phones, etc.\u003cbr\u003e\u003cbr\u003e\u003cstrong\u003eComprehensive product upgrade:\u003c\/strong\u003e The appearance, interface, operation, and performance of the product have been greatly improved. It is a product with high-cost performance and a perfect combination of fashion and art.\u003cbr\u003e\u003c\/span\u003e\n\u003ch2 data-mce-style=\"text-align: left;\"\u003e\n\u003cspan data-font-family='\"PingFang SC\", \"Segoe UI\", Arial, \"Microsoft YaHei\", 微软雅黑, 宋体, \"Malgun Gothic\", sans-serif'\u003e\u003c\/span\u003e\u003cbr\u003e\n\u003c\/h2\u003e\n\u003ch2\u003e\n\u003cspan data-font-family=\"default\"\u003eProduct \u003c\/span\u003e\u003cspan data-font-family=\"default\"\u003eInformation:\u003c\/span\u003e\n\u003c\/h2\u003e\n\u003cspan data-font-family=\"default\"\u003eItem Model:\u003cstrong\u003e XGODY A10 Mini Portable Projector\u003c\/strong\u003e\u003c\/span\u003e \u003cbr\u003eProjection system: 2-inch LCD TFT display \u003cbr\u003eNative Resolution: Resolution 720P\u003cbr\u003eBrightness: 1800 lumens \u003cbr\u003eContrast Ratio: 1500:1 \u003cbr\u003eImage Flip: 360-degree flip \u003cbr\u003eLens: 2 pieces of glasses lens  \u003cbr\u003eAspect ratio: 16:9 \/ 4:3 \u003cbr\u003eLanguage: 23 languages \u003cbr\u003e(Czech, Danish, German, English, Spanish, Greek, French, Croatian, Italian, Hungarian, Dutch, Norwegian, Polish, Portuguese, Russian, Romanian, Slovenian, Serbian, Finnish, Japanese, Korean, Traditional Chinese, Simplified Chinese) others can be customized\u003cbr\u003e Light source: LED,30000 hours of life \u003cbr\u003eProjection size: 14-100 inch \u003cbr\u003eWorking voltage: AC Input 90V-260V \u003cbr\u003eAdapter: DC 12V2A \u003cbr\u003eInterface input: HDMI \/ USB \/ micro SD \/ 5V-2.1A \/ Audio Out \u003cbr\u003eProduct dimensions: 140*100*55mm \u003cbr\u003e \n\u003ch3 data-mce-style=\"text-align: left;\"\u003e\u003cspan data-font-family='\"PingFang SC\", \"Segoe UI\", Arial, \"Microsoft YaHei\", 微软雅黑, 宋体, \"Malgun Gothic\", sans-serif'\u003eProduct Accessories:\u003c\/span\u003e\u003c\/h3\u003e\n\u003cul\u003e\n\u003cli\u003e\u003cspan data-font-family='\"PingFang SC\", \"Segoe UI\", Arial, \"Microsoft YaHei\", 微软雅黑, 宋体, \"Malgun Gothic\", sans-serif'\u003eMini Projector A10 *1\u003c\/span\u003e\u003c\/li\u003e\n\u003cli\u003e\u003cspan data-font-family='\"PingFang SC\", \"Segoe UI\", Arial, \"Microsoft YaHei\", 微软雅黑, 宋体, \"Malgun Gothic\", sans-serif'\u003eBracket *1\u003c\/span\u003e\u003c\/li\u003e\n\u003cli\u003e\u003cspan data-font-family='\"PingFang SC\", \"Segoe UI\", Arial, \"Microsoft YaHei\", 微软雅黑, 宋体, \"Malgun Gothic\", sans-serif'\u003eRemote Control *1\u003c\/span\u003e\u003c\/li\u003e\n\u003cli\u003e\u003cspan data-font-family='\"PingFang SC\", \"Segoe UI\", Arial, \"Microsoft YaHei\", 微软雅黑, 宋体, \"Malgun Gothic\", sans-serif'\u003eManual *1\u003c\/span\u003e\u003c\/li\u003e\n\u003cli\u003e\u003cspan data-font-family='\"PingFang SC\", \"Segoe UI\", Arial, \"Microsoft YaHei\", 微软雅黑, 宋体, \"Malgun Gothic\", sans-serif'\u003eHDMI High-definition Cable *1\u003c\/span\u003e\u003c\/li\u003e\n\u003cli\u003e\u003cspan data-font-family='\"PingFang SC\", \"Segoe UI\", Arial, \"Microsoft YaHei\", 微软雅黑, 宋体, \"Malgun Gothic\", sans-serif'\u003ePower Cable *1\u003c\/span\u003e\u003c\/li\u003e\n\u003cli\u003e\u003cspan data-font-family='\"PingFang SC\", \"Segoe UI\", Arial, \"Microsoft YaHei\", 微软雅黑, 宋体, \"Malgun Gothic\", sans-serif'\u003eLens Cover *1\u003c\/span\u003e\u003c\/li\u003e\n\u003c\/ul\u003e\n\u003cp\u003e \u003c\/p\u003e\n\u003cp\u003e \u003c\/p\u003e\n \u003cbr\u003e \u003cspan style=\"font-size: 1.4em;\" data-mce-style=\"font-size: 1.4em;\"\u003e*\u003c\/span\u003e \u003cbr\u003e\u003cspan style=\"font-size: 1.4em;\" data-mce-style=\"font-size: 1.4em;\"\u003e\u003cimg src=\"https:\/\/cdn.shopify.com\/s\/files\/1\/0100\/3542\/9454\/files\/01_2fdaa1f6-5a46-410d-a36a-9cc39134f8af_1024x1024.jpg?v=1646212895\" data-mce-src=\"https:\/\/cdn.shopify.com\/s\/files\/1\/0100\/3542\/9454\/files\/01_2fdaa1f6-5a46-410d-a36a-9cc39134f8af_1024x1024.jpg?v=1646212895\"\u003e\u003c\/span\u003e","published_at":"2022-11-28T19:23:30+08:00","created_at":"2022-11-26T18:02:07+08:00","vendor":"XGODY ","type":"Projectors","tags":["Smart Projector"],"price":6058,"price_min":6058,"price_max":6058,"available":true,"price_varies":false,"compare_at_price":null,"compare_at_price_min":0,"compare_at_price_max":0,"compare_at_price_varies":false,"variants":[{"id":44104709341458,"title":"A10 - BLACK","option1":"A10 - BLACK","option2":null,"option3":null,"sku":"E020004501","requires_shipping":true,"taxable":true,"featured_image":{"id":39992099799314,"product_id":8021883814162,"position":1,"created_at":"2022-12-01T09:39:18+08:00","updated_at":"2022-12-01T09:39:18+08:00","alt":"Cost-effective and Most worthwhile XGODY 1080P Multi-devio Connection Small Projector For Home Theater, HIFI Built-In 3W Speaker - XGODY ","width":1600,"height":1600,"src":"https:\/\/cdn.shopify.com\/s\/files\/1\/0100\/3542\/9454\/products\/the-best-xgody-1080p-multi-devio-connection-small-projector-for-home-theater-hifi-built-in-3w-speaker-1.jpg?v=1669858758","variant_ids":[44104709341458]},"available":true,"name":"XGODY 1080P Multi-devio Connection Small Projector For Home Theater, HIFI Built-In 3W Speaker - A10 - BLACK","public_title":"A10 - BLACK","options":["A10 - BLACK"],"price":6058,"weight":0,"compare_at_price":null,"inventory_management":"shopify","barcode":"","featured_media":{"alt":"Cost-effective and Most worthwhile XGODY 1080P Multi-devio Connection Small Projector For Home Theater, HIFI Built-In 3W Speaker - XGODY ","id":32318878286098,"position":1,"preview_image":{"aspect_ratio":1.0,"height":1600,"width":1600,"src":"https:\/\/cdn.shopify.com\/s\/files\/1\/0100\/3542\/9454\/products\/the-best-xgody-1080p-multi-devio-connection-small-projector-for-home-theater-hifi-built-in-3w-speaker-1.jpg?v=1669858758"}},"requires_selling_plan":false,"selling_plan_allocations":[],"quantity_rule":{"min":1,"max":null,"increment":1}},{"id":44104709406994,"title":"A10 - YELLOW","option1":"A10 - YELLOW","option2":null,"option3":null,"sku":"E020004536","requires_shipping":true,"taxable":true,"featured_image":{"id":39992100585746,"product_id":8021883814162,"position":3,"created_at":"2022-12-01T09:39:24+08:00","updated_at":"2022-12-01T09:39:24+08:00","alt":"Cost-effective and Most worthwhile XGODY 1080P Multi-devio Connection Small Projector For Home Theater, HIFI Built-In 3W Speaker - XGODY ","width":1600,"height":1600,"src":"https:\/\/cdn.shopify.com\/s\/files\/1\/0100\/3542\/9454\/products\/the-best-xgody-1080p-multi-devio-connection-small-projector-for-home-theater-hifi-built-in-3w-speaker-3.jpg?v=1669858764","variant_ids":[44104709406994]},"available":true,"name":"XGODY 1080P Multi-devio Connection Small Projector For Home Theater, HIFI Built-In 3W Speaker - A10 - YELLOW","public_title":"A10 - YELLOW","options":["A10 - YELLOW"],"price":6058,"weight":0,"compare_at_price":null,"inventory_management":"shopify","barcode":"","featured_media":{"alt":"Cost-effective and Most worthwhile XGODY 1080P Multi-devio Connection Small Projector For Home Theater, HIFI Built-In 3W Speaker - XGODY ","id":32318879105298,"position":3,"preview_image":{"aspect_ratio":1.0,"height":1600,"width":1600,"src":"https:\/\/cdn.shopify.com\/s\/files\/1\/0100\/3542\/9454\/products\/the-best-xgody-1080p-multi-devio-connection-small-projector-for-home-theater-hifi-built-in-3w-speaker-3.jpg?v=1669858764"}},"requires_selling_plan":false,"selling_plan_allocations":[],"quantity_rule":{"min":1,"max":null,"increment":1}}],"images":["\/\/cdn.shopify.com\/s\/files\/1\/0100\/3542\/9454\/products\/the-best-xgody-1080p-multi-devio-connection-small-projector-for-home-theater-hifi-built-in-3w-speaker-1.jpg?v=1669858758","\/\/cdn.shopify.com\/s\/files\/1\/0100\/3542\/9454\/products\/the-best-xgody-1080p-multi-devio-connection-small-projector-for-home-theater-hifi-built-in-3w-speaker-2.jpg?v=1669858761","\/\/cdn.shopify.com\/s\/files\/1\/0100\/3542\/9454\/products\/the-best-xgody-1080p-multi-devio-connection-small-projector-for-home-theater-hifi-built-in-3w-speaker-3.jpg?v=1669858764","\/\/cdn.shopify.com\/s\/files\/1\/0100\/3542\/9454\/products\/the-best-xgody-1080p-multi-devio-connection-small-projector-for-home-theater-hifi-built-in-3w-speaker-4.jpg?v=1669858767","\/\/cdn.shopify.com\/s\/files\/1\/0100\/3542\/9454\/products\/the-best-xgody-1080p-multi-devio-connection-small-projector-for-home-theater-hifi-built-in-3w-speaker-5.jpg?v=1669858771","\/\/cdn.shopify.com\/s\/files\/1\/0100\/3542\/9454\/products\/the-best-xgody-1080p-multi-devio-connection-small-projector-for-home-theater-hifi-built-in-3w-speaker-6.jpg?v=1669858774","\/\/cdn.shopify.com\/s\/files\/1\/0100\/3542\/9454\/products\/the-best-xgody-1080p-multi-devio-connection-small-projector-for-home-theater-hifi-built-in-3w-speaker-7.jpg?v=1669858777"],"featured_image":"\/\/cdn.shopify.com\/s\/files\/1\/0100\/3542\/9454\/products\/the-best-xgody-1080p-multi-devio-connection-small-projector-for-home-theater-hifi-built-in-3w-speaker-1.jpg?v=1669858758","options":["Color Mini"],"media":[{"alt":"Cost-effective and Most worthwhile XGODY 1080P Multi-devio Connection Small Projector For Home Theater, HIFI Built-In 3W Speaker - XGODY ","id":32318878286098,"position":1,"preview_image":{"aspect_ratio":1.0,"height":1600,"width":1600,"src":"https:\/\/cdn.shopify.com\/s\/files\/1\/0100\/3542\/9454\/products\/the-best-xgody-1080p-multi-devio-connection-small-projector-for-home-theater-hifi-built-in-3w-speaker-1.jpg?v=1669858758"},"aspect_ratio":1.0,"height":1600,"media_type":"image","src":"https:\/\/cdn.shopify.com\/s\/files\/1\/0100\/3542\/9454\/products\/the-best-xgody-1080p-multi-devio-connection-small-projector-for-home-theater-hifi-built-in-3w-speaker-1.jpg?v=1669858758","width":1600},{"alt":"Cost-effective and Most worthwhile XGODY 1080P Multi-devio Connection Small Projector For Home Theater, HIFI Built-In 3W Speaker - XGODY ","id":32318878875922,"position":2,"preview_image":{"aspect_ratio":1.0,"height":1600,"width":1600,"src":"https:\/\/cdn.shopify.com\/s\/files\/1\/0100\/3542\/9454\/products\/the-best-xgody-1080p-multi-devio-connection-small-projector-for-home-theater-hifi-built-in-3w-speaker-2.jpg?v=1669858761"},"aspect_ratio":1.0,"height":1600,"media_type":"image","src":"https:\/\/cdn.shopify.com\/s\/files\/1\/0100\/3542\/9454\/products\/the-best-xgody-1080p-multi-devio-connection-small-projector-for-home-theater-hifi-built-in-3w-speaker-2.jpg?v=1669858761","width":1600},{"alt":"Cost-effective and Most worthwhile XGODY 1080P Multi-devio Connection Small Projector For Home Theater, HIFI Built-In 3W Speaker - XGODY ","id":32318879105298,"position":3,"preview_image":{"aspect_ratio":1.0,"height":1600,"width":1600,"src":"https:\/\/cdn.shopify.com\/s\/files\/1\/0100\/3542\/9454\/products\/the-best-xgody-1080p-multi-devio-connection-small-projector-for-home-theater-hifi-built-in-3w-speaker-3.jpg?v=1669858764"},"aspect_ratio":1.0,"height":1600,"media_type":"image","src":"https:\/\/cdn.shopify.com\/s\/files\/1\/0100\/3542\/9454\/products\/the-best-xgody-1080p-multi-devio-connection-small-projector-for-home-theater-hifi-built-in-3w-speaker-3.jpg?v=1669858764","width":1600},{"alt":"Cost-effective and Most worthwhile XGODY 1080P Multi-devio Connection Small Projector For Home Theater, HIFI Built-In 3W Speaker - XGODY ","id":32318879498514,"position":4,"preview_image":{"aspect_ratio":1.0,"height":750,"width":750,"src":"https:\/\/cdn.shopify.com\/s\/files\/1\/0100\/3542\/9454\/products\/the-best-xgody-1080p-multi-devio-connection-small-projector-for-home-theater-hifi-built-in-3w-speaker-4.jpg?v=1669858767"},"aspect_ratio":1.0,"height":750,"media_type":"image","src":"https:\/\/cdn.shopify.com\/s\/files\/1\/0100\/3542\/9454\/products\/the-best-xgody-1080p-multi-devio-connection-small-projector-for-home-theater-hifi-built-in-3w-speaker-4.jpg?v=1669858767","width":750},{"alt":"Cost-effective and Most worthwhile XGODY 1080P Multi-devio Connection Small Projector For Home Theater, HIFI Built-In 3W Speaker - XGODY ","id":32318879695122,"position":5,"preview_image":{"aspect_ratio":1.0,"height":750,"width":750,"src":"https:\/\/cdn.shopify.com\/s\/files\/1\/0100\/3542\/9454\/products\/the-best-xgody-1080p-multi-devio-connection-small-projector-for-home-theater-hifi-built-in-3w-speaker-5.jpg?v=1669858771"},"aspect_ratio":1.0,"height":750,"media_type":"image","src":"https:\/\/cdn.shopify.com\/s\/files\/1\/0100\/3542\/9454\/products\/the-best-xgody-1080p-multi-devio-connection-small-projector-for-home-theater-hifi-built-in-3w-speaker-5.jpg?v=1669858771","width":750},{"alt":"Cost-effective and Most worthwhile XGODY 1080P Multi-devio Connection Small Projector For Home Theater, HIFI Built-In 3W Speaker - XGODY ","id":32318879826194,"position":6,"preview_image":{"aspect_ratio":1.0,"height":1600,"width":1600,"src":"https:\/\/cdn.shopify.com\/s\/files\/1\/0100\/3542\/9454\/products\/the-best-xgody-1080p-multi-devio-connection-small-projector-for-home-theater-hifi-built-in-3w-speaker-6.jpg?v=1669858774"},"aspect_ratio":1.0,"height":1600,"media_type":"image","src":"https:\/\/cdn.shopify.com\/s\/files\/1\/0100\/3542\/9454\/products\/the-best-xgody-1080p-multi-devio-connection-small-projector-for-home-theater-hifi-built-in-3w-speaker-6.jpg?v=1669858774","width":1600},{"alt":"Cost-effective and Most worthwhile XGODY 1080P Multi-devio Connection Small Projector For Home Theater, HIFI Built-In 3W Speaker - XGODY ","id":32318880121106,"position":7,"preview_image":{"aspect_ratio":1.0,"height":750,"width":750,"src":"https:\/\/cdn.shopify.com\/s\/files\/1\/0100\/3542\/9454\/products\/the-best-xgody-1080p-multi-devio-connection-small-projector-for-home-theater-hifi-built-in-3w-speaker-7.jpg?v=1669858777"},"aspect_ratio":1.0,"height":750,"media_type":"image","src":"https:\/\/cdn.shopify.com\/s\/files\/1\/0100\/3542\/9454\/products\/the-best-xgody-1080p-multi-devio-connection-small-projector-for-home-theater-hifi-built-in-3w-speaker-7.jpg?v=1669858777","width":750}],"requires_selling_plan":false,"selling_plan_groups":[],"content":"\u003ch2 style=\"text-align: center;\" data-mce-fragment=\"1\" data-mce-style=\"text-align: center;\"\u003eA10 Mini Portable Projector For Home Theater \u0026amp; Camping\u003c\/h2\u003e\n\u003cspan data-font-family='\"PingFang SC\", \"Segoe UI\", Arial, \"Microsoft YaHei\", 微软雅黑, 宋体, \"Malgun Gothic\", sans-serif' data-mce-fragment=\"1\"\u003e\u003cimg alt=\"A10 Mini Projector\" src=\"https:\/\/cdn.shopifycdn.net\/s\/files\/1\/0100\/3542\/9454\/files\/A10-1_1024x1024.jpg?v=1669451824\" style=\"display: block; margin-left: auto; margin-right: auto;\" data-mce-src=\"https:\/\/cdn.shopifycdn.net\/s\/files\/1\/0100\/3542\/9454\/files\/A10-1_1024x1024.jpg?v=1669451824\" data-mce-style=\"display: block; margin-left: auto; margin-right: auto;\"\u003e\u003c\/span\u003e \u003cbr\u003e\n\u003cdiv style=\"text-align: center;\"\u003e\u003cimg style=\"float: none;\" alt=\"New UI upgrade design, Projector\" src=\"https:\/\/cdn.shopifycdn.net\/s\/files\/1\/0100\/3542\/9454\/files\/A10-2_1024x1024.jpg?v=1669451934\"\u003e\u003c\/div\u003e\n\u003ch3 style=\"text-align: center;\" data-mce-style=\"text-align: center;\"\u003eNew UI upgrade design\u003c\/h3\u003e\n\u003cp style=\"text-align: center;\"\u003eIt is a home theater and camping projector with a simple operation and a brand-new interface upgrade. We can use it as a mini TV or mini computer monitor.\u003c\/p\u003e\n\u003cdiv style=\"text-align: center;\"\u003e\u003cimg style=\"float: none;\" alt=\"Small and Portable, projector\" src=\"https:\/\/cdn.shopifycdn.net\/s\/files\/1\/0100\/3542\/9454\/files\/A10-3_1024x1024.jpg?v=1669452027\"\u003e\u003c\/div\u003e\n\u003ch3 style=\"text-align: center;\" data-mce-style=\"text-align: center;\"\u003eSmall \u0026amp; Portable\u003cbr\u003e\n\u003c\/h3\u003e\n\u003cp style=\"text-align: center;\"\u003eIt is particularly compact and easy to carry around, even a child can easily hold it in a pocket or bag. Enjoy movies, videos, and games at home or outside on the patio.\u003c\/p\u003e\n\u003cdiv style=\"text-align: center;\"\u003e\u003cimg style=\"float: none;\" alt=\"Power Bank supply, projector\" src=\"https:\/\/cdn.shopifycdn.net\/s\/files\/1\/0100\/3542\/9454\/files\/A10-4_1024x1024.jpg?v=1669452081\"\u003e\u003c\/div\u003e\n\u003ch3 style=\"text-align: center;\" data-mce-style=\"text-align: center;\"\u003ePower Bank supply\u003c\/h3\u003e\n\u003cp style=\"text-align: center;\"\u003eEnjoy anytime, anywhere, portable projector is powered by a power adapter, mobile phone charger, car charger, or power bank via a micro USB interface.\u003c\/p\u003e\n\u003cdiv style=\"text-align: center;\" data-mce-fragment=\"1\" data-mce-style=\"text-align: center;\"\u003e\u003cimg src=\"https:\/\/cdn.shopifycdn.net\/s\/files\/1\/0100\/3542\/9454\/files\/A10-5_4bde8a7d-351d-4ac8-9dbd-1ddda5325d4d_1024x1024.jpg?v=1669630642\" alt=\"Upgrade Performance, projector\" style=\"float: none;\" data-mce-fragment=\"1\" data-mce-style=\"float: none;\" data-mce-src=\"https:\/\/cdn.shopifycdn.net\/s\/files\/1\/0100\/3542\/9454\/files\/A10-5_4bde8a7d-351d-4ac8-9dbd-1ddda5325d4d_1024x1024.jpg?v=1669630642\"\u003e\u003c\/div\u003e\n\u003ch3 style=\"text-align: center;\" data-mce-style=\"text-align: center;\"\u003eUpgrade Performance\u003c\/h3\u003e\n\u003cp style=\"text-align: center;\"\u003eThe performance of the A10 has been fully upgraded to support full HD 1080P. The brightness and color saturation of the projected picture is also greatly enhanced. It is especially noticeable in dark environments.\u003c\/p\u003e\n\u003cdiv style=\"text-align: center;\"\u003e\u003cimg style=\"float: none;\" alt=\"Wireless Connection, projector\" src=\"https:\/\/cdn.shopifycdn.net\/s\/files\/1\/0100\/3542\/9454\/files\/A10-6_1024x1024.jpg?v=1669452430\"\u003e\u003c\/div\u003e\n\u003ch3 style=\"text-align: center;\" data-mce-style=\"text-align: center;\"\u003eWireless Connection\u003c\/h3\u003e\n\u003cp style=\"text-align: center;\"\u003eWe use the latest integrated WiFi connection technology, which can synchronize the screen of the smartphone to the projector for screen projection.\u003c\/p\u003e\n\u003ch3 style=\"text-align: center;\" data-mce-style=\"text-align: center;\"\u003e\u003cimg src=\"https:\/\/cdn.shopifycdn.net\/s\/files\/1\/0100\/3542\/9454\/files\/A10-7_1024x1024.jpg?v=1669452449\" alt=\"HIFI Built-In 3W Speaker, projector\"\u003e\u003c\/h3\u003e\n\u003ch3 style=\"text-align: center;\" data-mce-style=\"text-align: center;\"\u003eHIFI Built-In 3W Speaker\u003c\/h3\u003e\n\u003cp style=\"text-align: center;\"\u003eEspecially friendly for friends who like to hold family movies, parties, football nights, and other activities. With built-in powerful speakers (3W), this projector is the first choice for a stunning experience.\u003c\/p\u003e\n\u003cdiv style=\"text-align: center;\"\u003e\u003cimg style=\"float: none;\" alt=\"Projection Distance \u0026amp; Size, projector\" src=\"https:\/\/cdn.shopifycdn.net\/s\/files\/1\/0100\/3542\/9454\/files\/A10-8_1024x1024.jpg?v=1669452508\"\u003e\u003c\/div\u003e\n\u003ch3 style=\"text-align: center;\" data-mce-style=\"text-align: center;\"\u003e\u003cspan data-font-family='\"PingFang SC\", \"Segoe UI\", Arial, \"Microsoft YaHei\", 微软雅黑, 宋体, \"Malgun Gothic\", sans-serif'\u003eProjection Distance \u0026amp; Size\u003c\/span\u003e\u003c\/h3\u003e\n\u003cdiv style=\"text-align: center;\"\u003e\u003cspan data-font-family='\"PingFang SC\", \"Segoe UI\", Arial, \"Microsoft YaHei\", 微软雅黑, 宋体, \"Malgun Gothic\", sans-serif'\u003eWatching size: 32\" - 100\", Projection distance: 1.1m - 3.3m best in 2 meters 60 inches.\u003c\/span\u003e\u003c\/div\u003e\n\u003cbr\u003e\n\u003cdiv style=\"text-align: center;\"\u003e\u003cimg style=\"float: none;\" alt=\"Home theater、Outdoor、Game、Living room, projector\" src=\"https:\/\/cdn.shopifycdn.net\/s\/files\/1\/0100\/3542\/9454\/files\/A10-9_1024x1024.jpg?v=1669452543\"\u003e\u003c\/div\u003e\n\u003ch3 style=\"text-align: center;\" data-mce-style=\"text-align: center;\"\u003eSuitable Place\u003c\/h3\u003e\n\u003cp style=\"text-align: center;\"\u003eIt is suitable for home theater, outdoor, gaming, and living room places.\u003c\/p\u003e\n\u003cdiv style=\"text-align: center;\"\u003e\u003cimg style=\"float: none;\" alt=\"Perfect Gift for kids, projector\" src=\"https:\/\/cdn.shopifycdn.net\/s\/files\/1\/0100\/3542\/9454\/files\/b4797a75ecf468959aad137186029101_1024x1024.jpg?v=1669452678\"\u003e\u003c\/div\u003e\n\u003ch3 style=\"text-align: center;\" data-mce-style=\"text-align: center;\"\u003e\n\u003cspan data-font-family='\"PingFang SC\", \"Segoe UI\", Arial, \"Microsoft YaHei\", 微软雅黑, 宋体, \"Malgun Gothic\", sans-serif'\u003ePerfect Gift for kids, \u003c\/span\u003e\u003cspan data-font-family='\"PingFang SC\",\"Segoe UI\",\"Arial\",\"Microsoft YaHei\",\"微软雅黑\",\"宋体\",\"Malgun Gothic\",PingFang,\"PingFang SC\",\"苹方\",\"苹方-简\",SimHei,\"Heiti SC\",Hei,\"黑体\",\"黑体-简\",\"Microsoft YaHei\",\"微软雅黑\",SimHei,\"Heiti SC\",Hei,\"黑体\",'\u003eprojector\u003c\/span\u003e\n\u003c\/h3\u003e\n\u003cdiv style=\"text-align: center;\"\u003e\u003cspan data-font-family='\"PingFang SC\", \"Segoe UI\", Arial, \"Microsoft YaHei\", 微软雅黑, 宋体, \"Malgun Gothic\", sans-serif'\u003eUse It to Watch Cartoons and play games.\u003c\/span\u003e\u003c\/div\u003e\n\u003cbr\u003e\n\u003cdiv style=\"text-align: center;\"\u003e\u003cimg style=\"float: none;\" alt=\"Christmas gift, projector\" src=\"https:\/\/cdn.shopifycdn.net\/s\/files\/1\/0100\/3542\/9454\/files\/e7826a6634ae70a9f76abae75d0d8c95_1024x1024.jpg?v=1669452705\"\u003e\u003c\/div\u003e\n\u003ch3 style=\"text-align: center;\" data-mce-style=\"text-align: center;\"\u003e\u003cspan data-font-family='\"PingFang SC\", \"Segoe UI\", Arial, \"Microsoft YaHei\", 微软雅黑, 宋体, \"Malgun Gothic\", sans-serif'\u003eChristmas gift\u003c\/span\u003e\u003c\/h3\u003e\n\u003cdiv style=\"text-align: center;\"\u003e\u003cspan data-font-family='\"PingFang SC\", \"Segoe UI\", Arial, \"Microsoft YaHei\", 微软雅黑, 宋体, \"Malgun Gothic\", sans-serif'\u003eWith the holidays approaching, giving your child a mini projector is also a great gift. Believe the children will be very happy.\u003c\/span\u003e\u003c\/div\u003e\n\u003cbr\u003e\n\u003cdiv style=\"text-align: center;\"\u003e\u003cimg style=\"float: none;\" alt=\"OUTDOOR, WORKOUT, BEDROOM, projector\" src=\"https:\/\/cdn.shopifycdn.net\/s\/files\/1\/0100\/3542\/9454\/files\/2f021969b8430ff026e146386427f915_1024x1024.jpg?v=1669452756\"\u003e\u003c\/div\u003e\n\u003cbr\u003e\n\u003cdiv style=\"text-align: center;\" data-mce-fragment=\"1\" data-mce-style=\"text-align: center;\"\u003e\u003cimg src=\"https:\/\/cdn.shopifycdn.net\/s\/files\/1\/0100\/3542\/9454\/files\/ce0e6794f7264276d1ce61acf837e0d8_1024x1024.jpg?v=1669452889\" alt=\"BUILD RELATIONSHIPS WIHT KIDS, projector\" style=\"float: none;\" data-mce-fragment=\"1\" data-mce-style=\"float: none;\" data-mce-src=\"https:\/\/cdn.shopifycdn.net\/s\/files\/1\/0100\/3542\/9454\/files\/ce0e6794f7264276d1ce61acf837e0d8_1024x1024.jpg?v=1669452889\"\u003e\u003c\/div\u003e\n\u003cbr\u003e  \n\u003ch2 data-mce-style=\"text-align: left;\"\u003e\u003cspan data-font-family='\"PingFang SC\", \"Segoe UI\", Arial, \"Microsoft YaHei\", 微软雅黑, 宋体, \"Malgun Gothic\", sans-serif'\u003e\u003cbr\u003e\u003c\/span\u003e\u003c\/h2\u003e\n\u003ch2 data-mce-style=\"text-align: left;\"\u003e\n\u003cspan data-font-family='\"PingFang SC\", \"Segoe UI\", Arial, \"Microsoft YaHei\", 微软雅黑, 宋体, \"Malgun Gothic\", sans-serif'\u003eXGODY A10 \u003c\/span\u003e\u003cspan data-font-family='\"PingFang SC\", \"Segoe UI\", Arial, \"Microsoft YaHei\", 微软雅黑, 宋体, \"Malgun Gothic\", sans-serif'\u003eMini WIFI Connection for\u003c\/span\u003e\u003cspan data-font-family='\"PingFang SC\", \"Segoe UI\", Arial, \"Microsoft YaHei\", 微软雅黑, 宋体, \"Malgun Gothic\", sans-serif'\u003e \u003c\/span\u003e\u003cspan data-font-family='\"PingFang SC\",\"Segoe UI\",\"Arial\",\"Microsoft YaHei\",\"微软雅黑\",\"宋体\",\"Malgun Gothic\",PingFang,\"PingFang SC\",\"苹方\",\"苹方-简\",SimHei,\"Heiti SC\",Hei,\"黑体\",\"黑体-简\",\"Microsoft YaHei\",\"微软雅黑\",SimHei,\"Heiti SC\",Hei,\"黑体\",'\u003eSmall Projector\u003c\/span\u003e\n\u003c\/h2\u003e\n\u003cspan data-font-family='\"PingFang SC\", \"Segoe UI\", Arial, \"Microsoft YaHei\", 微软雅黑, 宋体, \"Malgun Gothic\", sans-serif'\u003e\u003cstrong\u003eBeautiful appearance, small and portable:\u003c\/strong\u003e can be put in pockets and bags. It can also be given to friends and family as a holiday gift, or even given to children to watch cartoons and play games. I believe they will like such a powerful gift that can be held in your hand.\u003cbr\u003e\u003cbr\u003e\u003cstrong\u003eThe interface is simple and easy to use:\u003c\/strong\u003e The home page of the interface is set up with simple and easy-to-understand operations such as video, music, photos, text, HDMI, etc., which is convenient and quick to get started, saving us time and cost.\u003cbr\u003e\u003cbr\u003e\u003cstrong\u003eColor upgrade, performance upgrade:\u003c\/strong\u003e support 1080P full HD video, clear and comfortable projection screen brightness, and color saturation. The latest integrated WiFi connection technology to sync smartphone screen with projector. As well as built-in powerful 3W speakers.\u003cbr\u003e\u003cbr\u003e\u003cstrong\u003eMobile power supply, multi-device connection:\u003c\/strong\u003e Powered by a power adapter, connected to a mobile phone charger, car charger, or power pack through a micro USB interface. It also supports multimedia methods such as headsets, PS4\/PS3, laptops, chargers, TF cards, Portable batteries, iPad, Mobile phones, etc.\u003cbr\u003e\u003cbr\u003e\u003cstrong\u003eComprehensive product upgrade:\u003c\/strong\u003e The appearance, interface, operation, and performance of the product have been greatly improved. It is a product with high-cost performance and a perfect combination of fashion and art.\u003cbr\u003e\u003c\/span\u003e\n\u003ch2 data-mce-style=\"text-align: left;\"\u003e\n\u003cspan data-font-family='\"PingFang SC\", \"Segoe UI\", Arial, \"Microsoft YaHei\", 微软雅黑, 宋体, \"Malgun Gothic\", sans-serif'\u003e\u003c\/span\u003e\u003cbr\u003e\n\u003c\/h2\u003e\n\u003ch2\u003e\n\u003cspan data-font-family=\"default\"\u003eProduct \u003c\/span\u003e\u003cspan data-font-family=\"default\"\u003eInformation:\u003c\/span\u003e\n\u003c\/h2\u003e\n\u003cspan data-font-family=\"default\"\u003eItem Model:\u003cstrong\u003e XGODY A10 Mini Portable Projector\u003c\/strong\u003e\u003c\/span\u003e \u003cbr\u003eProjection system: 2-inch LCD TFT display \u003cbr\u003eNative Resolution: Resolution 720P\u003cbr\u003eBrightness: 1800 lumens \u003cbr\u003eContrast Ratio: 1500:1 \u003cbr\u003eImage Flip: 360-degree flip \u003cbr\u003eLens: 2 pieces of glasses lens  \u003cbr\u003eAspect ratio: 16:9 \/ 4:3 \u003cbr\u003eLanguage: 23 languages \u003cbr\u003e(Czech, Danish, German, English, Spanish, Greek, French, Croatian, Italian, Hungarian, Dutch, Norwegian, Polish, Portuguese, Russian, Romanian, Slovenian, Serbian, Finnish, Japanese, Korean, Traditional Chinese, Simplified Chinese) others can be customized\u003cbr\u003e Light source: LED,30000 hours of life \u003cbr\u003eProjection size: 14-100 inch \u003cbr\u003eWorking voltage: AC Input 90V-260V \u003cbr\u003eAdapter: DC 12V2A \u003cbr\u003eInterface input: HDMI \/ USB \/ micro SD \/ 5V-2.1A \/ Audio Out \u003cbr\u003eProduct dimensions: 140*100*55mm \u003cbr\u003e \n\u003ch3 data-mce-style=\"text-align: left;\"\u003e\u003cspan data-font-family='\"PingFang SC\", \"Segoe UI\", Arial, \"Microsoft YaHei\", 微软雅黑, 宋体, \"Malgun Gothic\", sans-serif'\u003eProduct Accessories:\u003c\/span\u003e\u003c\/h3\u003e\n\u003cul\u003e\n\u003cli\u003e\u003cspan data-font-family='\"PingFang SC\", \"Segoe UI\", Arial, \"Microsoft YaHei\", 微软雅黑, 宋体, \"Malgun Gothic\", sans-serif'\u003eMini Projector A10 *1\u003c\/span\u003e\u003c\/li\u003e\n\u003cli\u003e\u003cspan data-font-family='\"PingFang SC\", \"Segoe UI\", Arial, \"Microsoft YaHei\", 微软雅黑, 宋体, \"Malgun Gothic\", sans-serif'\u003eBracket *1\u003c\/span\u003e\u003c\/li\u003e\n\u003cli\u003e\u003cspan data-font-family='\"PingFang SC\", \"Segoe UI\", Arial, \"Microsoft YaHei\", 微软雅黑, 宋体, \"Malgun Gothic\", sans-serif'\u003eRemote Control *1\u003c\/span\u003e\u003c\/li\u003e\n\u003cli\u003e\u003cspan data-font-family='\"PingFang SC\", \"Segoe UI\", Arial, \"Microsoft YaHei\", 微软雅黑, 宋体, \"Malgun Gothic\", sans-serif'\u003eManual *1\u003c\/span\u003e\u003c\/li\u003e\n\u003cli\u003e\u003cspan data-font-family='\"PingFang SC\", \"Segoe UI\", Arial, \"Microsoft YaHei\", 微软雅黑, 宋体, \"Malgun Gothic\", sans-serif'\u003eHDMI High-definition Cable *1\u003c\/span\u003e\u003c\/li\u003e\n\u003cli\u003e\u003cspan data-font-family='\"PingFang SC\", \"Segoe UI\", Arial, \"Microsoft YaHei\", 微软雅黑, 宋体, \"Malgun Gothic\", sans-serif'\u003ePower Cable *1\u003c\/span\u003e\u003c\/li\u003e\n\u003cli\u003e\u003cspan data-font-family='\"PingFang SC\", \"Segoe UI\", Arial, \"Microsoft YaHei\", 微软雅黑, 宋体, \"Malgun Gothic\", sans-serif'\u003eLens Cover *1\u003c\/span\u003e\u003c\/li\u003e\n\u003c\/ul\u003e\n\u003cp\u003e \u003c\/p\u003e\n\u003cp\u003e \u003c\/p\u003e\n \u003cbr\u003e \u003cspan style=\"font-size: 1.4em;\" data-mce-style=\"font-size: 1.4em;\"\u003e*\u003c\/span\u003e \u003cbr\u003e\u003cspan style=\"font-size: 1.4em;\" data-mce-style=\"font-size: 1.4em;\"\u003e\u003cimg src=\"https:\/\/cdn.shopify.com\/s\/files\/1\/0100\/3542\/9454\/files\/01_2fdaa1f6-5a46-410d-a36a-9cc39134f8af_1024x1024.jpg?v=1646212895\" data-mce-src=\"https:\/\/cdn.shopify.com\/s\/files\/1\/0100\/3542\/9454\/files\/01_2fdaa1f6-5a46-410d-a36a-9cc39134f8af_1024x1024.jpg?v=1646212895\"\u003e\u003c\/span\u003e"}
XGODY 1080P Multi-devio Connection Small Projector For Home Theater, HIFI Built-In 3W Speaker
A10 Mini Portable Projector For Home Theater & Camping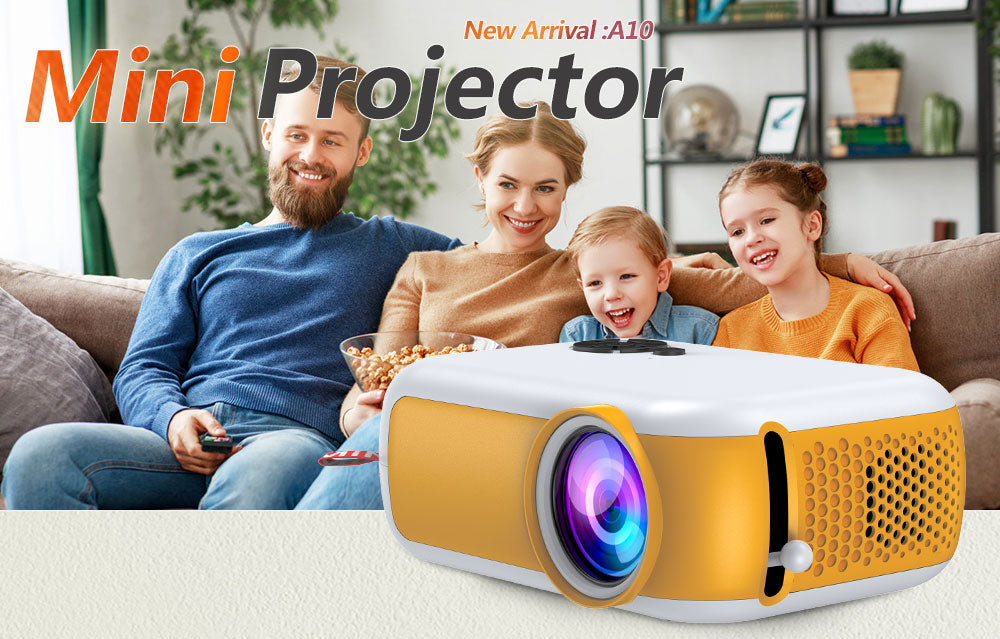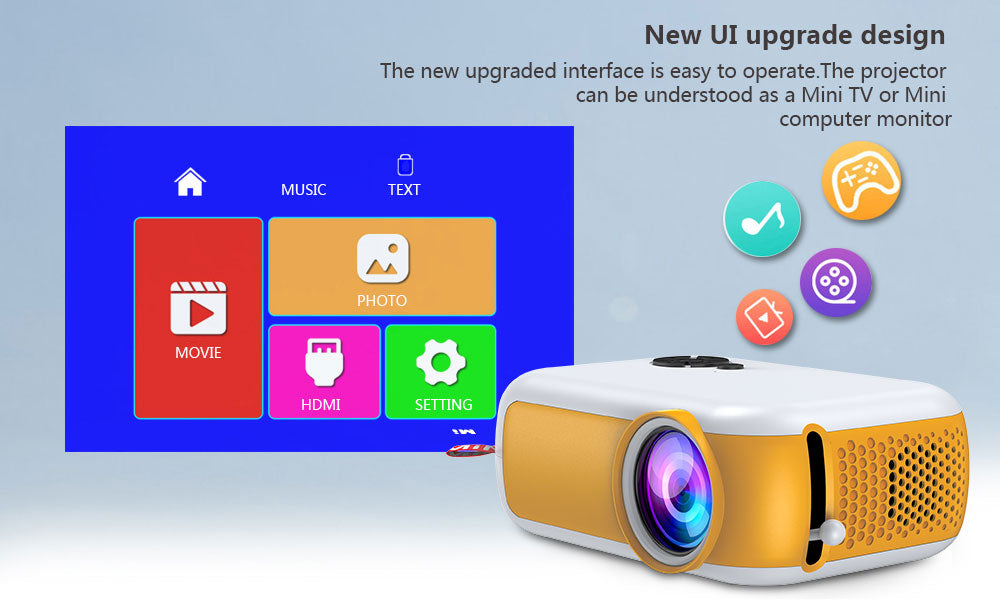 New UI upgrade design
It is a home theater and camping projector with a simple operation and a brand-new interface upgrade. We can use it as a mini TV or mini computer monitor.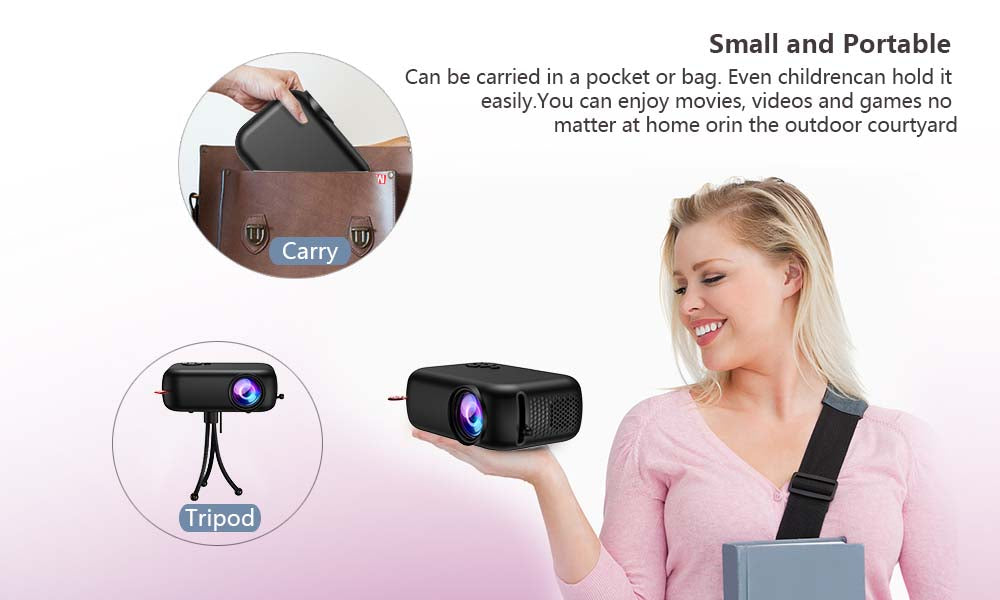 Small & Portable

It is particularly compact and easy to carry around, even a child can easily hold it in a pocket or bag. Enjoy movies, videos, and games at home or outside on the patio.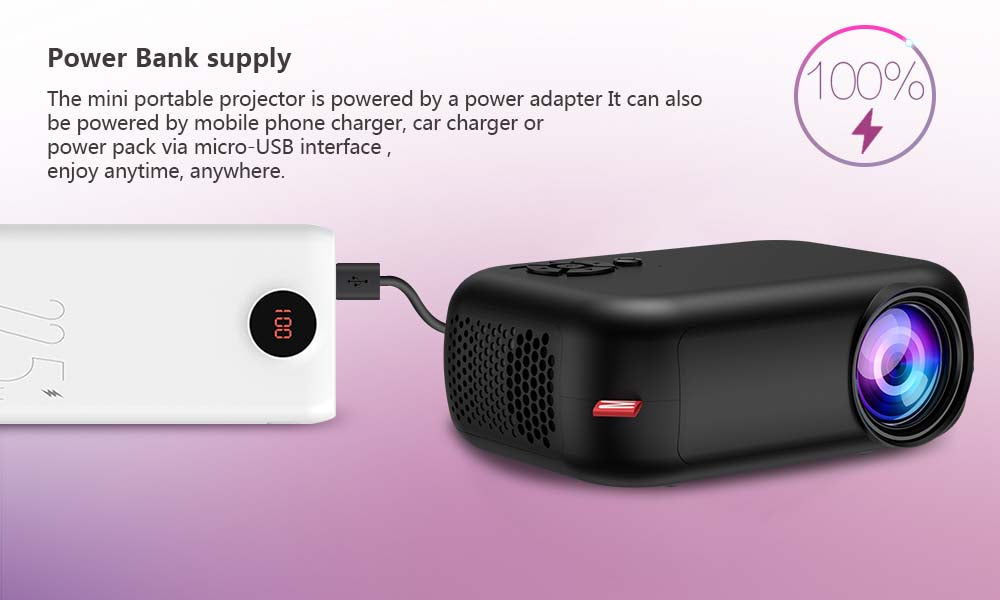 Power Bank supply
Enjoy anytime, anywhere, portable projector is powered by a power adapter, mobile phone charger, car charger, or power bank via a micro USB interface.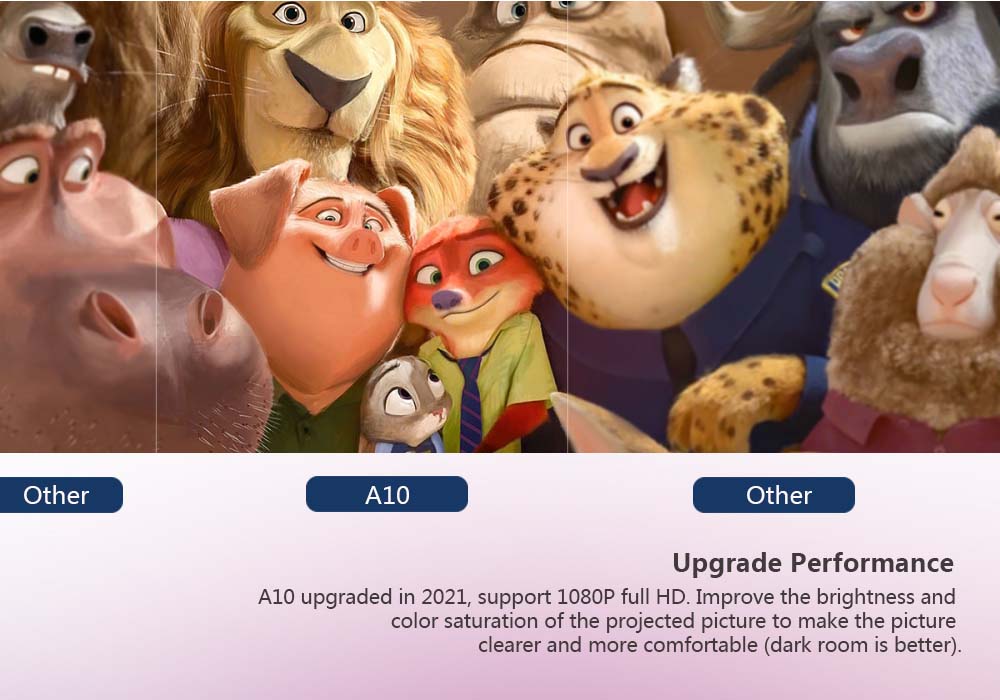 Upgrade Performance
The performance of the A10 has been fully upgraded to support full HD 1080P. The brightness and color saturation of the projected picture is also greatly enhanced. It is especially noticeable in dark environments.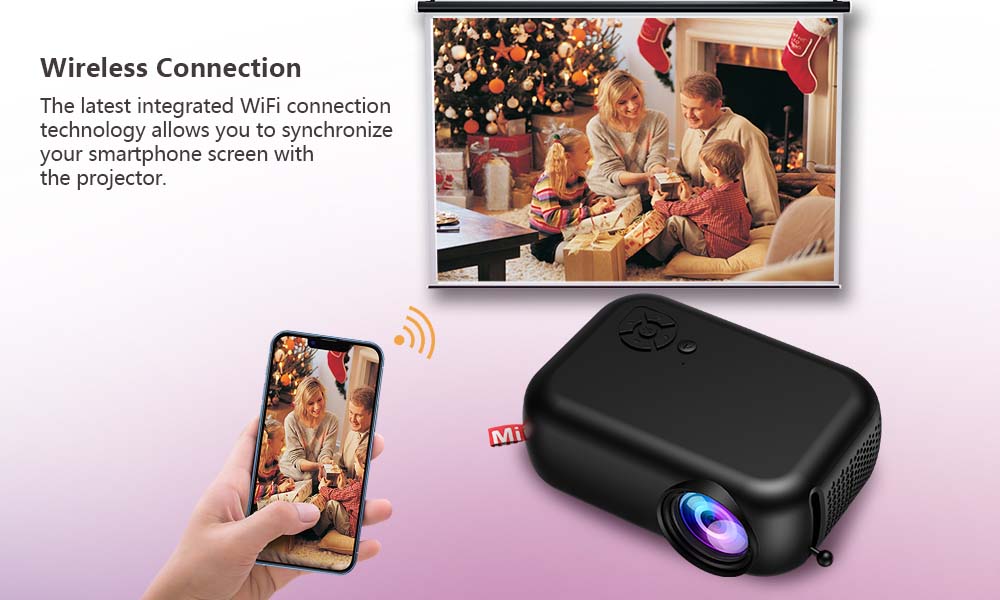 Wireless Connection
We use the latest integrated WiFi connection technology, which can synchronize the screen of the smartphone to the projector for screen projection.

HIFI Built-In 3W Speaker
Especially friendly for friends who like to hold family movies, parties, football nights, and other activities. With built-in powerful speakers (3W), this projector is the first choice for a stunning experience.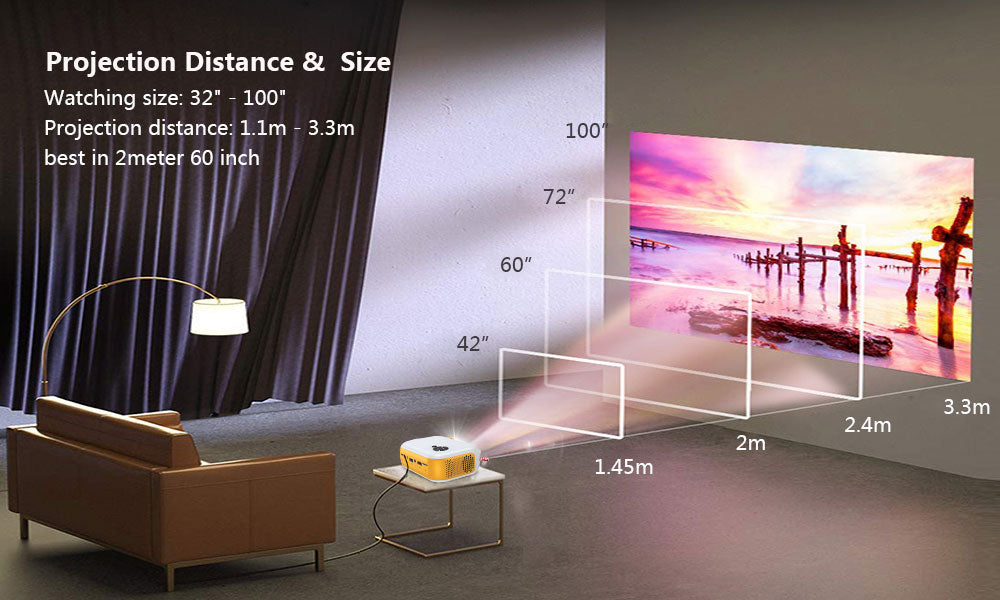 Projection Distance & Size
Watching size: 32" - 100", Projection distance: 1.1m - 3.3m best in 2 meters 60 inches.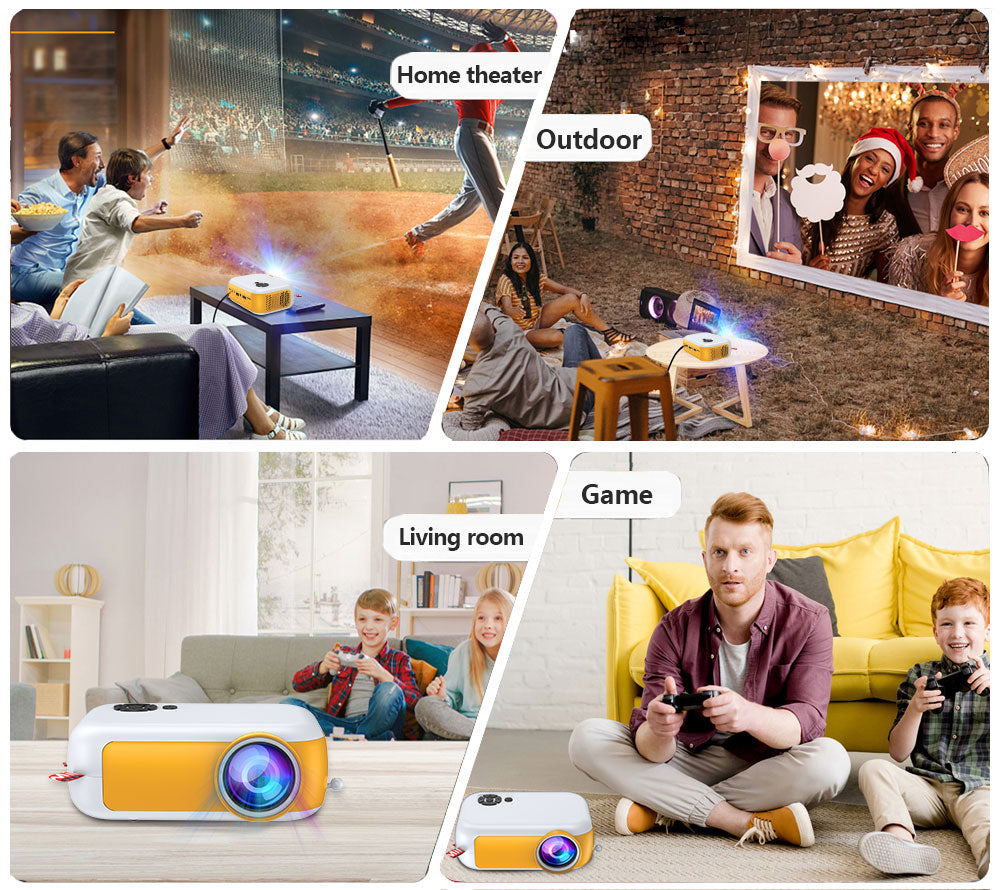 Suitable Place
It is suitable for home theater, outdoor, gaming, and living room places.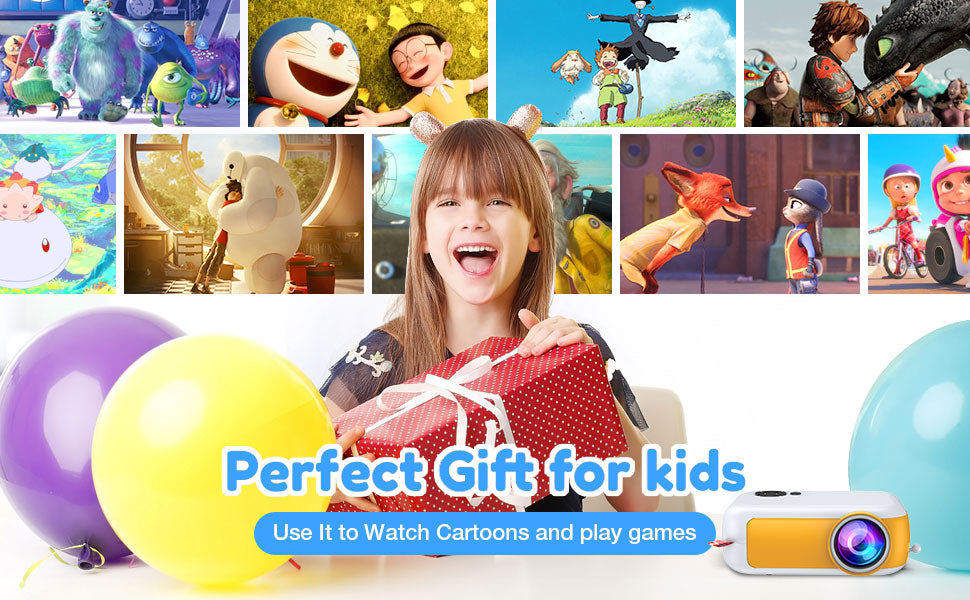 Perfect Gift for kids,
projector
Use It to Watch Cartoons and play games.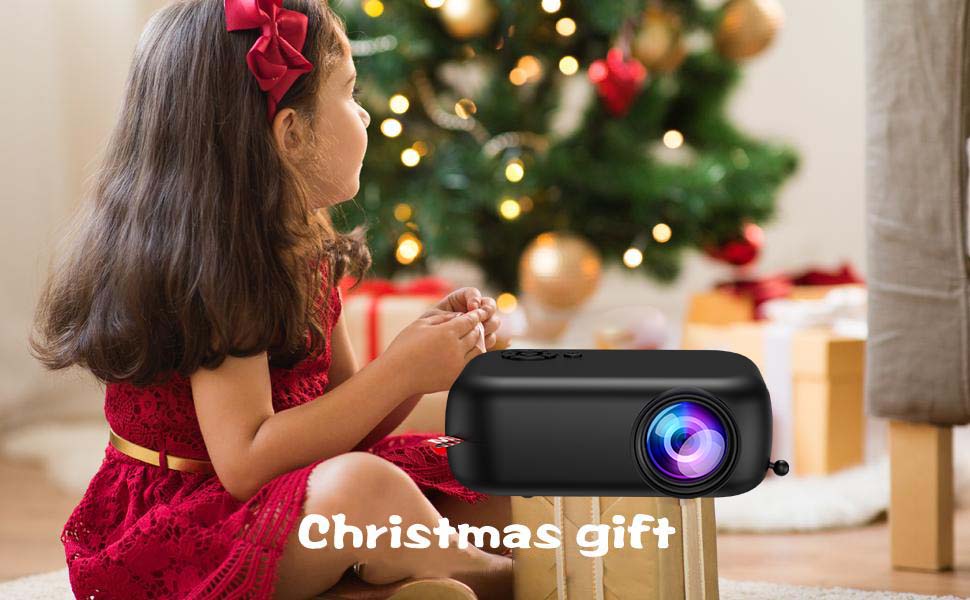 Christmas gift
With the holidays approaching, giving your child a mini projector is also a great gift. Believe the children will be very happy.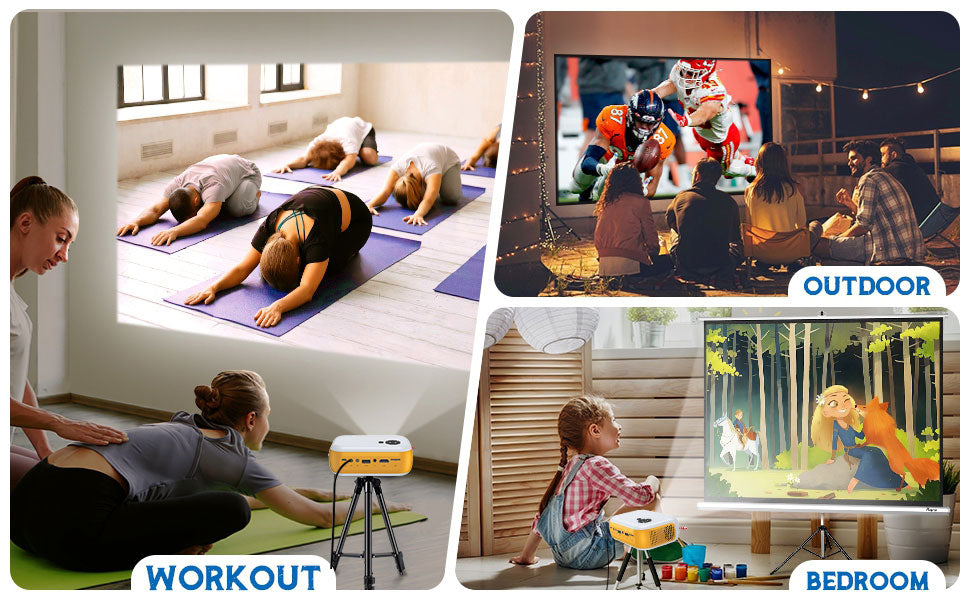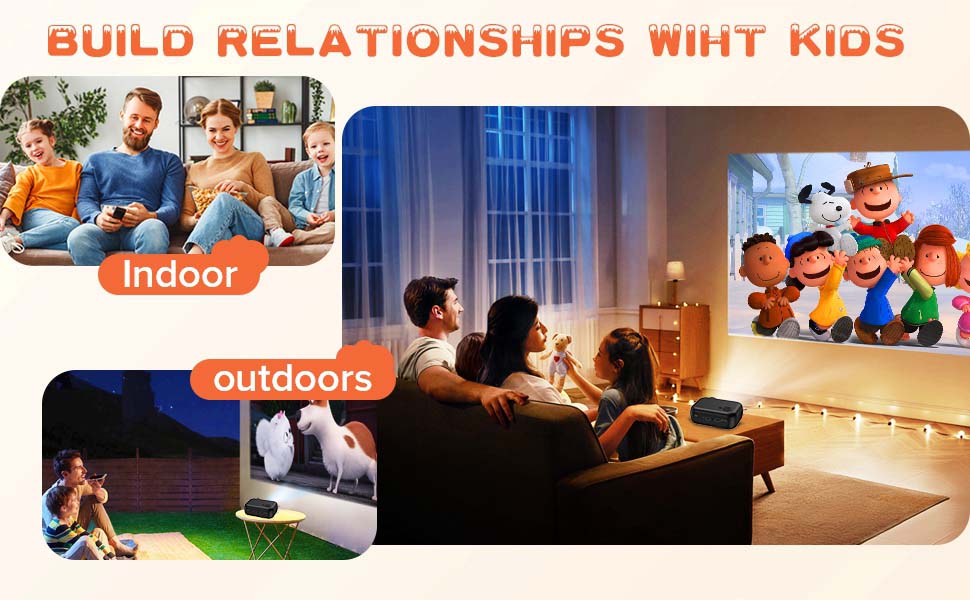 XGODY A10 
Mini WIFI Connection for
Small Projector
Beautiful appearance, small and portable: can be put in pockets and bags. It can also be given to friends and family as a holiday gift, or even given to children to watch cartoons and play games. I believe they will like such a powerful gift that can be held in your hand.

The interface is simple and easy to use: The home page of the interface is set up with simple and easy-to-understand operations such as video, music, photos, text, HDMI, etc., which is convenient and quick to get started, saving us time and cost.

Color upgrade, performance upgrade: support 1080P full HD video, clear and comfortable projection screen brightness, and color saturation. The latest integrated WiFi connection technology to sync smartphone screen with projector. As well as built-in powerful 3W speakers.

Mobile power supply, multi-device connection: Powered by a power adapter, connected to a mobile phone charger, car charger, or power pack through a micro USB interface. It also supports multimedia methods such as headsets, PS4/PS3, laptops, chargers, TF cards, Portable batteries, iPad, Mobile phones, etc.

Comprehensive product upgrade: The appearance, interface, operation, and performance of the product have been greatly improved. It is a product with high-cost performance and a perfect combination of fashion and art.



Product 
Information:
Item Model: XGODY A10 Mini Portable Projector
Projection system: 2-inch LCD TFT display
Native Resolution: Resolution 720P
Brightness: 1800 lumens
Contrast Ratio: 1500:1
Image Flip: 360-degree flip
Lens: 2 pieces of glasses lens 
Aspect ratio: 16:9 / 4:3
Language: 23 languages
(Czech, Danish, German, English, Spanish, Greek, French, Croatian, Italian, Hungarian, Dutch, Norwegian, Polish, Portuguese, Russian, Romanian, Slovenian, Serbian, Finnish, Japanese, Korean, Traditional Chinese, Simplified Chinese) others can be customized
Light source: LED,30000 hours of life
Projection size: 14-100 inch
Working voltage: AC Input 90V-260V
Adapter: DC 12V2A
Interface input: HDMI / USB / micro SD / 5V-2.1A / Audio Out
Product dimensions: 140*100*55mm  
Product Accessories:
Mini Projector A10 *1

Bracket *1

Remote Control *1

Manual *1

HDMI High-definition Cable *1

Power Cable *1

Lens Cover *1
*
1.Most items are shipping free, you can check the description in the listing. Order will be shipped within 72 hours after payment made.
2.The shipping time is based on the shipping option, sometimes it may be delayed due to varied situation (such as holidays, war, weather etc.), please contact us immediately if delivery time exceeds estimated.
3.Import taxes, duties and related customs fees may be charged once the parcel arrives at the destination country. These charges are determined by the customs office of the specific destination. Payment of these charges and taxes is the responsibility of the recipient and will not be covered by us here at Xgody. For further details of charges, please contact your local customs office.
4.Time Schedule- F

ast Shipping
| | |
| --- | --- |
| United States/Australia/UK |  4-10 working days |
| Canada/Israel/ Azerbaijan / Russia/Maldives/ Eastern Europe/ Middle East |  9-18 working days |
| Brazil/Chile/South America |  9-18 working days |
| Western Europe/New Zealand |  7-10 working days |
If you are not happy with your purchase and wish to return an item, please contact us immediatelysince receiving your order. Our customs support email is support@xgody.com. Please write down your order number and user ID in the return parcel.
All returns must be in original condition with packaging intact to avoid damage during shipment, any physical damage during the return shipment will not be accepted. Returned parcel need to provide shipment number for tracking.
We will get back to you once we receive the return parcel. Money or replacement will be arranged within 24-48 hours after the return parcel delivered.
-
1.Why Choose Xgody?
Brand XGODY was established in 2014 with great advantages in electronic products. More than that, the operating team has more than 10 years experiences on e-commerce.. We know exactly what the buyer concerns and worries. Making sure you will have a wonderful shopping experience by providing what you need and getting rid of what you worried about. It is no doubt to choose us with our high quality of product, good shipping way, and good customs support.
2.What payment methods do you accept?
We accept all major credit cards (VISA, Mastercard, AMEX) and PayPal payments. We do not accept personal checks, money orders, direct bank transfers, western union, or cash on delivery.
3.Can I change my shipping address after placing an order?
Please be advised that your shipping address cannot be revised after the order has been processed or shipped. Kindly update your shipping address to your residential address instead of your vacation address as we do not know how long the destination's customs department will have the package on hold.
4.How do I track my order?
The tracking number can be queried in the background. Also, we will email your tracking information as soon as your order has shipped. Usually you will receive the tracking number one day after we have shipped your order. In addition, if you still do not know how to query and track, you can also contact customer service freely.
5.Will I be charged with customs and taxes?
Import taxes, duties and related customs fees may be charged once your order arrives to its final destination, which are determined by your local customs office.
Payment of these charges and taxes are your responsibility and will not be covered by us. We are not responsible for delays caused by the customs department in your country. For further details of charges, please contact your local customs office. 
6.What Do I Do If I Have Missing Items In My Order?
If something is still missing, please contact us immediately.
7.What if the item(s) I received are defective/incorrect/damaged?
Please contact us within 7 days from receiving your order if you received merchandise that is incorrect, missing, and/or defective. Please include your order number, photographs of the item(s) and all related references upon receiving your package. We will do our very best to resolve your case as soon as possible.
8.How do I return an item?
If you are not happy with your purchase and wish to return an item, please contact us immediately from receiving your order. Please provide your order number as well as the reason for your return. Our customer service team will review the return request and will send further instructions if the return is approved.
For a list of final sale items, please see our Warranty Info and Refund Policy. All returns must be in original condition with packaging intact.
9.When will I receive my refund?
All refunds will be credited to your original form of payment. If you paid by credit or debit card, refunds will be sent to the card-issuing bank within 7-10 business days of receipt of the returned item or cancellation request. Please contact the card-issuing bank with questions about when the credit will be posted to your account.
If you haven't received a credit for your return yet, here's what to do: Contact the bank/credit card company. It may take some time before the refund is posted to your account.