{"id":6734510620750,"title":"Creality Ender 7 3D Printer 250 mm\/s High-Speed Printing with High Precision Linear Rail Core XY Structure, Dual Cooling Fans, FDM 3D Printing","handle":"creality-ender-7-3d-printer-250-mm-s-high-speed-printing-with-high-precision-linear-rail-core-xy-structure-dual-cooling-fans-fdm-3d-printing","description":"\u003cdiv data-mce-fragment=\"1\" style=\"text-align: center;\" data-mce-style=\"text-align: center;\"\u003e\u003ciframe title=\"YouTube video player\" src=\"https:\/\/www.youtube.com\/embed\/pEKbWEABop0\" height=\"560\" width=\"1000\" allowfullscreen=\"\" allow=\"accelerometer; autoplay; clipboard-write; encrypted-media; gyroscope; picture-in-picture\" frameborder=\"0\"\u003e\u003c\/iframe\u003e\u003c\/div\u003e\n\u003cdiv data-mce-fragment=\"1\" style=\"text-align: center;\" data-mce-style=\"text-align: center;\"\u003e \u003cimg data-mce-fragment=\"1\" alt=\"\" src=\"https:\/\/cdn.shopifycdn.net\/s\/files\/1\/0100\/3542\/9454\/files\/Ender-7-_20210527_01_2048x2048.jpg?v=1650438647\" data-mce-src=\"https:\/\/cdn.shopifycdn.net\/s\/files\/1\/0100\/3542\/9454\/files\/Ender-7-_20210527_01_2048x2048.jpg?v=1650438647\"\u003e\u003cimg data-mce-fragment=\"1\" src=\"https:\/\/cdn.shopifycdn.net\/s\/files\/1\/0100\/3542\/9454\/files\/Ender-7-_20210527_02_2048x2048.jpg?v=1650439969\" alt=\"\" data-mce-src=\"https:\/\/cdn.shopifycdn.net\/s\/files\/1\/0100\/3542\/9454\/files\/Ender-7-_20210527_02_2048x2048.jpg?v=1650439969\"\u003e\u003cimg data-mce-fragment=\"1\" src=\"https:\/\/cdn.shopifycdn.net\/s\/files\/1\/0100\/3542\/9454\/files\/Ender-7-_20210527_03_2048x2048.jpg?v=1650440003\" alt=\"\" data-mce-src=\"https:\/\/cdn.shopifycdn.net\/s\/files\/1\/0100\/3542\/9454\/files\/Ender-7-_20210527_03_2048x2048.jpg?v=1650440003\"\u003e\u003cimg data-mce-fragment=\"1\" src=\"https:\/\/cdn.shopifycdn.net\/s\/files\/1\/0100\/3542\/9454\/files\/Ender-7-_20210527_04_2048x2048.jpg?v=1650440024\" alt=\"\" data-mce-src=\"https:\/\/cdn.shopifycdn.net\/s\/files\/1\/0100\/3542\/9454\/files\/Ender-7-_20210527_04_2048x2048.jpg?v=1650440024\"\u003e\u003cimg data-mce-fragment=\"1\" src=\"https:\/\/cdn.shopifycdn.net\/s\/files\/1\/0100\/3542\/9454\/files\/Ender-7-_20210527_05_2048x2048.jpg?v=1650440037\" alt=\"\" data-mce-src=\"https:\/\/cdn.shopifycdn.net\/s\/files\/1\/0100\/3542\/9454\/files\/Ender-7-_20210527_05_2048x2048.jpg?v=1650440037\"\u003e\u003cimg data-mce-fragment=\"1\" src=\"https:\/\/cdn.shopifycdn.net\/s\/files\/1\/0100\/3542\/9454\/files\/Ender-7-_20210527_06_2048x2048.jpg?v=1650440052\" alt=\"\" data-mce-src=\"https:\/\/cdn.shopifycdn.net\/s\/files\/1\/0100\/3542\/9454\/files\/Ender-7-_20210527_06_2048x2048.jpg?v=1650440052\"\u003e\u003cimg data-mce-fragment=\"1\" src=\"https:\/\/cdn.shopifycdn.net\/s\/files\/1\/0100\/3542\/9454\/files\/Ender-7-_20210527_07_2048x2048.jpg?v=1650440069\" alt=\"\" data-mce-src=\"https:\/\/cdn.shopifycdn.net\/s\/files\/1\/0100\/3542\/9454\/files\/Ender-7-_20210527_07_2048x2048.jpg?v=1650440069\"\u003e\u003cimg data-mce-fragment=\"1\" src=\"https:\/\/cdn.shopifycdn.net\/s\/files\/1\/0100\/3542\/9454\/files\/Ender-7-_20210527_08_2048x2048.jpg?v=1650440085\" alt=\"\" data-mce-src=\"https:\/\/cdn.shopifycdn.net\/s\/files\/1\/0100\/3542\/9454\/files\/Ender-7-_20210527_08_2048x2048.jpg?v=1650440085\"\u003e\u003cimg data-mce-fragment=\"1\" src=\"https:\/\/cdn.shopifycdn.net\/s\/files\/1\/0100\/3542\/9454\/files\/Ender-7-_20210527_09_2048x2048.jpg?v=1650440109\" alt=\"\" data-mce-src=\"https:\/\/cdn.shopifycdn.net\/s\/files\/1\/0100\/3542\/9454\/files\/Ender-7-_20210527_09_2048x2048.jpg?v=1650440109\"\u003e\u003cimg data-mce-fragment=\"1\" src=\"https:\/\/cdn.shopifycdn.net\/s\/files\/1\/0100\/3542\/9454\/files\/Ender-7-_20210527_10_2048x2048.jpg?v=1650440129\" alt=\"\" data-mce-src=\"https:\/\/cdn.shopifycdn.net\/s\/files\/1\/0100\/3542\/9454\/files\/Ender-7-_20210527_10_2048x2048.jpg?v=1650440129\"\u003e\u003cimg data-mce-fragment=\"1\" src=\"https:\/\/cdn.shopifycdn.net\/s\/files\/1\/0100\/3542\/9454\/files\/Ender-7-_20210527_11_2048x2048.jpg?v=1650440143\" alt=\"\" data-mce-src=\"https:\/\/cdn.shopifycdn.net\/s\/files\/1\/0100\/3542\/9454\/files\/Ender-7-_20210527_11_2048x2048.jpg?v=1650440143\"\u003e\u003cimg data-mce-fragment=\"1\" src=\"https:\/\/cdn.shopifycdn.net\/s\/files\/1\/0100\/3542\/9454\/files\/Ender-7-_20210527_12_2048x2048.jpg?v=1650440161\" alt=\"\" data-mce-src=\"https:\/\/cdn.shopifycdn.net\/s\/files\/1\/0100\/3542\/9454\/files\/Ender-7-_20210527_12_2048x2048.jpg?v=1650440161\"\u003e\u003cimg data-mce-fragment=\"1\" src=\"https:\/\/cdn.shopifycdn.net\/s\/files\/1\/0100\/3542\/9454\/files\/Ender-7-_20210527_13_2048x2048.jpg?v=1650440177\" alt=\"\" data-mce-src=\"https:\/\/cdn.shopifycdn.net\/s\/files\/1\/0100\/3542\/9454\/files\/Ender-7-_20210527_13_2048x2048.jpg?v=1650440177\"\u003e\n\u003c\/div\u003e\n\u003cdiv data-mce-fragment=\"1\" style=\"text-align: center;\" data-mce-style=\"text-align: center;\"\u003e\u003c\/div\u003e\n\u003cdiv data-mce-fragment=\"1\" style=\"text-align: center;\" data-mce-style=\"text-align: center;\"\u003e\u003c\/div\u003e\n\u003cdiv data-mce-fragment=\"1\" style=\"text-align: center;\" data-mce-style=\"text-align: center;\"\u003e\n\u003cp class=\"a-spacing-mini\"\u003e \u003c\/p\u003e\n\u003ch1 class=\"a-spacing-mini\" style=\"text-align: left;\"\u003eUpgrade Creality Ender-7 3D Printer with 250mm\/s High-Speed Printing, Printing Size 250 * 250 * 300mm\u003c\/h1\u003e\n\u003cp style=\"text-align: left;\"\u003eSpecially designed for demanding users, the large build volume of more than 250 x 250 x 300mm guarantees high precision in all aspects. Creality Ender 7 boasts a high-speed of 250 mm\/s printing and you can modify A8 cooling fans to achieve fast speed and achieve cooling effect 24\/7. The core-XY structure together with aluminum linear rail realizes higher accuracy and higher rigidity, creating a more stable experience for the enthusiast user.\u003c\/p\u003e\n\u003cp style=\"text-align: left;\"\u003e \u003c\/p\u003e\n\u003cp style=\"text-align: left;\"\u003eThe Ender-7 is an impressive workhorse machine capable of some of the best prints using affordable filament. delivering customized high volume nozzles, and an auto-leveling sensor to ensure the most precise and accurate printing experience possible.\u003c\/p\u003e\n\u003cp style=\"text-align: left;\"\u003e \u003c\/p\u003e\n\u003ch1 class=\"a-size-base-plus a-text-bold\" style=\"text-align: left;\"\u003eAbout this item\u003c\/h1\u003e\n\u003cul class=\"a-unordered-list a-vertical a-spacing-mini\"\u003e\n\u003cli style=\"text-align: left;\"\u003e\u003cspan class=\"a-list-item\"\u003e250mm\/s High-Speed Printing: New breakthrough of speed, 42-60W customized high-power motors and upgraded Creality Slicer 4.8.0 support a normal printing speed of Ender-7 3d printer up to 250mm\/s, enjoy instant high-speed printing while maintaining the same molding precision quality.\u003c\/span\u003e\u003c\/li\u003e\n\u003cli style=\"text-align: left;\"\u003e\u003cspan class=\"a-list-item\"\u003eLinear Rail \u0026amp; Core-XY Structure Offer a Higher Precision: Ender 7 3D printer is equipped with 42-60 high-power stepping motors, with strong power, more stable transmission, flexible and reliable. Using Core-XY structure, dual motors run in parallel, working together, faster and more accurate. Adopt linear guide rail technology, reduce movement resistance, high-precision positioning, and enjoy instant high-speed printing.\u003c\/span\u003e\u003c\/li\u003e\n\u003cli style=\"text-align: left;\"\u003e\u003cspan class=\"a-list-item\"\u003eHigh Speed Dual Cooling Fans for Rapid Cooling: Cooling Sustainability despite under high temperature. Extruder's cooling fan enables more stable feeding, high-speed dual cooling fans are designed in butterfly-shaped wing duct. Compared to a single fan, dual fans increase overall air volume by 169%, ensuring fast cooling of high-speed print models.\u003c\/span\u003e\u003c\/li\u003e\n\u003cli style=\"text-align: left;\"\u003e\u003cspan class=\"a-list-item\"\u003eFull-Metal Dual-Gear Extruder: A customized high volume nozzle, the volume of the melting chamber has been increased to 50 mm³, and the volume of the heating block has been increased to 4000 mm³.The filaments are fully melted and can be smoothly discharged when printing at a high speed. Full-metal dual gear extruder, strong bite, greater extrusion force, uniform extrusion force, continuous and stable feeding.\u003c\/span\u003e\u003c\/li\u003e\n\u003cli style=\"text-align: left;\"\u003e\u003cspan class=\"a-list-item\"\u003eStart Your Creation : This Ender 7 3D printer is not necessarily suitable for absolute beginners. If you already have some 3D printing experience, you may be able to assemble it in 45 minutes. The Creality Ender 7 printer measures 250 x 250 x 300 cm, with a hot bed developed with silicon carbide glass. Large print size, support for 9 languages, and powerful performance make Creality Ender-7 more friendly.\u003c\/span\u003e\u003c\/li\u003e\n\u003c\/ul\u003e\n\u003cp\u003e \u003cbr\u003e\u003c\/p\u003e\n\u003cp\u003e\u003cspan class=\"a-list-item\"\u003e\u003cimg src=\"https:\/\/cdn.shopifycdn.net\/s\/files\/1\/0100\/3542\/9454\/files\/Ender-7_2048x2048.jpg?v=1650440772\" style=\"float: none;\"\u003e\u003c\/span\u003e\u003c\/p\u003e\n\u003c\/div\u003e","published_at":"2022-04-20T16:01:50+08:00","created_at":"2022-04-20T15:31:41+08:00","vendor":"Creality","type":"3D Printers","tags":["3d printers","filament 3D Printer","resin 3d printer"],"price":49900,"price_min":49900,"price_max":49900,"available":true,"price_varies":false,"compare_at_price":59900,"compare_at_price_min":59900,"compare_at_price_max":59900,"compare_at_price_varies":false,"variants":[{"id":39773704847438,"title":"Default Title","option1":"Default Title","option2":null,"option3":null,"sku":"","requires_shipping":true,"taxable":true,"featured_image":null,"available":true,"name":"Creality Ender 7 3D Printer 250 mm\/s High-Speed Printing with High Precision Linear Rail Core XY Structure, Dual Cooling Fans, FDM 3D Printing","public_title":null,"options":["Default Title"],"price":49900,"weight":0,"compare_at_price":59900,"inventory_management":"shopify","barcode":"","requires_selling_plan":false,"selling_plan_allocations":[]}],"images":["\/\/xgody.com\/cdn\/shop\/products\/the-best-creality-ender-7-3d-printer-250-mms-high-speed-printing-with-high-precision-linear-rail-core-xy-structure-dual-cooling-fans-fdm-3d-printing-1.jpg?v=1656560033","\/\/xgody.com\/cdn\/shop\/products\/the-best-creality-ender-7-3d-printer-250-mms-high-speed-printing-with-high-precision-linear-rail-core-xy-structure-dual-cooling-fans-fdm-3d-printing-2.jpg?v=1656560036","\/\/xgody.com\/cdn\/shop\/products\/the-best-creality-ender-7-3d-printer-250-mms-high-speed-printing-with-high-precision-linear-rail-core-xy-structure-dual-cooling-fans-fdm-3d-printing-3.jpg?v=1656560039","\/\/xgody.com\/cdn\/shop\/products\/the-best-creality-ender-7-3d-printer-250-mms-high-speed-printing-with-high-precision-linear-rail-core-xy-structure-dual-cooling-fans-fdm-3d-printing-4.jpg?v=1656560041","\/\/xgody.com\/cdn\/shop\/products\/the-best-creality-ender-7-3d-printer-250-mms-high-speed-printing-with-high-precision-linear-rail-core-xy-structure-dual-cooling-fans-fdm-3d-printing-5.jpg?v=1656560046","\/\/xgody.com\/cdn\/shop\/products\/the-best-creality-ender-7-3d-printer-250-mms-high-speed-printing-with-high-precision-linear-rail-core-xy-structure-dual-cooling-fans-fdm-3d-printing-6.jpg?v=1656560048"],"featured_image":"\/\/xgody.com\/cdn\/shop\/products\/the-best-creality-ender-7-3d-printer-250-mms-high-speed-printing-with-high-precision-linear-rail-core-xy-structure-dual-cooling-fans-fdm-3d-printing-1.jpg?v=1656560033","options":["Title"],"media":[{"alt":"Cost-effective and Most worthwhile Creality Ender 7 3D Printer 250 mm\/s High-Speed Printing with High Precision Linear Rail Core XY Structure, Dual Cooling Fans, FDM 3D Printing - XGODY ","id":21697038057550,"position":1,"preview_image":{"aspect_ratio":1.0,"height":1000,"width":1000,"src":"\/\/xgody.com\/cdn\/shop\/products\/the-best-creality-ender-7-3d-printer-250-mms-high-speed-printing-with-high-precision-linear-rail-core-xy-structure-dual-cooling-fans-fdm-3d-printing-1.jpg?v=1656560033"},"aspect_ratio":1.0,"height":1000,"media_type":"image","src":"\/\/xgody.com\/cdn\/shop\/products\/the-best-creality-ender-7-3d-printer-250-mms-high-speed-printing-with-high-precision-linear-rail-core-xy-structure-dual-cooling-fans-fdm-3d-printing-1.jpg?v=1656560033","width":1000},{"alt":"Cost-effective and Most worthwhile Creality Ender 7 3D Printer 250 mm\/s High-Speed Printing with High Precision Linear Rail Core XY Structure, Dual Cooling Fans, FDM 3D Printing - XGODY ","id":21697038188622,"position":2,"preview_image":{"aspect_ratio":1.0,"height":1080,"width":1080,"src":"\/\/xgody.com\/cdn\/shop\/products\/the-best-creality-ender-7-3d-printer-250-mms-high-speed-printing-with-high-precision-linear-rail-core-xy-structure-dual-cooling-fans-fdm-3d-printing-2.jpg?v=1656560036"},"aspect_ratio":1.0,"height":1080,"media_type":"image","src":"\/\/xgody.com\/cdn\/shop\/products\/the-best-creality-ender-7-3d-printer-250-mms-high-speed-printing-with-high-precision-linear-rail-core-xy-structure-dual-cooling-fans-fdm-3d-printing-2.jpg?v=1656560036","width":1080},{"alt":"Cost-effective and Most worthwhile Creality Ender 7 3D Printer 250 mm\/s High-Speed Printing with High Precision Linear Rail Core XY Structure, Dual Cooling Fans, FDM 3D Printing - XGODY ","id":21697038254158,"position":3,"preview_image":{"aspect_ratio":1.0,"height":1080,"width":1080,"src":"\/\/xgody.com\/cdn\/shop\/products\/the-best-creality-ender-7-3d-printer-250-mms-high-speed-printing-with-high-precision-linear-rail-core-xy-structure-dual-cooling-fans-fdm-3d-printing-3.jpg?v=1656560039"},"aspect_ratio":1.0,"height":1080,"media_type":"image","src":"\/\/xgody.com\/cdn\/shop\/products\/the-best-creality-ender-7-3d-printer-250-mms-high-speed-printing-with-high-precision-linear-rail-core-xy-structure-dual-cooling-fans-fdm-3d-printing-3.jpg?v=1656560039","width":1080},{"alt":"Cost-effective and Most worthwhile Creality Ender 7 3D Printer 250 mm\/s High-Speed Printing with High Precision Linear Rail Core XY Structure, Dual Cooling Fans, FDM 3D Printing - XGODY ","id":21697038352462,"position":4,"preview_image":{"aspect_ratio":1.0,"height":1080,"width":1080,"src":"\/\/xgody.com\/cdn\/shop\/products\/the-best-creality-ender-7-3d-printer-250-mms-high-speed-printing-with-high-precision-linear-rail-core-xy-structure-dual-cooling-fans-fdm-3d-printing-4.jpg?v=1656560041"},"aspect_ratio":1.0,"height":1080,"media_type":"image","src":"\/\/xgody.com\/cdn\/shop\/products\/the-best-creality-ender-7-3d-printer-250-mms-high-speed-printing-with-high-precision-linear-rail-core-xy-structure-dual-cooling-fans-fdm-3d-printing-4.jpg?v=1656560041","width":1080},{"alt":"Cost-effective and Most worthwhile Creality Ender 7 3D Printer 250 mm\/s High-Speed Printing with High Precision Linear Rail Core XY Structure, Dual Cooling Fans, FDM 3D Printing - XGODY ","id":21697038483534,"position":5,"preview_image":{"aspect_ratio":1.0,"height":1080,"width":1080,"src":"\/\/xgody.com\/cdn\/shop\/products\/the-best-creality-ender-7-3d-printer-250-mms-high-speed-printing-with-high-precision-linear-rail-core-xy-structure-dual-cooling-fans-fdm-3d-printing-5.jpg?v=1656560046"},"aspect_ratio":1.0,"height":1080,"media_type":"image","src":"\/\/xgody.com\/cdn\/shop\/products\/the-best-creality-ender-7-3d-printer-250-mms-high-speed-printing-with-high-precision-linear-rail-core-xy-structure-dual-cooling-fans-fdm-3d-printing-5.jpg?v=1656560046","width":1080},{"alt":"Cost-effective and Most worthwhile Creality Ender 7 3D Printer 250 mm\/s High-Speed Printing with High Precision Linear Rail Core XY Structure, Dual Cooling Fans, FDM 3D Printing - XGODY ","id":21697038549070,"position":6,"preview_image":{"aspect_ratio":1.0,"height":1080,"width":1080,"src":"\/\/xgody.com\/cdn\/shop\/products\/the-best-creality-ender-7-3d-printer-250-mms-high-speed-printing-with-high-precision-linear-rail-core-xy-structure-dual-cooling-fans-fdm-3d-printing-6.jpg?v=1656560048"},"aspect_ratio":1.0,"height":1080,"media_type":"image","src":"\/\/xgody.com\/cdn\/shop\/products\/the-best-creality-ender-7-3d-printer-250-mms-high-speed-printing-with-high-precision-linear-rail-core-xy-structure-dual-cooling-fans-fdm-3d-printing-6.jpg?v=1656560048","width":1080}],"requires_selling_plan":false,"selling_plan_groups":[],"content":"\u003cdiv data-mce-fragment=\"1\" style=\"text-align: center;\" data-mce-style=\"text-align: center;\"\u003e\u003ciframe title=\"YouTube video player\" src=\"https:\/\/www.youtube.com\/embed\/pEKbWEABop0\" height=\"560\" width=\"1000\" allowfullscreen=\"\" allow=\"accelerometer; autoplay; clipboard-write; encrypted-media; gyroscope; picture-in-picture\" frameborder=\"0\"\u003e\u003c\/iframe\u003e\u003c\/div\u003e\n\u003cdiv data-mce-fragment=\"1\" style=\"text-align: center;\" data-mce-style=\"text-align: center;\"\u003e \u003cimg data-mce-fragment=\"1\" alt=\"\" src=\"https:\/\/cdn.shopifycdn.net\/s\/files\/1\/0100\/3542\/9454\/files\/Ender-7-_20210527_01_2048x2048.jpg?v=1650438647\" data-mce-src=\"https:\/\/cdn.shopifycdn.net\/s\/files\/1\/0100\/3542\/9454\/files\/Ender-7-_20210527_01_2048x2048.jpg?v=1650438647\"\u003e\u003cimg data-mce-fragment=\"1\" src=\"https:\/\/cdn.shopifycdn.net\/s\/files\/1\/0100\/3542\/9454\/files\/Ender-7-_20210527_02_2048x2048.jpg?v=1650439969\" alt=\"\" data-mce-src=\"https:\/\/cdn.shopifycdn.net\/s\/files\/1\/0100\/3542\/9454\/files\/Ender-7-_20210527_02_2048x2048.jpg?v=1650439969\"\u003e\u003cimg data-mce-fragment=\"1\" src=\"https:\/\/cdn.shopifycdn.net\/s\/files\/1\/0100\/3542\/9454\/files\/Ender-7-_20210527_03_2048x2048.jpg?v=1650440003\" alt=\"\" data-mce-src=\"https:\/\/cdn.shopifycdn.net\/s\/files\/1\/0100\/3542\/9454\/files\/Ender-7-_20210527_03_2048x2048.jpg?v=1650440003\"\u003e\u003cimg data-mce-fragment=\"1\" src=\"https:\/\/cdn.shopifycdn.net\/s\/files\/1\/0100\/3542\/9454\/files\/Ender-7-_20210527_04_2048x2048.jpg?v=1650440024\" alt=\"\" data-mce-src=\"https:\/\/cdn.shopifycdn.net\/s\/files\/1\/0100\/3542\/9454\/files\/Ender-7-_20210527_04_2048x2048.jpg?v=1650440024\"\u003e\u003cimg data-mce-fragment=\"1\" src=\"https:\/\/cdn.shopifycdn.net\/s\/files\/1\/0100\/3542\/9454\/files\/Ender-7-_20210527_05_2048x2048.jpg?v=1650440037\" alt=\"\" data-mce-src=\"https:\/\/cdn.shopifycdn.net\/s\/files\/1\/0100\/3542\/9454\/files\/Ender-7-_20210527_05_2048x2048.jpg?v=1650440037\"\u003e\u003cimg data-mce-fragment=\"1\" src=\"https:\/\/cdn.shopifycdn.net\/s\/files\/1\/0100\/3542\/9454\/files\/Ender-7-_20210527_06_2048x2048.jpg?v=1650440052\" alt=\"\" data-mce-src=\"https:\/\/cdn.shopifycdn.net\/s\/files\/1\/0100\/3542\/9454\/files\/Ender-7-_20210527_06_2048x2048.jpg?v=1650440052\"\u003e\u003cimg data-mce-fragment=\"1\" src=\"https:\/\/cdn.shopifycdn.net\/s\/files\/1\/0100\/3542\/9454\/files\/Ender-7-_20210527_07_2048x2048.jpg?v=1650440069\" alt=\"\" data-mce-src=\"https:\/\/cdn.shopifycdn.net\/s\/files\/1\/0100\/3542\/9454\/files\/Ender-7-_20210527_07_2048x2048.jpg?v=1650440069\"\u003e\u003cimg data-mce-fragment=\"1\" src=\"https:\/\/cdn.shopifycdn.net\/s\/files\/1\/0100\/3542\/9454\/files\/Ender-7-_20210527_08_2048x2048.jpg?v=1650440085\" alt=\"\" data-mce-src=\"https:\/\/cdn.shopifycdn.net\/s\/files\/1\/0100\/3542\/9454\/files\/Ender-7-_20210527_08_2048x2048.jpg?v=1650440085\"\u003e\u003cimg data-mce-fragment=\"1\" src=\"https:\/\/cdn.shopifycdn.net\/s\/files\/1\/0100\/3542\/9454\/files\/Ender-7-_20210527_09_2048x2048.jpg?v=1650440109\" alt=\"\" data-mce-src=\"https:\/\/cdn.shopifycdn.net\/s\/files\/1\/0100\/3542\/9454\/files\/Ender-7-_20210527_09_2048x2048.jpg?v=1650440109\"\u003e\u003cimg data-mce-fragment=\"1\" src=\"https:\/\/cdn.shopifycdn.net\/s\/files\/1\/0100\/3542\/9454\/files\/Ender-7-_20210527_10_2048x2048.jpg?v=1650440129\" alt=\"\" data-mce-src=\"https:\/\/cdn.shopifycdn.net\/s\/files\/1\/0100\/3542\/9454\/files\/Ender-7-_20210527_10_2048x2048.jpg?v=1650440129\"\u003e\u003cimg data-mce-fragment=\"1\" src=\"https:\/\/cdn.shopifycdn.net\/s\/files\/1\/0100\/3542\/9454\/files\/Ender-7-_20210527_11_2048x2048.jpg?v=1650440143\" alt=\"\" data-mce-src=\"https:\/\/cdn.shopifycdn.net\/s\/files\/1\/0100\/3542\/9454\/files\/Ender-7-_20210527_11_2048x2048.jpg?v=1650440143\"\u003e\u003cimg data-mce-fragment=\"1\" src=\"https:\/\/cdn.shopifycdn.net\/s\/files\/1\/0100\/3542\/9454\/files\/Ender-7-_20210527_12_2048x2048.jpg?v=1650440161\" alt=\"\" data-mce-src=\"https:\/\/cdn.shopifycdn.net\/s\/files\/1\/0100\/3542\/9454\/files\/Ender-7-_20210527_12_2048x2048.jpg?v=1650440161\"\u003e\u003cimg data-mce-fragment=\"1\" src=\"https:\/\/cdn.shopifycdn.net\/s\/files\/1\/0100\/3542\/9454\/files\/Ender-7-_20210527_13_2048x2048.jpg?v=1650440177\" alt=\"\" data-mce-src=\"https:\/\/cdn.shopifycdn.net\/s\/files\/1\/0100\/3542\/9454\/files\/Ender-7-_20210527_13_2048x2048.jpg?v=1650440177\"\u003e\n\u003c\/div\u003e\n\u003cdiv data-mce-fragment=\"1\" style=\"text-align: center;\" data-mce-style=\"text-align: center;\"\u003e\u003c\/div\u003e\n\u003cdiv data-mce-fragment=\"1\" style=\"text-align: center;\" data-mce-style=\"text-align: center;\"\u003e\u003c\/div\u003e\n\u003cdiv data-mce-fragment=\"1\" style=\"text-align: center;\" data-mce-style=\"text-align: center;\"\u003e\n\u003cp class=\"a-spacing-mini\"\u003e \u003c\/p\u003e\n\u003ch1 class=\"a-spacing-mini\" style=\"text-align: left;\"\u003eUpgrade Creality Ender-7 3D Printer with 250mm\/s High-Speed Printing, Printing Size 250 * 250 * 300mm\u003c\/h1\u003e\n\u003cp style=\"text-align: left;\"\u003eSpecially designed for demanding users, the large build volume of more than 250 x 250 x 300mm guarantees high precision in all aspects. Creality Ender 7 boasts a high-speed of 250 mm\/s printing and you can modify A8 cooling fans to achieve fast speed and achieve cooling effect 24\/7. The core-XY structure together with aluminum linear rail realizes higher accuracy and higher rigidity, creating a more stable experience for the enthusiast user.\u003c\/p\u003e\n\u003cp style=\"text-align: left;\"\u003e \u003c\/p\u003e\n\u003cp style=\"text-align: left;\"\u003eThe Ender-7 is an impressive workhorse machine capable of some of the best prints using affordable filament. delivering customized high volume nozzles, and an auto-leveling sensor to ensure the most precise and accurate printing experience possible.\u003c\/p\u003e\n\u003cp style=\"text-align: left;\"\u003e \u003c\/p\u003e\n\u003ch1 class=\"a-size-base-plus a-text-bold\" style=\"text-align: left;\"\u003eAbout this item\u003c\/h1\u003e\n\u003cul class=\"a-unordered-list a-vertical a-spacing-mini\"\u003e\n\u003cli style=\"text-align: left;\"\u003e\u003cspan class=\"a-list-item\"\u003e250mm\/s High-Speed Printing: New breakthrough of speed, 42-60W customized high-power motors and upgraded Creality Slicer 4.8.0 support a normal printing speed of Ender-7 3d printer up to 250mm\/s, enjoy instant high-speed printing while maintaining the same molding precision quality.\u003c\/span\u003e\u003c\/li\u003e\n\u003cli style=\"text-align: left;\"\u003e\u003cspan class=\"a-list-item\"\u003eLinear Rail \u0026amp; Core-XY Structure Offer a Higher Precision: Ender 7 3D printer is equipped with 42-60 high-power stepping motors, with strong power, more stable transmission, flexible and reliable. Using Core-XY structure, dual motors run in parallel, working together, faster and more accurate. Adopt linear guide rail technology, reduce movement resistance, high-precision positioning, and enjoy instant high-speed printing.\u003c\/span\u003e\u003c\/li\u003e\n\u003cli style=\"text-align: left;\"\u003e\u003cspan class=\"a-list-item\"\u003eHigh Speed Dual Cooling Fans for Rapid Cooling: Cooling Sustainability despite under high temperature. Extruder's cooling fan enables more stable feeding, high-speed dual cooling fans are designed in butterfly-shaped wing duct. Compared to a single fan, dual fans increase overall air volume by 169%, ensuring fast cooling of high-speed print models.\u003c\/span\u003e\u003c\/li\u003e\n\u003cli style=\"text-align: left;\"\u003e\u003cspan class=\"a-list-item\"\u003eFull-Metal Dual-Gear Extruder: A customized high volume nozzle, the volume of the melting chamber has been increased to 50 mm³, and the volume of the heating block has been increased to 4000 mm³.The filaments are fully melted and can be smoothly discharged when printing at a high speed. Full-metal dual gear extruder, strong bite, greater extrusion force, uniform extrusion force, continuous and stable feeding.\u003c\/span\u003e\u003c\/li\u003e\n\u003cli style=\"text-align: left;\"\u003e\u003cspan class=\"a-list-item\"\u003eStart Your Creation : This Ender 7 3D printer is not necessarily suitable for absolute beginners. If you already have some 3D printing experience, you may be able to assemble it in 45 minutes. The Creality Ender 7 printer measures 250 x 250 x 300 cm, with a hot bed developed with silicon carbide glass. Large print size, support for 9 languages, and powerful performance make Creality Ender-7 more friendly.\u003c\/span\u003e\u003c\/li\u003e\n\u003c\/ul\u003e\n\u003cp\u003e \u003cbr\u003e\u003c\/p\u003e\n\u003cp\u003e\u003cspan class=\"a-list-item\"\u003e\u003cimg src=\"https:\/\/cdn.shopifycdn.net\/s\/files\/1\/0100\/3542\/9454\/files\/Ender-7_2048x2048.jpg?v=1650440772\" style=\"float: none;\"\u003e\u003c\/span\u003e\u003c\/p\u003e\n\u003c\/div\u003e"}
Creality Ender 7 3D Printer 250 mm/s High-Speed Printing with High Precision Linear Rail Core XY Structure, Dual Cooling Fans, FDM 3D Printing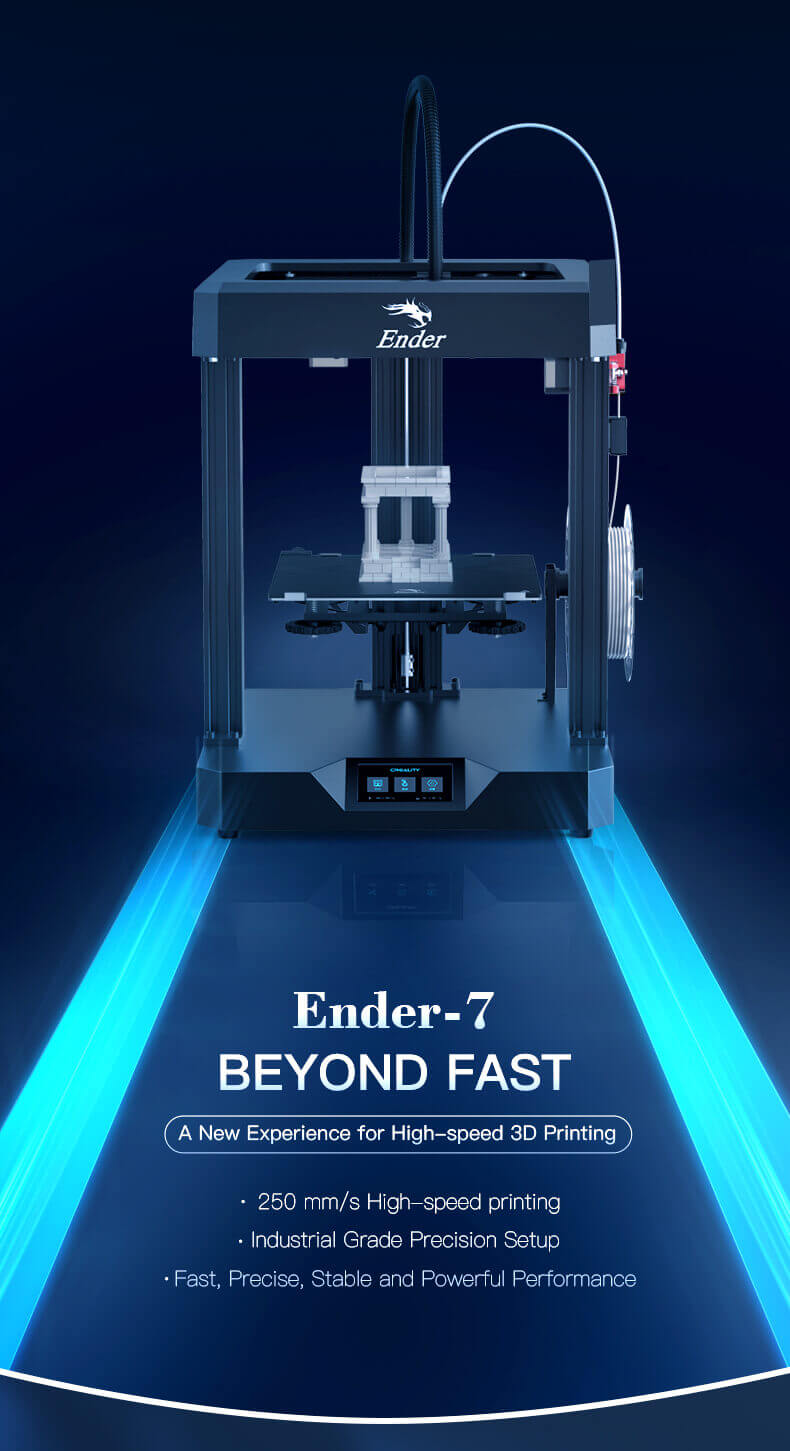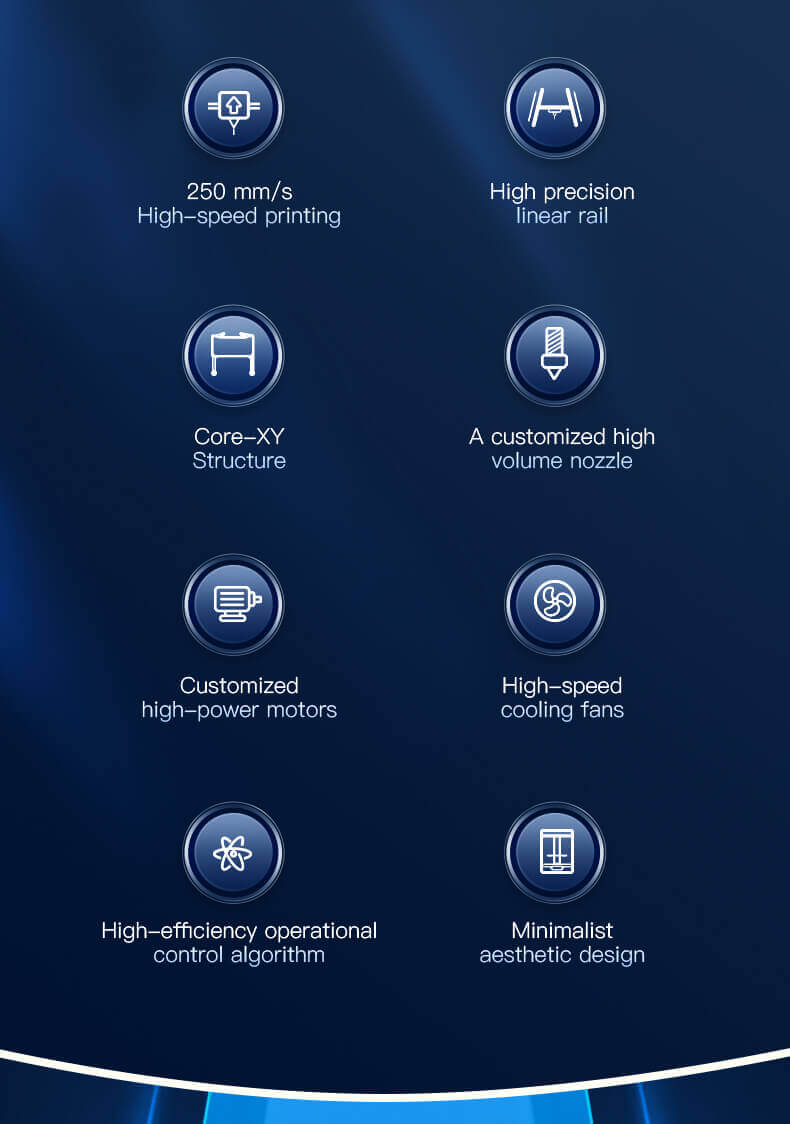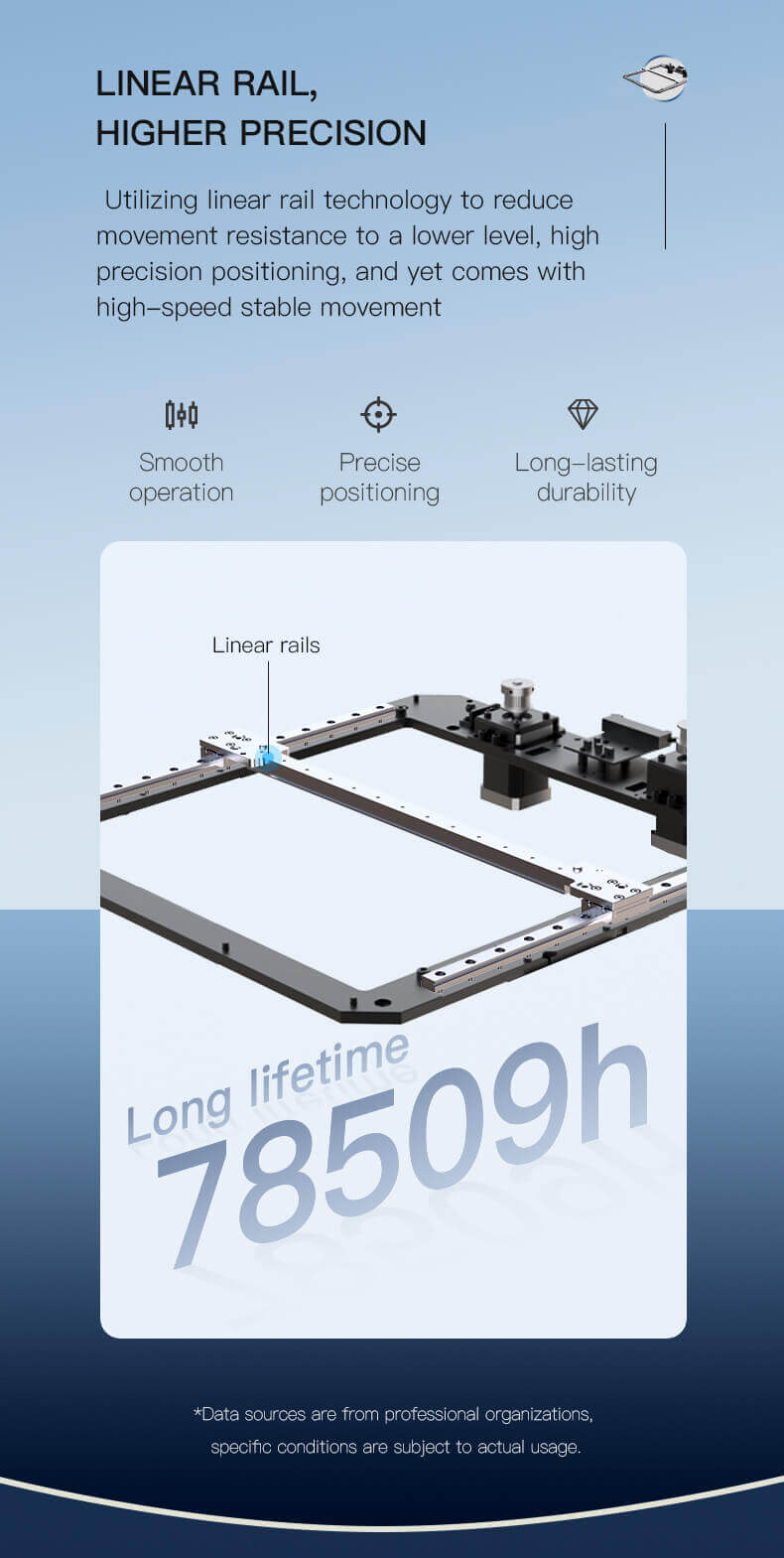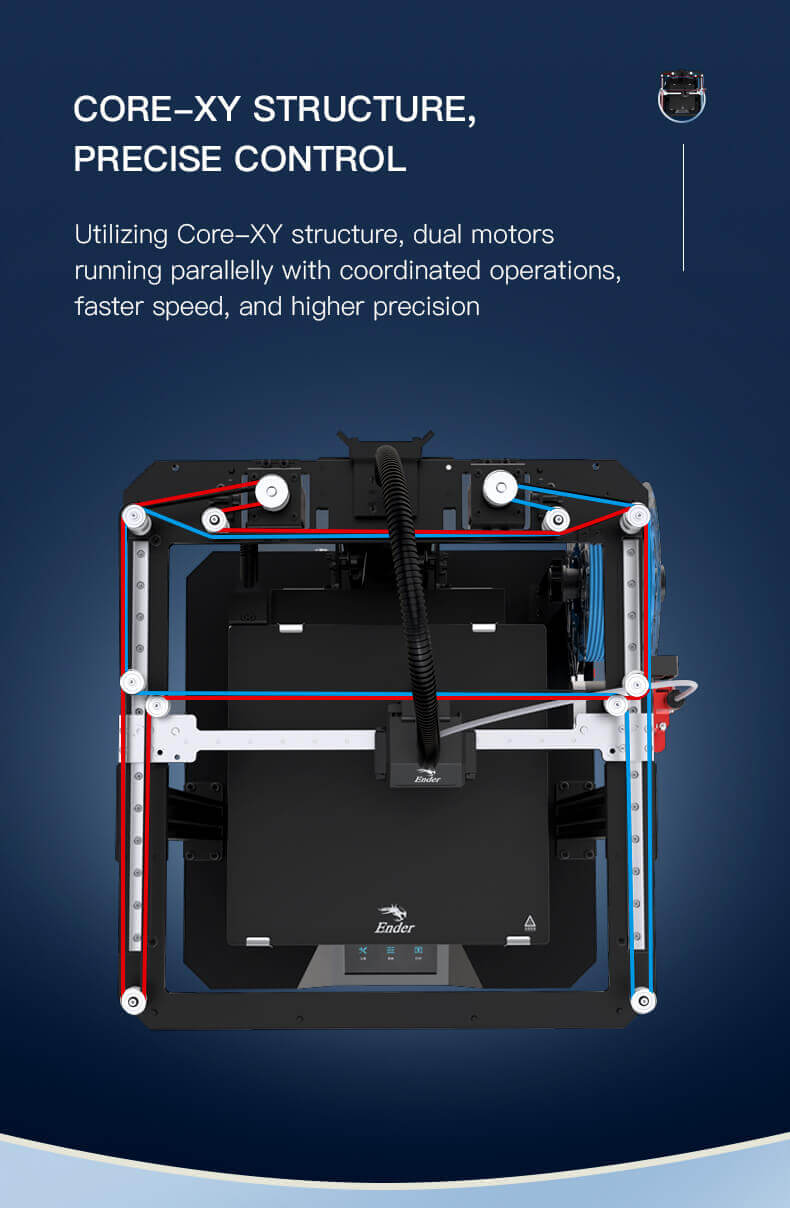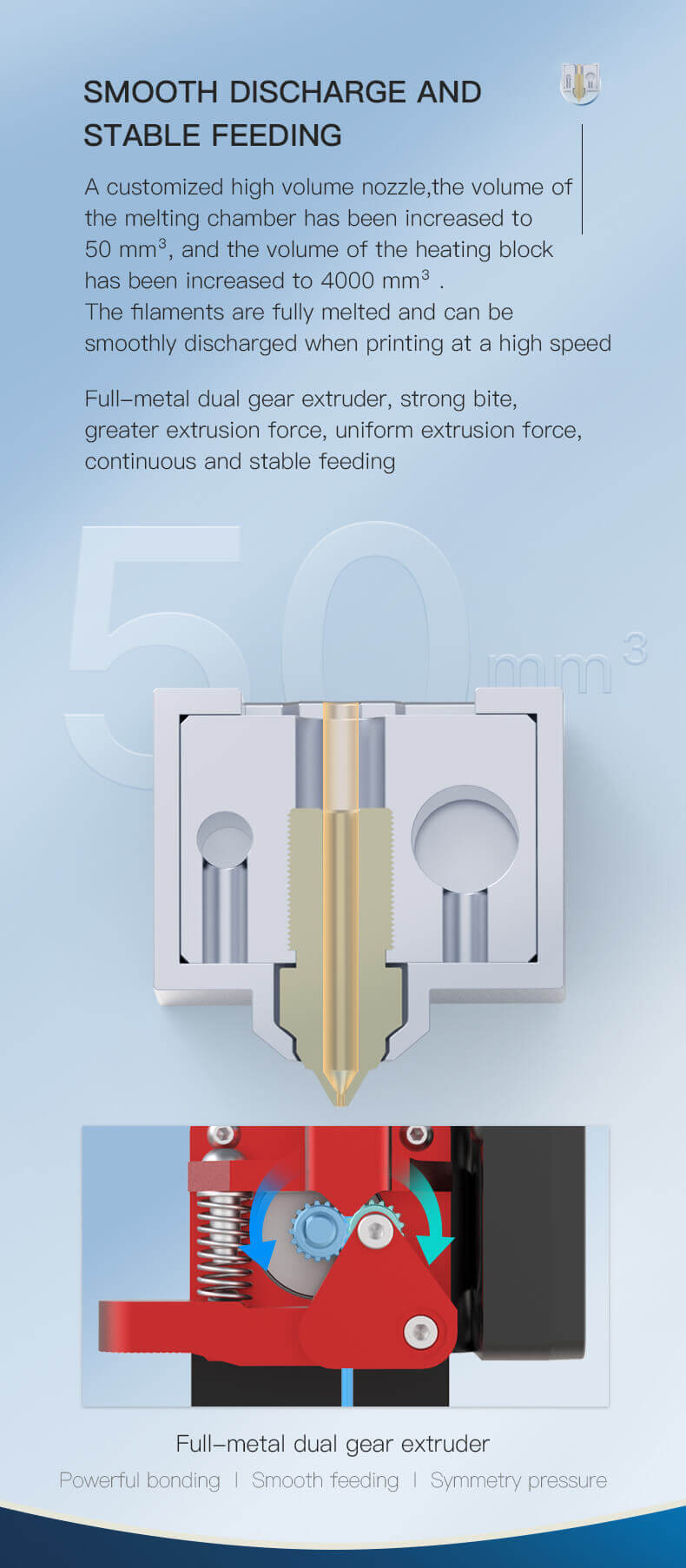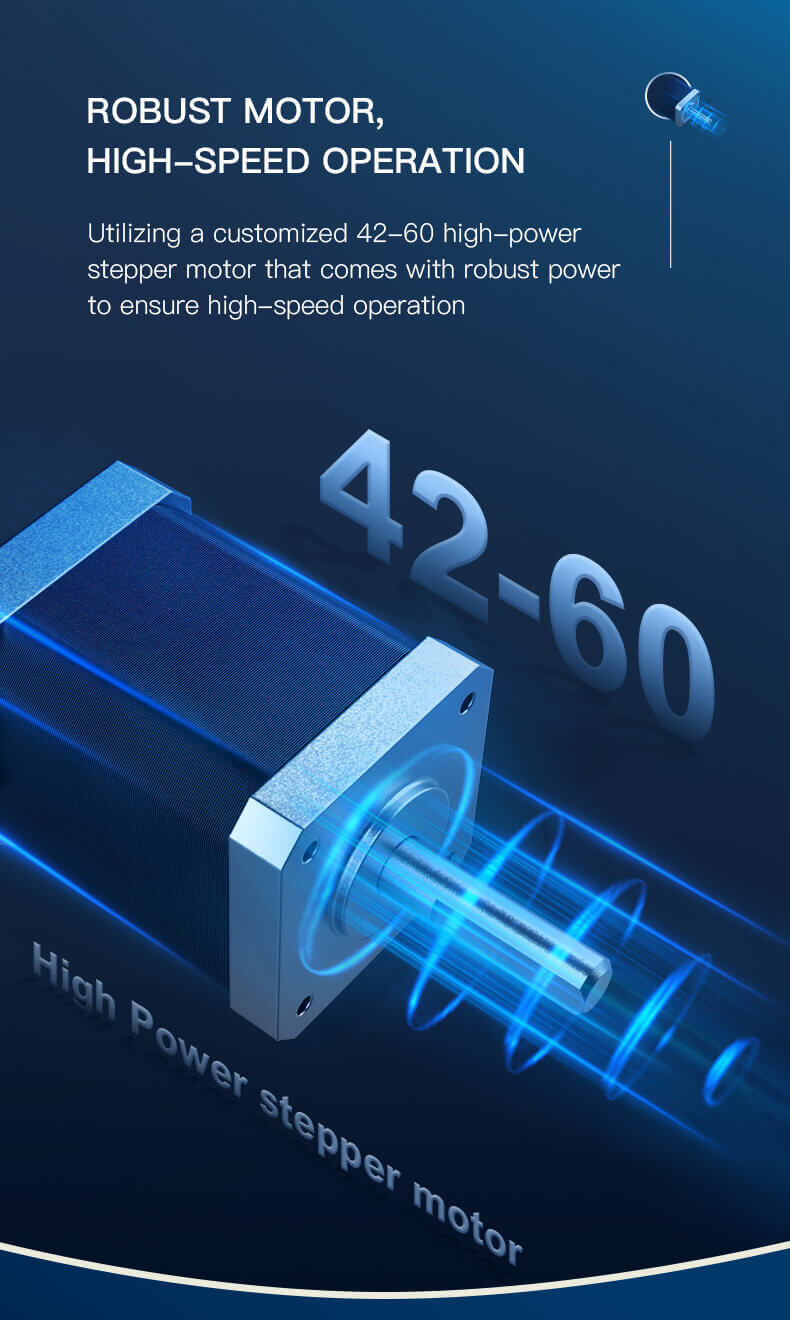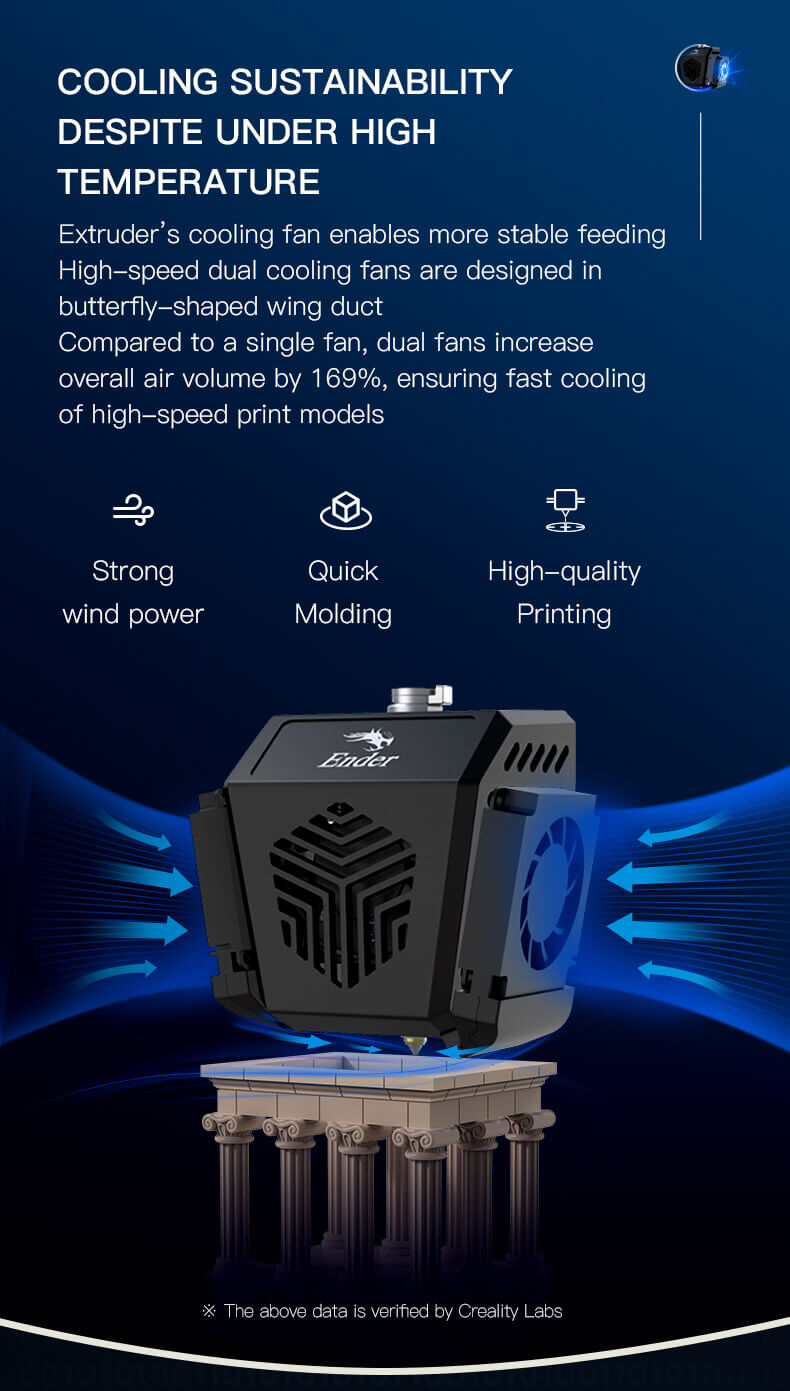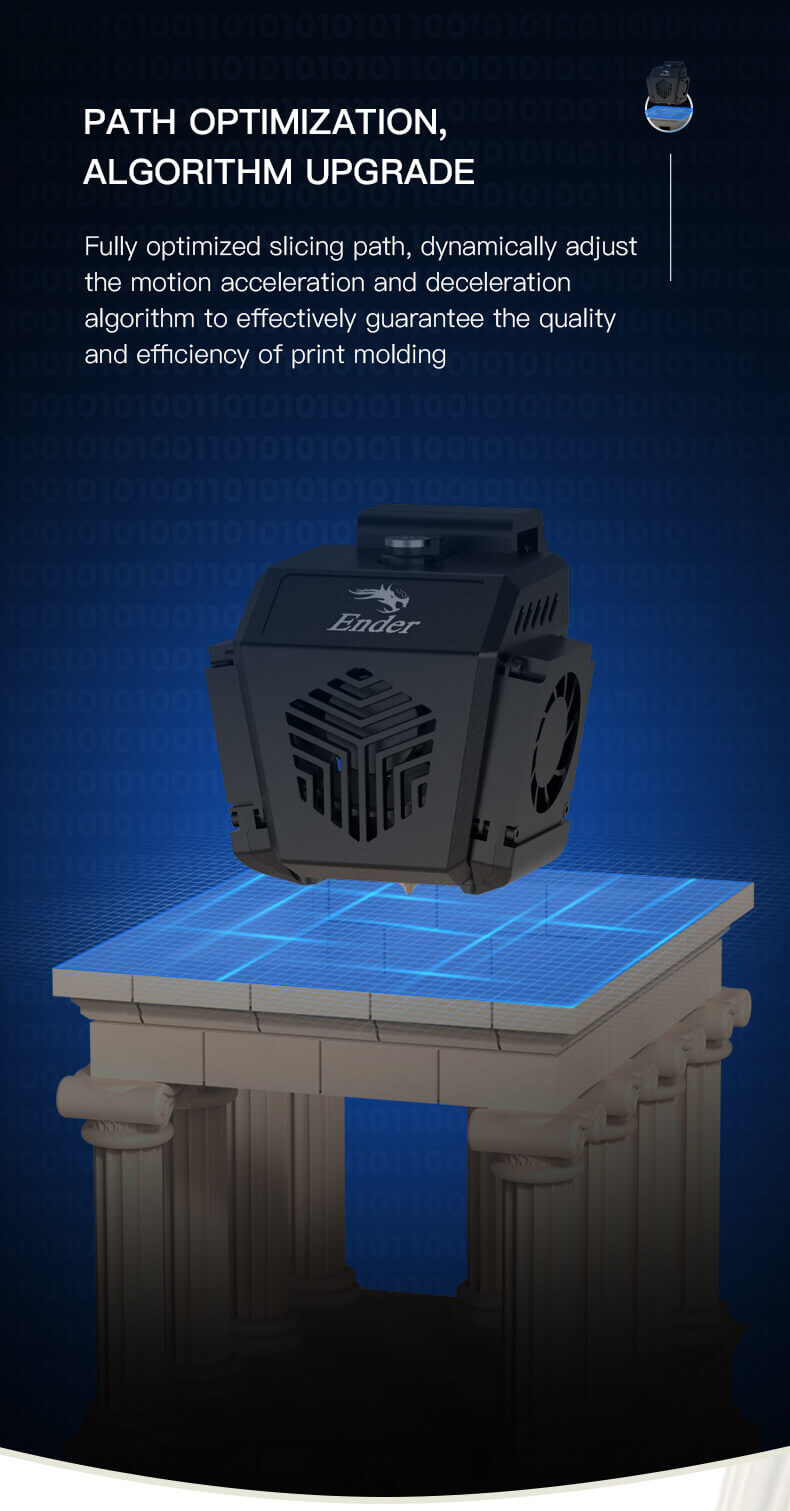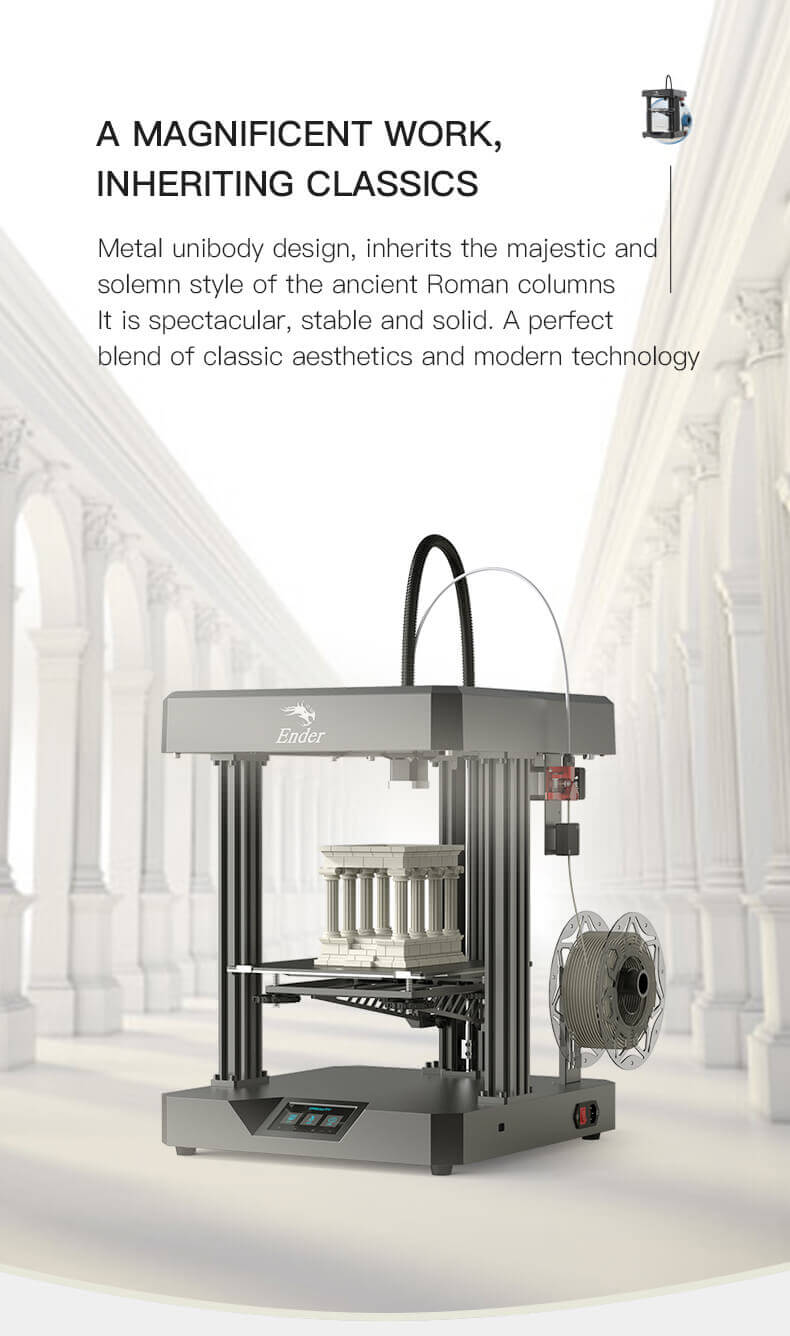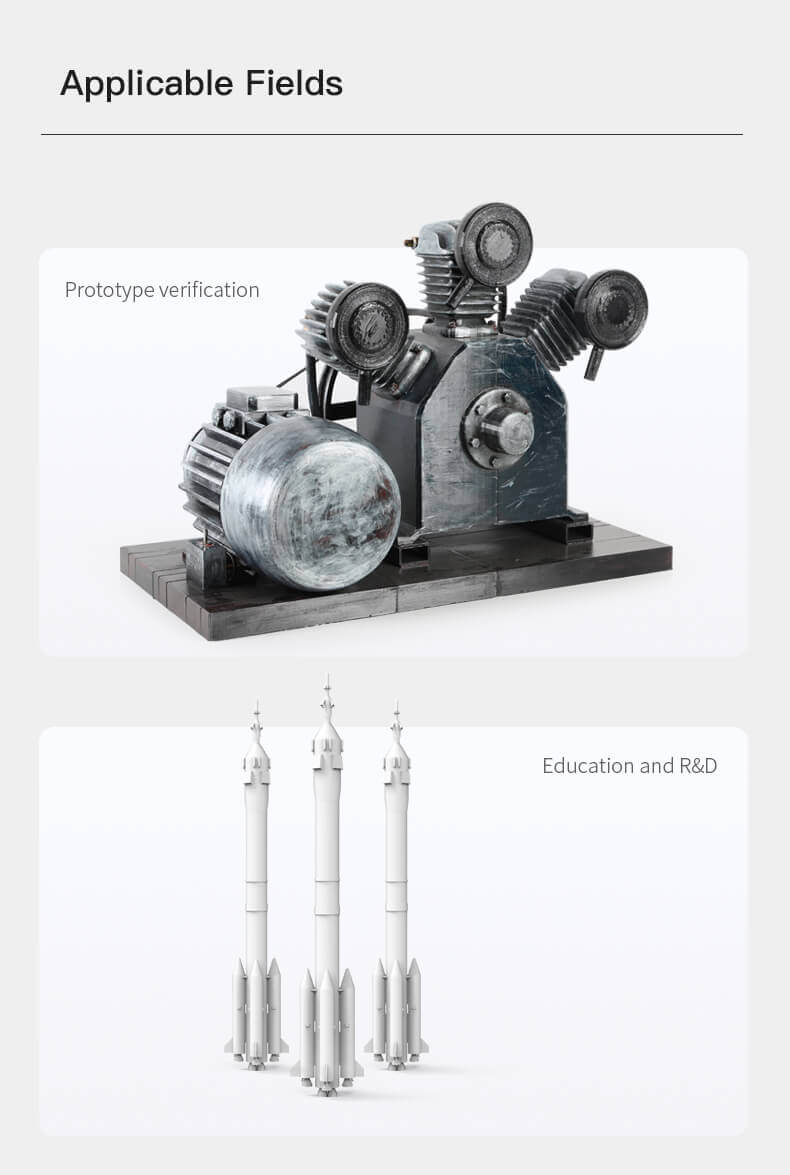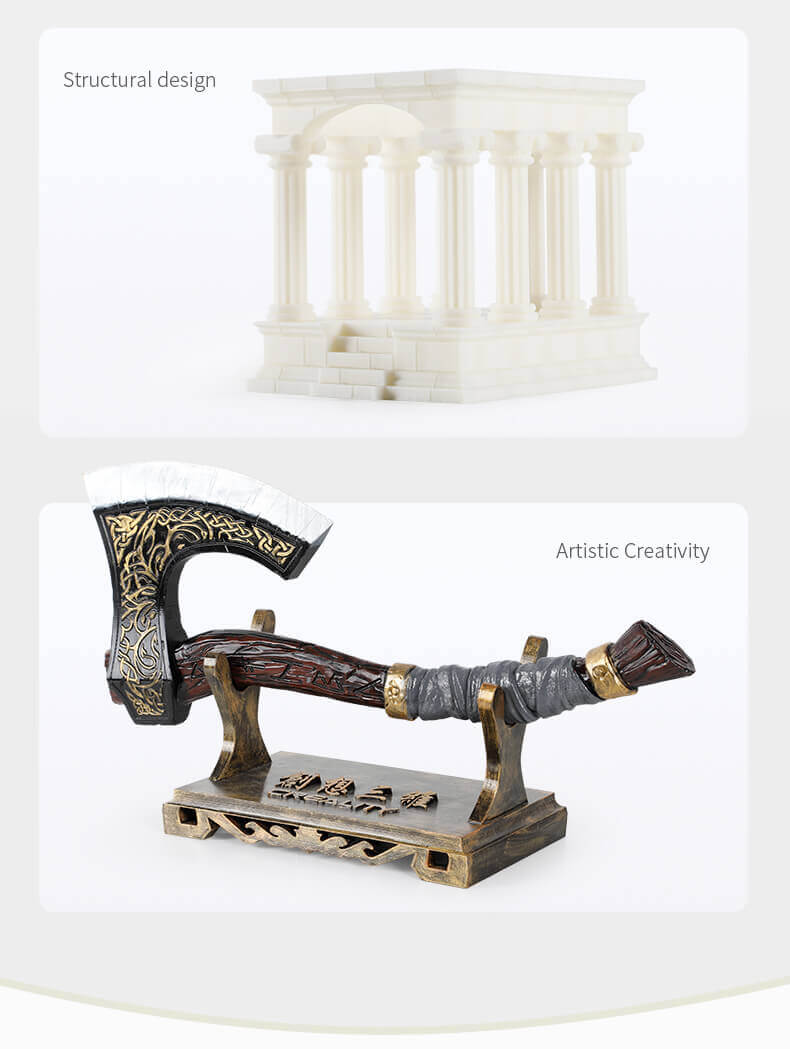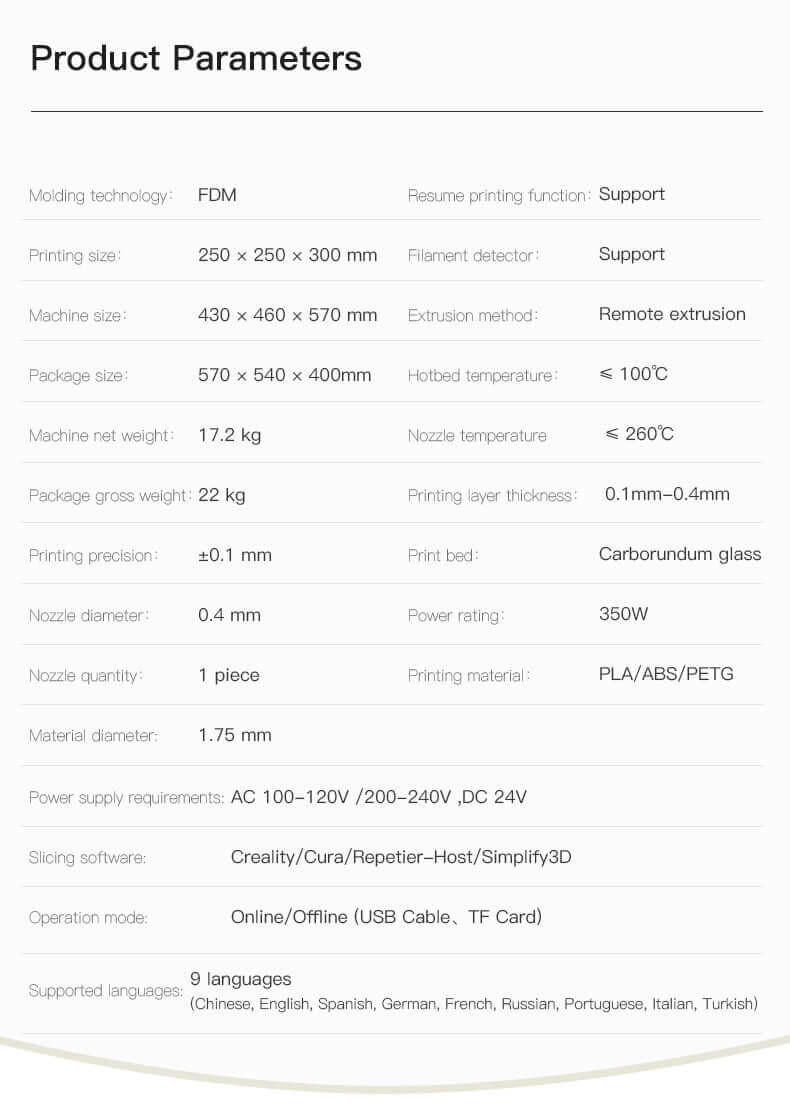 Upgrade Creality Ender-7 3D Printer with 250mm/s High-Speed Printing, Printing Size 250 * 250 * 300mm
Specially designed for demanding users, the large build volume of more than 250 x 250 x 300mm guarantees high precision in all aspects. Creality Ender 7 boasts a high-speed of 250 mm/s printing and you can modify A8 cooling fans to achieve fast speed and achieve cooling effect 24/7. The core-XY structure together with aluminum linear rail realizes higher accuracy and higher rigidity, creating a more stable experience for the enthusiast user.
The Ender-7 is an impressive workhorse machine capable of some of the best prints using affordable filament. delivering customized high volume nozzles, and an auto-leveling sensor to ensure the most precise and accurate printing experience possible.
About this item
250mm/s High-Speed Printing: New breakthrough of speed, 42-60W customized high-power motors and upgraded Creality Slicer 4.8.0 support a normal printing speed of Ender-7 3d printer up to 250mm/s, enjoy instant high-speed printing while maintaining the same molding precision quality.

Linear Rail & Core-XY Structure Offer a Higher Precision: Ender 7 3D printer is equipped with 42-60 high-power stepping motors, with strong power, more stable transmission, flexible and reliable. Using Core-XY structure, dual motors run in parallel, working together, faster and more accurate. Adopt linear guide rail technology, reduce movement resistance, high-precision positioning, and enjoy instant high-speed printing.

High Speed Dual Cooling Fans for Rapid Cooling: Cooling Sustainability despite under high temperature. Extruder's cooling fan enables more stable feeding, high-speed dual cooling fans are designed in butterfly-shaped wing duct. Compared to a single fan, dual fans increase overall air volume by 169%, ensuring fast cooling of high-speed print models.

Full-Metal Dual-Gear Extruder: A customized high volume nozzle, the volume of the melting chamber has been increased to 50 mm³, and the volume of the heating block has been increased to 4000 mm³.The filaments are fully melted and can be smoothly discharged when printing at a high speed. Full-metal dual gear extruder, strong bite, greater extrusion force, uniform extrusion force, continuous and stable feeding.

Start Your Creation : This Ender 7 3D printer is not necessarily suitable for absolute beginners. If you already have some 3D printing experience, you may be able to assemble it in 45 minutes. The Creality Ender 7 printer measures 250 x 250 x 300 cm, with a hot bed developed with silicon carbide glass. Large print size, support for 9 languages, and powerful performance make Creality Ender-7 more friendly.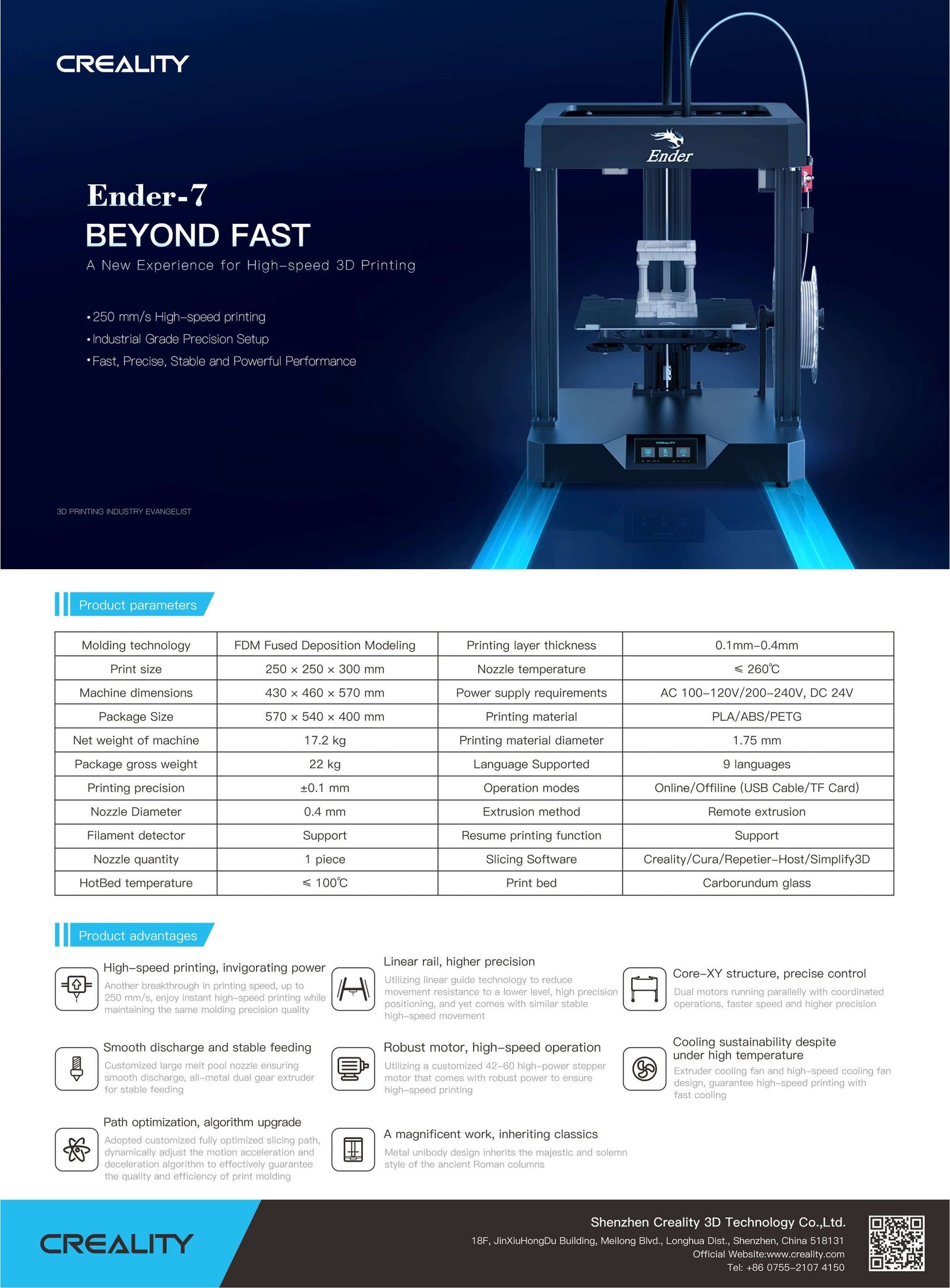 1.Most items are shipping free, you can check the description in the listing. Order will be shipped within 72 hours after payment made.
2.The shipping time is based on the shipping option, sometimes it may be delayed due to varied situation (such as holidays, war, weather etc.), please contact us immediately if delivery time exceeds estimated.
3.Import taxes, duties and related customs fees may be charged once the parcel arrives at the destination country. These charges are determined by the customs office of the specific destination. Payment of these charges and taxes is the responsibility of the recipient and will not be covered by us here at Xgody. For further details of charges, please contact your local customs office.
4.Time Schedule- F

ast Shipping
| | |
| --- | --- |
| United States/Australia/UK |  4-10 working days |
| Canada/Israel/ Azerbaijan / Russia/Maldives/ Eastern Europe/ Middle East |  9-18 working days |
| Brazil/Chile/South America |  9-18 working days |
| Western Europe/New Zealand |  7-10 working days |
If you are not happy with your purchase and wish to return an item, please contact us immediatelysince receiving your order. Our customs support email is support@xgody.com. Please write down your order number and user ID in the return parcel.
All returns must be in original condition with packaging intact to avoid damage during shipment, any physical damage during the return shipment will not be accepted. Returned parcel need to provide shipment number for tracking.
We will get back to you once we receive the return parcel. Money or replacement will be arranged within 24-48 hours after the return parcel delivered.
-
1.Why Choose Xgody?
Brand XGODY was established in 2014 with great advantages in electronic products. More than that, the operating team has more than 10 years experiences on e-commerce.. We know exactly what the buyer concerns and worries. Making sure you will have a wonderful shopping experience by providing what you need and getting rid of what you worried about. It is no doubt to choose us with our high quality of product, good shipping way, and good customs support.
2.What payment methods do you accept?
We accept all major credit cards (VISA, Mastercard, AMEX) and PayPal payments. We do not accept personal checks, money orders, direct bank transfers, western union, or cash on delivery.
3.Can I change my shipping address after placing an order?
Please be advised that your shipping address cannot be revised after the order has been processed or shipped. Kindly update your shipping address to your residential address instead of your vacation address as we do not know how long the destination's customs department will have the package on hold.
4.How do I track my order?
The tracking number can be queried in the background. Also, we will email your tracking information as soon as your order has shipped. Usually you will receive the tracking number one day after we have shipped your order. In addition, if you still do not know how to query and track, you can also contact customer service freely.
5.Will I be charged with customs and taxes?
Import taxes, duties and related customs fees may be charged once your order arrives to its final destination, which are determined by your local customs office.
Payment of these charges and taxes are your responsibility and will not be covered by us. We are not responsible for delays caused by the customs department in your country. For further details of charges, please contact your local customs office. 
6.What Do I Do If I Have Missing Items In My Order?
If something is still missing, please contact us immediately.
7.What if the item(s) I received are defective/incorrect/damaged?
Please contact us within 7 days from receiving your order if you received merchandise that is incorrect, missing, and/or defective. Please include your order number, photographs of the item(s) and all related references upon receiving your package. We will do our very best to resolve your case as soon as possible.
8.How do I return an item?
If you are not happy with your purchase and wish to return an item, please contact us immediately from receiving your order. Please provide your order number as well as the reason for your return. Our customer service team will review the return request and will send further instructions if the return is approved.
For a list of final sale items, please see our Warranty Info and Refund Policy. All returns must be in original condition with packaging intact.
9.When will I receive my refund?
All refunds will be credited to your original form of payment. If you paid by credit or debit card, refunds will be sent to the card-issuing bank within 7-10 business days of receipt of the returned item or cancellation request. Please contact the card-issuing bank with questions about when the credit will be posted to your account.
If you haven't received a credit for your return yet, here's what to do: Contact the bank/credit card company. It may take some time before the refund is posted to your account.