{"id":6817411432526,"title":"XGODY 4'' Camera Dash Cams For Cars With Backup Camera, Night Vision 1080P Video Recorder","handle":"xgody-4-camera-dash-cams-for-cars-with-backup-camera-night-vision-1080p-video-recorder","description":"\u003cdiv style=\"text-align: center;\" data-mce-style=\"text-align: center;\"\u003e\u003cimg style=\"float: none;\" alt=\"\" src=\"https:\/\/cdn.shopifycdn.net\/s\/files\/1\/0100\/3542\/9454\/files\/A_01_2048x2048.jpg?v=1664440552\" data-mce-style=\"float: none;\"\u003e\u003c\/div\u003e\n\u003cp\u003e \u003c\/p\u003e\n\u003ch2\u003e1080p Dash Cam Front and Rear Lens\u003c\/h2\u003e\n\u003cp\u003eFeaturing a waterproof rear camera, the XGODY Q16 is also the perfect gadget to decorate your car. It captures front and rear video in 1080P Full HD resolution with seamless loop recording for high stability and reliable car journey monitoring.\u003c\/p\u003e\n\u003cp\u003e✔ Real and smart motion detection and G-sensor.\u003c\/p\u003e\n\u003cp\u003e✔ Manual emergency save SOS button to prevent malicious deletion.\u003c\/p\u003e\n\u003cp\u003e✔4-inch ultra-mini design will not block your driving sight.\u003c\/p\u003e\n\u003cp\u003e✔ Video and audio are recorded in a loop, not missing every second of the wonderful.\u003c\/p\u003e\n\u003cp\u003e✔ Fully automatic work after power on, no additional operation required.\u003c\/p\u003e\n\u003cp\u003e✔ Comes with 32G memory card, 24 hours cycle recording\u003c\/p\u003e\n\u003cp\u003e✔ Cool design, lightweight appearance, user-friendly operation.\u003c\/p\u003e\n\u003cp\u003e \u003c\/p\u003e\n\u003ch3\u003e4 Inch Screen\u003c\/h3\u003e\n\u003cp\u003eThe 4\" LCD screen allows you to see every detail as clearly as possible during playback for a better viewing experience.\u003c\/p\u003e\n\u003cp\u003e \u003c\/p\u003e\n\u003ch3\u003eFlexible Gravity Sensor\u003c\/h3\u003e\n\u003cp\u003eWhen there is a collision or vibration, it quickly captures the emergency and automatically locks the video, preventing it from being overwritten. XGODY Dash Camera Q16 comes with 4 G-Sensor sensitivities: Low, Medium, High and Off.\u003c\/p\u003e\n\u003cp\u003e \u003c\/p\u003e\n\u003ch3\u003e\u003cstrong\u003eNever Miss A Moment\u003c\/strong\u003e\u003c\/h3\u003e\n\u003cp\u003eLoop recording and create video clips, automatically overwriting the oldest file to save the current file. You can choose the size of each file to be 1, 3, or 5 minutes.\u003c\/p\u003e\n\u003cp\u003e \u003c\/p\u003e\n\u003ch3\u003eExcellent Video Quality\u003c\/h3\u003e\n\u003cp\u003eThe front and rear camera videos are recorded in full HD resolution of 1080P, and then equipped with a high-end video processor, the Q16 can clearly know every license plate number and face within 10 meters.\u003c\/p\u003e\n\u003cp\u003e \u003c\/p\u003e\n\u003ch3\u003eParking Monitoring Mode\u003c\/h3\u003e\n\u003cp\u003eIn this mode, the car dash cam is equivalent to a surveillance camera. When the dash cam detects vibration or moving object, it turns on and records video. \u003cspan style=\"text-decoration: underline; color: #ff2a00;\" data-mce-style=\"text-decoration: underline; color: #ff2a00;\"\u003eThis function requires an optional hard-wired kit, or a power bank.\u003c\/span\u003e\u003c\/p\u003e\n\u003cp\u003e \u003c\/p\u003e\n\u003cp\u003e\u003cstrong\u003eSuper Night Vision\u003c\/strong\u003e\u003c\/p\u003e\n\u003cp\u003eXGODY dash cams all use revolutionary super night vision technology, which allows the onboard camera to capture clear video within 5 meters even in low-light nighttime conditions.\u003c\/p\u003e\n\u003cp\u003e \u003c\/p\u003e\n\u003cdiv style=\"text-align: center;\" data-mce-style=\"text-align: center;\"\u003e\u003cimg style=\"float: none;\" alt=\"\" src=\"https:\/\/cdn.shopifycdn.net\/s\/files\/1\/0100\/3542\/9454\/files\/A_02_2_1024x1024.jpg?v=1664440566\" data-mce-style=\"float: none;\"\u003e\u003c\/div\u003e\n\u003cdiv style=\"text-align: center;\" data-mce-style=\"text-align: center;\"\u003e\u003cimg style=\"float: none;\" alt=\"\" src=\"https:\/\/cdn.shopifycdn.net\/s\/files\/1\/0100\/3542\/9454\/files\/A_03_0dedd5f5-dd0f-4feb-9219-320ceb87cb4e_1024x1024.jpg?v=1664440582\" data-mce-style=\"float: none;\"\u003e\u003c\/div\u003e\n\u003cdiv style=\"text-align: center;\" data-mce-style=\"text-align: center;\"\u003e\u003cimg style=\"float: none;\" src=\"https:\/\/cdn.shopifycdn.net\/s\/files\/1\/0100\/3542\/9454\/files\/A_04_1024x1024.jpg?v=1664440616\" data-mce-style=\"float: none;\"\u003e\u003c\/div\u003e\n\u003cdiv style=\"text-align: center;\" data-mce-style=\"text-align: center;\"\u003e\u003cimg style=\"float: none;\" src=\"https:\/\/cdn.shopifycdn.net\/s\/files\/1\/0100\/3542\/9454\/files\/A_05_084e811b-348f-4ce7-b03f-81a9b311dd7f_1024x1024.jpg?v=1664440640\" data-mce-style=\"float: none;\"\u003e\u003c\/div\u003e\n\u003cdiv style=\"text-align: center;\" data-mce-style=\"text-align: center;\"\u003e\u003cimg style=\"float: none;\" src=\"https:\/\/cdn.shopifycdn.net\/s\/files\/1\/0100\/3542\/9454\/files\/A_07_c61a043e-c627-4a7a-9e39-e7b5a895a31e_1024x1024.jpg?v=1664440672\" data-mce-style=\"float: none;\"\u003e\u003c\/div\u003e\n\u003cdiv style=\"text-align: center;\" data-mce-style=\"text-align: center;\"\u003e\u003cimg style=\"float: none;\" alt=\"\" src=\"https:\/\/cdn.shopifycdn.net\/s\/files\/1\/0100\/3542\/9454\/files\/A_08_9170892d-9ac1-4e17-9d6a-05e6e21cf422_1024x1024.jpg?v=1664440711\" data-mce-style=\"float: none;\"\u003e\u003c\/div\u003e\n\u003cdiv style=\"text-align: center;\" data-mce-style=\"text-align: center;\"\u003e\u003cimg style=\"float: none;\" alt=\"\" src=\"https:\/\/cdn.shopifycdn.net\/s\/files\/1\/0100\/3542\/9454\/files\/A_09_1024x1024.jpg?v=1664440726\" data-mce-style=\"float: none;\"\u003e\u003c\/div\u003e\n\u003cdiv style=\"text-align: center;\" data-mce-style=\"text-align: center;\"\u003e\u003cimg style=\"float: none;\" alt=\"\" src=\"https:\/\/cdn.shopifycdn.net\/s\/files\/1\/0100\/3542\/9454\/files\/9_1e09da4d-8c56-4091-882f-c97c46c6e04a_1024x1024.jpg?v=1664440750\" data-mce-style=\"float: none;\"\u003e\u003c\/div\u003e\n\u003cdiv style=\"text-align: center;\" data-mce-style=\"text-align: center;\"\u003e\u003cimg style=\"float: none;\" alt=\"\" src=\"https:\/\/cdn.shopifycdn.net\/s\/files\/1\/0100\/3542\/9454\/files\/11_4c6c9ed8-e55d-40c2-b4ff-646d6d0f4275_1024x1024.jpg?v=1664440764\" data-mce-style=\"float: none;\"\u003e\u003c\/div\u003e\n\u003cp\u003e \u003c\/p\u003e\n\u003cp\u003e\u003cbr\u003e\u003c\/p\u003e\n\u003cp\u003e\u003cstrong\u003e Diverse system languages\u003c\/strong\u003e\u003c\/p\u003e\n\u003cp\u003e\u003cspan data-mce-fragment=\"1\"\u003eD\u003c\/span\u003e\u003cspan data-mce-fragment=\"1\"\u003eash \u003c\/span\u003e\u003cspan data-mce-fragment=\"1\"\u003eC\u003c\/span\u003e\u003cspan data-mce-fragment=\"1\"\u003eam \u003c\/span\u003e\u003cspan data-mce-fragment=\"1\"\u003eV\u003c\/span\u003e\u003cspan data-mce-fragment=\"1\"\u003eideo \u003c\/span\u003e\u003cspan data-mce-fragment=\"1\"\u003eR\u003c\/span\u003e\u003cspan data-mce-fragment=\"1\"\u003eecorder with \u003c\/span\u003eHuman translation, native language, support Chinese, English, German, French, Italian, Spanish\u003c\/p\u003e\n\u003ch2\u003eStandard Package List\u003c\/h2\u003e\n\u003cp\u003e1 x Full HD Dash Cam\u003cbr\u003e1 x Car Charger\u003cbr\u003e1 x 1080P Rearview Camera\u003cbr\u003e1 x User Manual\u003cbr\u003e1 x 32GB TF Card (Free Gife)\u003c\/p\u003e\n\u003cp\u003e \u003c\/p\u003e\n\u003cp\u003e\u003cstrong\u003eKind tips:\u003c\/strong\u003e\u003c\/p\u003e\n\u003cp\u003e1. XGODY provides a 32GB memory card for free, no need to buy it separately. When using it for the first time, please format a new sd card on the dash cam.\u003c\/p\u003e\n\u003cp\u003e2. Gravity sensor, loop recording, motion detection, super night vision, parking monitoring and high-definition picture quality, these excellent features can provide you and your car with safety assurance and bring you a more comfortable driving experience.\u003c\/p\u003e\n\u003cp\u003e3. If you have any questions, including installation, hidden lines, etc., please feel free to contact us.\u003c\/p\u003e\n\u003cp\u003e \u003c\/p\u003e\n\u003cdiv style=\"text-align: center;\" data-mce-style=\"text-align: center;\"\u003e\u003cimg src=\"https:\/\/cdn.shopify.com\/s\/files\/1\/0100\/3542\/9454\/files\/01_2fdaa1f6-5a46-410d-a36a-9cc39134f8af_1024x1024.jpg?v=1646212895\" alt=\"\" style=\"float: none;\" data-mce-style=\"float: none;\" data-mce-src=\"https:\/\/cdn.shopify.com\/s\/files\/1\/0100\/3542\/9454\/files\/01_2fdaa1f6-5a46-410d-a36a-9cc39134f8af_1024x1024.jpg?v=1646212895\"\u003e\u003c\/div\u003e","published_at":"2022-09-29T17:00:37+08:00","created_at":"2022-09-29T17:00:36+08:00","vendor":"XGODY ","type":"Motor Vehicle Parking Cameras","tags":[],"price":3300,"price_min":3300,"price_max":3300,"available":true,"price_varies":false,"compare_at_price":null,"compare_at_price_min":0,"compare_at_price_max":0,"compare_at_price_varies":false,"variants":[{"id":40037456740430,"title":"Q16-Standard Package (Include 32GB TF Card)","option1":"Q16-Standard Package (Include 32GB TF Card)","option2":null,"option3":null,"sku":"","requires_shipping":true,"taxable":true,"featured_image":{"id":29726541217870,"product_id":6817411432526,"position":1,"created_at":"2022-10-14T18:01:07+08:00","updated_at":"2022-10-14T18:01:07+08:00","alt":"Cost-effective and Most worthwhile XGODY 4'' Camera Dash Cams For Cars With Backup Camera, Night Vision 1080P Video Recorder - XGODY ","width":1600,"height":1600,"src":"\/\/xgody.com\/cdn\/shop\/products\/the-best-xgody-4-camera-dash-cams-for-cars-with-backup-camera-night-vision-1080p-video-recorder-1.jpg?v=1665741667","variant_ids":[40037456740430]},"available":true,"name":"XGODY 4'' Camera Dash Cams For Cars With Backup Camera, Night Vision 1080P Video Recorder - Q16-Standard Package (Include 32GB TF Card)","public_title":"Q16-Standard Package (Include 32GB TF Card)","options":["Q16-Standard Package (Include 32GB TF Card)"],"price":3300,"weight":0,"compare_at_price":null,"inventory_management":"shopify","barcode":"","featured_media":{"alt":"Cost-effective and Most worthwhile XGODY 4'' Camera Dash Cams For Cars With Backup Camera, Night Vision 1080P Video Recorder - XGODY ","id":22080601358414,"position":1,"preview_image":{"aspect_ratio":1.0,"height":1600,"width":1600,"src":"\/\/xgody.com\/cdn\/shop\/products\/the-best-xgody-4-camera-dash-cams-for-cars-with-backup-camera-night-vision-1080p-video-recorder-1.jpg?v=1665741667"}},"requires_selling_plan":false,"selling_plan_allocations":[]}],"images":["\/\/xgody.com\/cdn\/shop\/products\/the-best-xgody-4-camera-dash-cams-for-cars-with-backup-camera-night-vision-1080p-video-recorder-1.jpg?v=1665741667","\/\/xgody.com\/cdn\/shop\/products\/the-best-xgody-4-camera-dash-cams-for-cars-with-backup-camera-night-vision-1080p-video-recorder-2.jpg?v=1665741669","\/\/xgody.com\/cdn\/shop\/products\/the-best-xgody-4-camera-dash-cams-for-cars-with-backup-camera-night-vision-1080p-video-recorder-3.jpg?v=1665741672","\/\/xgody.com\/cdn\/shop\/products\/the-best-xgody-4-camera-dash-cams-for-cars-with-backup-camera-night-vision-1080p-video-recorder-4.jpg?v=1665741674","\/\/xgody.com\/cdn\/shop\/products\/the-best-xgody-4-camera-dash-cams-for-cars-with-backup-camera-night-vision-1080p-video-recorder-5.jpg?v=1665741677","\/\/xgody.com\/cdn\/shop\/products\/the-best-xgody-4-camera-dash-cams-for-cars-with-backup-camera-night-vision-1080p-video-recorder-6.jpg?v=1665741679","\/\/xgody.com\/cdn\/shop\/products\/the-best-xgody-4-camera-dash-cams-for-cars-with-backup-camera-night-vision-1080p-video-recorder-7.jpg?v=1665741681","\/\/xgody.com\/cdn\/shop\/products\/the-best-xgody-4-camera-dash-cams-for-cars-with-backup-camera-night-vision-1080p-video-recorder-8.jpg?v=1665741684","\/\/xgody.com\/cdn\/shop\/products\/the-best-xgody-4-camera-dash-cams-for-cars-with-backup-camera-night-vision-1080p-video-recorder-9.jpg?v=1665741686","\/\/xgody.com\/cdn\/shop\/products\/the-best-xgody-4-camera-dash-cams-for-cars-with-backup-camera-night-vision-1080p-video-recorder-10.jpg?v=1665741689"],"featured_image":"\/\/xgody.com\/cdn\/shop\/products\/the-best-xgody-4-camera-dash-cams-for-cars-with-backup-camera-night-vision-1080p-video-recorder-1.jpg?v=1665741667","options":["Optional"],"media":[{"alt":"Cost-effective and Most worthwhile XGODY 4'' Camera Dash Cams For Cars With Backup Camera, Night Vision 1080P Video Recorder - XGODY ","id":22080601358414,"position":1,"preview_image":{"aspect_ratio":1.0,"height":1600,"width":1600,"src":"\/\/xgody.com\/cdn\/shop\/products\/the-best-xgody-4-camera-dash-cams-for-cars-with-backup-camera-night-vision-1080p-video-recorder-1.jpg?v=1665741667"},"aspect_ratio":1.0,"height":1600,"media_type":"image","src":"\/\/xgody.com\/cdn\/shop\/products\/the-best-xgody-4-camera-dash-cams-for-cars-with-backup-camera-night-vision-1080p-video-recorder-1.jpg?v=1665741667","width":1600},{"alt":"Cost-effective and Most worthwhile XGODY 4'' Camera Dash Cams For Cars With Backup Camera, Night Vision 1080P Video Recorder - XGODY ","id":22080601555022,"position":2,"preview_image":{"aspect_ratio":1.0,"height":1600,"width":1600,"src":"\/\/xgody.com\/cdn\/shop\/products\/the-best-xgody-4-camera-dash-cams-for-cars-with-backup-camera-night-vision-1080p-video-recorder-2.jpg?v=1665741669"},"aspect_ratio":1.0,"height":1600,"media_type":"image","src":"\/\/xgody.com\/cdn\/shop\/products\/the-best-xgody-4-camera-dash-cams-for-cars-with-backup-camera-night-vision-1080p-video-recorder-2.jpg?v=1665741669","width":1600},{"alt":"Cost-effective and Most worthwhile XGODY 4'' Camera Dash Cams For Cars With Backup Camera, Night Vision 1080P Video Recorder - XGODY ","id":22080601784398,"position":3,"preview_image":{"aspect_ratio":1.0,"height":1600,"width":1600,"src":"\/\/xgody.com\/cdn\/shop\/products\/the-best-xgody-4-camera-dash-cams-for-cars-with-backup-camera-night-vision-1080p-video-recorder-3.jpg?v=1665741672"},"aspect_ratio":1.0,"height":1600,"media_type":"image","src":"\/\/xgody.com\/cdn\/shop\/products\/the-best-xgody-4-camera-dash-cams-for-cars-with-backup-camera-night-vision-1080p-video-recorder-3.jpg?v=1665741672","width":1600},{"alt":"Cost-effective and Most worthwhile XGODY 4'' Camera Dash Cams For Cars With Backup Camera, Night Vision 1080P Video Recorder - XGODY ","id":22080601849934,"position":4,"preview_image":{"aspect_ratio":1.0,"height":1600,"width":1600,"src":"\/\/xgody.com\/cdn\/shop\/products\/the-best-xgody-4-camera-dash-cams-for-cars-with-backup-camera-night-vision-1080p-video-recorder-4.jpg?v=1665741674"},"aspect_ratio":1.0,"height":1600,"media_type":"image","src":"\/\/xgody.com\/cdn\/shop\/products\/the-best-xgody-4-camera-dash-cams-for-cars-with-backup-camera-night-vision-1080p-video-recorder-4.jpg?v=1665741674","width":1600},{"alt":"Cost-effective and Most worthwhile XGODY 4'' Camera Dash Cams For Cars With Backup Camera, Night Vision 1080P Video Recorder - XGODY ","id":22080602013774,"position":5,"preview_image":{"aspect_ratio":1.0,"height":1600,"width":1600,"src":"\/\/xgody.com\/cdn\/shop\/products\/the-best-xgody-4-camera-dash-cams-for-cars-with-backup-camera-night-vision-1080p-video-recorder-5.jpg?v=1665741677"},"aspect_ratio":1.0,"height":1600,"media_type":"image","src":"\/\/xgody.com\/cdn\/shop\/products\/the-best-xgody-4-camera-dash-cams-for-cars-with-backup-camera-night-vision-1080p-video-recorder-5.jpg?v=1665741677","width":1600},{"alt":"Cost-effective and Most worthwhile XGODY 4'' Camera Dash Cams For Cars With Backup Camera, Night Vision 1080P Video Recorder - XGODY ","id":22080602406990,"position":6,"preview_image":{"aspect_ratio":1.0,"height":1600,"width":1600,"src":"\/\/xgody.com\/cdn\/shop\/products\/the-best-xgody-4-camera-dash-cams-for-cars-with-backup-camera-night-vision-1080p-video-recorder-6.jpg?v=1665741679"},"aspect_ratio":1.0,"height":1600,"media_type":"image","src":"\/\/xgody.com\/cdn\/shop\/products\/the-best-xgody-4-camera-dash-cams-for-cars-with-backup-camera-night-vision-1080p-video-recorder-6.jpg?v=1665741679","width":1600},{"alt":"Cost-effective and Most worthwhile XGODY 4'' Camera Dash Cams For Cars With Backup Camera, Night Vision 1080P Video Recorder - XGODY ","id":22080602505294,"position":7,"preview_image":{"aspect_ratio":1.0,"height":1600,"width":1600,"src":"\/\/xgody.com\/cdn\/shop\/products\/the-best-xgody-4-camera-dash-cams-for-cars-with-backup-camera-night-vision-1080p-video-recorder-7.jpg?v=1665741681"},"aspect_ratio":1.0,"height":1600,"media_type":"image","src":"\/\/xgody.com\/cdn\/shop\/products\/the-best-xgody-4-camera-dash-cams-for-cars-with-backup-camera-night-vision-1080p-video-recorder-7.jpg?v=1665741681","width":1600},{"alt":"Cost-effective and Most worthwhile XGODY 4'' Camera Dash Cams For Cars With Backup Camera, Night Vision 1080P Video Recorder - XGODY ","id":22080602701902,"position":8,"preview_image":{"aspect_ratio":1.0,"height":1600,"width":1600,"src":"\/\/xgody.com\/cdn\/shop\/products\/the-best-xgody-4-camera-dash-cams-for-cars-with-backup-camera-night-vision-1080p-video-recorder-8.jpg?v=1665741684"},"aspect_ratio":1.0,"height":1600,"media_type":"image","src":"\/\/xgody.com\/cdn\/shop\/products\/the-best-xgody-4-camera-dash-cams-for-cars-with-backup-camera-night-vision-1080p-video-recorder-8.jpg?v=1665741684","width":1600},{"alt":"Cost-effective and Most worthwhile XGODY 4'' Camera Dash Cams For Cars With Backup Camera, Night Vision 1080P Video Recorder - XGODY ","id":22080602767438,"position":9,"preview_image":{"aspect_ratio":1.0,"height":1600,"width":1600,"src":"\/\/xgody.com\/cdn\/shop\/products\/the-best-xgody-4-camera-dash-cams-for-cars-with-backup-camera-night-vision-1080p-video-recorder-9.jpg?v=1665741686"},"aspect_ratio":1.0,"height":1600,"media_type":"image","src":"\/\/xgody.com\/cdn\/shop\/products\/the-best-xgody-4-camera-dash-cams-for-cars-with-backup-camera-night-vision-1080p-video-recorder-9.jpg?v=1665741686","width":1600},{"alt":"Cost-effective and Most worthwhile XGODY 4'' Camera Dash Cams For Cars With Backup Camera, Night Vision 1080P Video Recorder - XGODY ","id":22080602996814,"position":10,"preview_image":{"aspect_ratio":1.0,"height":1400,"width":1400,"src":"\/\/xgody.com\/cdn\/shop\/products\/the-best-xgody-4-camera-dash-cams-for-cars-with-backup-camera-night-vision-1080p-video-recorder-10.jpg?v=1665741689"},"aspect_ratio":1.0,"height":1400,"media_type":"image","src":"\/\/xgody.com\/cdn\/shop\/products\/the-best-xgody-4-camera-dash-cams-for-cars-with-backup-camera-night-vision-1080p-video-recorder-10.jpg?v=1665741689","width":1400}],"requires_selling_plan":false,"selling_plan_groups":[],"content":"\u003cdiv style=\"text-align: center;\" data-mce-style=\"text-align: center;\"\u003e\u003cimg style=\"float: none;\" alt=\"\" src=\"https:\/\/cdn.shopifycdn.net\/s\/files\/1\/0100\/3542\/9454\/files\/A_01_2048x2048.jpg?v=1664440552\" data-mce-style=\"float: none;\"\u003e\u003c\/div\u003e\n\u003cp\u003e \u003c\/p\u003e\n\u003ch2\u003e1080p Dash Cam Front and Rear Lens\u003c\/h2\u003e\n\u003cp\u003eFeaturing a waterproof rear camera, the XGODY Q16 is also the perfect gadget to decorate your car. It captures front and rear video in 1080P Full HD resolution with seamless loop recording for high stability and reliable car journey monitoring.\u003c\/p\u003e\n\u003cp\u003e✔ Real and smart motion detection and G-sensor.\u003c\/p\u003e\n\u003cp\u003e✔ Manual emergency save SOS button to prevent malicious deletion.\u003c\/p\u003e\n\u003cp\u003e✔4-inch ultra-mini design will not block your driving sight.\u003c\/p\u003e\n\u003cp\u003e✔ Video and audio are recorded in a loop, not missing every second of the wonderful.\u003c\/p\u003e\n\u003cp\u003e✔ Fully automatic work after power on, no additional operation required.\u003c\/p\u003e\n\u003cp\u003e✔ Comes with 32G memory card, 24 hours cycle recording\u003c\/p\u003e\n\u003cp\u003e✔ Cool design, lightweight appearance, user-friendly operation.\u003c\/p\u003e\n\u003cp\u003e \u003c\/p\u003e\n\u003ch3\u003e4 Inch Screen\u003c\/h3\u003e\n\u003cp\u003eThe 4\" LCD screen allows you to see every detail as clearly as possible during playback for a better viewing experience.\u003c\/p\u003e\n\u003cp\u003e \u003c\/p\u003e\n\u003ch3\u003eFlexible Gravity Sensor\u003c\/h3\u003e\n\u003cp\u003eWhen there is a collision or vibration, it quickly captures the emergency and automatically locks the video, preventing it from being overwritten. XGODY Dash Camera Q16 comes with 4 G-Sensor sensitivities: Low, Medium, High and Off.\u003c\/p\u003e\n\u003cp\u003e \u003c\/p\u003e\n\u003ch3\u003e\u003cstrong\u003eNever Miss A Moment\u003c\/strong\u003e\u003c\/h3\u003e\n\u003cp\u003eLoop recording and create video clips, automatically overwriting the oldest file to save the current file. You can choose the size of each file to be 1, 3, or 5 minutes.\u003c\/p\u003e\n\u003cp\u003e \u003c\/p\u003e\n\u003ch3\u003eExcellent Video Quality\u003c\/h3\u003e\n\u003cp\u003eThe front and rear camera videos are recorded in full HD resolution of 1080P, and then equipped with a high-end video processor, the Q16 can clearly know every license plate number and face within 10 meters.\u003c\/p\u003e\n\u003cp\u003e \u003c\/p\u003e\n\u003ch3\u003eParking Monitoring Mode\u003c\/h3\u003e\n\u003cp\u003eIn this mode, the car dash cam is equivalent to a surveillance camera. When the dash cam detects vibration or moving object, it turns on and records video. \u003cspan style=\"text-decoration: underline; color: #ff2a00;\" data-mce-style=\"text-decoration: underline; color: #ff2a00;\"\u003eThis function requires an optional hard-wired kit, or a power bank.\u003c\/span\u003e\u003c\/p\u003e\n\u003cp\u003e \u003c\/p\u003e\n\u003cp\u003e\u003cstrong\u003eSuper Night Vision\u003c\/strong\u003e\u003c\/p\u003e\n\u003cp\u003eXGODY dash cams all use revolutionary super night vision technology, which allows the onboard camera to capture clear video within 5 meters even in low-light nighttime conditions.\u003c\/p\u003e\n\u003cp\u003e \u003c\/p\u003e\n\u003cdiv style=\"text-align: center;\" data-mce-style=\"text-align: center;\"\u003e\u003cimg style=\"float: none;\" alt=\"\" src=\"https:\/\/cdn.shopifycdn.net\/s\/files\/1\/0100\/3542\/9454\/files\/A_02_2_1024x1024.jpg?v=1664440566\" data-mce-style=\"float: none;\"\u003e\u003c\/div\u003e\n\u003cdiv style=\"text-align: center;\" data-mce-style=\"text-align: center;\"\u003e\u003cimg style=\"float: none;\" alt=\"\" src=\"https:\/\/cdn.shopifycdn.net\/s\/files\/1\/0100\/3542\/9454\/files\/A_03_0dedd5f5-dd0f-4feb-9219-320ceb87cb4e_1024x1024.jpg?v=1664440582\" data-mce-style=\"float: none;\"\u003e\u003c\/div\u003e\n\u003cdiv style=\"text-align: center;\" data-mce-style=\"text-align: center;\"\u003e\u003cimg style=\"float: none;\" src=\"https:\/\/cdn.shopifycdn.net\/s\/files\/1\/0100\/3542\/9454\/files\/A_04_1024x1024.jpg?v=1664440616\" data-mce-style=\"float: none;\"\u003e\u003c\/div\u003e\n\u003cdiv style=\"text-align: center;\" data-mce-style=\"text-align: center;\"\u003e\u003cimg style=\"float: none;\" src=\"https:\/\/cdn.shopifycdn.net\/s\/files\/1\/0100\/3542\/9454\/files\/A_05_084e811b-348f-4ce7-b03f-81a9b311dd7f_1024x1024.jpg?v=1664440640\" data-mce-style=\"float: none;\"\u003e\u003c\/div\u003e\n\u003cdiv style=\"text-align: center;\" data-mce-style=\"text-align: center;\"\u003e\u003cimg style=\"float: none;\" src=\"https:\/\/cdn.shopifycdn.net\/s\/files\/1\/0100\/3542\/9454\/files\/A_07_c61a043e-c627-4a7a-9e39-e7b5a895a31e_1024x1024.jpg?v=1664440672\" data-mce-style=\"float: none;\"\u003e\u003c\/div\u003e\n\u003cdiv style=\"text-align: center;\" data-mce-style=\"text-align: center;\"\u003e\u003cimg style=\"float: none;\" alt=\"\" src=\"https:\/\/cdn.shopifycdn.net\/s\/files\/1\/0100\/3542\/9454\/files\/A_08_9170892d-9ac1-4e17-9d6a-05e6e21cf422_1024x1024.jpg?v=1664440711\" data-mce-style=\"float: none;\"\u003e\u003c\/div\u003e\n\u003cdiv style=\"text-align: center;\" data-mce-style=\"text-align: center;\"\u003e\u003cimg style=\"float: none;\" alt=\"\" src=\"https:\/\/cdn.shopifycdn.net\/s\/files\/1\/0100\/3542\/9454\/files\/A_09_1024x1024.jpg?v=1664440726\" data-mce-style=\"float: none;\"\u003e\u003c\/div\u003e\n\u003cdiv style=\"text-align: center;\" data-mce-style=\"text-align: center;\"\u003e\u003cimg style=\"float: none;\" alt=\"\" src=\"https:\/\/cdn.shopifycdn.net\/s\/files\/1\/0100\/3542\/9454\/files\/9_1e09da4d-8c56-4091-882f-c97c46c6e04a_1024x1024.jpg?v=1664440750\" data-mce-style=\"float: none;\"\u003e\u003c\/div\u003e\n\u003cdiv style=\"text-align: center;\" data-mce-style=\"text-align: center;\"\u003e\u003cimg style=\"float: none;\" alt=\"\" src=\"https:\/\/cdn.shopifycdn.net\/s\/files\/1\/0100\/3542\/9454\/files\/11_4c6c9ed8-e55d-40c2-b4ff-646d6d0f4275_1024x1024.jpg?v=1664440764\" data-mce-style=\"float: none;\"\u003e\u003c\/div\u003e\n\u003cp\u003e \u003c\/p\u003e\n\u003cp\u003e\u003cbr\u003e\u003c\/p\u003e\n\u003cp\u003e\u003cstrong\u003e Diverse system languages\u003c\/strong\u003e\u003c\/p\u003e\n\u003cp\u003e\u003cspan data-mce-fragment=\"1\"\u003eD\u003c\/span\u003e\u003cspan data-mce-fragment=\"1\"\u003eash \u003c\/span\u003e\u003cspan data-mce-fragment=\"1\"\u003eC\u003c\/span\u003e\u003cspan data-mce-fragment=\"1\"\u003eam \u003c\/span\u003e\u003cspan data-mce-fragment=\"1\"\u003eV\u003c\/span\u003e\u003cspan data-mce-fragment=\"1\"\u003eideo \u003c\/span\u003e\u003cspan data-mce-fragment=\"1\"\u003eR\u003c\/span\u003e\u003cspan data-mce-fragment=\"1\"\u003eecorder with \u003c\/span\u003eHuman translation, native language, support Chinese, English, German, French, Italian, Spanish\u003c\/p\u003e\n\u003ch2\u003eStandard Package List\u003c\/h2\u003e\n\u003cp\u003e1 x Full HD Dash Cam\u003cbr\u003e1 x Car Charger\u003cbr\u003e1 x 1080P Rearview Camera\u003cbr\u003e1 x User Manual\u003cbr\u003e1 x 32GB TF Card (Free Gife)\u003c\/p\u003e\n\u003cp\u003e \u003c\/p\u003e\n\u003cp\u003e\u003cstrong\u003eKind tips:\u003c\/strong\u003e\u003c\/p\u003e\n\u003cp\u003e1. XGODY provides a 32GB memory card for free, no need to buy it separately. When using it for the first time, please format a new sd card on the dash cam.\u003c\/p\u003e\n\u003cp\u003e2. Gravity sensor, loop recording, motion detection, super night vision, parking monitoring and high-definition picture quality, these excellent features can provide you and your car with safety assurance and bring you a more comfortable driving experience.\u003c\/p\u003e\n\u003cp\u003e3. If you have any questions, including installation, hidden lines, etc., please feel free to contact us.\u003c\/p\u003e\n\u003cp\u003e \u003c\/p\u003e\n\u003cdiv style=\"text-align: center;\" data-mce-style=\"text-align: center;\"\u003e\u003cimg src=\"https:\/\/cdn.shopify.com\/s\/files\/1\/0100\/3542\/9454\/files\/01_2fdaa1f6-5a46-410d-a36a-9cc39134f8af_1024x1024.jpg?v=1646212895\" alt=\"\" style=\"float: none;\" data-mce-style=\"float: none;\" data-mce-src=\"https:\/\/cdn.shopify.com\/s\/files\/1\/0100\/3542\/9454\/files\/01_2fdaa1f6-5a46-410d-a36a-9cc39134f8af_1024x1024.jpg?v=1646212895\"\u003e\u003c\/div\u003e"}
XGODY 4'' Camera Dash Cams For Cars With Backup Camera, Night Vision 1080P Video Recorder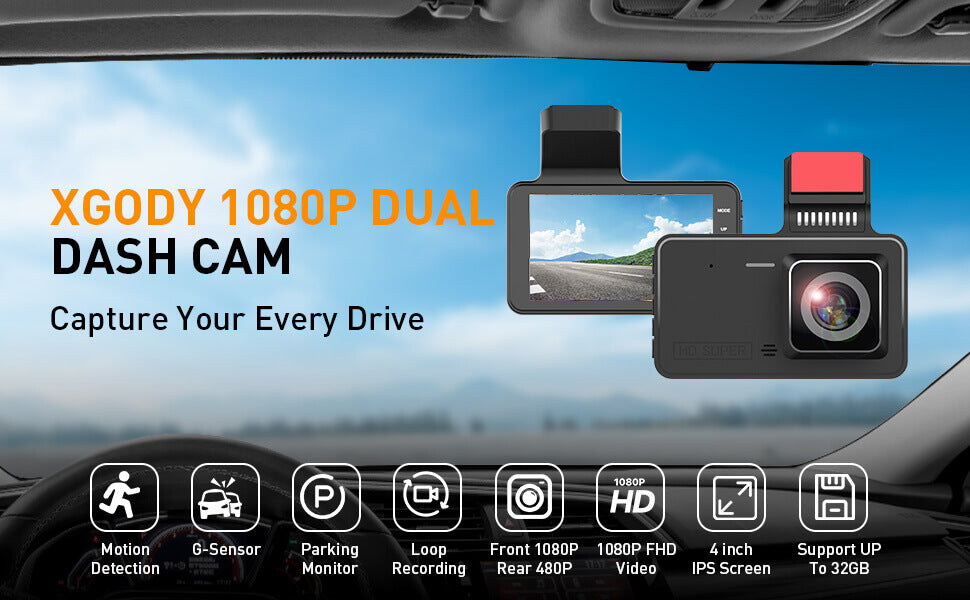 1080p Dash Cam Front and Rear Lens
Featuring a waterproof rear camera, the XGODY Q16 is also the perfect gadget to decorate your car. It captures front and rear video in 1080P Full HD resolution with seamless loop recording for high stability and reliable car journey monitoring.
✔ Real and smart motion detection and G-sensor.
✔ Manual emergency save SOS button to prevent malicious deletion.
✔4-inch ultra-mini design will not block your driving sight.
✔ Video and audio are recorded in a loop, not missing every second of the wonderful.
✔ Fully automatic work after power on, no additional operation required.
✔ Comes with 32G memory card, 24 hours cycle recording
✔ Cool design, lightweight appearance, user-friendly operation.
4 Inch Screen
The 4" LCD screen allows you to see every detail as clearly as possible during playback for a better viewing experience.
Flexible Gravity Sensor
When there is a collision or vibration, it quickly captures the emergency and automatically locks the video, preventing it from being overwritten. XGODY Dash Camera Q16 comes with 4 G-Sensor sensitivities: Low, Medium, High and Off.
Never Miss A Moment
Loop recording and create video clips, automatically overwriting the oldest file to save the current file. You can choose the size of each file to be 1, 3, or 5 minutes.
Excellent Video Quality
The front and rear camera videos are recorded in full HD resolution of 1080P, and then equipped with a high-end video processor, the Q16 can clearly know every license plate number and face within 10 meters.
Parking Monitoring Mode
In this mode, the car dash cam is equivalent to a surveillance camera. When the dash cam detects vibration or moving object, it turns on and records video. This function requires an optional hard-wired kit, or a power bank.
Super Night Vision
XGODY dash cams all use revolutionary super night vision technology, which allows the onboard camera to capture clear video within 5 meters even in low-light nighttime conditions.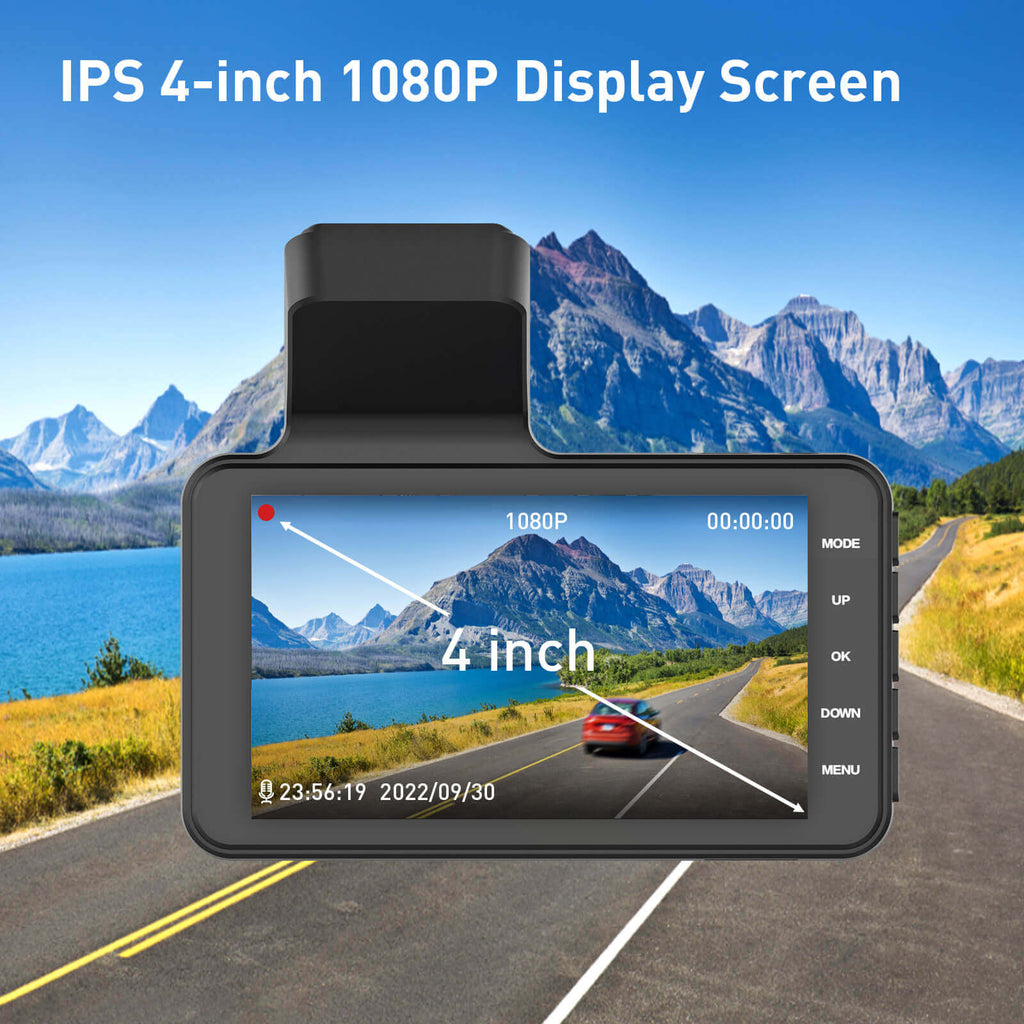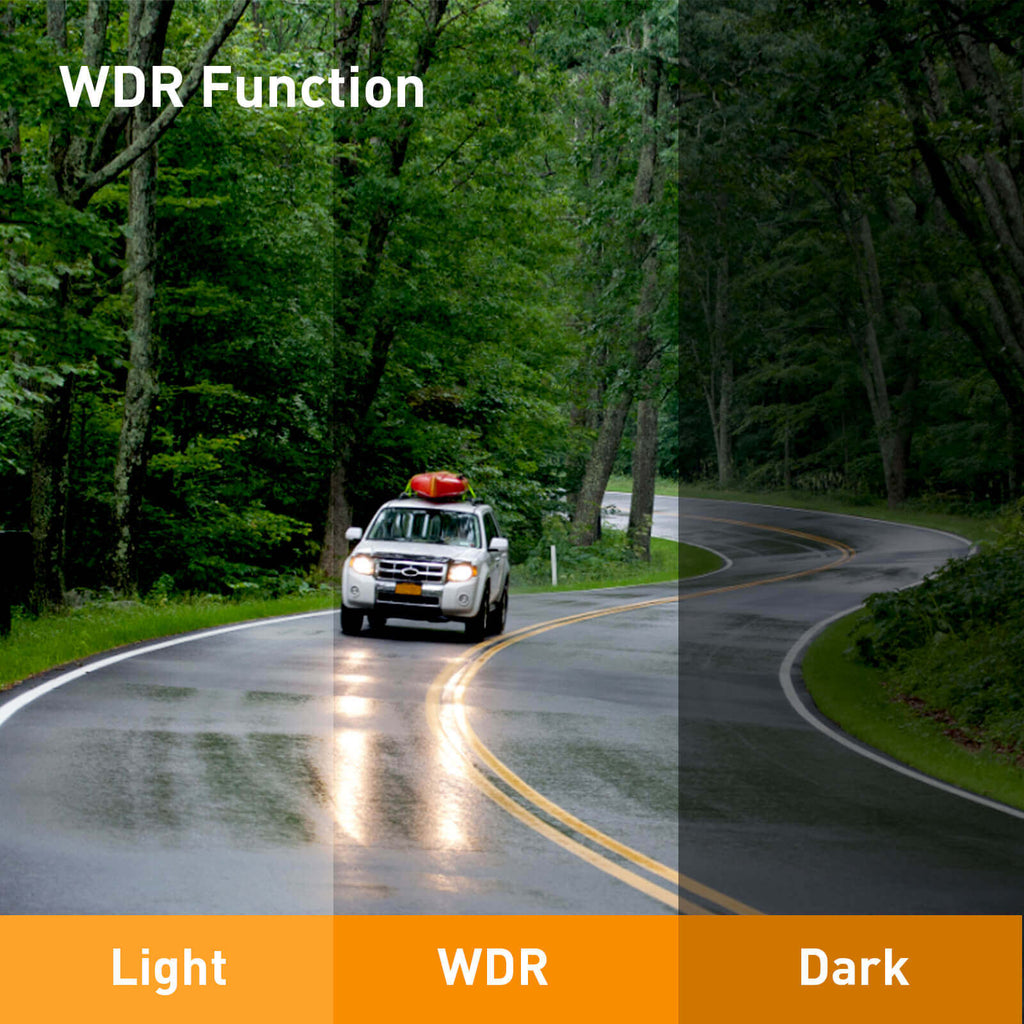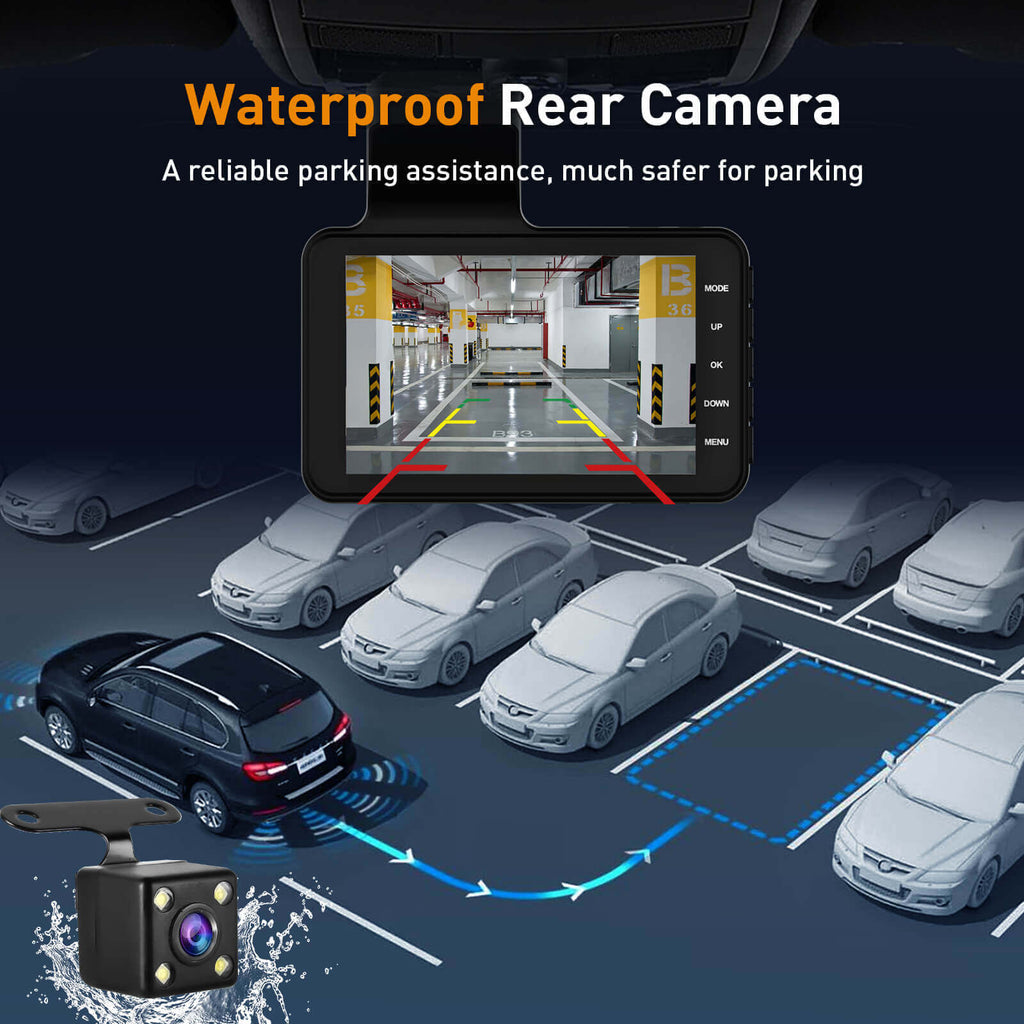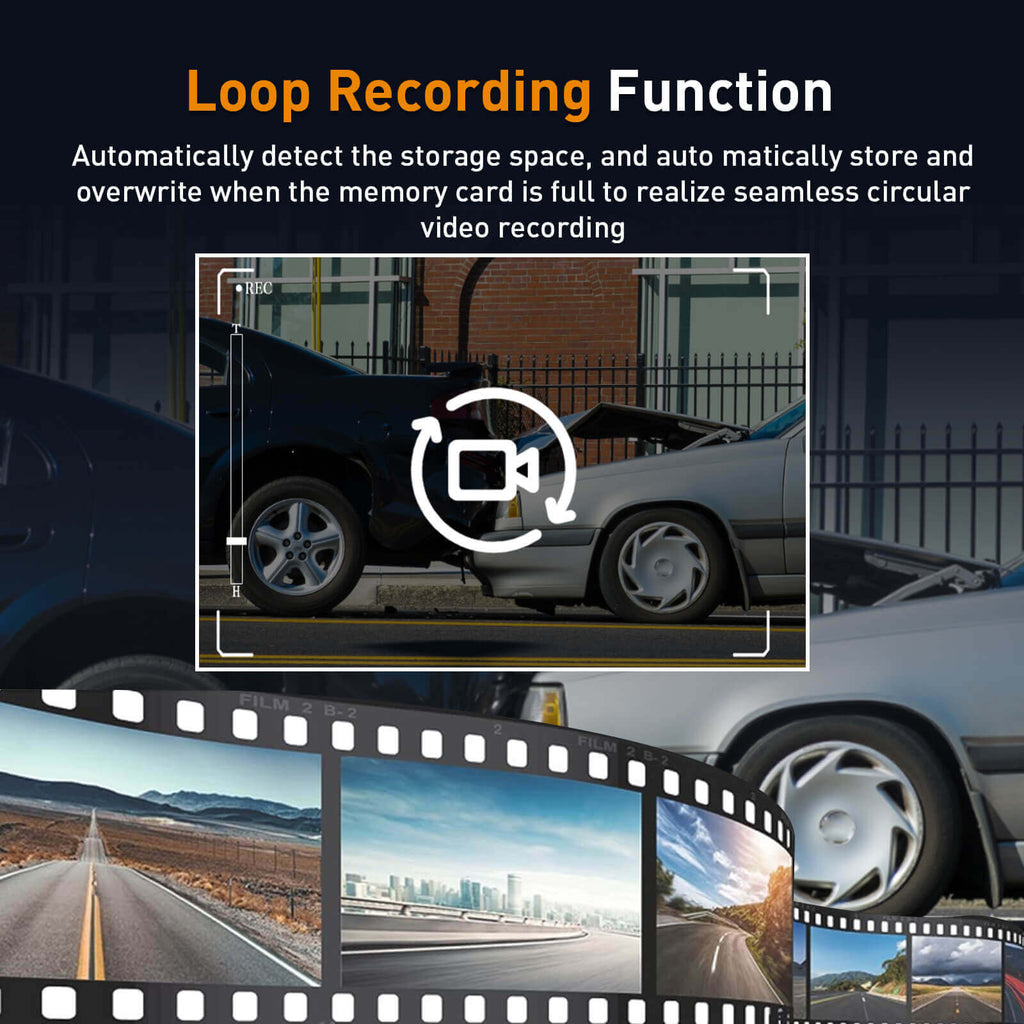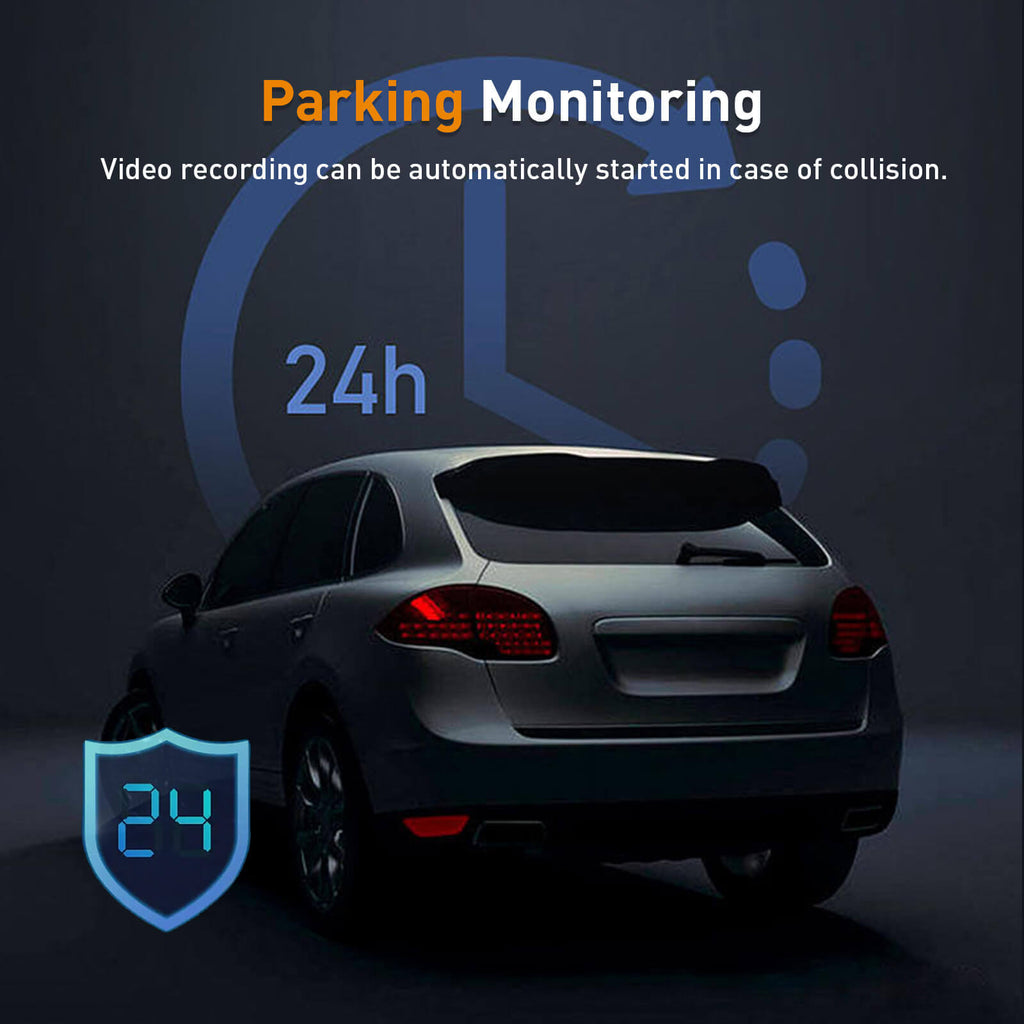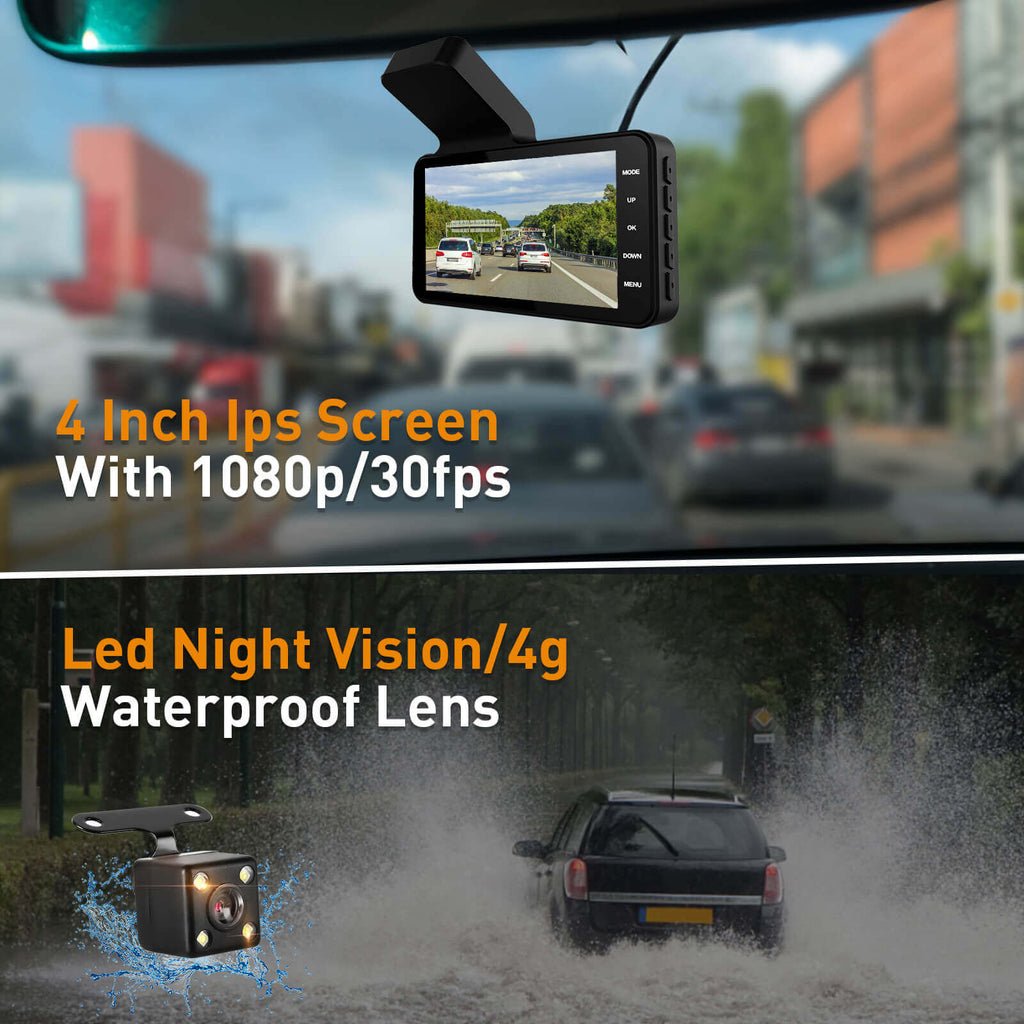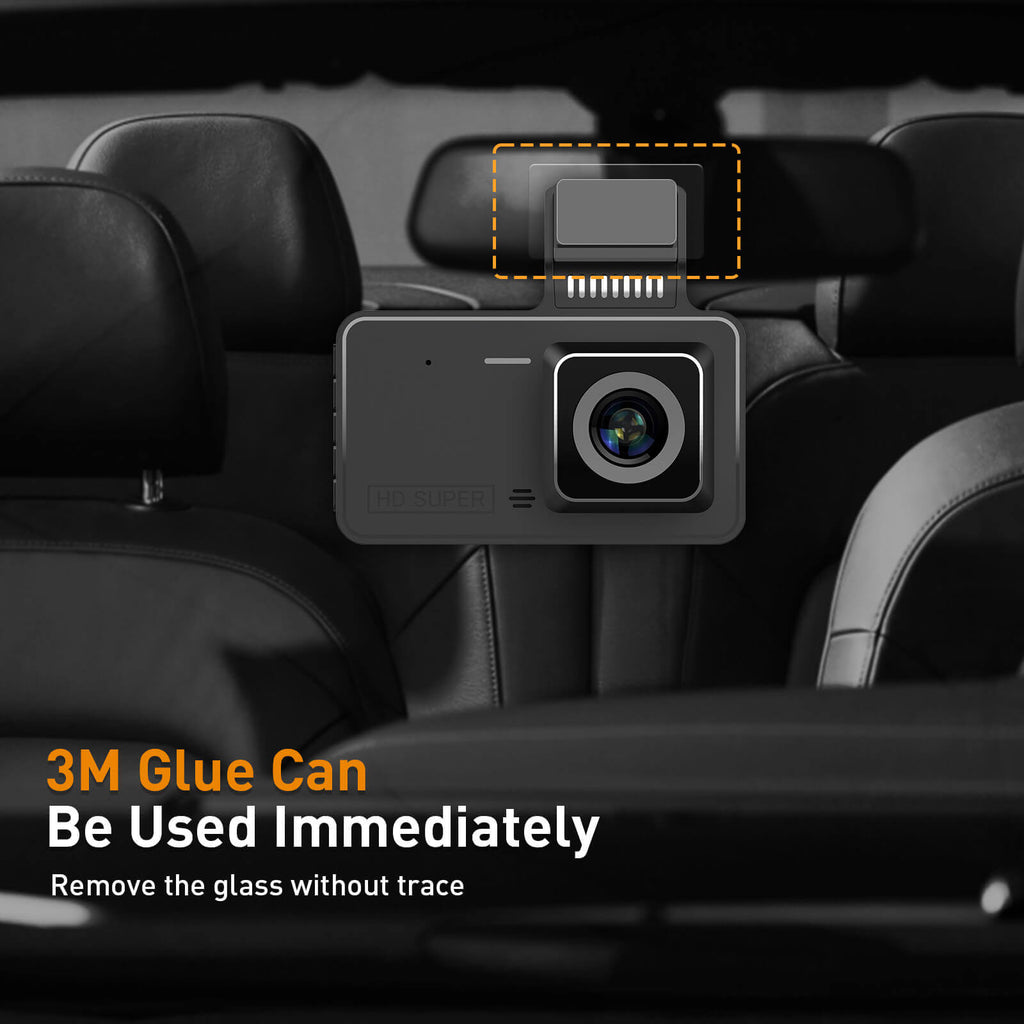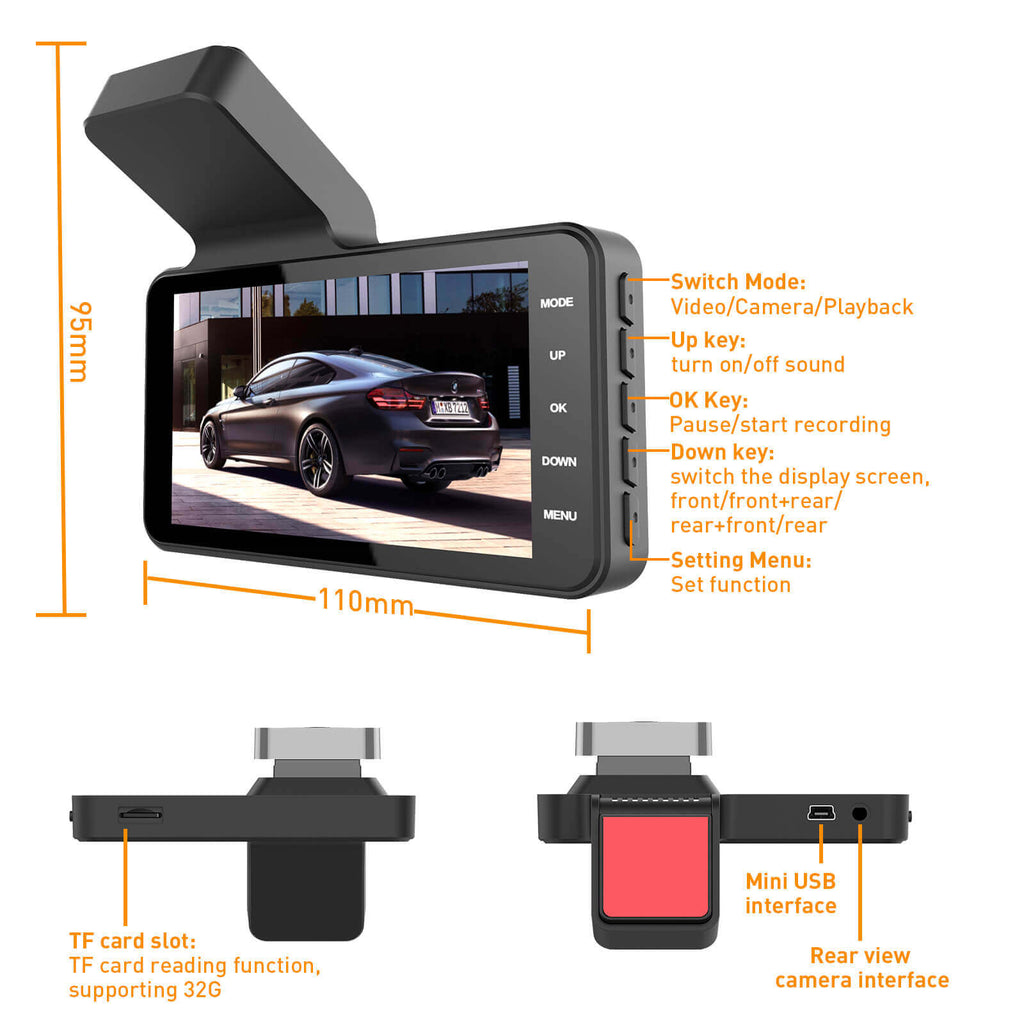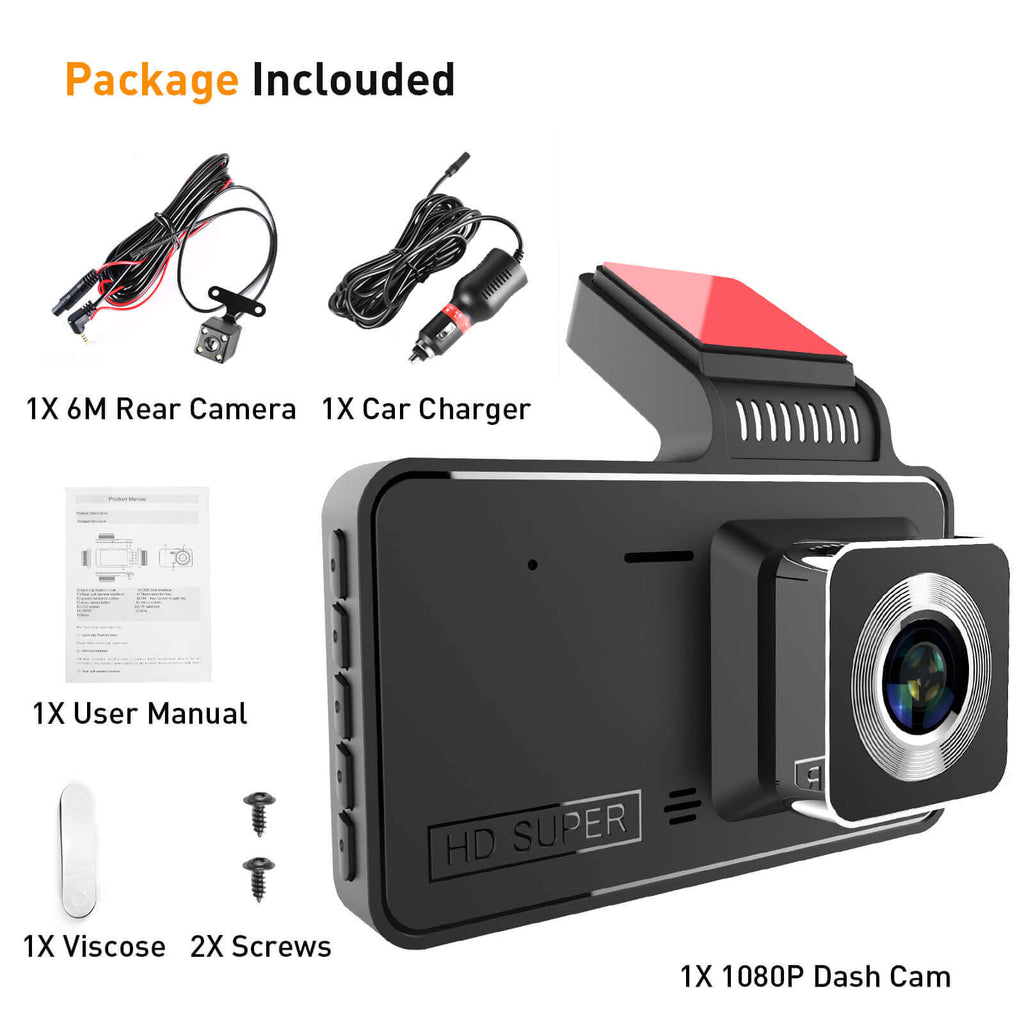 Diverse system languages
Dash Cam Video Recorder with Human translation, native language, support Chinese, English, German, French, Italian, Spanish
Standard Package List
1 x Full HD Dash Cam
1 x Car Charger
1 x 1080P Rearview Camera
1 x User Manual
1 x 32GB TF Card (Free Gife)
Kind tips:
1. XGODY provides a 32GB memory card for free, no need to buy it separately. When using it for the first time, please format a new sd card on the dash cam.
2. Gravity sensor, loop recording, motion detection, super night vision, parking monitoring and high-definition picture quality, these excellent features can provide you and your car with safety assurance and bring you a more comfortable driving experience.
3. If you have any questions, including installation, hidden lines, etc., please feel free to contact us.
1.Most items are shipping free, you can check the description in the listing. Order will be shipped within 72 hours after payment made.
2.The shipping time is based on the shipping option, sometimes it may be delayed due to varied situation (such as holidays, war, weather etc.), please contact us immediately if delivery time exceeds estimated.
3.Import taxes, duties and related customs fees may be charged once the parcel arrives at the destination country. These charges are determined by the customs office of the specific destination. Payment of these charges and taxes is the responsibility of the recipient and will not be covered by us here at Xgody. For further details of charges, please contact your local customs office.
4.Time Schedule- F

ast Shipping
| | |
| --- | --- |
| United States/Australia/UK |  4-10 working days |
| Canada/Israel/ Azerbaijan / Russia/Maldives/ Eastern Europe/ Middle East |  9-18 working days |
| Brazil/Chile/South America |  9-18 working days |
| Western Europe/New Zealand |  7-10 working days |
If you are not happy with your purchase and wish to return an item, please contact us immediatelysince receiving your order. Our customs support email is support@xgody.com. Please write down your order number and user ID in the return parcel.
All returns must be in original condition with packaging intact to avoid damage during shipment, any physical damage during the return shipment will not be accepted. Returned parcel need to provide shipment number for tracking.
We will get back to you once we receive the return parcel. Money or replacement will be arranged within 24-48 hours after the return parcel delivered.
-
1.Why Choose Xgody?
Brand XGODY was established in 2014 with great advantages in electronic products. More than that, the operating team has more than 10 years experiences on e-commerce.. We know exactly what the buyer concerns and worries. Making sure you will have a wonderful shopping experience by providing what you need and getting rid of what you worried about. It is no doubt to choose us with our high quality of product, good shipping way, and good customs support.
2.What payment methods do you accept?
We accept all major credit cards (VISA, Mastercard, AMEX) and PayPal payments. We do not accept personal checks, money orders, direct bank transfers, western union, or cash on delivery.
3.Can I change my shipping address after placing an order?
Please be advised that your shipping address cannot be revised after the order has been processed or shipped. Kindly update your shipping address to your residential address instead of your vacation address as we do not know how long the destination's customs department will have the package on hold.
4.How do I track my order?
The tracking number can be queried in the background. Also, we will email your tracking information as soon as your order has shipped. Usually you will receive the tracking number one day after we have shipped your order. In addition, if you still do not know how to query and track, you can also contact customer service freely.
5.Will I be charged with customs and taxes?
Import taxes, duties and related customs fees may be charged once your order arrives to its final destination, which are determined by your local customs office.
Payment of these charges and taxes are your responsibility and will not be covered by us. We are not responsible for delays caused by the customs department in your country. For further details of charges, please contact your local customs office. 
6.What Do I Do If I Have Missing Items In My Order?
If something is still missing, please contact us immediately.
7.What if the item(s) I received are defective/incorrect/damaged?
Please contact us within 7 days from receiving your order if you received merchandise that is incorrect, missing, and/or defective. Please include your order number, photographs of the item(s) and all related references upon receiving your package. We will do our very best to resolve your case as soon as possible.
8.How do I return an item?
If you are not happy with your purchase and wish to return an item, please contact us immediately from receiving your order. Please provide your order number as well as the reason for your return. Our customer service team will review the return request and will send further instructions if the return is approved.
For a list of final sale items, please see our Warranty Info and Refund Policy. All returns must be in original condition with packaging intact.
9.When will I receive my refund?
All refunds will be credited to your original form of payment. If you paid by credit or debit card, refunds will be sent to the card-issuing bank within 7-10 business days of receipt of the returned item or cancellation request. Please contact the card-issuing bank with questions about when the credit will be posted to your account.
If you haven't received a credit for your return yet, here's what to do: Contact the bank/credit card company. It may take some time before the refund is posted to your account.