{"id":6761872162894,"title":"XGODY Android Mini Smart Projector T01 With WiFi Bluetooth Outdoor Video Pico Projector Support 1080P","handle":"xgody-android-mini-smart-projector-with-wifi-bluetooth-outdoor-video-pico-projector-support-1080p","description":"\u003cdiv style=\"text-align: center;\"\u003e\u003cimg src=\"https:\/\/cdn.shopifycdn.net\/s\/files\/1\/0100\/3542\/9454\/files\/1_-_2_1024x1024.jpg?v=1655801462\" alt=\"\" style=\"float: none;\"\u003e\u003c\/div\u003e\n\u003cdiv style=\"text-align: center;\"\u003e\u003cimg style=\"float: none;\" alt=\"\" src=\"https:\/\/cdn.shopifycdn.net\/s\/files\/1\/0100\/3542\/9454\/files\/1_f9c6f985-e3bb-4ee5-84b1-441499872de6_1024x1024.jpg?v=1655801483\"\u003e\u003c\/div\u003e\n\u003cdiv style=\"text-align: center;\"\u003e\u003cimg style=\"float: none;\" alt=\"\" src=\"https:\/\/cdn.shopifycdn.net\/s\/files\/1\/0100\/3542\/9454\/files\/2_821f4ec3-61ce-4422-8177-acbbf4e16f08_1024x1024.jpg?v=1655801504\"\u003e\u003c\/div\u003e\n\u003cdiv style=\"text-align: center;\"\u003e\u003cimg style=\"float: none;\" alt=\"\" src=\"https:\/\/cdn.shopifycdn.net\/s\/files\/1\/0100\/3542\/9454\/files\/3-_XGODY_1024x1024.jpg?v=1655801520\"\u003e\u003c\/div\u003e\n\u003cp style=\"text-align: center;\"\u003e\u003cspan style=\"font-size: 1.4em;\"\u003eSo are you looking to get started on this right away?\u003c\/span\u003e\u003c\/p\u003e\n\u003cdiv style=\"text-align: center;\"\u003e\u003cimg style=\"float: none;\" alt=\"\" src=\"https:\/\/cdn.shopifycdn.net\/s\/files\/1\/0100\/3542\/9454\/files\/2-FIFI_1024x1024.jpg?v=1655801597\"\u003e\u003c\/div\u003e\n\u003cdiv style=\"text-align: center;\"\u003e\u003cimg style=\"float: none;\" alt=\"\" src=\"https:\/\/cdn.shopifycdn.net\/s\/files\/1\/0100\/3542\/9454\/files\/3_534fcb19-fc63-4956-b814-ef28b5716bd8_1024x1024.jpg?v=1655801705\"\u003e\u003c\/div\u003e\n\u003cdiv style=\"text-align: center;\"\u003e\u003cimg style=\"float: none;\" alt=\"\" src=\"https:\/\/cdn.shopifycdn.net\/s\/files\/1\/0100\/3542\/9454\/files\/4_c2bc662d-c212-48eb-9684-966be059e8a4_1024x1024.jpg?v=1655801718\"\u003e\u003c\/div\u003e\n\u003cdiv style=\"text-align: center;\"\u003e\u003cimg style=\"float: none;\" alt=\"\" src=\"https:\/\/cdn.shopifycdn.net\/s\/files\/1\/0100\/3542\/9454\/files\/5_7a9bc9a3-9d80-447b-87ee-75779b43cd48_1024x1024.jpg?v=1655801734\"\u003e\u003c\/div\u003e\n\u003cdiv style=\"text-align: center;\"\u003e\u003cimg style=\"float: none;\" alt=\"\" src=\"https:\/\/cdn.shopifycdn.net\/s\/files\/1\/0100\/3542\/9454\/files\/6_9bb17e73-2aaa-4360-a41f-f45aa5e6b03a_1024x1024.jpg?v=1655801760\"\u003e\u003c\/div\u003e\n\u003cdiv style=\"text-align: center;\"\u003e\u003cimg style=\"float: none;\" alt=\"\" src=\"https:\/\/cdn.shopifycdn.net\/s\/files\/1\/0100\/3542\/9454\/files\/7_4a8b49b2-1807-47ba-8a62-d31f8ae57c4f_1024x1024.jpg?v=1655801775\"\u003e\u003c\/div\u003e\n\u003cp\u003e \u003c\/p\u003e\n\u003cp\u003e XGODY smart wireless Android projector is the most cutting-edge product on the market at present, which further optimizes portability and strengthens more adaptable scenarios. With a small power supply, it can play media by itself; and XGODY is also equipped with a variety of interfaces, Bluetooth and WiFi Link, more professional than the average projector. Watching for a long time is not easy to get tired. No radiation, no eye damage, enjoy movies to the fullest, without worries.\u003cbr data-mce-fragment=\"1\"\u003e\u003cbr data-mce-fragment=\"1\"\u003e\u003cbr data-mce-fragment=\"1\"\u003e🎁 \u003cstrong\u003ePortable Android Projector\u003c\/strong\u003e ---- Vibrant colors and clear images (200 ANSI lumens) ensure adaptation to different environments; soft light protects your eyes from glare, no radiation and eye damage.\u003c\/p\u003e\n\u003cp\u003e🎁\u003cstrong\u003eMulti-screen sharing projection\u003c\/strong\u003e ---- This smart movie projector adopts the latest multi-screen technology, suitable for iOS, Android, Android TV, Window \u003cspan data-mce-fragment=\"1\"\u003esystem\u003c\/span\u003e, etc. enjoy entertainment anytime, anywhere.\u003c\/p\u003e\n\u003cp\u003e🎁\u003cstrong\u003eSuper Compatibility\u003c\/strong\u003e ---- Compatible with various devices (USB, HDMI, 3.5mm AUX and Micro SD port), can easily connect your smartphone, PS3, PS4, X-Box ONE and other devices to enjoy BIG games and Movie.\u003c\/p\u003e\n\u003cp\u003e🎁\u003cstrong\u003eAndroid TV 9.0 system\u003c\/strong\u003e ---- Built-in Android TV system, which can truly realize wireless playback, you can download and install apps from the store. Stream content from Netflix, Youtube, and more, and enjoy life.\u003c\/p\u003e\n\u003cp\u003e\u003cspan data-mce-fragment=\"1\"\u003e🎁\u003cstrong\u003eWireless \u003c\/strong\u003e\u003c\/span\u003e\u003cstrong\u003e2.4G\/5G Dual Band WiFi\u003c\/strong\u003e \u003cspan data-mce-fragment=\"1\"\u003e---- \u003c\/span\u003eSupport Gigabit network. 5G wireless network makes transmission more stable and online video playback smoother.\u003c\/p\u003e\n\u003cp\u003e \u003c\/p\u003e\n\u003ch2\u003eParameter Of XGODY Android Mini Smart Projector\u003c\/h2\u003e\n\u003cp\u003eProduct Description: XGODY Smart Projector\u003cbr\u003eOperation System: Android 9.0\u003cbr\u003eBuffer Memory(RAM): 1G\u003cbr\u003eStorage(ROM): 8G \u003cbr\u003eWIFI:2.4G\/5G\/BT4.1\u003cbr\u003eProjection Technique: 3.5inch LCD TFT Display\u003cbr\u003eNative Resolution: 1280*720P\u003cbr\u003eSupported Resolution:1080P\u003cbr\u003eColor Temperature:8000K ±(1000K)\u003cbr\u003eBrightness(Lumens):150 ANSI lumens\u003cbr\u003eContrast Ratio:6000:1\u003cbr\u003eImage Flip: 360 degrees flip\u003cbr\u003eLens:4 pieces glass lens\u003cbr\u003eAspect Ratio:16:9 \u0026amp; 4:3\u003cbr\u003eThrow Ratio:1.37\u003cbr\u003eKeystone Correction:Vertical ±15°\u003cbr\u003eBulb Life:\u0026gt;60000 Hrs\u003cbr\u003eLamp Type:LED 60W \u003cbr\u003eAdjustment Mode:Manual focus\u003cbr\u003eOperation Mode:Button pannel and remote control\u003cbr\u003e\u003cstrong\u003eProjection Distance:1.2-4M\u003c\/strong\u003e\u003cbr\u003e\u003cstrong\u003eOptimal Projection Distance:1.68M\u003c\/strong\u003e\u003cbr\u003eProjection Size:40-130 inch\u003cbr\u003eSpeaker:10W\u003cbr\u003eFan Noise: \u0026lt;25 dB\u003cbr\u003eWorking Voltage(V): AC90-260V\/50-60MHZ\u003cbr\u003eInterface:USB*1 \/ HDMI IN*1 \/ AV IN*1 \/ Headphone jack*1\u003cbr\u003eAudio File:MP3 \/ WMA \/ ACC ... ....\u003cbr\u003eImage File: JPG, BMP, PNG, support image scaling, ... ...\u003cbr\u003eVideo File: MP4 \/ RMAB \/ AVI \/ RM \/ MKV ... ...\u003cbr\u003e\u003cbr\u003eAdapter Power cord:1.2m\u003cbr\u003ePower supply:110-220V\u003cbr\u003eFast Boot:3 Sec\u003cbr\u003eProduct size:125*167*67MM\u003cbr\u003eDesk weight(kg):0.60kg\u003c\/p\u003e\n\u003cp\u003eUsage:Home theater, entertainment, early childhood education, video conference, online teaching ... ...\u003c\/p\u003e\n\u003cp\u003eStandard Accessory:User Manual,Power cord,Remote control, lens cap\u003c\/p\u003e\n\u003cp\u003e \u003c\/p\u003e\n\u003cp\u003e \u003c\/p\u003e\n\u003cdiv style=\"text-align: center;\"\u003e\u003cimg style=\"float: none;\" alt=\"\" src=\"https:\/\/cdn.shopify.com\/s\/files\/1\/0100\/3542\/9454\/files\/01_2fdaa1f6-5a46-410d-a36a-9cc39134f8af_1024x1024.jpg?v=1646212895\"\u003e\u003c\/div\u003e","published_at":"2022-06-21T17:50:46+08:00","created_at":"2022-06-21T17:48:00+08:00","vendor":"XGODY ","type":"Electronics","tags":["Outdoor Video","Pico Projector","Smart Projector"],"price":9350,"price_min":9350,"price_max":9350,"available":true,"price_varies":false,"compare_at_price":null,"compare_at_price_min":0,"compare_at_price_max":0,"compare_at_price_varies":false,"variants":[{"id":39867547189326,"title":"Default Title","option1":"Default Title","option2":null,"option3":null,"sku":"E020004702EU","requires_shipping":true,"taxable":true,"featured_image":null,"available":true,"name":"XGODY Android Mini Smart Projector T01 With WiFi Bluetooth Outdoor Video Pico Projector Support 1080P","public_title":null,"options":["Default Title"],"price":9350,"weight":0,"compare_at_price":null,"inventory_management":"shopify","barcode":"","requires_selling_plan":false,"selling_plan_allocations":[]}],"images":["\/\/xgody.com\/cdn\/shop\/products\/the-best-xgody-android-mini-smart-projector-t01-with-wifi-bluetooth-outdoor-video-pico-projector-support-1080p-1.jpg?v=1656560367","\/\/xgody.com\/cdn\/shop\/products\/the-best-xgody-android-mini-smart-projector-t01-with-wifi-bluetooth-outdoor-video-pico-projector-support-1080p-2.jpg?v=1656560372","\/\/xgody.com\/cdn\/shop\/products\/the-best-xgody-android-mini-smart-projector-t01-with-wifi-bluetooth-outdoor-video-pico-projector-support-1080p-3.jpg?v=1656560376","\/\/xgody.com\/cdn\/shop\/products\/the-best-xgody-android-mini-smart-projector-t01-with-wifi-bluetooth-outdoor-video-pico-projector-support-1080p-4.jpg?v=1656560380","\/\/xgody.com\/cdn\/shop\/products\/the-best-xgody-android-mini-smart-projector-t01-with-wifi-bluetooth-outdoor-video-pico-projector-support-1080p-5.jpg?v=1656560384","\/\/xgody.com\/cdn\/shop\/products\/the-best-xgody-android-mini-smart-projector-t01-with-wifi-bluetooth-outdoor-video-pico-projector-support-1080p-6.jpg?v=1656560388","\/\/xgody.com\/cdn\/shop\/products\/the-best-xgody-android-mini-smart-projector-t01-with-wifi-bluetooth-outdoor-video-pico-projector-support-1080p-7.jpg?v=1656560391"],"featured_image":"\/\/xgody.com\/cdn\/shop\/products\/the-best-xgody-android-mini-smart-projector-t01-with-wifi-bluetooth-outdoor-video-pico-projector-support-1080p-1.jpg?v=1656560367","options":["Title"],"media":[{"alt":"Cost-effective and Most worthwhile XGODY Android Mini Smart Projector T01 With WiFi Bluetooth Outdoor Video Pico Projector Support 1080P - XGODY ","id":21697065156686,"position":1,"preview_image":{"aspect_ratio":1.0,"height":1600,"width":1600,"src":"\/\/xgody.com\/cdn\/shop\/products\/the-best-xgody-android-mini-smart-projector-t01-with-wifi-bluetooth-outdoor-video-pico-projector-support-1080p-1.jpg?v=1656560367"},"aspect_ratio":1.0,"height":1600,"media_type":"image","src":"\/\/xgody.com\/cdn\/shop\/products\/the-best-xgody-android-mini-smart-projector-t01-with-wifi-bluetooth-outdoor-video-pico-projector-support-1080p-1.jpg?v=1656560367","width":1600},{"alt":"Cost-effective and Most worthwhile XGODY Android Mini Smart Projector T01 With WiFi Bluetooth Outdoor Video Pico Projector Support 1080P - XGODY ","id":21697065517134,"position":2,"preview_image":{"aspect_ratio":1.0,"height":1600,"width":1600,"src":"\/\/xgody.com\/cdn\/shop\/products\/the-best-xgody-android-mini-smart-projector-t01-with-wifi-bluetooth-outdoor-video-pico-projector-support-1080p-2.jpg?v=1656560372"},"aspect_ratio":1.0,"height":1600,"media_type":"image","src":"\/\/xgody.com\/cdn\/shop\/products\/the-best-xgody-android-mini-smart-projector-t01-with-wifi-bluetooth-outdoor-video-pico-projector-support-1080p-2.jpg?v=1656560372","width":1600},{"alt":"Cost-effective and Most worthwhile XGODY Android Mini Smart Projector T01 With WiFi Bluetooth Outdoor Video Pico Projector Support 1080P - XGODY ","id":21697065844814,"position":3,"preview_image":{"aspect_ratio":1.0,"height":1600,"width":1600,"src":"\/\/xgody.com\/cdn\/shop\/products\/the-best-xgody-android-mini-smart-projector-t01-with-wifi-bluetooth-outdoor-video-pico-projector-support-1080p-3.jpg?v=1656560376"},"aspect_ratio":1.0,"height":1600,"media_type":"image","src":"\/\/xgody.com\/cdn\/shop\/products\/the-best-xgody-android-mini-smart-projector-t01-with-wifi-bluetooth-outdoor-video-pico-projector-support-1080p-3.jpg?v=1656560376","width":1600},{"alt":"Cost-effective and Most worthwhile XGODY Android Mini Smart Projector T01 With WiFi Bluetooth Outdoor Video Pico Projector Support 1080P - XGODY ","id":21697065975886,"position":4,"preview_image":{"aspect_ratio":1.0,"height":1600,"width":1600,"src":"\/\/xgody.com\/cdn\/shop\/products\/the-best-xgody-android-mini-smart-projector-t01-with-wifi-bluetooth-outdoor-video-pico-projector-support-1080p-4.jpg?v=1656560380"},"aspect_ratio":1.0,"height":1600,"media_type":"image","src":"\/\/xgody.com\/cdn\/shop\/products\/the-best-xgody-android-mini-smart-projector-t01-with-wifi-bluetooth-outdoor-video-pico-projector-support-1080p-4.jpg?v=1656560380","width":1600},{"alt":"Cost-effective and Most worthwhile XGODY Android Mini Smart Projector T01 With WiFi Bluetooth Outdoor Video Pico Projector Support 1080P - XGODY ","id":21697066303566,"position":5,"preview_image":{"aspect_ratio":1.0,"height":1600,"width":1600,"src":"\/\/xgody.com\/cdn\/shop\/products\/the-best-xgody-android-mini-smart-projector-t01-with-wifi-bluetooth-outdoor-video-pico-projector-support-1080p-5.jpg?v=1656560384"},"aspect_ratio":1.0,"height":1600,"media_type":"image","src":"\/\/xgody.com\/cdn\/shop\/products\/the-best-xgody-android-mini-smart-projector-t01-with-wifi-bluetooth-outdoor-video-pico-projector-support-1080p-5.jpg?v=1656560384","width":1600},{"alt":"Cost-effective and Most worthwhile XGODY Android Mini Smart Projector T01 With WiFi Bluetooth Outdoor Video Pico Projector Support 1080P - XGODY ","id":21697066631246,"position":6,"preview_image":{"aspect_ratio":1.0,"height":1600,"width":1600,"src":"\/\/xgody.com\/cdn\/shop\/products\/the-best-xgody-android-mini-smart-projector-t01-with-wifi-bluetooth-outdoor-video-pico-projector-support-1080p-6.jpg?v=1656560388"},"aspect_ratio":1.0,"height":1600,"media_type":"image","src":"\/\/xgody.com\/cdn\/shop\/products\/the-best-xgody-android-mini-smart-projector-t01-with-wifi-bluetooth-outdoor-video-pico-projector-support-1080p-6.jpg?v=1656560388","width":1600},{"alt":"Cost-effective and Most worthwhile XGODY Android Mini Smart Projector T01 With WiFi Bluetooth Outdoor Video Pico Projector Support 1080P - XGODY ","id":21697066729550,"position":7,"preview_image":{"aspect_ratio":1.0,"height":1600,"width":1600,"src":"\/\/xgody.com\/cdn\/shop\/products\/the-best-xgody-android-mini-smart-projector-t01-with-wifi-bluetooth-outdoor-video-pico-projector-support-1080p-7.jpg?v=1656560391"},"aspect_ratio":1.0,"height":1600,"media_type":"image","src":"\/\/xgody.com\/cdn\/shop\/products\/the-best-xgody-android-mini-smart-projector-t01-with-wifi-bluetooth-outdoor-video-pico-projector-support-1080p-7.jpg?v=1656560391","width":1600}],"requires_selling_plan":false,"selling_plan_groups":[],"content":"\u003cdiv style=\"text-align: center;\"\u003e\u003cimg src=\"https:\/\/cdn.shopifycdn.net\/s\/files\/1\/0100\/3542\/9454\/files\/1_-_2_1024x1024.jpg?v=1655801462\" alt=\"\" style=\"float: none;\"\u003e\u003c\/div\u003e\n\u003cdiv style=\"text-align: center;\"\u003e\u003cimg style=\"float: none;\" alt=\"\" src=\"https:\/\/cdn.shopifycdn.net\/s\/files\/1\/0100\/3542\/9454\/files\/1_f9c6f985-e3bb-4ee5-84b1-441499872de6_1024x1024.jpg?v=1655801483\"\u003e\u003c\/div\u003e\n\u003cdiv style=\"text-align: center;\"\u003e\u003cimg style=\"float: none;\" alt=\"\" src=\"https:\/\/cdn.shopifycdn.net\/s\/files\/1\/0100\/3542\/9454\/files\/2_821f4ec3-61ce-4422-8177-acbbf4e16f08_1024x1024.jpg?v=1655801504\"\u003e\u003c\/div\u003e\n\u003cdiv style=\"text-align: center;\"\u003e\u003cimg style=\"float: none;\" alt=\"\" src=\"https:\/\/cdn.shopifycdn.net\/s\/files\/1\/0100\/3542\/9454\/files\/3-_XGODY_1024x1024.jpg?v=1655801520\"\u003e\u003c\/div\u003e\n\u003cp style=\"text-align: center;\"\u003e\u003cspan style=\"font-size: 1.4em;\"\u003eSo are you looking to get started on this right away?\u003c\/span\u003e\u003c\/p\u003e\n\u003cdiv style=\"text-align: center;\"\u003e\u003cimg style=\"float: none;\" alt=\"\" src=\"https:\/\/cdn.shopifycdn.net\/s\/files\/1\/0100\/3542\/9454\/files\/2-FIFI_1024x1024.jpg?v=1655801597\"\u003e\u003c\/div\u003e\n\u003cdiv style=\"text-align: center;\"\u003e\u003cimg style=\"float: none;\" alt=\"\" src=\"https:\/\/cdn.shopifycdn.net\/s\/files\/1\/0100\/3542\/9454\/files\/3_534fcb19-fc63-4956-b814-ef28b5716bd8_1024x1024.jpg?v=1655801705\"\u003e\u003c\/div\u003e\n\u003cdiv style=\"text-align: center;\"\u003e\u003cimg style=\"float: none;\" alt=\"\" src=\"https:\/\/cdn.shopifycdn.net\/s\/files\/1\/0100\/3542\/9454\/files\/4_c2bc662d-c212-48eb-9684-966be059e8a4_1024x1024.jpg?v=1655801718\"\u003e\u003c\/div\u003e\n\u003cdiv style=\"text-align: center;\"\u003e\u003cimg style=\"float: none;\" alt=\"\" src=\"https:\/\/cdn.shopifycdn.net\/s\/files\/1\/0100\/3542\/9454\/files\/5_7a9bc9a3-9d80-447b-87ee-75779b43cd48_1024x1024.jpg?v=1655801734\"\u003e\u003c\/div\u003e\n\u003cdiv style=\"text-align: center;\"\u003e\u003cimg style=\"float: none;\" alt=\"\" src=\"https:\/\/cdn.shopifycdn.net\/s\/files\/1\/0100\/3542\/9454\/files\/6_9bb17e73-2aaa-4360-a41f-f45aa5e6b03a_1024x1024.jpg?v=1655801760\"\u003e\u003c\/div\u003e\n\u003cdiv style=\"text-align: center;\"\u003e\u003cimg style=\"float: none;\" alt=\"\" src=\"https:\/\/cdn.shopifycdn.net\/s\/files\/1\/0100\/3542\/9454\/files\/7_4a8b49b2-1807-47ba-8a62-d31f8ae57c4f_1024x1024.jpg?v=1655801775\"\u003e\u003c\/div\u003e\n\u003cp\u003e \u003c\/p\u003e\n\u003cp\u003e XGODY smart wireless Android projector is the most cutting-edge product on the market at present, which further optimizes portability and strengthens more adaptable scenarios. With a small power supply, it can play media by itself; and XGODY is also equipped with a variety of interfaces, Bluetooth and WiFi Link, more professional than the average projector. Watching for a long time is not easy to get tired. No radiation, no eye damage, enjoy movies to the fullest, without worries.\u003cbr data-mce-fragment=\"1\"\u003e\u003cbr data-mce-fragment=\"1\"\u003e\u003cbr data-mce-fragment=\"1\"\u003e🎁 \u003cstrong\u003ePortable Android Projector\u003c\/strong\u003e ---- Vibrant colors and clear images (200 ANSI lumens) ensure adaptation to different environments; soft light protects your eyes from glare, no radiation and eye damage.\u003c\/p\u003e\n\u003cp\u003e🎁\u003cstrong\u003eMulti-screen sharing projection\u003c\/strong\u003e ---- This smart movie projector adopts the latest multi-screen technology, suitable for iOS, Android, Android TV, Window \u003cspan data-mce-fragment=\"1\"\u003esystem\u003c\/span\u003e, etc. enjoy entertainment anytime, anywhere.\u003c\/p\u003e\n\u003cp\u003e🎁\u003cstrong\u003eSuper Compatibility\u003c\/strong\u003e ---- Compatible with various devices (USB, HDMI, 3.5mm AUX and Micro SD port), can easily connect your smartphone, PS3, PS4, X-Box ONE and other devices to enjoy BIG games and Movie.\u003c\/p\u003e\n\u003cp\u003e🎁\u003cstrong\u003eAndroid TV 9.0 system\u003c\/strong\u003e ---- Built-in Android TV system, which can truly realize wireless playback, you can download and install apps from the store. Stream content from Netflix, Youtube, and more, and enjoy life.\u003c\/p\u003e\n\u003cp\u003e\u003cspan data-mce-fragment=\"1\"\u003e🎁\u003cstrong\u003eWireless \u003c\/strong\u003e\u003c\/span\u003e\u003cstrong\u003e2.4G\/5G Dual Band WiFi\u003c\/strong\u003e \u003cspan data-mce-fragment=\"1\"\u003e---- \u003c\/span\u003eSupport Gigabit network. 5G wireless network makes transmission more stable and online video playback smoother.\u003c\/p\u003e\n\u003cp\u003e \u003c\/p\u003e\n\u003ch2\u003eParameter Of XGODY Android Mini Smart Projector\u003c\/h2\u003e\n\u003cp\u003eProduct Description: XGODY Smart Projector\u003cbr\u003eOperation System: Android 9.0\u003cbr\u003eBuffer Memory(RAM): 1G\u003cbr\u003eStorage(ROM): 8G \u003cbr\u003eWIFI:2.4G\/5G\/BT4.1\u003cbr\u003eProjection Technique: 3.5inch LCD TFT Display\u003cbr\u003eNative Resolution: 1280*720P\u003cbr\u003eSupported Resolution:1080P\u003cbr\u003eColor Temperature:8000K ±(1000K)\u003cbr\u003eBrightness(Lumens):150 ANSI lumens\u003cbr\u003eContrast Ratio:6000:1\u003cbr\u003eImage Flip: 360 degrees flip\u003cbr\u003eLens:4 pieces glass lens\u003cbr\u003eAspect Ratio:16:9 \u0026amp; 4:3\u003cbr\u003eThrow Ratio:1.37\u003cbr\u003eKeystone Correction:Vertical ±15°\u003cbr\u003eBulb Life:\u0026gt;60000 Hrs\u003cbr\u003eLamp Type:LED 60W \u003cbr\u003eAdjustment Mode:Manual focus\u003cbr\u003eOperation Mode:Button pannel and remote control\u003cbr\u003e\u003cstrong\u003eProjection Distance:1.2-4M\u003c\/strong\u003e\u003cbr\u003e\u003cstrong\u003eOptimal Projection Distance:1.68M\u003c\/strong\u003e\u003cbr\u003eProjection Size:40-130 inch\u003cbr\u003eSpeaker:10W\u003cbr\u003eFan Noise: \u0026lt;25 dB\u003cbr\u003eWorking Voltage(V): AC90-260V\/50-60MHZ\u003cbr\u003eInterface:USB*1 \/ HDMI IN*1 \/ AV IN*1 \/ Headphone jack*1\u003cbr\u003eAudio File:MP3 \/ WMA \/ ACC ... ....\u003cbr\u003eImage File: JPG, BMP, PNG, support image scaling, ... ...\u003cbr\u003eVideo File: MP4 \/ RMAB \/ AVI \/ RM \/ MKV ... ...\u003cbr\u003e\u003cbr\u003eAdapter Power cord:1.2m\u003cbr\u003ePower supply:110-220V\u003cbr\u003eFast Boot:3 Sec\u003cbr\u003eProduct size:125*167*67MM\u003cbr\u003eDesk weight(kg):0.60kg\u003c\/p\u003e\n\u003cp\u003eUsage:Home theater, entertainment, early childhood education, video conference, online teaching ... ...\u003c\/p\u003e\n\u003cp\u003eStandard Accessory:User Manual,Power cord,Remote control, lens cap\u003c\/p\u003e\n\u003cp\u003e \u003c\/p\u003e\n\u003cp\u003e \u003c\/p\u003e\n\u003cdiv style=\"text-align: center;\"\u003e\u003cimg style=\"float: none;\" alt=\"\" src=\"https:\/\/cdn.shopify.com\/s\/files\/1\/0100\/3542\/9454\/files\/01_2fdaa1f6-5a46-410d-a36a-9cc39134f8af_1024x1024.jpg?v=1646212895\"\u003e\u003c\/div\u003e"}
XGODY Android Mini Smart Projector T01 With WiFi Bluetooth Outdoor Video Pico Projector Support 1080P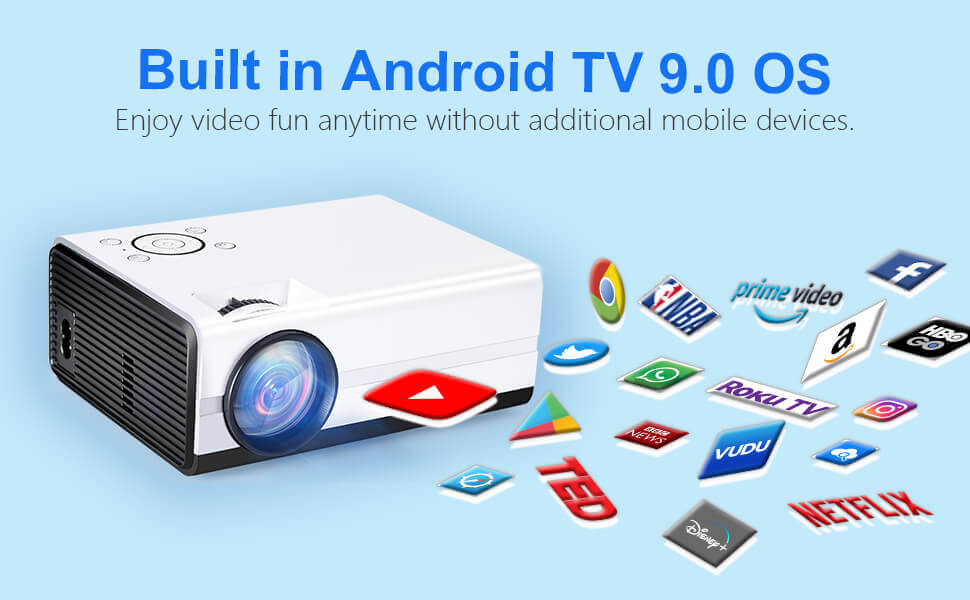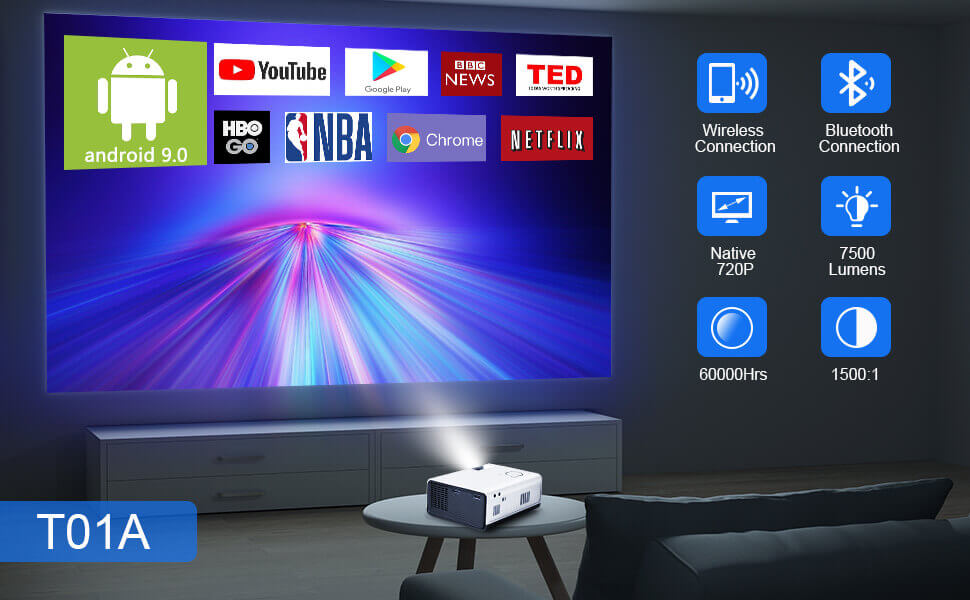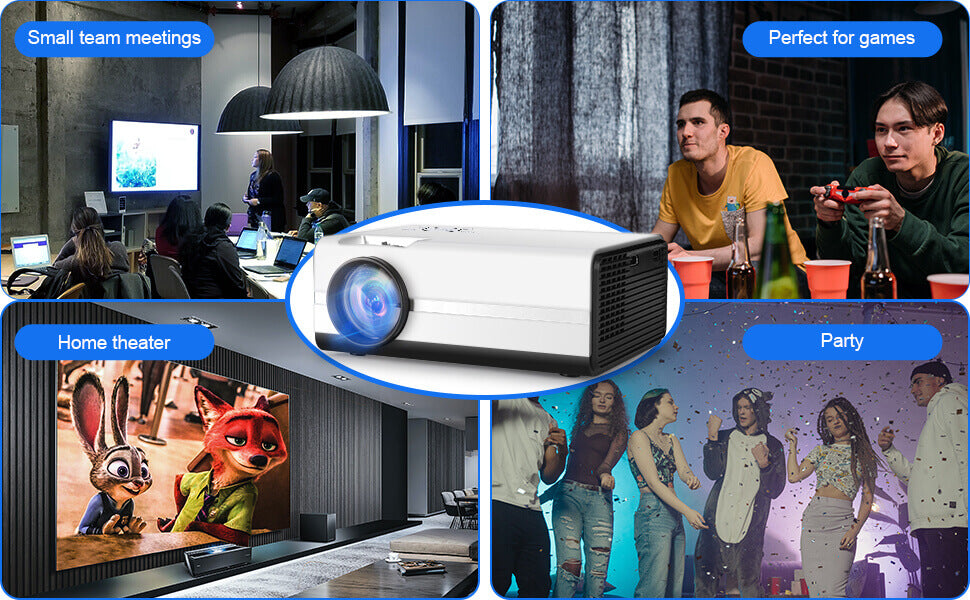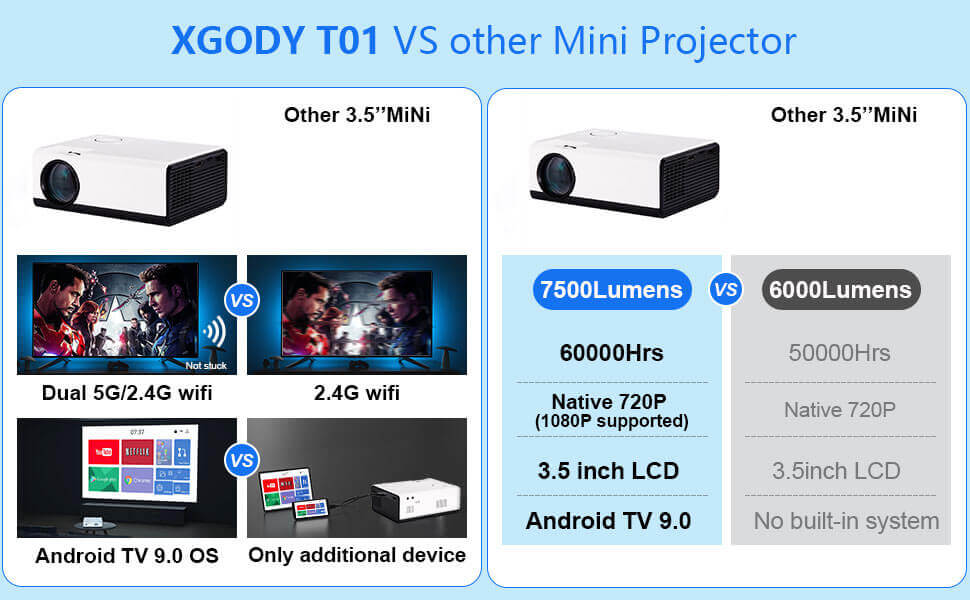 So are you looking to get started on this right away?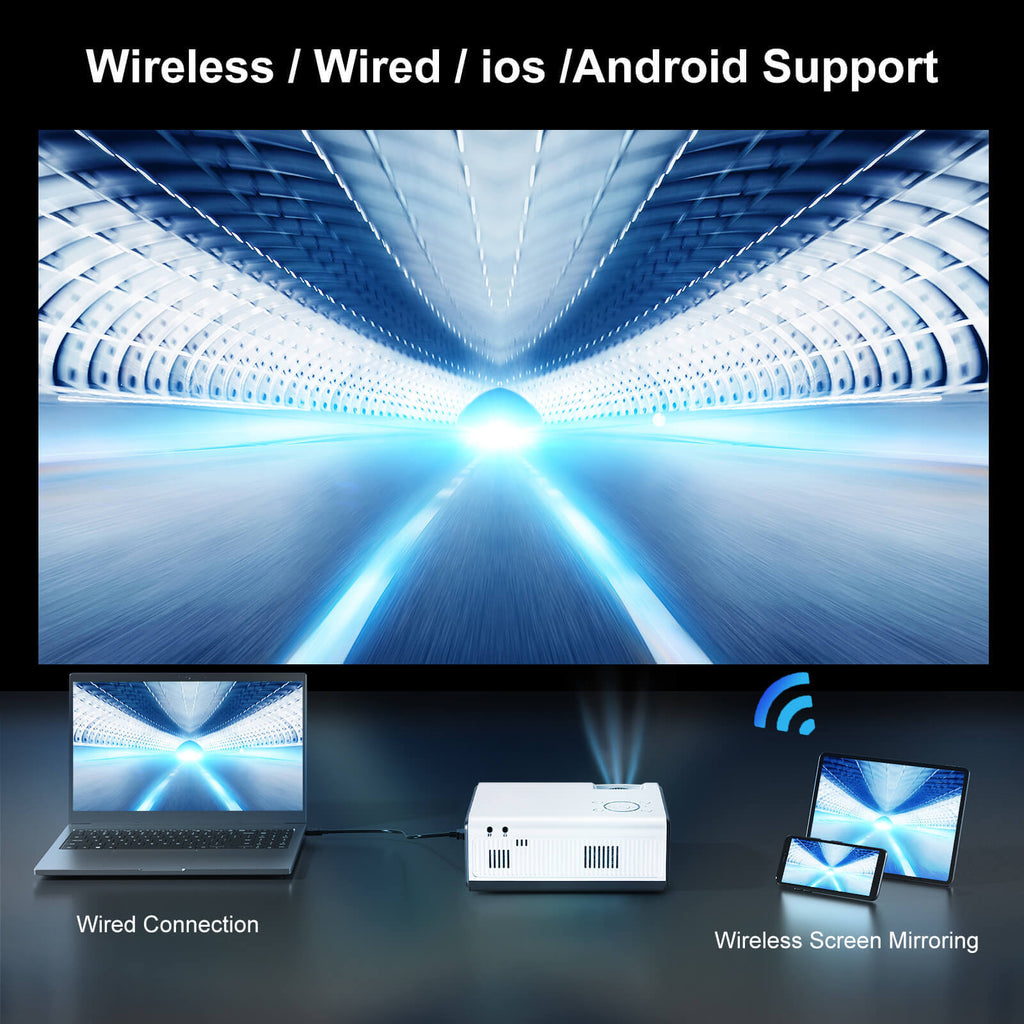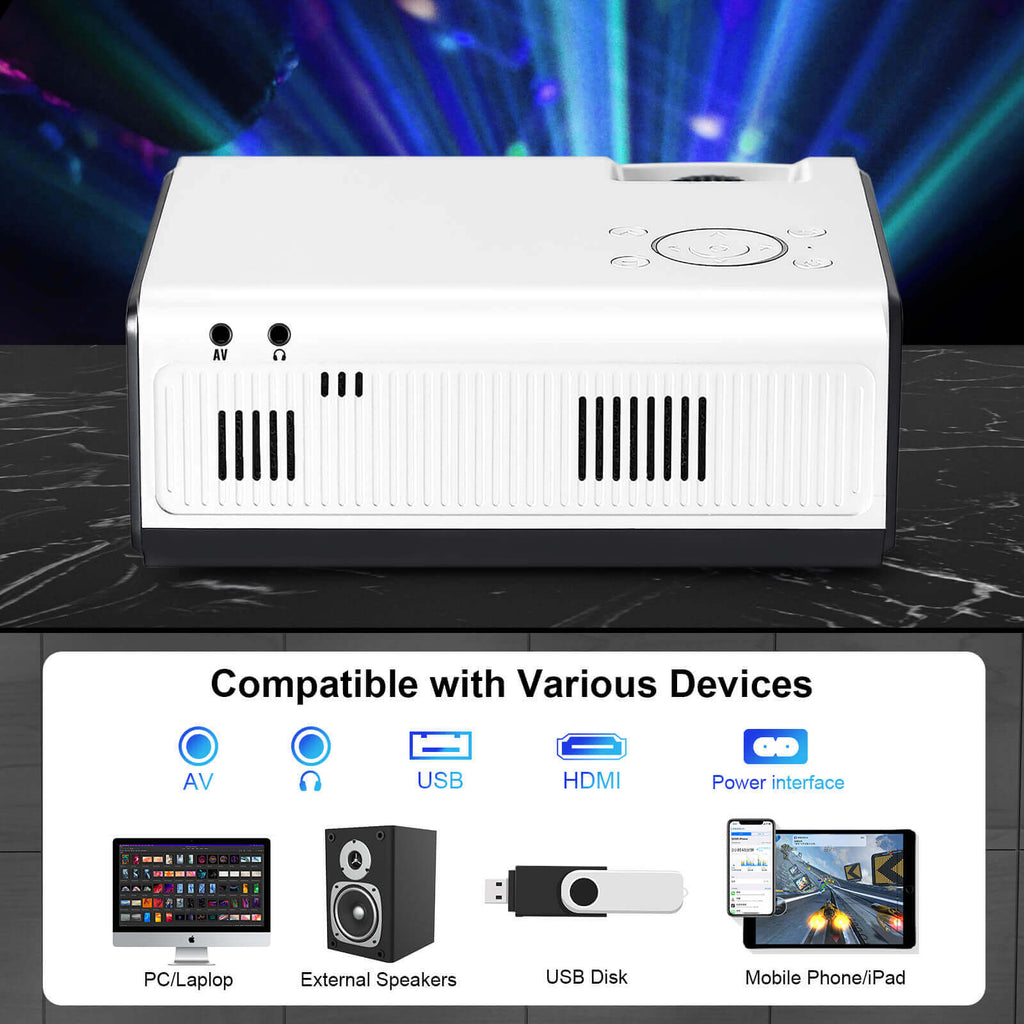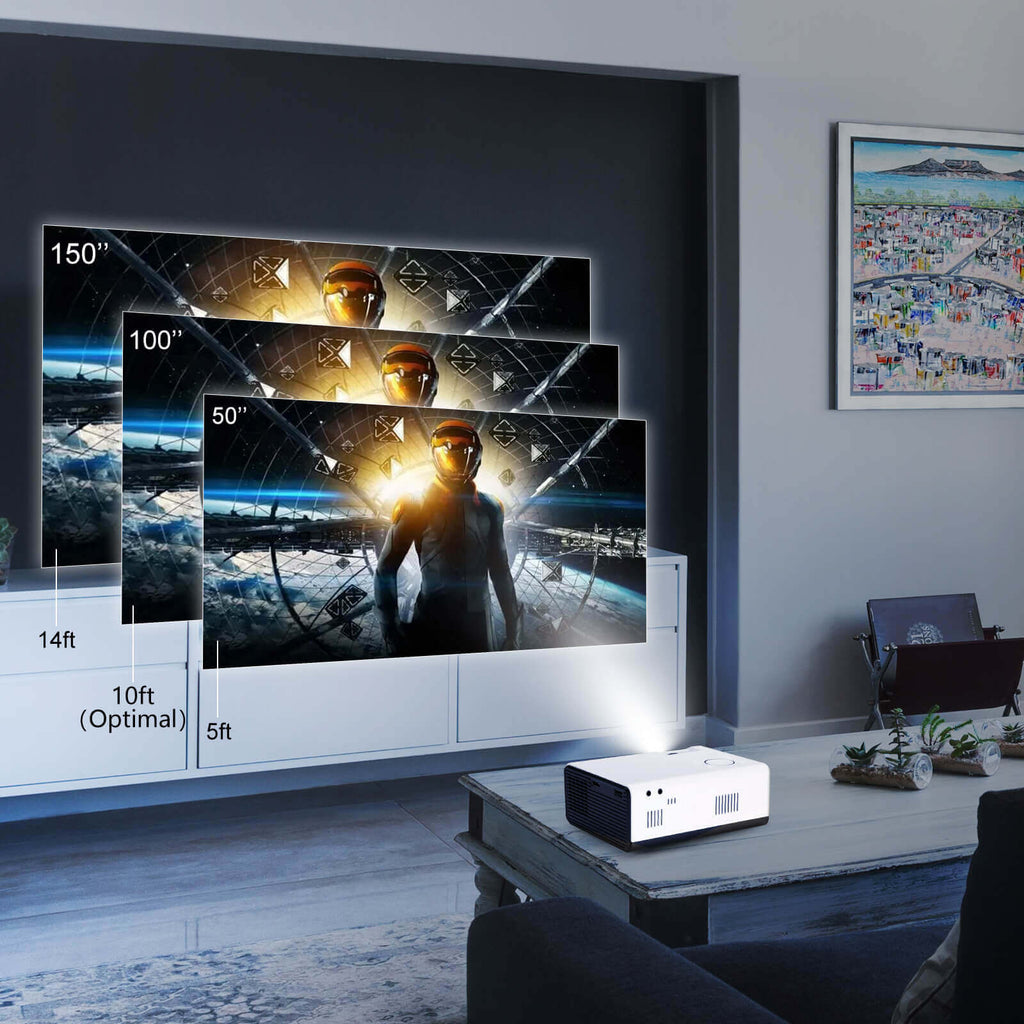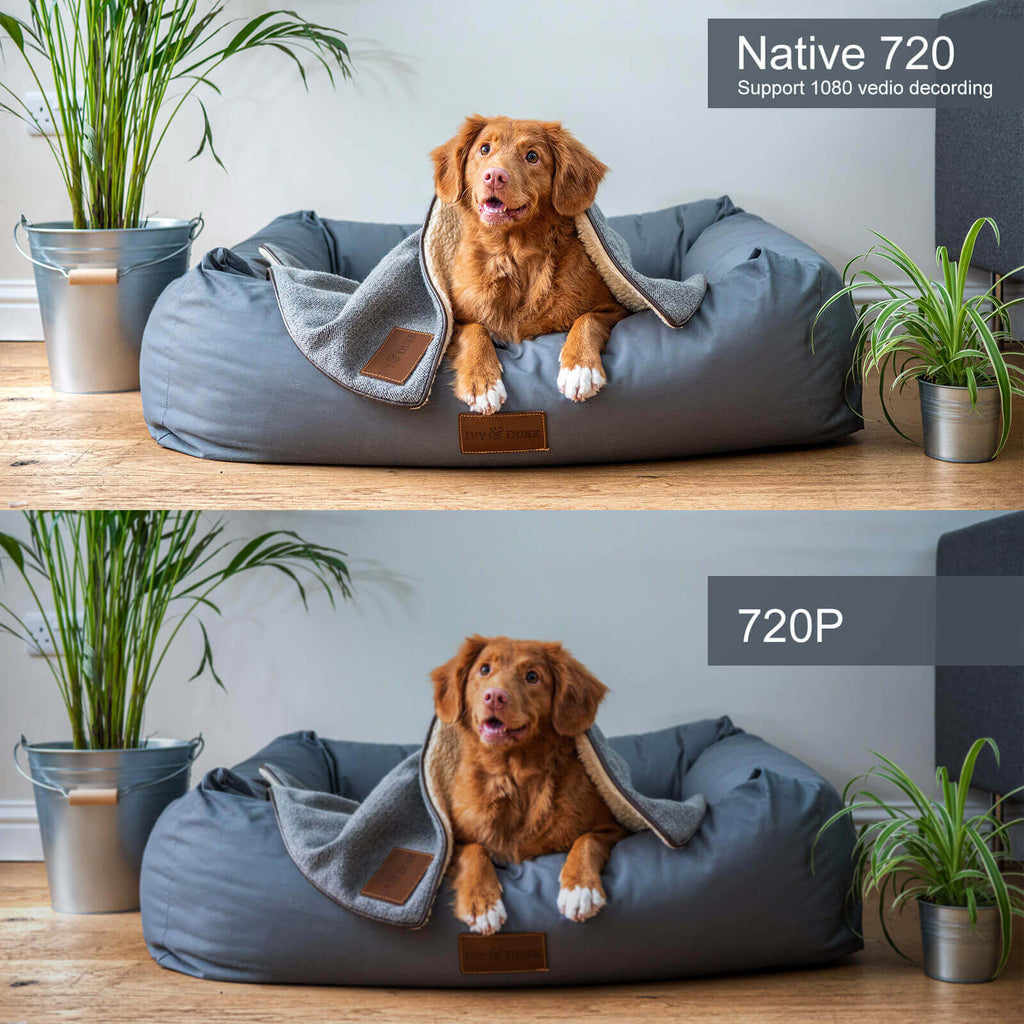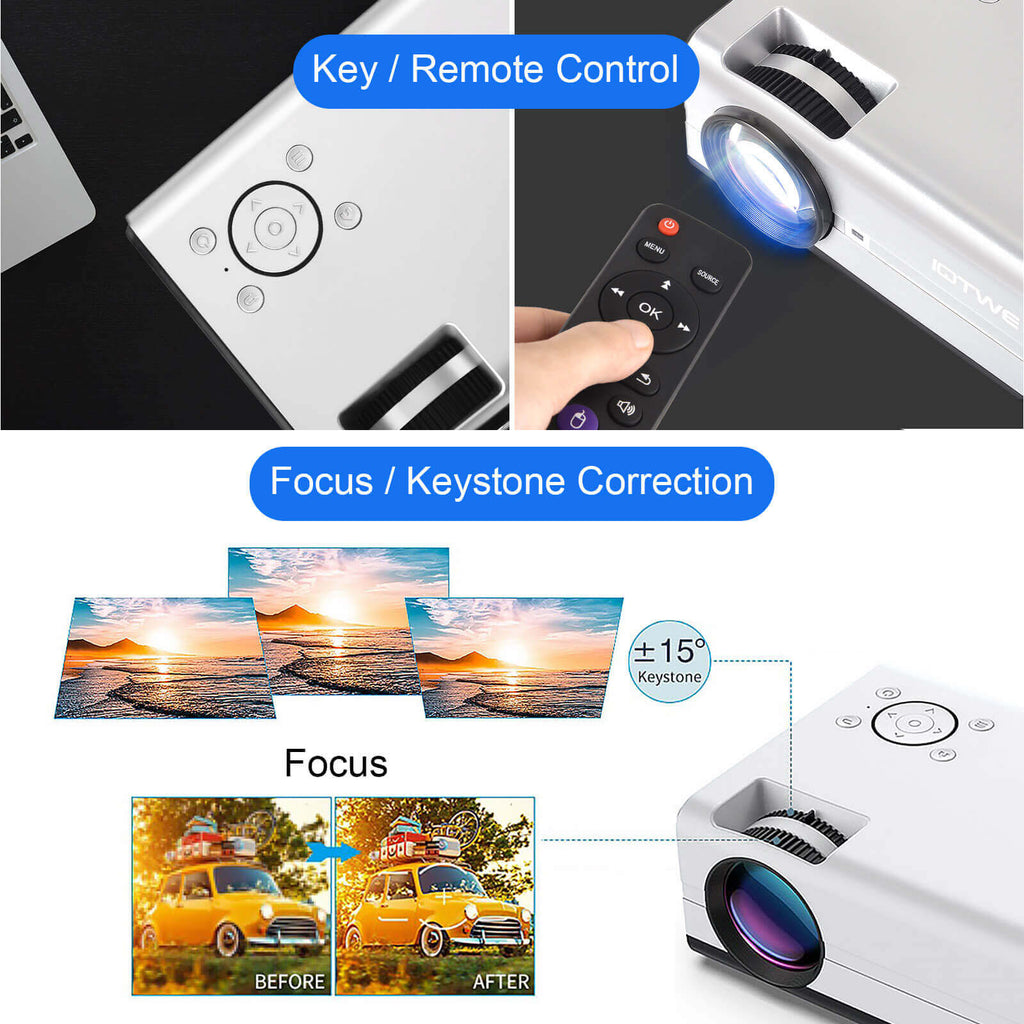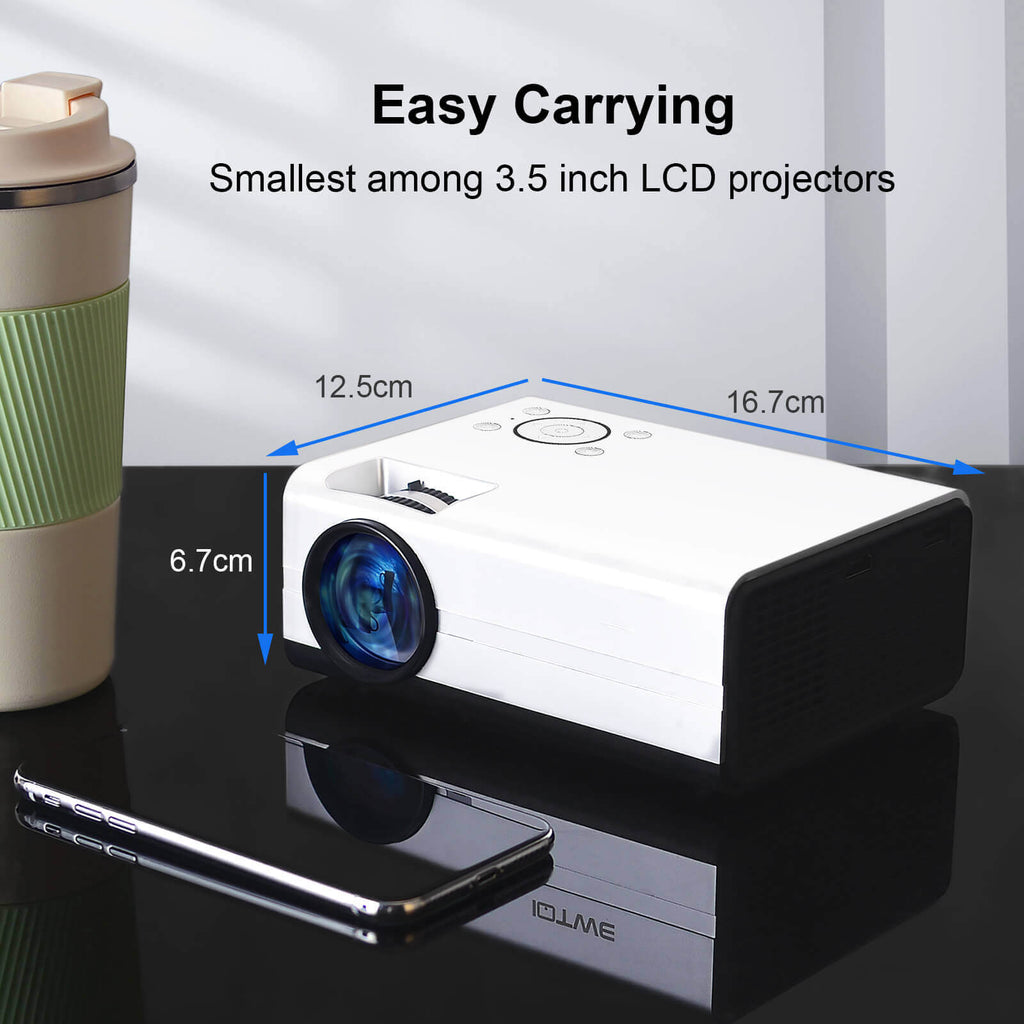 XGODY smart wireless Android projector is the most cutting-edge product on the market at present, which further optimizes portability and strengthens more adaptable scenarios. With a small power supply, it can play media by itself; and XGODY is also equipped with a variety of interfaces, Bluetooth and WiFi Link, more professional than the average projector. Watching for a long time is not easy to get tired. No radiation, no eye damage, enjoy movies to the fullest, without worries.


🎁 Portable Android Projector ---- Vibrant colors and clear images (200 ANSI lumens) ensure adaptation to different environments; soft light protects your eyes from glare, no radiation and eye damage.
🎁Multi-screen sharing projection ---- This smart movie projector adopts the latest multi-screen technology, suitable for iOS, Android, Android TV, Window system, etc. enjoy entertainment anytime, anywhere.
🎁Super Compatibility ---- Compatible with various devices (USB, HDMI, 3.5mm AUX and Micro SD port), can easily connect your smartphone, PS3, PS4, X-Box ONE and other devices to enjoy BIG games and Movie.
🎁Android TV 9.0 system ---- Built-in Android TV system, which can truly realize wireless playback, you can download and install apps from the store. Stream content from Netflix, Youtube, and more, and enjoy life.
🎁Wireless 2.4G/5G Dual Band WiFi ---- Support Gigabit network. 5G wireless network makes transmission more stable and online video playback smoother.
Parameter Of XGODY Android Mini Smart Projector
Product Description: XGODY Smart Projector
Operation System: Android 9.0
Buffer Memory(RAM): 1G
Storage(ROM): 8G
WIFI:2.4G/5G/BT4.1
Projection Technique: 3.5inch LCD TFT Display
Native Resolution: 1280*720P
Supported Resolution:1080P
Color Temperature:8000K ±(1000K)
Brightness(Lumens):150 ANSI lumens
Contrast Ratio:6000:1
Image Flip: 360 degrees flip
Lens:4 pieces glass lens
Aspect Ratio:16:9 & 4:3
Throw Ratio:1.37
Keystone Correction:Vertical ±15°
Bulb Life:>60000 Hrs
Lamp Type:LED 60W
Adjustment Mode:Manual focus
Operation Mode:Button pannel and remote control
Projection Distance:1.2-4M
Optimal Projection Distance:1.68M
Projection Size:40-130 inch
Speaker:10W
Fan Noise: <25 dB
Working Voltage(V): AC90-260V/50-60MHZ
Interface:USB*1 / HDMI IN*1 / AV IN*1 / Headphone jack*1
Audio File:MP3 / WMA / ACC ... ....
Image File: JPG, BMP, PNG, support image scaling, ... ...
Video File: MP4 / RMAB / AVI / RM / MKV ... ...

Adapter Power cord:1.2m
Power supply:110-220V
Fast Boot:3 Sec
Product size:125*167*67MM
Desk weight(kg):0.60kg
Usage:Home theater, entertainment, early childhood education, video conference, online teaching ... ...
Standard Accessory:User Manual,Power cord,Remote control, lens cap
1.Most items are shipping free, you can check the description in the listing. Order will be shipped within 72 hours after payment made.
2.The shipping time is based on the shipping option, sometimes it may be delayed due to varied situation (such as holidays, war, weather etc.), please contact us immediately if delivery time exceeds estimated.
3.Import taxes, duties and related customs fees may be charged once the parcel arrives at the destination country. These charges are determined by the customs office of the specific destination. Payment of these charges and taxes is the responsibility of the recipient and will not be covered by us here at Xgody. For further details of charges, please contact your local customs office.
4.Time Schedule- F

ast Shipping
| | |
| --- | --- |
| United States/Australia/UK |  4-10 working days |
| Canada/Israel/ Azerbaijan / Russia/Maldives/ Eastern Europe/ Middle East |  9-18 working days |
| Brazil/Chile/South America |  9-18 working days |
| Western Europe/New Zealand |  7-10 working days |
If you are not happy with your purchase and wish to return an item, please contact us immediatelysince receiving your order. Our customs support email is support@xgody.com. Please write down your order number and user ID in the return parcel.
All returns must be in original condition with packaging intact to avoid damage during shipment, any physical damage during the return shipment will not be accepted. Returned parcel need to provide shipment number for tracking.
We will get back to you once we receive the return parcel. Money or replacement will be arranged within 24-48 hours after the return parcel delivered.
-
1.Why Choose Xgody?
Brand XGODY was established in 2014 with great advantages in electronic products. More than that, the operating team has more than 10 years experiences on e-commerce.. We know exactly what the buyer concerns and worries. Making sure you will have a wonderful shopping experience by providing what you need and getting rid of what you worried about. It is no doubt to choose us with our high quality of product, good shipping way, and good customs support.
2.What payment methods do you accept?
We accept all major credit cards (VISA, Mastercard, AMEX) and PayPal payments. We do not accept personal checks, money orders, direct bank transfers, western union, or cash on delivery.
3.Can I change my shipping address after placing an order?
Please be advised that your shipping address cannot be revised after the order has been processed or shipped. Kindly update your shipping address to your residential address instead of your vacation address as we do not know how long the destination's customs department will have the package on hold.
4.How do I track my order?
The tracking number can be queried in the background. Also, we will email your tracking information as soon as your order has shipped. Usually you will receive the tracking number one day after we have shipped your order. In addition, if you still do not know how to query and track, you can also contact customer service freely.
5.Will I be charged with customs and taxes?
Import taxes, duties and related customs fees may be charged once your order arrives to its final destination, which are determined by your local customs office.
Payment of these charges and taxes are your responsibility and will not be covered by us. We are not responsible for delays caused by the customs department in your country. For further details of charges, please contact your local customs office. 
6.What Do I Do If I Have Missing Items In My Order?
If something is still missing, please contact us immediately.
7.What if the item(s) I received are defective/incorrect/damaged?
Please contact us within 7 days from receiving your order if you received merchandise that is incorrect, missing, and/or defective. Please include your order number, photographs of the item(s) and all related references upon receiving your package. We will do our very best to resolve your case as soon as possible.
8.How do I return an item?
If you are not happy with your purchase and wish to return an item, please contact us immediately from receiving your order. Please provide your order number as well as the reason for your return. Our customer service team will review the return request and will send further instructions if the return is approved.
For a list of final sale items, please see our Warranty Info and Refund Policy. All returns must be in original condition with packaging intact.
9.When will I receive my refund?
All refunds will be credited to your original form of payment. If you paid by credit or debit card, refunds will be sent to the card-issuing bank within 7-10 business days of receipt of the returned item or cancellation request. Please contact the card-issuing bank with questions about when the credit will be posted to your account.
If you haven't received a credit for your return yet, here's what to do: Contact the bank/credit card company. It may take some time before the refund is posted to your account.