{"id":6688209174606,"title":"XGODY J727 Truck 7inch Sat Nav GPS with Bluetooth AV-in Navigation System for Car","handle":"xgody-j727-truck-7inch-sat-nav-gps-with-bluetooth-av-in-navigation-system-for-car","description":"\u003ch2 data-mce-fragment=\"1\" style=\"text-align: center;\" data-mce-style=\"text-align: center;\"\u003eXGODY J727 Truck 7 Inch Satellite Navigation GPS\u003c\/h2\u003e\n\u003cdiv style=\"text-align: center;\" data-mce-fragment=\"1\" data-mce-style=\"text-align: center;\"\u003e\u003ciframe title=\"Navigate Like a Pro: Affordable Tools for Good Navigation!\" src=\"https:\/\/www.youtube.com\/embed\/EJQ9rzIDg4E\" height=\"576\" width=\"1024\" allowfullscreen=\"\" allow=\"accelerometer; autoplay; clipboard-write; encrypted-media; gyroscope; picture-in-picture; web-share\" frameborder=\"0\"\u003e\u003c\/iframe\u003e\u003c\/div\u003e\n\u003cdiv data-mce-fragment=\"1\" style=\"text-align: center;\" data-mce-style=\"text-align: center;\"\u003e\u003c\/div\u003e\n\u003cdiv data-mce-fragment=\"1\" style=\"text-align: center;\" data-mce-style=\"text-align: center;\"\u003e\u003c\/div\u003e\n\u003cdiv data-mce-fragment=\"1\" style=\"text-align: center;\" data-mce-style=\"text-align: center;\"\u003e\u003cimg data-mce-fragment=\"1\" style=\"float: none;\" alt=\"\" src=\"https:\/\/cdn.shopify.com\/s\/files\/1\/0100\/3542\/9454\/files\/1_bdde0385-a9ce-435f-a8e0-e6332676f933_2048x2048.jpg?v=1641884067\" data-mce-src=\"https:\/\/cdn.shopify.com\/s\/files\/1\/0100\/3542\/9454\/files\/1_bdde0385-a9ce-435f-a8e0-e6332676f933_2048x2048.jpg?v=1641884067\" data-mce-style=\"float: none;\"\u003e\u003c\/div\u003e\n\u003ch3 style=\"text-align: center;\" data-mce-style=\"text-align: center;\"\u003eBring A Suitable 7-inch GPS Navigator And Go\u003c\/h3\u003e\n\u003cp style=\"text-align: center;\" data-mce-style=\"text-align: center;\"\u003eSet 2D\/ 3D maps\/ day and night mode\/ altitude and speed limit reminders in advance to facilitate travel.\u003c\/p\u003e\n\u003ch3 style=\"text-align: center;\" data-mce-style=\"text-align: center;\"\u003e\u003cimg data-mce-fragment=\"1\" alt=\"\" src=\"https:\/\/cdn.shopify.com\/s\/files\/1\/0100\/3542\/9454\/files\/1.1_2048x2048.jpg?v=1641884053\" style=\"font-size: 1.4em;\" data-mce-src=\"https:\/\/cdn.shopify.com\/s\/files\/1\/0100\/3542\/9454\/files\/1.1_2048x2048.jpg?v=1641884053\" data-mce-style=\"font-size: 1.4em;\"\u003e\u003c\/h3\u003e\n\u003ch3 style=\"text-align: center;\" data-mce-style=\"text-align: center;\"\u003eMultifunction touchscreen GPS navigation\u003c\/h3\u003e\n\u003cp style=\"text-align: center;\" data-mce-style=\"text-align: center;\"\u003eThrough the operation of the touch screen, functions such as satellite positioning, voice broadcast, and viewing of 2D\/3D views can be performed, and the latest real-time road conditions on the map can also be obtained. Smart route planning using points of interest and zip code searches.\u003c\/p\u003e\n\u003ch3 style=\"text-align: center;\" data-mce-style=\"text-align: center;\"\u003e\n\u003cimg data-mce-fragment=\"1\" alt=\"\" src=\"https:\/\/cdn.shopify.com\/s\/files\/1\/0100\/3542\/9454\/files\/5_f87741dc-f394-4d4d-817c-919c8a365dc7_2048x2048.jpg?v=1641884118\" style=\"font-size: 1.4em;\" data-mce-src=\"https:\/\/cdn.shopify.com\/s\/files\/1\/0100\/3542\/9454\/files\/5_f87741dc-f394-4d4d-817c-919c8a365dc7_2048x2048.jpg?v=1641884118\" data-mce-style=\"font-size: 1.4em;\"\u003e\u003cbr\u003e\n\u003c\/h3\u003e\n\u003ch3 data-mce-fragment=\"1\" style=\"text-align: center;\" data-mce-style=\"text-align: center;\"\u003ePermanent Free Map Updates\u003c\/h3\u003e\n\u003cp style=\"text-align: center;\" data-mce-style=\"text-align: center;\"\u003eSupport permanent free updates of maps in regions such as the United States, Canada, and Mexico, bringing the latest, best, and most reasonable technical support.\u003c\/p\u003e\n\u003cp data-mce-style=\"text-align: center;\"\u003e\u003cimg height=\"562\" width=\"562\" src=\"https:\/\/cdn.shopifycdn.net\/s\/files\/1\/0100\/3542\/9454\/files\/1_a987b36e-3bfc-44f8-a307-23d77aac3710_1024x1024.png?v=1670315089\" alt=\"Voice function, GPS navigation\" style=\"float: left;\" data-mce-style=\"float: left;\"\u003e\u003cimg data-mce-fragment=\"1\" src=\"https:\/\/cdn.shopifycdn.net\/s\/files\/1\/0100\/3542\/9454\/files\/2_ee38f604-c9d9-42af-9c78-303fe82f9186_1024x1024.png?v=1670315271\" alt=\"2D\/3D Map, GPS navigation\" width=\"562\" height=\"562\" style=\"display: block; margin-left: auto; margin-right: auto;\" data-mce-src=\"https:\/\/cdn.shopifycdn.net\/s\/files\/1\/0100\/3542\/9454\/files\/2_ee38f604-c9d9-42af-9c78-303fe82f9186_1024x1024.png?v=1670315271\" data-mce-style=\"display: block; margin-left: auto; margin-right: auto;\"\u003e\u003cimg data-mce-fragment=\"1\" style=\"display: block; margin-left: auto; margin-right: auto;\" height=\"483\" width=\"483\" alt=\"\" src=\"https:\/\/cdn.shopify.com\/s\/files\/1\/0100\/3542\/9454\/files\/8_6fd6f54d-d39f-4187-9989-dd24bdbab315_2048x2048.jpg?v=1641884224\" data-mce-src=\"https:\/\/cdn.shopify.com\/s\/files\/1\/0100\/3542\/9454\/files\/8_6fd6f54d-d39f-4187-9989-dd24bdbab315_2048x2048.jpg?v=1641884224\" data-mce-style=\"display: block; margin-left: auto; margin-right: auto;\"\u003e\u003c\/p\u003e\n\u003cp style=\"text-align: left;\" data-mce-style=\"text-align: left;\"\u003e \u003c\/p\u003e\n\u003cdiv data-mce-fragment=\"1\" style=\"text-align: left;\" data-mce-style=\"text-align: left;\"\u003e\u003c\/div\u003e\n\u003cdiv data-mce-fragment=\"1\" style=\"text-align: left;\" data-mce-style=\"text-align: left;\"\u003e\u003c\/div\u003e\n\u003cdiv data-mce-fragment=\"1\" style=\"text-align: left;\" data-mce-style=\"text-align: left;\"\u003e--\u003c\/div\u003e\n\u003cdiv data-mce-fragment=\"1\" style=\"text-align: left;\" data-mce-style=\"text-align: left;\"\u003e\u003cstrong\u003e\u003c\/strong\u003e\u003c\/div\u003e\n\u003cdiv data-mce-fragment=\"1\" style=\"text-align: left;\" data-mce-style=\"text-align: left;\"\u003e\n\u003cstrong\u003eSpeed limit reminder\u003c\/strong\u003e\u003cbr\u003eCar GPS navigation will tell you the current limit speed of the road, you can control the speed in advance.\u003cbr\u003e\u003cbr\u003e\u003cstrong\u003eTraffic light reminder\u003c\/strong\u003e\u003cbr\u003eOn-board GPS navigation will tell you the traffic lights on the road ahead, reminding you to slow down.\u003cbr\u003e\u003cbr\u003e\u003cstrong\u003ecustom line\u003c\/strong\u003e\u003cbr\u003eCustom routes to customize the best route based on your vehicle and driving habits, avoiding road restrictions.\u003cbr\u003e\u003cbr\u003e\u003cstrong\u003e2D\/3D map viewing mode\u003c\/strong\u003e\u003cbr\u003e 2D and 3D view modes, feel the surrounding buildings more intuitively, without worrying about complicated viaducts and mazes.\u003cbr\u003e\u003cbr\u003e\u003cstrong\u003eConvenient XGODY Navigation System\u003c\/strong\u003e\u003cbr\u003eDriver Alerts, a real voice broadcast like a friend, receive alerts for upcoming sharp turns, speed changes, school zones, speed control zones, nearby red lights, and more.\u003c\/div\u003e\n\u003cdiv data-mce-fragment=\"1\" style=\"text-align: left;\" data-mce-style=\"text-align: left;\"\u003e\u003c\/div\u003e\n\u003cdiv data-mce-fragment=\"1\" style=\"text-align: left;\" data-mce-style=\"text-align: left;\"\u003e\u003c\/div\u003e\n\u003cdiv data-mce-fragment=\"1\" style=\"text-align: left;\" data-mce-style=\"text-align: left;\"\u003e\u003c\/div\u003e\n\u003cdiv data-mce-fragment=\"1\" style=\"text-align: left;\" data-mce-style=\"text-align: left;\"\u003e\u003cbr\u003e\u003c\/div\u003e\n\u003cdiv data-mce-fragment=\"1\" style=\"text-align: left;\" data-mce-style=\"text-align: left;\"\u003e\u003c\/div\u003e\n\u003cdiv data-mce-fragment=\"1\" style=\"text-align: left;\" data-mce-style=\"text-align: left;\"\u003e\u003c\/div\u003e\n\u003cdiv data-mce-fragment=\"1\" style=\"text-align: left;\" data-mce-style=\"text-align: left;\"\u003e--\u003c\/div\u003e\n\u003cdiv data-mce-fragment=\"1\" style=\"text-align: left;\" data-mce-style=\"text-align: left;\"\u003e\u003c\/div\u003e\n\u003cdiv data-mce-fragment=\"1\" style=\"text-align: left;\" data-mce-style=\"text-align: left;\"\u003e\u003c\/div\u003e\n\u003cdiv data-mce-fragment=\"1\" style=\"text-align: left;\" data-mce-style=\"text-align: left;\"\u003e\u003cimg data-mce-fragment=\"1\" src=\"https:\/\/cdn.shopify.com\/s\/files\/1\/0100\/3542\/9454\/files\/9_57c4a7f1-8a6a-422d-af49-d583ad836d05_2048x2048.jpg?v=1641884244\" width=\"2048x2048\" height=\"2048x2048\" style=\"float: none; display: block; margin-left: auto; margin-right: auto;\" data-mce-style=\"float: none; display: block; margin-left: auto; margin-right: auto;\" data-mce-src=\"https:\/\/cdn.shopify.com\/s\/files\/1\/0100\/3542\/9454\/files\/9_57c4a7f1-8a6a-422d-af49-d583ad836d05_2048x2048.jpg?v=1641884244\"\u003e\u003c\/div\u003e\n\u003ch3 data-mce-fragment=\"1\" style=\"text-align: center;\" data-mce-style=\"text-align: center;\"\u003eDriving Mode For Navigation\u003c\/h3\u003e\n\u003cp style=\"text-align: center;\" data-mce-style=\"text-align: center;\"\u003eThe voice navigation function of J727 navigation is the travel demand of every large truck, car, RV, bus, bicycle, taxi, and person, and solves many problems.\u003c\/p\u003e\n\u003cdiv data-mce-fragment=\"1\" style=\"text-align: left;\" data-mce-style=\"text-align: left;\"\u003e\u003cimg data-mce-fragment=\"1\" style=\"display: block; margin-left: auto; margin-right: auto;\" alt=\"\" src=\"https:\/\/cdn.shopify.com\/s\/files\/1\/0100\/3542\/9454\/files\/10_da647d2c-e7b8-409d-b032-d4ac1e0bfd24_2048x2048.jpg?v=1641884276\" data-mce-style=\"display: block; margin-left: auto; margin-right: auto;\" data-mce-src=\"https:\/\/cdn.shopify.com\/s\/files\/1\/0100\/3542\/9454\/files\/10_da647d2c-e7b8-409d-b032-d4ac1e0bfd24_2048x2048.jpg?v=1641884276\"\u003e\u003c\/div\u003e\n\u003ch3 data-mce-fragment=\"1\" style=\"text-align: center;\" data-mce-style=\"text-align: center;\"\u003eDriving Mode For Navigation\u003c\/h3\u003e\n\u003cp style=\"text-align: center;\" data-mce-style=\"text-align: center;\"\u003eJ727 navigation is especially suitable for truck drivers, which has a professional truck mode, this mode sets the vehicle profile, provides you with voice guidance, smart truck routing.\u003c\/p\u003e\n\u003cdiv data-mce-fragment=\"1\" style=\"text-align: left;\" data-mce-style=\"text-align: left;\"\u003e\u003cimg data-mce-fragment=\"1\" style=\"display: block; margin-left: auto; margin-right: auto;\" alt=\"\" src=\"https:\/\/cdn.shopify.com\/s\/files\/1\/0100\/3542\/9454\/files\/11_551be8ed-fde1-46a9-ab18-0e084467f162_2048x2048.jpg?v=1641884294\" data-mce-style=\"display: block; margin-left: auto; margin-right: auto;\" data-mce-src=\"https:\/\/cdn.shopify.com\/s\/files\/1\/0100\/3542\/9454\/files\/11_551be8ed-fde1-46a9-ab18-0e084467f162_2048x2048.jpg?v=1641884294\"\u003e\u003c\/div\u003e\n\u003cdiv data-mce-fragment=\"1\" style=\"text-align: left;\" data-mce-style=\"text-align: left;\"\u003e\u003c\/div\u003e\n\u003cdiv data-mce-fragment=\"1\" style=\"text-align: left;\" data-mce-style=\"text-align: left;\"\u003e\u003c\/div\u003e\n\u003ch2 data-mce-fragment=\"1\" style=\"text-align: left;\" data-mce-style=\"text-align: left;\"\u003e\u003c\/h2\u003e\n\u003ch2 data-mce-fragment=\"1\" style=\"text-align: left;\" data-mce-style=\"text-align: left;\"\u003e\u003cbr\u003e\u003c\/h2\u003e\n\u003ch2 data-mce-fragment=\"1\" style=\"text-align: left;\" data-mce-style=\"text-align: left;\"\u003eLifetime Free Map Update Sat Nav 7inch Truck GPS with Bluetooth AV-in Navigation System for Car\u003c\/h2\u003e\n\u003cdiv data-mce-fragment=\"1\" style=\"text-align: left;\" data-mce-style=\"text-align: left;\"\u003eBig Touchscreen Navigator with Voice Guidance and Speed Camera Warning Auto GPS with Lifetime Free Map Update\u003c\/div\u003e\n\u003cdiv data-mce-fragment=\"1\" style=\"text-align: left;\" data-mce-style=\"text-align: left;\"\u003e\u003c\/div\u003e\n\u003cdiv data-mce-fragment=\"1\" style=\"text-align: left;\" data-mce-style=\"text-align: left;\"\u003eXGODY Sta Nav had a pre-installed map that has over 10 million POI's, including most service stations, Motels, driver's houses, service centers, and so on. I am sure you can find what you want in XGODY Map and Local information - at your fingertips.\u003cbr\u003e\u003cbr\u003e\u003cstrong\u003e🚗【Bluetooth \u0026amp; AV-IN】:\u003c\/strong\u003e Bluetooth lets you be hands-free to make calls, and drive safer. AV-IN can be used to connect the rearview camera, and car safer. Getting drivers home safely is the main purpose of XGODY's product development.\u003cbr\u003e\u003cbr\u003e\u003cstrong\u003e🚗【The Best GPS Navigation System】:\u003c\/strong\u003e XGODY Truck GPS with a high-resolution and large screen which gives you a better visual experience. Perfect for professional truck drivers and older people. \u003cbr\u003eWhat's more, XGODY navigation can set a variety of distance units: kilometers、meters,、miles、feet、yards. No matter which country you are in, you can switch units more easily, providing you with great convenience.\u003cbr\u003e\u003cbr\u003e\u003cstrong\u003e🚗【Free Lifetime Map Updates】:\u003c\/strong\u003e GPS Navigator has pre-installed with the 2021 latest Map that is up to Q4, including USA, Canada Mexico, or Full EU map, UK, AU, and other Maps, which has 2D \/ 3D map display. \u003cbr\u003e\u003cbr\u003e\u003cbr\u003e\u003cstrong\u003e🚗【Professional Truck GPS Navigation Avoid Danger】:\u003c\/strong\u003e Customized truck routing for the size and weight of your truck, avoiding the roads which have width restrictions or height restrictions,s or weight restrictions. \u003cbr\u003eYou can set in the \"navigation——×(small icon of a tool)——Route Settings——Vehicle——Truck(Set the length, width, height, and load of the truck).\" \u003cbr\u003eAlso Support Multiple Vehicle Modes, including Car, Truck Commercial\/semi Truck), RV (Motorhome), Ambulance, Bus, and Taxi.\u003cbr\u003e\u003cbr\u003e\u003cstrong\u003e🚗【Trucking GPS System with Multi-function】\u003c\/strong\u003e \u003cbr\u003e(1)Fast and economical intelligent route planning. \u003cbr\u003e(2)Support Postcode, Address, Coordinates, Favorite, and POI Search. \u003cbr\u003e(3)Support GPS time or Map time setting. \u003cbr\u003e(4)Support FM broadcast, but FM does not mean FM radio, just for transferring the GPS sound to your car. \u003cbr\u003e(5)Driver Alerts, Active Lane Guidance assist Active Speed Camera Detection, Street name Broadcasting, and Turn-By-Turn Real Voice Broadcast.\u003cbr\u003e\u003cbr\u003e\u003cbr\u003e🚗 Note: 7-inch Truck GPS Navigation maintenance: after receiving it, please use the car charger to fully charge then use.\u003cbr\u003e\u003cbr\u003e🚗Note: If the satellite signal can not be searched, it may be because of the reason at home, please search the GPS Navigation signal outdoors again.\u003cbr\u003e\u003cbr\u003e🚗Note: If you need to update the latest Map, please contact us to download it. (Downloadable and installment is easy)\u003c\/div\u003e\n\u003cdiv data-mce-fragment=\"1\" style=\"text-align: left;\" data-mce-style=\"text-align: left;\"\u003e\u003cbr\u003e\u003c\/div\u003e\n\u003cdiv data-mce-fragment=\"1\" style=\"text-align: left;\" data-mce-style=\"text-align: left;\"\u003e\u003cbr\u003e\u003c\/div\u003e\n\u003cdiv data-mce-fragment=\"1\" style=\"text-align: left;\" data-mce-style=\"text-align: left;\"\u003e\u003c\/div\u003e\n\u003cdiv data-mce-fragment=\"1\" style=\"text-align: left;\" data-mce-style=\"text-align: left;\"\u003e\u003cbr\u003e\u003c\/div\u003e\n\u003ch2 data-mce-fragment=\"1\" style=\"text-align: left;\" data-mce-style=\"text-align: left;\"\u003eSpecification\u003c\/h2\u003e\n\u003cp\u003eModel: XGODY J727 Sat Nav\u003c\/p\u003e\n\u003cp\u003eModel Name: 7 INCH GPS NAVIGATION FOR CAR TRUCK\u003c\/p\u003e\n\u003cp\u003eGPS Module: High-Sensitive GPS Receiver \u003c\/p\u003e\n\u003cp\u003eMemory Size: 256MB RAM – 8GB ROM Internal Memory\u003c\/p\u003e\n\u003cp\u003eDisplay Screen: 7'' Capacitive Screen, Resolution 800*480\u003c\/p\u003e\n\u003cp\u003eUSB Client 2.0, MINI USB 5PIN socket\u003c\/p\u003e\n\u003cp\u003eSD Slot Micro SD socket, MAX Micro SD card up to 32GB\u003c\/p\u003e\n\u003cp\u003eBluetooth\u0026amp;AV-IN: \u003cstrong\u003eJ727 F is NO; J727 BT is YES\u003c\/strong\u003e\u003c\/p\u003e\n\u003cp\u003e\u003cstrong\u003e(BT is mean that Bluetooth \u0026amp; AV-IN)\u003c\/strong\u003e\u003cbr\u003e\u003c\/p\u003e\n\u003cp\u003eBattery: Built-in Li-ion Rechargeable 2100mAh\u003cbr\u003e\u003c\/p\u003e\n\u003cp\u003eCharging Socket: 12V DC socket\u003c\/p\u003e\n\u003cp\u003eCar Charger: 8-36V\/2A\u003c\/p\u003e\n\u003cp\u003eSize: 184mm x110mm x28mm\u003c\/p\u003e\n\u003cdiv data-mce-fragment=\"1\" style=\"text-align: left;\" data-mce-style=\"text-align: left;\"\u003e\u003c\/div\u003e\n\u003cdiv data-mce-fragment=\"1\" style=\"text-align: left;\" data-mce-style=\"text-align: left;\"\u003e\u003cbr\u003e\u003c\/div\u003e\n\u003cdiv data-mce-fragment=\"1\" style=\"text-align: left;\" data-mce-style=\"text-align: left;\"\u003e\u003c\/div\u003e\n\u003cdiv data-mce-fragment=\"1\" style=\"text-align: left;\" data-mce-style=\"text-align: left;\"\u003e\u003c\/div\u003e\n\u003cdiv data-mce-fragment=\"1\" style=\"text-align: left;\" data-mce-style=\"text-align: left;\"\u003e-\u003c\/div\u003e\n\u003cdiv data-mce-fragment=\"1\" style=\"text-align: left;\" data-mce-style=\"text-align: left;\"\u003e\u003cimg src=\"https:\/\/cdn.shopify.com\/s\/files\/1\/0100\/3542\/9454\/files\/01_2fdaa1f6-5a46-410d-a36a-9cc39134f8af_1024x1024.jpg?v=1646212895\" style=\"display: block; margin-left: auto; margin-right: auto;\"\u003e\u003c\/div\u003e\n\u003cdiv data-mce-fragment=\"1\" style=\"text-align: left;\" data-mce-style=\"text-align: left;\"\u003e\u003c\/div\u003e\n\u003cdiv data-mce-fragment=\"1\" style=\"text-align: left;\" data-mce-style=\"text-align: left;\"\u003e\u003c\/div\u003e\n\u003cdiv data-mce-fragment=\"1\" style=\"text-align: left;\" data-mce-style=\"text-align: left;\"\u003e\u003c\/div\u003e\n\u003cdiv data-mce-fragment=\"1\" style=\"text-align: left;\" data-mce-style=\"text-align: left;\"\u003e\u003c\/div\u003e","published_at":"2022-01-11T15:53:48+08:00","created_at":"2022-01-11T14:53:40+08:00","vendor":"XGODY ","type":"","tags":["gps","xgody"],"price":7750,"price_min":7750,"price_max":10150,"available":true,"price_varies":true,"compare_at_price":null,"compare_at_price_min":0,"compare_at_price_max":0,"compare_at_price_varies":false,"variants":[{"id":39620336255054,"title":"J727 F (No Bluetooth \u0026 AV-In)","option1":"J727 F (No Bluetooth \u0026 AV-In)","option2":null,"option3":null,"sku":"","requires_shipping":true,"taxable":true,"featured_image":null,"available":true,"name":"XGODY J727 Truck 7inch Sat Nav GPS with Bluetooth AV-in Navigation System for Car - J727 F (No Bluetooth \u0026 AV-In)","public_title":"J727 F (No Bluetooth \u0026 AV-In)","options":["J727 F (No Bluetooth \u0026 AV-In)"],"price":7750,"weight":0,"compare_at_price":null,"inventory_management":"shopify","barcode":"","requires_selling_plan":false,"selling_plan_allocations":[]},{"id":39620336287822,"title":"J727 BT (Bluetooth \u0026 AV-In)","option1":"J727 BT (Bluetooth \u0026 AV-In)","option2":null,"option3":null,"sku":"","requires_shipping":true,"taxable":true,"featured_image":null,"available":true,"name":"XGODY J727 Truck 7inch Sat Nav GPS with Bluetooth AV-in Navigation System for Car - J727 BT (Bluetooth \u0026 AV-In)","public_title":"J727 BT (Bluetooth \u0026 AV-In)","options":["J727 BT (Bluetooth \u0026 AV-In)"],"price":8650,"weight":0,"compare_at_price":null,"inventory_management":"shopify","barcode":"","requires_selling_plan":false,"selling_plan_allocations":[]},{"id":39620336353358,"title":"J727 BT + Wire rear Camera","option1":"J727 BT + Wire rear Camera","option2":null,"option3":null,"sku":"","requires_shipping":true,"taxable":true,"featured_image":null,"available":true,"name":"XGODY J727 Truck 7inch Sat Nav GPS with Bluetooth AV-in Navigation System for Car - J727 BT + Wire rear Camera","public_title":"J727 BT + Wire rear Camera","options":["J727 BT + Wire rear Camera"],"price":9950,"weight":0,"compare_at_price":null,"inventory_management":"shopify","barcode":"","requires_selling_plan":false,"selling_plan_allocations":[]},{"id":39620336320590,"title":"J727 BT + Wireless Camera","option1":"J727 BT + Wireless Camera","option2":null,"option3":null,"sku":"","requires_shipping":true,"taxable":true,"featured_image":null,"available":true,"name":"XGODY J727 Truck 7inch Sat Nav GPS with Bluetooth AV-in Navigation System for Car - J727 BT + Wireless Camera","public_title":"J727 BT + Wireless Camera","options":["J727 BT + Wireless Camera"],"price":10150,"weight":0,"compare_at_price":null,"inventory_management":"shopify","barcode":"","requires_selling_plan":false,"selling_plan_allocations":[]}],"images":["\/\/xgody.com\/cdn\/shop\/products\/the-best-xgody-j727-truck-7inch-sat-nav-gps-with-bluetooth-av-in-navigation-system-for-car-1.jpg?v=1656560538","\/\/xgody.com\/cdn\/shop\/products\/the-best-xgody-j727-truck-7inch-sat-nav-gps-with-bluetooth-av-in-navigation-system-for-car-2.jpg?v=1656560542","\/\/xgody.com\/cdn\/shop\/products\/the-best-xgody-sat-nav-718-gps-navigation-system-for-car-truck-with-voice-direction-guidance-speed-camera-warning-8_82388e5c-06c2-448f-a052-65cc0ba23946.jpg?v=1670410831","\/\/xgody.com\/cdn\/shop\/products\/the-best-xgody-sat-nav-718-gps-navigation-system-for-car-truck-with-voice-direction-guidance-speed-camera-warning-7_4a2b1804-9d9c-46cd-9b24-9461be8613f0.jpg?v=1670410831","\/\/xgody.com\/cdn\/shop\/products\/the-best-xgody-j727-truck-7inch-sat-nav-gps-with-bluetooth-av-in-navigation-system-for-car-3.jpg?v=1670410831","\/\/xgody.com\/cdn\/shop\/products\/the-best-xgody-j727-truck-7inch-sat-nav-gps-with-bluetooth-av-in-navigation-system-for-car-4.jpg?v=1670410831"],"featured_image":"\/\/xgody.com\/cdn\/shop\/products\/the-best-xgody-j727-truck-7inch-sat-nav-gps-with-bluetooth-av-in-navigation-system-for-car-1.jpg?v=1656560538","options":["Model"],"media":[{"alt":"Cost-effective and Most worthwhile XGODY J727 Truck 7inch Sat Nav GPS with Bluetooth AV-in Navigation System for Car - XGODY ","id":21697076002894,"position":1,"preview_image":{"aspect_ratio":1.0,"height":1500,"width":1500,"src":"\/\/xgody.com\/cdn\/shop\/products\/the-best-xgody-j727-truck-7inch-sat-nav-gps-with-bluetooth-av-in-navigation-system-for-car-1.jpg?v=1656560538"},"aspect_ratio":1.0,"height":1500,"media_type":"image","src":"\/\/xgody.com\/cdn\/shop\/products\/the-best-xgody-j727-truck-7inch-sat-nav-gps-with-bluetooth-av-in-navigation-system-for-car-1.jpg?v=1656560538","width":1500},{"alt":"Cost-effective and Most worthwhile XGODY J727 Truck 7inch Sat Nav GPS with Bluetooth AV-in Navigation System for Car - XGODY ","id":21697076396110,"position":2,"preview_image":{"aspect_ratio":1.0,"height":1500,"width":1500,"src":"\/\/xgody.com\/cdn\/shop\/products\/the-best-xgody-j727-truck-7inch-sat-nav-gps-with-bluetooth-av-in-navigation-system-for-car-2.jpg?v=1656560542"},"aspect_ratio":1.0,"height":1500,"media_type":"image","src":"\/\/xgody.com\/cdn\/shop\/products\/the-best-xgody-j727-truck-7inch-sat-nav-gps-with-bluetooth-av-in-navigation-system-for-car-2.jpg?v=1656560542","width":1500},{"alt":null,"id":32368090054930,"position":3,"preview_image":{"aspect_ratio":1.0,"height":1600,"width":1600,"src":"\/\/xgody.com\/cdn\/shop\/products\/the-best-xgody-sat-nav-718-gps-navigation-system-for-car-truck-with-voice-direction-guidance-speed-camera-warning-8_82388e5c-06c2-448f-a052-65cc0ba23946.jpg?v=1670410831"},"aspect_ratio":1.0,"height":1600,"media_type":"image","src":"\/\/xgody.com\/cdn\/shop\/products\/the-best-xgody-sat-nav-718-gps-navigation-system-for-car-truck-with-voice-direction-guidance-speed-camera-warning-8_82388e5c-06c2-448f-a052-65cc0ba23946.jpg?v=1670410831","width":1600},{"alt":null,"id":32368090022162,"position":4,"preview_image":{"aspect_ratio":1.0,"height":1600,"width":1600,"src":"\/\/xgody.com\/cdn\/shop\/products\/the-best-xgody-sat-nav-718-gps-navigation-system-for-car-truck-with-voice-direction-guidance-speed-camera-warning-7_4a2b1804-9d9c-46cd-9b24-9461be8613f0.jpg?v=1670410831"},"aspect_ratio":1.0,"height":1600,"media_type":"image","src":"\/\/xgody.com\/cdn\/shop\/products\/the-best-xgody-sat-nav-718-gps-navigation-system-for-car-truck-with-voice-direction-guidance-speed-camera-warning-7_4a2b1804-9d9c-46cd-9b24-9461be8613f0.jpg?v=1670410831","width":1600},{"alt":"Cost-effective and Most worthwhile XGODY J727 Truck 7inch Sat Nav GPS with Bluetooth AV-in Navigation System for Car - XGODY ","id":21697076592718,"position":5,"preview_image":{"aspect_ratio":1.617,"height":600,"width":970,"src":"\/\/xgody.com\/cdn\/shop\/products\/the-best-xgody-j727-truck-7inch-sat-nav-gps-with-bluetooth-av-in-navigation-system-for-car-3.jpg?v=1670410831"},"aspect_ratio":1.617,"height":600,"media_type":"image","src":"\/\/xgody.com\/cdn\/shop\/products\/the-best-xgody-j727-truck-7inch-sat-nav-gps-with-bluetooth-av-in-navigation-system-for-car-3.jpg?v=1670410831","width":970},{"alt":"Cost-effective and Most worthwhile XGODY J727 Truck 7inch Sat Nav GPS with Bluetooth AV-in Navigation System for Car - XGODY ","id":21697076953166,"position":6,"preview_image":{"aspect_ratio":1.617,"height":600,"width":970,"src":"\/\/xgody.com\/cdn\/shop\/products\/the-best-xgody-j727-truck-7inch-sat-nav-gps-with-bluetooth-av-in-navigation-system-for-car-4.jpg?v=1670410831"},"aspect_ratio":1.617,"height":600,"media_type":"image","src":"\/\/xgody.com\/cdn\/shop\/products\/the-best-xgody-j727-truck-7inch-sat-nav-gps-with-bluetooth-av-in-navigation-system-for-car-4.jpg?v=1670410831","width":970}],"requires_selling_plan":false,"selling_plan_groups":[],"content":"\u003ch2 data-mce-fragment=\"1\" style=\"text-align: center;\" data-mce-style=\"text-align: center;\"\u003eXGODY J727 Truck 7 Inch Satellite Navigation GPS\u003c\/h2\u003e\n\u003cdiv style=\"text-align: center;\" data-mce-fragment=\"1\" data-mce-style=\"text-align: center;\"\u003e\u003ciframe title=\"Navigate Like a Pro: Affordable Tools for Good Navigation!\" src=\"https:\/\/www.youtube.com\/embed\/EJQ9rzIDg4E\" height=\"576\" width=\"1024\" allowfullscreen=\"\" allow=\"accelerometer; autoplay; clipboard-write; encrypted-media; gyroscope; picture-in-picture; web-share\" frameborder=\"0\"\u003e\u003c\/iframe\u003e\u003c\/div\u003e\n\u003cdiv data-mce-fragment=\"1\" style=\"text-align: center;\" data-mce-style=\"text-align: center;\"\u003e\u003c\/div\u003e\n\u003cdiv data-mce-fragment=\"1\" style=\"text-align: center;\" data-mce-style=\"text-align: center;\"\u003e\u003c\/div\u003e\n\u003cdiv data-mce-fragment=\"1\" style=\"text-align: center;\" data-mce-style=\"text-align: center;\"\u003e\u003cimg data-mce-fragment=\"1\" style=\"float: none;\" alt=\"\" src=\"https:\/\/cdn.shopify.com\/s\/files\/1\/0100\/3542\/9454\/files\/1_bdde0385-a9ce-435f-a8e0-e6332676f933_2048x2048.jpg?v=1641884067\" data-mce-src=\"https:\/\/cdn.shopify.com\/s\/files\/1\/0100\/3542\/9454\/files\/1_bdde0385-a9ce-435f-a8e0-e6332676f933_2048x2048.jpg?v=1641884067\" data-mce-style=\"float: none;\"\u003e\u003c\/div\u003e\n\u003ch3 style=\"text-align: center;\" data-mce-style=\"text-align: center;\"\u003eBring A Suitable 7-inch GPS Navigator And Go\u003c\/h3\u003e\n\u003cp style=\"text-align: center;\" data-mce-style=\"text-align: center;\"\u003eSet 2D\/ 3D maps\/ day and night mode\/ altitude and speed limit reminders in advance to facilitate travel.\u003c\/p\u003e\n\u003ch3 style=\"text-align: center;\" data-mce-style=\"text-align: center;\"\u003e\u003cimg data-mce-fragment=\"1\" alt=\"\" src=\"https:\/\/cdn.shopify.com\/s\/files\/1\/0100\/3542\/9454\/files\/1.1_2048x2048.jpg?v=1641884053\" style=\"font-size: 1.4em;\" data-mce-src=\"https:\/\/cdn.shopify.com\/s\/files\/1\/0100\/3542\/9454\/files\/1.1_2048x2048.jpg?v=1641884053\" data-mce-style=\"font-size: 1.4em;\"\u003e\u003c\/h3\u003e\n\u003ch3 style=\"text-align: center;\" data-mce-style=\"text-align: center;\"\u003eMultifunction touchscreen GPS navigation\u003c\/h3\u003e\n\u003cp style=\"text-align: center;\" data-mce-style=\"text-align: center;\"\u003eThrough the operation of the touch screen, functions such as satellite positioning, voice broadcast, and viewing of 2D\/3D views can be performed, and the latest real-time road conditions on the map can also be obtained. Smart route planning using points of interest and zip code searches.\u003c\/p\u003e\n\u003ch3 style=\"text-align: center;\" data-mce-style=\"text-align: center;\"\u003e\n\u003cimg data-mce-fragment=\"1\" alt=\"\" src=\"https:\/\/cdn.shopify.com\/s\/files\/1\/0100\/3542\/9454\/files\/5_f87741dc-f394-4d4d-817c-919c8a365dc7_2048x2048.jpg?v=1641884118\" style=\"font-size: 1.4em;\" data-mce-src=\"https:\/\/cdn.shopify.com\/s\/files\/1\/0100\/3542\/9454\/files\/5_f87741dc-f394-4d4d-817c-919c8a365dc7_2048x2048.jpg?v=1641884118\" data-mce-style=\"font-size: 1.4em;\"\u003e\u003cbr\u003e\n\u003c\/h3\u003e\n\u003ch3 data-mce-fragment=\"1\" style=\"text-align: center;\" data-mce-style=\"text-align: center;\"\u003ePermanent Free Map Updates\u003c\/h3\u003e\n\u003cp style=\"text-align: center;\" data-mce-style=\"text-align: center;\"\u003eSupport permanent free updates of maps in regions such as the United States, Canada, and Mexico, bringing the latest, best, and most reasonable technical support.\u003c\/p\u003e\n\u003cp data-mce-style=\"text-align: center;\"\u003e\u003cimg height=\"562\" width=\"562\" src=\"https:\/\/cdn.shopifycdn.net\/s\/files\/1\/0100\/3542\/9454\/files\/1_a987b36e-3bfc-44f8-a307-23d77aac3710_1024x1024.png?v=1670315089\" alt=\"Voice function, GPS navigation\" style=\"float: left;\" data-mce-style=\"float: left;\"\u003e\u003cimg data-mce-fragment=\"1\" src=\"https:\/\/cdn.shopifycdn.net\/s\/files\/1\/0100\/3542\/9454\/files\/2_ee38f604-c9d9-42af-9c78-303fe82f9186_1024x1024.png?v=1670315271\" alt=\"2D\/3D Map, GPS navigation\" width=\"562\" height=\"562\" style=\"display: block; margin-left: auto; margin-right: auto;\" data-mce-src=\"https:\/\/cdn.shopifycdn.net\/s\/files\/1\/0100\/3542\/9454\/files\/2_ee38f604-c9d9-42af-9c78-303fe82f9186_1024x1024.png?v=1670315271\" data-mce-style=\"display: block; margin-left: auto; margin-right: auto;\"\u003e\u003cimg data-mce-fragment=\"1\" style=\"display: block; margin-left: auto; margin-right: auto;\" height=\"483\" width=\"483\" alt=\"\" src=\"https:\/\/cdn.shopify.com\/s\/files\/1\/0100\/3542\/9454\/files\/8_6fd6f54d-d39f-4187-9989-dd24bdbab315_2048x2048.jpg?v=1641884224\" data-mce-src=\"https:\/\/cdn.shopify.com\/s\/files\/1\/0100\/3542\/9454\/files\/8_6fd6f54d-d39f-4187-9989-dd24bdbab315_2048x2048.jpg?v=1641884224\" data-mce-style=\"display: block; margin-left: auto; margin-right: auto;\"\u003e\u003c\/p\u003e\n\u003cp style=\"text-align: left;\" data-mce-style=\"text-align: left;\"\u003e \u003c\/p\u003e\n\u003cdiv data-mce-fragment=\"1\" style=\"text-align: left;\" data-mce-style=\"text-align: left;\"\u003e\u003c\/div\u003e\n\u003cdiv data-mce-fragment=\"1\" style=\"text-align: left;\" data-mce-style=\"text-align: left;\"\u003e\u003c\/div\u003e\n\u003cdiv data-mce-fragment=\"1\" style=\"text-align: left;\" data-mce-style=\"text-align: left;\"\u003e--\u003c\/div\u003e\n\u003cdiv data-mce-fragment=\"1\" style=\"text-align: left;\" data-mce-style=\"text-align: left;\"\u003e\u003cstrong\u003e\u003c\/strong\u003e\u003c\/div\u003e\n\u003cdiv data-mce-fragment=\"1\" style=\"text-align: left;\" data-mce-style=\"text-align: left;\"\u003e\n\u003cstrong\u003eSpeed limit reminder\u003c\/strong\u003e\u003cbr\u003eCar GPS navigation will tell you the current limit speed of the road, you can control the speed in advance.\u003cbr\u003e\u003cbr\u003e\u003cstrong\u003eTraffic light reminder\u003c\/strong\u003e\u003cbr\u003eOn-board GPS navigation will tell you the traffic lights on the road ahead, reminding you to slow down.\u003cbr\u003e\u003cbr\u003e\u003cstrong\u003ecustom line\u003c\/strong\u003e\u003cbr\u003eCustom routes to customize the best route based on your vehicle and driving habits, avoiding road restrictions.\u003cbr\u003e\u003cbr\u003e\u003cstrong\u003e2D\/3D map viewing mode\u003c\/strong\u003e\u003cbr\u003e 2D and 3D view modes, feel the surrounding buildings more intuitively, without worrying about complicated viaducts and mazes.\u003cbr\u003e\u003cbr\u003e\u003cstrong\u003eConvenient XGODY Navigation System\u003c\/strong\u003e\u003cbr\u003eDriver Alerts, a real voice broadcast like a friend, receive alerts for upcoming sharp turns, speed changes, school zones, speed control zones, nearby red lights, and more.\u003c\/div\u003e\n\u003cdiv data-mce-fragment=\"1\" style=\"text-align: left;\" data-mce-style=\"text-align: left;\"\u003e\u003c\/div\u003e\n\u003cdiv data-mce-fragment=\"1\" style=\"text-align: left;\" data-mce-style=\"text-align: left;\"\u003e\u003c\/div\u003e\n\u003cdiv data-mce-fragment=\"1\" style=\"text-align: left;\" data-mce-style=\"text-align: left;\"\u003e\u003c\/div\u003e\n\u003cdiv data-mce-fragment=\"1\" style=\"text-align: left;\" data-mce-style=\"text-align: left;\"\u003e\u003cbr\u003e\u003c\/div\u003e\n\u003cdiv data-mce-fragment=\"1\" style=\"text-align: left;\" data-mce-style=\"text-align: left;\"\u003e\u003c\/div\u003e\n\u003cdiv data-mce-fragment=\"1\" style=\"text-align: left;\" data-mce-style=\"text-align: left;\"\u003e\u003c\/div\u003e\n\u003cdiv data-mce-fragment=\"1\" style=\"text-align: left;\" data-mce-style=\"text-align: left;\"\u003e--\u003c\/div\u003e\n\u003cdiv data-mce-fragment=\"1\" style=\"text-align: left;\" data-mce-style=\"text-align: left;\"\u003e\u003c\/div\u003e\n\u003cdiv data-mce-fragment=\"1\" style=\"text-align: left;\" data-mce-style=\"text-align: left;\"\u003e\u003c\/div\u003e\n\u003cdiv data-mce-fragment=\"1\" style=\"text-align: left;\" data-mce-style=\"text-align: left;\"\u003e\u003cimg data-mce-fragment=\"1\" src=\"https:\/\/cdn.shopify.com\/s\/files\/1\/0100\/3542\/9454\/files\/9_57c4a7f1-8a6a-422d-af49-d583ad836d05_2048x2048.jpg?v=1641884244\" width=\"2048x2048\" height=\"2048x2048\" style=\"float: none; display: block; margin-left: auto; margin-right: auto;\" data-mce-style=\"float: none; display: block; margin-left: auto; margin-right: auto;\" data-mce-src=\"https:\/\/cdn.shopify.com\/s\/files\/1\/0100\/3542\/9454\/files\/9_57c4a7f1-8a6a-422d-af49-d583ad836d05_2048x2048.jpg?v=1641884244\"\u003e\u003c\/div\u003e\n\u003ch3 data-mce-fragment=\"1\" style=\"text-align: center;\" data-mce-style=\"text-align: center;\"\u003eDriving Mode For Navigation\u003c\/h3\u003e\n\u003cp style=\"text-align: center;\" data-mce-style=\"text-align: center;\"\u003eThe voice navigation function of J727 navigation is the travel demand of every large truck, car, RV, bus, bicycle, taxi, and person, and solves many problems.\u003c\/p\u003e\n\u003cdiv data-mce-fragment=\"1\" style=\"text-align: left;\" data-mce-style=\"text-align: left;\"\u003e\u003cimg data-mce-fragment=\"1\" style=\"display: block; margin-left: auto; margin-right: auto;\" alt=\"\" src=\"https:\/\/cdn.shopify.com\/s\/files\/1\/0100\/3542\/9454\/files\/10_da647d2c-e7b8-409d-b032-d4ac1e0bfd24_2048x2048.jpg?v=1641884276\" data-mce-style=\"display: block; margin-left: auto; margin-right: auto;\" data-mce-src=\"https:\/\/cdn.shopify.com\/s\/files\/1\/0100\/3542\/9454\/files\/10_da647d2c-e7b8-409d-b032-d4ac1e0bfd24_2048x2048.jpg?v=1641884276\"\u003e\u003c\/div\u003e\n\u003ch3 data-mce-fragment=\"1\" style=\"text-align: center;\" data-mce-style=\"text-align: center;\"\u003eDriving Mode For Navigation\u003c\/h3\u003e\n\u003cp style=\"text-align: center;\" data-mce-style=\"text-align: center;\"\u003eJ727 navigation is especially suitable for truck drivers, which has a professional truck mode, this mode sets the vehicle profile, provides you with voice guidance, smart truck routing.\u003c\/p\u003e\n\u003cdiv data-mce-fragment=\"1\" style=\"text-align: left;\" data-mce-style=\"text-align: left;\"\u003e\u003cimg data-mce-fragment=\"1\" style=\"display: block; margin-left: auto; margin-right: auto;\" alt=\"\" src=\"https:\/\/cdn.shopify.com\/s\/files\/1\/0100\/3542\/9454\/files\/11_551be8ed-fde1-46a9-ab18-0e084467f162_2048x2048.jpg?v=1641884294\" data-mce-style=\"display: block; margin-left: auto; margin-right: auto;\" data-mce-src=\"https:\/\/cdn.shopify.com\/s\/files\/1\/0100\/3542\/9454\/files\/11_551be8ed-fde1-46a9-ab18-0e084467f162_2048x2048.jpg?v=1641884294\"\u003e\u003c\/div\u003e\n\u003cdiv data-mce-fragment=\"1\" style=\"text-align: left;\" data-mce-style=\"text-align: left;\"\u003e\u003c\/div\u003e\n\u003cdiv data-mce-fragment=\"1\" style=\"text-align: left;\" data-mce-style=\"text-align: left;\"\u003e\u003c\/div\u003e\n\u003ch2 data-mce-fragment=\"1\" style=\"text-align: left;\" data-mce-style=\"text-align: left;\"\u003e\u003c\/h2\u003e\n\u003ch2 data-mce-fragment=\"1\" style=\"text-align: left;\" data-mce-style=\"text-align: left;\"\u003e\u003cbr\u003e\u003c\/h2\u003e\n\u003ch2 data-mce-fragment=\"1\" style=\"text-align: left;\" data-mce-style=\"text-align: left;\"\u003eLifetime Free Map Update Sat Nav 7inch Truck GPS with Bluetooth AV-in Navigation System for Car\u003c\/h2\u003e\n\u003cdiv data-mce-fragment=\"1\" style=\"text-align: left;\" data-mce-style=\"text-align: left;\"\u003eBig Touchscreen Navigator with Voice Guidance and Speed Camera Warning Auto GPS with Lifetime Free Map Update\u003c\/div\u003e\n\u003cdiv data-mce-fragment=\"1\" style=\"text-align: left;\" data-mce-style=\"text-align: left;\"\u003e\u003c\/div\u003e\n\u003cdiv data-mce-fragment=\"1\" style=\"text-align: left;\" data-mce-style=\"text-align: left;\"\u003eXGODY Sta Nav had a pre-installed map that has over 10 million POI's, including most service stations, Motels, driver's houses, service centers, and so on. I am sure you can find what you want in XGODY Map and Local information - at your fingertips.\u003cbr\u003e\u003cbr\u003e\u003cstrong\u003e🚗【Bluetooth \u0026amp; AV-IN】:\u003c\/strong\u003e Bluetooth lets you be hands-free to make calls, and drive safer. AV-IN can be used to connect the rearview camera, and car safer. Getting drivers home safely is the main purpose of XGODY's product development.\u003cbr\u003e\u003cbr\u003e\u003cstrong\u003e🚗【The Best GPS Navigation System】:\u003c\/strong\u003e XGODY Truck GPS with a high-resolution and large screen which gives you a better visual experience. Perfect for professional truck drivers and older people. \u003cbr\u003eWhat's more, XGODY navigation can set a variety of distance units: kilometers、meters,、miles、feet、yards. No matter which country you are in, you can switch units more easily, providing you with great convenience.\u003cbr\u003e\u003cbr\u003e\u003cstrong\u003e🚗【Free Lifetime Map Updates】:\u003c\/strong\u003e GPS Navigator has pre-installed with the 2021 latest Map that is up to Q4, including USA, Canada Mexico, or Full EU map, UK, AU, and other Maps, which has 2D \/ 3D map display. \u003cbr\u003e\u003cbr\u003e\u003cbr\u003e\u003cstrong\u003e🚗【Professional Truck GPS Navigation Avoid Danger】:\u003c\/strong\u003e Customized truck routing for the size and weight of your truck, avoiding the roads which have width restrictions or height restrictions,s or weight restrictions. \u003cbr\u003eYou can set in the \"navigation——×(small icon of a tool)——Route Settings——Vehicle——Truck(Set the length, width, height, and load of the truck).\" \u003cbr\u003eAlso Support Multiple Vehicle Modes, including Car, Truck Commercial\/semi Truck), RV (Motorhome), Ambulance, Bus, and Taxi.\u003cbr\u003e\u003cbr\u003e\u003cstrong\u003e🚗【Trucking GPS System with Multi-function】\u003c\/strong\u003e \u003cbr\u003e(1)Fast and economical intelligent route planning. \u003cbr\u003e(2)Support Postcode, Address, Coordinates, Favorite, and POI Search. \u003cbr\u003e(3)Support GPS time or Map time setting. \u003cbr\u003e(4)Support FM broadcast, but FM does not mean FM radio, just for transferring the GPS sound to your car. \u003cbr\u003e(5)Driver Alerts, Active Lane Guidance assist Active Speed Camera Detection, Street name Broadcasting, and Turn-By-Turn Real Voice Broadcast.\u003cbr\u003e\u003cbr\u003e\u003cbr\u003e🚗 Note: 7-inch Truck GPS Navigation maintenance: after receiving it, please use the car charger to fully charge then use.\u003cbr\u003e\u003cbr\u003e🚗Note: If the satellite signal can not be searched, it may be because of the reason at home, please search the GPS Navigation signal outdoors again.\u003cbr\u003e\u003cbr\u003e🚗Note: If you need to update the latest Map, please contact us to download it. (Downloadable and installment is easy)\u003c\/div\u003e\n\u003cdiv data-mce-fragment=\"1\" style=\"text-align: left;\" data-mce-style=\"text-align: left;\"\u003e\u003cbr\u003e\u003c\/div\u003e\n\u003cdiv data-mce-fragment=\"1\" style=\"text-align: left;\" data-mce-style=\"text-align: left;\"\u003e\u003cbr\u003e\u003c\/div\u003e\n\u003cdiv data-mce-fragment=\"1\" style=\"text-align: left;\" data-mce-style=\"text-align: left;\"\u003e\u003c\/div\u003e\n\u003cdiv data-mce-fragment=\"1\" style=\"text-align: left;\" data-mce-style=\"text-align: left;\"\u003e\u003cbr\u003e\u003c\/div\u003e\n\u003ch2 data-mce-fragment=\"1\" style=\"text-align: left;\" data-mce-style=\"text-align: left;\"\u003eSpecification\u003c\/h2\u003e\n\u003cp\u003eModel: XGODY J727 Sat Nav\u003c\/p\u003e\n\u003cp\u003eModel Name: 7 INCH GPS NAVIGATION FOR CAR TRUCK\u003c\/p\u003e\n\u003cp\u003eGPS Module: High-Sensitive GPS Receiver \u003c\/p\u003e\n\u003cp\u003eMemory Size: 256MB RAM – 8GB ROM Internal Memory\u003c\/p\u003e\n\u003cp\u003eDisplay Screen: 7'' Capacitive Screen, Resolution 800*480\u003c\/p\u003e\n\u003cp\u003eUSB Client 2.0, MINI USB 5PIN socket\u003c\/p\u003e\n\u003cp\u003eSD Slot Micro SD socket, MAX Micro SD card up to 32GB\u003c\/p\u003e\n\u003cp\u003eBluetooth\u0026amp;AV-IN: \u003cstrong\u003eJ727 F is NO; J727 BT is YES\u003c\/strong\u003e\u003c\/p\u003e\n\u003cp\u003e\u003cstrong\u003e(BT is mean that Bluetooth \u0026amp; AV-IN)\u003c\/strong\u003e\u003cbr\u003e\u003c\/p\u003e\n\u003cp\u003eBattery: Built-in Li-ion Rechargeable 2100mAh\u003cbr\u003e\u003c\/p\u003e\n\u003cp\u003eCharging Socket: 12V DC socket\u003c\/p\u003e\n\u003cp\u003eCar Charger: 8-36V\/2A\u003c\/p\u003e\n\u003cp\u003eSize: 184mm x110mm x28mm\u003c\/p\u003e\n\u003cdiv data-mce-fragment=\"1\" style=\"text-align: left;\" data-mce-style=\"text-align: left;\"\u003e\u003c\/div\u003e\n\u003cdiv data-mce-fragment=\"1\" style=\"text-align: left;\" data-mce-style=\"text-align: left;\"\u003e\u003cbr\u003e\u003c\/div\u003e\n\u003cdiv data-mce-fragment=\"1\" style=\"text-align: left;\" data-mce-style=\"text-align: left;\"\u003e\u003c\/div\u003e\n\u003cdiv data-mce-fragment=\"1\" style=\"text-align: left;\" data-mce-style=\"text-align: left;\"\u003e\u003c\/div\u003e\n\u003cdiv data-mce-fragment=\"1\" style=\"text-align: left;\" data-mce-style=\"text-align: left;\"\u003e-\u003c\/div\u003e\n\u003cdiv data-mce-fragment=\"1\" style=\"text-align: left;\" data-mce-style=\"text-align: left;\"\u003e\u003cimg src=\"https:\/\/cdn.shopify.com\/s\/files\/1\/0100\/3542\/9454\/files\/01_2fdaa1f6-5a46-410d-a36a-9cc39134f8af_1024x1024.jpg?v=1646212895\" style=\"display: block; margin-left: auto; margin-right: auto;\"\u003e\u003c\/div\u003e\n\u003cdiv data-mce-fragment=\"1\" style=\"text-align: left;\" data-mce-style=\"text-align: left;\"\u003e\u003c\/div\u003e\n\u003cdiv data-mce-fragment=\"1\" style=\"text-align: left;\" data-mce-style=\"text-align: left;\"\u003e\u003c\/div\u003e\n\u003cdiv data-mce-fragment=\"1\" style=\"text-align: left;\" data-mce-style=\"text-align: left;\"\u003e\u003c\/div\u003e\n\u003cdiv data-mce-fragment=\"1\" style=\"text-align: left;\" data-mce-style=\"text-align: left;\"\u003e\u003c\/div\u003e"}
XGODY J727 Truck 7inch Sat Nav GPS with Bluetooth AV-in Navigation System for Car
XGODY J727 Truck 7 Inch Satellite Navigation GPS
Bring A Suitable 7-inch GPS Navigator And Go
Set 2D/ 3D maps/ day and night mode/ altitude and speed limit reminders in advance to facilitate travel.

Multifunction touchscreen GPS navigation
Through the operation of the touch screen, functions such as satellite positioning, voice broadcast, and viewing of 2D/3D views can be performed, and the latest real-time road conditions on the map can also be obtained. Smart route planning using points of interest and zip code searches.


Permanent Free Map Updates
Support permanent free updates of maps in regions such as the United States, Canada, and Mexico, bringing the latest, best, and most reasonable technical support.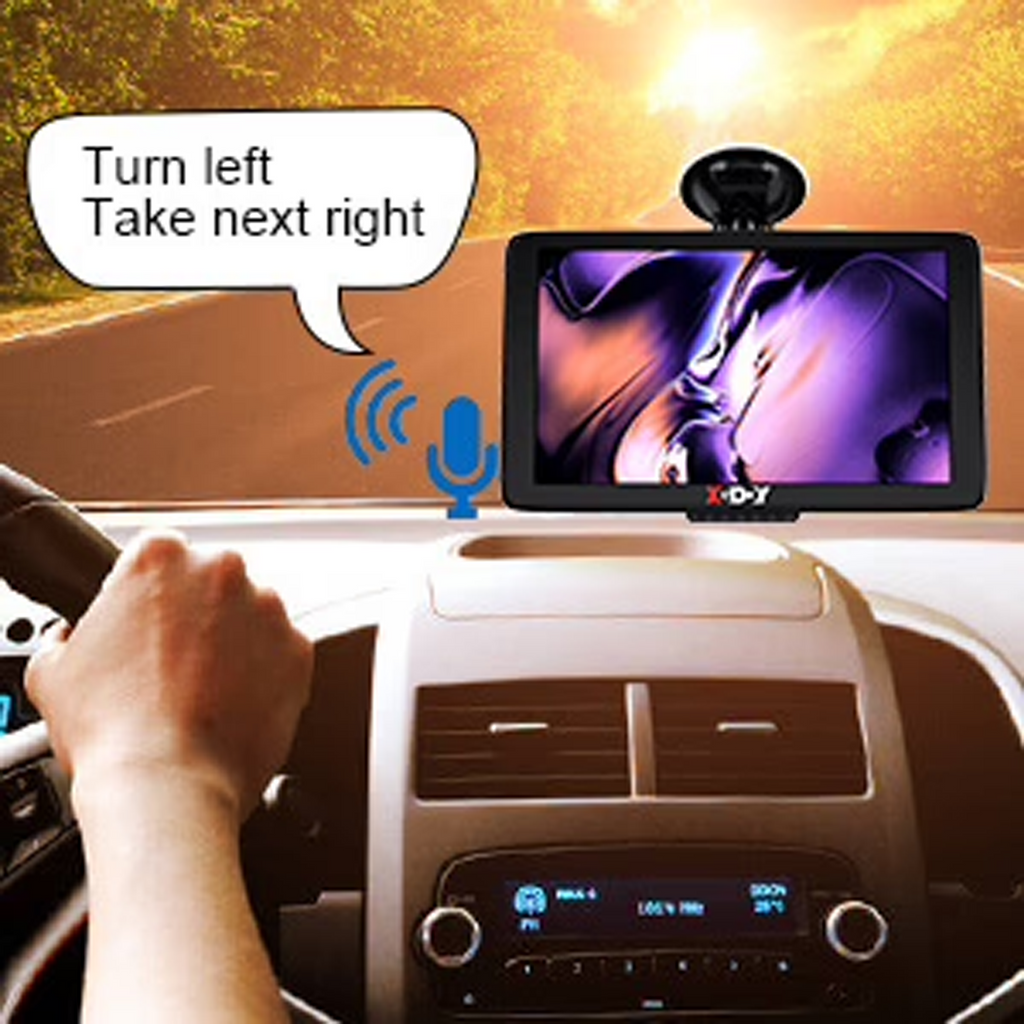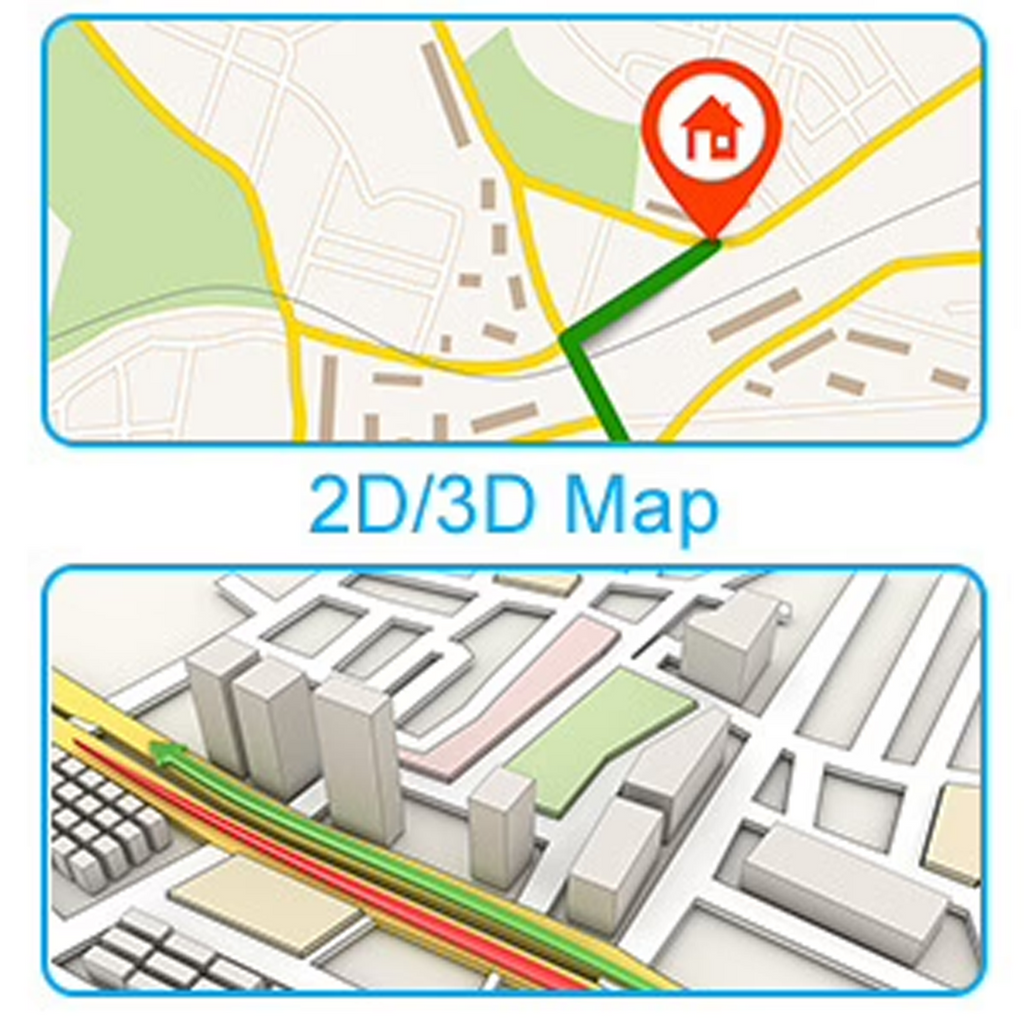 --
Speed limit reminder
Car GPS navigation will tell you the current limit speed of the road, you can control the speed in advance.

Traffic light reminder
On-board GPS navigation will tell you the traffic lights on the road ahead, reminding you to slow down.

custom line
Custom routes to customize the best route based on your vehicle and driving habits, avoiding road restrictions.

2D/3D map viewing mode
2D and 3D view modes, feel the surrounding buildings more intuitively, without worrying about complicated viaducts and mazes.

Convenient XGODY Navigation System
Driver Alerts, a real voice broadcast like a friend, receive alerts for upcoming sharp turns, speed changes, school zones, speed control zones, nearby red lights, and more.
--
Driving Mode For Navigation
The voice navigation function of J727 navigation is the travel demand of every large truck, car, RV, bus, bicycle, taxi, and person, and solves many problems.
Driving Mode For Navigation
J727 navigation is especially suitable for truck drivers, which has a professional truck mode, this mode sets the vehicle profile, provides you with voice guidance, smart truck routing.


Lifetime Free Map Update Sat Nav 7inch Truck GPS with Bluetooth AV-in Navigation System for Car
Big Touchscreen Navigator with Voice Guidance and Speed Camera Warning Auto GPS with Lifetime Free Map Update
XGODY Sta Nav had a pre-installed map that has over 10 million POI's, including most service stations, Motels, driver's houses, service centers, and so on. I am sure you can find what you want in XGODY Map and Local information - at your fingertips.

🚗【Bluetooth & AV-IN】: Bluetooth lets you be hands-free to make calls, and drive safer. AV-IN can be used to connect the rearview camera, and car safer. Getting drivers home safely is the main purpose of XGODY's product development.

🚗【The Best GPS Navigation System】: XGODY Truck GPS with a high-resolution and large screen which gives you a better visual experience. Perfect for professional truck drivers and older people.
What's more, XGODY navigation can set a variety of distance units: kilometers、meters,、miles、feet、yards. No matter which country you are in, you can switch units more easily, providing you with great convenience.

🚗【Free Lifetime Map Updates】: GPS Navigator has pre-installed with the 2021 latest Map that is up to Q4, including USA, Canada Mexico, or Full EU map, UK, AU, and other Maps, which has 2D / 3D map display.


🚗【Professional Truck GPS Navigation Avoid Danger】: Customized truck routing for the size and weight of your truck, avoiding the roads which have width restrictions or height restrictions,s or weight restrictions.
You can set in the "navigation——×(small icon of a tool)——Route Settings——Vehicle——Truck(Set the length, width, height, and load of the truck)."
Also Support Multiple Vehicle Modes, including Car, Truck Commercial/semi Truck), RV (Motorhome), Ambulance, Bus, and Taxi.

🚗【Trucking GPS System with Multi-function】
(1)Fast and economical intelligent route planning.
(2)Support Postcode, Address, Coordinates, Favorite, and POI Search.
(3)Support GPS time or Map time setting.
(4)Support FM broadcast, but FM does not mean FM radio, just for transferring the GPS sound to your car.
(5)Driver Alerts, Active Lane Guidance assist Active Speed Camera Detection, Street name Broadcasting, and Turn-By-Turn Real Voice Broadcast.


🚗 Note: 7-inch Truck GPS Navigation maintenance: after receiving it, please use the car charger to fully charge then use.

🚗Note: If the satellite signal can not be searched, it may be because of the reason at home, please search the GPS Navigation signal outdoors again.

🚗Note: If you need to update the latest Map, please contact us to download it. (Downloadable and installment is easy)
Specification
Model: XGODY J727 Sat Nav
Model Name: 7 INCH GPS NAVIGATION FOR CAR TRUCK
GPS Module: High-Sensitive GPS Receiver 
Memory Size: 256MB RAM – 8GB ROM Internal Memory
Display Screen: 7'' Capacitive Screen, Resolution 800*480
USB Client 2.0, MINI USB 5PIN socket
SD Slot Micro SD socket, MAX Micro SD card up to 32GB
Bluetooth&AV-IN: J727 F is NO; J727 BT is YES
(BT is mean that Bluetooth & AV-IN)

Battery: Built-in Li-ion Rechargeable 2100mAh

Charging Socket: 12V DC socket
Car Charger: 8-36V/2A
Size: 184mm x110mm x28mm
-
1.Most items are shipping free, you can check the description in the listing. Order will be shipped within 72 hours after payment made.
2.The shipping time is based on the shipping option, sometimes it may be delayed due to varied situation (such as holidays, war, weather etc.), please contact us immediately if delivery time exceeds estimated.
3.Import taxes, duties and related customs fees may be charged once the parcel arrives at the destination country. These charges are determined by the customs office of the specific destination. Payment of these charges and taxes is the responsibility of the recipient and will not be covered by us here at Xgody. For further details of charges, please contact your local customs office.
4.Time Schedule- F

ast Shipping
| | |
| --- | --- |
| United States/Australia/UK |  4-10 working days |
| Canada/Israel/ Azerbaijan / Russia/Maldives/ Eastern Europe/ Middle East |  9-18 working days |
| Brazil/Chile/South America |  9-18 working days |
| Western Europe/New Zealand |  7-10 working days |
If you are not happy with your purchase and wish to return an item, please contact us immediatelysince receiving your order. Our customs support email is support@xgody.com. Please write down your order number and user ID in the return parcel.
All returns must be in original condition with packaging intact to avoid damage during shipment, any physical damage during the return shipment will not be accepted. Returned parcel need to provide shipment number for tracking.
We will get back to you once we receive the return parcel. Money or replacement will be arranged within 24-48 hours after the return parcel delivered.
-
1.Why Choose Xgody?
Brand XGODY was established in 2014 with great advantages in electronic products. More than that, the operating team has more than 10 years experiences on e-commerce.. We know exactly what the buyer concerns and worries. Making sure you will have a wonderful shopping experience by providing what you need and getting rid of what you worried about. It is no doubt to choose us with our high quality of product, good shipping way, and good customs support.
2.What payment methods do you accept?
We accept all major credit cards (VISA, Mastercard, AMEX) and PayPal payments. We do not accept personal checks, money orders, direct bank transfers, western union, or cash on delivery.
3.Can I change my shipping address after placing an order?
Please be advised that your shipping address cannot be revised after the order has been processed or shipped. Kindly update your shipping address to your residential address instead of your vacation address as we do not know how long the destination's customs department will have the package on hold.
4.How do I track my order?
The tracking number can be queried in the background. Also, we will email your tracking information as soon as your order has shipped. Usually you will receive the tracking number one day after we have shipped your order. In addition, if you still do not know how to query and track, you can also contact customer service freely.
5.Will I be charged with customs and taxes?
Import taxes, duties and related customs fees may be charged once your order arrives to its final destination, which are determined by your local customs office.
Payment of these charges and taxes are your responsibility and will not be covered by us. We are not responsible for delays caused by the customs department in your country. For further details of charges, please contact your local customs office. 
6.What Do I Do If I Have Missing Items In My Order?
If something is still missing, please contact us immediately.
7.What if the item(s) I received are defective/incorrect/damaged?
Please contact us within 7 days from receiving your order if you received merchandise that is incorrect, missing, and/or defective. Please include your order number, photographs of the item(s) and all related references upon receiving your package. We will do our very best to resolve your case as soon as possible.
8.How do I return an item?
If you are not happy with your purchase and wish to return an item, please contact us immediately from receiving your order. Please provide your order number as well as the reason for your return. Our customer service team will review the return request and will send further instructions if the return is approved.
For a list of final sale items, please see our Warranty Info and Refund Policy. All returns must be in original condition with packaging intact.
9.When will I receive my refund?
All refunds will be credited to your original form of payment. If you paid by credit or debit card, refunds will be sent to the card-issuing bank within 7-10 business days of receipt of the returned item or cancellation request. Please contact the card-issuing bank with questions about when the credit will be posted to your account.
If you haven't received a credit for your return yet, here's what to do: Contact the bank/credit card company. It may take some time before the refund is posted to your account.