{"id":6816187940942,"title":"XGODY K30 Pro 4G Android 10.0 Unlocked Smartphones, 32G With Dual Sim HD 6.8 Inch 3000mah","handle":"xgody-k30-pro-4g-android-10-0-unlocked-smartphones-with-dual-sim-hd-6-8-inch-3000mah","description":"\u003cdiv style=\"text-align: center;\" data-mce-fragment=\"1\" data-mce-style=\"text-align: center;\"\u003e\u003cimg src=\"https:\/\/cdn.shopifycdn.net\/s\/files\/1\/0100\/3542\/9454\/files\/4_8ecafad3-f399-4a16-9d6d-f6918e09efe1_1024x1024.jpg?v=1664274158\" alt=\"\" style=\"float: none;\" data-mce-fragment=\"1\" data-mce-style=\"float: none;\" data-mce-src=\"https:\/\/cdn.shopifycdn.net\/s\/files\/1\/0100\/3542\/9454\/files\/4_8ecafad3-f399-4a16-9d6d-f6918e09efe1_1024x1024.jpg?v=1664274158\"\u003e\u003c\/div\u003e\n\u003cdiv style=\"text-align: center;\" data-mce-fragment=\"1\" data-mce-style=\"text-align: center;\"\u003e\u003c\/div\u003e\n\u003cdiv style=\"text-align: center;\" data-mce-fragment=\"1\" data-mce-style=\"text-align: center;\"\u003e\u003cimg alt=\"\" src=\"https:\/\/cdn.shopifycdn.net\/s\/files\/1\/0100\/3542\/9454\/files\/1_531a3abe-751a-466e-8d1e-7fa7f8d2fd15_1024x1024.jpg?v=1664274184\"\u003e\u003c\/div\u003e\n\u003cdiv style=\"text-align: center;\" data-mce-fragment=\"1\" data-mce-style=\"text-align: center;\"\u003e\u003c\/div\u003e\n\u003cdiv style=\"text-align: center;\" data-mce-fragment=\"1\" data-mce-style=\"text-align: center;\"\u003e\u003cimg alt=\"\" src=\"https:\/\/cdn.shopifycdn.net\/s\/files\/1\/0100\/3542\/9454\/files\/2_f7293dc3-ba9d-454e-9d05-09e74be27d97_1024x1024.jpg?v=1664274211\"\u003e\u003c\/div\u003e\n\u003cdiv style=\"text-align: center;\" data-mce-fragment=\"1\" data-mce-style=\"text-align: center;\"\u003e\u003c\/div\u003e\n\u003cdiv style=\"text-align: center;\" data-mce-fragment=\"1\" data-mce-style=\"text-align: center;\"\u003e\u003cimg alt=\"\" src=\"https:\/\/cdn.shopifycdn.net\/s\/files\/1\/0100\/3542\/9454\/files\/3_ea914366-e522-40b0-9953-7611648c8712_1024x1024.jpg?v=1664274229\"\u003e\u003c\/div\u003e\n\u003cdiv style=\"text-align: center;\" data-mce-fragment=\"1\" data-mce-style=\"text-align: center;\"\u003e\u003c\/div\u003e\n\u003cdiv style=\"text-align: center;\" data-mce-fragment=\"1\" data-mce-style=\"text-align: center;\"\u003e\u003cimg alt=\"\" src=\"https:\/\/cdn.shopifycdn.net\/s\/files\/1\/0100\/3542\/9454\/files\/5_11e88322-411c-4ffe-8894-2ee437970b1d_1024x1024.jpg?v=1664274279\"\u003e\u003c\/div\u003e\n\u003cdiv style=\"text-align: center;\" data-mce-fragment=\"1\" data-mce-style=\"text-align: center;\"\u003e\u003c\/div\u003e\n\u003cdiv style=\"text-align: center;\" data-mce-fragment=\"1\" data-mce-style=\"text-align: center;\"\u003e\u003cimg alt=\"\" src=\"https:\/\/cdn.shopifycdn.net\/s\/files\/1\/0100\/3542\/9454\/files\/6_5f116c18-7684-4eb4-a064-bf2adfd9ac22_1024x1024.jpg?v=1664274297\"\u003e\u003c\/div\u003e\n\u003cdiv style=\"text-align: center;\" data-mce-fragment=\"1\" data-mce-style=\"text-align: center;\"\u003e\u003c\/div\u003e\n\u003cdiv style=\"text-align: center;\" data-mce-fragment=\"1\" data-mce-style=\"text-align: center;\"\u003e\u003cimg alt=\"\" src=\"https:\/\/cdn.shopifycdn.net\/s\/files\/1\/0100\/3542\/9454\/files\/1-1_1024x1024.jpg?v=1664274313\"\u003e\u003c\/div\u003e\n\u003cdiv style=\"text-align: center;\" data-mce-fragment=\"1\" data-mce-style=\"text-align: center;\"\u003e\u003cimg alt=\"\" src=\"https:\/\/cdn.shopifycdn.net\/s\/files\/1\/0100\/3542\/9454\/files\/2_cb617cdc-4ca0-4de5-8bab-faaa8bf77ce3_1024x1024.jpg?v=1664274331\"\u003e\u003c\/div\u003e\n\u003cdiv style=\"text-align: center;\" data-mce-fragment=\"1\" data-mce-style=\"text-align: center;\"\u003e\u003c\/div\u003e\n\u003cdiv style=\"text-align: left;\" data-mce-fragment=\"1\" data-mce-style=\"text-align: left;\"\u003e\u003c\/div\u003e\n\u003cdiv style=\"text-align: left;\" data-mce-fragment=\"1\" data-mce-style=\"text-align: left;\"\u003e\u003c\/div\u003e\n\u003cdiv style=\"text-align: left;\" data-mce-fragment=\"1\" data-mce-style=\"text-align: left;\"\u003e\u003c\/div\u003e\n\u003cp style=\"text-align: left;\" data-mce-fragment=\"1\" data-mce-style=\"text-align: left;\"\u003e\u003cbr\u003e\u003c\/p\u003e\n\u003ch2 style=\"text-align: left;\" data-mce-fragment=\"1\" data-mce-style=\"text-align: left;\"\u003eWhat is new in XGODY K30 PRO Unlocked Android Smartphone?\u003c\/h2\u003e\n1.High-performance dual sim unlocked 4G LTE phone comes with MT6737V Quad-Core high-speed CPU. Armed with 2GB RAM+16GB ROM, this cell phone can be expanded to 64GB through a microSD card (sold separately).\u003cbr\u003e\u003cbr\u003e2.This unlocked Android cell phone meets your multiple needs suck as watching live broadcasts, swiping videos, playing games, video chat,accessing email, and surfing the internet without stuck.\u003cbr\u003e\u003cbr\u003e3.This Android 10.0 System unlocked smartphone comes with Google Play Store that can download and install millions of apps. Easily to enjoy Facebook, WhatsApp, Instagram, YouTube, Twitter, Pinterest, etc.\u003cbr\u003e\u003cbr\u003e4.Equipped with a 6.8\" HD+ LCD display\/2.5D touchscreen, XGODY 4G smartphone is designed for optimal viewing with an eye-friendly experience. Its powerful and dynamic display technology can present clear pictures and smooth video that allow users have the best visual experience.\u003cbr\u003e\u003cbr\u003e5.High pixels Dual Cameras design can make customers easily take ultra-clear photos on this cost-effective Android mobile phone. Meanwhile, XGODY Android unlocked phones' ultra-wide-angle camera, as well as the popular 5MP front\/rear camera capture technology allows you to enjoy high-quality stream lives.\u003cbr\u003e\u003cbr\u003e6.XGODY smartphone unlocked is also useful for online business meetings and Video chat with family or friends, etc. High-capacity Battery long standby time. This dual sim smartphone has a 3000mAh high-capacity battery and ultra-long standby technology. It can play online videos for more than 4 hours after full charging or talk for 8 hours and Standby for more than 2 days.\u003cbr\u003e\u003cbr\u003e7.This unlocked Android smartphone fully supports AT\u0026amp;T T-Mobile 4G LTE and 3G WCDMA Network. Providing high-speed internet exploration experience. According to telecom technology standards, 4G Network is faster than 3G more than 10 times.\n\u003cp\u003e \u003c\/p\u003e\n\u003ch3\u003eSmart Android 10.0 System \u0026amp; 16G ROM+256GB SD:\u003c\/h3\u003e\n\u003cp\u003eXGODY K30 PRO unlocked smartphone is equipped with high-performance 2RAM+16ROM memory and Android 10 system, The storage can be expanded to 256GB through a microSD card (sold separately), which means this mobile phone runs smoothly, and has a good user experience. Play games, watch live broadcasts, swipe videos, and video chat to enjoy a smooth and non-stuck experience.\u003c\/p\u003e\n\u003cp\u003e \u003c\/p\u003e\n\u003ch3\u003eFace Unlocking Technology:\u003c\/h3\u003e\n\u003cp\u003eAdopting advanced face ID tech, whether the cell phones' screen is on or still, XGODY K30 PRO unlocked android smartphone could complete the unlocking process within 0.8 seconds, making life more pleasant and convenient, and saving more precious time.\u003c\/p\u003e\n\u003cp\u003e \u003c\/p\u003e\n\u003ch3\u003eModern \u0026amp; Sleek Design:\u003c\/h3\u003e\n\u003cp\u003eDesigned by 6.8-inch extra large screen, XGODY android smartphone will upgrade your visual experience with the sharper details, vibrant images and allow you to enjoy true-to-life color accuracy in everything you present. With a 2.5D Huge HD screen, this android cell phone creates a holographic effect and offers a subtle shine to the entire cell phone with an attention-grabbing design. Its glass back cover also made it easy for heat dissipation.\u003cbr\u003e\u003c\/p\u003e\n\u003cp\u003e\u003cbr\u003e\u003c\/p\u003e\n\u003ch3\u003eSuperior clarity day \u0026amp; night:\u003c\/h3\u003e\n\u003cp\u003eComing with 5MP front-facing selfie camera and 5MP high-res rear camera, XGODY 4G smartphone helps you capture crisp and vivid pictures. The 540*1200 high resolution camera recognizes and enhances scenes \u0026amp; objects for your best creations.The eye care tech of XGODY cheap android phones make it protective for our eyes during browsing the Google websites.\u003c\/p\u003e\n\u003ch3\u003e\n\u003cbr\u003eComfortable viewing all day:\u003c\/h3\u003e\n\u003cp\u003eAuto-adjusting display provides the best viewing experience regardless of lighting conditions. This dual sim smartphone has a 3000mAh battery and Intelligent Battery Mode, which could optimize power usage to keep you cord-free all day. Weight at 300g makes this portable 4G LTE smartphone become zero burden in your pocket.\u003cbr\u003e\u003c\/p\u003e\n\u003cp\u003e\u003cbr\u003e\u003c\/p\u003e\n\u003ch2\u003eItem Specifics:\u003c\/h2\u003e\n\u003cp\u003eMachine model: K30 PRO\u003cbr\u003eSelling point description: 6.8-inch high-definition screen \/ 2.5D touch screen \/ glass battery cover\u003cbr\u003eAppearance Description: Appearance Section\u003cbr\u003eDisassembly method: built-in machine\u003cbr\u003eProcess description: battery cover IML\/A shell plating\u003cbr\u003eSize: 171.4*81.2*8.5MM\u003cbr\u003eCPU: MT6737V\/WAHHC\u003cbr\u003eMemory (FLASH): 2+16\u003cbr\u003eOperating system: 10.0 system\u003cbr\u003eNetwork frequency band: GMS 850\/900\/1800\/1900; WCDMA 850\/1700\/2100; LTE—FDD 2\/4\/5\/7\/8\/12\/17\/28AB; LTE—TDD; CDMA\u003cbr\u003eSIM card 1 (Nano SIM card): support\u003cbr\u003eSIM card 2 (micro-SIM card): support\u003cbr\u003eT-Flash card: support\u003cbr\u003eGPS\/WiFi\/BT\/FM: support\u003cbr\u003eFront fake flash: not supported\u003cbr\u003ePost fake flash: support\u003cbr\u003eSignal light (tri-color light): not supported\u003cbr\u003eGravity sensor: support\u003cbr\u003eUSB interface: TYPE-C\u003cbr\u003eOTG\/fast charge interface: not supported\u003cbr\u003eDisplay (LCD): 6.8 QHD+ 540*1200\u003cbr\u003eTouch screen (TP): G+FF\/multi point\u003cbr\u003eProactive: 500W\u003cbr\u003eRear camera: 500W\u003cbr\u003eFace unlock: support\u003cbr\u003eSpeaker\/earpiece\/microphone: support\u003cbr\u003eBattery capacity: 3000mah\u003cbr\u003eKeys (Volume Key\/Power Key): Supported\u003c\/p\u003e\n\u003ch2\u003e\n\u003cbr\u003ePacking includes:\u003c\/h2\u003e\n\u003cp\u003e1× K30 PRO Android Smartphone\u003cbr\u003e1× Type-C Charging Cable\u003cbr\u003e1× Unique Case(free gift)\u003cbr\u003e1× protect film(free gift)\u003cbr\u003e1× Manual\u003c\/p\u003e\n\u003cp\u003e \u003c\/p\u003e\n\u003cdiv style=\"text-align: center;\"\u003e--\u003c\/div\u003e\n\u003cdiv style=\"text-align: center;\"\u003e\u003cspan style=\"color: #ff2a00;\"\u003e\u003cstrong\u003e** LinkIng Real **\u003c\/strong\u003e\u003c\/span\u003e\u003c\/div\u003e\n\u003cdiv style=\"text-align: center;\"\u003e\u003cstrong\u003e\u003ciframe width=\"1000\" height=\"580\" src=\"https:\/\/www.youtube.com\/embed\/pI2zHJj65jM\" title=\"Best Dual SIM #Smartphone Unlocked, #XGODY K30 Pro 4G LTE Android 10.0 System\" frameborder=\"0\" allow=\"accelerometer; autoplay; clipboard-write; encrypted-media; gyroscope; picture-in-picture\" allowfullscreen=\"\"\u003e\u003c\/iframe\u003e\u003c\/strong\u003e\u003c\/div\u003e\n\u003cdiv data-mce-fragment=\"1\" style=\"text-align: center;\" data-mce-style=\"text-align: left;\"\u003e--\u003c\/div\u003e\n\u003cdiv style=\"text-align: left;\" data-mce-fragment=\"1\" data-mce-style=\"text-align: left;\"\u003e\u003c\/div\u003e\n\u003cdiv style=\"text-align: center;\" data-mce-fragment=\"1\" data-mce-style=\"text-align: left;\"\u003e\u003cimg src=\"https:\/\/cdn.shopify.com\/s\/files\/1\/0100\/3542\/9454\/files\/01_2fdaa1f6-5a46-410d-a36a-9cc39134f8af_1024x1024.jpg?v=1646212895\" style=\"float: none;\"\u003e\u003c\/div\u003e","published_at":"2022-09-27T18:30:39+08:00","created_at":"2022-09-27T18:30:37+08:00","vendor":"XGODY","type":"Unlocked Mobile Phones","tags":[],"price":9599,"price_min":9599,"price_max":10099,"available":true,"price_varies":true,"compare_at_price":null,"compare_at_price_min":0,"compare_at_price_max":0,"compare_at_price_varies":false,"variants":[{"id":40033366540366,"title":"Lavender \/ 2GB + 16GB","option1":"Lavender","option2":"2GB + 16GB","option3":null,"sku":"","requires_shipping":true,"taxable":true,"featured_image":{"id":29664270909518,"product_id":6816187940942,"position":1,"created_at":"2022-09-28T16:18:04+08:00","updated_at":"2022-09-28T16:18:04+08:00","alt":"Cost-effective and Most worthwhile XGODY K30 Pro 4G Android 10.0 Unlocked Smartphones, 32G With Dual Sim HD 6.8 Inch 3000mah - XGODY ","width":1500,"height":1500,"src":"\/\/xgody.com\/cdn\/shop\/products\/the-best-xgody-k30-pro-4g-android-10-0-unlocked-smartphones-32g-with-dual-sim-hd-6-8-inch-3000mah-1.jpg?v=1664353084","variant_ids":[40033366540366,40033366573134,40033366605902]},"available":true,"name":"XGODY K30 Pro 4G Android 10.0 Unlocked Smartphones, 32G With Dual Sim HD 6.8 Inch 3000mah - Lavender \/ 2GB + 16GB","public_title":"Lavender \/ 2GB + 16GB","options":["Lavender","2GB + 16GB"],"price":9599,"weight":0,"compare_at_price":null,"inventory_management":"shopify","barcode":"","featured_media":{"alt":"Cost-effective and Most worthwhile XGODY K30 Pro 4G Android 10.0 Unlocked Smartphones, 32G With Dual Sim HD 6.8 Inch 3000mah - XGODY ","id":22015720947790,"position":1,"preview_image":{"aspect_ratio":1.0,"height":1500,"width":1500,"src":"\/\/xgody.com\/cdn\/shop\/products\/the-best-xgody-k30-pro-4g-android-10-0-unlocked-smartphones-32g-with-dual-sim-hd-6-8-inch-3000mah-1.jpg?v=1664353084"}},"requires_selling_plan":false,"selling_plan_allocations":[]},{"id":40033366573134,"title":"Lavender \/ 2GB + 32GB","option1":"Lavender","option2":"2GB + 32GB","option3":null,"sku":"","requires_shipping":true,"taxable":true,"featured_image":{"id":29664270909518,"product_id":6816187940942,"position":1,"created_at":"2022-09-28T16:18:04+08:00","updated_at":"2022-09-28T16:18:04+08:00","alt":"Cost-effective and Most worthwhile XGODY K30 Pro 4G Android 10.0 Unlocked Smartphones, 32G With Dual Sim HD 6.8 Inch 3000mah - XGODY ","width":1500,"height":1500,"src":"\/\/xgody.com\/cdn\/shop\/products\/the-best-xgody-k30-pro-4g-android-10-0-unlocked-smartphones-32g-with-dual-sim-hd-6-8-inch-3000mah-1.jpg?v=1664353084","variant_ids":[40033366540366,40033366573134,40033366605902]},"available":true,"name":"XGODY K30 Pro 4G Android 10.0 Unlocked Smartphones, 32G With Dual Sim HD 6.8 Inch 3000mah - Lavender \/ 2GB + 32GB","public_title":"Lavender \/ 2GB + 32GB","options":["Lavender","2GB + 32GB"],"price":9899,"weight":0,"compare_at_price":null,"inventory_management":"shopify","barcode":"","featured_media":{"alt":"Cost-effective and Most worthwhile XGODY K30 Pro 4G Android 10.0 Unlocked Smartphones, 32G With Dual Sim HD 6.8 Inch 3000mah - XGODY ","id":22015720947790,"position":1,"preview_image":{"aspect_ratio":1.0,"height":1500,"width":1500,"src":"\/\/xgody.com\/cdn\/shop\/products\/the-best-xgody-k30-pro-4g-android-10-0-unlocked-smartphones-32g-with-dual-sim-hd-6-8-inch-3000mah-1.jpg?v=1664353084"}},"requires_selling_plan":false,"selling_plan_allocations":[]},{"id":40033366605902,"title":"Lavender \/ 2GB + 48GB","option1":"Lavender","option2":"2GB + 48GB","option3":null,"sku":"","requires_shipping":true,"taxable":true,"featured_image":{"id":29664270909518,"product_id":6816187940942,"position":1,"created_at":"2022-09-28T16:18:04+08:00","updated_at":"2022-09-28T16:18:04+08:00","alt":"Cost-effective and Most worthwhile XGODY K30 Pro 4G Android 10.0 Unlocked Smartphones, 32G With Dual Sim HD 6.8 Inch 3000mah - XGODY ","width":1500,"height":1500,"src":"\/\/xgody.com\/cdn\/shop\/products\/the-best-xgody-k30-pro-4g-android-10-0-unlocked-smartphones-32g-with-dual-sim-hd-6-8-inch-3000mah-1.jpg?v=1664353084","variant_ids":[40033366540366,40033366573134,40033366605902]},"available":true,"name":"XGODY K30 Pro 4G Android 10.0 Unlocked Smartphones, 32G With Dual Sim HD 6.8 Inch 3000mah - Lavender \/ 2GB + 48GB","public_title":"Lavender \/ 2GB + 48GB","options":["Lavender","2GB + 48GB"],"price":10099,"weight":0,"compare_at_price":null,"inventory_management":"shopify","barcode":"","featured_media":{"alt":"Cost-effective and Most worthwhile XGODY K30 Pro 4G Android 10.0 Unlocked Smartphones, 32G With Dual Sim HD 6.8 Inch 3000mah - XGODY ","id":22015720947790,"position":1,"preview_image":{"aspect_ratio":1.0,"height":1500,"width":1500,"src":"\/\/xgody.com\/cdn\/shop\/products\/the-best-xgody-k30-pro-4g-android-10-0-unlocked-smartphones-32g-with-dual-sim-hd-6-8-inch-3000mah-1.jpg?v=1664353084"}},"requires_selling_plan":false,"selling_plan_allocations":[]},{"id":40033366638670,"title":"Mint Green \/ 2GB + 16GB","option1":"Mint Green","option2":"2GB + 16GB","option3":null,"sku":"","requires_shipping":true,"taxable":true,"featured_image":{"id":29664273268814,"product_id":6816187940942,"position":5,"created_at":"2022-09-28T16:18:14+08:00","updated_at":"2022-09-28T16:18:14+08:00","alt":"Cost-effective and Most worthwhile XGODY K30 Pro 4G Android 10.0 Unlocked Smartphones, 32G With Dual Sim HD 6.8 Inch 3000mah - XGODY ","width":1500,"height":1500,"src":"\/\/xgody.com\/cdn\/shop\/products\/the-best-xgody-k30-pro-4g-android-10-0-unlocked-smartphones-32g-with-dual-sim-hd-6-8-inch-3000mah-5.jpg?v=1664353094","variant_ids":[40033366638670,40033366671438,40033366704206]},"available":true,"name":"XGODY K30 Pro 4G Android 10.0 Unlocked Smartphones, 32G With Dual Sim HD 6.8 Inch 3000mah - Mint Green \/ 2GB + 16GB","public_title":"Mint Green \/ 2GB + 16GB","options":["Mint Green","2GB + 16GB"],"price":9599,"weight":0,"compare_at_price":null,"inventory_management":"shopify","barcode":"","featured_media":{"alt":"Cost-effective and Most worthwhile XGODY K30 Pro 4G Android 10.0 Unlocked Smartphones, 32G With Dual Sim HD 6.8 Inch 3000mah - XGODY ","id":22015723307086,"position":5,"preview_image":{"aspect_ratio":1.0,"height":1500,"width":1500,"src":"\/\/xgody.com\/cdn\/shop\/products\/the-best-xgody-k30-pro-4g-android-10-0-unlocked-smartphones-32g-with-dual-sim-hd-6-8-inch-3000mah-5.jpg?v=1664353094"}},"requires_selling_plan":false,"selling_plan_allocations":[]},{"id":40033366671438,"title":"Mint Green \/ 2GB + 32GB","option1":"Mint Green","option2":"2GB + 32GB","option3":null,"sku":"","requires_shipping":true,"taxable":true,"featured_image":{"id":29664273268814,"product_id":6816187940942,"position":5,"created_at":"2022-09-28T16:18:14+08:00","updated_at":"2022-09-28T16:18:14+08:00","alt":"Cost-effective and Most worthwhile XGODY K30 Pro 4G Android 10.0 Unlocked Smartphones, 32G With Dual Sim HD 6.8 Inch 3000mah - XGODY ","width":1500,"height":1500,"src":"\/\/xgody.com\/cdn\/shop\/products\/the-best-xgody-k30-pro-4g-android-10-0-unlocked-smartphones-32g-with-dual-sim-hd-6-8-inch-3000mah-5.jpg?v=1664353094","variant_ids":[40033366638670,40033366671438,40033366704206]},"available":true,"name":"XGODY K30 Pro 4G Android 10.0 Unlocked Smartphones, 32G With Dual Sim HD 6.8 Inch 3000mah - Mint Green \/ 2GB + 32GB","public_title":"Mint Green \/ 2GB + 32GB","options":["Mint Green","2GB + 32GB"],"price":9899,"weight":0,"compare_at_price":null,"inventory_management":"shopify","barcode":"","featured_media":{"alt":"Cost-effective and Most worthwhile XGODY K30 Pro 4G Android 10.0 Unlocked Smartphones, 32G With Dual Sim HD 6.8 Inch 3000mah - XGODY ","id":22015723307086,"position":5,"preview_image":{"aspect_ratio":1.0,"height":1500,"width":1500,"src":"\/\/xgody.com\/cdn\/shop\/products\/the-best-xgody-k30-pro-4g-android-10-0-unlocked-smartphones-32g-with-dual-sim-hd-6-8-inch-3000mah-5.jpg?v=1664353094"}},"requires_selling_plan":false,"selling_plan_allocations":[]},{"id":40033366704206,"title":"Mint Green \/ 2GB + 48GB","option1":"Mint Green","option2":"2GB + 48GB","option3":null,"sku":"","requires_shipping":true,"taxable":true,"featured_image":{"id":29664273268814,"product_id":6816187940942,"position":5,"created_at":"2022-09-28T16:18:14+08:00","updated_at":"2022-09-28T16:18:14+08:00","alt":"Cost-effective and Most worthwhile XGODY K30 Pro 4G Android 10.0 Unlocked Smartphones, 32G With Dual Sim HD 6.8 Inch 3000mah - XGODY ","width":1500,"height":1500,"src":"\/\/xgody.com\/cdn\/shop\/products\/the-best-xgody-k30-pro-4g-android-10-0-unlocked-smartphones-32g-with-dual-sim-hd-6-8-inch-3000mah-5.jpg?v=1664353094","variant_ids":[40033366638670,40033366671438,40033366704206]},"available":true,"name":"XGODY K30 Pro 4G Android 10.0 Unlocked Smartphones, 32G With Dual Sim HD 6.8 Inch 3000mah - Mint Green \/ 2GB + 48GB","public_title":"Mint Green \/ 2GB + 48GB","options":["Mint Green","2GB + 48GB"],"price":10099,"weight":0,"compare_at_price":null,"inventory_management":"shopify","barcode":"","featured_media":{"alt":"Cost-effective and Most worthwhile XGODY K30 Pro 4G Android 10.0 Unlocked Smartphones, 32G With Dual Sim HD 6.8 Inch 3000mah - XGODY ","id":22015723307086,"position":5,"preview_image":{"aspect_ratio":1.0,"height":1500,"width":1500,"src":"\/\/xgody.com\/cdn\/shop\/products\/the-best-xgody-k30-pro-4g-android-10-0-unlocked-smartphones-32g-with-dual-sim-hd-6-8-inch-3000mah-5.jpg?v=1664353094"}},"requires_selling_plan":false,"selling_plan_allocations":[]},{"id":40033366736974,"title":"Dark Black \/ 2GB + 16GB","option1":"Dark Black","option2":"2GB + 16GB","option3":null,"sku":"","requires_shipping":true,"taxable":true,"featured_image":{"id":29664273727566,"product_id":6816187940942,"position":6,"created_at":"2022-09-28T16:18:16+08:00","updated_at":"2022-09-28T16:18:17+08:00","alt":"Cost-effective and Most worthwhile XGODY K30 Pro 4G Android 10.0 Unlocked Smartphones, 32G With Dual Sim HD 6.8 Inch 3000mah - XGODY ","width":1500,"height":1500,"src":"\/\/xgody.com\/cdn\/shop\/products\/the-best-xgody-k30-pro-4g-android-10-0-unlocked-smartphones-32g-with-dual-sim-hd-6-8-inch-3000mah-6.jpg?v=1664353097","variant_ids":[40033366736974,40033366769742,40033366802510]},"available":true,"name":"XGODY K30 Pro 4G Android 10.0 Unlocked Smartphones, 32G With Dual Sim HD 6.8 Inch 3000mah - Dark Black \/ 2GB + 16GB","public_title":"Dark Black \/ 2GB + 16GB","options":["Dark Black","2GB + 16GB"],"price":9599,"weight":0,"compare_at_price":null,"inventory_management":"shopify","barcode":"","featured_media":{"alt":"Cost-effective and Most worthwhile XGODY K30 Pro 4G Android 10.0 Unlocked Smartphones, 32G With Dual Sim HD 6.8 Inch 3000mah - XGODY ","id":22015723765838,"position":6,"preview_image":{"aspect_ratio":1.0,"height":1500,"width":1500,"src":"\/\/xgody.com\/cdn\/shop\/products\/the-best-xgody-k30-pro-4g-android-10-0-unlocked-smartphones-32g-with-dual-sim-hd-6-8-inch-3000mah-6.jpg?v=1664353097"}},"requires_selling_plan":false,"selling_plan_allocations":[]},{"id":40033366769742,"title":"Dark Black \/ 2GB + 32GB","option1":"Dark Black","option2":"2GB + 32GB","option3":null,"sku":"","requires_shipping":true,"taxable":true,"featured_image":{"id":29664273727566,"product_id":6816187940942,"position":6,"created_at":"2022-09-28T16:18:16+08:00","updated_at":"2022-09-28T16:18:17+08:00","alt":"Cost-effective and Most worthwhile XGODY K30 Pro 4G Android 10.0 Unlocked Smartphones, 32G With Dual Sim HD 6.8 Inch 3000mah - XGODY ","width":1500,"height":1500,"src":"\/\/xgody.com\/cdn\/shop\/products\/the-best-xgody-k30-pro-4g-android-10-0-unlocked-smartphones-32g-with-dual-sim-hd-6-8-inch-3000mah-6.jpg?v=1664353097","variant_ids":[40033366736974,40033366769742,40033366802510]},"available":true,"name":"XGODY K30 Pro 4G Android 10.0 Unlocked Smartphones, 32G With Dual Sim HD 6.8 Inch 3000mah - Dark Black \/ 2GB + 32GB","public_title":"Dark Black \/ 2GB + 32GB","options":["Dark Black","2GB + 32GB"],"price":9899,"weight":0,"compare_at_price":null,"inventory_management":"shopify","barcode":"","featured_media":{"alt":"Cost-effective and Most worthwhile XGODY K30 Pro 4G Android 10.0 Unlocked Smartphones, 32G With Dual Sim HD 6.8 Inch 3000mah - XGODY ","id":22015723765838,"position":6,"preview_image":{"aspect_ratio":1.0,"height":1500,"width":1500,"src":"\/\/xgody.com\/cdn\/shop\/products\/the-best-xgody-k30-pro-4g-android-10-0-unlocked-smartphones-32g-with-dual-sim-hd-6-8-inch-3000mah-6.jpg?v=1664353097"}},"requires_selling_plan":false,"selling_plan_allocations":[]},{"id":40033366802510,"title":"Dark Black \/ 2GB + 48GB","option1":"Dark Black","option2":"2GB + 48GB","option3":null,"sku":"","requires_shipping":true,"taxable":true,"featured_image":{"id":29664273727566,"product_id":6816187940942,"position":6,"created_at":"2022-09-28T16:18:16+08:00","updated_at":"2022-09-28T16:18:17+08:00","alt":"Cost-effective and Most worthwhile XGODY K30 Pro 4G Android 10.0 Unlocked Smartphones, 32G With Dual Sim HD 6.8 Inch 3000mah - XGODY ","width":1500,"height":1500,"src":"\/\/xgody.com\/cdn\/shop\/products\/the-best-xgody-k30-pro-4g-android-10-0-unlocked-smartphones-32g-with-dual-sim-hd-6-8-inch-3000mah-6.jpg?v=1664353097","variant_ids":[40033366736974,40033366769742,40033366802510]},"available":true,"name":"XGODY K30 Pro 4G Android 10.0 Unlocked Smartphones, 32G With Dual Sim HD 6.8 Inch 3000mah - Dark Black \/ 2GB + 48GB","public_title":"Dark Black \/ 2GB + 48GB","options":["Dark Black","2GB + 48GB"],"price":10099,"weight":0,"compare_at_price":null,"inventory_management":"shopify","barcode":"","featured_media":{"alt":"Cost-effective and Most worthwhile XGODY K30 Pro 4G Android 10.0 Unlocked Smartphones, 32G With Dual Sim HD 6.8 Inch 3000mah - XGODY ","id":22015723765838,"position":6,"preview_image":{"aspect_ratio":1.0,"height":1500,"width":1500,"src":"\/\/xgody.com\/cdn\/shop\/products\/the-best-xgody-k30-pro-4g-android-10-0-unlocked-smartphones-32g-with-dual-sim-hd-6-8-inch-3000mah-6.jpg?v=1664353097"}},"requires_selling_plan":false,"selling_plan_allocations":[]}],"images":["\/\/xgody.com\/cdn\/shop\/products\/the-best-xgody-k30-pro-4g-android-10-0-unlocked-smartphones-32g-with-dual-sim-hd-6-8-inch-3000mah-1.jpg?v=1664353084","\/\/xgody.com\/cdn\/shop\/products\/the-best-xgody-k30-pro-4g-android-10-0-unlocked-smartphones-32g-with-dual-sim-hd-6-8-inch-3000mah-2.jpg?v=1664353087","\/\/xgody.com\/cdn\/shop\/products\/the-best-xgody-k30-pro-4g-android-10-0-unlocked-smartphones-32g-with-dual-sim-hd-6-8-inch-3000mah-3.jpg?v=1664353089","\/\/xgody.com\/cdn\/shop\/products\/the-best-xgody-k30-pro-4g-android-10-0-unlocked-smartphones-32g-with-dual-sim-hd-6-8-inch-3000mah-4.jpg?v=1664353092","\/\/xgody.com\/cdn\/shop\/products\/the-best-xgody-k30-pro-4g-android-10-0-unlocked-smartphones-32g-with-dual-sim-hd-6-8-inch-3000mah-5.jpg?v=1664353094","\/\/xgody.com\/cdn\/shop\/products\/the-best-xgody-k30-pro-4g-android-10-0-unlocked-smartphones-32g-with-dual-sim-hd-6-8-inch-3000mah-6.jpg?v=1664353097"],"featured_image":"\/\/xgody.com\/cdn\/shop\/products\/the-best-xgody-k30-pro-4g-android-10-0-unlocked-smartphones-32g-with-dual-sim-hd-6-8-inch-3000mah-1.jpg?v=1664353084","options":["Color","Memory Version(With Memory Card)"],"media":[{"alt":"Cost-effective and Most worthwhile XGODY K30 Pro 4G Android 10.0 Unlocked Smartphones, 32G With Dual Sim HD 6.8 Inch 3000mah - XGODY ","id":22015720947790,"position":1,"preview_image":{"aspect_ratio":1.0,"height":1500,"width":1500,"src":"\/\/xgody.com\/cdn\/shop\/products\/the-best-xgody-k30-pro-4g-android-10-0-unlocked-smartphones-32g-with-dual-sim-hd-6-8-inch-3000mah-1.jpg?v=1664353084"},"aspect_ratio":1.0,"height":1500,"media_type":"image","src":"\/\/xgody.com\/cdn\/shop\/products\/the-best-xgody-k30-pro-4g-android-10-0-unlocked-smartphones-32g-with-dual-sim-hd-6-8-inch-3000mah-1.jpg?v=1664353084","width":1500},{"alt":"Cost-effective and Most worthwhile XGODY K30 Pro 4G Android 10.0 Unlocked Smartphones, 32G With Dual Sim HD 6.8 Inch 3000mah - XGODY ","id":22015721504846,"position":2,"preview_image":{"aspect_ratio":1.0,"height":1500,"width":1500,"src":"\/\/xgody.com\/cdn\/shop\/products\/the-best-xgody-k30-pro-4g-android-10-0-unlocked-smartphones-32g-with-dual-sim-hd-6-8-inch-3000mah-2.jpg?v=1664353087"},"aspect_ratio":1.0,"height":1500,"media_type":"image","src":"\/\/xgody.com\/cdn\/shop\/products\/the-best-xgody-k30-pro-4g-android-10-0-unlocked-smartphones-32g-with-dual-sim-hd-6-8-inch-3000mah-2.jpg?v=1664353087","width":1500},{"alt":"Cost-effective and Most worthwhile XGODY K30 Pro 4G Android 10.0 Unlocked Smartphones, 32G With Dual Sim HD 6.8 Inch 3000mah - XGODY ","id":22015722160206,"position":3,"preview_image":{"aspect_ratio":1.0,"height":1500,"width":1500,"src":"\/\/xgody.com\/cdn\/shop\/products\/the-best-xgody-k30-pro-4g-android-10-0-unlocked-smartphones-32g-with-dual-sim-hd-6-8-inch-3000mah-3.jpg?v=1664353089"},"aspect_ratio":1.0,"height":1500,"media_type":"image","src":"\/\/xgody.com\/cdn\/shop\/products\/the-best-xgody-k30-pro-4g-android-10-0-unlocked-smartphones-32g-with-dual-sim-hd-6-8-inch-3000mah-3.jpg?v=1664353089","width":1500},{"alt":"Cost-effective and Most worthwhile XGODY K30 Pro 4G Android 10.0 Unlocked Smartphones, 32G With Dual Sim HD 6.8 Inch 3000mah - XGODY ","id":22015722782798,"position":4,"preview_image":{"aspect_ratio":1.0,"height":1500,"width":1500,"src":"\/\/xgody.com\/cdn\/shop\/products\/the-best-xgody-k30-pro-4g-android-10-0-unlocked-smartphones-32g-with-dual-sim-hd-6-8-inch-3000mah-4.jpg?v=1664353092"},"aspect_ratio":1.0,"height":1500,"media_type":"image","src":"\/\/xgody.com\/cdn\/shop\/products\/the-best-xgody-k30-pro-4g-android-10-0-unlocked-smartphones-32g-with-dual-sim-hd-6-8-inch-3000mah-4.jpg?v=1664353092","width":1500},{"alt":"Cost-effective and Most worthwhile XGODY K30 Pro 4G Android 10.0 Unlocked Smartphones, 32G With Dual Sim HD 6.8 Inch 3000mah - XGODY ","id":22015723307086,"position":5,"preview_image":{"aspect_ratio":1.0,"height":1500,"width":1500,"src":"\/\/xgody.com\/cdn\/shop\/products\/the-best-xgody-k30-pro-4g-android-10-0-unlocked-smartphones-32g-with-dual-sim-hd-6-8-inch-3000mah-5.jpg?v=1664353094"},"aspect_ratio":1.0,"height":1500,"media_type":"image","src":"\/\/xgody.com\/cdn\/shop\/products\/the-best-xgody-k30-pro-4g-android-10-0-unlocked-smartphones-32g-with-dual-sim-hd-6-8-inch-3000mah-5.jpg?v=1664353094","width":1500},{"alt":"Cost-effective and Most worthwhile XGODY K30 Pro 4G Android 10.0 Unlocked Smartphones, 32G With Dual Sim HD 6.8 Inch 3000mah - XGODY ","id":22015723765838,"position":6,"preview_image":{"aspect_ratio":1.0,"height":1500,"width":1500,"src":"\/\/xgody.com\/cdn\/shop\/products\/the-best-xgody-k30-pro-4g-android-10-0-unlocked-smartphones-32g-with-dual-sim-hd-6-8-inch-3000mah-6.jpg?v=1664353097"},"aspect_ratio":1.0,"height":1500,"media_type":"image","src":"\/\/xgody.com\/cdn\/shop\/products\/the-best-xgody-k30-pro-4g-android-10-0-unlocked-smartphones-32g-with-dual-sim-hd-6-8-inch-3000mah-6.jpg?v=1664353097","width":1500}],"requires_selling_plan":false,"selling_plan_groups":[],"content":"\u003cdiv style=\"text-align: center;\" data-mce-fragment=\"1\" data-mce-style=\"text-align: center;\"\u003e\u003cimg src=\"https:\/\/cdn.shopifycdn.net\/s\/files\/1\/0100\/3542\/9454\/files\/4_8ecafad3-f399-4a16-9d6d-f6918e09efe1_1024x1024.jpg?v=1664274158\" alt=\"\" style=\"float: none;\" data-mce-fragment=\"1\" data-mce-style=\"float: none;\" data-mce-src=\"https:\/\/cdn.shopifycdn.net\/s\/files\/1\/0100\/3542\/9454\/files\/4_8ecafad3-f399-4a16-9d6d-f6918e09efe1_1024x1024.jpg?v=1664274158\"\u003e\u003c\/div\u003e\n\u003cdiv style=\"text-align: center;\" data-mce-fragment=\"1\" data-mce-style=\"text-align: center;\"\u003e\u003c\/div\u003e\n\u003cdiv style=\"text-align: center;\" data-mce-fragment=\"1\" data-mce-style=\"text-align: center;\"\u003e\u003cimg alt=\"\" src=\"https:\/\/cdn.shopifycdn.net\/s\/files\/1\/0100\/3542\/9454\/files\/1_531a3abe-751a-466e-8d1e-7fa7f8d2fd15_1024x1024.jpg?v=1664274184\"\u003e\u003c\/div\u003e\n\u003cdiv style=\"text-align: center;\" data-mce-fragment=\"1\" data-mce-style=\"text-align: center;\"\u003e\u003c\/div\u003e\n\u003cdiv style=\"text-align: center;\" data-mce-fragment=\"1\" data-mce-style=\"text-align: center;\"\u003e\u003cimg alt=\"\" src=\"https:\/\/cdn.shopifycdn.net\/s\/files\/1\/0100\/3542\/9454\/files\/2_f7293dc3-ba9d-454e-9d05-09e74be27d97_1024x1024.jpg?v=1664274211\"\u003e\u003c\/div\u003e\n\u003cdiv style=\"text-align: center;\" data-mce-fragment=\"1\" data-mce-style=\"text-align: center;\"\u003e\u003c\/div\u003e\n\u003cdiv style=\"text-align: center;\" data-mce-fragment=\"1\" data-mce-style=\"text-align: center;\"\u003e\u003cimg alt=\"\" src=\"https:\/\/cdn.shopifycdn.net\/s\/files\/1\/0100\/3542\/9454\/files\/3_ea914366-e522-40b0-9953-7611648c8712_1024x1024.jpg?v=1664274229\"\u003e\u003c\/div\u003e\n\u003cdiv style=\"text-align: center;\" data-mce-fragment=\"1\" data-mce-style=\"text-align: center;\"\u003e\u003c\/div\u003e\n\u003cdiv style=\"text-align: center;\" data-mce-fragment=\"1\" data-mce-style=\"text-align: center;\"\u003e\u003cimg alt=\"\" src=\"https:\/\/cdn.shopifycdn.net\/s\/files\/1\/0100\/3542\/9454\/files\/5_11e88322-411c-4ffe-8894-2ee437970b1d_1024x1024.jpg?v=1664274279\"\u003e\u003c\/div\u003e\n\u003cdiv style=\"text-align: center;\" data-mce-fragment=\"1\" data-mce-style=\"text-align: center;\"\u003e\u003c\/div\u003e\n\u003cdiv style=\"text-align: center;\" data-mce-fragment=\"1\" data-mce-style=\"text-align: center;\"\u003e\u003cimg alt=\"\" src=\"https:\/\/cdn.shopifycdn.net\/s\/files\/1\/0100\/3542\/9454\/files\/6_5f116c18-7684-4eb4-a064-bf2adfd9ac22_1024x1024.jpg?v=1664274297\"\u003e\u003c\/div\u003e\n\u003cdiv style=\"text-align: center;\" data-mce-fragment=\"1\" data-mce-style=\"text-align: center;\"\u003e\u003c\/div\u003e\n\u003cdiv style=\"text-align: center;\" data-mce-fragment=\"1\" data-mce-style=\"text-align: center;\"\u003e\u003cimg alt=\"\" src=\"https:\/\/cdn.shopifycdn.net\/s\/files\/1\/0100\/3542\/9454\/files\/1-1_1024x1024.jpg?v=1664274313\"\u003e\u003c\/div\u003e\n\u003cdiv style=\"text-align: center;\" data-mce-fragment=\"1\" data-mce-style=\"text-align: center;\"\u003e\u003cimg alt=\"\" src=\"https:\/\/cdn.shopifycdn.net\/s\/files\/1\/0100\/3542\/9454\/files\/2_cb617cdc-4ca0-4de5-8bab-faaa8bf77ce3_1024x1024.jpg?v=1664274331\"\u003e\u003c\/div\u003e\n\u003cdiv style=\"text-align: center;\" data-mce-fragment=\"1\" data-mce-style=\"text-align: center;\"\u003e\u003c\/div\u003e\n\u003cdiv style=\"text-align: left;\" data-mce-fragment=\"1\" data-mce-style=\"text-align: left;\"\u003e\u003c\/div\u003e\n\u003cdiv style=\"text-align: left;\" data-mce-fragment=\"1\" data-mce-style=\"text-align: left;\"\u003e\u003c\/div\u003e\n\u003cdiv style=\"text-align: left;\" data-mce-fragment=\"1\" data-mce-style=\"text-align: left;\"\u003e\u003c\/div\u003e\n\u003cp style=\"text-align: left;\" data-mce-fragment=\"1\" data-mce-style=\"text-align: left;\"\u003e\u003cbr\u003e\u003c\/p\u003e\n\u003ch2 style=\"text-align: left;\" data-mce-fragment=\"1\" data-mce-style=\"text-align: left;\"\u003eWhat is new in XGODY K30 PRO Unlocked Android Smartphone?\u003c\/h2\u003e\n1.High-performance dual sim unlocked 4G LTE phone comes with MT6737V Quad-Core high-speed CPU. Armed with 2GB RAM+16GB ROM, this cell phone can be expanded to 64GB through a microSD card (sold separately).\u003cbr\u003e\u003cbr\u003e2.This unlocked Android cell phone meets your multiple needs suck as watching live broadcasts, swiping videos, playing games, video chat,accessing email, and surfing the internet without stuck.\u003cbr\u003e\u003cbr\u003e3.This Android 10.0 System unlocked smartphone comes with Google Play Store that can download and install millions of apps. Easily to enjoy Facebook, WhatsApp, Instagram, YouTube, Twitter, Pinterest, etc.\u003cbr\u003e\u003cbr\u003e4.Equipped with a 6.8\" HD+ LCD display\/2.5D touchscreen, XGODY 4G smartphone is designed for optimal viewing with an eye-friendly experience. Its powerful and dynamic display technology can present clear pictures and smooth video that allow users have the best visual experience.\u003cbr\u003e\u003cbr\u003e5.High pixels Dual Cameras design can make customers easily take ultra-clear photos on this cost-effective Android mobile phone. Meanwhile, XGODY Android unlocked phones' ultra-wide-angle camera, as well as the popular 5MP front\/rear camera capture technology allows you to enjoy high-quality stream lives.\u003cbr\u003e\u003cbr\u003e6.XGODY smartphone unlocked is also useful for online business meetings and Video chat with family or friends, etc. High-capacity Battery long standby time. This dual sim smartphone has a 3000mAh high-capacity battery and ultra-long standby technology. It can play online videos for more than 4 hours after full charging or talk for 8 hours and Standby for more than 2 days.\u003cbr\u003e\u003cbr\u003e7.This unlocked Android smartphone fully supports AT\u0026amp;T T-Mobile 4G LTE and 3G WCDMA Network. Providing high-speed internet exploration experience. According to telecom technology standards, 4G Network is faster than 3G more than 10 times.\n\u003cp\u003e \u003c\/p\u003e\n\u003ch3\u003eSmart Android 10.0 System \u0026amp; 16G ROM+256GB SD:\u003c\/h3\u003e\n\u003cp\u003eXGODY K30 PRO unlocked smartphone is equipped with high-performance 2RAM+16ROM memory and Android 10 system, The storage can be expanded to 256GB through a microSD card (sold separately), which means this mobile phone runs smoothly, and has a good user experience. Play games, watch live broadcasts, swipe videos, and video chat to enjoy a smooth and non-stuck experience.\u003c\/p\u003e\n\u003cp\u003e \u003c\/p\u003e\n\u003ch3\u003eFace Unlocking Technology:\u003c\/h3\u003e\n\u003cp\u003eAdopting advanced face ID tech, whether the cell phones' screen is on or still, XGODY K30 PRO unlocked android smartphone could complete the unlocking process within 0.8 seconds, making life more pleasant and convenient, and saving more precious time.\u003c\/p\u003e\n\u003cp\u003e \u003c\/p\u003e\n\u003ch3\u003eModern \u0026amp; Sleek Design:\u003c\/h3\u003e\n\u003cp\u003eDesigned by 6.8-inch extra large screen, XGODY android smartphone will upgrade your visual experience with the sharper details, vibrant images and allow you to enjoy true-to-life color accuracy in everything you present. With a 2.5D Huge HD screen, this android cell phone creates a holographic effect and offers a subtle shine to the entire cell phone with an attention-grabbing design. Its glass back cover also made it easy for heat dissipation.\u003cbr\u003e\u003c\/p\u003e\n\u003cp\u003e\u003cbr\u003e\u003c\/p\u003e\n\u003ch3\u003eSuperior clarity day \u0026amp; night:\u003c\/h3\u003e\n\u003cp\u003eComing with 5MP front-facing selfie camera and 5MP high-res rear camera, XGODY 4G smartphone helps you capture crisp and vivid pictures. The 540*1200 high resolution camera recognizes and enhances scenes \u0026amp; objects for your best creations.The eye care tech of XGODY cheap android phones make it protective for our eyes during browsing the Google websites.\u003c\/p\u003e\n\u003ch3\u003e\n\u003cbr\u003eComfortable viewing all day:\u003c\/h3\u003e\n\u003cp\u003eAuto-adjusting display provides the best viewing experience regardless of lighting conditions. This dual sim smartphone has a 3000mAh battery and Intelligent Battery Mode, which could optimize power usage to keep you cord-free all day. Weight at 300g makes this portable 4G LTE smartphone become zero burden in your pocket.\u003cbr\u003e\u003c\/p\u003e\n\u003cp\u003e\u003cbr\u003e\u003c\/p\u003e\n\u003ch2\u003eItem Specifics:\u003c\/h2\u003e\n\u003cp\u003eMachine model: K30 PRO\u003cbr\u003eSelling point description: 6.8-inch high-definition screen \/ 2.5D touch screen \/ glass battery cover\u003cbr\u003eAppearance Description: Appearance Section\u003cbr\u003eDisassembly method: built-in machine\u003cbr\u003eProcess description: battery cover IML\/A shell plating\u003cbr\u003eSize: 171.4*81.2*8.5MM\u003cbr\u003eCPU: MT6737V\/WAHHC\u003cbr\u003eMemory (FLASH): 2+16\u003cbr\u003eOperating system: 10.0 system\u003cbr\u003eNetwork frequency band: GMS 850\/900\/1800\/1900; WCDMA 850\/1700\/2100; LTE—FDD 2\/4\/5\/7\/8\/12\/17\/28AB; LTE—TDD; CDMA\u003cbr\u003eSIM card 1 (Nano SIM card): support\u003cbr\u003eSIM card 2 (micro-SIM card): support\u003cbr\u003eT-Flash card: support\u003cbr\u003eGPS\/WiFi\/BT\/FM: support\u003cbr\u003eFront fake flash: not supported\u003cbr\u003ePost fake flash: support\u003cbr\u003eSignal light (tri-color light): not supported\u003cbr\u003eGravity sensor: support\u003cbr\u003eUSB interface: TYPE-C\u003cbr\u003eOTG\/fast charge interface: not supported\u003cbr\u003eDisplay (LCD): 6.8 QHD+ 540*1200\u003cbr\u003eTouch screen (TP): G+FF\/multi point\u003cbr\u003eProactive: 500W\u003cbr\u003eRear camera: 500W\u003cbr\u003eFace unlock: support\u003cbr\u003eSpeaker\/earpiece\/microphone: support\u003cbr\u003eBattery capacity: 3000mah\u003cbr\u003eKeys (Volume Key\/Power Key): Supported\u003c\/p\u003e\n\u003ch2\u003e\n\u003cbr\u003ePacking includes:\u003c\/h2\u003e\n\u003cp\u003e1× K30 PRO Android Smartphone\u003cbr\u003e1× Type-C Charging Cable\u003cbr\u003e1× Unique Case(free gift)\u003cbr\u003e1× protect film(free gift)\u003cbr\u003e1× Manual\u003c\/p\u003e\n\u003cp\u003e \u003c\/p\u003e\n\u003cdiv style=\"text-align: center;\"\u003e--\u003c\/div\u003e\n\u003cdiv style=\"text-align: center;\"\u003e\u003cspan style=\"color: #ff2a00;\"\u003e\u003cstrong\u003e** LinkIng Real **\u003c\/strong\u003e\u003c\/span\u003e\u003c\/div\u003e\n\u003cdiv style=\"text-align: center;\"\u003e\u003cstrong\u003e\u003ciframe width=\"1000\" height=\"580\" src=\"https:\/\/www.youtube.com\/embed\/pI2zHJj65jM\" title=\"Best Dual SIM #Smartphone Unlocked, #XGODY K30 Pro 4G LTE Android 10.0 System\" frameborder=\"0\" allow=\"accelerometer; autoplay; clipboard-write; encrypted-media; gyroscope; picture-in-picture\" allowfullscreen=\"\"\u003e\u003c\/iframe\u003e\u003c\/strong\u003e\u003c\/div\u003e\n\u003cdiv data-mce-fragment=\"1\" style=\"text-align: center;\" data-mce-style=\"text-align: left;\"\u003e--\u003c\/div\u003e\n\u003cdiv style=\"text-align: left;\" data-mce-fragment=\"1\" data-mce-style=\"text-align: left;\"\u003e\u003c\/div\u003e\n\u003cdiv style=\"text-align: center;\" data-mce-fragment=\"1\" data-mce-style=\"text-align: left;\"\u003e\u003cimg src=\"https:\/\/cdn.shopify.com\/s\/files\/1\/0100\/3542\/9454\/files\/01_2fdaa1f6-5a46-410d-a36a-9cc39134f8af_1024x1024.jpg?v=1646212895\" style=\"float: none;\"\u003e\u003c\/div\u003e"}
XGODY K30 Pro 4G Android 10.0 Unlocked Smartphones, 32G With Dual Sim HD 6.8 Inch 3000mah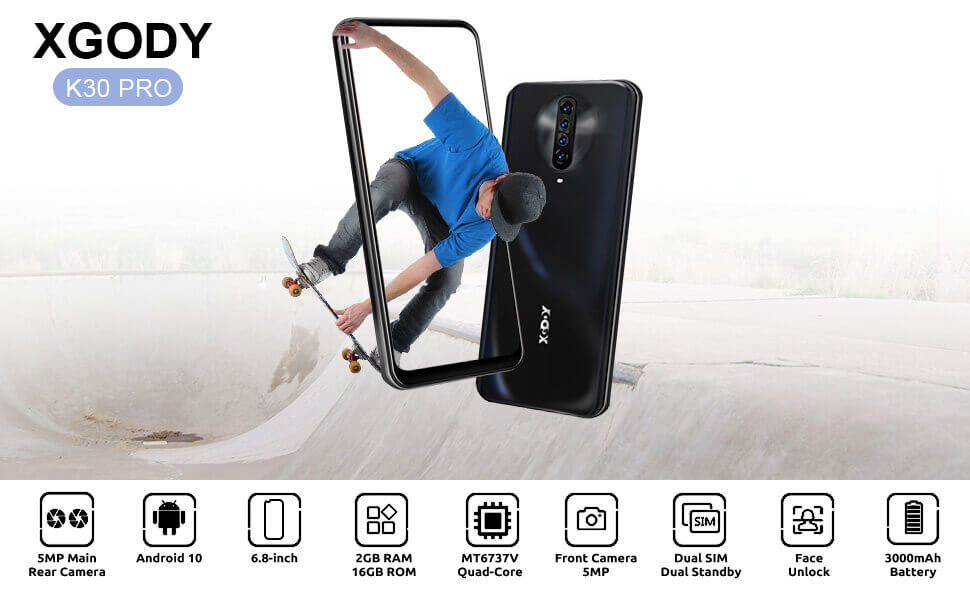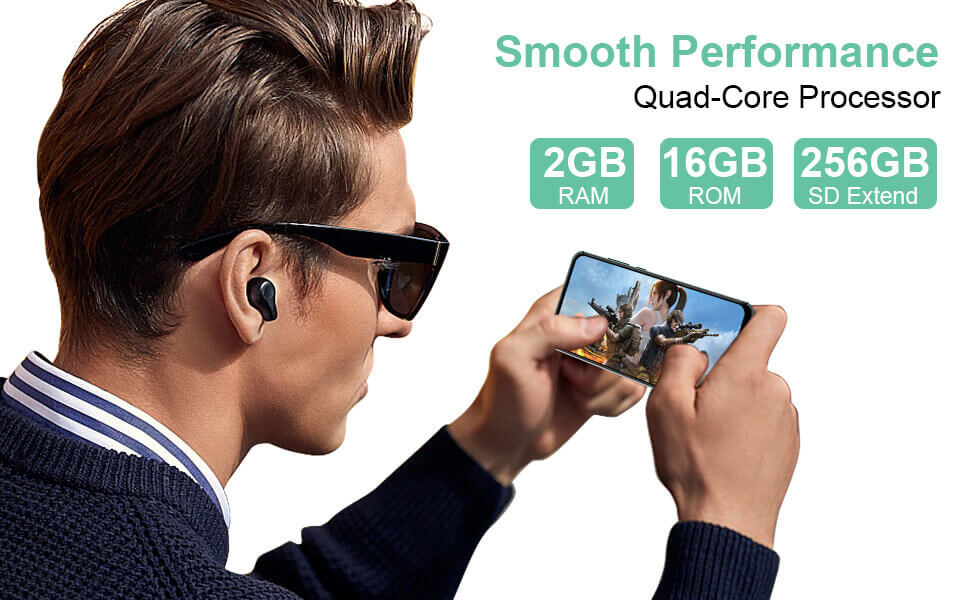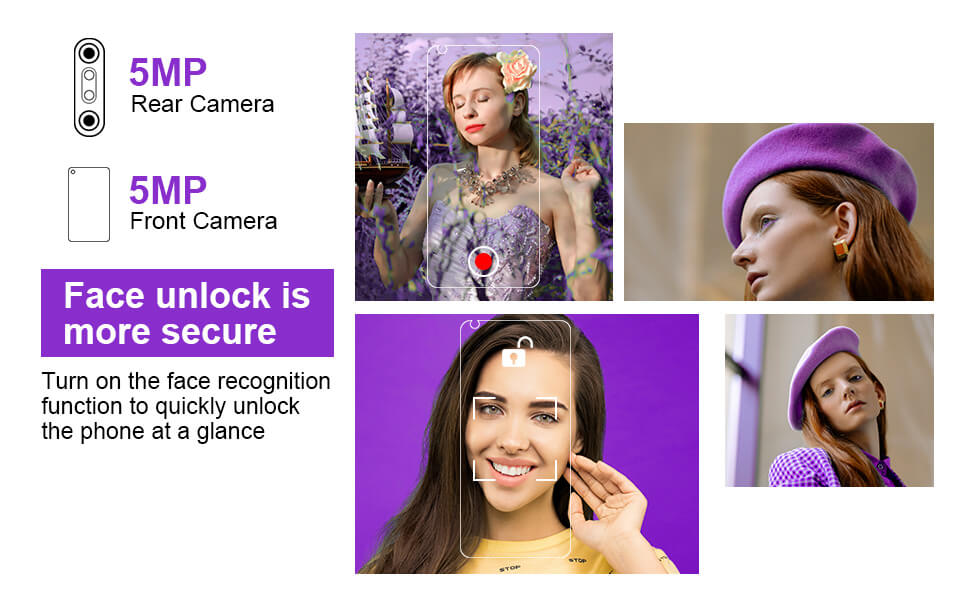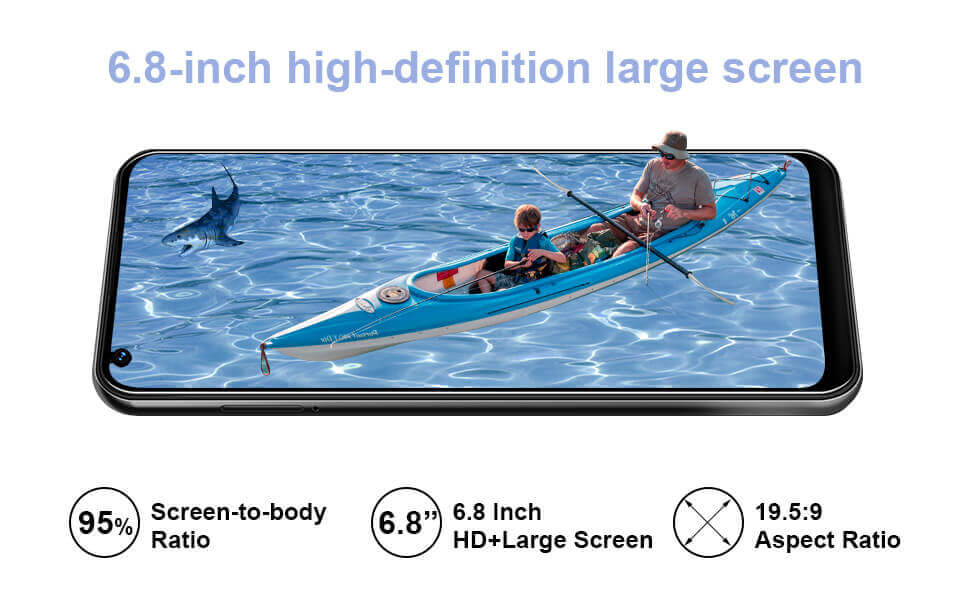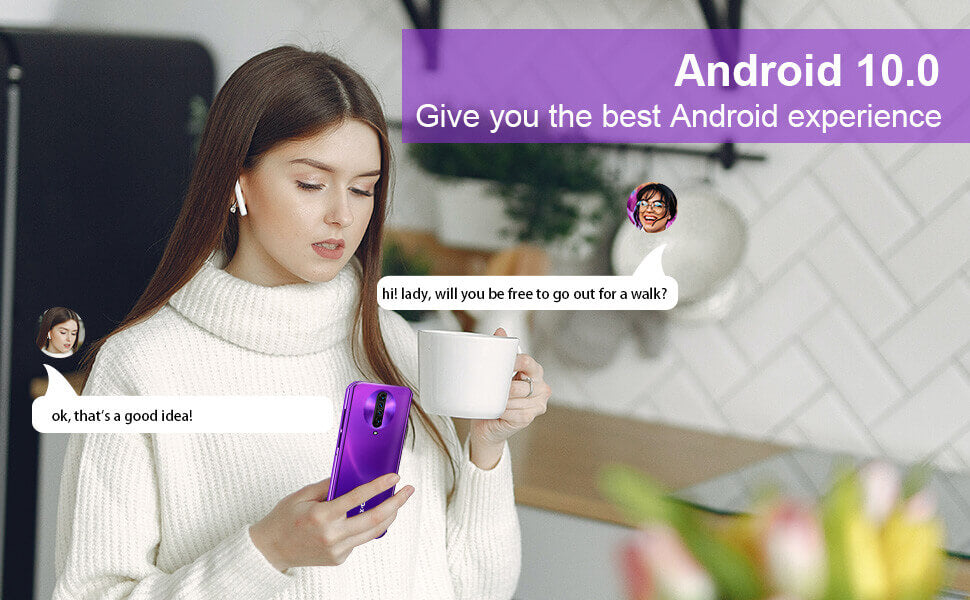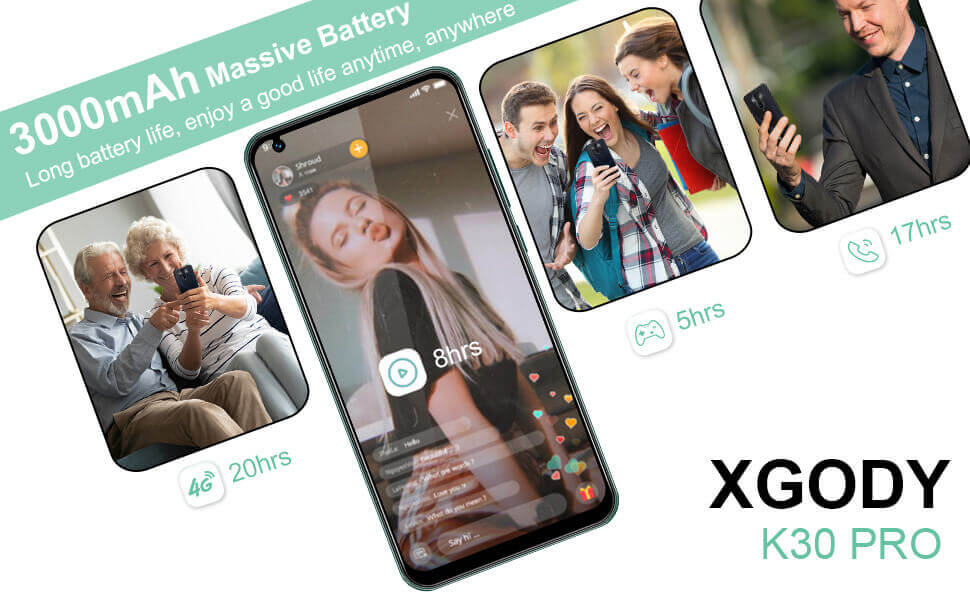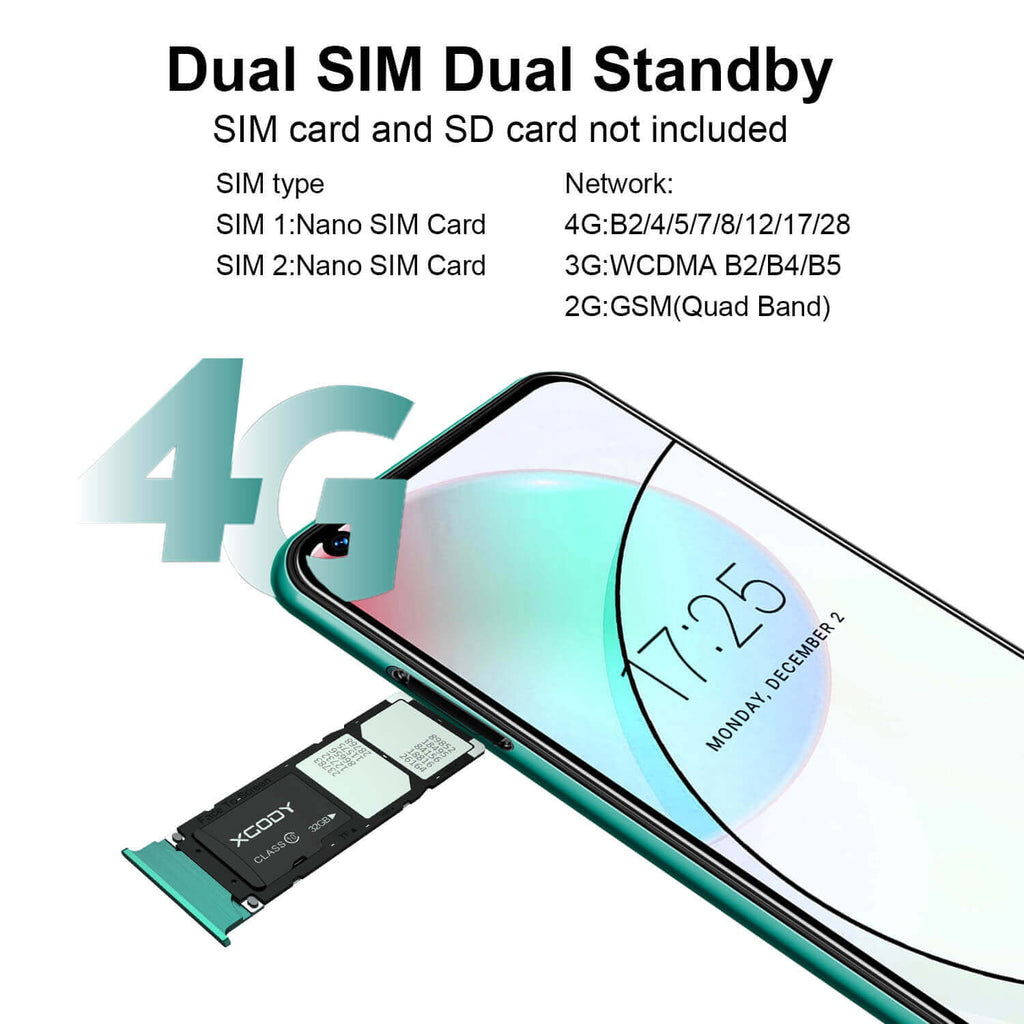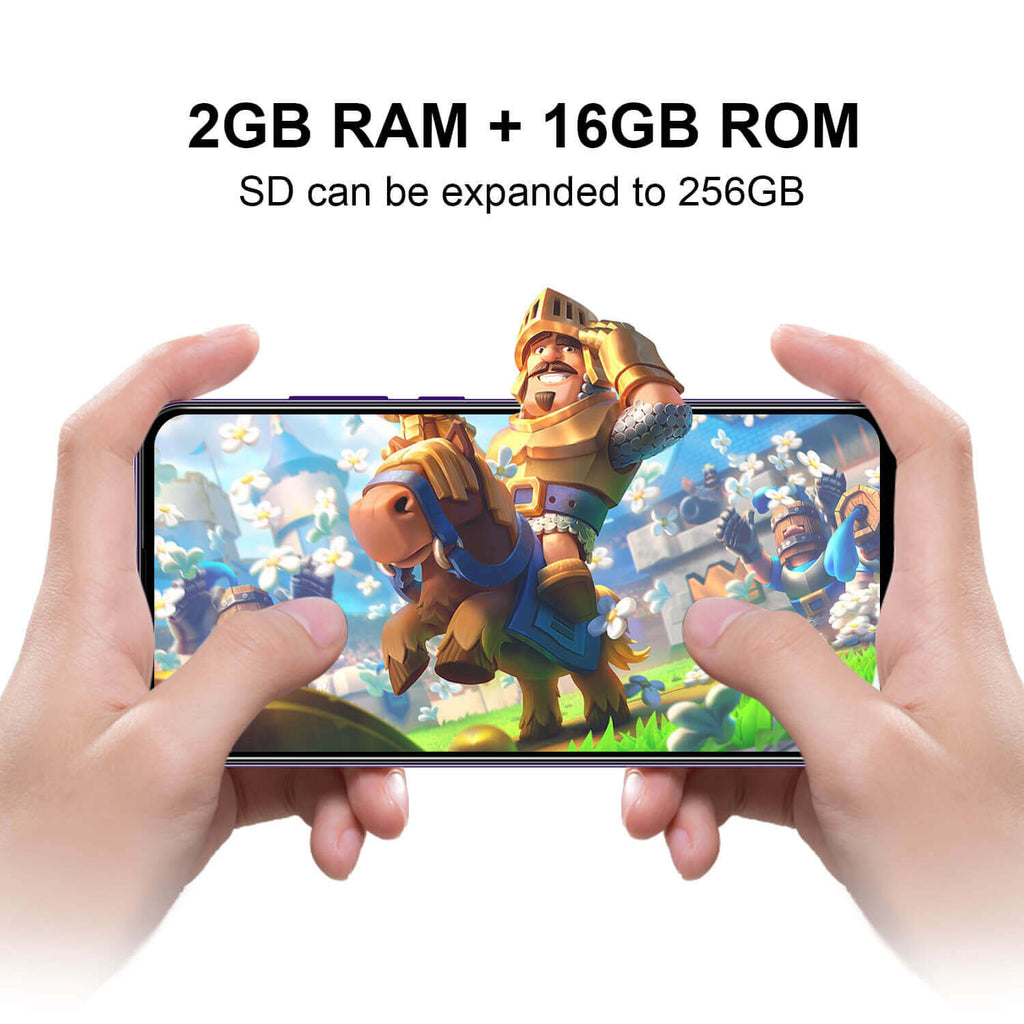 What is new in XGODY K30 PRO Unlocked Android Smartphone?
1.High-performance dual sim unlocked 4G LTE phone comes with MT6737V Quad-Core high-speed CPU. Armed with 2GB RAM+16GB ROM, this cell phone can be expanded to 64GB through a microSD card (sold separately).
2.This unlocked Android cell phone meets your multiple needs suck as watching live broadcasts, swiping videos, playing games, video chat,accessing email, and surfing the internet without stuck.
3.This Android 10.0 System unlocked smartphone comes with Google Play Store that can download and install millions of apps. Easily to enjoy Facebook, WhatsApp, Instagram, YouTube, Twitter, Pinterest, etc.
4.Equipped with a 6.8" HD+ LCD display/2.5D touchscreen, XGODY 4G smartphone is designed for optimal viewing with an eye-friendly experience. Its powerful and dynamic display technology can present clear pictures and smooth video that allow users have the best visual experience.
5.High pixels Dual Cameras design can make customers easily take ultra-clear photos on this cost-effective Android mobile phone. Meanwhile, XGODY Android unlocked phones' ultra-wide-angle camera, as well as the popular 5MP front/rear camera capture technology allows you to enjoy high-quality stream lives.
6.XGODY smartphone unlocked is also useful for online business meetings and Video chat with family or friends, etc. High-capacity Battery long standby time. This dual sim smartphone has a 3000mAh high-capacity battery and ultra-long standby technology. It can play online videos for more than 4 hours after full charging or talk for 8 hours and Standby for more than 2 days.
7.This unlocked Android smartphone fully supports AT&T T-Mobile 4G LTE and 3G WCDMA Network. Providing high-speed internet exploration experience. According to telecom technology standards, 4G Network is faster than 3G more than 10 times.
Smart Android 10.0 System & 16G ROM+256GB SD:
XGODY K30 PRO unlocked smartphone is equipped with high-performance 2RAM+16ROM memory and Android 10 system, The storage can be expanded to 256GB through a microSD card (sold separately), which means this mobile phone runs smoothly, and has a good user experience. Play games, watch live broadcasts, swipe videos, and video chat to enjoy a smooth and non-stuck experience.
Face Unlocking Technology:
Adopting advanced face ID tech, whether the cell phones' screen is on or still, XGODY K30 PRO unlocked android smartphone could complete the unlocking process within 0.8 seconds, making life more pleasant and convenient, and saving more precious time.
Modern & Sleek Design:
Designed by 6.8-inch extra large screen, XGODY android smartphone will upgrade your visual experience with the sharper details, vibrant images and allow you to enjoy true-to-life color accuracy in everything you present. With a 2.5D Huge HD screen, this android cell phone creates a holographic effect and offers a subtle shine to the entire cell phone with an attention-grabbing design. Its glass back cover also made it easy for heat dissipation.

Superior clarity day & night:
Coming with 5MP front-facing selfie camera and 5MP high-res rear camera, XGODY 4G smartphone helps you capture crisp and vivid pictures. The 540*1200 high resolution camera recognizes and enhances scenes & objects for your best creations.The eye care tech of XGODY cheap android phones make it protective for our eyes during browsing the Google websites.

Comfortable viewing all day:
Auto-adjusting display provides the best viewing experience regardless of lighting conditions. This dual sim smartphone has a 3000mAh battery and Intelligent Battery Mode, which could optimize power usage to keep you cord-free all day. Weight at 300g makes this portable 4G LTE smartphone become zero burden in your pocket.

Item Specifics:
Machine model: K30 PRO
Selling point description: 6.8-inch high-definition screen / 2.5D touch screen / glass battery cover
Appearance Description: Appearance Section
Disassembly method: built-in machine
Process description: battery cover IML/A shell plating
Size: 171.4*81.2*8.5MM
CPU: MT6737V/WAHHC
Memory (FLASH): 2+16
Operating system: 10.0 system
Network frequency band: GMS 850/900/1800/1900; WCDMA 850/1700/2100; LTE—FDD 2/4/5/7/8/12/17/28AB; LTE—TDD; CDMA
SIM card 1 (Nano SIM card): support
SIM card 2 (micro-SIM card): support
T-Flash card: support
GPS/WiFi/BT/FM: support
Front fake flash: not supported
Post fake flash: support
Signal light (tri-color light): not supported
Gravity sensor: support
USB interface: TYPE-C
OTG/fast charge interface: not supported
Display (LCD): 6.8 QHD+ 540*1200
Touch screen (TP): G+FF/multi point
Proactive: 500W
Rear camera: 500W
Face unlock: support
Speaker/earpiece/microphone: support
Battery capacity: 3000mah
Keys (Volume Key/Power Key): Supported

Packing includes:
1× K30 PRO Android Smartphone
1× Type-C Charging Cable
1× Unique Case(free gift)
1× protect film(free gift)
1× Manual
--
** LinkIng Real **
--
1.Most items are shipping free, you can check the description in the listing. Order will be shipped within 72 hours after payment made.
2.The shipping time is based on the shipping option, sometimes it may be delayed due to varied situation (such as holidays, war, weather etc.), please contact us immediately if delivery time exceeds estimated.
3.Import taxes, duties and related customs fees may be charged once the parcel arrives at the destination country. These charges are determined by the customs office of the specific destination. Payment of these charges and taxes is the responsibility of the recipient and will not be covered by us here at Xgody. For further details of charges, please contact your local customs office.
4.Time Schedule- F

ast Shipping
| | |
| --- | --- |
| United States/Australia/UK |  4-10 working days |
| Canada/Israel/ Azerbaijan / Russia/Maldives/ Eastern Europe/ Middle East |  9-18 working days |
| Brazil/Chile/South America |  9-18 working days |
| Western Europe/New Zealand |  7-10 working days |
If you are not happy with your purchase and wish to return an item, please contact us immediatelysince receiving your order. Our customs support email is support@xgody.com. Please write down your order number and user ID in the return parcel.
All returns must be in original condition with packaging intact to avoid damage during shipment, any physical damage during the return shipment will not be accepted. Returned parcel need to provide shipment number for tracking.
We will get back to you once we receive the return parcel. Money or replacement will be arranged within 24-48 hours after the return parcel delivered.
-
1.Why Choose Xgody?
Brand XGODY was established in 2014 with great advantages in electronic products. More than that, the operating team has more than 10 years experiences on e-commerce.. We know exactly what the buyer concerns and worries. Making sure you will have a wonderful shopping experience by providing what you need and getting rid of what you worried about. It is no doubt to choose us with our high quality of product, good shipping way, and good customs support.
2.What payment methods do you accept?
We accept all major credit cards (VISA, Mastercard, AMEX) and PayPal payments. We do not accept personal checks, money orders, direct bank transfers, western union, or cash on delivery.
3.Can I change my shipping address after placing an order?
Please be advised that your shipping address cannot be revised after the order has been processed or shipped. Kindly update your shipping address to your residential address instead of your vacation address as we do not know how long the destination's customs department will have the package on hold.
4.How do I track my order?
The tracking number can be queried in the background. Also, we will email your tracking information as soon as your order has shipped. Usually you will receive the tracking number one day after we have shipped your order. In addition, if you still do not know how to query and track, you can also contact customer service freely.
5.Will I be charged with customs and taxes?
Import taxes, duties and related customs fees may be charged once your order arrives to its final destination, which are determined by your local customs office.
Payment of these charges and taxes are your responsibility and will not be covered by us. We are not responsible for delays caused by the customs department in your country. For further details of charges, please contact your local customs office. 
6.What Do I Do If I Have Missing Items In My Order?
If something is still missing, please contact us immediately.
7.What if the item(s) I received are defective/incorrect/damaged?
Please contact us within 7 days from receiving your order if you received merchandise that is incorrect, missing, and/or defective. Please include your order number, photographs of the item(s) and all related references upon receiving your package. We will do our very best to resolve your case as soon as possible.
8.How do I return an item?
If you are not happy with your purchase and wish to return an item, please contact us immediately from receiving your order. Please provide your order number as well as the reason for your return. Our customer service team will review the return request and will send further instructions if the return is approved.
For a list of final sale items, please see our Warranty Info and Refund Policy. All returns must be in original condition with packaging intact.
9.When will I receive my refund?
All refunds will be credited to your original form of payment. If you paid by credit or debit card, refunds will be sent to the card-issuing bank within 7-10 business days of receipt of the returned item or cancellation request. Please contact the card-issuing bank with questions about when the credit will be posted to your account.
If you haven't received a credit for your return yet, here's what to do: Contact the bank/credit card company. It may take some time before the refund is posted to your account.