{"id":8674490646802,"title":"XGODY Mate 50 6.5\" Android 4G LTE Cell Phone With Dual SIM Phones Unlocked","handle":"xgody-mate-50-android-phone","description":"\u003ch2 style=\"text-align: center;\"\u003eFind Your Perfect Android Phone: Exploring The XGODY Mate 50\u003c\/h2\u003e\n\u003cp\u003e \u003c\/p\u003e\n\u003cp\u003eIf you're in the market for a new Android phone, the XGODY Mate 50 might be worth considering. This dual SIM phone comes unlocked, allowing you to use it with your preferred carrier. With its Android 10.0 operating system, you can enjoy a seamless user experience and access a wide range of apps from the Google Play Store.\u003c\/p\u003e\n\u003cp\u003eOne notable feature of the XGODY Mate 50 is its long-lasting 4500 mAh battery. You can stay connected throughout the day without worrying about running out of power. The 6.56-inch HD screen provides a vibrant and immersive visual experience, whether you're browsing the web, watching videos, or playing games.\u003c\/p\u003e\n\u003cp\u003eWith 3GB of RAM and 32GB of internal storage, the XGODY Mate 50 offers ample space for all your apps, photos, and files. Capture stunning photos and selfies with the 18-megapixel rear camera and 5-megapixel front camera. Whether you're a photography enthusiast or enjoy capturing memories on the go, this phone has you covered.\u003c\/p\u003e\n\u003cp\u003eThe XGODY Mate 50 combines functionality, affordability, and sleek design in one package. Whether you need a reliable work phone or simply want to stay connected, it offers a range of features to meet your needs. Consider exploring the XGODY Mate 50 to find your perfect Android companion.\u003c\/p\u003e\n\u003cp\u003eAnd don't forget to protect your new phone with a stylish and durable case. There are many options available for free Android phone cases, allowing you to personalize and safeguard your device. Whether you prefer a sleek and slim design or a rugged and protective case, you can find the perfect fit for your XGODY Mate 50.\u003c\/p\u003e\n\u003cp\u003eHappy shopping and enjoy your new Android phone experience with the XGODY Mate 50!\u003c\/p\u003e\n\u003cp\u003e \u003c\/p\u003e\n\u003cp\u003e \u003c\/p\u003e\n\u003cdiv style=\"text-align: center;\"\u003e\u003cimg style=\"float: none;\" alt=\"4G LTE Smart Phone\" src=\"https:\/\/cdn.shopifycdn.net\/s\/files\/1\/0100\/3542\/9454\/files\/10_a5ac8ae3-dfc8-49c3-8ad5-2905bed83f0b_1024x1024.jpg?v=1695030845\"\u003e\u003c\/div\u003e\n\u003cdiv\u003e\u003c\/div\u003e\n\u003cdiv\u003e\u003c\/div\u003e\n\u003cdiv style=\"text-align: center;\"\u003e\u003cimg alt=\"Mobile phone camera front 5 million pixels + rear 18 million pixels\" src=\"https:\/\/cdn.shopifycdn.net\/s\/files\/1\/0100\/3542\/9454\/files\/2_138a2251-5fd7-42e5-baf7-dcfe91f8be3b_1024x1024.jpg?v=1695031086\" style=\"margin-bottom: 16px; float: none;\"\u003e\u003c\/div\u003e\n\u003cdiv\u003e\u003c\/div\u003e\n\u003cdiv\u003e\u003c\/div\u003e\n\u003cdiv style=\"text-align: center;\"\u003e\u003cimg style=\"margin-bottom: 16px; float: none;\" alt=\"Mobile phone camera front 5 million pixels + rear 18 million pixels\" src=\"https:\/\/cdn.shopifycdn.net\/s\/files\/1\/0100\/3542\/9454\/files\/3_2016b3c0-928f-46df-9717-460fe1e9b1b1_1024x1024.jpg?v=1695031134\"\u003e\u003c\/div\u003e\n\u003cdiv\u003e\u003c\/div\u003e\n\u003cdiv style=\"text-align: center;\"\u003e\u003c\/div\u003e\n\u003cdiv style=\"text-align: center;\"\u003e\u003cimg alt=\"cell phone\" src=\"https:\/\/cdn.shopifycdn.net\/s\/files\/1\/0100\/3542\/9454\/files\/1_de2bd4ae-6731-41ef-bc34-59f50da8e91d_1024x1024.jpg?v=1695031174\"\u003e\u003c\/div\u003e\n\u003cdiv style=\"text-align: center;\"\u003e\u003c\/div\u003e\n\u003cdiv style=\"text-align: center;\"\u003e\u003c\/div\u003e\n\u003cdiv style=\"text-align: center;\"\u003e\u003cimg alt=\"6.56-inch HD screen\" src=\"https:\/\/cdn.shopifycdn.net\/s\/files\/1\/0100\/3542\/9454\/files\/7_8961097e-3628-47d7-97ff-834dfd061f52_1024x1024.jpg?v=1695031204\"\u003e\u003c\/div\u003e\n\u003cdiv style=\"text-align: center;\"\u003e\u003c\/div\u003e\n\u003cdiv style=\"text-align: center;\"\u003e\u003c\/div\u003e\n\u003cdiv style=\"text-align: center;\"\u003e\u003c\/div\u003e\n\u003cdiv style=\"text-align: center;\"\u003e\u003cimg alt=\"Built-in 4500 mAh cell phone battery\" src=\"https:\/\/cdn.shopifycdn.net\/s\/files\/1\/0100\/3542\/9454\/files\/4_4a20e384-f452-4777-94e1-3c7252947595_1024x1024.jpg?v=1695031245\"\u003e\u003c\/div\u003e\n\u003cdiv style=\"text-align: center;\"\u003e\u003c\/div\u003e\n\u003cdiv style=\"text-align: center;\"\u003e\u003c\/div\u003e\n\u003cdiv style=\"text-align: center;\"\u003e\u003cimg alt=\"Easy to Hold Without Slipping Hands\" src=\"https:\/\/cdn.shopifycdn.net\/s\/files\/1\/0100\/3542\/9454\/files\/6_4a6fe207-03b9-4618-8425-eda1816529bb_1024x1024.jpg?v=1695031265\"\u003e\u003c\/div\u003e\n\u003cdiv style=\"text-align: center;\"\u003e\u003c\/div\u003e\n\u003cdiv style=\"text-align: center;\"\u003e\u003c\/div\u003e\n\u003cdiv style=\"text-align: center;\"\u003e\u003c\/div\u003e\n\u003cdiv style=\"text-align: center;\"\u003e\u003c\/div\u003e\n\u003cdiv style=\"text-align: left;\"\u003e\n\u003ch2\u003e\u003c\/h2\u003e\n\u003ch2\u003e\u003c\/h2\u003e\n\u003ch2\u003e\u003c\/h2\u003e\n\u003ch2\u003e\u003c\/h2\u003e\n\u003ch2\u003eMore Feature:\u003c\/h2\u003e\n\u003cp\u003e \u003c\/p\u003e\n\u003cp\u003e\u003cstrong\u003e【Network】\u003c\/strong\u003eDual card dual standby, high-speed 4G network, no delay in work and life\u003cbr\u003e\u003cbr\u003e\u003cstrong\u003e【System】\u003c\/strong\u003eBuilt-in Android 10.0 system, which is very mature and stable at present\u003cbr\u003e\u003cbr\u003e\u003cstrong\u003e【Screen】\u003c\/strong\u003eLarge high-definition 2.5D water drop HD screen, super high screen ratio, very suitable for movie entertainment\u003cbr\u003e\u003cbr\u003e\u003cstrong\u003e【Battery life】\u003c\/strong\u003e6.5-inch screen with 4500 mAh battery, Ultra-long battery life, completely eliminates battery anxiety\u003cbr\u003e\u003cbr\u003e\u003cstrong\u003e【Taking pictures】\u003c\/strong\u003eRear 1800W pixels and front 500W camera, no matter how you shoot it is so good-looking\u003cbr\u003e\u003cbr\u003e\u003cstrong\u003e【Security】\u003c\/strong\u003e\u003cspan data-mce-fragment=\"1\"\u003eMate \u003c\/span\u003e4G LTE Phone supports face, password, and fingerprint unlocking, and multiple unlocking methods will escort you\u003cbr\u003e\u003cbr\u003e\u003cstrong\u003e【3+32G Large Memory】\u003c\/strong\u003eLarge memory ensures smooth operation of multiple software, no lag for many years, and can easily download a large number of pictures and videos\u003cbr\u003e\u003cbr\u003e\u003cstrong\u003e【Covering European And American Countries】\u003c\/strong\u003e Mate 50 4G LTE Phone can be used in European and American countries, supports multiple SIM card operators, and has a strong signal\u003c\/p\u003e\n\u003cp\u003e \u003c\/p\u003e\n\u003cp\u003e \u003c\/p\u003e\n\u003c\/div\u003e\n\u003cdiv style=\"text-align: center;\"\u003e\u003c\/div\u003e\n\u003cdiv style=\"text-align: center;\"\u003e\u003c\/div\u003e\n\u003cdiv style=\"text-align: center;\"\u003e\u003c\/div\u003e\n\u003cdiv style=\"text-align: center;\"\u003e\u003c\/div\u003e\n\u003ch2\u003eParameter:\u003c\/h2\u003e\n\u003cp\u003e \u003c\/p\u003e\n\u003cp\u003eNetwork frequency band: 2G: Quad-band 850\/900\/1800\/1900 MHz, 3G: B1\/B2\/B5\/B8\u003c\/p\u003e\n\u003cp\u003e, 4G: B1\/B2\/B3\/B4\/B5\/B7\/B8\/B12\/B17\/B20\/B38\/B40\/B41\u003c\/p\u003e\n\u003cp\u003eScreen Size: 6.56\"QHD 18:9\u003c\/p\u003e\n\u003cp\u003eResolution:720*1612\u003c\/p\u003e\n\u003cp\u003eCPU: MTK6753V\/WA\u003c\/p\u003e\n\u003cp\u003eFrequency 1.3Ghz\u003c\/p\u003e\n\u003cp\u003eOperating System: Android 10.0\u003c\/p\u003e\n\u003cp\u003eFlash:3+32\u003c\/p\u003e\n\u003cp\u003eCamera front 500W + rear 1800W\u003c\/p\u003e\n\u003cp\u003eSIM Card: 2 sim card + 1 TF card\u003c\/p\u003e\n\u003cp\u003eBattery: 4500 mAh\u003c\/p\u003e\n\u003cp\u003eDimensions: 165.1*76.1*8.2mm\u003c\/p\u003e\n\u003cp\u003eSide Keys: volume key + power key\u003c\/p\u003e\n\u003cp\u003eColors: black, dark purple, lake blue\u003c\/p\u003e\n\u003cp\u003eType: Capacitive touch\u003c\/p\u003e\n\u003cp\u003etouch: 2 points\u003c\/p\u003e\n\u003cp\u003eG-Sensor: Support\u003c\/p\u003e\n\u003cp\u003eCard Slot:256GB\u003c\/p\u003e\n\u003cp\u003eGPRS: support\u003c\/p\u003e\n\u003cp\u003eBluetooth V4.0\u003c\/p\u003e\n\u003cp\u003eUSB: TYPE-C\u003c\/p\u003e\n\u003cp\u003e \u003c\/p\u003e\n\u003cp\u003e \u003c\/p\u003e\n\u003cdiv style=\"text-align: center;\"\u003e\u003c\/div\u003e\n\u003cdiv style=\"text-align: center;\"\u003e\u003c\/div\u003e\n\u003cdiv style=\"text-align: center;\"\u003e\u003c\/div\u003e\n\u003cdiv style=\"text-align: center;\"\u003e\u003c\/div\u003e\n\u003cdiv style=\"text-align: left;\"\u003e\n\u003ch2\u003e\u003c\/h2\u003e\n\u003ch2\u003e\u003c\/h2\u003e\n\u003ch2\u003e\u003c\/h2\u003e\n\u003ch2\u003e\u003c\/h2\u003e\n\u003ch2\u003e\u003c\/h2\u003e\n\u003ch2\u003ePacking list:\u003c\/h2\u003e\n\u003cp\u003e \u003c\/p\u003e\n\u003cp\u003e1* Mate 50 Smartphone\u003c\/p\u003e\n\u003cp\u003e1* Tempered Film\u003c\/p\u003e\n\u003cp\u003e1* HD Film\u003c\/p\u003e\n\u003cp\u003e1* Android Phone Case\u003c\/p\u003e\n\u003cp\u003e1* Type-C USB Cable\u003c\/p\u003e\n\u003cp\u003e1* User Manual \u003c\/p\u003e\n\u003cp\u003e1* SIM card pin\u003c\/p\u003e\n\u003cp\u003e1* Aftermarket card\u003c\/p\u003e\n\u003c\/div\u003e\n\u003cdiv style=\"text-align: center;\"\u003e\u003c\/div\u003e\n\u003cdiv style=\"text-align: center;\"\u003e\u003c\/div\u003e\n\u003cdiv style=\"text-align: center;\"\u003e\u003c\/div\u003e","published_at":"2023-09-18T17:46:00+08:00","created_at":"2023-09-18T17:46:00+08:00","vendor":"XGODY ","type":"Mobile Phones","tags":[],"price":8590,"price_min":8590,"price_max":9390,"available":true,"price_varies":true,"compare_at_price":null,"compare_at_price_min":0,"compare_at_price_max":0,"compare_at_price_varies":false,"variants":[{"id":46862344421650,"title":"Black \/ 3G+32G","option1":"Black","option2":"3G+32G","option3":null,"sku":"","requires_shipping":true,"taxable":true,"featured_image":null,"available":true,"name":"XGODY Mate 50 6.5\" Android 4G LTE Cell Phone With Dual SIM Phones Unlocked - Black \/ 3G+32G","public_title":"Black \/ 3G+32G","options":["Black","3G+32G"],"price":8590,"weight":0,"compare_at_price":null,"inventory_management":"shopify","barcode":"","requires_selling_plan":false,"selling_plan_allocations":[]},{"id":46862344454418,"title":"Black \/ 3G+48G","option1":"Black","option2":"3G+48G","option3":null,"sku":"","requires_shipping":true,"taxable":true,"featured_image":null,"available":true,"name":"XGODY Mate 50 6.5\" Android 4G LTE Cell Phone With Dual SIM Phones Unlocked - Black \/ 3G+48G","public_title":"Black \/ 3G+48G","options":["Black","3G+48G"],"price":8990,"weight":0,"compare_at_price":null,"inventory_management":"shopify","barcode":"","requires_selling_plan":false,"selling_plan_allocations":[]},{"id":46862344487186,"title":"Black \/ 3G+64G","option1":"Black","option2":"3G+64G","option3":null,"sku":"","requires_shipping":true,"taxable":true,"featured_image":null,"available":true,"name":"XGODY Mate 50 6.5\" Android 4G LTE Cell Phone With Dual SIM Phones Unlocked - Black \/ 3G+64G","public_title":"Black \/ 3G+64G","options":["Black","3G+64G"],"price":9390,"weight":0,"compare_at_price":null,"inventory_management":"shopify","barcode":"","requires_selling_plan":false,"selling_plan_allocations":[]},{"id":46862344519954,"title":"Blue \/ 3G+32G","option1":"Blue","option2":"3G+32G","option3":null,"sku":"","requires_shipping":true,"taxable":true,"featured_image":null,"available":true,"name":"XGODY Mate 50 6.5\" Android 4G LTE Cell Phone With Dual SIM Phones Unlocked - Blue \/ 3G+32G","public_title":"Blue \/ 3G+32G","options":["Blue","3G+32G"],"price":8590,"weight":0,"compare_at_price":null,"inventory_management":"shopify","barcode":"","requires_selling_plan":false,"selling_plan_allocations":[]},{"id":46862344552722,"title":"Blue \/ 3G+48G","option1":"Blue","option2":"3G+48G","option3":null,"sku":"","requires_shipping":true,"taxable":true,"featured_image":null,"available":true,"name":"XGODY Mate 50 6.5\" Android 4G LTE Cell Phone With Dual SIM Phones Unlocked - Blue \/ 3G+48G","public_title":"Blue \/ 3G+48G","options":["Blue","3G+48G"],"price":8990,"weight":0,"compare_at_price":null,"inventory_management":"shopify","barcode":"","requires_selling_plan":false,"selling_plan_allocations":[]},{"id":46862344585490,"title":"Blue \/ 3G+64G","option1":"Blue","option2":"3G+64G","option3":null,"sku":"","requires_shipping":true,"taxable":true,"featured_image":null,"available":true,"name":"XGODY Mate 50 6.5\" Android 4G LTE Cell Phone With Dual SIM Phones Unlocked - Blue \/ 3G+64G","public_title":"Blue \/ 3G+64G","options":["Blue","3G+64G"],"price":9390,"weight":0,"compare_at_price":null,"inventory_management":"shopify","barcode":"","requires_selling_plan":false,"selling_plan_allocations":[]},{"id":46862344618258,"title":"Purple \/ 3G+32G","option1":"Purple","option2":"3G+32G","option3":null,"sku":"","requires_shipping":true,"taxable":true,"featured_image":null,"available":true,"name":"XGODY Mate 50 6.5\" Android 4G LTE Cell Phone With Dual SIM Phones Unlocked - Purple \/ 3G+32G","public_title":"Purple \/ 3G+32G","options":["Purple","3G+32G"],"price":8590,"weight":0,"compare_at_price":null,"inventory_management":"shopify","barcode":"","requires_selling_plan":false,"selling_plan_allocations":[]},{"id":46862344651026,"title":"Purple \/ 3G+48G","option1":"Purple","option2":"3G+48G","option3":null,"sku":"","requires_shipping":true,"taxable":true,"featured_image":null,"available":true,"name":"XGODY Mate 50 6.5\" Android 4G LTE Cell Phone With Dual SIM Phones Unlocked - Purple \/ 3G+48G","public_title":"Purple \/ 3G+48G","options":["Purple","3G+48G"],"price":8990,"weight":0,"compare_at_price":null,"inventory_management":"shopify","barcode":"","requires_selling_plan":false,"selling_plan_allocations":[]},{"id":46862344683794,"title":"Purple \/ 3G+64G","option1":"Purple","option2":"3G+64G","option3":null,"sku":"","requires_shipping":true,"taxable":true,"featured_image":null,"available":true,"name":"XGODY Mate 50 6.5\" Android 4G LTE Cell Phone With Dual SIM Phones Unlocked - Purple \/ 3G+64G","public_title":"Purple \/ 3G+64G","options":["Purple","3G+64G"],"price":9390,"weight":0,"compare_at_price":null,"inventory_management":"shopify","barcode":"","requires_selling_plan":false,"selling_plan_allocations":[]}],"images":["\/\/xgody.com\/cdn\/shop\/files\/10_0a433db0-ceae-4c4f-a1ad-39c97bea6bb8.jpg?v=1695030363","\/\/xgody.com\/cdn\/shop\/files\/9_38a79a37-4ee0-417c-a941-2e56152eaeeb.jpg?v=1695030364","\/\/xgody.com\/cdn\/shop\/files\/5_b98c4403-d6cf-4163-94d5-f5d663558528.jpg?v=1695030363","\/\/xgody.com\/cdn\/shop\/files\/7_1e082617-46d0-433c-8c56-f054421edc4c.jpg?v=1695030363","\/\/xgody.com\/cdn\/shop\/files\/8_ee0bdc11-89d9-4449-a095-3df148a6526d.jpg?v=1695030364","\/\/xgody.com\/cdn\/shop\/files\/11_697688bf-93c4-4c3d-af75-93253ba57b87.jpg?v=1695030363"],"featured_image":"\/\/xgody.com\/cdn\/shop\/files\/10_0a433db0-ceae-4c4f-a1ad-39c97bea6bb8.jpg?v=1695030363","options":["Color","Optional Memory(With Memory Card)"],"media":[{"alt":null,"id":35473258578194,"position":1,"preview_image":{"aspect_ratio":1.0,"height":1600,"width":1600,"src":"\/\/xgody.com\/cdn\/shop\/files\/10_0a433db0-ceae-4c4f-a1ad-39c97bea6bb8.jpg?v=1695030363"},"aspect_ratio":1.0,"height":1600,"media_type":"image","src":"\/\/xgody.com\/cdn\/shop\/files\/10_0a433db0-ceae-4c4f-a1ad-39c97bea6bb8.jpg?v=1695030363","width":1600},{"alt":null,"id":35473258610962,"position":2,"preview_image":{"aspect_ratio":1.0,"height":1600,"width":1600,"src":"\/\/xgody.com\/cdn\/shop\/files\/9_38a79a37-4ee0-417c-a941-2e56152eaeeb.jpg?v=1695030364"},"aspect_ratio":1.0,"height":1600,"media_type":"image","src":"\/\/xgody.com\/cdn\/shop\/files\/9_38a79a37-4ee0-417c-a941-2e56152eaeeb.jpg?v=1695030364","width":1600},{"alt":null,"id":35473258643730,"position":3,"preview_image":{"aspect_ratio":1.0,"height":1600,"width":1600,"src":"\/\/xgody.com\/cdn\/shop\/files\/5_b98c4403-d6cf-4163-94d5-f5d663558528.jpg?v=1695030363"},"aspect_ratio":1.0,"height":1600,"media_type":"image","src":"\/\/xgody.com\/cdn\/shop\/files\/5_b98c4403-d6cf-4163-94d5-f5d663558528.jpg?v=1695030363","width":1600},{"alt":null,"id":35473258676498,"position":4,"preview_image":{"aspect_ratio":1.0,"height":1600,"width":1600,"src":"\/\/xgody.com\/cdn\/shop\/files\/7_1e082617-46d0-433c-8c56-f054421edc4c.jpg?v=1695030363"},"aspect_ratio":1.0,"height":1600,"media_type":"image","src":"\/\/xgody.com\/cdn\/shop\/files\/7_1e082617-46d0-433c-8c56-f054421edc4c.jpg?v=1695030363","width":1600},{"alt":null,"id":35473258709266,"position":5,"preview_image":{"aspect_ratio":1.0,"height":1600,"width":1600,"src":"\/\/xgody.com\/cdn\/shop\/files\/8_ee0bdc11-89d9-4449-a095-3df148a6526d.jpg?v=1695030364"},"aspect_ratio":1.0,"height":1600,"media_type":"image","src":"\/\/xgody.com\/cdn\/shop\/files\/8_ee0bdc11-89d9-4449-a095-3df148a6526d.jpg?v=1695030364","width":1600},{"alt":null,"id":35473258742034,"position":6,"preview_image":{"aspect_ratio":1.0,"height":1600,"width":1600,"src":"\/\/xgody.com\/cdn\/shop\/files\/11_697688bf-93c4-4c3d-af75-93253ba57b87.jpg?v=1695030363"},"aspect_ratio":1.0,"height":1600,"media_type":"image","src":"\/\/xgody.com\/cdn\/shop\/files\/11_697688bf-93c4-4c3d-af75-93253ba57b87.jpg?v=1695030363","width":1600}],"requires_selling_plan":false,"selling_plan_groups":[],"content":"\u003ch2 style=\"text-align: center;\"\u003eFind Your Perfect Android Phone: Exploring The XGODY Mate 50\u003c\/h2\u003e\n\u003cp\u003e \u003c\/p\u003e\n\u003cp\u003eIf you're in the market for a new Android phone, the XGODY Mate 50 might be worth considering. This dual SIM phone comes unlocked, allowing you to use it with your preferred carrier. With its Android 10.0 operating system, you can enjoy a seamless user experience and access a wide range of apps from the Google Play Store.\u003c\/p\u003e\n\u003cp\u003eOne notable feature of the XGODY Mate 50 is its long-lasting 4500 mAh battery. You can stay connected throughout the day without worrying about running out of power. The 6.56-inch HD screen provides a vibrant and immersive visual experience, whether you're browsing the web, watching videos, or playing games.\u003c\/p\u003e\n\u003cp\u003eWith 3GB of RAM and 32GB of internal storage, the XGODY Mate 50 offers ample space for all your apps, photos, and files. Capture stunning photos and selfies with the 18-megapixel rear camera and 5-megapixel front camera. Whether you're a photography enthusiast or enjoy capturing memories on the go, this phone has you covered.\u003c\/p\u003e\n\u003cp\u003eThe XGODY Mate 50 combines functionality, affordability, and sleek design in one package. Whether you need a reliable work phone or simply want to stay connected, it offers a range of features to meet your needs. Consider exploring the XGODY Mate 50 to find your perfect Android companion.\u003c\/p\u003e\n\u003cp\u003eAnd don't forget to protect your new phone with a stylish and durable case. There are many options available for free Android phone cases, allowing you to personalize and safeguard your device. Whether you prefer a sleek and slim design or a rugged and protective case, you can find the perfect fit for your XGODY Mate 50.\u003c\/p\u003e\n\u003cp\u003eHappy shopping and enjoy your new Android phone experience with the XGODY Mate 50!\u003c\/p\u003e\n\u003cp\u003e \u003c\/p\u003e\n\u003cp\u003e \u003c\/p\u003e\n\u003cdiv style=\"text-align: center;\"\u003e\u003cimg style=\"float: none;\" alt=\"4G LTE Smart Phone\" src=\"https:\/\/cdn.shopifycdn.net\/s\/files\/1\/0100\/3542\/9454\/files\/10_a5ac8ae3-dfc8-49c3-8ad5-2905bed83f0b_1024x1024.jpg?v=1695030845\"\u003e\u003c\/div\u003e\n\u003cdiv\u003e\u003c\/div\u003e\n\u003cdiv\u003e\u003c\/div\u003e\n\u003cdiv style=\"text-align: center;\"\u003e\u003cimg alt=\"Mobile phone camera front 5 million pixels + rear 18 million pixels\" src=\"https:\/\/cdn.shopifycdn.net\/s\/files\/1\/0100\/3542\/9454\/files\/2_138a2251-5fd7-42e5-baf7-dcfe91f8be3b_1024x1024.jpg?v=1695031086\" style=\"margin-bottom: 16px; float: none;\"\u003e\u003c\/div\u003e\n\u003cdiv\u003e\u003c\/div\u003e\n\u003cdiv\u003e\u003c\/div\u003e\n\u003cdiv style=\"text-align: center;\"\u003e\u003cimg style=\"margin-bottom: 16px; float: none;\" alt=\"Mobile phone camera front 5 million pixels + rear 18 million pixels\" src=\"https:\/\/cdn.shopifycdn.net\/s\/files\/1\/0100\/3542\/9454\/files\/3_2016b3c0-928f-46df-9717-460fe1e9b1b1_1024x1024.jpg?v=1695031134\"\u003e\u003c\/div\u003e\n\u003cdiv\u003e\u003c\/div\u003e\n\u003cdiv style=\"text-align: center;\"\u003e\u003c\/div\u003e\n\u003cdiv style=\"text-align: center;\"\u003e\u003cimg alt=\"cell phone\" src=\"https:\/\/cdn.shopifycdn.net\/s\/files\/1\/0100\/3542\/9454\/files\/1_de2bd4ae-6731-41ef-bc34-59f50da8e91d_1024x1024.jpg?v=1695031174\"\u003e\u003c\/div\u003e\n\u003cdiv style=\"text-align: center;\"\u003e\u003c\/div\u003e\n\u003cdiv style=\"text-align: center;\"\u003e\u003c\/div\u003e\n\u003cdiv style=\"text-align: center;\"\u003e\u003cimg alt=\"6.56-inch HD screen\" src=\"https:\/\/cdn.shopifycdn.net\/s\/files\/1\/0100\/3542\/9454\/files\/7_8961097e-3628-47d7-97ff-834dfd061f52_1024x1024.jpg?v=1695031204\"\u003e\u003c\/div\u003e\n\u003cdiv style=\"text-align: center;\"\u003e\u003c\/div\u003e\n\u003cdiv style=\"text-align: center;\"\u003e\u003c\/div\u003e\n\u003cdiv style=\"text-align: center;\"\u003e\u003c\/div\u003e\n\u003cdiv style=\"text-align: center;\"\u003e\u003cimg alt=\"Built-in 4500 mAh cell phone battery\" src=\"https:\/\/cdn.shopifycdn.net\/s\/files\/1\/0100\/3542\/9454\/files\/4_4a20e384-f452-4777-94e1-3c7252947595_1024x1024.jpg?v=1695031245\"\u003e\u003c\/div\u003e\n\u003cdiv style=\"text-align: center;\"\u003e\u003c\/div\u003e\n\u003cdiv style=\"text-align: center;\"\u003e\u003c\/div\u003e\n\u003cdiv style=\"text-align: center;\"\u003e\u003cimg alt=\"Easy to Hold Without Slipping Hands\" src=\"https:\/\/cdn.shopifycdn.net\/s\/files\/1\/0100\/3542\/9454\/files\/6_4a6fe207-03b9-4618-8425-eda1816529bb_1024x1024.jpg?v=1695031265\"\u003e\u003c\/div\u003e\n\u003cdiv style=\"text-align: center;\"\u003e\u003c\/div\u003e\n\u003cdiv style=\"text-align: center;\"\u003e\u003c\/div\u003e\n\u003cdiv style=\"text-align: center;\"\u003e\u003c\/div\u003e\n\u003cdiv style=\"text-align: center;\"\u003e\u003c\/div\u003e\n\u003cdiv style=\"text-align: left;\"\u003e\n\u003ch2\u003e\u003c\/h2\u003e\n\u003ch2\u003e\u003c\/h2\u003e\n\u003ch2\u003e\u003c\/h2\u003e\n\u003ch2\u003e\u003c\/h2\u003e\n\u003ch2\u003eMore Feature:\u003c\/h2\u003e\n\u003cp\u003e \u003c\/p\u003e\n\u003cp\u003e\u003cstrong\u003e【Network】\u003c\/strong\u003eDual card dual standby, high-speed 4G network, no delay in work and life\u003cbr\u003e\u003cbr\u003e\u003cstrong\u003e【System】\u003c\/strong\u003eBuilt-in Android 10.0 system, which is very mature and stable at present\u003cbr\u003e\u003cbr\u003e\u003cstrong\u003e【Screen】\u003c\/strong\u003eLarge high-definition 2.5D water drop HD screen, super high screen ratio, very suitable for movie entertainment\u003cbr\u003e\u003cbr\u003e\u003cstrong\u003e【Battery life】\u003c\/strong\u003e6.5-inch screen with 4500 mAh battery, Ultra-long battery life, completely eliminates battery anxiety\u003cbr\u003e\u003cbr\u003e\u003cstrong\u003e【Taking pictures】\u003c\/strong\u003eRear 1800W pixels and front 500W camera, no matter how you shoot it is so good-looking\u003cbr\u003e\u003cbr\u003e\u003cstrong\u003e【Security】\u003c\/strong\u003e\u003cspan data-mce-fragment=\"1\"\u003eMate \u003c\/span\u003e4G LTE Phone supports face, password, and fingerprint unlocking, and multiple unlocking methods will escort you\u003cbr\u003e\u003cbr\u003e\u003cstrong\u003e【3+32G Large Memory】\u003c\/strong\u003eLarge memory ensures smooth operation of multiple software, no lag for many years, and can easily download a large number of pictures and videos\u003cbr\u003e\u003cbr\u003e\u003cstrong\u003e【Covering European And American Countries】\u003c\/strong\u003e Mate 50 4G LTE Phone can be used in European and American countries, supports multiple SIM card operators, and has a strong signal\u003c\/p\u003e\n\u003cp\u003e \u003c\/p\u003e\n\u003cp\u003e \u003c\/p\u003e\n\u003c\/div\u003e\n\u003cdiv style=\"text-align: center;\"\u003e\u003c\/div\u003e\n\u003cdiv style=\"text-align: center;\"\u003e\u003c\/div\u003e\n\u003cdiv style=\"text-align: center;\"\u003e\u003c\/div\u003e\n\u003cdiv style=\"text-align: center;\"\u003e\u003c\/div\u003e\n\u003ch2\u003eParameter:\u003c\/h2\u003e\n\u003cp\u003e \u003c\/p\u003e\n\u003cp\u003eNetwork frequency band: 2G: Quad-band 850\/900\/1800\/1900 MHz, 3G: B1\/B2\/B5\/B8\u003c\/p\u003e\n\u003cp\u003e, 4G: B1\/B2\/B3\/B4\/B5\/B7\/B8\/B12\/B17\/B20\/B38\/B40\/B41\u003c\/p\u003e\n\u003cp\u003eScreen Size: 6.56\"QHD 18:9\u003c\/p\u003e\n\u003cp\u003eResolution:720*1612\u003c\/p\u003e\n\u003cp\u003eCPU: MTK6753V\/WA\u003c\/p\u003e\n\u003cp\u003eFrequency 1.3Ghz\u003c\/p\u003e\n\u003cp\u003eOperating System: Android 10.0\u003c\/p\u003e\n\u003cp\u003eFlash:3+32\u003c\/p\u003e\n\u003cp\u003eCamera front 500W + rear 1800W\u003c\/p\u003e\n\u003cp\u003eSIM Card: 2 sim card + 1 TF card\u003c\/p\u003e\n\u003cp\u003eBattery: 4500 mAh\u003c\/p\u003e\n\u003cp\u003eDimensions: 165.1*76.1*8.2mm\u003c\/p\u003e\n\u003cp\u003eSide Keys: volume key + power key\u003c\/p\u003e\n\u003cp\u003eColors: black, dark purple, lake blue\u003c\/p\u003e\n\u003cp\u003eType: Capacitive touch\u003c\/p\u003e\n\u003cp\u003etouch: 2 points\u003c\/p\u003e\n\u003cp\u003eG-Sensor: Support\u003c\/p\u003e\n\u003cp\u003eCard Slot:256GB\u003c\/p\u003e\n\u003cp\u003eGPRS: support\u003c\/p\u003e\n\u003cp\u003eBluetooth V4.0\u003c\/p\u003e\n\u003cp\u003eUSB: TYPE-C\u003c\/p\u003e\n\u003cp\u003e \u003c\/p\u003e\n\u003cp\u003e \u003c\/p\u003e\n\u003cdiv style=\"text-align: center;\"\u003e\u003c\/div\u003e\n\u003cdiv style=\"text-align: center;\"\u003e\u003c\/div\u003e\n\u003cdiv style=\"text-align: center;\"\u003e\u003c\/div\u003e\n\u003cdiv style=\"text-align: center;\"\u003e\u003c\/div\u003e\n\u003cdiv style=\"text-align: left;\"\u003e\n\u003ch2\u003e\u003c\/h2\u003e\n\u003ch2\u003e\u003c\/h2\u003e\n\u003ch2\u003e\u003c\/h2\u003e\n\u003ch2\u003e\u003c\/h2\u003e\n\u003ch2\u003e\u003c\/h2\u003e\n\u003ch2\u003ePacking list:\u003c\/h2\u003e\n\u003cp\u003e \u003c\/p\u003e\n\u003cp\u003e1* Mate 50 Smartphone\u003c\/p\u003e\n\u003cp\u003e1* Tempered Film\u003c\/p\u003e\n\u003cp\u003e1* HD Film\u003c\/p\u003e\n\u003cp\u003e1* Android Phone Case\u003c\/p\u003e\n\u003cp\u003e1* Type-C USB Cable\u003c\/p\u003e\n\u003cp\u003e1* User Manual \u003c\/p\u003e\n\u003cp\u003e1* SIM card pin\u003c\/p\u003e\n\u003cp\u003e1* Aftermarket card\u003c\/p\u003e\n\u003c\/div\u003e\n\u003cdiv style=\"text-align: center;\"\u003e\u003c\/div\u003e\n\u003cdiv style=\"text-align: center;\"\u003e\u003c\/div\u003e\n\u003cdiv style=\"text-align: center;\"\u003e\u003c\/div\u003e"}
XGODY Mate 50 6.5" Android 4G LTE Cell Phone With Dual SIM Phones Unlocked
Find Your Perfect Android Phone: Exploring The XGODY Mate 50
If you're in the market for a new Android phone, the XGODY Mate 50 might be worth considering. This dual SIM phone comes unlocked, allowing you to use it with your preferred carrier. With its Android 10.0 operating system, you can enjoy a seamless user experience and access a wide range of apps from the Google Play Store.
One notable feature of the XGODY Mate 50 is its long-lasting 4500 mAh battery. You can stay connected throughout the day without worrying about running out of power. The 6.56-inch HD screen provides a vibrant and immersive visual experience, whether you're browsing the web, watching videos, or playing games.
With 3GB of RAM and 32GB of internal storage, the XGODY Mate 50 offers ample space for all your apps, photos, and files. Capture stunning photos and selfies with the 18-megapixel rear camera and 5-megapixel front camera. Whether you're a photography enthusiast or enjoy capturing memories on the go, this phone has you covered.
The XGODY Mate 50 combines functionality, affordability, and sleek design in one package. Whether you need a reliable work phone or simply want to stay connected, it offers a range of features to meet your needs. Consider exploring the XGODY Mate 50 to find your perfect Android companion.
And don't forget to protect your new phone with a stylish and durable case. There are many options available for free Android phone cases, allowing you to personalize and safeguard your device. Whether you prefer a sleek and slim design or a rugged and protective case, you can find the perfect fit for your XGODY Mate 50.
Happy shopping and enjoy your new Android phone experience with the XGODY Mate 50!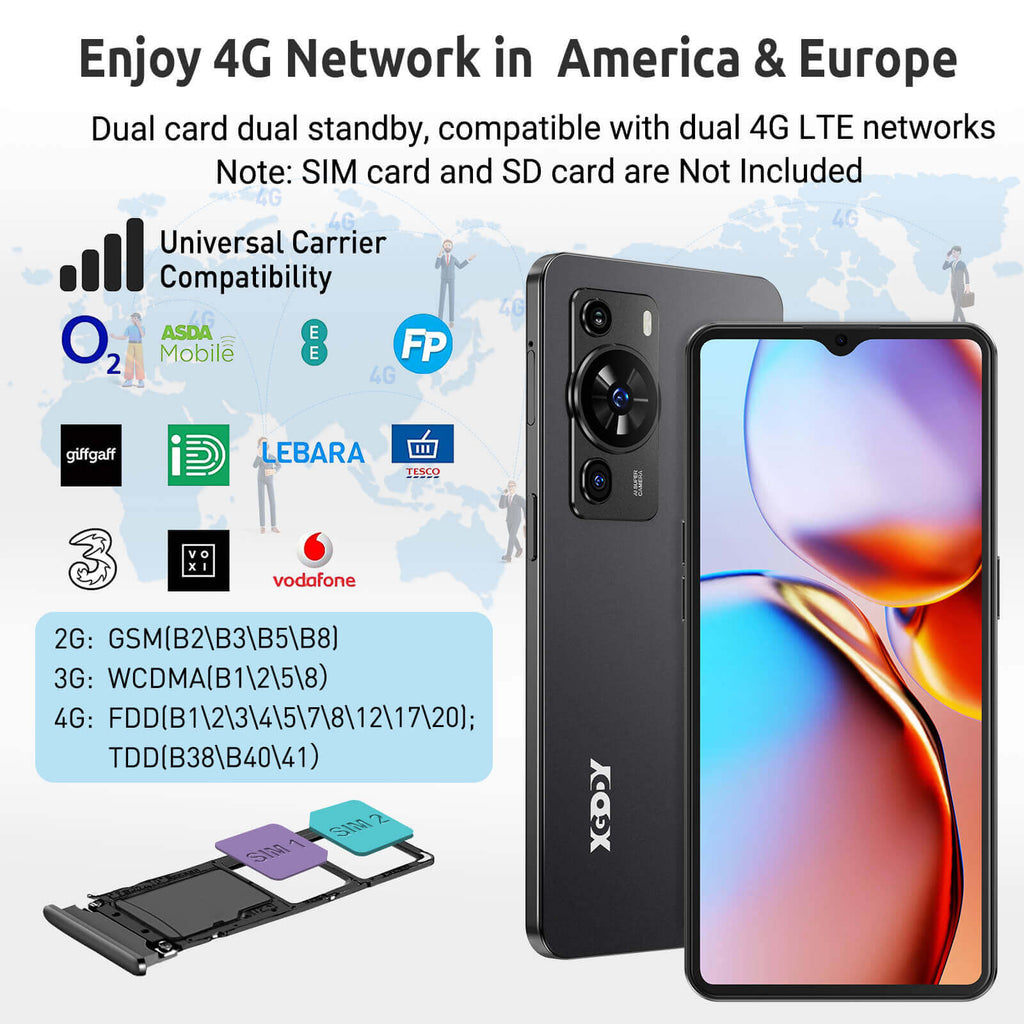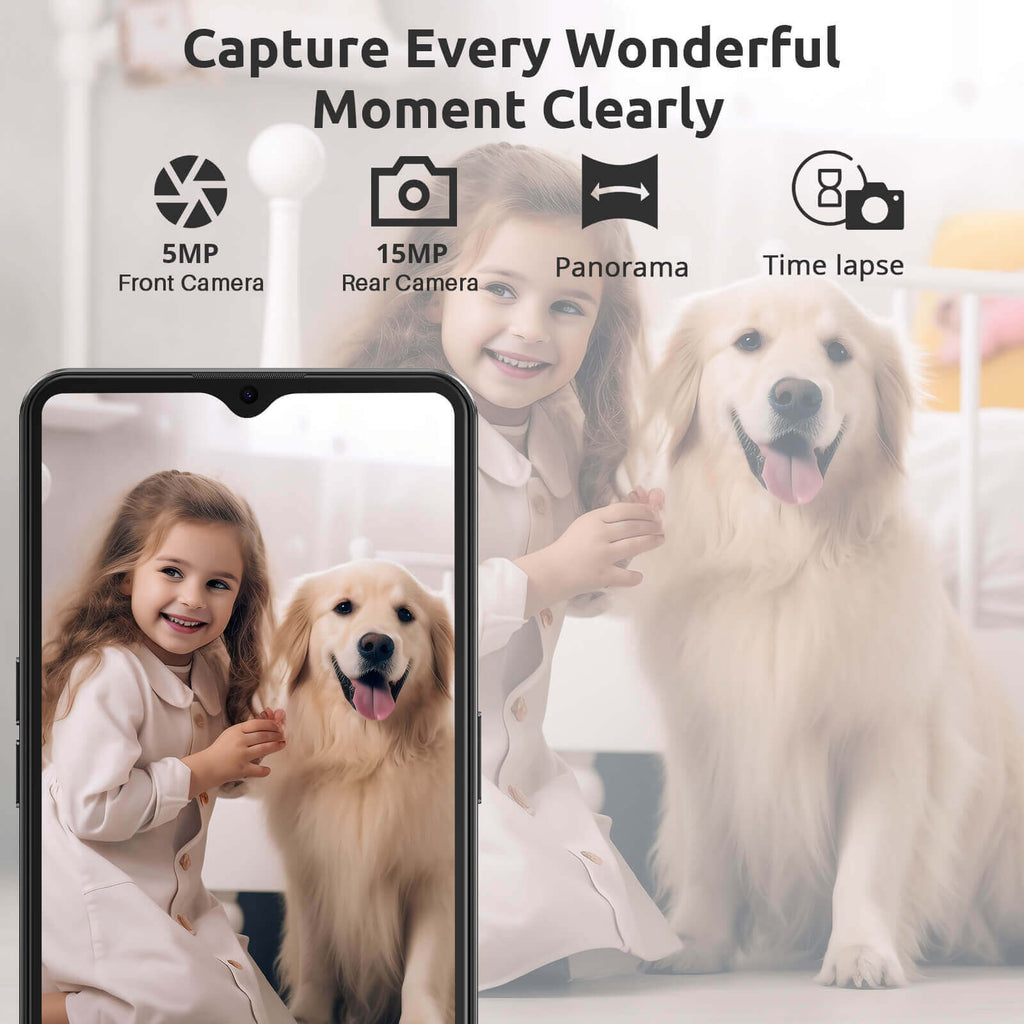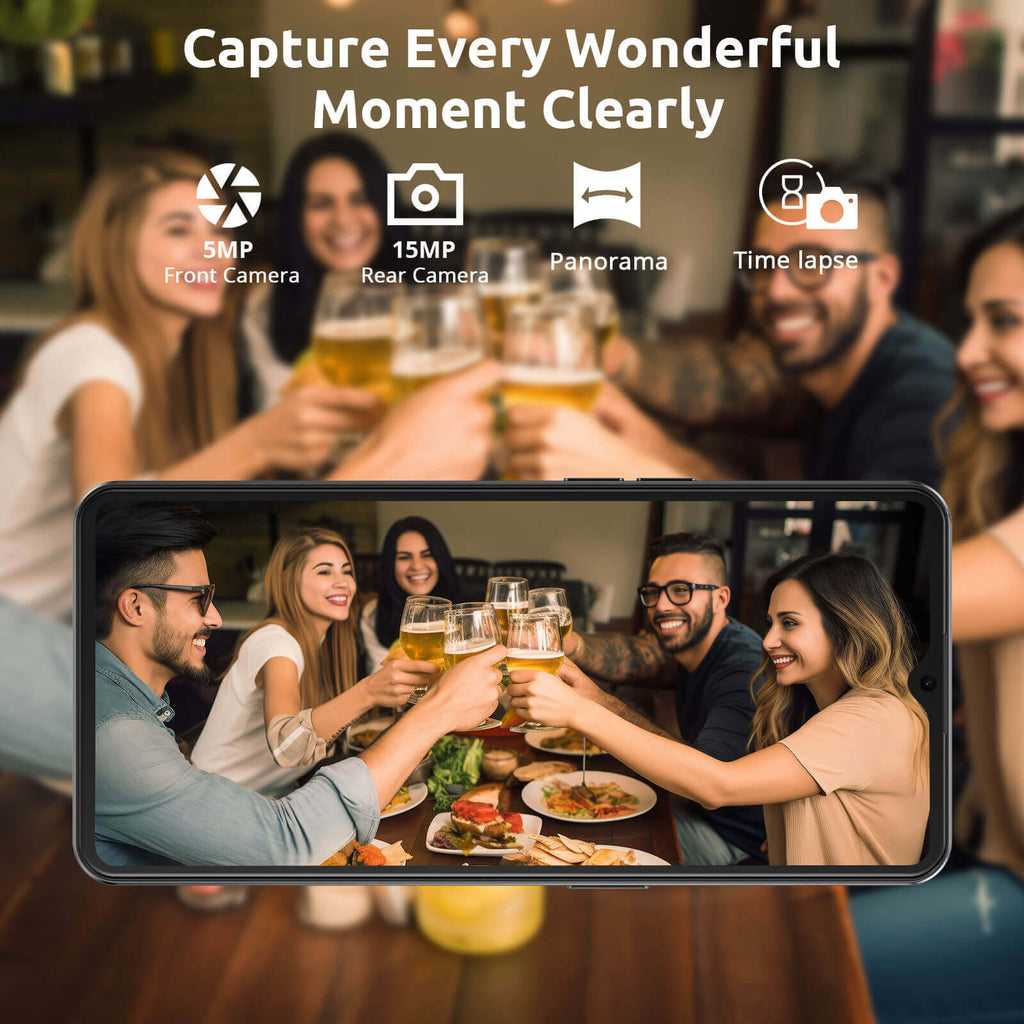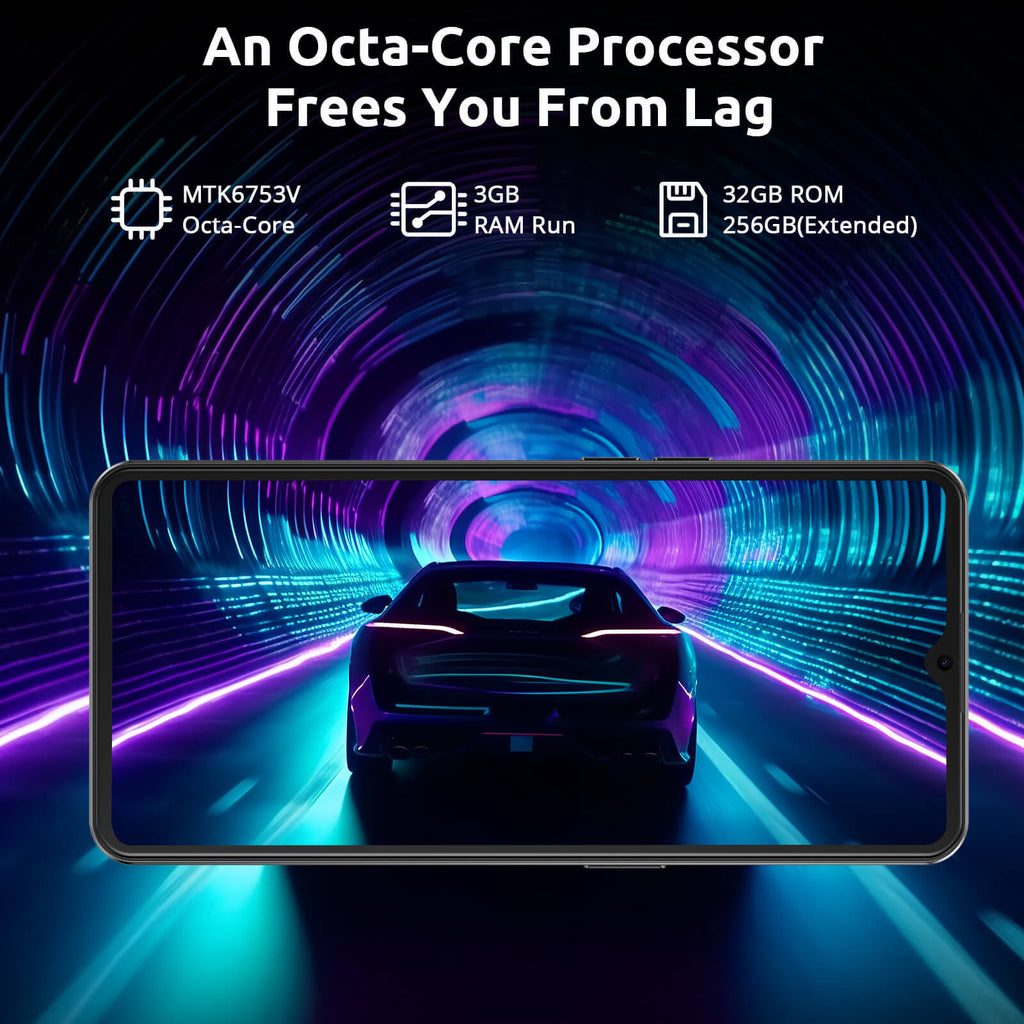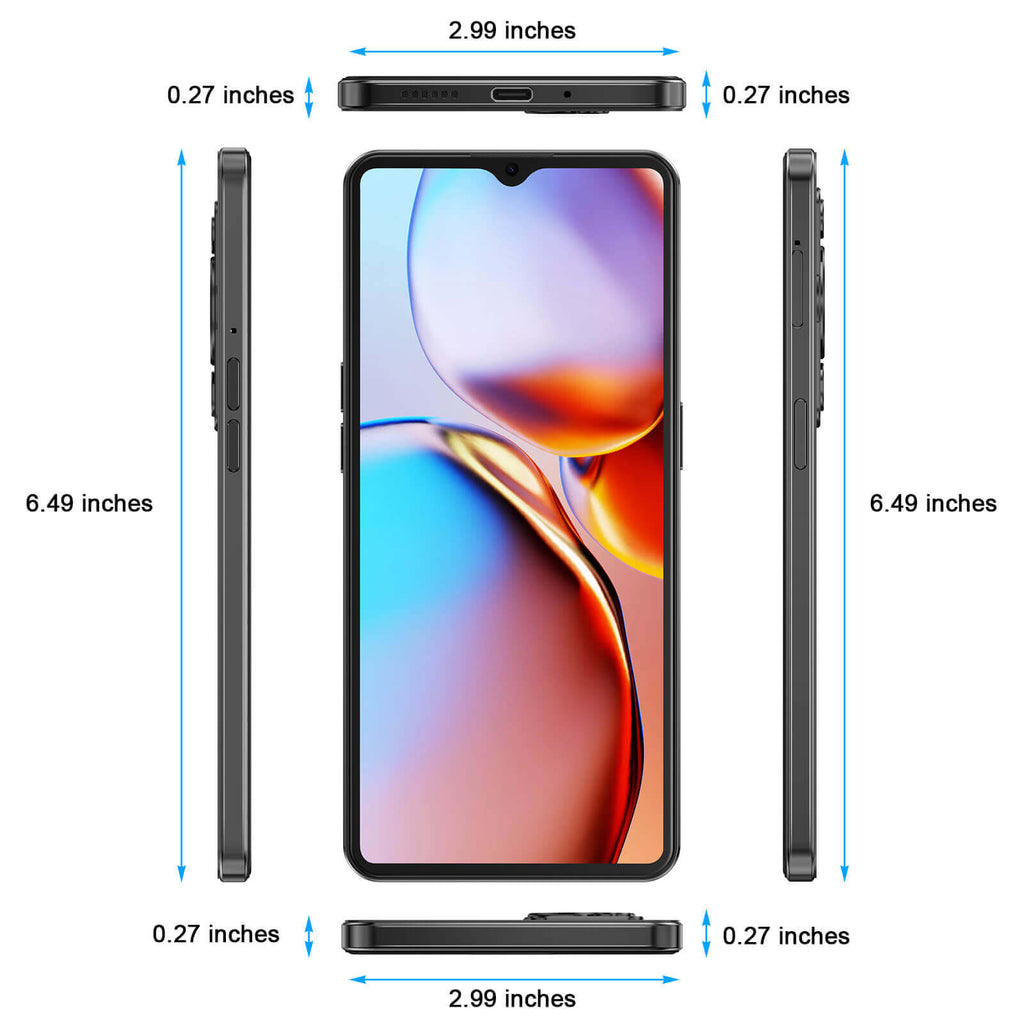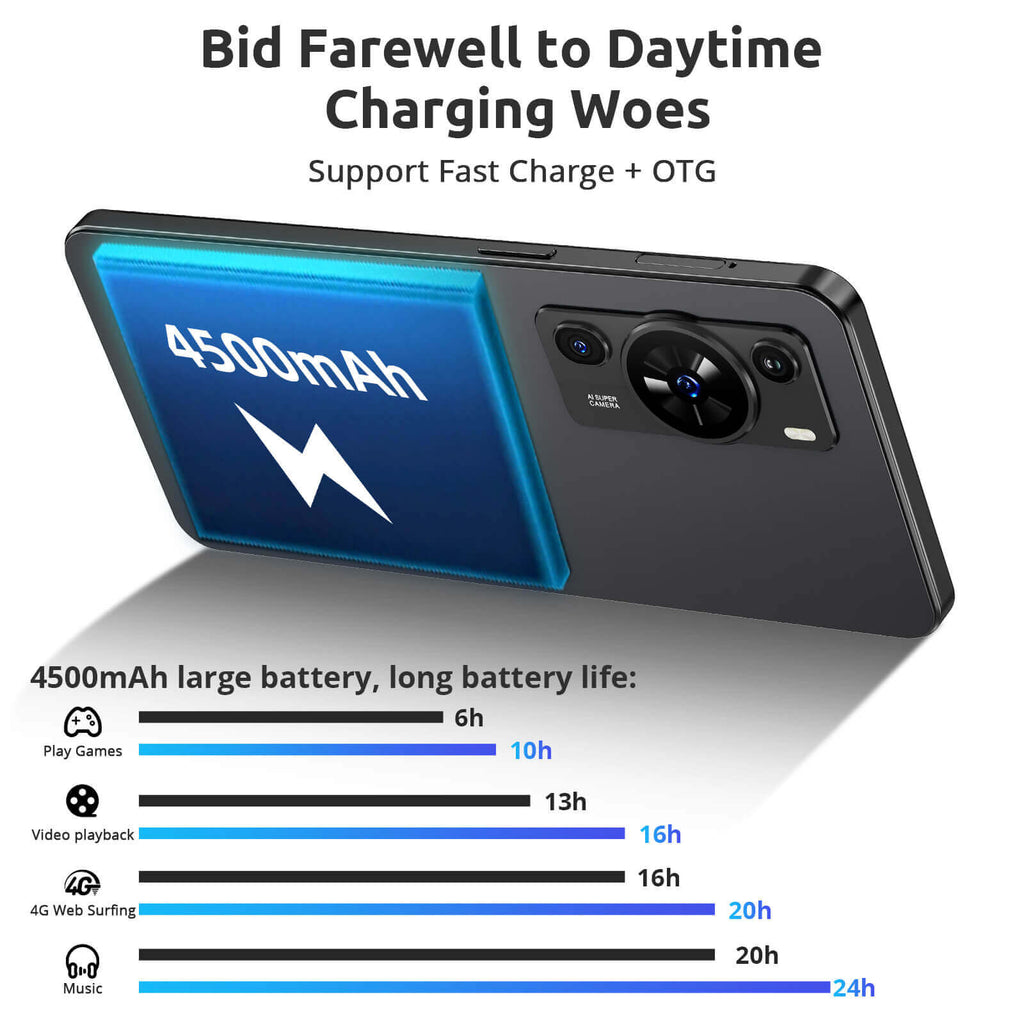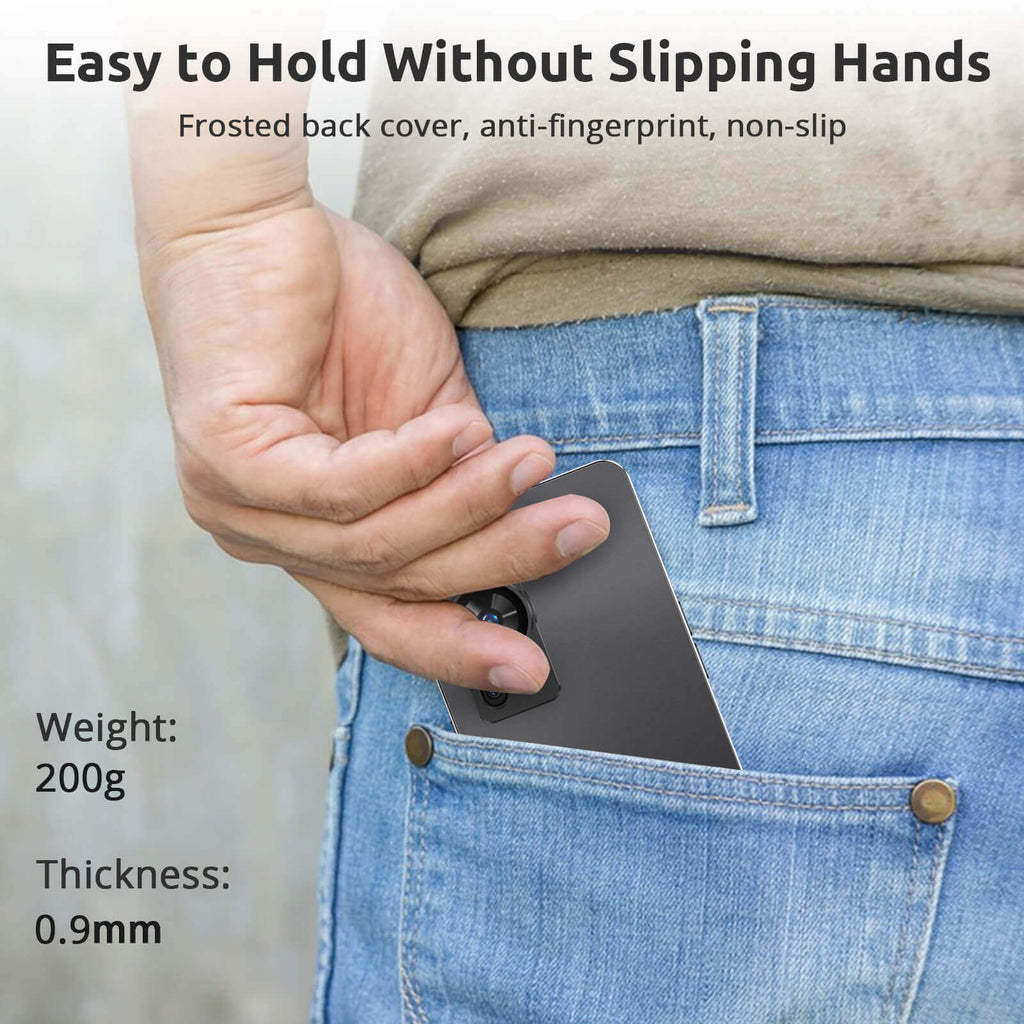 More Feature:
【Network】Dual card dual standby, high-speed 4G network, no delay in work and life

【System】Built-in Android 10.0 system, which is very mature and stable at present

【Screen】Large high-definition 2.5D water drop HD screen, super high screen ratio, very suitable for movie entertainment

【Battery life】6.5-inch screen with 4500 mAh battery, Ultra-long battery life, completely eliminates battery anxiety

【Taking pictures】Rear 1800W pixels and front 500W camera, no matter how you shoot it is so good-looking

【Security】Mate 4G LTE Phone supports face, password, and fingerprint unlocking, and multiple unlocking methods will escort you

【3+32G Large Memory】Large memory ensures smooth operation of multiple software, no lag for many years, and can easily download a large number of pictures and videos

【Covering European And American Countries】 Mate 50 4G LTE Phone can be used in European and American countries, supports multiple SIM card operators, and has a strong signal
Parameter:
Network frequency band: 2G: Quad-band 850/900/1800/1900 MHz, 3G: B1/B2/B5/B8
, 4G: B1/B2/B3/B4/B5/B7/B8/B12/B17/B20/B38/B40/B41
Screen Size: 6.56"QHD 18:9
Resolution:720*1612
CPU: MTK6753V/WA
Frequency 1.3Ghz
Operating System: Android 10.0
Flash:3+32
Camera front 500W + rear 1800W
SIM Card: 2 sim card + 1 TF card
Battery: 4500 mAh
Dimensions: 165.1*76.1*8.2mm
Side Keys: volume key + power key
Colors: black, dark purple, lake blue
Type: Capacitive touch
touch: 2 points
G-Sensor: Support
Card Slot:256GB
GPRS: support
Bluetooth V4.0
USB: TYPE-C
Packing list:
1* Mate 50 Smartphone
1* Tempered Film
1* HD Film
1* Android Phone Case
1* Type-C USB Cable
1* User Manual 
1* SIM card pin
1* Aftermarket card
1.Most items are shipping free, you can check the description in the listing. Order will be shipped within 72 hours after payment made.
2.The shipping time is based on the shipping option, sometimes it may be delayed due to varied situation (such as holidays, war, weather etc.), please contact us immediately if delivery time exceeds estimated.
3.Import taxes, duties and related customs fees may be charged once the parcel arrives at the destination country. These charges are determined by the customs office of the specific destination. Payment of these charges and taxes is the responsibility of the recipient and will not be covered by us here at Xgody. For further details of charges, please contact your local customs office.
4.Time Schedule- F

ast Shipping
| | |
| --- | --- |
| United States/Australia/UK |  4-10 working days |
| Canada/Israel/ Azerbaijan / Russia/Maldives/ Eastern Europe/ Middle East |  9-18 working days |
| Brazil/Chile/South America |  9-18 working days |
| Western Europe/New Zealand |  7-10 working days |
If you are not happy with your purchase and wish to return an item, please contact us immediatelysince receiving your order. Our customs support email is support@xgody.com. Please write down your order number and user ID in the return parcel.
All returns must be in original condition with packaging intact to avoid damage during shipment, any physical damage during the return shipment will not be accepted. Returned parcel need to provide shipment number for tracking.
We will get back to you once we receive the return parcel. Money or replacement will be arranged within 24-48 hours after the return parcel delivered.
-
1.Why Choose Xgody?
Brand XGODY was established in 2014 with great advantages in electronic products. More than that, the operating team has more than 10 years experiences on e-commerce.. We know exactly what the buyer concerns and worries. Making sure you will have a wonderful shopping experience by providing what you need and getting rid of what you worried about. It is no doubt to choose us with our high quality of product, good shipping way, and good customs support.
2.What payment methods do you accept?
We accept all major credit cards (VISA, Mastercard, AMEX) and PayPal payments. We do not accept personal checks, money orders, direct bank transfers, western union, or cash on delivery.
3.Can I change my shipping address after placing an order?
Please be advised that your shipping address cannot be revised after the order has been processed or shipped. Kindly update your shipping address to your residential address instead of your vacation address as we do not know how long the destination's customs department will have the package on hold.
4.How do I track my order?
The tracking number can be queried in the background. Also, we will email your tracking information as soon as your order has shipped. Usually you will receive the tracking number one day after we have shipped your order. In addition, if you still do not know how to query and track, you can also contact customer service freely.
5.Will I be charged with customs and taxes?
Import taxes, duties and related customs fees may be charged once your order arrives to its final destination, which are determined by your local customs office.
Payment of these charges and taxes are your responsibility and will not be covered by us. We are not responsible for delays caused by the customs department in your country. For further details of charges, please contact your local customs office. 
6.What Do I Do If I Have Missing Items In My Order?
If something is still missing, please contact us immediately.
7.What if the item(s) I received are defective/incorrect/damaged?
Please contact us within 7 days from receiving your order if you received merchandise that is incorrect, missing, and/or defective. Please include your order number, photographs of the item(s) and all related references upon receiving your package. We will do our very best to resolve your case as soon as possible.
8.How do I return an item?
If you are not happy with your purchase and wish to return an item, please contact us immediately from receiving your order. Please provide your order number as well as the reason for your return. Our customer service team will review the return request and will send further instructions if the return is approved.
For a list of final sale items, please see our Warranty Info and Refund Policy. All returns must be in original condition with packaging intact.
9.When will I receive my refund?
All refunds will be credited to your original form of payment. If you paid by credit or debit card, refunds will be sent to the card-issuing bank within 7-10 business days of receipt of the returned item or cancellation request. Please contact the card-issuing bank with questions about when the credit will be posted to your account.
If you haven't received a credit for your return yet, here's what to do: Contact the bank/credit card company. It may take some time before the refund is posted to your account.