{"id":6761467248718,"title":"XGODY X1 Native Movie 4K Projector Built-in Android System, 9500 Lux With Wireless WiFi Bluetooth","handle":"xgody-native-movie-4k-projector-built-in-android-system-9500-lux-for-ios-android-and-window","description":"\u003cdiv data-mce-fragment=\"1\" style=\"text-align: center;\" data-mce-style=\"text-align: center;\"\u003e\u003cimg data-mce-fragment=\"1\" src=\"https:\/\/cdn.shopifycdn.net\/s\/files\/1\/0100\/3542\/9454\/files\/A_02_1024x1024.jpg?v=1655718743\" alt=\"\" style=\"float: none;\" data-mce-style=\"float: none;\" data-mce-src=\"https:\/\/cdn.shopifycdn.net\/s\/files\/1\/0100\/3542\/9454\/files\/A_02_1024x1024.jpg?v=1655718743\"\u003e\u003c\/div\u003e\n\u003cdiv data-mce-fragment=\"1\" style=\"text-align: center;\" data-mce-style=\"text-align: center;\"\u003e\u003c\/div\u003e\n\u003cdiv data-mce-fragment=\"1\" style=\"text-align: center;\" data-mce-style=\"text-align: center;\"\u003e\n\u003cimg data-mce-fragment=\"1\" src=\"https:\/\/cdn.shopifycdn.net\/s\/files\/1\/0100\/3542\/9454\/files\/A_03_1024x1024.jpg?v=1655718775\" alt=\"\" data-mce-src=\"https:\/\/cdn.shopifycdn.net\/s\/files\/1\/0100\/3542\/9454\/files\/A_03_1024x1024.jpg?v=1655718775\"\u003e\u003cimg data-mce-fragment=\"1\" src=\"https:\/\/cdn.shopifycdn.net\/s\/files\/1\/0100\/3542\/9454\/files\/02_cc2d7cd6-997f-4996-afb4-dfdfef11e42e_1024x1024.jpg?v=1655718805\" alt=\"\" data-mce-src=\"https:\/\/cdn.shopifycdn.net\/s\/files\/1\/0100\/3542\/9454\/files\/02_cc2d7cd6-997f-4996-afb4-dfdfef11e42e_1024x1024.jpg?v=1655718805\"\u003e\u003cimg data-mce-fragment=\"1\" src=\"https:\/\/cdn.shopifycdn.net\/s\/files\/1\/0100\/3542\/9454\/files\/A_06_1024x1024.jpg?v=1655718862\" alt=\"\" data-mce-src=\"https:\/\/cdn.shopifycdn.net\/s\/files\/1\/0100\/3542\/9454\/files\/A_06_1024x1024.jpg?v=1655718862\"\u003e\u003cimg data-mce-fragment=\"1\" src=\"https:\/\/cdn.shopifycdn.net\/s\/files\/1\/0100\/3542\/9454\/files\/A_07_1024x1024.jpg?v=1655718877\" alt=\"\" data-mce-src=\"https:\/\/cdn.shopifycdn.net\/s\/files\/1\/0100\/3542\/9454\/files\/A_07_1024x1024.jpg?v=1655718877\"\u003e\u003cimg data-mce-fragment=\"1\" src=\"https:\/\/cdn.shopifycdn.net\/s\/files\/1\/0100\/3542\/9454\/files\/A_08_1024x1024.jpg?v=1655718913\" alt=\"\" data-mce-src=\"https:\/\/cdn.shopifycdn.net\/s\/files\/1\/0100\/3542\/9454\/files\/A_08_1024x1024.jpg?v=1655718913\"\u003e\u003cimg data-mce-fragment=\"1\" src=\"https:\/\/cdn.shopifycdn.net\/s\/files\/1\/0100\/3542\/9454\/files\/05_e2000f9d-3162-4000-8652-9e010364a246_1024x1024.jpg?v=1655718939\" alt=\"\" data-mce-src=\"https:\/\/cdn.shopifycdn.net\/s\/files\/1\/0100\/3542\/9454\/files\/05_e2000f9d-3162-4000-8652-9e010364a246_1024x1024.jpg?v=1655718939\"\u003e\u003cimg data-mce-fragment=\"1\" src=\"https:\/\/cdn.shopifycdn.net\/s\/files\/1\/0100\/3542\/9454\/files\/06_e144fdae-0ab0-4cc1-b041-95b15821338a_1024x1024.jpg?v=1655718956\" alt=\"\" data-mce-src=\"https:\/\/cdn.shopifycdn.net\/s\/files\/1\/0100\/3542\/9454\/files\/06_e144fdae-0ab0-4cc1-b041-95b15821338a_1024x1024.jpg?v=1655718956\"\u003e\n\u003c\/div\u003e\n\u003cdiv data-mce-fragment=\"1\" style=\"text-align: center;\" data-mce-style=\"text-align: center;\"\u003e\u003c\/div\u003e\n\u003cdiv data-mce-fragment=\"1\" style=\"text-align: center;\" data-mce-style=\"text-align: center;\"\u003e\u003cimg data-mce-fragment=\"1\" src=\"https:\/\/cdn.shopifycdn.net\/s\/files\/1\/0100\/3542\/9454\/files\/4_9cd0be13-2463-4eee-a148-a6d888090114_1024x1024.jpg?v=1666573578\" alt=\"Remote Control \u0026amp; Voice Control\" data-mce-src=\"https:\/\/cdn.shopifycdn.net\/s\/files\/1\/0100\/3542\/9454\/files\/4_9cd0be13-2463-4eee-a148-a6d888090114_1024x1024.jpg?v=1666573578\"\u003e\u003c\/div\u003e\n\u003cdiv data-mce-fragment=\"1\" style=\"text-align: center;\" data-mce-style=\"text-align: center;\"\u003e\u003c\/div\u003e\n\u003cdiv data-mce-fragment=\"1\" style=\"text-align: center;\" data-mce-style=\"text-align: center;\"\u003e\u003c\/div\u003e\n\u003cdiv data-mce-fragment=\"1\" style=\"text-align: center;\" data-mce-style=\"text-align: center;\"\u003e\u003c\/div\u003e\n\u003cp data-mce-fragment=\"1\" style=\"text-align: center;\" data-mce-style=\"text-align: center;\"\u003e\u003cbr\u003e\u003c\/p\u003e\n\u003cdiv data-mce-fragment=\"1\" style=\"text-align: center;\" data-mce-style=\"text-align: center;\"\u003e\u003cimg data-mce-fragment=\"1\" src=\"https:\/\/cdn.shopifycdn.net\/s\/files\/1\/0100\/3542\/9454\/files\/A_05_1024x1024.jpg?v=1655718978\" alt=\"\" data-mce-src=\"https:\/\/cdn.shopifycdn.net\/s\/files\/1\/0100\/3542\/9454\/files\/A_05_1024x1024.jpg?v=1655718978\"\u003e\u003c\/div\u003e\n\u003cdiv data-mce-fragment=\"1\" style=\"text-align: center;\" data-mce-style=\"text-align: center;\"\u003e\u003c\/div\u003e\n\u003ch2 data-mce-fragment=\"1\" style=\"text-align: left;\" data-mce-style=\"text-align: left;\"\u003e\u003cbr\u003e\u003c\/h2\u003e\n\u003cp\u003e \u003c\/p\u003e\n\u003ch2 data-mce-fragment=\"1\" style=\"text-align: left;\" data-mce-style=\"text-align: left;\"\u003eMain Features Of XGODY X1 Android System Portable 4K Projector\u003c\/h2\u003e\n\u003cp data-mce-fragment=\"1\" style=\"text-align: left;\" data-mce-style=\"text-align: left;\"\u003e\u003cstrong\u003e【Android 9.0 TV Bluetooth Projector 16G】\u003c\/strong\u003e XGODY portable projector built-in Android 9.0 can browse all video websites, support Netflix, Hulu, Flixster, Youtube. Apps can be downloaded for free from Android Market \u0026amp; Amazon App Store, etc. Support Facebook, Twitter, Email, office suits, etc. It can completely replace smart devices such as TVs, TV boxes, tablets, etc.\u003c\/p\u003e\n\u003cp data-mce-fragment=\"1\" style=\"text-align: left;\" data-mce-style=\"text-align: left;\"\u003e\u003cstrong\u003e【Native 1080P Full HD Projector】\u003c\/strong\u003e XGODY home projector is a real 1080P full HD projector with an original resolution of 1920*1080 and supports 4K. 9500 lumens and 15000:1 high contrast ratio. Adopts HDR10 high dynamic range video decoding, and the picture details are richer. 4K and 8K video can be played directly, ultra-detailed presentation. Whether indoor or outdoor, there is a good HD projection experience.\u003c\/p\u003e\n\u003cp data-mce-fragment=\"1\" style=\"text-align: left;\" data-mce-style=\"text-align: left;\"\u003e\u003cstrong\u003e【5G Projector with WiFi and Bluetooth 5.0 Connection】\u003c\/strong\u003e XGODY wireless WiFi \u0026amp; Bluetooth projector with 2.4\/5G dual-band WIFI to avoid delay. Ultra-clear transmission, you can turn on the big screen vision at home or outdoors. Support DLNA\/Miracast function, which can provide better and faster wifi mirroring\/casting experience for your smartphone. Compatible with multiple devices. Equipped with HDMI\/USB\/TF card\/audio port, the video projector can easily connect with TV stick \/ game \/ tablet \/ ps4 \/ phone.\u003c\/p\u003e\n\u003cp data-mce-fragment=\"1\" style=\"text-align: left;\" data-mce-style=\"text-align: left;\"\u003e\u003cstrong\u003e【Keystone Correction and Image Scaling】\u003c\/strong\u003e XGODY movie projector, can adjust vertical and horizontal image easily. You can adjust the projected image from 100% to 75% without moving the projector. No matter how you adjust it, the image from the mini projector is always clear.\u003c\/p\u003e\n\u003cp data-mce-fragment=\"1\" style=\"text-align: left;\" data-mce-style=\"text-align: left;\"\u003e\u003cstrong\u003e【HIDI Speakers Dolby Sound and Ultra-quiet】\u003c\/strong\u003e The smart projector has built-in HIFI speakers, which are better in bass detail handling. Ultra-quiet operation with noise below 42dB, bringing you the best listening experience. Can be used for HD home theater, business presentations, conferences, KTV video entertainment, multimedia teaching, hotels, video games and PC games.\u003c\/p\u003e\n\u003cp data-mce-fragment=\"1\" style=\"text-align: left;\" data-mce-style=\"text-align: left;\"\u003e \u003c\/p\u003e\n\u003cp data-mce-fragment=\"1\" style=\"text-align: left;\" data-mce-style=\"text-align: left;\"\u003e \u003c\/p\u003e\n\u003ch2 data-mce-fragment=\"1\" style=\"text-align: left;\" data-mce-style=\"text-align: left;\"\u003eThe Best Wireless Projector Smart\u003c\/h2\u003e\n\u003cp data-mce-fragment=\"1\" style=\"text-align: left;\" data-mce-style=\"text-align: left;\"\u003eXGODY Wireless Portable Projector (With WiFi, Bluetooth), it is worthwhile for you to have one to enjoy your home entertainment and as a gift to your friends, kids, lovers, and families members anytime.\u003cbr\u003e\u003cbr\u003eXGODY 5G WiFi Bluetooth portable projector uses a newly upgraded low-consumption LED light source, high-quality materials, and exquisite manufacturing technology. It supports 4K, native 1920*1080, 15000:1 High Contrast.\u003cbr\u003e\u003cbr\u003eTech Specs:\u003cbr\u003e\u003cstrong\u003eNative resolution:\u003c\/strong\u003e 1920 x 1080P\u003cbr\u003e\u003cstrong\u003eSupport resolution:\u003c\/strong\u003e 4k, 2k, 1080p, 1080i, 720p, 576i, 480p, 480i\u003cbr\u003e\u003cstrong\u003eContrast ratio:\u003c\/strong\u003e 15000:1\u003cbr\u003e\u003cstrong\u003eMaximum screen size:\u003c\/strong\u003e 300 inches\u003cbr\u003e\u003cstrong\u003eLED life:\u003c\/strong\u003e \u0026gt;150,000 hours\u003cbr\u003e\u003cstrong\u003eWireless function:\u003c\/strong\u003e Bluetooth \u0026amp; WiFi \u003c\/p\u003e\n\u003cp data-mce-fragment=\"1\" style=\"text-align: left;\" data-mce-style=\"text-align: left;\"\u003e \u003c\/p\u003e\n\u003ch3 data-mce-fragment=\"1\" style=\"text-align: left;\" data-mce-style=\"text-align: left;\"\u003eRestore the truest color!\u003c\/h3\u003e\n\u003cp data-mce-fragment=\"1\" style=\"text-align: left;\" data-mce-style=\"text-align: left;\"\u003eThe latest color calibration and adjustment technology of XGODY WiFi Bluetooth projector can restore more complex color details, and the video projector also adopts the latest NTSC color technology design, which increases the color contrast to 15000:1, which is for our customers provides real, dynamic, and colorful high-definition projection image quality.\u003c\/p\u003e\n\u003cp data-mce-fragment=\"1\" style=\"text-align: left;\" data-mce-style=\"text-align: left;\"\u003e \u003c\/p\u003e\n\u003ch3 data-mce-fragment=\"1\" style=\"text-align: left;\" data-mce-style=\"text-align: left;\"\u003eFreely change the angle\u003c\/h3\u003e\n\u003cp data-mce-fragment=\"1\" style=\"text-align: left;\" data-mce-style=\"text-align: left;\"\u003eVarious aspect ratio adjustment modes allow you to freely adjust the screen size and projection distance. The flexible installation method allows you to freely choose the projection method, whether it is front, rear, ceiling front, or ceiling rear projection, you can freely choose according to your need. Place it at will, not taking up space. Let the XGODY projector accompany you through every moment of leisure time!\u003c\/p\u003e\n\u003cp data-mce-fragment=\"1\" style=\"text-align: left;\" data-mce-style=\"text-align: left;\"\u003e \u003c\/p\u003e\n\u003cdiv style=\"text-align: center;\" data-mce-style=\"text-align: center;\"\u003e\u003cimg style=\"float: none;\" alt=\"4-Features,-Projector\" src=\"https:\/\/cdn.shopifycdn.net\/s\/files\/1\/0100\/3542\/9454\/files\/4-Features_-Projector_1024x1024.jpg?v=1655777763\" data-mce-src=\"https:\/\/cdn.shopifycdn.net\/s\/files\/1\/0100\/3542\/9454\/files\/4-Features_-Projector_1024x1024.jpg?v=1655777763\" data-mce-style=\"float: none;\"\u003e\u003c\/div\u003e\n\u003cdiv style=\"text-align: left;\" data-mce-style=\"text-align: left;\"\u003e\n\u003cstrong\u003eLED Cool Light Source Lens \u0026amp; Long Life\u003c\/strong\u003e\u003cbr\u003eThe LED light source has greatly extended the service life of the Bluetooth projector. A diffuse light refractive technology can better protect your eyes and skin from blue light stimuli, keeping you a healthy view daily!\u003cbr\u003e\u003cbr\u003e\u003cstrong\u003eTurbo Cooling and Quiet - 24 hours of continuous work without stress\u003c\/strong\u003e\u003cbr\u003eThe newly upgraded cooling system allows the projector to dissipate heat better and protect the projector better.\u003cbr\u003e\u003cbr\u003e\u003cstrong\u003eDual Built-in HiFi Stereo Speakers - Dolby Audio\u003c\/strong\u003e\u003cbr\u003eBuilt-in dual stereo speakers (3W) with sound system. With double clear sound quality, the powerful speakers of the WiFi Bluetooth projector give you an immersive experience.\u003cbr\u003e\u003cbr\u003e\u003cstrong\u003eLow Noise\u003c\/strong\u003e\u003cbr\u003eThe upgraded noise reduction system makes the projector better noise reduction, reduces noise, and brings you a better listening experience.\u003c\/div\u003e\n\u003cdiv style=\"text-align: left;\" data-mce-style=\"text-align: left;\"\u003e\u003c\/div\u003e\n\u003cdiv style=\"text-align: left;\" data-mce-style=\"text-align: left;\"\u003e\u003c\/div\u003e\n\u003cdiv style=\"text-align: left;\" data-mce-style=\"text-align: left;\"\u003e\u003c\/div\u003e\n\u003cdiv style=\"text-align: left;\" data-mce-style=\"text-align: left;\"\u003e\u003c\/div\u003e\n\u003cp style=\"text-align: left;\" data-mce-style=\"text-align: left;\"\u003e***\u003c\/p\u003e\n\u003cdiv style=\"text-align: left;\" data-mce-style=\"text-align: left;\"\u003e\u003c\/div\u003e\n\u003cdiv style=\"text-align: left;\" data-mce-style=\"text-align: left;\"\u003e\u003c\/div\u003e\n\u003cdiv style=\"text-align: left;\" data-mce-style=\"text-align: left;\"\u003e\n\u003cstrong\u003eHow to wirelessly screen mirror your IOS and Android devices?\u003c\/strong\u003e\u003cbr\u003e\n\u003col\u003e\n\u003cli\u003eGo to settings, connect the projector to your home Wi-Fi (make sure your phone is connected to the same Wi-Fi).\u003c\/li\u003e\n\u003cli\u003eOpen the Screen Mirroring settings in Control Center, select DUALCAST.\u003c\/li\u003e\n\u003cli\u003eComplete the wireless projection of the phone.\u003c\/li\u003e\n\u003c\/ol\u003e\n\u003c\/div\u003e\n\u003cp data-mce-fragment=\"1\" style=\"text-align: left;\" data-mce-style=\"text-align: left;\"\u003e \u003c\/p\u003e\n\u003cdiv data-mce-fragment=\"1\" style=\"text-align: center;\" data-mce-style=\"text-align: left;\"\u003e \u003cspan data-mce-fragment=\"1\"\u003e*********\u003c\/span\u003e\u003cbr data-mce-fragment=\"1\"\u003e\u003cstrong\u003e\u003cspan data-mce-fragment=\"1\" style=\"color: #ff2a00;\"\u003e---- Linking ---- \u003c\/span\u003e\u003c\/strong\u003e\n\u003c\/div\u003e\n\u003cdiv data-mce-fragment=\"1\" style=\"text-align: center;\" data-mce-style=\"text-align: left;\"\u003e\u003cstrong\u003e\u003cspan data-mce-fragment=\"1\" style=\"color: #ff2a00;\"\u003e\u003c\/span\u003e\u003c\/strong\u003e\u003c\/div\u003e\n\u003cdiv data-mce-fragment=\"1\" style=\"text-align: center;\" data-mce-style=\"text-align: left;\"\u003e\u003cstrong\u003e\u003cspan data-mce-fragment=\"1\" style=\"color: #ff2a00;\"\u003e\u003c\/span\u003e\u003c\/strong\u003e\u003c\/div\u003e\n\u003cdiv data-mce-fragment=\"1\" style=\"text-align: center;\" data-mce-style=\"text-align: left;\"\u003e\u003ciframe title=\"The Best Wireless Projector Because Of Build-in Android 9.0 System, XGODY Unboxing \u0026amp; Review\" src=\"https:\/\/www.youtube.com\/embed\/ucGiMbEcZFg\" height=\"565\" width=\"1000\" allowfullscreen=\"\" allow=\"accelerometer; autoplay; clipboard-write; encrypted-media; gyroscope; picture-in-picture\" frameborder=\"0\"\u003e\u003c\/iframe\u003e\u003c\/div\u003e\n\u003cdiv style=\"text-align: center;\"\u003e\u003cimg style=\"float: none;\" alt=\"\" src=\"https:\/\/cdn.shopify.com\/s\/files\/1\/0100\/3542\/9454\/files\/01_2fdaa1f6-5a46-410d-a36a-9cc39134f8af_1024x1024.jpg?v=1646212895\"\u003e\u003c\/div\u003e","published_at":"2022-06-20T18:08:51+08:00","created_at":"2022-06-20T18:08:50+08:00","vendor":"XGODY ","type":"Projectors","tags":[],"price":17000,"price_min":17000,"price_max":17000,"available":true,"price_varies":false,"compare_at_price":20000,"compare_at_price_min":20000,"compare_at_price_max":20000,"compare_at_price_varies":false,"variants":[{"id":39865707397198,"title":"Default Title","option1":"Default Title","option2":null,"option3":null,"sku":"","requires_shipping":true,"taxable":true,"featured_image":null,"available":true,"name":"XGODY X1 Native Movie 4K Projector Built-in Android System, 9500 Lux With Wireless WiFi Bluetooth","public_title":null,"options":["Default Title"],"price":17000,"weight":0,"compare_at_price":20000,"inventory_management":"shopify","barcode":"","requires_selling_plan":false,"selling_plan_allocations":[]}],"images":["\/\/xgody.com\/cdn\/shop\/products\/the-best-xgody-x1-native-movie-4k-projector-built-in-android-system-9500-lux-with-wireless-wifi-bluetooth-1.jpg?v=1669858712","\/\/xgody.com\/cdn\/shop\/products\/the-best-xgody-x1-native-movie-4k-projector-built-in-android-system-9500-lux-with-wireless-wifi-bluetooth-2.jpg?v=1666543117","\/\/xgody.com\/cdn\/shop\/products\/the-best-xgody-x1-native-movie-4k-projector-built-in-android-system-9500-lux-with-wireless-wifi-bluetooth-3.jpg?v=1666543117","\/\/xgody.com\/cdn\/shop\/products\/the-best-xgody-x1-native-movie-4k-projector-built-in-android-system-9500-lux-with-wireless-wifi-bluetooth-4.jpg?v=1666543117","\/\/xgody.com\/cdn\/shop\/products\/the-best-xgody-x1-native-movie-4k-projector-built-in-android-system-9500-lux-with-wireless-wifi-bluetooth-5.jpg?v=1666543117","\/\/xgody.com\/cdn\/shop\/products\/the-best-xgody-x1-native-movie-4k-projector-built-in-android-system-9500-lux-with-wireless-wifi-bluetooth-6.jpg?v=1669858715"],"featured_image":"\/\/xgody.com\/cdn\/shop\/products\/the-best-xgody-x1-native-movie-4k-projector-built-in-android-system-9500-lux-with-wireless-wifi-bluetooth-1.jpg?v=1669858712","options":["Title"],"media":[{"alt":"Cost-effective and Most worthwhile XGODY X1 Native Movie 4K Projector Built-in Android System, 9500 Lux With Wireless WiFi Bluetooth - XGODY ","id":32318874943762,"position":1,"preview_image":{"aspect_ratio":1.0,"height":1500,"width":1500,"src":"\/\/xgody.com\/cdn\/shop\/products\/the-best-xgody-x1-native-movie-4k-projector-built-in-android-system-9500-lux-with-wireless-wifi-bluetooth-1.jpg?v=1669858712"},"aspect_ratio":1.0,"height":1500,"media_type":"image","src":"\/\/xgody.com\/cdn\/shop\/products\/the-best-xgody-x1-native-movie-4k-projector-built-in-android-system-9500-lux-with-wireless-wifi-bluetooth-1.jpg?v=1669858712","width":1500},{"alt":"Cost-effective and Most worthwhile XGODY X1 Native Movie 4K Projector Built-in Android System, 9500 Lux With Wireless WiFi Bluetooth - XGODY ","id":22015734153294,"position":2,"preview_image":{"aspect_ratio":1.0,"height":1600,"width":1600,"src":"\/\/xgody.com\/cdn\/shop\/products\/the-best-xgody-x1-native-movie-4k-projector-built-in-android-system-9500-lux-with-wireless-wifi-bluetooth-2.jpg?v=1666543117"},"aspect_ratio":1.0,"height":1600,"media_type":"image","src":"\/\/xgody.com\/cdn\/shop\/products\/the-best-xgody-x1-native-movie-4k-projector-built-in-android-system-9500-lux-with-wireless-wifi-bluetooth-2.jpg?v=1666543117","width":1600},{"alt":"Cost-effective and Most worthwhile XGODY X1 Native Movie 4K Projector Built-in Android System, 9500 Lux With Wireless WiFi Bluetooth - XGODY ","id":22015734218830,"position":3,"preview_image":{"aspect_ratio":1.0,"height":1600,"width":1600,"src":"\/\/xgody.com\/cdn\/shop\/products\/the-best-xgody-x1-native-movie-4k-projector-built-in-android-system-9500-lux-with-wireless-wifi-bluetooth-3.jpg?v=1666543117"},"aspect_ratio":1.0,"height":1600,"media_type":"image","src":"\/\/xgody.com\/cdn\/shop\/products\/the-best-xgody-x1-native-movie-4k-projector-built-in-android-system-9500-lux-with-wireless-wifi-bluetooth-3.jpg?v=1666543117","width":1600},{"alt":"Cost-effective and Most worthwhile XGODY X1 Native Movie 4K Projector Built-in Android System, 9500 Lux With Wireless WiFi Bluetooth - XGODY ","id":22015734349902,"position":4,"preview_image":{"aspect_ratio":1.0,"height":1600,"width":1600,"src":"\/\/xgody.com\/cdn\/shop\/products\/the-best-xgody-x1-native-movie-4k-projector-built-in-android-system-9500-lux-with-wireless-wifi-bluetooth-4.jpg?v=1666543117"},"aspect_ratio":1.0,"height":1600,"media_type":"image","src":"\/\/xgody.com\/cdn\/shop\/products\/the-best-xgody-x1-native-movie-4k-projector-built-in-android-system-9500-lux-with-wireless-wifi-bluetooth-4.jpg?v=1666543117","width":1600},{"alt":"Cost-effective and Most worthwhile XGODY X1 Native Movie 4K Projector Built-in Android System, 9500 Lux With Wireless WiFi Bluetooth - XGODY ","id":22015734677582,"position":5,"preview_image":{"aspect_ratio":1.0,"height":1600,"width":1600,"src":"\/\/xgody.com\/cdn\/shop\/products\/the-best-xgody-x1-native-movie-4k-projector-built-in-android-system-9500-lux-with-wireless-wifi-bluetooth-5.jpg?v=1666543117"},"aspect_ratio":1.0,"height":1600,"media_type":"image","src":"\/\/xgody.com\/cdn\/shop\/products\/the-best-xgody-x1-native-movie-4k-projector-built-in-android-system-9500-lux-with-wireless-wifi-bluetooth-5.jpg?v=1666543117","width":1600},{"alt":"Cost-effective and Most worthwhile XGODY X1 Native Movie 4K Projector Built-in Android System, 9500 Lux With Wireless WiFi Bluetooth - XGODY ","id":32318875107602,"position":6,"preview_image":{"aspect_ratio":1.0,"height":1500,"width":1500,"src":"\/\/xgody.com\/cdn\/shop\/products\/the-best-xgody-x1-native-movie-4k-projector-built-in-android-system-9500-lux-with-wireless-wifi-bluetooth-6.jpg?v=1669858715"},"aspect_ratio":1.0,"height":1500,"media_type":"image","src":"\/\/xgody.com\/cdn\/shop\/products\/the-best-xgody-x1-native-movie-4k-projector-built-in-android-system-9500-lux-with-wireless-wifi-bluetooth-6.jpg?v=1669858715","width":1500}],"requires_selling_plan":false,"selling_plan_groups":[],"content":"\u003cdiv data-mce-fragment=\"1\" style=\"text-align: center;\" data-mce-style=\"text-align: center;\"\u003e\u003cimg data-mce-fragment=\"1\" src=\"https:\/\/cdn.shopifycdn.net\/s\/files\/1\/0100\/3542\/9454\/files\/A_02_1024x1024.jpg?v=1655718743\" alt=\"\" style=\"float: none;\" data-mce-style=\"float: none;\" data-mce-src=\"https:\/\/cdn.shopifycdn.net\/s\/files\/1\/0100\/3542\/9454\/files\/A_02_1024x1024.jpg?v=1655718743\"\u003e\u003c\/div\u003e\n\u003cdiv data-mce-fragment=\"1\" style=\"text-align: center;\" data-mce-style=\"text-align: center;\"\u003e\u003c\/div\u003e\n\u003cdiv data-mce-fragment=\"1\" style=\"text-align: center;\" data-mce-style=\"text-align: center;\"\u003e\n\u003cimg data-mce-fragment=\"1\" src=\"https:\/\/cdn.shopifycdn.net\/s\/files\/1\/0100\/3542\/9454\/files\/A_03_1024x1024.jpg?v=1655718775\" alt=\"\" data-mce-src=\"https:\/\/cdn.shopifycdn.net\/s\/files\/1\/0100\/3542\/9454\/files\/A_03_1024x1024.jpg?v=1655718775\"\u003e\u003cimg data-mce-fragment=\"1\" src=\"https:\/\/cdn.shopifycdn.net\/s\/files\/1\/0100\/3542\/9454\/files\/02_cc2d7cd6-997f-4996-afb4-dfdfef11e42e_1024x1024.jpg?v=1655718805\" alt=\"\" data-mce-src=\"https:\/\/cdn.shopifycdn.net\/s\/files\/1\/0100\/3542\/9454\/files\/02_cc2d7cd6-997f-4996-afb4-dfdfef11e42e_1024x1024.jpg?v=1655718805\"\u003e\u003cimg data-mce-fragment=\"1\" src=\"https:\/\/cdn.shopifycdn.net\/s\/files\/1\/0100\/3542\/9454\/files\/A_06_1024x1024.jpg?v=1655718862\" alt=\"\" data-mce-src=\"https:\/\/cdn.shopifycdn.net\/s\/files\/1\/0100\/3542\/9454\/files\/A_06_1024x1024.jpg?v=1655718862\"\u003e\u003cimg data-mce-fragment=\"1\" src=\"https:\/\/cdn.shopifycdn.net\/s\/files\/1\/0100\/3542\/9454\/files\/A_07_1024x1024.jpg?v=1655718877\" alt=\"\" data-mce-src=\"https:\/\/cdn.shopifycdn.net\/s\/files\/1\/0100\/3542\/9454\/files\/A_07_1024x1024.jpg?v=1655718877\"\u003e\u003cimg data-mce-fragment=\"1\" src=\"https:\/\/cdn.shopifycdn.net\/s\/files\/1\/0100\/3542\/9454\/files\/A_08_1024x1024.jpg?v=1655718913\" alt=\"\" data-mce-src=\"https:\/\/cdn.shopifycdn.net\/s\/files\/1\/0100\/3542\/9454\/files\/A_08_1024x1024.jpg?v=1655718913\"\u003e\u003cimg data-mce-fragment=\"1\" src=\"https:\/\/cdn.shopifycdn.net\/s\/files\/1\/0100\/3542\/9454\/files\/05_e2000f9d-3162-4000-8652-9e010364a246_1024x1024.jpg?v=1655718939\" alt=\"\" data-mce-src=\"https:\/\/cdn.shopifycdn.net\/s\/files\/1\/0100\/3542\/9454\/files\/05_e2000f9d-3162-4000-8652-9e010364a246_1024x1024.jpg?v=1655718939\"\u003e\u003cimg data-mce-fragment=\"1\" src=\"https:\/\/cdn.shopifycdn.net\/s\/files\/1\/0100\/3542\/9454\/files\/06_e144fdae-0ab0-4cc1-b041-95b15821338a_1024x1024.jpg?v=1655718956\" alt=\"\" data-mce-src=\"https:\/\/cdn.shopifycdn.net\/s\/files\/1\/0100\/3542\/9454\/files\/06_e144fdae-0ab0-4cc1-b041-95b15821338a_1024x1024.jpg?v=1655718956\"\u003e\n\u003c\/div\u003e\n\u003cdiv data-mce-fragment=\"1\" style=\"text-align: center;\" data-mce-style=\"text-align: center;\"\u003e\u003c\/div\u003e\n\u003cdiv data-mce-fragment=\"1\" style=\"text-align: center;\" data-mce-style=\"text-align: center;\"\u003e\u003cimg data-mce-fragment=\"1\" src=\"https:\/\/cdn.shopifycdn.net\/s\/files\/1\/0100\/3542\/9454\/files\/4_9cd0be13-2463-4eee-a148-a6d888090114_1024x1024.jpg?v=1666573578\" alt=\"Remote Control \u0026amp; Voice Control\" data-mce-src=\"https:\/\/cdn.shopifycdn.net\/s\/files\/1\/0100\/3542\/9454\/files\/4_9cd0be13-2463-4eee-a148-a6d888090114_1024x1024.jpg?v=1666573578\"\u003e\u003c\/div\u003e\n\u003cdiv data-mce-fragment=\"1\" style=\"text-align: center;\" data-mce-style=\"text-align: center;\"\u003e\u003c\/div\u003e\n\u003cdiv data-mce-fragment=\"1\" style=\"text-align: center;\" data-mce-style=\"text-align: center;\"\u003e\u003c\/div\u003e\n\u003cdiv data-mce-fragment=\"1\" style=\"text-align: center;\" data-mce-style=\"text-align: center;\"\u003e\u003c\/div\u003e\n\u003cp data-mce-fragment=\"1\" style=\"text-align: center;\" data-mce-style=\"text-align: center;\"\u003e\u003cbr\u003e\u003c\/p\u003e\n\u003cdiv data-mce-fragment=\"1\" style=\"text-align: center;\" data-mce-style=\"text-align: center;\"\u003e\u003cimg data-mce-fragment=\"1\" src=\"https:\/\/cdn.shopifycdn.net\/s\/files\/1\/0100\/3542\/9454\/files\/A_05_1024x1024.jpg?v=1655718978\" alt=\"\" data-mce-src=\"https:\/\/cdn.shopifycdn.net\/s\/files\/1\/0100\/3542\/9454\/files\/A_05_1024x1024.jpg?v=1655718978\"\u003e\u003c\/div\u003e\n\u003cdiv data-mce-fragment=\"1\" style=\"text-align: center;\" data-mce-style=\"text-align: center;\"\u003e\u003c\/div\u003e\n\u003ch2 data-mce-fragment=\"1\" style=\"text-align: left;\" data-mce-style=\"text-align: left;\"\u003e\u003cbr\u003e\u003c\/h2\u003e\n\u003cp\u003e \u003c\/p\u003e\n\u003ch2 data-mce-fragment=\"1\" style=\"text-align: left;\" data-mce-style=\"text-align: left;\"\u003eMain Features Of XGODY X1 Android System Portable 4K Projector\u003c\/h2\u003e\n\u003cp data-mce-fragment=\"1\" style=\"text-align: left;\" data-mce-style=\"text-align: left;\"\u003e\u003cstrong\u003e【Android 9.0 TV Bluetooth Projector 16G】\u003c\/strong\u003e XGODY portable projector built-in Android 9.0 can browse all video websites, support Netflix, Hulu, Flixster, Youtube. Apps can be downloaded for free from Android Market \u0026amp; Amazon App Store, etc. Support Facebook, Twitter, Email, office suits, etc. It can completely replace smart devices such as TVs, TV boxes, tablets, etc.\u003c\/p\u003e\n\u003cp data-mce-fragment=\"1\" style=\"text-align: left;\" data-mce-style=\"text-align: left;\"\u003e\u003cstrong\u003e【Native 1080P Full HD Projector】\u003c\/strong\u003e XGODY home projector is a real 1080P full HD projector with an original resolution of 1920*1080 and supports 4K. 9500 lumens and 15000:1 high contrast ratio. Adopts HDR10 high dynamic range video decoding, and the picture details are richer. 4K and 8K video can be played directly, ultra-detailed presentation. Whether indoor or outdoor, there is a good HD projection experience.\u003c\/p\u003e\n\u003cp data-mce-fragment=\"1\" style=\"text-align: left;\" data-mce-style=\"text-align: left;\"\u003e\u003cstrong\u003e【5G Projector with WiFi and Bluetooth 5.0 Connection】\u003c\/strong\u003e XGODY wireless WiFi \u0026amp; Bluetooth projector with 2.4\/5G dual-band WIFI to avoid delay. Ultra-clear transmission, you can turn on the big screen vision at home or outdoors. Support DLNA\/Miracast function, which can provide better and faster wifi mirroring\/casting experience for your smartphone. Compatible with multiple devices. Equipped with HDMI\/USB\/TF card\/audio port, the video projector can easily connect with TV stick \/ game \/ tablet \/ ps4 \/ phone.\u003c\/p\u003e\n\u003cp data-mce-fragment=\"1\" style=\"text-align: left;\" data-mce-style=\"text-align: left;\"\u003e\u003cstrong\u003e【Keystone Correction and Image Scaling】\u003c\/strong\u003e XGODY movie projector, can adjust vertical and horizontal image easily. You can adjust the projected image from 100% to 75% without moving the projector. No matter how you adjust it, the image from the mini projector is always clear.\u003c\/p\u003e\n\u003cp data-mce-fragment=\"1\" style=\"text-align: left;\" data-mce-style=\"text-align: left;\"\u003e\u003cstrong\u003e【HIDI Speakers Dolby Sound and Ultra-quiet】\u003c\/strong\u003e The smart projector has built-in HIFI speakers, which are better in bass detail handling. Ultra-quiet operation with noise below 42dB, bringing you the best listening experience. Can be used for HD home theater, business presentations, conferences, KTV video entertainment, multimedia teaching, hotels, video games and PC games.\u003c\/p\u003e\n\u003cp data-mce-fragment=\"1\" style=\"text-align: left;\" data-mce-style=\"text-align: left;\"\u003e \u003c\/p\u003e\n\u003cp data-mce-fragment=\"1\" style=\"text-align: left;\" data-mce-style=\"text-align: left;\"\u003e \u003c\/p\u003e\n\u003ch2 data-mce-fragment=\"1\" style=\"text-align: left;\" data-mce-style=\"text-align: left;\"\u003eThe Best Wireless Projector Smart\u003c\/h2\u003e\n\u003cp data-mce-fragment=\"1\" style=\"text-align: left;\" data-mce-style=\"text-align: left;\"\u003eXGODY Wireless Portable Projector (With WiFi, Bluetooth), it is worthwhile for you to have one to enjoy your home entertainment and as a gift to your friends, kids, lovers, and families members anytime.\u003cbr\u003e\u003cbr\u003eXGODY 5G WiFi Bluetooth portable projector uses a newly upgraded low-consumption LED light source, high-quality materials, and exquisite manufacturing technology. It supports 4K, native 1920*1080, 15000:1 High Contrast.\u003cbr\u003e\u003cbr\u003eTech Specs:\u003cbr\u003e\u003cstrong\u003eNative resolution:\u003c\/strong\u003e 1920 x 1080P\u003cbr\u003e\u003cstrong\u003eSupport resolution:\u003c\/strong\u003e 4k, 2k, 1080p, 1080i, 720p, 576i, 480p, 480i\u003cbr\u003e\u003cstrong\u003eContrast ratio:\u003c\/strong\u003e 15000:1\u003cbr\u003e\u003cstrong\u003eMaximum screen size:\u003c\/strong\u003e 300 inches\u003cbr\u003e\u003cstrong\u003eLED life:\u003c\/strong\u003e \u0026gt;150,000 hours\u003cbr\u003e\u003cstrong\u003eWireless function:\u003c\/strong\u003e Bluetooth \u0026amp; WiFi \u003c\/p\u003e\n\u003cp data-mce-fragment=\"1\" style=\"text-align: left;\" data-mce-style=\"text-align: left;\"\u003e \u003c\/p\u003e\n\u003ch3 data-mce-fragment=\"1\" style=\"text-align: left;\" data-mce-style=\"text-align: left;\"\u003eRestore the truest color!\u003c\/h3\u003e\n\u003cp data-mce-fragment=\"1\" style=\"text-align: left;\" data-mce-style=\"text-align: left;\"\u003eThe latest color calibration and adjustment technology of XGODY WiFi Bluetooth projector can restore more complex color details, and the video projector also adopts the latest NTSC color technology design, which increases the color contrast to 15000:1, which is for our customers provides real, dynamic, and colorful high-definition projection image quality.\u003c\/p\u003e\n\u003cp data-mce-fragment=\"1\" style=\"text-align: left;\" data-mce-style=\"text-align: left;\"\u003e \u003c\/p\u003e\n\u003ch3 data-mce-fragment=\"1\" style=\"text-align: left;\" data-mce-style=\"text-align: left;\"\u003eFreely change the angle\u003c\/h3\u003e\n\u003cp data-mce-fragment=\"1\" style=\"text-align: left;\" data-mce-style=\"text-align: left;\"\u003eVarious aspect ratio adjustment modes allow you to freely adjust the screen size and projection distance. The flexible installation method allows you to freely choose the projection method, whether it is front, rear, ceiling front, or ceiling rear projection, you can freely choose according to your need. Place it at will, not taking up space. Let the XGODY projector accompany you through every moment of leisure time!\u003c\/p\u003e\n\u003cp data-mce-fragment=\"1\" style=\"text-align: left;\" data-mce-style=\"text-align: left;\"\u003e \u003c\/p\u003e\n\u003cdiv style=\"text-align: center;\" data-mce-style=\"text-align: center;\"\u003e\u003cimg style=\"float: none;\" alt=\"4-Features,-Projector\" src=\"https:\/\/cdn.shopifycdn.net\/s\/files\/1\/0100\/3542\/9454\/files\/4-Features_-Projector_1024x1024.jpg?v=1655777763\" data-mce-src=\"https:\/\/cdn.shopifycdn.net\/s\/files\/1\/0100\/3542\/9454\/files\/4-Features_-Projector_1024x1024.jpg?v=1655777763\" data-mce-style=\"float: none;\"\u003e\u003c\/div\u003e\n\u003cdiv style=\"text-align: left;\" data-mce-style=\"text-align: left;\"\u003e\n\u003cstrong\u003eLED Cool Light Source Lens \u0026amp; Long Life\u003c\/strong\u003e\u003cbr\u003eThe LED light source has greatly extended the service life of the Bluetooth projector. A diffuse light refractive technology can better protect your eyes and skin from blue light stimuli, keeping you a healthy view daily!\u003cbr\u003e\u003cbr\u003e\u003cstrong\u003eTurbo Cooling and Quiet - 24 hours of continuous work without stress\u003c\/strong\u003e\u003cbr\u003eThe newly upgraded cooling system allows the projector to dissipate heat better and protect the projector better.\u003cbr\u003e\u003cbr\u003e\u003cstrong\u003eDual Built-in HiFi Stereo Speakers - Dolby Audio\u003c\/strong\u003e\u003cbr\u003eBuilt-in dual stereo speakers (3W) with sound system. With double clear sound quality, the powerful speakers of the WiFi Bluetooth projector give you an immersive experience.\u003cbr\u003e\u003cbr\u003e\u003cstrong\u003eLow Noise\u003c\/strong\u003e\u003cbr\u003eThe upgraded noise reduction system makes the projector better noise reduction, reduces noise, and brings you a better listening experience.\u003c\/div\u003e\n\u003cdiv style=\"text-align: left;\" data-mce-style=\"text-align: left;\"\u003e\u003c\/div\u003e\n\u003cdiv style=\"text-align: left;\" data-mce-style=\"text-align: left;\"\u003e\u003c\/div\u003e\n\u003cdiv style=\"text-align: left;\" data-mce-style=\"text-align: left;\"\u003e\u003c\/div\u003e\n\u003cdiv style=\"text-align: left;\" data-mce-style=\"text-align: left;\"\u003e\u003c\/div\u003e\n\u003cp style=\"text-align: left;\" data-mce-style=\"text-align: left;\"\u003e***\u003c\/p\u003e\n\u003cdiv style=\"text-align: left;\" data-mce-style=\"text-align: left;\"\u003e\u003c\/div\u003e\n\u003cdiv style=\"text-align: left;\" data-mce-style=\"text-align: left;\"\u003e\u003c\/div\u003e\n\u003cdiv style=\"text-align: left;\" data-mce-style=\"text-align: left;\"\u003e\n\u003cstrong\u003eHow to wirelessly screen mirror your IOS and Android devices?\u003c\/strong\u003e\u003cbr\u003e\n\u003col\u003e\n\u003cli\u003eGo to settings, connect the projector to your home Wi-Fi (make sure your phone is connected to the same Wi-Fi).\u003c\/li\u003e\n\u003cli\u003eOpen the Screen Mirroring settings in Control Center, select DUALCAST.\u003c\/li\u003e\n\u003cli\u003eComplete the wireless projection of the phone.\u003c\/li\u003e\n\u003c\/ol\u003e\n\u003c\/div\u003e\n\u003cp data-mce-fragment=\"1\" style=\"text-align: left;\" data-mce-style=\"text-align: left;\"\u003e \u003c\/p\u003e\n\u003cdiv data-mce-fragment=\"1\" style=\"text-align: center;\" data-mce-style=\"text-align: left;\"\u003e \u003cspan data-mce-fragment=\"1\"\u003e*********\u003c\/span\u003e\u003cbr data-mce-fragment=\"1\"\u003e\u003cstrong\u003e\u003cspan data-mce-fragment=\"1\" style=\"color: #ff2a00;\"\u003e---- Linking ---- \u003c\/span\u003e\u003c\/strong\u003e\n\u003c\/div\u003e\n\u003cdiv data-mce-fragment=\"1\" style=\"text-align: center;\" data-mce-style=\"text-align: left;\"\u003e\u003cstrong\u003e\u003cspan data-mce-fragment=\"1\" style=\"color: #ff2a00;\"\u003e\u003c\/span\u003e\u003c\/strong\u003e\u003c\/div\u003e\n\u003cdiv data-mce-fragment=\"1\" style=\"text-align: center;\" data-mce-style=\"text-align: left;\"\u003e\u003cstrong\u003e\u003cspan data-mce-fragment=\"1\" style=\"color: #ff2a00;\"\u003e\u003c\/span\u003e\u003c\/strong\u003e\u003c\/div\u003e\n\u003cdiv data-mce-fragment=\"1\" style=\"text-align: center;\" data-mce-style=\"text-align: left;\"\u003e\u003ciframe title=\"The Best Wireless Projector Because Of Build-in Android 9.0 System, XGODY Unboxing \u0026amp; Review\" src=\"https:\/\/www.youtube.com\/embed\/ucGiMbEcZFg\" height=\"565\" width=\"1000\" allowfullscreen=\"\" allow=\"accelerometer; autoplay; clipboard-write; encrypted-media; gyroscope; picture-in-picture\" frameborder=\"0\"\u003e\u003c\/iframe\u003e\u003c\/div\u003e\n\u003cdiv style=\"text-align: center;\"\u003e\u003cimg style=\"float: none;\" alt=\"\" src=\"https:\/\/cdn.shopify.com\/s\/files\/1\/0100\/3542\/9454\/files\/01_2fdaa1f6-5a46-410d-a36a-9cc39134f8af_1024x1024.jpg?v=1646212895\"\u003e\u003c\/div\u003e"}
XGODY X1 Native Movie 4K Projector Built-in Android System, 9500 Lux With Wireless WiFi Bluetooth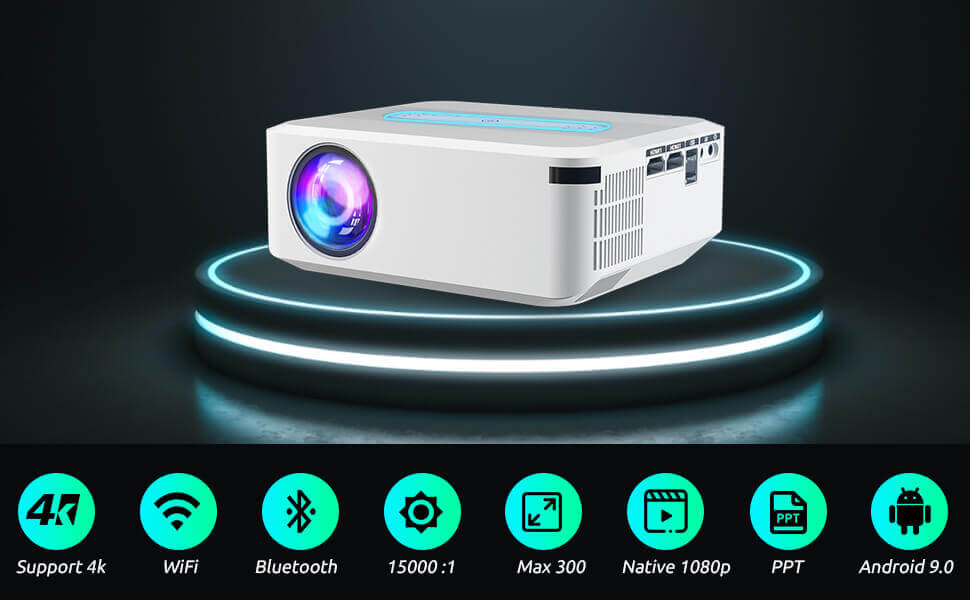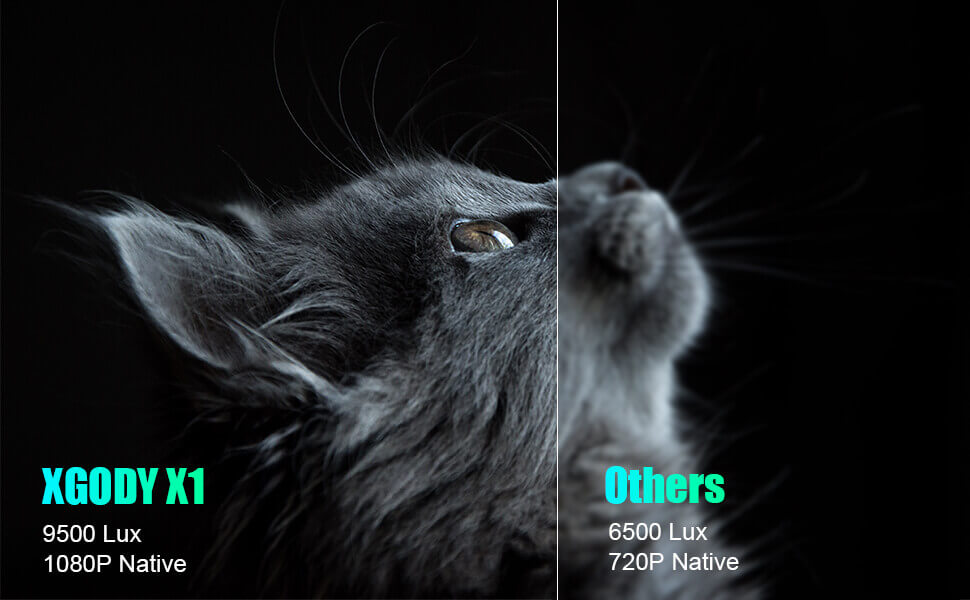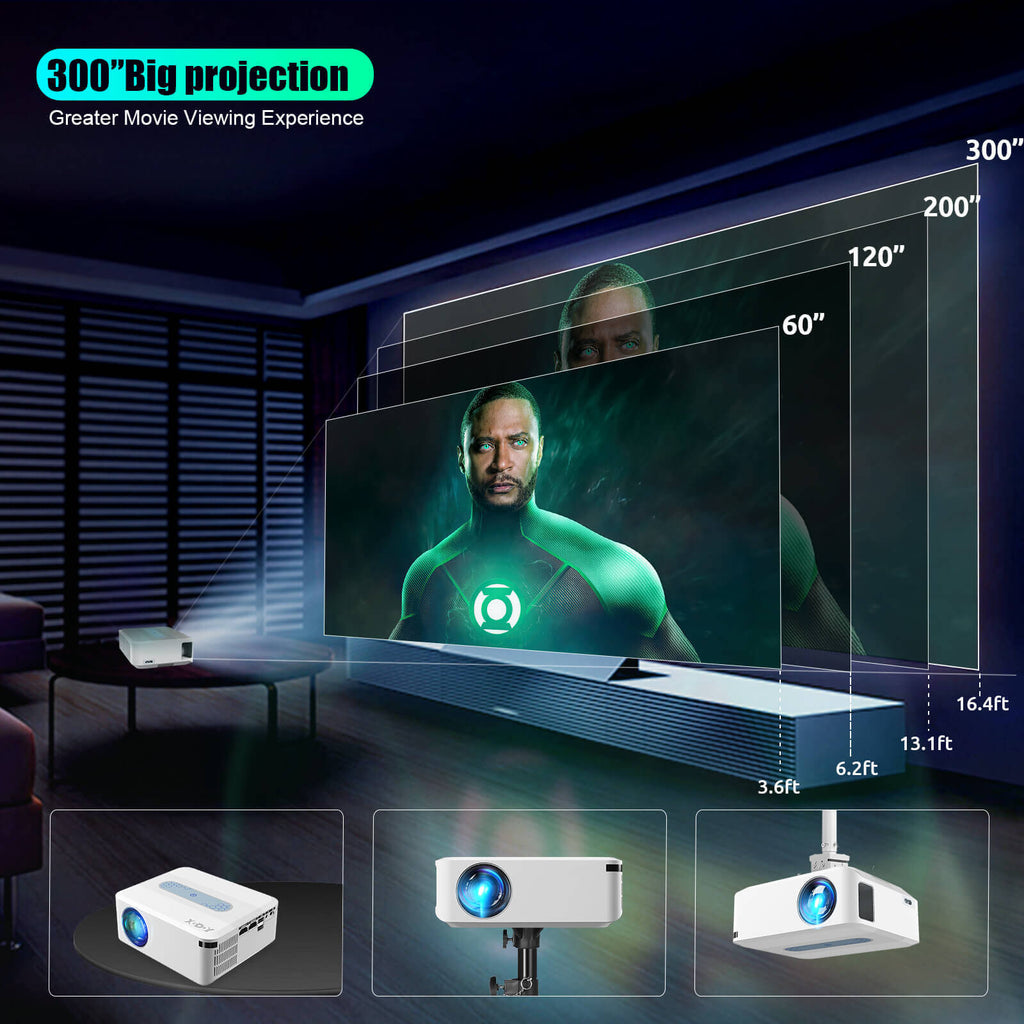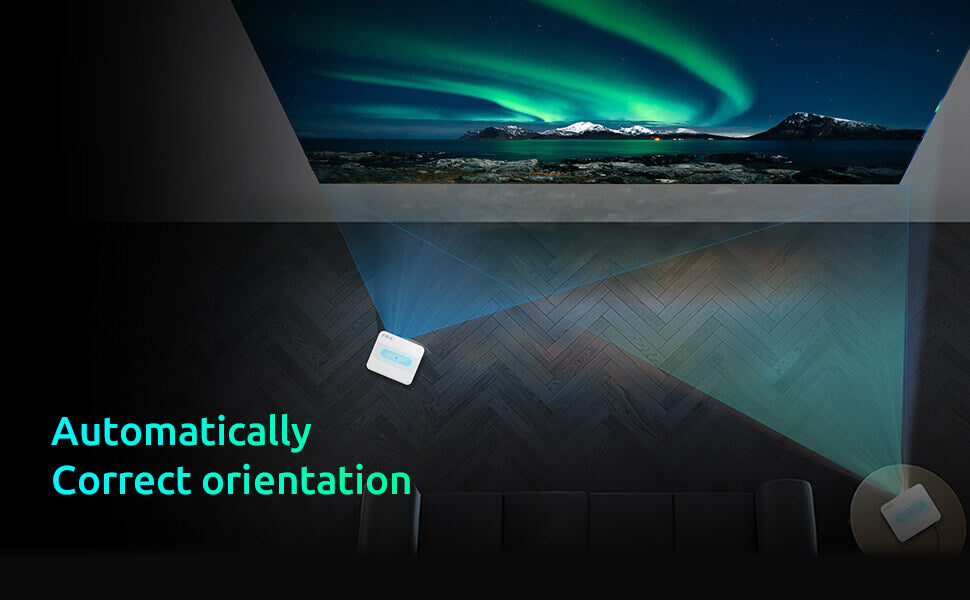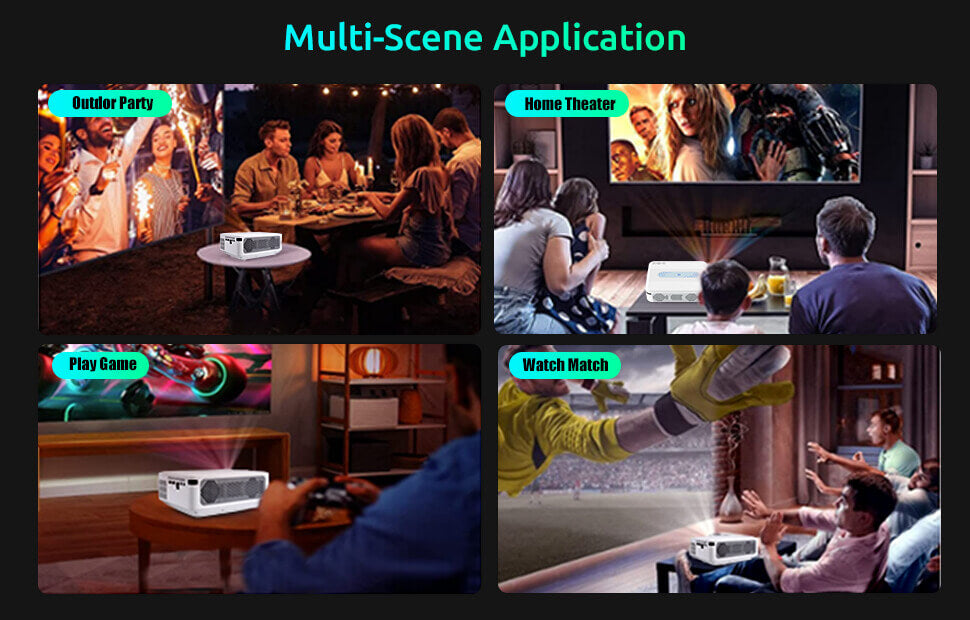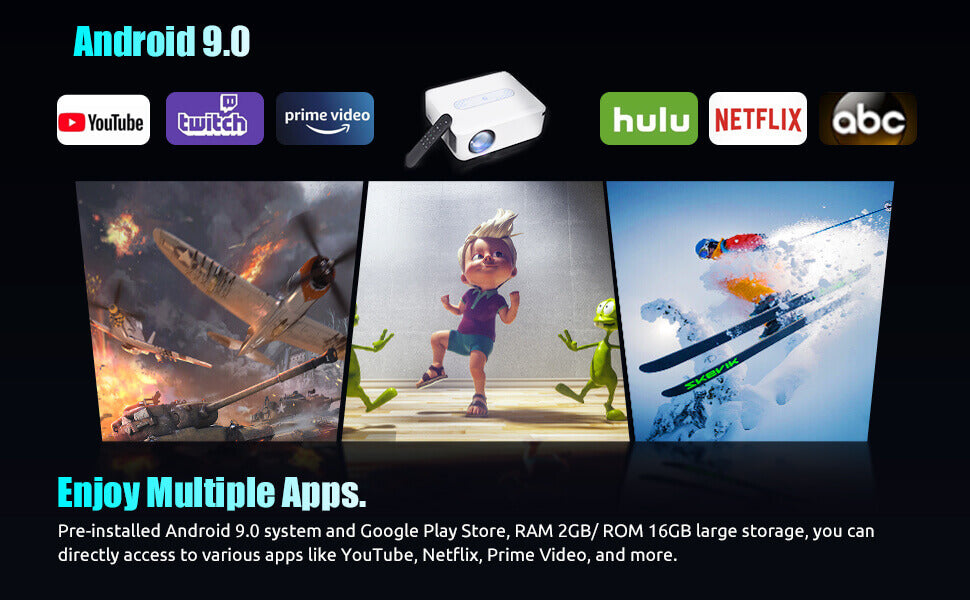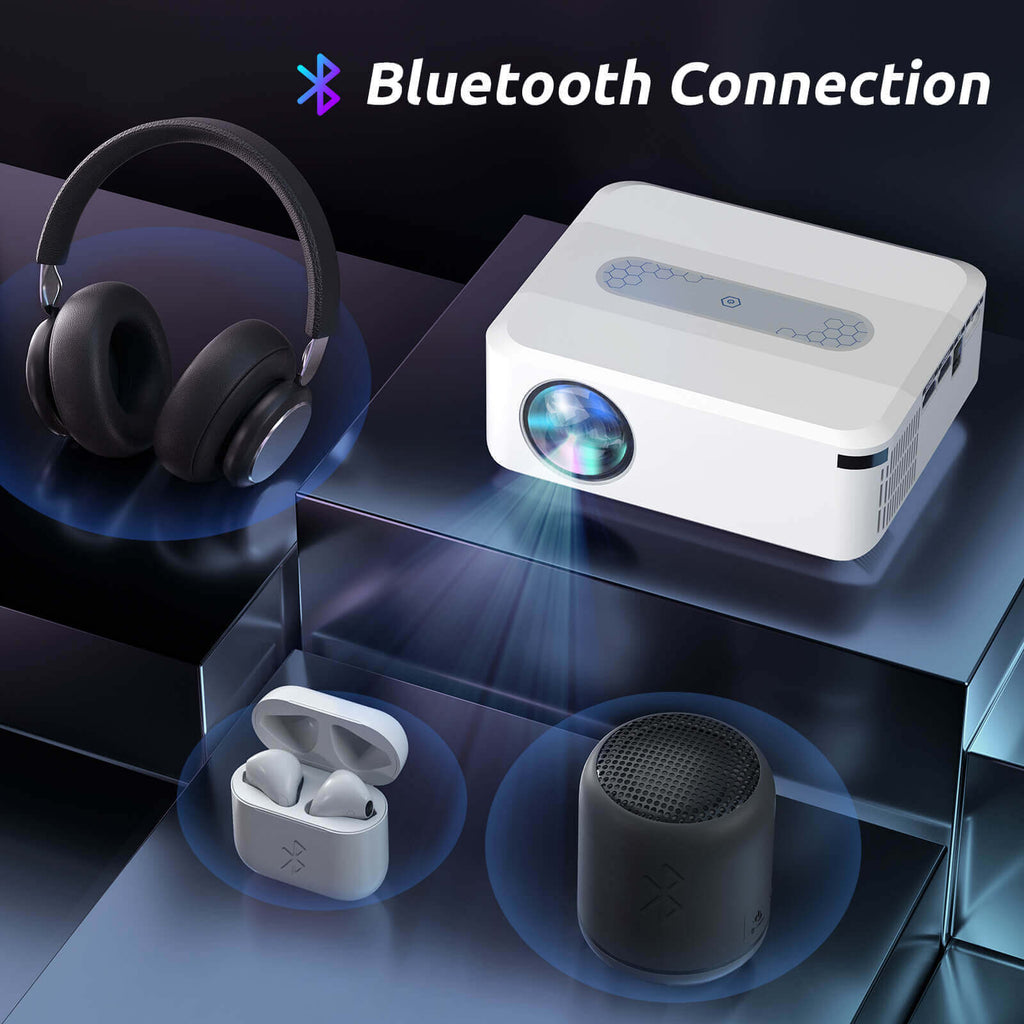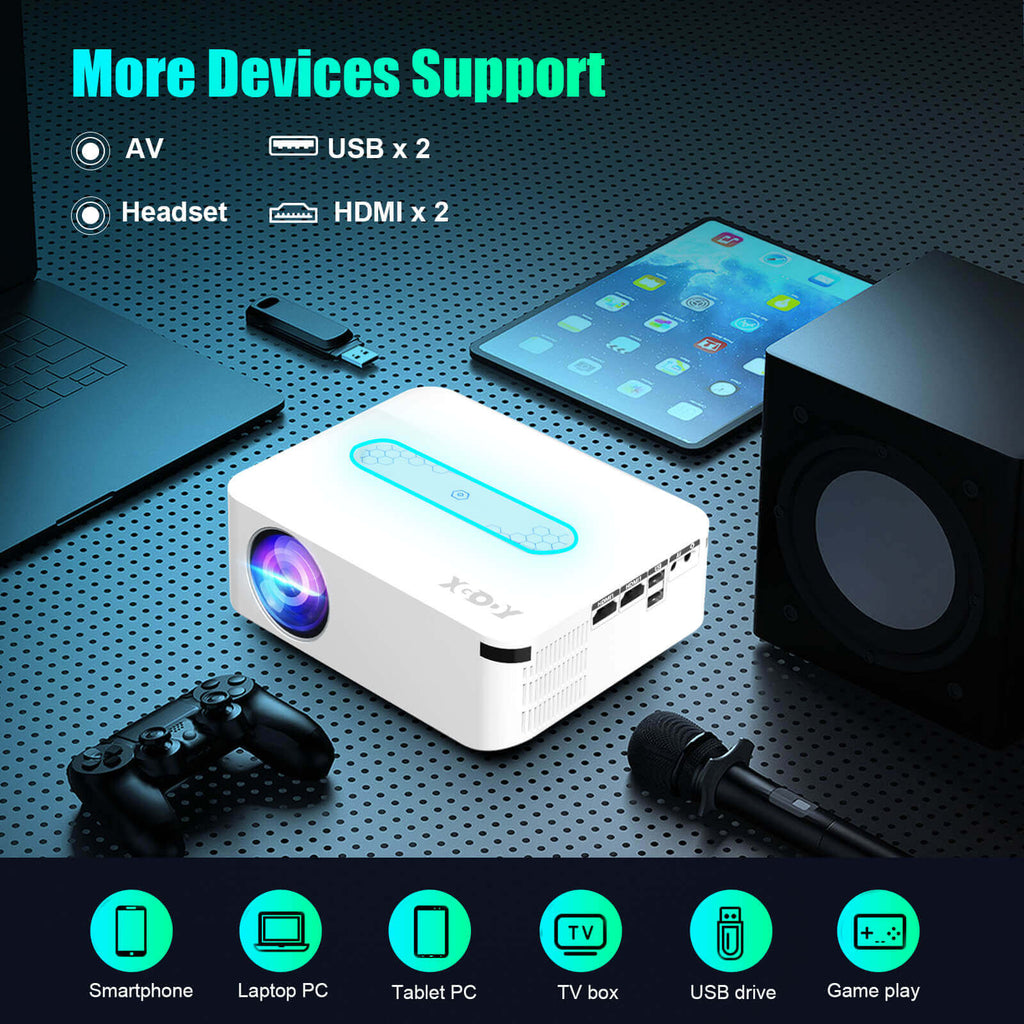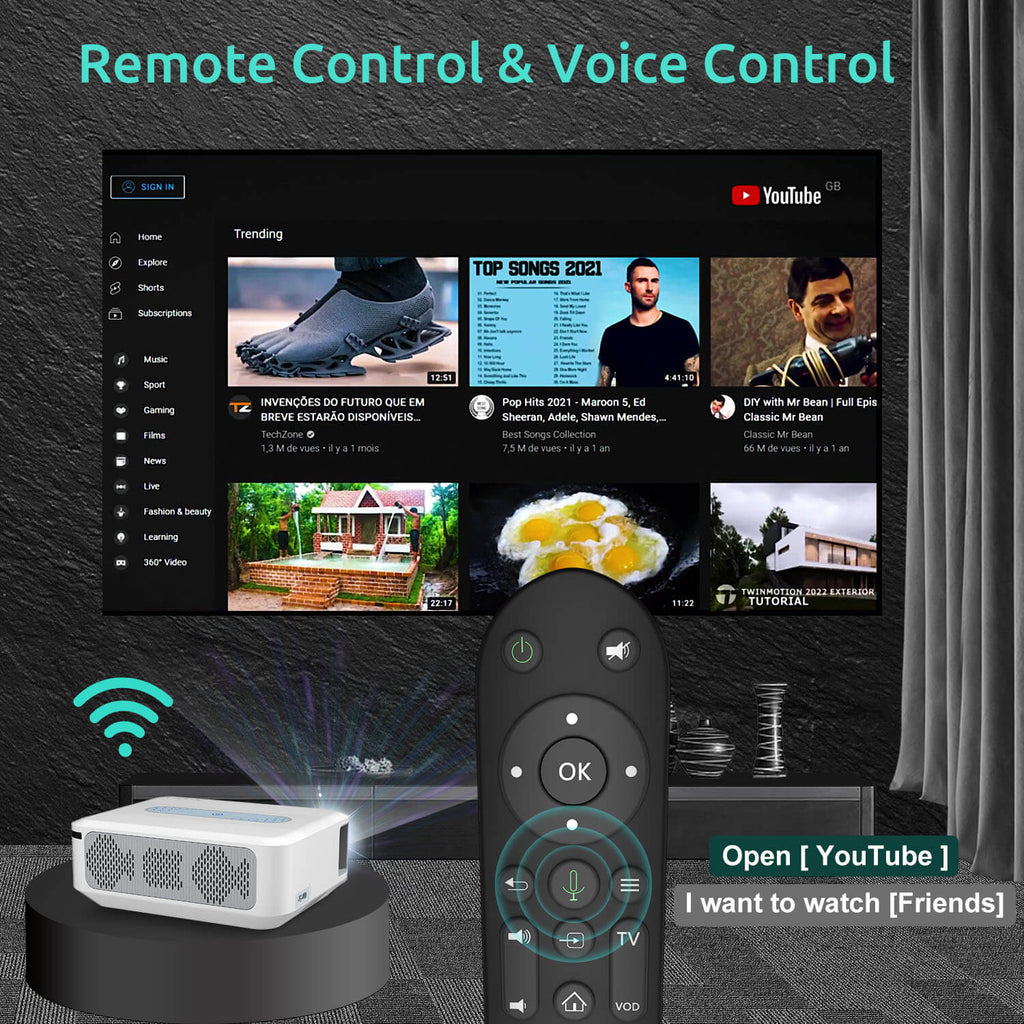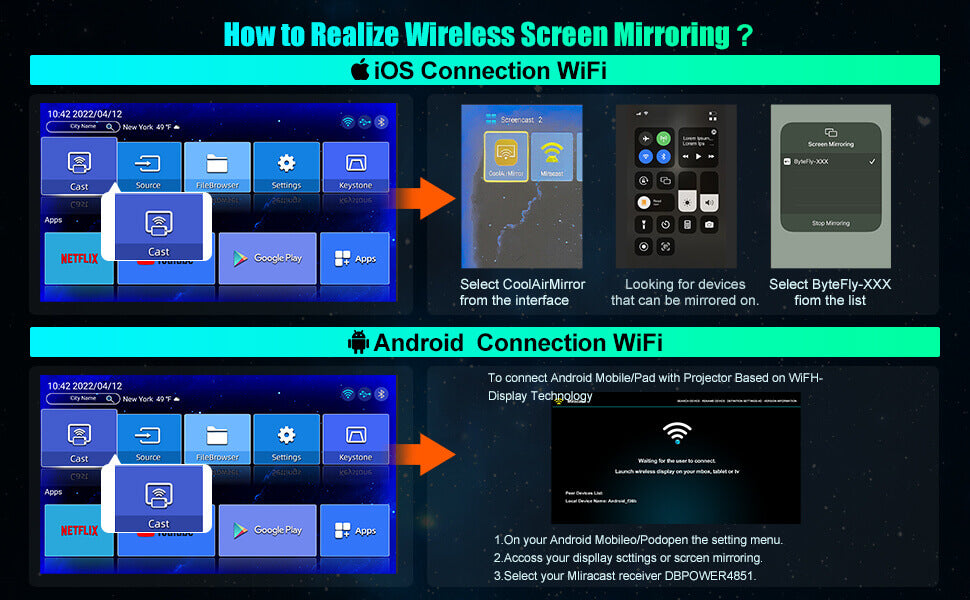 Main Features Of XGODY X1 Android System Portable 4K Projector
【Android 9.0 TV Bluetooth Projector 16G】 XGODY portable projector built-in Android 9.0 can browse all video websites, support Netflix, Hulu, Flixster, Youtube. Apps can be downloaded for free from Android Market & Amazon App Store, etc. Support Facebook, Twitter, Email, office suits, etc. It can completely replace smart devices such as TVs, TV boxes, tablets, etc.
【Native 1080P Full HD Projector】 XGODY home projector is a real 1080P full HD projector with an original resolution of 1920*1080 and supports 4K. 9500 lumens and 15000:1 high contrast ratio. Adopts HDR10 high dynamic range video decoding, and the picture details are richer. 4K and 8K video can be played directly, ultra-detailed presentation. Whether indoor or outdoor, there is a good HD projection experience.
【5G Projector with WiFi and Bluetooth 5.0 Connection】 XGODY wireless WiFi & Bluetooth projector with 2.4/5G dual-band WIFI to avoid delay. Ultra-clear transmission, you can turn on the big screen vision at home or outdoors. Support DLNA/Miracast function, which can provide better and faster wifi mirroring/casting experience for your smartphone. Compatible with multiple devices. Equipped with HDMI/USB/TF card/audio port, the video projector can easily connect with TV stick / game / tablet / ps4 / phone.
【Keystone Correction and Image Scaling】 XGODY movie projector, can adjust vertical and horizontal image easily. You can adjust the projected image from 100% to 75% without moving the projector. No matter how you adjust it, the image from the mini projector is always clear.
【HIDI Speakers Dolby Sound and Ultra-quiet】 The smart projector has built-in HIFI speakers, which are better in bass detail handling. Ultra-quiet operation with noise below 42dB, bringing you the best listening experience. Can be used for HD home theater, business presentations, conferences, KTV video entertainment, multimedia teaching, hotels, video games and PC games.
The Best Wireless Projector Smart
XGODY Wireless Portable Projector (With WiFi, Bluetooth), it is worthwhile for you to have one to enjoy your home entertainment and as a gift to your friends, kids, lovers, and families members anytime.

XGODY 5G WiFi Bluetooth portable projector uses a newly upgraded low-consumption LED light source, high-quality materials, and exquisite manufacturing technology. It supports 4K, native 1920*1080, 15000:1 High Contrast.

Tech Specs:
Native resolution: 1920 x 1080P
Support resolution: 4k, 2k, 1080p, 1080i, 720p, 576i, 480p, 480i
Contrast ratio: 15000:1
Maximum screen size: 300 inches
LED life: >150,000 hours
Wireless function: Bluetooth & WiFi 
Restore the truest color!
The latest color calibration and adjustment technology of XGODY WiFi Bluetooth projector can restore more complex color details, and the video projector also adopts the latest NTSC color technology design, which increases the color contrast to 15000:1, which is for our customers provides real, dynamic, and colorful high-definition projection image quality.
Freely change the angle
Various aspect ratio adjustment modes allow you to freely adjust the screen size and projection distance. The flexible installation method allows you to freely choose the projection method, whether it is front, rear, ceiling front, or ceiling rear projection, you can freely choose according to your need. Place it at will, not taking up space. Let the XGODY projector accompany you through every moment of leisure time!

LED Cool Light Source Lens & Long Life
The LED light source has greatly extended the service life of the Bluetooth projector. A diffuse light refractive technology can better protect your eyes and skin from blue light stimuli, keeping you a healthy view daily!

Turbo Cooling and Quiet - 24 hours of continuous work without stress
The newly upgraded cooling system allows the projector to dissipate heat better and protect the projector better.

Dual Built-in HiFi Stereo Speakers - Dolby Audio
Built-in dual stereo speakers (3W) with sound system. With double clear sound quality, the powerful speakers of the WiFi Bluetooth projector give you an immersive experience.

Low Noise
The upgraded noise reduction system makes the projector better noise reduction, reduces noise, and brings you a better listening experience.
***
How to wirelessly screen mirror your IOS and Android devices?
Go to settings, connect the projector to your home Wi-Fi (make sure your phone is connected to the same Wi-Fi).
Open the Screen Mirroring settings in Control Center, select DUALCAST.
Complete the wireless projection of the phone.
*********
---- Linking ---- 
1.Most items are shipping free, you can check the description in the listing. Order will be shipped within 72 hours after payment made.
2.The shipping time is based on the shipping option, sometimes it may be delayed due to varied situation (such as holidays, war, weather etc.), please contact us immediately if delivery time exceeds estimated.
3.Import taxes, duties and related customs fees may be charged once the parcel arrives at the destination country. These charges are determined by the customs office of the specific destination. Payment of these charges and taxes is the responsibility of the recipient and will not be covered by us here at Xgody. For further details of charges, please contact your local customs office.
4.Time Schedule- F

ast Shipping
| | |
| --- | --- |
| United States/Australia/UK |  4-10 working days |
| Canada/Israel/ Azerbaijan / Russia/Maldives/ Eastern Europe/ Middle East |  9-18 working days |
| Brazil/Chile/South America |  9-18 working days |
| Western Europe/New Zealand |  7-10 working days |
If you are not happy with your purchase and wish to return an item, please contact us immediatelysince receiving your order. Our customs support email is support@xgody.com. Please write down your order number and user ID in the return parcel.
All returns must be in original condition with packaging intact to avoid damage during shipment, any physical damage during the return shipment will not be accepted. Returned parcel need to provide shipment number for tracking.
We will get back to you once we receive the return parcel. Money or replacement will be arranged within 24-48 hours after the return parcel delivered.
-
1.Why Choose Xgody?
Brand XGODY was established in 2014 with great advantages in electronic products. More than that, the operating team has more than 10 years experiences on e-commerce.. We know exactly what the buyer concerns and worries. Making sure you will have a wonderful shopping experience by providing what you need and getting rid of what you worried about. It is no doubt to choose us with our high quality of product, good shipping way, and good customs support.
2.What payment methods do you accept?
We accept all major credit cards (VISA, Mastercard, AMEX) and PayPal payments. We do not accept personal checks, money orders, direct bank transfers, western union, or cash on delivery.
3.Can I change my shipping address after placing an order?
Please be advised that your shipping address cannot be revised after the order has been processed or shipped. Kindly update your shipping address to your residential address instead of your vacation address as we do not know how long the destination's customs department will have the package on hold.
4.How do I track my order?
The tracking number can be queried in the background. Also, we will email your tracking information as soon as your order has shipped. Usually you will receive the tracking number one day after we have shipped your order. In addition, if you still do not know how to query and track, you can also contact customer service freely.
5.Will I be charged with customs and taxes?
Import taxes, duties and related customs fees may be charged once your order arrives to its final destination, which are determined by your local customs office.
Payment of these charges and taxes are your responsibility and will not be covered by us. We are not responsible for delays caused by the customs department in your country. For further details of charges, please contact your local customs office. 
6.What Do I Do If I Have Missing Items In My Order?
If something is still missing, please contact us immediately.
7.What if the item(s) I received are defective/incorrect/damaged?
Please contact us within 7 days from receiving your order if you received merchandise that is incorrect, missing, and/or defective. Please include your order number, photographs of the item(s) and all related references upon receiving your package. We will do our very best to resolve your case as soon as possible.
8.How do I return an item?
If you are not happy with your purchase and wish to return an item, please contact us immediately from receiving your order. Please provide your order number as well as the reason for your return. Our customer service team will review the return request and will send further instructions if the return is approved.
For a list of final sale items, please see our Warranty Info and Refund Policy. All returns must be in original condition with packaging intact.
9.When will I receive my refund?
All refunds will be credited to your original form of payment. If you paid by credit or debit card, refunds will be sent to the card-issuing bank within 7-10 business days of receipt of the returned item or cancellation request. Please contact the card-issuing bank with questions about when the credit will be posted to your account.
If you haven't received a credit for your return yet, here's what to do: Contact the bank/credit card company. It may take some time before the refund is posted to your account.