{"id":6766732050510,"title":"XGODY X13 Unlocked Smartphones, 6.1 Inch Android 9.0 OS with Dual SIM, Massive Battery, Face Recognition","handle":"xgody-x13-unlocked-smartphones-6-1-inch-android-9-0-os-with-dual-sim-massive-battery-face-recognition","description":"\u003cp style=\"text-align: left;\" data-mce-style=\"text-align: left;\"\u003eXGODY smartphone X series, the main focus of business, economy, and practicality.\u003cbr\u003e\u003cbr\u003eXGODY X13 is the existence to meet the needs of daily users such as salarymen who pursue cost-effectiveness, the elderly, and students.\u003cbr\u003e\u003cbr\u003eOur teams continue to work hard on the road of commissioning product performance and continue to reduce the cost of product materials in order to provide customers with a higher user experience under the premise of the same expenditure.\u003cbr\u003e\u003cbr\u003eWe are not the best, but maybe what you need most.\u003c\/p\u003e\n\u003ch2 style=\"text-align: left;\" data-mce-style=\"text-align: left;\"\u003e\u003cstrong\u003e\u003c\/strong\u003e\u003c\/h2\u003e\n\u003cp\u003e \u003c\/p\u003e\n\u003cdiv style=\"text-align: center;\" data-mce-style=\"text-align: center;\"\u003e\u003c\/div\u003e\n\u003cdiv style=\"text-align: center;\" data-mce-style=\"text-align: center;\"\u003e\u003c\/div\u003e\n\u003cp style=\"text-align: center;\" data-mce-style=\"text-align: center;\"\u003e\u003cstrong\u003e----Linking Video----\u003c\/strong\u003e\u003c\/p\u003e\n\u003cdiv style=\"text-align: center;\" data-mce-style=\"text-align: center;\"\u003e\u003c\/div\u003e\n\u003cp style=\"text-align: center;\" data-mce-style=\"text-align: center;\"\u003e\u003ciframe title=\"The best 4G Unlocked Phones in America 2022, Just $79.99 in XGODY Smart Phone? 😀\" src=\"https:\/\/www.youtube.com\/embed\/kVgo6atAz9Q\" height=\"560\" width=\"1000\" allowfullscreen=\"\" allow=\"accelerometer; autoplay; clipboard-write; encrypted-media; gyroscope; picture-in-picture\" frameborder=\"0\"\u003e\u003c\/iframe\u003e\u003c\/p\u003e\n\u003cdiv style=\"text-align: center;\" data-mce-style=\"text-align: center;\"\u003e\n\u003cp style=\"text-align: center;\" data-mce-style=\"text-align: center;\"\u003e\u003cstrong\u003e----Linking People----\u003c\/strong\u003e\u003c\/p\u003e\n\u003c\/div\u003e\n\u003cdiv style=\"text-align: center;\" data-mce-style=\"text-align: center;\"\u003e\u003c\/div\u003e\n\u003cdiv style=\"text-align: center;\" data-mce-style=\"text-align: center;\"\u003e\u003cimg src=\"https:\/\/cdn.shopifycdn.net\/s\/files\/1\/0100\/3542\/9454\/files\/1_116b72de-bdbd-4e81-a4f2-ce0a06d0324e_1024x1024.jpg?v=1657018302\" alt=\"\" style=\"float: none;\" data-mce-style=\"float: none;\"\u003e\u003c\/div\u003e\n\u003cdiv style=\"text-align: center;\" data-mce-style=\"text-align: center;\"\u003e\u003cimg src=\"https:\/\/cdn.shopifycdn.net\/s\/files\/1\/0100\/3542\/9454\/files\/2_6855b44b-3fda-428d-a31a-eb03a9bc8d70_1024x1024.jpg?v=1657018316\" alt=\"\" style=\"float: none;\" data-mce-style=\"float: none;\"\u003e\u003c\/div\u003e\n\u003cdiv style=\"text-align: center;\" data-mce-style=\"text-align: center;\"\u003e\u003cimg src=\"https:\/\/cdn.shopifycdn.net\/s\/files\/1\/0100\/3542\/9454\/files\/4_0e4aa6ff-cb0b-47fc-a96c-1b66fff19980_1024x1024.jpg?v=1657018340\" alt=\"\" style=\"float: none;\" data-mce-style=\"float: none;\"\u003e\u003c\/div\u003e\n\u003cp\u003e\u003cbr\u003e\u003c\/p\u003e\n\u003cp\u003e \u003c\/p\u003e\n\u003cdiv style=\"text-align: center;\" data-mce-style=\"text-align: center;\"\u003e\u003cimg src=\"https:\/\/cdn.shopifycdn.net\/s\/files\/1\/0100\/3542\/9454\/files\/1_5d4b2b3e-fcd6-4f43-9bd1-460de72831cf_1024x1024.jpg?v=1657018365\" style=\"float: none;\" data-mce-style=\"float: none;\"\u003e\u003c\/div\u003e\n\u003cdiv style=\"text-align: center;\" data-mce-style=\"text-align: center;\"\u003e\u003cimg src=\"https:\/\/cdn.shopifycdn.net\/s\/files\/1\/0100\/3542\/9454\/files\/2_5ea4b6d2-65fb-4aad-92f6-7c00b8b7836b_1024x1024.jpg?v=1657018565\" alt=\"\" style=\"float: none;\" data-mce-style=\"float: none;\"\u003e\u003c\/div\u003e\n\u003cdiv style=\"text-align: center;\" data-mce-style=\"text-align: center;\"\u003e\u003cimg src=\"https:\/\/cdn.shopifycdn.net\/s\/files\/1\/0100\/3542\/9454\/files\/3_ff752110-2c3d-4e15-ad61-cedd1e072984_1024x1024.jpg?v=1657018581\" alt=\"\" style=\"float: none;\" data-mce-style=\"float: none;\"\u003e\u003c\/div\u003e\n\u003cdiv style=\"text-align: center;\" data-mce-style=\"text-align: center;\"\u003e\u003cimg src=\"https:\/\/cdn.shopifycdn.net\/s\/files\/1\/0100\/3542\/9454\/files\/4_840e92e0-9141-4d46-b02b-d162a442c20e_1024x1024.jpg?v=1657018601\" alt=\"\" style=\"float: none;\" data-mce-style=\"float: none;\"\u003e\u003c\/div\u003e\n\u003cdiv style=\"text-align: center;\" data-mce-style=\"text-align: center;\"\u003e\u003c\/div\u003e\n\u003cdiv style=\"text-align: center;\" data-mce-style=\"text-align: center;\"\u003e\u003cimg src=\"https:\/\/cdn.shopifycdn.net\/s\/files\/1\/0100\/3542\/9454\/files\/5_3300fa8c-4cb1-4d68-8a9a-fa89e43fee23_1024x1024.jpg?v=1657018615\" alt=\"\" style=\"float: none;\" data-mce-style=\"float: none;\"\u003e\u003c\/div\u003e\n\u003cdiv style=\"text-align: center;\" data-mce-style=\"text-align: center;\"\u003e\u003cimg src=\"https:\/\/cdn.shopifycdn.net\/s\/files\/1\/0100\/3542\/9454\/files\/6_194866fd-9773-4dcc-ad9e-155477b7f3ba_1024x1024.jpg?v=1657018636\" alt=\"\" style=\"float: none;\" data-mce-style=\"float: none;\"\u003e\u003c\/div\u003e\n\u003cdiv style=\"text-align: center;\" data-mce-style=\"text-align: center;\"\u003e\u003c\/div\u003e\n\u003cdiv style=\"text-align: center;\" data-mce-style=\"text-align: center;\"\u003e\n\u003cimg src=\"https:\/\/cdn.shopifycdn.net\/s\/files\/1\/0100\/3542\/9454\/files\/3_708699c3-68f5-4c2f-ac6c-f0ac0e4bdbef_1024x1024.jpg?v=1657018756\" alt=\"\"\u003e\u003cimg data-mce-fragment=\"1\" alt=\"\" src=\"https:\/\/cdn.shopifycdn.net\/s\/files\/1\/0100\/3542\/9454\/files\/4_5eabb650-a3d8-4cd4-8915-816d70520afc_1024x1024.jpg?v=1657018787\" data-mce-src=\"https:\/\/cdn.shopifycdn.net\/s\/files\/1\/0100\/3542\/9454\/files\/4_5eabb650-a3d8-4cd4-8915-816d70520afc_1024x1024.jpg?v=1657018787\"\u003e\u003cimg data-mce-fragment=\"1\" alt=\"\" src=\"https:\/\/cdn.shopifycdn.net\/s\/files\/1\/0100\/3542\/9454\/files\/ac6a24cc7db52c8c792b879e105801e0_1024x1024.jpg?v=1657018812\" data-mce-src=\"https:\/\/cdn.shopifycdn.net\/s\/files\/1\/0100\/3542\/9454\/files\/ac6a24cc7db52c8c792b879e105801e0_1024x1024.jpg?v=1657018812\"\u003e\n\u003c\/div\u003e\n\u003cdiv style=\"text-align: center;\" data-mce-style=\"text-align: center;\"\u003e\u003c\/div\u003e\n\u003cdiv style=\"text-align: center;\" data-mce-style=\"text-align: center;\"\u003e\u003c\/div\u003e\n\u003cdiv style=\"text-align: center;\" data-mce-style=\"text-align: center;\"\u003e\u003c\/div\u003e\n\u003cdiv style=\"text-align: center;\" data-mce-style=\"text-align: center;\"\u003e\u003c\/div\u003e\n\u003ch2 style=\"text-align: center;\" data-mce-style=\"text-align: center;\"\u003e\u003c\/h2\u003e\n\u003ch2 style=\"text-align: center;\" data-mce-style=\"text-align: center;\"\u003e\u003c\/h2\u003e\n\u003ch2 style=\"text-align: center;\" data-mce-style=\"text-align: center;\"\u003e\u003c\/h2\u003e\n\u003ch2 style=\"text-align: center;\" data-mce-style=\"text-align: center;\"\u003e\u003c\/h2\u003e\n\u003ch2 style=\"text-align: center;\" data-mce-style=\"text-align: center;\"\u003e\u003c\/h2\u003e\n\u003ch2 data-mce-style=\"text-align: center;\"\u003e\u003c\/h2\u003e\n\u003ch2 style=\"text-align: left;\"\u003e\u003cstrong\u003e\u003c\/strong\u003e\u003c\/h2\u003e\n\u003ch2 style=\"text-align: left;\"\u003e\u003cstrong\u003e\u003c\/strong\u003e\u003c\/h2\u003e\n\u003ch2 style=\"text-align: left;\"\u003e\u003cstrong\u003e\u003c\/strong\u003e\u003c\/h2\u003e\n\u003ch2 style=\"text-align: left;\"\u003e\u003cstrong\u003e\u003cbr\u003e\u003c\/strong\u003e\u003c\/h2\u003e\n\u003ch2 style=\"text-align: left;\"\u003e\u003cstrong\u003eFeatures of XGODY Smartphone X13\u003c\/strong\u003e\u003c\/h2\u003e\n\u003cp style=\"text-align: left;\"\u003e● 4G LTE high-speed Internet access speed is more than 20 times higher than that of 3G mobile phones.\u003c\/p\u003e\n\u003cp\u003e● The 6-inch body with a Stylish design weighs only 198g, which is convenient for you to carry outdoors.\u003c\/p\u003e\n\u003cp\u003e● ROM 16GB \u0026amp; RAM 2GB \u0026amp; Quad-Core Processor, enough for you to easily switch between 4-6 apps in your daily life.\u003c\/p\u003e\n\u003cp\u003e● Smart face ID, compared to fingerprint unlocking, free your hands, faster and safer.\u003c\/p\u003e\n\u003cp\u003e● 5MP + 5MP Camera + 256GB memory card expansion (not included), it is convenient for you to record the moments of your life.\u003c\/p\u003e\n\u003cp\u003e● 3000mAh battery, the video playback time is 4-5 hours, the 4G Internet access is 6-8 hours, the music playback time is 10-12 hours, and the standby time is more than 24 hours.\u003c\/p\u003e\n\u003cp\u003e \u003c\/p\u003e\n\u003ch2 data-mce-style=\"text-align: center;\"\u003e\u003c\/h2\u003e\n\u003ch2 data-mce-style=\"text-align: center;\"\u003e\u003c\/h2\u003e\n\u003ch2 data-mce-style=\"text-align: center;\"\u003e2022 Version, Upgrade board, XGODY X13 Specific Parameters\u003c\/h2\u003e\n\u003cp data-mce-style=\"text-align: center;\"\u003eModel Name:XGODY X13 Android Phone\u003cbr\u003eWireless Carrier:Unlocked for All Carriers\u003cbr\u003eModel Number: Dual SIM X13 (LTE+WCDMA+GSM)\u003cbr\u003eMemory Storage Capacity:16 GB\u003cbr\u003eOperating System:Android 9.0\u003cbr\u003eCellular Technology:4G(FDD-LTE B1\/3\/7\/8\/20)\u003cbr\u003eCharger:USB - Type C\u003cbr\u003eScreen Size:6.1 Inches\u003cbr\u003eCamera Resolution: 5.0MP\u003cbr\u003eConnectivity: 2G, 3G, 4G, Bluetooth, GPRS, GPS, Micro USB, USB, WAP, Wi-Fi.\u003cbr\u003e \u003cbr\u003eFeatures: \u003cbr\u003e3G Data Capable, 4G Data Capable, Accelerometer, Air Gesture, Bluetooth Enabled, Dual SIM, Front Camera, GPS, Internet Browser, Music Player, Rear Camera, Speakerphone, Touchscreen, Wi-Fi Capable, Facial Recognition.\u003cbr\u003e\u003cbr\u003eNote:\u003cbr\u003e● 4G LTE Dual SIM Dual Standby, when one shows 4G signal, the other can only show 3G\u003cbr\u003e● 2+1 slots design: Nano SIM + Micro SIM (SIM Card is not included) + Up to 256GB (SD Card is not included)\u003c\/p\u003e\n\u003cp data-mce-style=\"text-align: center;\"\u003e \u003c\/p\u003e\n\u003cp data-mce-style=\"text-align: center;\"\u003e\u003cbr\u003e\u003c\/p\u003e\n\u003cp style=\"text-align: center;\" data-mce-style=\"text-align: center;\"\u003e* \u003c\/p\u003e\n\u003cdiv style=\"text-align: center;\"\u003e\u003cimg src=\"https:\/\/cdn.shopify.com\/s\/files\/1\/0100\/3542\/9454\/files\/01_2fdaa1f6-5a46-410d-a36a-9cc39134f8af_1024x1024.jpg?v=1646212895\" alt=\"\" style=\"float: none;\"\u003e\u003c\/div\u003e","published_at":"2022-07-05T19:28:09+08:00","created_at":"2022-07-05T19:06:30+08:00","vendor":"XGODY ","type":"Mobile Phones","tags":[],"price":7999,"price_min":7999,"price_max":8550,"available":true,"price_varies":true,"compare_at_price":null,"compare_at_price_min":0,"compare_at_price_max":0,"compare_at_price_varies":false,"variants":[{"id":39892772454478,"title":"Blue \/ Standard","option1":"Blue","option2":"Standard","option3":null,"sku":"","requires_shipping":true,"taxable":true,"featured_image":{"id":29470594367566,"product_id":6766732050510,"position":1,"created_at":"2022-08-13T17:18:50+08:00","updated_at":"2022-08-13T17:18:50+08:00","alt":"Cost-effective and Most worthwhile XGODY X13 Unlocked Smartphones, 6.1 Inch Android 9.0 OS with Dual SIM, Massive Battery, Face Recognition - XGODY ","width":1500,"height":1500,"src":"\/\/xgody.com\/cdn\/shop\/products\/the-best-xgody-x13-unlocked-smartphones-6-1-inch-android-9-0-os-with-dual-sim-massive-battery-face-recognition-1.jpg?v=1660382330","variant_ids":[39892772454478,39892773077070,39892773109838]},"available":true,"name":"XGODY X13 Unlocked Smartphones, 6.1 Inch Android 9.0 OS with Dual SIM, Massive Battery, Face Recognition - Blue \/ Standard","public_title":"Blue \/ Standard","options":["Blue","Standard"],"price":7999,"weight":0,"compare_at_price":null,"inventory_management":"shopify","barcode":"","featured_media":{"alt":"Cost-effective and Most worthwhile XGODY X13 Unlocked Smartphones, 6.1 Inch Android 9.0 OS with Dual SIM, Massive Battery, Face Recognition - XGODY ","id":21817155027022,"position":1,"preview_image":{"aspect_ratio":1.0,"height":1500,"width":1500,"src":"\/\/xgody.com\/cdn\/shop\/products\/the-best-xgody-x13-unlocked-smartphones-6-1-inch-android-9-0-os-with-dual-sim-massive-battery-face-recognition-1.jpg?v=1660382330"}},"requires_selling_plan":false,"selling_plan_allocations":[]},{"id":39892773077070,"title":"Blue \/ Standard + 16GB TF Card","option1":"Blue","option2":"Standard + 16GB TF Card","option3":null,"sku":"","requires_shipping":true,"taxable":true,"featured_image":{"id":29470594367566,"product_id":6766732050510,"position":1,"created_at":"2022-08-13T17:18:50+08:00","updated_at":"2022-08-13T17:18:50+08:00","alt":"Cost-effective and Most worthwhile XGODY X13 Unlocked Smartphones, 6.1 Inch Android 9.0 OS with Dual SIM, Massive Battery, Face Recognition - XGODY ","width":1500,"height":1500,"src":"\/\/xgody.com\/cdn\/shop\/products\/the-best-xgody-x13-unlocked-smartphones-6-1-inch-android-9-0-os-with-dual-sim-massive-battery-face-recognition-1.jpg?v=1660382330","variant_ids":[39892772454478,39892773077070,39892773109838]},"available":true,"name":"XGODY X13 Unlocked Smartphones, 6.1 Inch Android 9.0 OS with Dual SIM, Massive Battery, Face Recognition - Blue \/ Standard + 16GB TF Card","public_title":"Blue \/ Standard + 16GB TF Card","options":["Blue","Standard + 16GB TF Card"],"price":8399,"weight":0,"compare_at_price":null,"inventory_management":"shopify","barcode":"","featured_media":{"alt":"Cost-effective and Most worthwhile XGODY X13 Unlocked Smartphones, 6.1 Inch Android 9.0 OS with Dual SIM, Massive Battery, Face Recognition - XGODY ","id":21817155027022,"position":1,"preview_image":{"aspect_ratio":1.0,"height":1500,"width":1500,"src":"\/\/xgody.com\/cdn\/shop\/products\/the-best-xgody-x13-unlocked-smartphones-6-1-inch-android-9-0-os-with-dual-sim-massive-battery-face-recognition-1.jpg?v=1660382330"}},"requires_selling_plan":false,"selling_plan_allocations":[]},{"id":39892773109838,"title":"Blue \/ Standard + 32GB TF Card","option1":"Blue","option2":"Standard + 32GB TF Card","option3":null,"sku":"","requires_shipping":true,"taxable":true,"featured_image":{"id":29470594367566,"product_id":6766732050510,"position":1,"created_at":"2022-08-13T17:18:50+08:00","updated_at":"2022-08-13T17:18:50+08:00","alt":"Cost-effective and Most worthwhile XGODY X13 Unlocked Smartphones, 6.1 Inch Android 9.0 OS with Dual SIM, Massive Battery, Face Recognition - XGODY ","width":1500,"height":1500,"src":"\/\/xgody.com\/cdn\/shop\/products\/the-best-xgody-x13-unlocked-smartphones-6-1-inch-android-9-0-os-with-dual-sim-massive-battery-face-recognition-1.jpg?v=1660382330","variant_ids":[39892772454478,39892773077070,39892773109838]},"available":true,"name":"XGODY X13 Unlocked Smartphones, 6.1 Inch Android 9.0 OS with Dual SIM, Massive Battery, Face Recognition - Blue \/ Standard + 32GB TF Card","public_title":"Blue \/ Standard + 32GB TF Card","options":["Blue","Standard + 32GB TF Card"],"price":8550,"weight":0,"compare_at_price":null,"inventory_management":"shopify","barcode":"","featured_media":{"alt":"Cost-effective and Most worthwhile XGODY X13 Unlocked Smartphones, 6.1 Inch Android 9.0 OS with Dual SIM, Massive Battery, Face Recognition - XGODY ","id":21817155027022,"position":1,"preview_image":{"aspect_ratio":1.0,"height":1500,"width":1500,"src":"\/\/xgody.com\/cdn\/shop\/products\/the-best-xgody-x13-unlocked-smartphones-6-1-inch-android-9-0-os-with-dual-sim-massive-battery-face-recognition-1.jpg?v=1660382330"}},"requires_selling_plan":false,"selling_plan_allocations":[]},{"id":39892772388942,"title":"Black \/ Standard","option1":"Black","option2":"Standard","option3":null,"sku":"","requires_shipping":true,"taxable":true,"featured_image":{"id":29470594564174,"product_id":6766732050510,"position":7,"created_at":"2022-08-13T17:19:04+08:00","updated_at":"2022-08-13T17:19:05+08:00","alt":"Cost-effective and Most worthwhile XGODY X13 Unlocked Smartphones, 6.1 Inch Android 9.0 OS with Dual SIM, Massive Battery, Face Recognition - XGODY ","width":1500,"height":1500,"src":"\/\/xgody.com\/cdn\/shop\/products\/the-best-xgody-x13-unlocked-smartphones-6-1-inch-android-9-0-os-with-dual-sim-massive-battery-face-recognition-7.jpg?v=1660382345","variant_ids":[39892772388942,39892772945998,39892772978766]},"available":true,"name":"XGODY X13 Unlocked Smartphones, 6.1 Inch Android 9.0 OS with Dual SIM, Massive Battery, Face Recognition - Black \/ Standard","public_title":"Black \/ Standard","options":["Black","Standard"],"price":7999,"weight":0,"compare_at_price":null,"inventory_management":"shopify","barcode":"","featured_media":{"alt":"Cost-effective and Most worthwhile XGODY X13 Unlocked Smartphones, 6.1 Inch Android 9.0 OS with Dual SIM, Massive Battery, Face Recognition - XGODY ","id":21817155223630,"position":7,"preview_image":{"aspect_ratio":1.0,"height":1500,"width":1500,"src":"\/\/xgody.com\/cdn\/shop\/products\/the-best-xgody-x13-unlocked-smartphones-6-1-inch-android-9-0-os-with-dual-sim-massive-battery-face-recognition-7.jpg?v=1660382345"}},"requires_selling_plan":false,"selling_plan_allocations":[]},{"id":39892772945998,"title":"Black \/ Standard + 16GB TF Card","option1":"Black","option2":"Standard + 16GB TF Card","option3":null,"sku":"","requires_shipping":true,"taxable":true,"featured_image":{"id":29470594564174,"product_id":6766732050510,"position":7,"created_at":"2022-08-13T17:19:04+08:00","updated_at":"2022-08-13T17:19:05+08:00","alt":"Cost-effective and Most worthwhile XGODY X13 Unlocked Smartphones, 6.1 Inch Android 9.0 OS with Dual SIM, Massive Battery, Face Recognition - XGODY ","width":1500,"height":1500,"src":"\/\/xgody.com\/cdn\/shop\/products\/the-best-xgody-x13-unlocked-smartphones-6-1-inch-android-9-0-os-with-dual-sim-massive-battery-face-recognition-7.jpg?v=1660382345","variant_ids":[39892772388942,39892772945998,39892772978766]},"available":true,"name":"XGODY X13 Unlocked Smartphones, 6.1 Inch Android 9.0 OS with Dual SIM, Massive Battery, Face Recognition - Black \/ Standard + 16GB TF Card","public_title":"Black \/ Standard + 16GB TF Card","options":["Black","Standard + 16GB TF Card"],"price":8399,"weight":0,"compare_at_price":null,"inventory_management":"shopify","barcode":"","featured_media":{"alt":"Cost-effective and Most worthwhile XGODY X13 Unlocked Smartphones, 6.1 Inch Android 9.0 OS with Dual SIM, Massive Battery, Face Recognition - XGODY ","id":21817155223630,"position":7,"preview_image":{"aspect_ratio":1.0,"height":1500,"width":1500,"src":"\/\/xgody.com\/cdn\/shop\/products\/the-best-xgody-x13-unlocked-smartphones-6-1-inch-android-9-0-os-with-dual-sim-massive-battery-face-recognition-7.jpg?v=1660382345"}},"requires_selling_plan":false,"selling_plan_allocations":[]},{"id":39892772978766,"title":"Black \/ Standard + 32GB TF Card","option1":"Black","option2":"Standard + 32GB TF Card","option3":null,"sku":"","requires_shipping":true,"taxable":true,"featured_image":{"id":29470594564174,"product_id":6766732050510,"position":7,"created_at":"2022-08-13T17:19:04+08:00","updated_at":"2022-08-13T17:19:05+08:00","alt":"Cost-effective and Most worthwhile XGODY X13 Unlocked Smartphones, 6.1 Inch Android 9.0 OS with Dual SIM, Massive Battery, Face Recognition - XGODY ","width":1500,"height":1500,"src":"\/\/xgody.com\/cdn\/shop\/products\/the-best-xgody-x13-unlocked-smartphones-6-1-inch-android-9-0-os-with-dual-sim-massive-battery-face-recognition-7.jpg?v=1660382345","variant_ids":[39892772388942,39892772945998,39892772978766]},"available":true,"name":"XGODY X13 Unlocked Smartphones, 6.1 Inch Android 9.0 OS with Dual SIM, Massive Battery, Face Recognition - Black \/ Standard + 32GB TF Card","public_title":"Black \/ Standard + 32GB TF Card","options":["Black","Standard + 32GB TF Card"],"price":8550,"weight":0,"compare_at_price":null,"inventory_management":"shopify","barcode":"","featured_media":{"alt":"Cost-effective and Most worthwhile XGODY X13 Unlocked Smartphones, 6.1 Inch Android 9.0 OS with Dual SIM, Massive Battery, Face Recognition - XGODY ","id":21817155223630,"position":7,"preview_image":{"aspect_ratio":1.0,"height":1500,"width":1500,"src":"\/\/xgody.com\/cdn\/shop\/products\/the-best-xgody-x13-unlocked-smartphones-6-1-inch-android-9-0-os-with-dual-sim-massive-battery-face-recognition-7.jpg?v=1660382345"}},"requires_selling_plan":false,"selling_plan_allocations":[]},{"id":39892772421710,"title":"Gold \/ Standard","option1":"Gold","option2":"Standard","option3":null,"sku":"","requires_shipping":true,"taxable":true,"featured_image":{"id":29470594596942,"product_id":6766732050510,"position":8,"created_at":"2022-08-13T17:19:07+08:00","updated_at":"2022-08-13T17:19:07+08:00","alt":"Cost-effective and Most worthwhile XGODY X13 Unlocked Smartphones, 6.1 Inch Android 9.0 OS with Dual SIM, Massive Battery, Face Recognition - XGODY ","width":1500,"height":1500,"src":"\/\/xgody.com\/cdn\/shop\/products\/the-best-xgody-x13-unlocked-smartphones-6-1-inch-android-9-0-os-with-dual-sim-massive-battery-face-recognition-8.jpg?v=1660382347","variant_ids":[39892772421710,39892773011534,39892773044302]},"available":true,"name":"XGODY X13 Unlocked Smartphones, 6.1 Inch Android 9.0 OS with Dual SIM, Massive Battery, Face Recognition - Gold \/ Standard","public_title":"Gold \/ Standard","options":["Gold","Standard"],"price":7999,"weight":0,"compare_at_price":null,"inventory_management":"shopify","barcode":"","featured_media":{"alt":"Cost-effective and Most worthwhile XGODY X13 Unlocked Smartphones, 6.1 Inch Android 9.0 OS with Dual SIM, Massive Battery, Face Recognition - XGODY ","id":21817155256398,"position":8,"preview_image":{"aspect_ratio":1.0,"height":1500,"width":1500,"src":"\/\/xgody.com\/cdn\/shop\/products\/the-best-xgody-x13-unlocked-smartphones-6-1-inch-android-9-0-os-with-dual-sim-massive-battery-face-recognition-8.jpg?v=1660382347"}},"requires_selling_plan":false,"selling_plan_allocations":[]},{"id":39892773011534,"title":"Gold \/ Standard + 16GB TF Card","option1":"Gold","option2":"Standard + 16GB TF Card","option3":null,"sku":"","requires_shipping":true,"taxable":true,"featured_image":{"id":29470594596942,"product_id":6766732050510,"position":8,"created_at":"2022-08-13T17:19:07+08:00","updated_at":"2022-08-13T17:19:07+08:00","alt":"Cost-effective and Most worthwhile XGODY X13 Unlocked Smartphones, 6.1 Inch Android 9.0 OS with Dual SIM, Massive Battery, Face Recognition - XGODY ","width":1500,"height":1500,"src":"\/\/xgody.com\/cdn\/shop\/products\/the-best-xgody-x13-unlocked-smartphones-6-1-inch-android-9-0-os-with-dual-sim-massive-battery-face-recognition-8.jpg?v=1660382347","variant_ids":[39892772421710,39892773011534,39892773044302]},"available":true,"name":"XGODY X13 Unlocked Smartphones, 6.1 Inch Android 9.0 OS with Dual SIM, Massive Battery, Face Recognition - Gold \/ Standard + 16GB TF Card","public_title":"Gold \/ Standard + 16GB TF Card","options":["Gold","Standard + 16GB TF Card"],"price":8399,"weight":0,"compare_at_price":null,"inventory_management":"shopify","barcode":"","featured_media":{"alt":"Cost-effective and Most worthwhile XGODY X13 Unlocked Smartphones, 6.1 Inch Android 9.0 OS with Dual SIM, Massive Battery, Face Recognition - XGODY ","id":21817155256398,"position":8,"preview_image":{"aspect_ratio":1.0,"height":1500,"width":1500,"src":"\/\/xgody.com\/cdn\/shop\/products\/the-best-xgody-x13-unlocked-smartphones-6-1-inch-android-9-0-os-with-dual-sim-massive-battery-face-recognition-8.jpg?v=1660382347"}},"requires_selling_plan":false,"selling_plan_allocations":[]},{"id":39892773044302,"title":"Gold \/ Standard + 32GB TF Card","option1":"Gold","option2":"Standard + 32GB TF Card","option3":null,"sku":"","requires_shipping":true,"taxable":true,"featured_image":{"id":29470594596942,"product_id":6766732050510,"position":8,"created_at":"2022-08-13T17:19:07+08:00","updated_at":"2022-08-13T17:19:07+08:00","alt":"Cost-effective and Most worthwhile XGODY X13 Unlocked Smartphones, 6.1 Inch Android 9.0 OS with Dual SIM, Massive Battery, Face Recognition - XGODY ","width":1500,"height":1500,"src":"\/\/xgody.com\/cdn\/shop\/products\/the-best-xgody-x13-unlocked-smartphones-6-1-inch-android-9-0-os-with-dual-sim-massive-battery-face-recognition-8.jpg?v=1660382347","variant_ids":[39892772421710,39892773011534,39892773044302]},"available":true,"name":"XGODY X13 Unlocked Smartphones, 6.1 Inch Android 9.0 OS with Dual SIM, Massive Battery, Face Recognition - Gold \/ Standard + 32GB TF Card","public_title":"Gold \/ Standard + 32GB TF Card","options":["Gold","Standard + 32GB TF Card"],"price":8550,"weight":0,"compare_at_price":null,"inventory_management":"shopify","barcode":"","featured_media":{"alt":"Cost-effective and Most worthwhile XGODY X13 Unlocked Smartphones, 6.1 Inch Android 9.0 OS with Dual SIM, Massive Battery, Face Recognition - XGODY ","id":21817155256398,"position":8,"preview_image":{"aspect_ratio":1.0,"height":1500,"width":1500,"src":"\/\/xgody.com\/cdn\/shop\/products\/the-best-xgody-x13-unlocked-smartphones-6-1-inch-android-9-0-os-with-dual-sim-massive-battery-face-recognition-8.jpg?v=1660382347"}},"requires_selling_plan":false,"selling_plan_allocations":[]}],"images":["\/\/xgody.com\/cdn\/shop\/products\/the-best-xgody-x13-unlocked-smartphones-6-1-inch-android-9-0-os-with-dual-sim-massive-battery-face-recognition-1.jpg?v=1660382330","\/\/xgody.com\/cdn\/shop\/products\/the-best-xgody-x13-unlocked-smartphones-6-1-inch-android-9-0-os-with-dual-sim-massive-battery-face-recognition-2.jpg?v=1660382333","\/\/xgody.com\/cdn\/shop\/products\/the-best-xgody-x13-unlocked-smartphones-6-1-inch-android-9-0-os-with-dual-sim-massive-battery-face-recognition-3.jpg?v=1660382335","\/\/xgody.com\/cdn\/shop\/products\/the-best-xgody-x13-unlocked-smartphones-6-1-inch-android-9-0-os-with-dual-sim-massive-battery-face-recognition-4.jpg?v=1660382337","\/\/xgody.com\/cdn\/shop\/products\/the-best-xgody-x13-unlocked-smartphones-6-1-inch-android-9-0-os-with-dual-sim-massive-battery-face-recognition-5.jpg?v=1660382340","\/\/xgody.com\/cdn\/shop\/products\/the-best-xgody-x13-unlocked-smartphones-6-1-inch-android-9-0-os-with-dual-sim-massive-battery-face-recognition-6.jpg?v=1660382342","\/\/xgody.com\/cdn\/shop\/products\/the-best-xgody-x13-unlocked-smartphones-6-1-inch-android-9-0-os-with-dual-sim-massive-battery-face-recognition-7.jpg?v=1660382345","\/\/xgody.com\/cdn\/shop\/products\/the-best-xgody-x13-unlocked-smartphones-6-1-inch-android-9-0-os-with-dual-sim-massive-battery-face-recognition-8.jpg?v=1660382347"],"featured_image":"\/\/xgody.com\/cdn\/shop\/products\/the-best-xgody-x13-unlocked-smartphones-6-1-inch-android-9-0-os-with-dual-sim-massive-battery-face-recognition-1.jpg?v=1660382330","options":["Color","Optional"],"media":[{"alt":"Cost-effective and Most worthwhile XGODY X13 Unlocked Smartphones, 6.1 Inch Android 9.0 OS with Dual SIM, Massive Battery, Face Recognition - XGODY ","id":21817155027022,"position":1,"preview_image":{"aspect_ratio":1.0,"height":1500,"width":1500,"src":"\/\/xgody.com\/cdn\/shop\/products\/the-best-xgody-x13-unlocked-smartphones-6-1-inch-android-9-0-os-with-dual-sim-massive-battery-face-recognition-1.jpg?v=1660382330"},"aspect_ratio":1.0,"height":1500,"media_type":"image","src":"\/\/xgody.com\/cdn\/shop\/products\/the-best-xgody-x13-unlocked-smartphones-6-1-inch-android-9-0-os-with-dual-sim-massive-battery-face-recognition-1.jpg?v=1660382330","width":1500},{"alt":"Cost-effective and Most worthwhile XGODY X13 Unlocked Smartphones, 6.1 Inch Android 9.0 OS with Dual SIM, Massive Battery, Face Recognition - XGODY ","id":21817155059790,"position":2,"preview_image":{"aspect_ratio":1.0,"height":1600,"width":1600,"src":"\/\/xgody.com\/cdn\/shop\/products\/the-best-xgody-x13-unlocked-smartphones-6-1-inch-android-9-0-os-with-dual-sim-massive-battery-face-recognition-2.jpg?v=1660382333"},"aspect_ratio":1.0,"height":1600,"media_type":"image","src":"\/\/xgody.com\/cdn\/shop\/products\/the-best-xgody-x13-unlocked-smartphones-6-1-inch-android-9-0-os-with-dual-sim-massive-battery-face-recognition-2.jpg?v=1660382333","width":1600},{"alt":"Cost-effective and Most worthwhile XGODY X13 Unlocked Smartphones, 6.1 Inch Android 9.0 OS with Dual SIM, Massive Battery, Face Recognition - XGODY ","id":21817155092558,"position":3,"preview_image":{"aspect_ratio":1.0,"height":1600,"width":1600,"src":"\/\/xgody.com\/cdn\/shop\/products\/the-best-xgody-x13-unlocked-smartphones-6-1-inch-android-9-0-os-with-dual-sim-massive-battery-face-recognition-3.jpg?v=1660382335"},"aspect_ratio":1.0,"height":1600,"media_type":"image","src":"\/\/xgody.com\/cdn\/shop\/products\/the-best-xgody-x13-unlocked-smartphones-6-1-inch-android-9-0-os-with-dual-sim-massive-battery-face-recognition-3.jpg?v=1660382335","width":1600},{"alt":"Cost-effective and Most worthwhile XGODY X13 Unlocked Smartphones, 6.1 Inch Android 9.0 OS with Dual SIM, Massive Battery, Face Recognition - XGODY ","id":21817155125326,"position":4,"preview_image":{"aspect_ratio":1.0,"height":1600,"width":1600,"src":"\/\/xgody.com\/cdn\/shop\/products\/the-best-xgody-x13-unlocked-smartphones-6-1-inch-android-9-0-os-with-dual-sim-massive-battery-face-recognition-4.jpg?v=1660382337"},"aspect_ratio":1.0,"height":1600,"media_type":"image","src":"\/\/xgody.com\/cdn\/shop\/products\/the-best-xgody-x13-unlocked-smartphones-6-1-inch-android-9-0-os-with-dual-sim-massive-battery-face-recognition-4.jpg?v=1660382337","width":1600},{"alt":"Cost-effective and Most worthwhile XGODY X13 Unlocked Smartphones, 6.1 Inch Android 9.0 OS with Dual SIM, Massive Battery, Face Recognition - XGODY ","id":21817155158094,"position":5,"preview_image":{"aspect_ratio":1.0,"height":1600,"width":1600,"src":"\/\/xgody.com\/cdn\/shop\/products\/the-best-xgody-x13-unlocked-smartphones-6-1-inch-android-9-0-os-with-dual-sim-massive-battery-face-recognition-5.jpg?v=1660382340"},"aspect_ratio":1.0,"height":1600,"media_type":"image","src":"\/\/xgody.com\/cdn\/shop\/products\/the-best-xgody-x13-unlocked-smartphones-6-1-inch-android-9-0-os-with-dual-sim-massive-battery-face-recognition-5.jpg?v=1660382340","width":1600},{"alt":"Cost-effective and Most worthwhile XGODY X13 Unlocked Smartphones, 6.1 Inch Android 9.0 OS with Dual SIM, Massive Battery, Face Recognition - XGODY ","id":21817155190862,"position":6,"preview_image":{"aspect_ratio":1.0,"height":1600,"width":1600,"src":"\/\/xgody.com\/cdn\/shop\/products\/the-best-xgody-x13-unlocked-smartphones-6-1-inch-android-9-0-os-with-dual-sim-massive-battery-face-recognition-6.jpg?v=1660382342"},"aspect_ratio":1.0,"height":1600,"media_type":"image","src":"\/\/xgody.com\/cdn\/shop\/products\/the-best-xgody-x13-unlocked-smartphones-6-1-inch-android-9-0-os-with-dual-sim-massive-battery-face-recognition-6.jpg?v=1660382342","width":1600},{"alt":"Cost-effective and Most worthwhile XGODY X13 Unlocked Smartphones, 6.1 Inch Android 9.0 OS with Dual SIM, Massive Battery, Face Recognition - XGODY ","id":21817155223630,"position":7,"preview_image":{"aspect_ratio":1.0,"height":1500,"width":1500,"src":"\/\/xgody.com\/cdn\/shop\/products\/the-best-xgody-x13-unlocked-smartphones-6-1-inch-android-9-0-os-with-dual-sim-massive-battery-face-recognition-7.jpg?v=1660382345"},"aspect_ratio":1.0,"height":1500,"media_type":"image","src":"\/\/xgody.com\/cdn\/shop\/products\/the-best-xgody-x13-unlocked-smartphones-6-1-inch-android-9-0-os-with-dual-sim-massive-battery-face-recognition-7.jpg?v=1660382345","width":1500},{"alt":"Cost-effective and Most worthwhile XGODY X13 Unlocked Smartphones, 6.1 Inch Android 9.0 OS with Dual SIM, Massive Battery, Face Recognition - XGODY ","id":21817155256398,"position":8,"preview_image":{"aspect_ratio":1.0,"height":1500,"width":1500,"src":"\/\/xgody.com\/cdn\/shop\/products\/the-best-xgody-x13-unlocked-smartphones-6-1-inch-android-9-0-os-with-dual-sim-massive-battery-face-recognition-8.jpg?v=1660382347"},"aspect_ratio":1.0,"height":1500,"media_type":"image","src":"\/\/xgody.com\/cdn\/shop\/products\/the-best-xgody-x13-unlocked-smartphones-6-1-inch-android-9-0-os-with-dual-sim-massive-battery-face-recognition-8.jpg?v=1660382347","width":1500}],"requires_selling_plan":false,"selling_plan_groups":[],"content":"\u003cp style=\"text-align: left;\" data-mce-style=\"text-align: left;\"\u003eXGODY smartphone X series, the main focus of business, economy, and practicality.\u003cbr\u003e\u003cbr\u003eXGODY X13 is the existence to meet the needs of daily users such as salarymen who pursue cost-effectiveness, the elderly, and students.\u003cbr\u003e\u003cbr\u003eOur teams continue to work hard on the road of commissioning product performance and continue to reduce the cost of product materials in order to provide customers with a higher user experience under the premise of the same expenditure.\u003cbr\u003e\u003cbr\u003eWe are not the best, but maybe what you need most.\u003c\/p\u003e\n\u003ch2 style=\"text-align: left;\" data-mce-style=\"text-align: left;\"\u003e\u003cstrong\u003e\u003c\/strong\u003e\u003c\/h2\u003e\n\u003cp\u003e \u003c\/p\u003e\n\u003cdiv style=\"text-align: center;\" data-mce-style=\"text-align: center;\"\u003e\u003c\/div\u003e\n\u003cdiv style=\"text-align: center;\" data-mce-style=\"text-align: center;\"\u003e\u003c\/div\u003e\n\u003cp style=\"text-align: center;\" data-mce-style=\"text-align: center;\"\u003e\u003cstrong\u003e----Linking Video----\u003c\/strong\u003e\u003c\/p\u003e\n\u003cdiv style=\"text-align: center;\" data-mce-style=\"text-align: center;\"\u003e\u003c\/div\u003e\n\u003cp style=\"text-align: center;\" data-mce-style=\"text-align: center;\"\u003e\u003ciframe title=\"The best 4G Unlocked Phones in America 2022, Just $79.99 in XGODY Smart Phone? 😀\" src=\"https:\/\/www.youtube.com\/embed\/kVgo6atAz9Q\" height=\"560\" width=\"1000\" allowfullscreen=\"\" allow=\"accelerometer; autoplay; clipboard-write; encrypted-media; gyroscope; picture-in-picture\" frameborder=\"0\"\u003e\u003c\/iframe\u003e\u003c\/p\u003e\n\u003cdiv style=\"text-align: center;\" data-mce-style=\"text-align: center;\"\u003e\n\u003cp style=\"text-align: center;\" data-mce-style=\"text-align: center;\"\u003e\u003cstrong\u003e----Linking People----\u003c\/strong\u003e\u003c\/p\u003e\n\u003c\/div\u003e\n\u003cdiv style=\"text-align: center;\" data-mce-style=\"text-align: center;\"\u003e\u003c\/div\u003e\n\u003cdiv style=\"text-align: center;\" data-mce-style=\"text-align: center;\"\u003e\u003cimg src=\"https:\/\/cdn.shopifycdn.net\/s\/files\/1\/0100\/3542\/9454\/files\/1_116b72de-bdbd-4e81-a4f2-ce0a06d0324e_1024x1024.jpg?v=1657018302\" alt=\"\" style=\"float: none;\" data-mce-style=\"float: none;\"\u003e\u003c\/div\u003e\n\u003cdiv style=\"text-align: center;\" data-mce-style=\"text-align: center;\"\u003e\u003cimg src=\"https:\/\/cdn.shopifycdn.net\/s\/files\/1\/0100\/3542\/9454\/files\/2_6855b44b-3fda-428d-a31a-eb03a9bc8d70_1024x1024.jpg?v=1657018316\" alt=\"\" style=\"float: none;\" data-mce-style=\"float: none;\"\u003e\u003c\/div\u003e\n\u003cdiv style=\"text-align: center;\" data-mce-style=\"text-align: center;\"\u003e\u003cimg src=\"https:\/\/cdn.shopifycdn.net\/s\/files\/1\/0100\/3542\/9454\/files\/4_0e4aa6ff-cb0b-47fc-a96c-1b66fff19980_1024x1024.jpg?v=1657018340\" alt=\"\" style=\"float: none;\" data-mce-style=\"float: none;\"\u003e\u003c\/div\u003e\n\u003cp\u003e\u003cbr\u003e\u003c\/p\u003e\n\u003cp\u003e \u003c\/p\u003e\n\u003cdiv style=\"text-align: center;\" data-mce-style=\"text-align: center;\"\u003e\u003cimg src=\"https:\/\/cdn.shopifycdn.net\/s\/files\/1\/0100\/3542\/9454\/files\/1_5d4b2b3e-fcd6-4f43-9bd1-460de72831cf_1024x1024.jpg?v=1657018365\" style=\"float: none;\" data-mce-style=\"float: none;\"\u003e\u003c\/div\u003e\n\u003cdiv style=\"text-align: center;\" data-mce-style=\"text-align: center;\"\u003e\u003cimg src=\"https:\/\/cdn.shopifycdn.net\/s\/files\/1\/0100\/3542\/9454\/files\/2_5ea4b6d2-65fb-4aad-92f6-7c00b8b7836b_1024x1024.jpg?v=1657018565\" alt=\"\" style=\"float: none;\" data-mce-style=\"float: none;\"\u003e\u003c\/div\u003e\n\u003cdiv style=\"text-align: center;\" data-mce-style=\"text-align: center;\"\u003e\u003cimg src=\"https:\/\/cdn.shopifycdn.net\/s\/files\/1\/0100\/3542\/9454\/files\/3_ff752110-2c3d-4e15-ad61-cedd1e072984_1024x1024.jpg?v=1657018581\" alt=\"\" style=\"float: none;\" data-mce-style=\"float: none;\"\u003e\u003c\/div\u003e\n\u003cdiv style=\"text-align: center;\" data-mce-style=\"text-align: center;\"\u003e\u003cimg src=\"https:\/\/cdn.shopifycdn.net\/s\/files\/1\/0100\/3542\/9454\/files\/4_840e92e0-9141-4d46-b02b-d162a442c20e_1024x1024.jpg?v=1657018601\" alt=\"\" style=\"float: none;\" data-mce-style=\"float: none;\"\u003e\u003c\/div\u003e\n\u003cdiv style=\"text-align: center;\" data-mce-style=\"text-align: center;\"\u003e\u003c\/div\u003e\n\u003cdiv style=\"text-align: center;\" data-mce-style=\"text-align: center;\"\u003e\u003cimg src=\"https:\/\/cdn.shopifycdn.net\/s\/files\/1\/0100\/3542\/9454\/files\/5_3300fa8c-4cb1-4d68-8a9a-fa89e43fee23_1024x1024.jpg?v=1657018615\" alt=\"\" style=\"float: none;\" data-mce-style=\"float: none;\"\u003e\u003c\/div\u003e\n\u003cdiv style=\"text-align: center;\" data-mce-style=\"text-align: center;\"\u003e\u003cimg src=\"https:\/\/cdn.shopifycdn.net\/s\/files\/1\/0100\/3542\/9454\/files\/6_194866fd-9773-4dcc-ad9e-155477b7f3ba_1024x1024.jpg?v=1657018636\" alt=\"\" style=\"float: none;\" data-mce-style=\"float: none;\"\u003e\u003c\/div\u003e\n\u003cdiv style=\"text-align: center;\" data-mce-style=\"text-align: center;\"\u003e\u003c\/div\u003e\n\u003cdiv style=\"text-align: center;\" data-mce-style=\"text-align: center;\"\u003e\n\u003cimg src=\"https:\/\/cdn.shopifycdn.net\/s\/files\/1\/0100\/3542\/9454\/files\/3_708699c3-68f5-4c2f-ac6c-f0ac0e4bdbef_1024x1024.jpg?v=1657018756\" alt=\"\"\u003e\u003cimg data-mce-fragment=\"1\" alt=\"\" src=\"https:\/\/cdn.shopifycdn.net\/s\/files\/1\/0100\/3542\/9454\/files\/4_5eabb650-a3d8-4cd4-8915-816d70520afc_1024x1024.jpg?v=1657018787\" data-mce-src=\"https:\/\/cdn.shopifycdn.net\/s\/files\/1\/0100\/3542\/9454\/files\/4_5eabb650-a3d8-4cd4-8915-816d70520afc_1024x1024.jpg?v=1657018787\"\u003e\u003cimg data-mce-fragment=\"1\" alt=\"\" src=\"https:\/\/cdn.shopifycdn.net\/s\/files\/1\/0100\/3542\/9454\/files\/ac6a24cc7db52c8c792b879e105801e0_1024x1024.jpg?v=1657018812\" data-mce-src=\"https:\/\/cdn.shopifycdn.net\/s\/files\/1\/0100\/3542\/9454\/files\/ac6a24cc7db52c8c792b879e105801e0_1024x1024.jpg?v=1657018812\"\u003e\n\u003c\/div\u003e\n\u003cdiv style=\"text-align: center;\" data-mce-style=\"text-align: center;\"\u003e\u003c\/div\u003e\n\u003cdiv style=\"text-align: center;\" data-mce-style=\"text-align: center;\"\u003e\u003c\/div\u003e\n\u003cdiv style=\"text-align: center;\" data-mce-style=\"text-align: center;\"\u003e\u003c\/div\u003e\n\u003cdiv style=\"text-align: center;\" data-mce-style=\"text-align: center;\"\u003e\u003c\/div\u003e\n\u003ch2 style=\"text-align: center;\" data-mce-style=\"text-align: center;\"\u003e\u003c\/h2\u003e\n\u003ch2 style=\"text-align: center;\" data-mce-style=\"text-align: center;\"\u003e\u003c\/h2\u003e\n\u003ch2 style=\"text-align: center;\" data-mce-style=\"text-align: center;\"\u003e\u003c\/h2\u003e\n\u003ch2 style=\"text-align: center;\" data-mce-style=\"text-align: center;\"\u003e\u003c\/h2\u003e\n\u003ch2 style=\"text-align: center;\" data-mce-style=\"text-align: center;\"\u003e\u003c\/h2\u003e\n\u003ch2 data-mce-style=\"text-align: center;\"\u003e\u003c\/h2\u003e\n\u003ch2 style=\"text-align: left;\"\u003e\u003cstrong\u003e\u003c\/strong\u003e\u003c\/h2\u003e\n\u003ch2 style=\"text-align: left;\"\u003e\u003cstrong\u003e\u003c\/strong\u003e\u003c\/h2\u003e\n\u003ch2 style=\"text-align: left;\"\u003e\u003cstrong\u003e\u003c\/strong\u003e\u003c\/h2\u003e\n\u003ch2 style=\"text-align: left;\"\u003e\u003cstrong\u003e\u003cbr\u003e\u003c\/strong\u003e\u003c\/h2\u003e\n\u003ch2 style=\"text-align: left;\"\u003e\u003cstrong\u003eFeatures of XGODY Smartphone X13\u003c\/strong\u003e\u003c\/h2\u003e\n\u003cp style=\"text-align: left;\"\u003e● 4G LTE high-speed Internet access speed is more than 20 times higher than that of 3G mobile phones.\u003c\/p\u003e\n\u003cp\u003e● The 6-inch body with a Stylish design weighs only 198g, which is convenient for you to carry outdoors.\u003c\/p\u003e\n\u003cp\u003e● ROM 16GB \u0026amp; RAM 2GB \u0026amp; Quad-Core Processor, enough for you to easily switch between 4-6 apps in your daily life.\u003c\/p\u003e\n\u003cp\u003e● Smart face ID, compared to fingerprint unlocking, free your hands, faster and safer.\u003c\/p\u003e\n\u003cp\u003e● 5MP + 5MP Camera + 256GB memory card expansion (not included), it is convenient for you to record the moments of your life.\u003c\/p\u003e\n\u003cp\u003e● 3000mAh battery, the video playback time is 4-5 hours, the 4G Internet access is 6-8 hours, the music playback time is 10-12 hours, and the standby time is more than 24 hours.\u003c\/p\u003e\n\u003cp\u003e \u003c\/p\u003e\n\u003ch2 data-mce-style=\"text-align: center;\"\u003e\u003c\/h2\u003e\n\u003ch2 data-mce-style=\"text-align: center;\"\u003e\u003c\/h2\u003e\n\u003ch2 data-mce-style=\"text-align: center;\"\u003e2022 Version, Upgrade board, XGODY X13 Specific Parameters\u003c\/h2\u003e\n\u003cp data-mce-style=\"text-align: center;\"\u003eModel Name:XGODY X13 Android Phone\u003cbr\u003eWireless Carrier:Unlocked for All Carriers\u003cbr\u003eModel Number: Dual SIM X13 (LTE+WCDMA+GSM)\u003cbr\u003eMemory Storage Capacity:16 GB\u003cbr\u003eOperating System:Android 9.0\u003cbr\u003eCellular Technology:4G(FDD-LTE B1\/3\/7\/8\/20)\u003cbr\u003eCharger:USB - Type C\u003cbr\u003eScreen Size:6.1 Inches\u003cbr\u003eCamera Resolution: 5.0MP\u003cbr\u003eConnectivity: 2G, 3G, 4G, Bluetooth, GPRS, GPS, Micro USB, USB, WAP, Wi-Fi.\u003cbr\u003e \u003cbr\u003eFeatures: \u003cbr\u003e3G Data Capable, 4G Data Capable, Accelerometer, Air Gesture, Bluetooth Enabled, Dual SIM, Front Camera, GPS, Internet Browser, Music Player, Rear Camera, Speakerphone, Touchscreen, Wi-Fi Capable, Facial Recognition.\u003cbr\u003e\u003cbr\u003eNote:\u003cbr\u003e● 4G LTE Dual SIM Dual Standby, when one shows 4G signal, the other can only show 3G\u003cbr\u003e● 2+1 slots design: Nano SIM + Micro SIM (SIM Card is not included) + Up to 256GB (SD Card is not included)\u003c\/p\u003e\n\u003cp data-mce-style=\"text-align: center;\"\u003e \u003c\/p\u003e\n\u003cp data-mce-style=\"text-align: center;\"\u003e\u003cbr\u003e\u003c\/p\u003e\n\u003cp style=\"text-align: center;\" data-mce-style=\"text-align: center;\"\u003e* \u003c\/p\u003e\n\u003cdiv style=\"text-align: center;\"\u003e\u003cimg src=\"https:\/\/cdn.shopify.com\/s\/files\/1\/0100\/3542\/9454\/files\/01_2fdaa1f6-5a46-410d-a36a-9cc39134f8af_1024x1024.jpg?v=1646212895\" alt=\"\" style=\"float: none;\"\u003e\u003c\/div\u003e"}
XGODY X13 Unlocked Smartphones, 6.1 Inch Android 9.0 OS with Dual SIM, Massive Battery, Face Recognition
XGODY smartphone X series, the main focus of business, economy, and practicality.

XGODY X13 is the existence to meet the needs of daily users such as salarymen who pursue cost-effectiveness, the elderly, and students.

Our teams continue to work hard on the road of commissioning product performance and continue to reduce the cost of product materials in order to provide customers with a higher user experience under the premise of the same expenditure.

We are not the best, but maybe what you need most.
----Linking Video----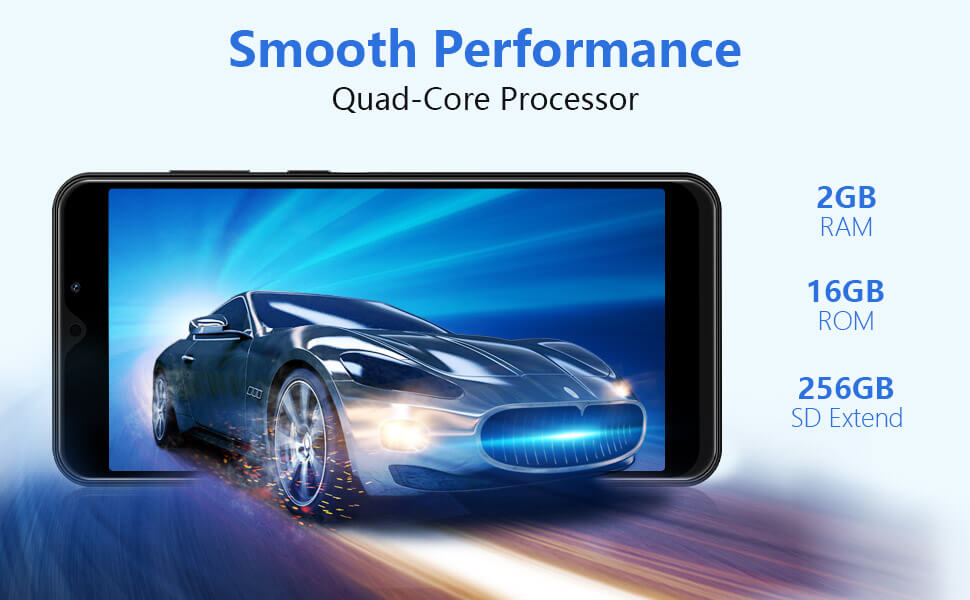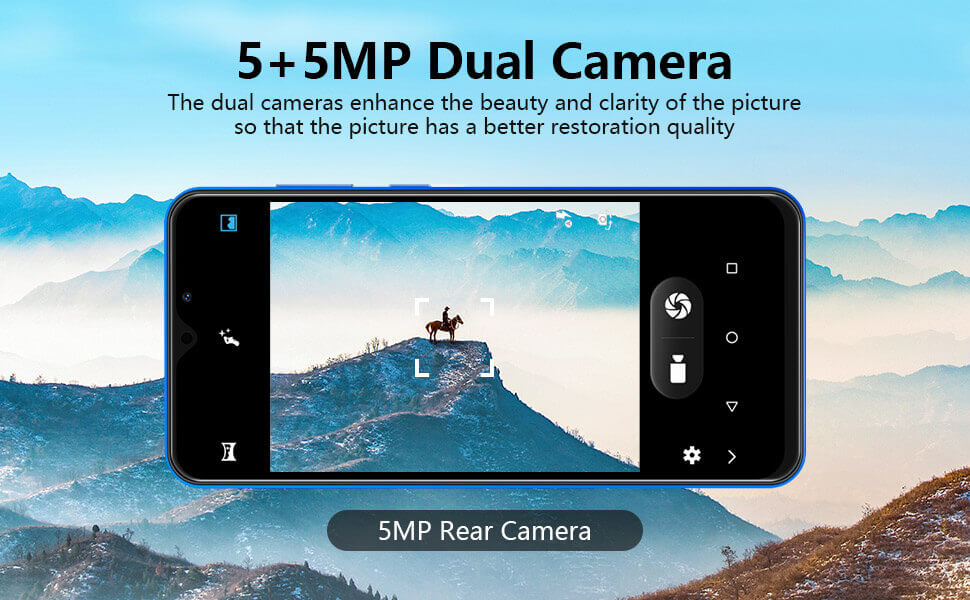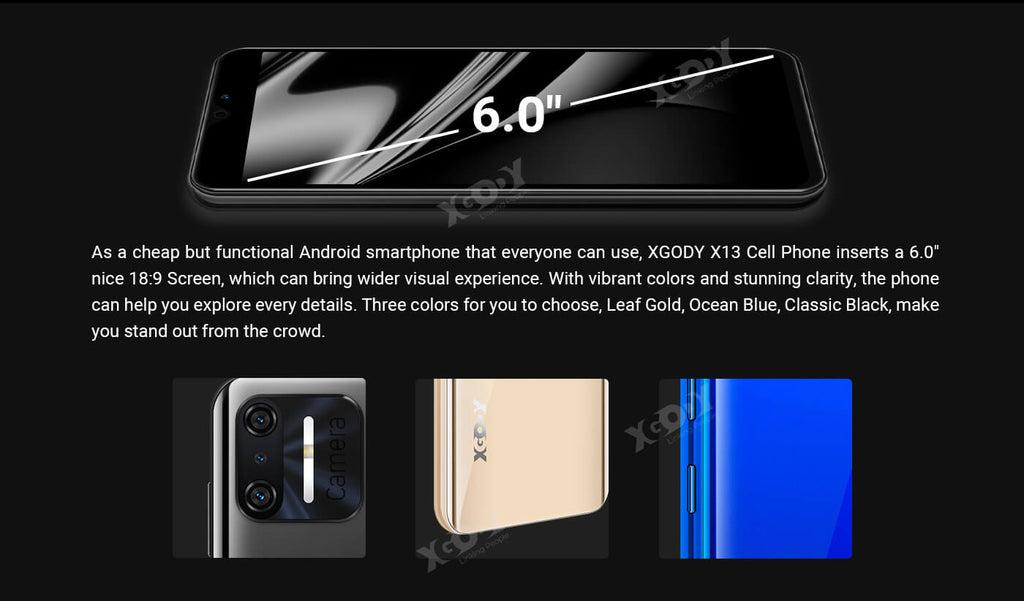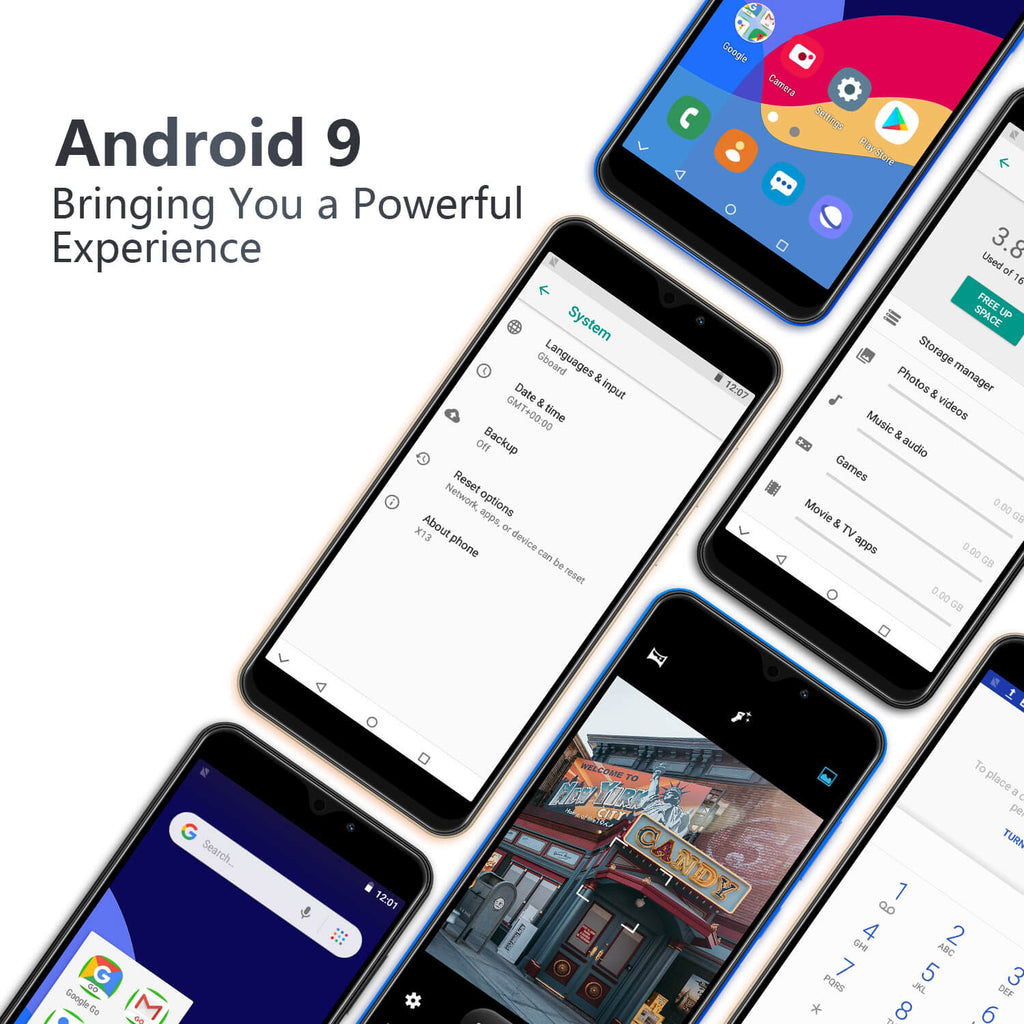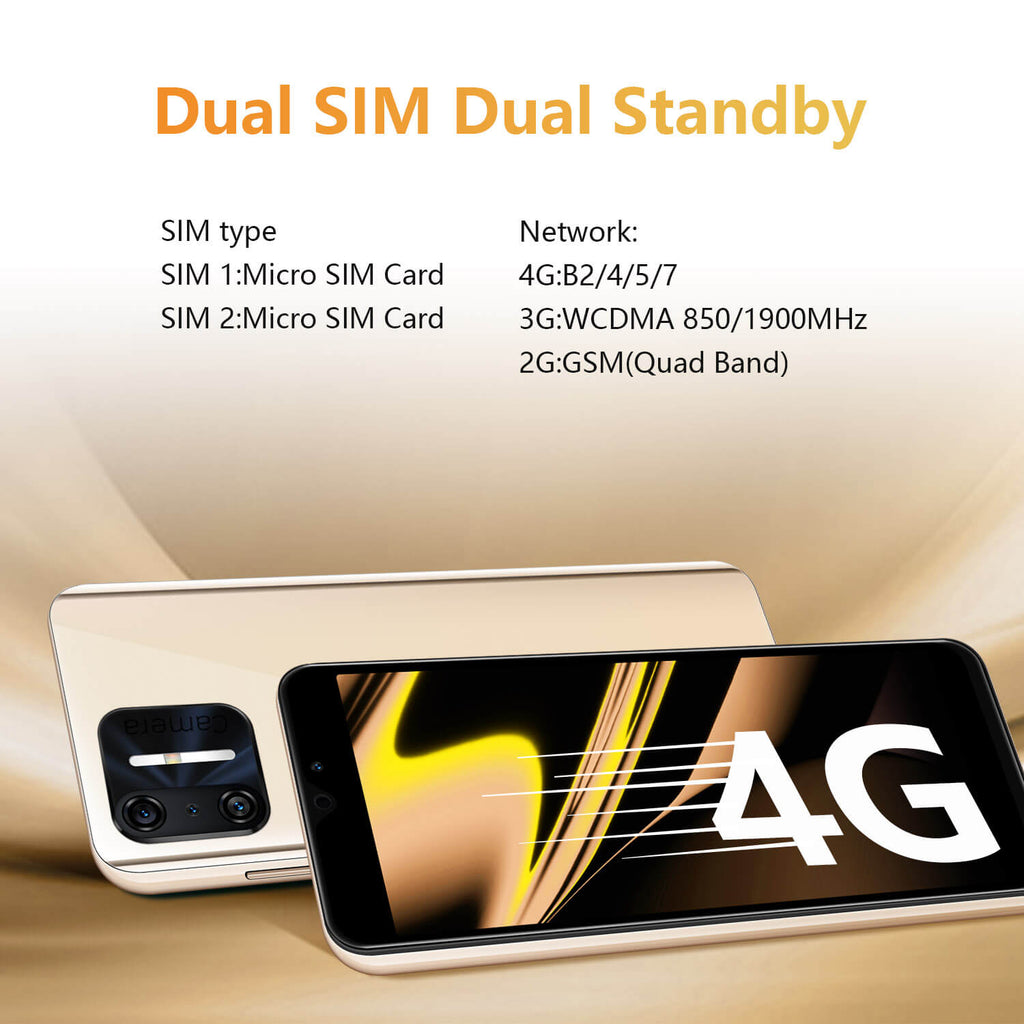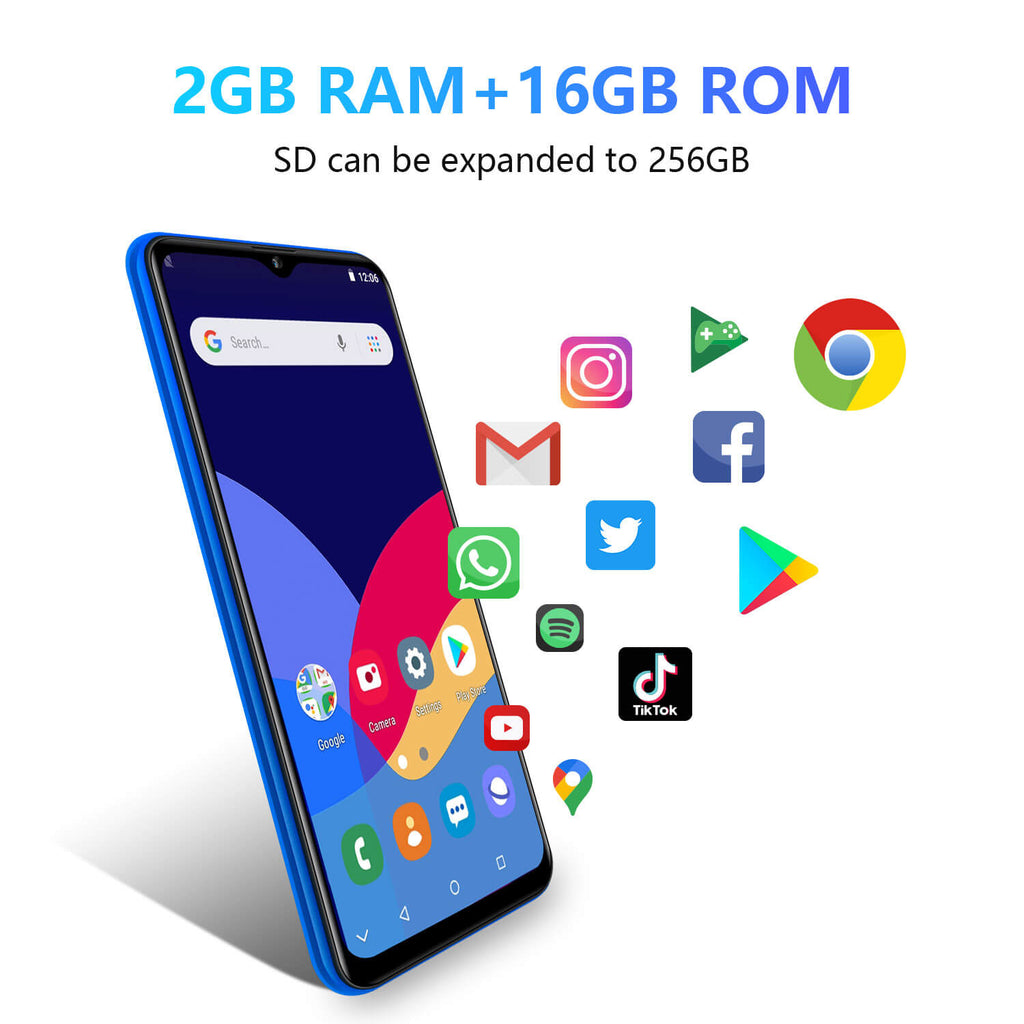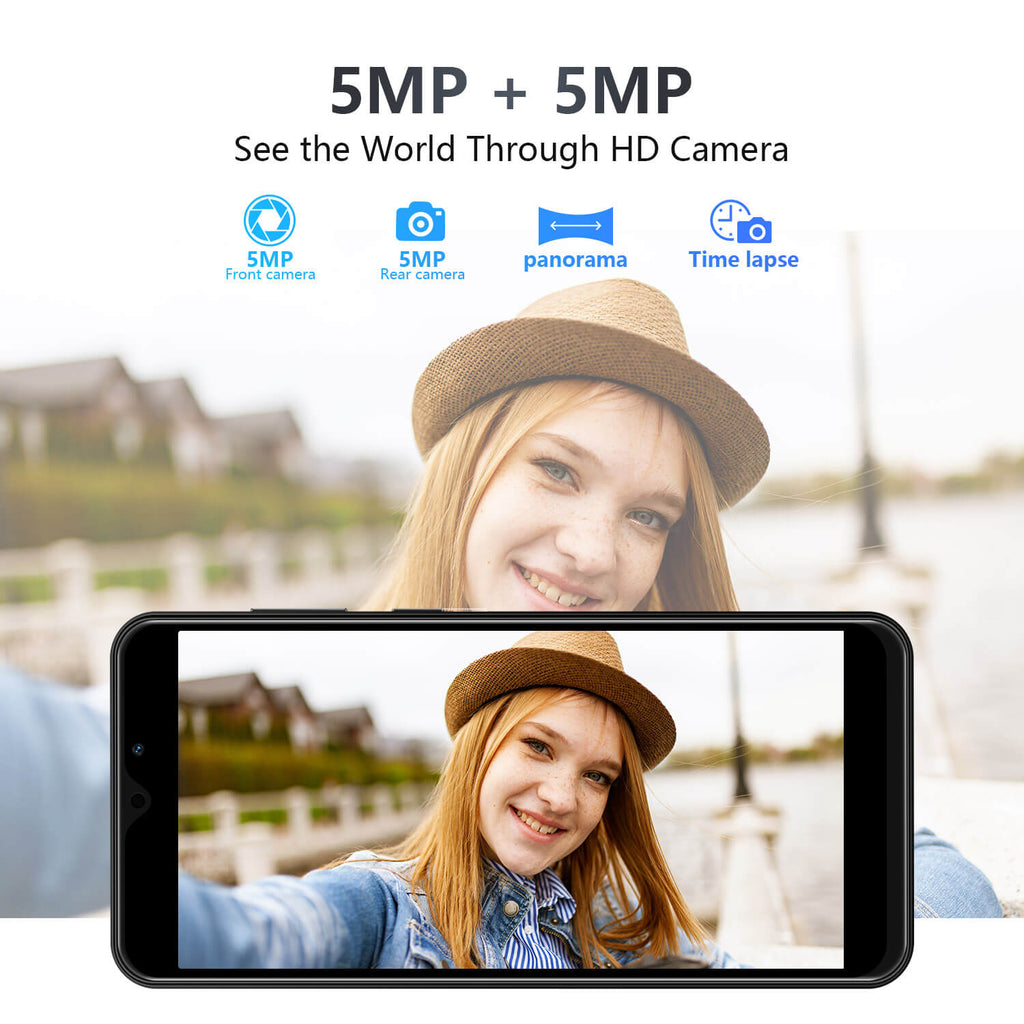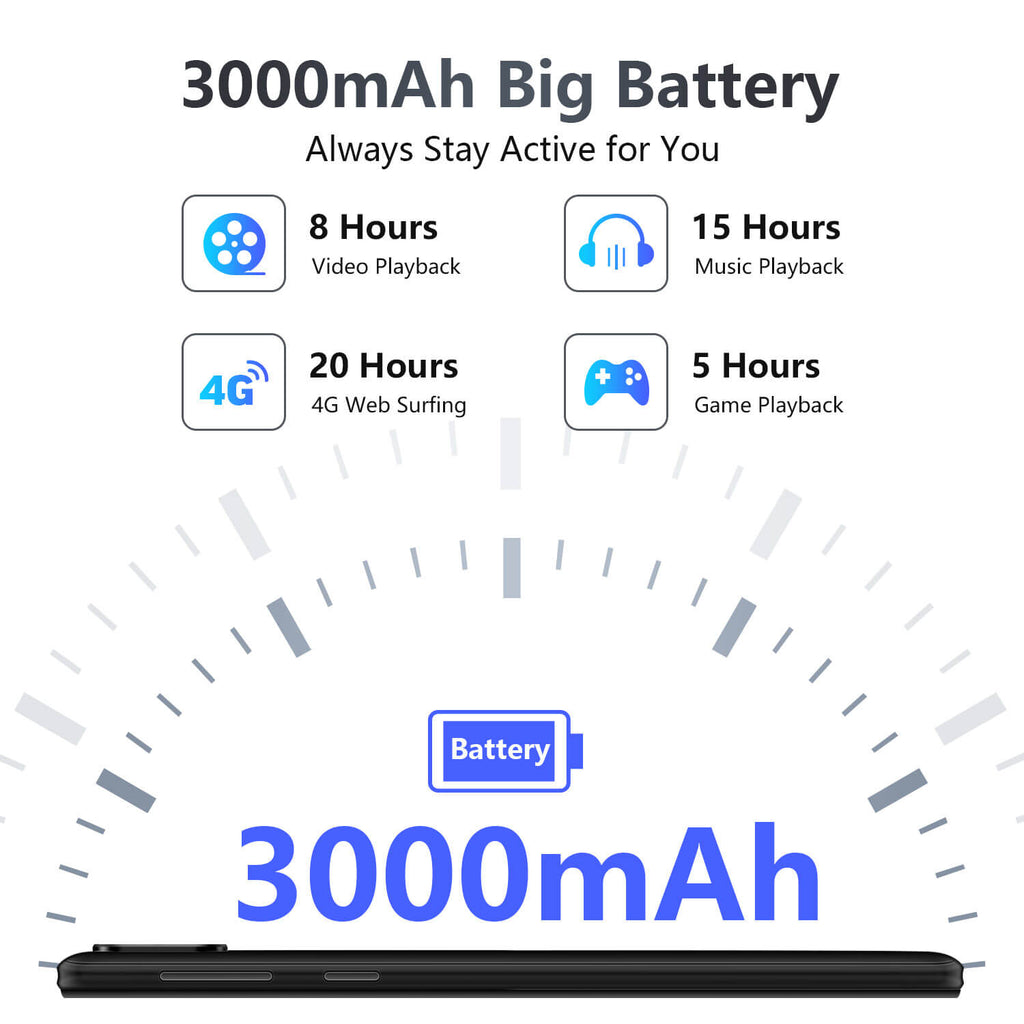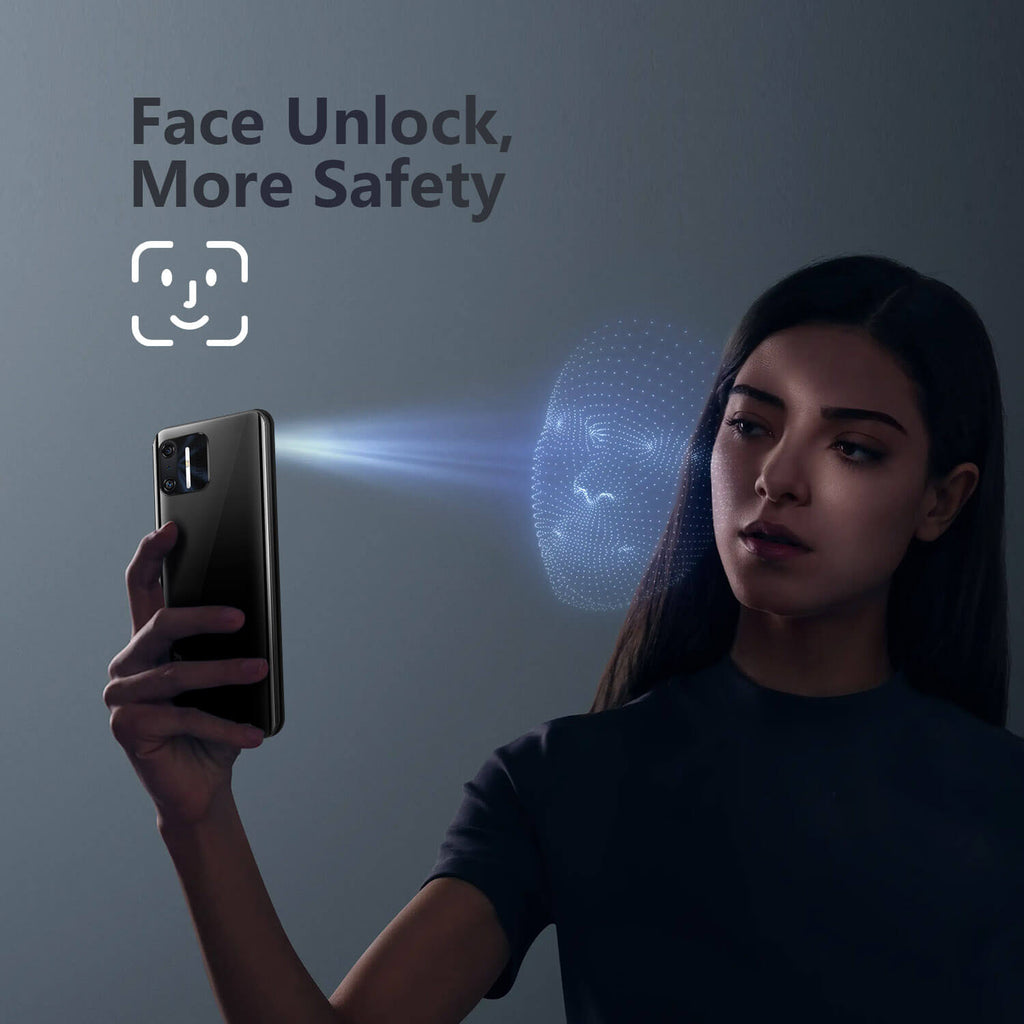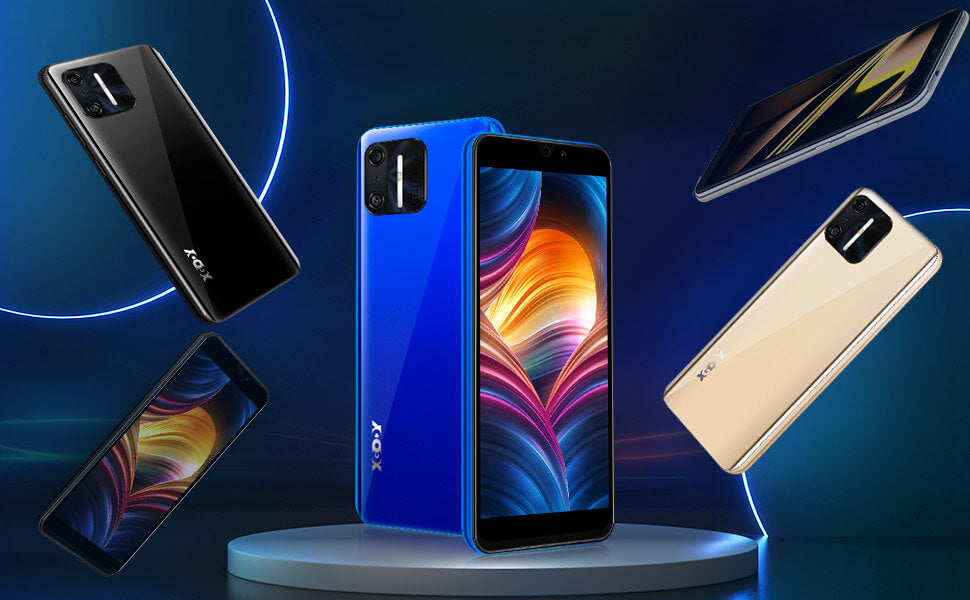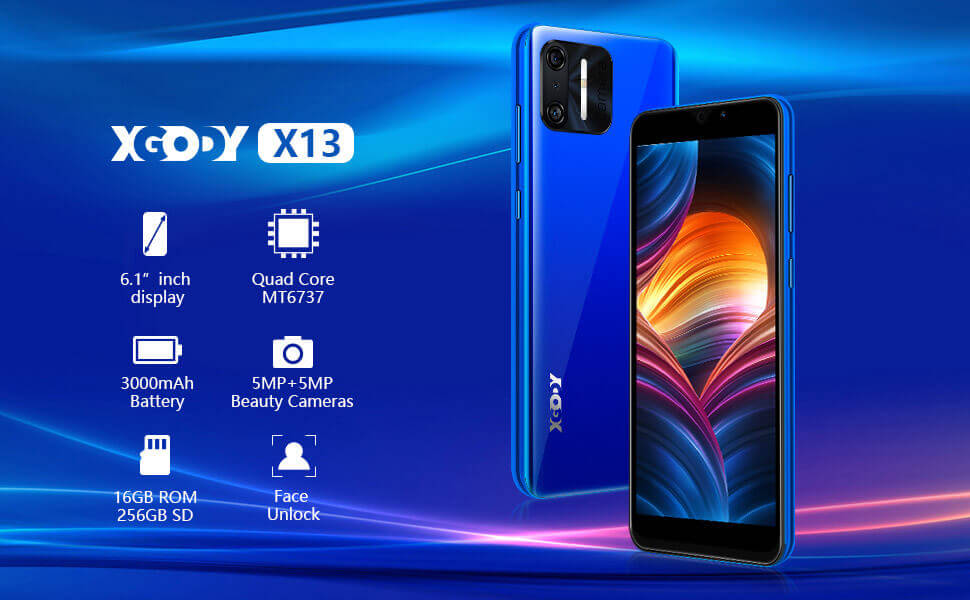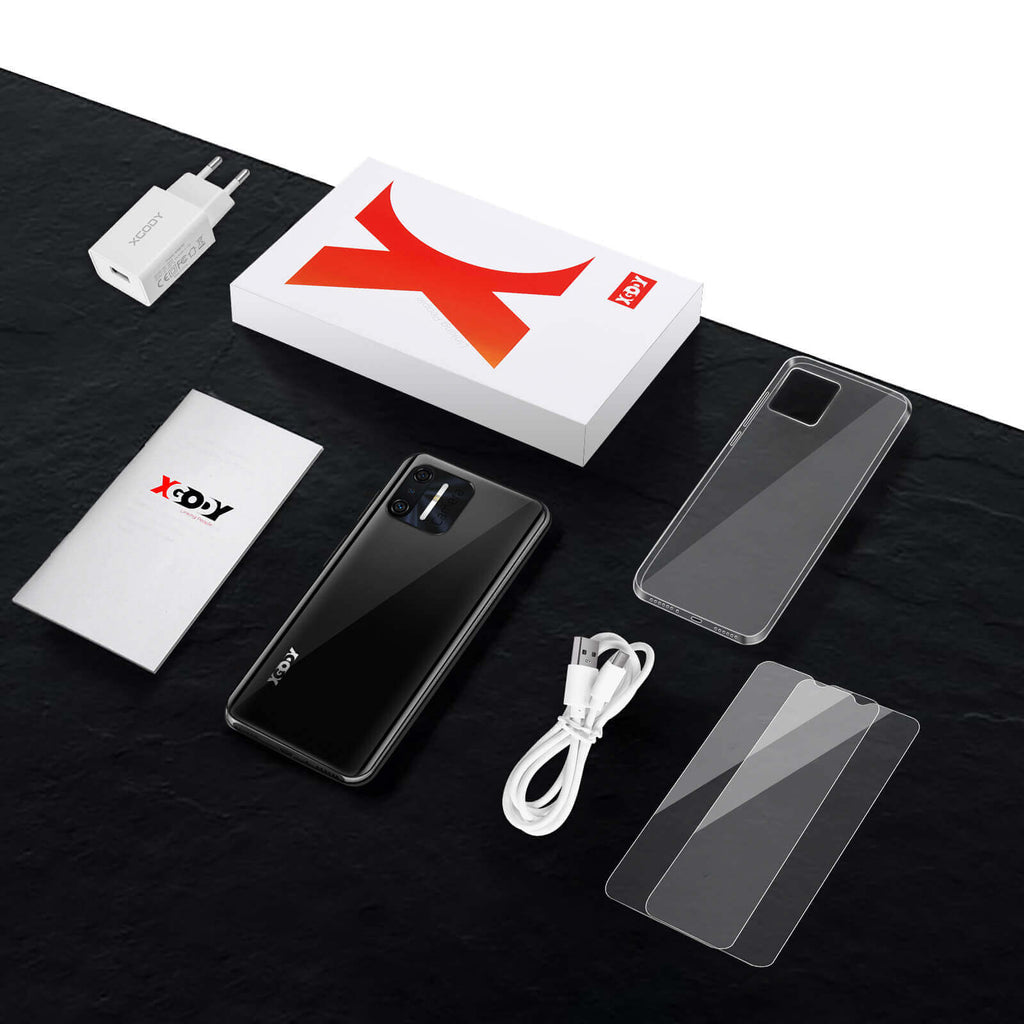 Features of XGODY Smartphone X13
● 4G LTE high-speed Internet access speed is more than 20 times higher than that of 3G mobile phones.
● The 6-inch body with a Stylish design weighs only 198g, which is convenient for you to carry outdoors.
● ROM 16GB & RAM 2GB & Quad-Core Processor, enough for you to easily switch between 4-6 apps in your daily life.
● Smart face ID, compared to fingerprint unlocking, free your hands, faster and safer.
● 5MP + 5MP Camera + 256GB memory card expansion (not included), it is convenient for you to record the moments of your life.
● 3000mAh battery, the video playback time is 4-5 hours, the 4G Internet access is 6-8 hours, the music playback time is 10-12 hours, and the standby time is more than 24 hours.
2022 Version, Upgrade board, XGODY X13 Specific Parameters
Model Name:XGODY X13 Android Phone
Wireless Carrier:Unlocked for All Carriers
Model Number: Dual SIM X13 (LTE+WCDMA+GSM)
Memory Storage Capacity:16 GB
Operating System:Android 9.0
Cellular Technology:4G(FDD-LTE B1/3/7/8/20)
Charger:USB - Type C
Screen Size:6.1 Inches
Camera Resolution: 5.0MP
Connectivity: 2G, 3G, 4G, Bluetooth, GPRS, GPS, Micro USB, USB, WAP, Wi-Fi.

Features:
3G Data Capable, 4G Data Capable, Accelerometer, Air Gesture, Bluetooth Enabled, Dual SIM, Front Camera, GPS, Internet Browser, Music Player, Rear Camera, Speakerphone, Touchscreen, Wi-Fi Capable, Facial Recognition.

Note:
● 4G LTE Dual SIM Dual Standby, when one shows 4G signal, the other can only show 3G
● 2+1 slots design: Nano SIM + Micro SIM (SIM Card is not included) + Up to 256GB (SD Card is not included)
* 
1.Most items are shipping free, you can check the description in the listing. Order will be shipped within 72 hours after payment made.
2.The shipping time is based on the shipping option, sometimes it may be delayed due to varied situation (such as holidays, war, weather etc.), please contact us immediately if delivery time exceeds estimated.
3.Import taxes, duties and related customs fees may be charged once the parcel arrives at the destination country. These charges are determined by the customs office of the specific destination. Payment of these charges and taxes is the responsibility of the recipient and will not be covered by us here at Xgody. For further details of charges, please contact your local customs office.
4.Time Schedule- F

ast Shipping
| | |
| --- | --- |
| United States/Australia/UK |  4-10 working days |
| Canada/Israel/ Azerbaijan / Russia/Maldives/ Eastern Europe/ Middle East |  9-18 working days |
| Brazil/Chile/South America |  9-18 working days |
| Western Europe/New Zealand |  7-10 working days |
If you are not happy with your purchase and wish to return an item, please contact us immediatelysince receiving your order. Our customs support email is support@xgody.com. Please write down your order number and user ID in the return parcel.
All returns must be in original condition with packaging intact to avoid damage during shipment, any physical damage during the return shipment will not be accepted. Returned parcel need to provide shipment number for tracking.
We will get back to you once we receive the return parcel. Money or replacement will be arranged within 24-48 hours after the return parcel delivered.
-
1.Why Choose Xgody?
Brand XGODY was established in 2014 with great advantages in electronic products. More than that, the operating team has more than 10 years experiences on e-commerce.. We know exactly what the buyer concerns and worries. Making sure you will have a wonderful shopping experience by providing what you need and getting rid of what you worried about. It is no doubt to choose us with our high quality of product, good shipping way, and good customs support.
2.What payment methods do you accept?
We accept all major credit cards (VISA, Mastercard, AMEX) and PayPal payments. We do not accept personal checks, money orders, direct bank transfers, western union, or cash on delivery.
3.Can I change my shipping address after placing an order?
Please be advised that your shipping address cannot be revised after the order has been processed or shipped. Kindly update your shipping address to your residential address instead of your vacation address as we do not know how long the destination's customs department will have the package on hold.
4.How do I track my order?
The tracking number can be queried in the background. Also, we will email your tracking information as soon as your order has shipped. Usually you will receive the tracking number one day after we have shipped your order. In addition, if you still do not know how to query and track, you can also contact customer service freely.
5.Will I be charged with customs and taxes?
Import taxes, duties and related customs fees may be charged once your order arrives to its final destination, which are determined by your local customs office.
Payment of these charges and taxes are your responsibility and will not be covered by us. We are not responsible for delays caused by the customs department in your country. For further details of charges, please contact your local customs office. 
6.What Do I Do If I Have Missing Items In My Order?
If something is still missing, please contact us immediately.
7.What if the item(s) I received are defective/incorrect/damaged?
Please contact us within 7 days from receiving your order if you received merchandise that is incorrect, missing, and/or defective. Please include your order number, photographs of the item(s) and all related references upon receiving your package. We will do our very best to resolve your case as soon as possible.
8.How do I return an item?
If you are not happy with your purchase and wish to return an item, please contact us immediately from receiving your order. Please provide your order number as well as the reason for your return. Our customer service team will review the return request and will send further instructions if the return is approved.
For a list of final sale items, please see our Warranty Info and Refund Policy. All returns must be in original condition with packaging intact.
9.When will I receive my refund?
All refunds will be credited to your original form of payment. If you paid by credit or debit card, refunds will be sent to the card-issuing bank within 7-10 business days of receipt of the returned item or cancellation request. Please contact the card-issuing bank with questions about when the credit will be posted to your account.
If you haven't received a credit for your return yet, here's what to do: Contact the bank/credit card company. It may take some time before the refund is posted to your account.