3 XGODY Best Sat Nav with Bluetooth For You
3 XGODY Best Sat Nav with Bluetooth For You
Finding good quality and named GPS SAT NAV SYSTEM and related gadgets must be difficult for many, but it won't be after this article. If you are wandering around in search of a good GPS Sat Nav, this article is for you providing a review of three of the hot products from one of the most trusted brands in this regard.
Yes, to excellence, we regard the XGODY and its wide range of GPS navigation kits and products. You're suggested to read this article till the end to get yourself a good GPS Sat Nav with Bluetooth by XGODY.
3 XGODY GPS Sat Nav Finds For You: 
In this article, we have tried covering some best picks from XGODY for you. The three top picks, according to our research, are mentioned as under; 
XGODY X4 BT/F 9'' NAVIGATOR GPS SAT NAV FM BLUETOOTH;
XGODY 560 | 5'' CAR & TRUCK GPS VOICE NAVIGATION SAT NAV NAVIGATOR FREE MAP UPDATE;
XGODY J727 TRUCK 7INCH SAT NAV GPS WITH BLUETOOTH AV-IN NAVIGATION SYSTEM FOR CAR;
Features: 
A good product is known and acknowledged for its features and characteristics. Above mentioned three products lie in the category of our best picks because of their extraordinary features. Read ahead to know about some of the best features of these three devices from the XGODY.
Pros: 
Professional & Professional
Efficient and user-friendly.
Easy to install.
Cheap and Best value for money

Cons: 
It can fluctuate sometimes. 
Updating the map requires a computer and network.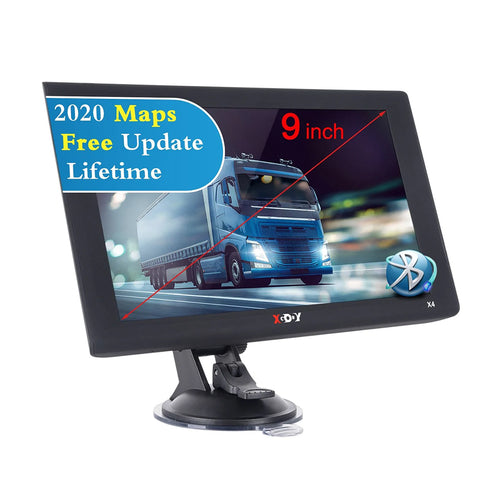 XGODY X4 BT/F 9'' NAVIGATOR GPS SAT NAV FM BLUETOOTH:
The main features of this gadget are its 9 inches screen with a resolution of upto 800
*480 and 8 GB ROM. The Bluetooth feature makes it one of the best; with a user-friendly interface, XGODY has made it a universal device. Not only this, a variety of setting options, speedcam POI, real voice navigation and dynamic voice warnings, 2D and 3D map display, maps upgrades, and much more make it a good pick.
XGODY 560 | 5'' CAR & TRUCK GPS VOICE NAVIGATION SAT NAV NAVIGATOR FREE MAP UPDATE:
Another best pick from XGODY at our side is the XGODY 560 BT/F 5'' GPS Navigation Bluetooth camera that comes with some extraordinary features like a variety of route planning methods, economical and easy approach, selection of road types, extra clear vision, multiple cameras like red light camera, average speed camera, railway crossing, and other important sites. FM transmitter, e-book support, built-in dimmer, and support for approximately 7 vehicles make it upto the list of best.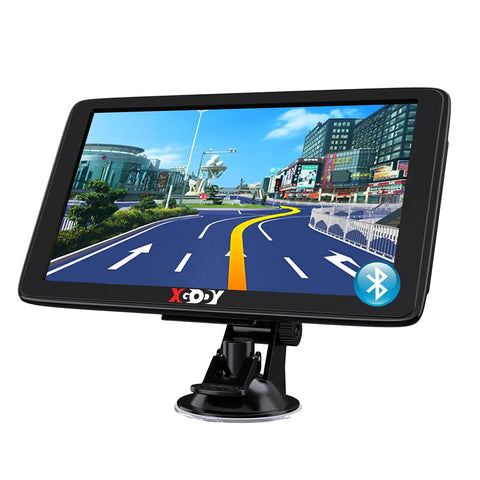 XGODY J727 TRUCK 7INCH SAT NAV GPS WITH BLUETOOTH AV-IN NAVIGATION SYSTEM FOR CAR: 
Last in the list of the bests for this article is the XGODY truck 7inch sat nav GPS with Bluetooth, which features multi-function GPS navigation, voice broadcasting, reminders for traffic lights, sharp turns, and speed limits, a convenient navigation system, high and sensitive navigation system, great for its price and functionality. All three of these GPS devices by XGODY with Bluetooth are a big success in favor of users. You can opt for any of these for your vehicle, whether a car, jeep, truck, or large vehicle. They won't disappoint. 
Things You Will Get In The Box:
Mostly the XGODY products come equipped with some essentials, which are;
The B

est

GPS device.
Attaching tripod.
Pouch.
Instruction manual.
Car Charger.
A lead. 
Tips To Use: 
One must know some tips about a product before using it. To know how to set it up, use it, and make it work requires proper information and an open mind. For the assistance of users,  companies provide instruction manuals with their gadgets. To make it better for you, we have mentioned some tips for working with the XGODY GPS Sat Nav kits and even any other navigation kits.
First and foremost, verify all the essentials and the rest of the things provided in the package as soon as you receive them.
After checking and verification, take the stuff out with the instruction manual. Read out the manual thoroughly and have a proper command of the gadget.
As per the manual's instructions, install the gadget in your vehicle. If you get perplexed, try visiting or contacting the official website for help.
After setting and installing the gadget, get on to the settings and set it according to your preference and instruction manual.
Turn on the voice navigation and guidance, display settings, route preferences, speeds and heights, and all you need to do. 
Test the gadget thoroughly to verify the efficiency and the way it works.
Get your hands on it so you won't feel confused or bothered while using it.
Lastly, try getting help for the experts anytime you get perplexed, and don't try to mess it up while fixing the issue. Maintenance will lead to its long life, so maintain your assets. 

FAQs: 
Why is it good to have Bluetooth in your sat nav? 
Bluetooth is not a new technology, but it still works well. Bluetooth is a connecting agent that connects your sat nav to your phone, providing you general access to all information. The information can be traffic updates, route conditions, advisor reviews, and all other essential information. Also, through Bluetooth, you can connect hand frees and get access to music and phone calls. 
More importantly, the navigation GPS with Bluetooth (BT=Bluetooth) function can be equipped with a reversing camera, which is the highlight of XGODY navigation.

Is there anything better than Google maps? 
Google Maps is a 'normal' app that does provide high quality directions and instructions for your average small vehicle, but if your car is above class C, like a truck, converted RV, etc., you can use XGODY Offline Maps. XGODY Navigation isn't as widely used as Google Maps, but it's still very effective in this regard. It is often used by professional public transport for accurate navigation of restricted vehicles.
True story: If your truck is using Google Maps to navigate, you will definitely go into the city, or low-cost bridges, bridge holes, etc., and then you will face a penalty or a car accident.


Are GPS and sat nav the same things?
They are not the same thing, but you can consider them. The actual thing is that the sat nav uses GPS to tell you the location or position on the land, where you are at the moment. GPS is a broad term for using 30 satellites to determine positions and locations on the Earth. 
Of course, this is not difficult to understand, it is Just professional and non-professional; XGODY Sat Nav is the best car and truck sat nav, and it is professional, and it has been professional for 10 years.
Conclusion:
Lastly, check the products out if they attract you and consider them for your vehicle to strengthen your GPS. All the good features are guaranteed to satisfy your needs and make your vehicle more secure. I hope this article will be a piece of help you. 
Moreover, XGODY navigation is currently the most cost-effective and relatively cheapest on the market, and it is also a navigation brand with a long history.
Review: Three products worth recommending